In Loving Memory of
K-9 WODAN
December 31,2004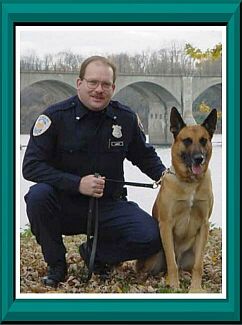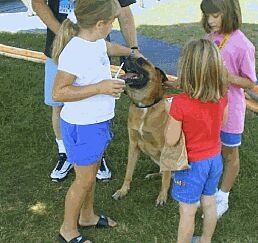 Handler/Partner:

Cpl. Mike Lamonto


Harrisburg Police Department
123 Walnut St


Harrisburg, PA 17101




(717)255-3131


www.wodan - Wodan's website


Wodan is a 5-year-old Belgian Malinois. He has been my partner for over 2 1/2 years. In the early hours of 2/10/01, K9 Wodan was shot 4 times by a criminal attempting to avoid arrest. Wodan's bravery saved my life and the lives of all the officers in the area as he kept the perpetrator busy even after being shot several times. This gave a fellow officer and I time to return fire as the perpetrator was firing at me. The perpetrator was hit and subsequently taken into custody. Wodan sustained gunshot wounds to his right front leg, left front leg, and back. The injuries were life threatening and Wodan was rushed to the Willow Mill Emergency Veterinary Clinic where the heroic work of Dr. James Lee saved his life. The injury to Wodan's left leg was most grave and there was great concern that it might have to be amputated to save Wodan's life. The Harrisburg Police Department, Chief Charles Kellar, and the City of Harrisburg, Mayor Stephen Reed, have been the driving force behind Wodan's recovery. Chief Kellar has repeatedly told me the City will cover all the medical expenses and he and the Mayor organized Wodan's transfer via the Pennsylvania State Police to the Veterinary Hospital of the University of Pennsylvania in Philadelphia to ensure he received the best care and has the best chance possible for a full recovery. The skilled and compassionate care of Dr. Jeff Christiansen and all the staff and students at the Veterinary Hospital of the University of Pennsylvania, has given Wodan the best chance of keeping his left leg. As of this writing Wodan is living at home with my family and I and he is receiving continuing care coordinated through Dr. Christiansen at the Veterinary Hospital and Wodan's regular doctor, Dr. Deborah Keim at the Capitol Area Animal Medical Center. The bills for Wodan's treatment and continuing care are astronomical, and continue to grow.

The city initiated a voluntary donation program to assist in defraying the mounting medical bills for Wodan's care. The response to which still leaves me in awe! At this time we have received enough funds to pay for Wodan's care to this point and look to have su

fficient funds to pay for his continuing care. I cannot thank the people of this community, the state, and entire country enough for giving my partner the best chance possible for a complete recovery.

Wodan is a true hero and he did save my life that morning. I will continue to do all I can for him. It is my hope and prayer that he may someday return to work with me, but if that is not possible, I will retire him to my home and continue to provide the best care for him that I am able. Thank you for your thoughts and prayers for Wodan's speedy recovery.

On 6/23/01 K-9 Wodan was awarded the Medal of Valor by the North American Police Work Dog Association.

AND....
It is with profound sadness that I must tell you that Wodan has passed away. He was experiencing great pain in his hips and shoulders. I determined that it was in Wodan's best interest to have him put to sleep on 12/31/2004. Chief Charles Kellar of the Harrisburg Police accompanied us to Willow Mill Emergency Clinic and Wodan surrendered to his pain after a dignified goodbye.
I can only simply say I will miss my friend. He will remain with me in my thoughts and hopefully actions for the remainder of my life and I pray to someday have him at my side again. I also thank all of you who have shared your compassion and admiration of Wodan. Cpl. Mike Lamonto
P.S.After Wodan's recovery, he became the good-will ambassador for all K9s. He was great with 'kids.'

Officer Michael Lamonto notified by Curt Heckler and Tony Calaman
In Loving Memory of
K-9 WYATT EARP
August 20, 1994 - July 16, 2004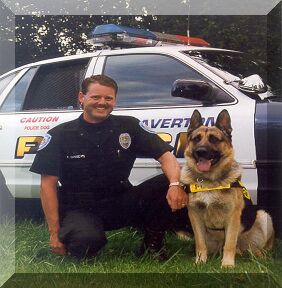 Beaverton Police Department


City Hall - 4755 SW Griffith Dr.
Beaverton,OR 97076-4755
On Friday 7/16/04 Wyatt Earp passed away while at home with Ed and his family. He was a member of the Beaverton Police Department K9 Unit beginning at eight weeks old on October 26, 1994 when his handler, Ofc. Ed Gosse picked him up.
During Wyatt's career, he had over 2702 calls for service and assisted 23 different agencies. Wyatt helped recover $7,610.00 worth of property and evidence. He apprehended over 79 suspects and assisted in 33 other capatures
He will be impossible to replace and extremely missed.



I think that the best example of Wyatt's personality and it's unpredictability is when he located a bad guy one day and urinated on a child's leg at a dog demo the next. On March 12, 1997, I was contacted over that air by another handler for Washington County , Gary Jensen. Gary said that he had just been shot in the chest by a suspect that he run and asked if Wyatt and I would track him for Gary. Gary had suffered minor injuries due to his vest. Wyatt and I found the suspect, survived a shoot out with him and successfully prosecuted him for attempted murder on a police officer. During the next couple of days, Wyatt and I were praised for our efforts. I coulnd't say enough about my dog! And the department recognized his work. I later went to a police dog demonstration at a local school and proceeded to tell these children and their teachers about how Wyatt could do such spectacular things and Wyatt decided to show these people just how spectacular he could be. Wyatt walked over to one of the children , gave him a sniff and pee'd on his leg! The school yard was silent, followed by a huge gasp from all the children and, in unison, "He pee'd on Jake!" All I could say was, "Gosh, he's never done THAT before." Wyatt: one extreme to the other!!! Ed
---
In Loving Memory of
K-9 WAX
1996 - April 12, 2004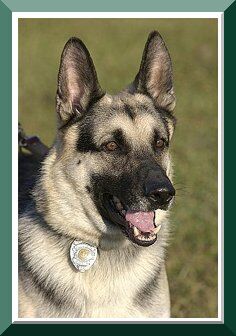 Handler/Partner: Sgt. Paul Holliday
North Coventry Twp Police Department
Chief of Police Robert A Schurr
845 S Hanover St.
Pottstown, PA 19465
(610) 323-8360
It is with sad heart that the North Coventry Police Department announce the passing of K-9 Officer Wax. The Department's canine officer was an eight-year-old male German Shepherd. Wax began his police career at the Philadelphia Police Department Canine Unit in May of 1997.
Wax joined the NCPD after he completed his basic training in December of 1997 with his handler, Sergeant Paul M. Holliday. Wax was a certified patrol and narcotics detection dog. He patrolled the streets of North Coventry Township from December 1997 until February 2004. Wax was loved by many and served with honor and courage. He touched many lives while protecting the residents of North Coventry and will be greatly missed.
******************
NORTH COVENTRY -- Flags flew at half-staff outside the township building this week in tribute of Officer Wax, the police departments recently retired dog. Wax was put to sleep Monday after suffering paralysis, possibly from a stroke, early in the day. Lowering a flag to half-staff might seem an unusual honor for a dog, but, well, Wax was no ordinary dog. "He was never a pet," said Sgt. Paul Holliday, Wax's handler. "He was my partner. He was a companion. He was a friend." At a Board of Supervisors meeting that evening, supervisors' Chairman William Deegan paid homage to Wax. He remembered fondly the time when Wax chased a burglar up a tree and trapped him there. "He got a commendation for that," Deegan recalled. Deegan often joked that Wax was his favorite township employee -- the only one to lick his hand in greeting. "He'll be well missed," Deegan said, "particularly by the children in the schools. They loved Wax." Holliday, who taught a Drug Abuse Resistance Education program at North Coventry Elementary School, Coventry Christian School, and West-Mont Christian Academy, regularly brought Wax with him. "He came into all my classrooms every day," Holliday said. Holliday had worked with Wax since the dog joined the North Coventry Police Department in December 1997 as a certified patrol and narcotics detection dog. Wax, who was 8, retired in February after he began having seizures. A new dog, Griff, recently joined the force.
According to Holliday, Wax provided the township and nearby communities with invaluable assistance by tracking burglars, finding lost Alzheimer's patients and locating hidden narcotics. "He was a great protector to me and a loyal protector of the citizens of North Coventry and surrounding areas," Holliday said. Holliday cherished the relationship he had with WAX.
"Its a very special relationship. He and I have been together 24/7 ever since we started our training together. I put the trust of my life in his paws, and he put the trust of his life in my hands." Wax rarely needed any instructions from Holliday when they were out patrolling or were called to a crime scene or narcotics search. "He always knew what to do," Holliday said. In that sense, Wax was essential as an investigative tool for the department. His keen sense of smell enabled him to sniff out drugs in unusual places, such as under attic floorboards, Holliday said. "If we didn't have a police dog, we wouldn't have found the narcotics we did," he said. For Holliday, the relationship he had with Wax is difficult to describe. "When you're working with a canine, you spend so much time together, he knows just what you're thinking," he explained. The new dog is being handled by Officer George Hollis, who recently completed an intense, four week training program with Griff. Holliday, as a sergeant, has more administrative responsibilities and therefore could not take on another canine partner. What will Holliday miss most about Wax? "That friendship," he said. "That loyalty. That trust."
**************************************
Update: K-9 member joins North Coventry police The police department has added a new member to its ranks. Greif, a 2-year-old German shepherd, recently finished his training with his handler, Officer Robert Hollis. Hollis, who has been with the department for three years, said Greif will benefit not only North Coventry, but the surrounding townships as well. "This benefits everyone," Hollis said. "If another department needs a K-9 for a search or anything else, we'll be able to help out." Greif is trained in tracking, building searches, drug detection, aggression and obedience. The 77-pound dog, whose lineage has been traced back 25 years, is lean and looks perfectly capable of convincing any bad guy to surrender. But the dog doesn't bother much with people, or even other dogs, unless Hollis tells him to. "We don't really socialize him," Hollis said. "He's trained to respond to me, and he does." Out of the police car, without a leash, Greif is focused on Hollis' every word and movement, even as dogs play in a nearby park. At his handlers heels, he patiently awaits the next order. The commands are quick, unmistakable and delivered in Hungarian, a language Hollis chose from a list of many the dog is able to understand. The price tag for the animal, a four-week training session and some adjustments to Hollis' patrol car to safely transport Greif tops off at about $11,000. But the benefits of a properly trained police dog, according to Hollis, are worth far more. "These dogs can be trained to do anything," he said. Greif's reward, even for obeying instinct-defying commands like a "call off," where the dog is first told to attack and then called off before actually reaching the target, consists of a few kind words and a tennis ball. It seems to satisfy the dog, however. He chews the ball and lights up whenever his handler speaks a kind word or offers a pat on the head. Police dogs often take an officers place in dangerous situations, such as building searches and foot pursuits. Greif will be added to a roster of area police dogs, including two in Pottstown -- one trained to detect drugs, and the other trained to detect explosives. While voluntarily leaping into harms way is an admirable trait, the dogs really earn their keep with their sense of smell. Everyone knows a dog's sense of smell is far beyond the meager limits of the human nose. But the way it was described to Hollis at training paints a much clearer picture of the dog's olfactory abilities. "If you or I walk into a pizza shop, we smell pizza," Hollis said. "If Greif walks into a pizza shop, he smells tomatoes, oregano, cheese, garlic -- every ingredient in pizza. They can pick out each scent." Greif can expect a career of about seven or eight years with the department. His time off, and his eventual retirement, will be spent with the Hollis family.
submitted by Jim Cortina, Dir. CPWDA
In Loving Memory of
K-9 WILL
July 21, 2004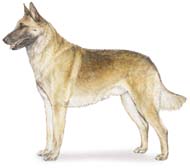 Handler/Partner: Lt. Jessie Smith
Albany-Dougherty Drug Unit
225 Pine Ave.
Albany, GA 31701
229-430-5150


Unfortunately I would like to add one of our dogs passing to your list. On July 21, 2004, K-9 "Will" after 4 1/2 years service to Albany-Dougherty Drug Unit, Albany, Georgia. Handler Lt. Jessie Smith. Died from Heat Stress.
Thanks, Major Bill Berry
Albany-- A Drug Unit Dog dies from the heat after being left inside a scorhing hot car. Will, a five year old Belgian Malinois (pronounced MAL-in-wah) drug sniffing dog died from heat prostration July 21st. His handler, Lt. Jessie Smith, forgot the dog when he parked his car outside the Drug Unit Office on Pine Avenue. Another officer noticed the dog, but he was already dead. "It's just a tragic accident," said Albany-Dougherty Drug Unit Capt. Andy Exum. "There was no intention. It was not intentional by the handler." The dog had lived with Lt. Smith for more than four years. The Policy and Review Board that oversees the Drug Unit is investigating, but no action has been taken. The Drug Unit has one other dog in its K-9 unit. dave.miller@walb.comThe Albany-Dougherty Drug Unit was formed as a joint effort of the City and County to combat the drug problem in the community. The Drug Unit is comprised of four entities: the City of Albany Police Department, the Dougherty County Sheriff's Office, the Dougherty County Police Department and the Dougherty County District Attorney's Office.
A five-person advisory board sets policies for the unit's activities, which are administered through the unit's Commander, who is appointed by the board. The primary function of this unit is the reduction of illegal narcotics being brought into the community, reduce the number of drug dealers and the demand for their product, as well as drug-related crimes through the collection of intelligence, surveillance, seizures, arrest and interaction with other related agencies. The Drug Unit is jointly funded by the City of Albany and Dougherty County.
Commander: Maj. Bill Berry
---
In Loving Memory of
K-9 WOLF
November 17, 2004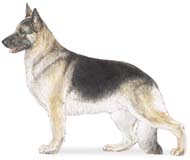 Partner-Handler: Lt. Danny Sullins
Lumberton Police Department
Lumberton, TX

Lumberton TX Police K9 Wolf Passes Away
On November 17, 2004, Lumberton Police K9 Wolf passed away after a battle with cancer
Wolf was handled by Lt. Danny Sullins and had been with him since 1995. Wolf will
be missed by all of the Hardin County law enforcement community.