In Loving Memory of
K-9 VITO
November 6, 2004
9-11-01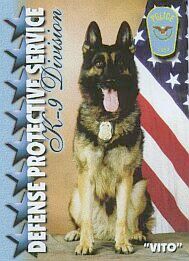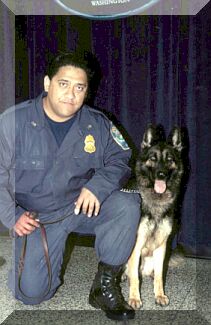 Partner-Handler: Sgt. Isaac Hoopii
US Pentagon Police
9000 Defense Pentagon
Washington D.C. 20301-9000
Pentagon Police K-9
URLS:
http://www.cnn.com/specials/2002/america.remembers/subsection.heroes.html
http://www.e-hawaii.com/stars/index/isaac_hoopii/default.htm
Vito worked on 9/11/01 @ the Pentagon



Sergeant Hoopii, a Sgt. for the Pentagon Police K9 unit, and worked with K-9 "Vito". Vito is a German Shepherd. He officially became a Pentagon Police K9 officer ever since April 1999. He came to the Pentagon from Lackland Air Force Base. Vito provided protection for the Secretary of Defense and all Department of Defense personnel at the Pentagon and throughout the National Capital Region. We were called to many incidents including suspicious packages, building and room searches, vehicle inspections and K9 demonstrations.
Vito had helped at the Pentagon after the plane had crashed into the Pentagon. Working between 16 to 20 hours a day for 6 straight months. He also listen to everything I shared with him going through the experience of 9-11. Due to over worked and stress he had strokes paralyzing his left side. He was retired in April 2002, currently retired for about 4 years, He passed away (Saturday) Nov. 6, 2004 at 0900 am in his sleep, I think he had another stroke. Vito was a loving dog and loves to run in open fields his companion named "Shaka," a female mix lab/collie, and especially loves performing for kids at schools. He will be missed.



COMMENDING MR. ISAAC HOOPII FOR HIS ACTIONS AT THE PENTAGON -- (Senate - October 16, 2001)
Mr. INOUYE. Mr. President, on September 11, 2001, out of the rubble of destruction, countless Americans rose and demonstrated great courage and selflessness. One such American was Mr. Isaac Hoopii, a Native Hawaiian who resides in McLean, VA, and is a Pentagon police officer and member of a bomb-sniffing canine police unit. Minutes after a hijacked plane crashed into the Pengaton, Mr. Hoopii raced into the burning building and carried out eight people. His calm resolve in the face of danger equaled his physical prowess. Unable to see the terrified victims, but knowing that they were amid the debris, smoke, and darkness, Mr. Hoopii repeatedly called out: ``Head toward my voice.''
Several people followed his voice and crawled to safety. At least one man who was led by Mr. Hoopii's voice called it the ``voice of an angel,'' and credits it for saving his life. I have had the opportunity to hear Mr. Hoopii's voice. He is a musician with the ``Aloha Boys,'' a Hawaiian musical group that has performed on Capitol Hill. His singing is melodious and resonant, but I believe Mr. Hoopii's voice had never before sounded more beautiful than it did on that September morning. Mr. Hoopii carries with him the true aloha spirit, and I thank and commend him for sharing with the world the aloha of the Hawaiian people, whom I have been privileged to serve.
********
Voice of an angel
Pentagon cop reunites with man he directed to safety on 9/11 <>WASHINGTON (CNN) -- His hands and arms severely burned, the room pitch black, the air choked with smoke, William "Wayne" Sinclair's world -- much like his tattered office on the Pentagon's first floor -- had been violently turned upside down. Sinclair's had no clue where to go or what to do, until he heard a man yell: "If you can hear me, head toward my voice. If you can hear me, head toward my voice." He kept saying that over and over," Sinclair's said. "And that is what guided us out of the smoke and fire. "The voice stuck in Sinclair's head as he lay in a Washington hospital bed for more than three weeks. An interview with The Washington Post he conducted shortly before his release led to a meeting in early October with the person he credits with saving his life -- Pentagon police officer Isaac Hoopii. "I call him my guardian angel," said Sinclair. "I just didn't know they came in such a big package." Sinclair wasn't one of the eight people that Hoopii says he literally carried to safety after American Flight 77 hit the Pentagon. But Sinclair's efforts to recognize Hoopii have thrust the 6-foot-2, 200 plus pound Hawaiian into the spotlight -- on TV, in newspapers, even at Sinclair's most recent family reunion. Hoopii has taken the attention in stride, saying that after weeks searching the Pentagon site with his canine partner, Vito, and despite remorse about those he couldn't save, he's gradually coming to grips with what happened September 11." I think it is just normal, as a human being, reacting to save people's lives," Hoopii said. "I was just at the right place at the right time. The man above didn't tell me, you know, it was time to check out."
Reacting to disaster
"Hoopii was tracking reports of the World Trade Center attacks when he heard a dispatcher say over the radio, "The plane ran into the Pentagon -- emergency, emergency, emergency." Hoopii jumped in his car and bolted toward the fire, stopping then running toward the crash site. Among the first officers on the scene, he saw plane parts scattered on the ground, small pockets of fire and charred trees -- "everything disintegrated," he said. The scene inside the Pentagon was even more horrific. "There was so much disaster inside -- walls, cubicles, tables, chairs, it was just all blown to pieces and some walls had caved in," said Hoopii. People began to trickle out -- "male or female, black or white, you couldn't tell they were so badly burned." But many others were still trapped, so Hoopii -- wearing just lightweight work clothes and carrying no special equipment -- rushed in and began carrying people from the building and onto the grass 100 yards away. "My job was just to react, and when you react it is more like tunnel vision," said Hoopii. "You try to focus and your adrenaline just kicks in. You really don't realize what you're doing, except just to save lives." After several trips back-and-forth, Hoopii worked his way in as far as possible and began yelling to those trapped inside. "Most people were in a state of panic and shock," said Sinclair, a civilian computer expert and contract employee. "I said, Let's head toward that voice. There is somebody outside. There's got to be. So we kept heading toward it and sure enought, we got outside." Hopii worked practically around the clock for the next several weeks with his dog Vito. But his hope survivors could be found eventually eroded; leaving him feeling guilty that those in the Pentagon who yelled back to him on September 11, but whom he never saw alive had likely died. "Could I have made a difference by helping those people?" "What if?"
Much needed relief
One of those questions was answered in early October, when Hoopii's wife, Gigi tracked down Sinclair's after reading his story in the Post. Later that night, Sinclair's heard the voice he remembered so vividly from September 11. The two met a few days later at a TV studio. "As soon as he saw me, he threw a big bear hug around me," said Sinclair. "We became fast and splendid friends." Sinclair relished the chance to match the voice with a face and express his thanks. Hoopii, meanwhile said the meeting gave him a measure of "relief knowing that people did get out." Although Sinclair said he sometimes feels compelled to boost his new friend. "I try to tell him, Isaac, you saved as many people as humanly possible. You did everything that you could physically and mentally do until you just wore out." "He's just that kind of guy, he keeps going and going and going. He always wants to do more than he is capable of doing." Hoopii credits his wife, three children and dog, Vito for helping him get back on track. After an almost seven-month hiatus, he's back singing with his band, the "Aloha Boys," to help him unwind and share his culture. Hoopii says he has also gained much needed perspective coaching his daughter's youth softball team. "It is just a relief to see them enjoy an American game and forget about all the bad things that happen around the world," he said.
---
In Loving Memory of
K-9 VASKO
June 25, 2004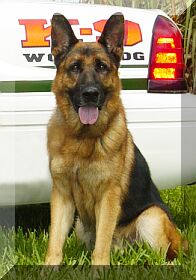 Handler/Partner: Officer Mike Colton


St. Lucie County Sheriff's Office


Sheriff Ken J Mascara
4700 W Midway Rd - Fort Pierce, Florida 34981
(772)462-7300


Poem read by Master Deputy Michael Colton at the June 30 funeral of his partner K9 Vasko

Guardians Of The Night
Trust in me my friend for I am your comrade.
I will protect you with my last breath
When all others have left you
And the loneliness of the night closes in,
I will be at your side.
Together we will conquer all obstacles,
And search out those who might wish harm to others.
All I ask of you is compassion,
the caring touch of your hands.
It is for you that I will unselfishly give my life
And spend my nights unrested.
Although our days together
may be marked by the passing of the seasons
know that each day at your side is my reward.
My days are measured by the coming and going of your footsteps.
I anticipate them at every opening of the door.
You are the voice of caring when I am ill.
The voice of authority when I've done wrong.
Do not chastise me unduly for I am your right arm,
The sword at your side.
I attempt to do only what you bid of me.
I seek only to please you and remain in your favor.
Together you and I shall experience a bond
Only others like us will understand.
When outsiders see us together
Their envy will be measured by their disdain.
I will quietly listen to you and pass no judgment,
Nor will your spoken words be repeated.
I will remain ever silent,
Ever vigilant, ever loyal.
And when our time together is done and you move on in the world,
Remember me with kind thoughts and tales,
For a time we were unbeatable,
Nothing passed among us undetected.
If we should meet again on another street,
I will gladly take up your fight,
I am a Police Working Dog and together
We are guardians of the night.
~author unknown


Late Friday morning, June 25, K-9 "Vasko", partner of St. Lucie County Deputy Mike Colton, passed away due to complications after being shot by a car-jacking suspect. Deputy Colton and K-9 "Vasko" were in foot pursuit of one of two suspects who had bailed out of the vehicle when a shot rang out. K-9 "Vasko" caught up to one of the suspects and engaged him, when the suspect fired two additional shots, one striking K-9 "Vasko" on the right side of his muzzle, approximately 1 1/2" below the eye. Deputy Colton returned fire and hit the suspect several times. K-9 "Vasko" was then recalled to his handler and once assisting deputies arrived the K-9 was rushed to the Animal Emergency Center in Ft. Pierce, where a team of surgeons worked on K-9 "Vasko throughout the night. K-9 Teams from the St. Lucie County Sheriff's Office, the Okeechobee County Sheriff's Office, the Ft. Pierce Police Departmewnt, the Port St. Lucie Police Department, and the Martin County Sheriff's Office responded to assist in searching for the second suspect, who was later apprehended. An X-ray showed that the bullet, a .22 caliber, was lodged in the back of K-9 "Vasko's" neck, but surgeons were unable to physically locate it. It was decided to leave the bullet in the dog in order to prevent him from going into deep shock from the surgery. At 0500 hours K-9 "Vasko" was resting comfortably and his condition was improving, to the satisfaction of the surgeons and the many K-9 officers who maintained a vigil at the Animal Emergency Center throughout the night and morning. Two K-9's, one from the Martin County Sheriff's Office and one from the St. Lucie County Sheriff's Office, donated blood to K-9 "Vasko." Sometime later in the morning K-9 "Vasko" suffered two heart attacks,
which took his life.
***********
Mourners pack county civic center to honor K-9 Vasko who paid the ultimate price capturing armed carjacker

As a six-mile-long motorcade made its way to the St. Lucie County civic center June 30, hundreds of area residents took their seats for the funeral of St. Lucie County Sheriff's K9 Vasko. Vasko, 5, died five days earlier from gunshot wounds he received while subduing an armed carjacking and kidnapping suspect and protecting his partner, Master Deputy Michael Colton. Vasko was pronounced dead shortly after noon June 25 after all-night efforts by veterinary specialists of the Animal Emergency Center to keep Vasko alive.The funeral filled the civic center, with an estimated 800 members of law enforcement agencies and the public, in addition to 70 police K9 teams from as far away as Bay County, Florida. "Of course, Vasko's heart will never stop," said Sheriff Ken J. Mascara in his eulogy. "It beats within every person whose life Vasko touched. It beats within each police service dog. And it beats within each of us." In recognition of K9 Vasko's heroic sacrifice, Sheriff Mascara posthumously awarded Vasko the Sheriff's Office Medal of Honor and Life Saving Award. Master Deputy Colton, flanked by two of his children, Courtney, 8, and Mark, 11, read the well known poem "Guardians of the Night"(he text of the poem is posted on the home page of the Sheriff's Office web site) and pledged to remain a K9 Deputy.
The memorial service included a 21 gun salute by a multi-agency honor guard, a "missing man" formation fly-over by the Sheriff's Office Aviation Unit and a touching four minute video produced by St. Lucie County media specialists. Punctuating the service were the pants and occasional barks from six dozen police service dogs. "Let them make a little noise," said Master Deputy Colton from the rostrum, obviously comforted by the presence of the animals. "That's what they're here for." The June 25 incident that claimed Vasko's life was his 91st apprehension and the first line-of-duty death of a St. Lucie County Sheriff's Office police service dog since the K9 Unit's creation in 1985. The incident began the night of June 24 when 18-year-old Bernard Levy and 19-year-old Clemon A. Sneed, both from Fort Pierce, stole a white-over-blue Cadillac from Ramon Gandy of Sheraton Plaza as he sat in front of his home listening to his car radio. The two forced Gandy into the trunk of his car and sped off. 9-1-1 dispatchers sent deputies to the area because neighborhood residents heard gunshots. Shortly after deputies spotted the car, Levy and Sneed abandoned it and tried to run away. Master Deputy Colton and Vasko were nearby and ran after Levy, who was carrying a .22-caliber revolver recovered later by deputies. When the suspects wouldn't stop, Master Deputy Colton released Vasko. As Vasko neared Levy, he fired the gunshots that later claimed Vasko's life. Vasko protected his partner and other deputies and managed to apprehend Levy, holding his leg in the grip of his jaws and keeping him on the ground until Colton recalled him. When Levy raised his gun in Colton's direction, the deputy fired several gunshots to defend himself, incapacitating Levy. Colton, a 16-year Sheriff's Office veteran, has been with the Sheriff's Office K-9 Unit for eight years. After doctors performed leg surgery on Levy at an Orlando trauma center, deputies took him to the St. Lucie County jail. Shortly after the shooting, deputies found Sneed at his north-county home nearby and took him to jail. In addition to facing charges of attempted murder of a police officer and murder of a police dog, armed carjacking and kidnapping, Levy also faces attempted kidnapping-with-a-firearm and sexual-battery charges from the Fort Pierce Police Department and charges of carjacking with a deadly weapon and kidnapping from the Indian River County Sheriff's Office.
By Mark Weinberg
The St. Lucie County Sheriff's Office K-9 Unit dates to 1985. *With the death of Vasko, the unit consists of three German shepherds and two narcotics dogs: a Golden retriever and a black Labrador. This is the first fatality for the unit. A dog was stabbed in the line of duty in the late 1980s, but it recovered and returned to duty. Thank you for information Officer By Mark Weinberg
Mark Weinberg
Public Information Officer
St. Lucie County Sheriff's Office
4700 West Midway Road
Fort Pierce, FL 34981-4825
Office: 772-462-3308
Mobile any time: 772-370-2717

submitted by: Jesse (Chgo PD)
---
In Loving Memory of
K-9 VADER
April 5, 2004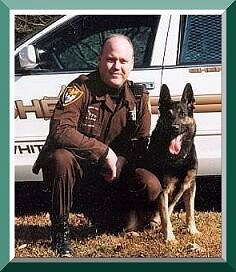 Partner: Deputy Byrd Huber
White County Sheriff's Dept.
108 No. Main Cross
Carmi, IL 62821
618 3825321
VADER IS A 6 YEAR OLD GERMAN SHEPHERD. DEPUTY BYRD AND VADER HAVE BEEN TOGETHER SINCE GRADUATING FROM THE EVANSVILLE POLICE DEPARTMENT K9 ACADEMY (NOW TOP DOGS). VADER WAS BORN IN HOLLAND IN JULY OF 1995. WE GRADUATED FROM THE ACADEMY IN AUG OF 1996.