In Loving Memory of
K9 T-BONE
November 9, 2004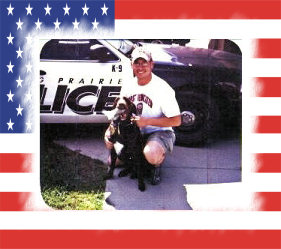 Handler: Officer Mark Lang
Blooming Prairie Police Department
138 Hwy. Ave. S.
Blooming Prairie, MN 55917
Non-Emergency (507) 583-7885
End of Watch:
Tuesday, November 9, 2004
Biographical Info:
Age: 4
Tour of Duty: 2 yrs
Badge Number: #7602 K-9
Incident Details:
Cause of Death: Hit by Car
Date of Incident: Tuesday, November 9, 2004
Weapon Used: Car
Suspect Info: Unknown Suspect
T-Bone was hit by a car and soon after died of his wounds while he was waiting to be picked up at home for his shift by his handler Officer Mark Lang. While T-Bone was waiting, a vehicle was driving towards his residence. T-Bone then went up to the road believing it was Officer Lang coming to pick him up. But, unfortunately the vehicle did not stop this time and it hit T-Bone severely injuring him. Officer Lang drove up shortly after and drove T-Bone to the vet hospital, but unfortunately T-Bone did not survive the surgery. T-Bone was the departments first K-9 Dog and will be missed by all who knew him.The Blooming Prairie Police Department K-9 Unit consists of 1 K-9 Handler, and 1 Officer who is the K-9 Assistant. K-9 CRUX was brought into the department shortly after the cities first K-9 T-Bone was killed. T-Bone was the cities certified narcotics dog until his death.
---
In Loving Memory of
K9 TANGO
January 3, 2004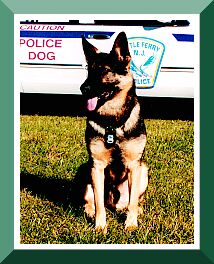 Handler: Officer Ron Callahan
Little Ferry Police Department
215-217 Liberty St.
Little Ferry, NJ 07643
201-641-2770

Tango was a duel trained patrol narcotics K-9. He was trained at the Bergen Co. Sheriff Department. He did many demonstration at local school and the students loved him. He was very social and lovable. When he had his work collar on, he knew it was time to work, when he had on his play collar, he knew it was play time. He was a special dedicated K-9. Cancer was taking Tango from all who loved him, thus his suffering ended and the sorrow began.



"TANGO"
You always were my trusted friend
Right up to the very end
You were my partner for many years
Devoted, courageous without any fears
You covered my back day-in, day-out
You'd give me your life without a doubt
We worked together both night and day
From my side, you would not stray
You were a true K-9 in body and soul
Never losing sight of your chosen goal
My closest pal when we were home
We'd walk, we'd talk-never caring to roam
You made me proud and happy, Tango
And I was not ready to let you go
I made you a promise that I had to keep
You would not suffer though I would weep
I am thankful for each day we had to share
And you so deserved each shedded tear
I know you are at peace and free from pain
And I will honor your badge till we meet again
~Ron Callahan
---
UPDATE ON HANDLER, Officer Brett Meredith (below)
Who helped others when K9 Titan died.
2010

http://peterlewissculptor.com/K9%20Memorial,%20Tahmoor,%20NSW.html
more photos above URL.... please take time to see....
Hi Lulu,
Hope your Christmas was peaceful and safe. The Australian Police Officer killed in Northern Terrfitory early New Year's Day used to be a dog handler in the NSW Police Service. His name was Brett Meredith and he lived near us when a dog handler and was very good to me when PD Titan got killed.
He joined the Northern Territory Police only two years ago and leaves behind five children under nine years of age and a wife he loved. When the life support was turned off, Amee got into the hospital bed beside Brett, put his arm around herself and fell asleep. In the dog unit they took paw prints of dogs killed on duty. Brett's family took coloured hand prints so the children would always have dad's hand print. A full police funeral will be held in Darwin tomorrow.
Chris.
---
In Loving Memory of
K9 TITAN
December 23, 2004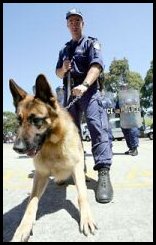 Handler: Sgt. Sean McDowell
NSW Police Department
Sydney, Australia



New South Wales Police dog, His name was Titan and he was stabbed three times and unfortunately he could not be saved . It was a LODD and he had been to a school 3 hours earlier with his handler talking to children about their work.
Titan give his life to protect handler
A police dog killed after pursuing an armed man in Sydney's west gave his life to protect his handler, Police Minister John Watkins said today. Three-year-old German Shepherd Titan was stabbed to death by a man waving two knives after a seven-hour siege at Lalor Park overnight. It is the first time a police dog had been killed by an offender in NSW, police said." The dog put himself between the offender, who was armed I understand with two knives, and the officer," Mr. Watkins told reporters.
"The dog gave his life to protect his handler." Titan's handler is today spending the day with his family trying to deal with their loss, NSW Police Dog Squad Chief Inspector Peter Crumblim said." The handler is understandably very upset," Insp Crumblim said. "The dog was part of the family and the family, including his children, are yet to deal with the situation." Titan, who was stabbed three times, had been a working police dog for 18 months, police said. Police went to the house in Lalor Park, about 9.30pm last night after reports that a man was threatening to hurt himself. At 4.20 am, after a seven-hour stand-off, the man agreed to leave the house but fled, armed with two knives. Titan was stabbed while pursuing him, police said. He was taken to a vet but later died. A 23-year-old man was taken to Blacktown Hospital for psychiatric assessment and was now in police custody. Titan was a brother of Carts who was killed Dec 9th 2007.
submitted by Jim Cortina, Dir. CPWDA
---
Looking for update on this one (2009)
SOS
HELP for K9 Titan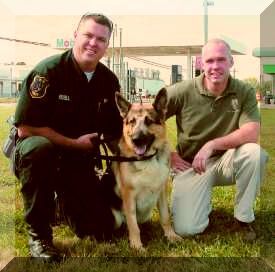 Titan poses with his owner and K-9 handler.
Department of Corrections Emergency Response Team
Officer Marc Russell and Dr. Chris Coon of Haven Lake Animal Hospital.
Milford Chronicle/Gwen Guerke
============
State of Delaware Dept. of Corrections
245 McKee Rd.
Dover, DE 19904
302 739.5601

302 - 6596070 - Mon. 18th
302 - 6596072 - to handler, Ofc. Russell
updates on Titan: 302 659 6071

K-9 battles cancer; Donations sought for cop dog ~By Gwen Guerke, Milford Chronicle
Titan poses with his owner and K-9 handler Department of Corrections Emergency Response Team officer Marc Russell and Dr. Chris Coon of Haven Lake Animal Hospital. Milford Chronicle/Gwen Guerke MILFORD - A big plastic donation jar with Titan's photo on it sits on the counter of Haven Lake Animal Hospital on Milford-Harrington Highway. Ten days ago, Titan retired from state service as a Department of Correction's Emergency Response Team K-9. The Czechoslovakian-born dog served with Officer Marc Russell, a Milford resident, for about three years. He worked during escape and hostage situations and with Officer Russell in correctional facilities when other K-9s and their handlers went for training. Handlers and dogs must take an 8-hour recertification class each month, Officer Russell said. In June, Titan started having nosebleeds. Medical tests administered locally provided no answers, so his veterinarian, Dr. Chris Coon at Haven Lake Animal Hospital, referred him to the University of Pennsylvania, where a CAT scan revealed a mass in Titan's left nostril. A biopsy showed the mass was infected. Doctors treated Titan for eight weeks, but saw no improvement, Officer Russell said. Then the dog developed breathing problems. A second biopsy caused the mass to break, resulting in a loss of a lot of blood. Dr. Coon thought the mass was cancerous and sought advice from veterinary specialists in Gaithersburg, MD. Surgical intervention would cost thousands of dollars. Titan retired on Monday, Oct. 4. Even if he recovered, he would not be able to work again. "What's wrong with him might reoccur. The best course of action was to retire him," Officer Russell said. Officer Russell, who takes Titan home with him every night, and his wife, Wendy, had to make a tough decision: allow Dr. Coon to try the surgery himself or have Titan put down. "He's been a part of my family. He's so much more than a pet. It's hard to explain the bond," said Officer Russell. On Tuesday, Oct. 5, Titan underwent the surgery. There were four dogs waiting to donate blood to him during the two-hour procedure. "It was a new one for me," said Dr. Coon, who removed the tumor from the dog's nasal cavity. A week later, Titan was still taking antibiotics and pain medicine. The swelling on his nose has gone down. Dr. Coon believes the mass was some type of cancer, but at press time was waiting to hear definitive lab results. Early diagnosis is that it was a non-malignant tumor that may reoccur. "He will need radiation," Dr. Coon said. "All the money raised here is for future treatments."
---
In Loving Memory of
K9 TODD
August 2, 2004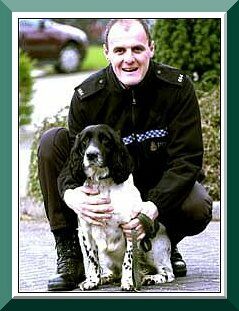 Handler: Constable Roger Moore
London, England

Drug Sniffer Dog Dies of Overdose
LONDON (Reuters) - A police sniffer dog died of a suspected overdose while out hunting for drugs, British police said on Monday. Todd, a 7-year-old Springer spaniel, had been looking for drugs in a field and car in Preston, northern England, when his handler noticed he was looking unwell. He was taken to a vet and then rushed to an animal intensive care unit at Liverpool University, displaying symptoms of ingesting amphetamines, a Lancashire police spokeswoman said. He died shortly afterwards.
The death was said to have devastated Todd's handler, Police Constable Roger Moore, his wife and two young children.
"He (Todd) lived with them and they would all go for walks with him -- he was their dog," Sergeant Peter Crane of Preston's dog unit told the Daily Mirror. "He's going to be very difficult to replace, but police work is dangerous and unfortunately Todd has become a casualty." Police said a post mortem on Todd was being carried out. submitted by Selena
---
In Loving Memory of
K9 THUNDER
June 16, 2004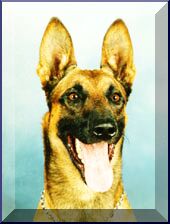 Handler: Officer Mike Goosby
Los Angeles Police Department
METROPOLITAN DIVISION - K-9 PLATOON
251 East Sixth Street
LOS ANGELES CA 90014
213-485.4091
Officer Mike Goosby of the Los Angeles Police Department, put his K-9 Thunder to sleep yesterday. He was a 9 year old Belgian malinois who had 206 finds in seven (7) years with the department. Officer Goosby has new partner and handles K-9 Luca.
submitted by Dusty Simon
---
In Loving Memory of
K-9 Wynthea's Tequila - CD, TD, CGC, NA, TDI
K9 TIKKI
May 1, 1993 - March 29, 2004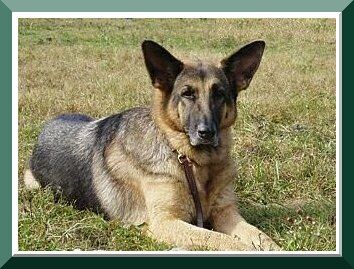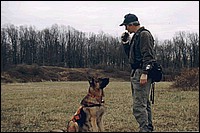 SAR Handler:

Vicki Wooters
Search and Rescue Dogs of PA


PATF1
272 Iroquois La.
Malvern, PA 19355



610-296.5374


*********************
She had a hemangiosarcoma tumor. She was operated on 2/24/04 and was on a search call-out on 2/25/04! We tried to leave without her, but she is a real trooper.Tikki is a 10 year old female German Shepherd Dog and a member of Search and Rescue Dogs of Pa (SARDOGS) and The American Rescue Dog Association (ARDA). Tikki has been a search and rescue dog for most of her life. Her amazing nose has followed the trail of a 9 year old boy, found safe and alive. She has trailed an 11 year old boy through city streets, also found safely. She has followed a young man to a train station where he went to another city. She followed an elderly man from the city to the suburbs, where he caught a ride to another city. Her searches have taken place in deep woods and on city streets with traffic and trains. She has been deployed on 5 degree days (she found a missing woman) and also on 100 degree days. She has worked side by side with horses and other dogs. Tikki has been a "schoolmaster" of sorts, helping to train many new dogs. Although Tikki is trained to air scent like most search dogs, her special gift is an ability to discriminate scents and follow a trail of a missing person. This skill has enabled us to follow the paths of several missing people days after they went missing. The fact that she can do this no matter how contaminated an area gets, is extraordinary. Tikki did not have one search that made her special. Each search that she was on was the very most important one to each of the family members of the missing person. Tikki had a titanium hip and survived emergency bloat surgery. She responded to a search one day after an emergency splenectomy (we tried to leave without her, she would not let us!). Tikki helped hundreds of people through her lifetime. She has been an operational search dog, on call 24/7 for 10 years. When not searching, though, she is a registered therapy dog (Therapy Dogs International) and frequently visits patients at Bryn Mawr Rehabilitation Hospital. She has also participated in dozens of scout meetings, firehouse demonstrations and school affairs. Her efforts may have prevented many children from getting lost in the first place. Tikki has demonstrated her excellence dozens of times on searches. She has saved many lives. She is truly a canine hero.
****************************
Eulogy
How do you say good-bye to your best friend? We lost our very sweet Tikki last week. She died from a hemangiosarcoma tumor. Tikki was a 10 year old female German Shepherd Dog and a member of Search and Rescue Dogs of Pa (SARDOGS) and The American Rescue Dog Association (ARDA). Tikki has been a search and rescue dog for most of her life. Twice she earned her wings flying in a helicopter. She has trailed people both on foot and on horseback. Her amazing nose has followed the trail of a 9 year old boy, found safe and alive. She has trailed an 11 year old boy through city streets, also found safely. She has followed a young man to a train station where he went to another city. She followed an elderly man from the city to the suburbs, where he caught a ride to another city. Her searches have taken place in deep woods and on city streets with traffic and trains. She has been deployed on 5 degree days (she found a missing woman) and also on 100 degree days. She has worked side by side with horses and other dogs. Tikki has been a "schoolmaster" of sorts, helping to train many new dogs. Although Tikki is trained to air scent like most search dogs, her special gift is an ability to discriminate scents and follow a trail of a missing person. This skill has enabled us to follow the paths of several missing people days after they went missing. The fact that she can do this no matter how contaminated an area gets, is extraordinary. Tikki did not have one search that made her special. Each search that she was on was the very most important one to each of the family members of the missing person. Tikki had a titanium hip and survived emergency bloat surgery. She responded to a search the day after an emergency splenectomy (we tried to leave without her, she would not let us!). Tikki helped hundreds of people through her lifetime. She has been an operational search dog, on call 24/7 for 10 years. When not searching, though, she is a registered therapy dog (Therapy Dogs International) and frequently visits patients at Bryn Mawr Rehabilitation Hospital. She has also participated in dozens of scout meetings, firehouse demonstrations and school affairs. Her efforts may have prevented many children from getting lost in the first place. Tikki has demonstrated her excellence dozens of times on searches. She has saved many lives. She is truly a canine hero. But mostly, Tikki was a wonderful representative of the female German Shepherd. She was elegant, intuitive and completely in charge of our home. Her death was graceful and on her terms. She died before she could even retire, which is how she would have wanted it. Although Tikki had a very public life, I miss her most for our private time. Everyday, I had to step around her to get out of the shower. She was always faster then me to secure her free snack, courtesy of the cats; it could be a mole, mouse or squirrel, swallowed fast as could be. And of course, she would immediately jump to chase a cat that dared to jump on a counter. I miss how she took each treat or bite of food with a gentle ladylike grace. I will miss forever her ice cream face, with puppy ears and so much joy. Her heaven will be filled with the swallows she so loved to herd and chase. There will be horses with tails that she can run her face through. And always a stream to cool her belly in. We miss her and know that she will now her good friends. We reunited with all
---
In Loving Memory of
K-9 TULLY
March 2, 2004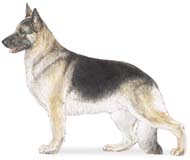 Handler: Richard Osborn
City of Sacramento Police Department
5770 Freeport Blvd. Ste 100
Sacramento, CA 95822http://www.sacpd.org/
ph. 916 264 5471

Tully, retired narcotics K-9, passed away yesterday. Tully was handled by Rick's now Sgt. when he was a narcotics detective. I guess that Tully was having problems breathing yesterday & Mark took Tully to the vet & Tully had a heart attack at the vet's office & died. Unlike Luke's handler Mike, Tully's family is taking his death very hard. Mark & Kris (Tully's owners) can't have children so their dogs are their children. Kris is really torn up over his death, she tried so hard to keep it together but she cried at least three times while we were there. He was such a character. Harley our female GSD was at their house for a little while after the fire while we were looking for somewhere to live. Tully had gotten hurt while playing & I went over there to massage out his leg & every time he saw me after that he would come limping over to me & raise his paw. He was an absolute joy & the kids loved to play with him. He was a yellow lab. I am sure that Kris & Mark both would love to have Tully on your page & I will get you the info & a picture after we get back from vacation. We took flowers over to them yesterday & a sympathy card (thankful for Hallmark). Well I'll keep you updated.
submitted by Carrie