In Loving Memory of
K-9 PANZER
September 9, 2004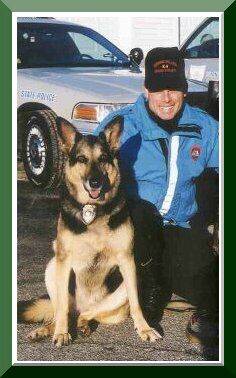 Partner: Trooper Matt Zarrella
Rhode Island State Police
311 Danielson Pike
Scituate, RI 02857-1907
401-444-1065
More information and photos of K9s finding, click on remains in Vietnam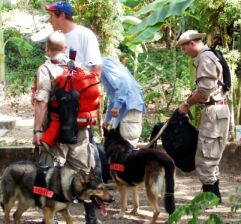 Human Remains Recovery Dogs join the search for missing Americans on the 72nd mission in Vietnam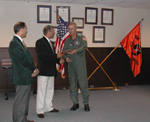 General Redmann recognizes Human Remains Dog Handler, Rhode Island State Trooper Matt Zarella (middle) and Dog Team Veterinarian, Dr. John Turco (left), after returning from their debut mission in Vietnam.
Providence - 9/10/2004
The Rhode Island State Police's longest-serving K-9 died from cancer Thursday morning, the dog's handler said. Panzer was forced into retirement in August because of her illness. For more than a decade, Panzer went on the trail of those who were missing.
Trooper Matt Zarrella said her instincts and acute sense of smell allowed her to solve cases that people simply could not. She was called in to help with more than 200 searches around the world. An aggressive form of cancer was discovered earlier this year when Panzer returned from a search. Zarrella said he tried to keep his partner comfortable in her last few weeks of life. Zarrella told News Channel 10 last month that he isn't sure if he would replace Panzer. He said he doubts he could find another dog to match her skills or her work ethic. "Panzer loved to work," Zarrella said. "She really wasn't much for any kind of horseplay or fooling around. All that she wanted to do was work, and that was a great attribute about her."
The Official Voice of Vietnam Veterans of America, Inc. ®
An organization chartered by the U.S. Congress
August/September 2003 -
FEATURE ARTICLE
A First by the JTF: Using Dogs to Dig for MIA Remains
BY JIM BELSHAW
By eleven o'clock, Max and Panzer suggested it was time to end the workday. The two German Shepherds had done everything asked of them, but as morning crept toward noon and the sun rose higher in Vietnam's sky, priorities changed, and the search for shade to escape the brutal heat took precedence over the search for the remains of men still missing from Vietnam's brutal war. The dogs worked in 15-minute stretches, first one, then the other, alternating to minimize the drain on their energy. They kept cool with splashes of water and towels pulled from a cooler. But the dogs had made a prodigious climatological leap, going from winter in Rhode Island to the stifling heat of Southeast Asia. German Shepherds are known for their versatility and ability to adapt, but Max and Panzer had never been tested like this. "They'd never done anything like it,'' their handler, Rhode Island State Trooper and former Marine Matt Zarrella, said. Neither had he. Zarrella and his search dogs, specially trained to locate cadavers at crime scenes, had been asked by Joint Task Force-Full Accounting (JTF-FA) in 2002 to come to Vietnam to aid in the search for remains of Ameican servicemen still listed as Missing In Action.
---
In Loving Memory of
K-9 PEDRO
August 16, 2004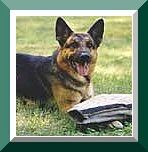 Partner: Capt. John Best
Marshall Police Department
Chief of Police - Jim Wilkins
303 W Burleson
Marshall, Texas 75670
(903) 935-4525

K-9 Funeral For Marshall Narcotics Dog
A special memorial today for a fallen law enforcement officer, an officer who never wore a uniform to work. Full department honors were given to a K-9 officer named "Pedro." He was a 12 year old German shepherd who served the Marshall Police Department for seven years. Captain John Best was Pedro's partner for seven years and saw Pedro honored numerous times for getting millions of dollars of drugs off the street. Captain Best believes the bond between trainer and K-9 can sometimes be stronger than our human bonds."They're with us eight to 12 hours a day on shift, they live with us at the house 24 hours a day, it's a bond other officers can't understand..When a canine falls, goes down, it really breaks the hearts of the handlers," says Best.Pedro died of old-age related illness. He was laid to rest in Marshall's Airport Park.A memorial marker there will now bear his years of service to the police department.
Bob Hallmark, reporting. submitted by Jim Cortina, Dir. CPWDA
In Loving Memory of
K-9 PEPSIE
May 15, 2004

Partner-Handler: Krishea Osborne

Athens City Police
Athens, OH



PEPSIE - FOREVER A HERO
You are lean, hard & strong
Your movements deliberate & swift
Your eyes sharply focused, fearless & bright
You were born to work the night

Your training, long and hard
Full of blood, sweat & tears
Your potential infinite
You are one of a kind

You are trustworthy, loyal & brave
You are quick to react
Always ready to fight, serve & protect
You stand strong in the face of danger & chaos

Together we stand tall & confident
Side by side
Guardians of the night
Defenders of the day

People look at you with awe & fear
They think I'm crazy to hold you near
Because you are tough, I appreciate you more
You are my partner, my protector, my friend, my son

GOD needs an Angel to stand by him at the gate of heaven
Our time together on earth has come to an end
I keep a part of you in me
Everywhere I am, there you will be

One day we will be reunited
Until then stand still & proud
Know you made a difference in the lives you touched
YOU WERE A ONCE IN A LIFETIME GIFT FROM GOD & FOREVER MY HERO!

On May 15,2004 my police K-9, Pepsie, passed away from complications related to the Chemotherapy he was receiving for a tumor in his chest. Pepsie was diagnosed with Cancer in late February 2004, and worked right up his untimely death, he would have had it no other way. Pepsie and I were united as a K-9 team in June of 1997. He was a 1 year old Belgian Malinois, and was tough as they come. My trainer offered multiple times to get me a K-9 that was easier for me to handle. You see, in the world of K-9's, you don't see too many women handling a dog of his caliber and toughness. I saw his potential and was determined to bring out his full potential. Pepsie faithfully served the Athens Police Department and was utilized 1,321 times, was responsible for 392 arrests for narcotics violations and suspect apprehensions for various felonies. K-9 Pepsie never thought of the risks involved in his duties, and he never showed fear in the line of duty, even though he was asked to perform his duties in potentially hazardous situations. On 5/7/04 K-9 Pepsie was deployed for his final apprehension. He was called upon to locate a suspect that fled from Athens County Sheriff's Deputies into a dark wooded area. It was unknown if the suspect was armed. A deputy pointed in the direction he thought the suspect ran, up a hill in the woods. K-9 Pepsie searched around that area not picking up any scent. I re-started him at the bottom of the hill and allowed him to search wherever he wanted. Pepsie searched with his head up crashing fearlessly through dense brush in the opposite direction the deputy had reported the suspect running. Pepsie located the suspect lying motionless, face down in a ditch line with his hands tucked under him. As soon as Pepsie started barking, the suspect gave up and was totally compliant with officers, yelling that he did not want bit. This was the 3rd suspect that had given up when faced with Pepsie, after he had been diagnosed with Cancer. Pepsie was the most successful police K-9 in our area. In 1999 he was responsible for the largest one time seizure of LSD ever in the State of Ohio, with 16,200 hits. He was responsible for the overall seizure of over 23,000 hits of LSD for the year. He won the USPCA district 5 catch of the month for that seizure.
He won catch of the month for a seizure of over 74 pounds of Marijuana and 3 ounces of Cocaine that lead to the seizure of over 4 million dollars in assets. Pepsie was responsible for taking hundreds of pounds of Marijuana and various other drugs off the streets of his community during his career. He was also responsible for the apprehension of over a dozen of felony suspects. Pepsie kept me and his fellow officers safe. When suspects were fighting or thinking of fighting with officers, as soon as the thundering bark of Pepsie was on scene they decided to become submissive. One Ohio Dept. of Public Safety officer summed it up after learning of Pepsi's death, "That dog saved my tail on more than one occasion over the years, and for that I'll never forget him!" Pepsie was beloved by everyone who met him. Pepsie was a "king" among police K-9's. Many handlers, to this day, brag about how incredible a dog Pepsie was and strive to have their k-9's work at the caliber Pepsie worked. He was a sweet prince when it came to children, and he met and played with thousands. He was always getting letters from children, including after he was diagnosed with Cancer. Pepsie never met a stranger, and if you were afraid of dogs, he made it his mission to change your mind, and
always did. Our dept. DARE officer said children cried when they heard of his passing. I received hundreds of letters from children, community members and people who had never met Pepsie, only heard of him through other K-9 Handlers. Our community is very liberal, and when K-9's were first introduced into the community, there was a lot of negative feelings. Pepsie through his hard work, dedication and love for his community turned that opinion around in the end. So much so, that community members and businesses wanted to donate money to replace him.Ultimately, Petland, donated the money that was used to purchase my new K-9, Jersey in July, 2004.
I believe that Pepsie sent me Jersey. Jersey is a very smart dog, and I believe he will be very successful, and give his all to fill the paw prints left by Pepsie. It is so nice to have people like you, to care about the most dedicated law enforcement officers GOD ever created, K-9's. It has been 8 months since I lost my partner, it doesn't get any easier to talk about, but it helps to share his memory with others. Thank You so very much for caring for our heroes! I have included a photo of Pepsie and a poem I wrote him after his death.
K & J

Aug. 2004, the Ohio Veterinary Medical Association presented me with an award for Pepsie for
his service to his community and especially his impact on the children in the community.