In Loving Memory of
K-9 NERO
June 6, 2004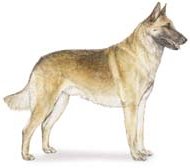 Handlelr: Sgt. Joseph Faria
Anaheim Police Dept.
http://www.anaheim.net/section.asp?id=124
former member of:Monterey Park Police K9 Unit
Chief of Police John Welter
425 S Harbor Blvd
Anaheim, California 92805
(714)765-1900
Officer Ryan Esquibel and canine "Neros" former handler @ Monterey Park Police.

Officer Esquibel has been a Monterey Park Police officer for six years. He has been a canine handler for one year. He is an experienced
field-training officer and has been a member of the department's Special response Team for several years. Officer Esquibel has received many commendation throughout his tenure as a police officer.
"Neros" is a five-year-old Belgian Malinois. He is currently trained in patrol work, and will receive additional training Narcotics Detection during the next year.
K9 "Nero" passed away in his sleep on June 6th, 2004, Nero was 14 years old.
---
In Loving Memory of
K-9 NERO
January 16th, 1996 - March 11th, 2004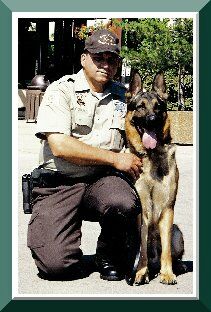 Handler: Sgt. Joseph Goduto
Cook County Sheriff's Police Department
email
1401 Maybrook Drive
Broadview, IL 60153
(708) 865-4740

The Cook County, Illinois Sheriff's Police Department will be holding a memorial service for K-9 Nero on Tuesday, March 30th, 2004 at 1100 hours at the Cook County Sheriff's Police Canine Training Facility. Retired Canine Sergeant, Chicago Police Dept.
submitted by: Kenneth J. Burger


Cook County Sheriff's Police Department mourns the loss of one of its own.
MAYWOOD, IL—The Cook County Sheriff's Police Department is mourning the loss of one of its most beloved officers. Canine Nero, a German Shepherd Dog, passed away on Thursday, March 11, 2004 at approximately 2:00 o'clock a.m. Nero was trained in the many facets of police work, which include obedience, tracking, evidence searches, area searches, building searches, criminal apprehension, and handler protection. Canine Nero was assigned to Police Officer Joseph Goduto in 1997. In December of 2000, Nero's partner was promoted to the rank of Sergeant. Sergeant Goduto and Nero were allowed to continue their partnership and their service tothe citizens of Cook County. During their career together Sergeant Goduto and his trusty partner Nero were responsible for the apprehensions of many offenders of various crimes, multiple stashes of secreted drugs, the location of many pieces of evidence, and most of all the countless numbers of Canine Demonstrations. At these demonstrations Sergeant Goduto and Nero displayed a great deal of knowledge and professionalism, while providing worth while learning experiences. Sergeant Goduto and Nero were responsible for spreading the message on the common misconceptions of Police Service Dogs. Throughout Nero's career he maintained a
zest for life and a love of all people. Nero was most comfortable when he was being petted by the multitudes of children that loved to hear his partner's message. Nero is survived by his partner, Sergeant Goduto, his 12 brothers and 1 sister Sheriff's Police Service Dogs, as well as all of the other Police Service Dogs throughout the world, who are often overlooked in the service to the community. Nero was born in Holland on January 16th, 1996, began his career with the Cook County Sheriff's Police Department on October 31st, 1997, and retired to eternal life March 11th, 2004.
---
In Loving Memory of
K- 9 NERO
June 4 or 6th, 2004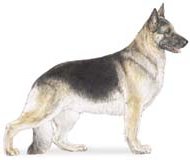 Handler: Sgt. Joe Faria
Monterey Park Police Department
320 W. Newmark Ave.
Monterey Park, CA 91754
(626) 307-1212
Presently with Anaheim PD, CA

Sgt. Joe Faria of the Anaheim Police Dept. (former handler with the Monterey Park PD) just lost his retired K9 "Nero" who passed way in his sleep, Nero was also 14 years old. submitted by: Lt. Mike Higashi ( k9lt@mpdk9.org http://www.mpdk9.org)
---
In Loving Memory of
K-9 NERO K-9 JORDY
July 27, 2004 April 28, 2004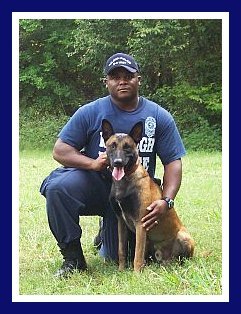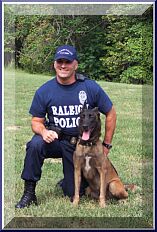 Handlers: Officer Keljin Adams & Cpl. Steve Lowery
Raleigh Police Department
Canine Unit 301 Hillsborough St. Rm. 118
Raleigh, NC 27603 PH: 919 807-5230
Police lose dog in traffic mishap
Nero, a Raleigh patrol dog, died after being hit by a car while exercising with his handler Photo Courtesy of Raleigh Police
The death of Nero, Officer Keljin Adams' dog, has been 'devastating,' says one of Adams' fellow officers.
By WAFEEQ ZARIF, Staff Writer
*****************************
RALEIGH -- The Raleigh Police Department has lost another one of its four-legged helpers. Nero, a 4-year-old patrol narcotics dog, died Tuesday night after being hit by a vehicle on Centennial Parkway. Police said Nero was exercising with his handler, Officer Keljin Adams, at about 8:10 p.m. when he was distracted by something moving in the tall grass. When Nero ran to investigate, he was struck. The driver of the vehicle didn't stop. Police are mourning the loss. "To us, it's like losing your child or spouse or parent or sibling,"Capt. Ken Mathias said. Mathias, a police investigator, works with a dog named Quattro. "You spend 24 hours a day, 365 days a year with the dog. You take them on vacation with you. If I go to the beach, Quattro goes, too. It's been a devastating loss for (Adams)," Mathias said. Dr. David Lee oversaw Nero's stay at the N.C. State University School of Veterinary Medicine after Tuesday's accident. Lee said when he told Adams the situation was bleak, he was surprised by Adams' reaction. "They were talking to Nero the way you see in war movies, saying, 'Hang with me, stay with me, buddy,' " Lee said. "They were distraught with grief, like a real person was hurt." Another narcotics dog, named JORDY, died from bloat on June 22, also a Belgiam malinois. His handler was Officer Lawry. Mathias said it has been hard losing two dogs in such a short time. It's not just a loss to the dog handlers; it's a loss to the entire Police Department, Mathias said. "Officers rely on the dogs in the field," Mathias said. "If someone runs away from an officer, they're on the radio calling for a police dog to track them." The loss of Nero is not only an emotional blow, but a financial one as well. Nero was a Belgian Malinois from Holland. Mathias said the breed is outstanding for police duties because the dogs are intelligent and function well under stress, are easy to train and eager to please. Each one costs $5,000 to $10,000, and the total cost to train one is about $20,000. Mathias said the department will replace Nero as soon as Adams is ready, but it won't be easy. Developing affection between the dog and handler isn't a problem, because all of the handlers are dog lovers, Mathias said. The hard part is developing trust. "The handler is generally searching for people that are armed and dangerous," Mathias said. "The handler has to rely totally on the senses of the dog, and that just doesn't happen overnight. Even though Officer Adams gets a new dog, he still has to build trust all over again, whereas Nero fit him like a glove."
staff writer Wafeeq Zarif can be reached at 812-5957

K9's NERO & JORDY