In Loving Memory of
K-9 MONTY
October 22, 1991- September 29, 2004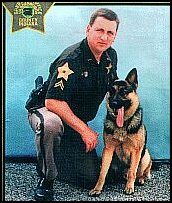 Partner: Sgt Jeff Johnson
Vanderburgh County Sheriff's Office
K-9 Unit supervisor
Vanderburgh County Sheriff's Office
5607 US 41 North
Evansville, Indiana 47711
On September 29, 2004 K-9 Monty, Vanderburgh County (Indiana) Sheriff's Office, was euthanized.
K-9 Monty retired in May of 2001, and in early spring of 2004 was diagnosed with spinal myelopathy. Most people will never enjoy the relationship or the bond that exists between a handler and his partner. Each puts their total trust in the other. Their lives depend on each knowing the other so well that the most subtle body language is read and understood. Not a word needs to be spoken. Something as simple as a change in breathing, the turn of an ear, or the hair standing on the K-9's back tells a handler all he needs to know. Hours of training, and practice go into becoming a successful team. I was blessed with the opportunity to handle two dogs. My first partner was K-9 Volker, who worked with me from May of 1989 until April 1994. K-9 Monty was my second partner, and worked with me from April 1994 until May 2001.
K-9 Monty was a German Shepherd born October 22, 1991 in Czechoslovakia.

Monty was originally imported to be a personal protection dog for a wealthy family in Southern Indiana. As soon as he came out of the airline crate, I knew he was something special. I immediately started trying to talk John Haller out of selling him to the family he was imported for, and into selling him to the Sheriff's Office. I knew that K-9 Volker needed to retire. I also knew that I saw tremendous potential in Monty.

As luck would have it, when the family came to meet Monty he growled, and snapped at the lady. She immediately said that Monty was not coming to her house, and that she would not have a dog like that. It was if Monty knew where he needed to be, and who he was destined to be with. A short time later the Sheriff agreed to make the purchase, and Monty was delivered to my kennel. From that point we were inseparable. Together every day while on duty or off duty. Monty started off in a big way. Just a couple of weeks out of the K-9 training academy he won the U.S.P.C.A. Region #16 Field Trials. About six months later he located nearly a quarter million dollars in narcotic related United States Currency while assisting the Indiana State Police on a traffic stop. The Indianapolis Office of the United States Attorney advised, at the time, that this was the largest cash seizure by a K-9 Team that had ever been processed through their office. In 1995 Monty won the U.S.P.C.A. Region # 5 Field Trials. This was followed by second place finishes in 1996, 1997, and 1999. Monty finished third in 1998. K-9 Monty was awarded the 1995-1996 U.S.P.C.A. National Case of the Year. This was the result of our interrupting and preventing the murder of a woman that had been brutally raped, sodomized, and beaten so badly that her skull was fractured. The victim reported that when we stopped to check her vehicle that the suspect was attempting to cut her throat. When he saw the Sheriff's car he fled into a wooded area along a creek. We then located the victim lying about one hundred feet down the dirt road. Aid was rendered until other units and medical personnel arrived. At that time we began to track the suspect through the woods, creek bottoms, and into a corn field. We tracked for nearly an hour before locating the suspect. A knife as well as his identification were found under the victims body. The suspect was from Nebraska, and was suspect in a similar crime there where the victim had been decapitated. K-9 Monty was in the U.S.P.C.A. National Top Twenty for five consecutive years.
K-9 Monty received numerous individual awards at both regional, and national field trials. He also won several narcotic, and patrol case of the month awards from U.S.P.C.A. REGION #5.On those nights when we went where others did not wish to go, he took good care of me. His eyes were the ones that could see into the darkness where I could not see. His ears could hear movement that I could not hear. His nose was the one that could follow the path, or detect the presence of another. Most of all it was his courage, not mine, that took us through all the buildings, fields, and wooded areas. Monty you were my best friend. You never feared what was ahead, and always cleared the way for me to safely pass. I love you, and I'll never forget you. Rest In Peace.
---
In Loving Memory of
K-9 MANTO
February 7, 2004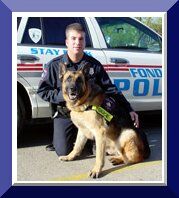 Partner: Officer Bill Ledger
Fond du Lac Police Department
126 N. Main Street
Fond du Lac, WI 54935
(920) 929-3211
Retired police K-9 Manto dies

The Fond du Lac Police Department announces that Manto, a retired police K-9, died Feb. 7.
Manto served the department and the Fond du Lac community since 1997 with Officer Bill Ledger until his retirement last September. He was trained in tracking, narcotics detection and criminal apprehension.Manto was involved in community demonstrations, school searches, narcotic and building searches and criminal apprehensions. Together with Ledger, Manto was involved in the arrests of a number of suspects and was instrumental in the capture of an escaped prisoner from Taycheedah Correctional Institution. Officer Bill Ledger has been with the Fond du Lac Police Department since 1995. In the spring of 1998, Officer Ledger was selected for the K9 program. In August of 1998, and Ledger was teamed up with his new K9 partner "Manto." Officer Ledger and Manto trained at Steinig Tal Kennels in Campbellsport, Wisconsin under the direction of Larry and Sandy Filo. Manto was born in Germany in June of 1995. He was born and bred to be a working dog and started training as a puppy. When Manto was about 2 1/2 years old, he was bought to America by the Filo's. Manto has been trained in tracking, narcotics detection and criminal apprehension. He was trained by the Filo's for about 6 months before being teamed-up with Officer Ledger. K9 Manto retired from active duty in September of 2003. K-9 Manto passed away on February 7, 2004.