In Loving Memory of
K-9 LINDEE
2004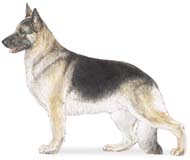 http://www.forsythsheriff.org/index.php?option=com_content&task=view&id=69&Itemid=140

Partner: David Garrison
Hall County/Forsyth County Sheriff Dept.
To contact the K-9 Unit, call Deputy Rodney Pirkle at 770-781-3059 or email rbpirkle@forsythco.com.
Hall County/Forsyth County K-9 Lindee passes in her sleep at 12 years old. Lindee never had any big busts, but faithfully worked for 9 years for two different counties, and will be missed by her handler/owner David Garrison
---
In Loving Memory of
Police Horse LOUIE
October 13, 2004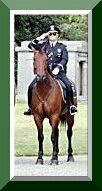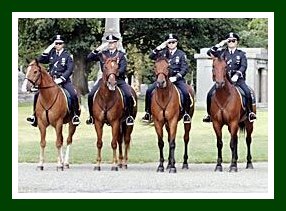 Handler: Patrolman Mike Green
The City of Indianapolis Police Department
Mounted Patrol
IPD Mounted Patrol Section
55 No. Tibbs
Indianapolis, IN 46222
317 327.6681

Police horse dies of injuries
Louie, 5, was hit by a truck after he bolted into street; IPD says no public service planned. By Tom Spalding
Patrolman Michael Greene could see Wednesday that pain racked his partner, a 5-year-old police horse recovering from a collision with a truck. "He wasn't very comfortable because he was tossing his head, the thing horses do when they feel bad," Greene said. "I told him I'd get him a blanket, and that I'd be back." But before Greene could return, Louie died of the injuries he suffered Tuesday. A former guard horse from Louisiana's Angola Prison, Louie joined the Indianapolis Police Department in 2001. He became the third department horse to die in the two decades since the force relaunched its mounted unit. As is customary, IPD will place a black wreath on Louie's stall on the grounds of the old Central State Hospital. No public service is planned. Louie, off-duty and unsaddled, broke away from a handler around 11 a.m. Tuesday as he was being led to a pasture. He darted through an open gate and into traffic on North Tibbs Avenue. A Department of Public Works truck turning north from Washington Street hit the 1,500-pound animal, spun him around and hit him again. Besides suffering a gash and internal injuries, Louie's head hit the truck's windshield, the attending veterinarian believed. The horse appeared to be recovering late Tuesday, but his condition worsened around 6 a.m. Wednesday as brain swelling became serious, said Dr. Chris Ernst, Louie's Noblesville veterinarian. Louie suffered a seizure and his breathing became labored. He died around noon. "It was out of the blue," said Lt. Romona L. Rowlett, the supervisor for IPD's 16-horse mounted patrol unit. "It's tough." Greene, 50, a 20-year IPD veteran, had been training and riding Louie since May. On duties as varied as traffic control outside Colts games or honor guard at an officer's funeral, Louie, a Thoroughbred/ Percheron mix, displayed an even temperament that earned his partner's respect. Greene boasted of how calm Louie remained last month while patrolling amid busy traffic near the RCA Dome before the Colts-Packers game. "He was a pretty good horse who was going to be great," Greene said.
Call Star reporter Tom Spalding at (317) 444-2761. submitted by Jim Cortina, Dir. CPWDA - story is in my book "Heroes All Without Question"


The Bottom Half
I am the bottom half of this God fearing crew,
The love from my partner, will help see us through.
I was born to run wild, leave the danger that's near,
But the strength on my back, says I've nothing to fear.
I feel your hands and your legs, they help as you guide,
It's your strength that sustains me, when I could run and hide.
Your spurs sometimes tickle, you use them to nudge,
Sometimes I sure need them, because I won't budge.
The children, they see us, they squeal with delight,
An Officer on horseback, what a beautiful sight!
When I am on duty, I'm not allowed to eat,
But just look at that grass, it's just under my feet.
No one can describe it, this partnership and team,
We'll work as one forever, I'll feel you in my dreams.
The ride for now is over, the tack is recounted,
I'll rest till that time, we again will work mounted.
By

Phil West