In Loving Memory of


K-9 KILO
December 21, 2004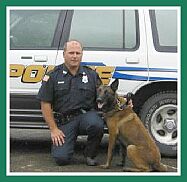 Handler: Officer Dave Hock


Gowanda Police Dept.

Springville Police Dept.

27 E. Main St. 65 Franklin St.

Gowanda N.Y 14070 Springville N.Y. 14141
(716)532-2020


Kilo was a 3 year old Belgian Malinois. He was hit by a car on 12-21-04. The car never stopped. Kilo was on his is way to work when the accident happened. Kilo was very well known in our area for his tracking and narcotics recovery. Dave Hock
*******

On behalf of the Southern Tier Police Canine Association, we would like to put out our sympathy to
Officer Dave Hock of the Gowanda, and Springville New York Police Departments.

In the evening hours of December 21st 2004 Officer Hock's canine partner, Kilo was hit and killed By a motorist who refused to stop and fled the scene. The only description Officer Hock could give was a dark colored minivan, that left the roadway striking K-9 Kilo and killing him almost instantly. Any support for Officer Hock would be appreciated. K-9 Kilo was a 4 year old Belgian Malanois that was trained for patrol and narcotics. Please send any cards to support to either department listed below: Attn: Dave Hock Canine Unit Gowanda P.D.
27 E. Main St.
Gowanda, NY 14070 &
Springville P.D.
65 Franklin St.
Springville, NY 14141
MORE
Hit/Running Coward Kills NY K9 - Town of Hamburg, New York - 12/28/2004 - NEWS SOUTHTOWN BUREAU

The Gowanda (NY) Police Department lost one of its own Tuesday in a hit-and-run accident. The victim was Kilo, the department's 3-year-old drug dog. He was struck at 8:30 p.m. on Lakeview Road in the Town of Hamburg. Handler Dave Hock said he had let Kilo run after stopping to pick him up at the construction company Hock operates by day. "I always let him run a little bit, and he ran around the truck a couple of times," Hock said. "He ran out to the edge of the road, and I called him. He turned to come back to me, and a dark-colored minivan came over the white line and struck him." Kilo was on the pavement, but not in a driving lane, Hock said. Hock said that he ran to check on Kilo instead of jumping in his patrol car to pursue the driver but that the dog had died instantly. For Hock and his wife, son and daughter, the loss was personal. "My entire family was pretty devastated," he said. "He was my right arm. He was with me 90 percent of the time. When I walked out the door, he wanted to go with me. All I had to do was grab his collar, and he knew it was time for him to go to work." And work he did. Kilo was involved in sniffing out drugs in a large-scale bust in Buffalo in August as well as drug cases in Gowanda and in a school sweep in Eden this fall. "He was the best dog pretty much anybody ever worked with around here," said Gowanda Police Chief Joseph J. Alessi.

Hock and Kilo worked two nights a week each for the Gowanda and Springville police departments.

Kilo was a Belgian Malinois, a breed of Belgian shepherd. Alessi said Kilo was smaller than a German shepherd but could be equally fierce. "We did demonstrations on his attack mode, and I weigh 200 pounds and he could knock me off my feet," Alessi said. "But he was great with kids. We brought him in the elementary school, and he'd just sit there and all the kids could touch him. He wasn't a biter until you gave him the command. Kids loved him." Police are looking for dark minivan with damage to the left front corner panel. Anyone with information should call the police in Gowanda at 532-2020 or in Hamburg at 649-6111. Story submitted: Steve Ward, Prs. S.T.P.C.A.


submitted by

Rich Garner

& K-9 Nanuk - & Jim Cortina, Dir. CPWDA
---
In Loving Memory of
K-9 KAY B154
August 22, 2004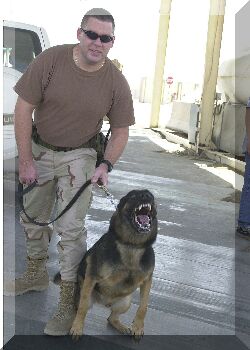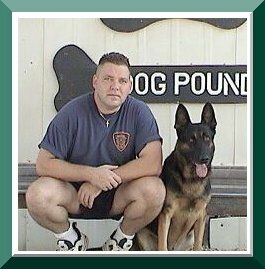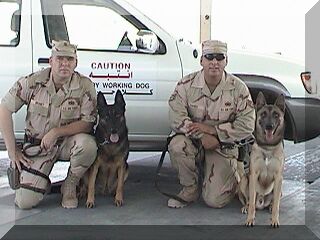 Handler: TSgt. Rick Brunet
380ESFS - USAF
IRAQ - Afghanistan
Lackland Air Force Base, TX
formerly from Danvers, MA

T.SGT. Rick Brunet (Kennel Master) from Danvers, MA lost his 5 year old K-9 Kay. Kay was presently training with another handler when this illness came about. T.SGT. Brunet had his name in to adopt
Kay when released from duty.
***********
From Rick.....
I wanted to let you know that my dog I had in the pictures with me in the desert died last week.
He had to go in for emergency surgery on his spline and he didn't recover. The woman handler that was working him was
going to the same place I was and now she can't go. Present handler is very upset over this. More information to come.
***********
UPDATE 2009
Subject: S.A. Law Enforcement Officers of the Year
http://www.woai.com/content/news/beamer/story/SAs-Law-Enforcement-Officers-of-the-Year/y50Gr1RFVkKekYLdVIZ3MA.cspx

Law Enforcement Officers of the Year
scroll down and see slideshow.
Randy Beamer, News 4 WOAI

MSgt. Richard Brunet, 37th Security Forces Squadron, Lackland Air Force Base
(Center) accepting award from David Hook, Chmn. of SA Chapter of A-S-I-S
Int'l (L) and Steve McGraw, Director of the Texas Governor's Office of Homeland Security (R).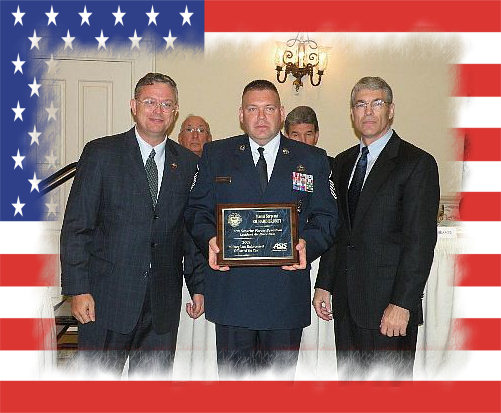 Rick can be seen on the beginning pages of my book "Heroes All Without Question"
with his partner, Kay. He was looking forward to having Kay live with his wife & family.
---
In Loving Memory of
K-9 KYRA
November 29, 2004


Handler, Tom Canfield
Hutchinson Correctional Facility
400 S Halstead St
Hutchinson, KS 67501
(620) 728-3296
Kyra, KYRA, black Belgian Malinois had some tumors removed a few days prior and quickly developed while at a training seminar in Lawrence, KS. Kyra wa transported back to Hutchinson where she was taken to a veteranarian. A few weeks later,
Kyra passed on. submitted by Kansas Police Dog Association
---
In Loving Memory of
K-9 KALIFE
May 2004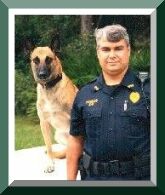 Partner: Officer Noel Coward
5650 North Port Boulevard
North Port, FL 34287 - Phone: 941-423-3105
Website: www.ci.north-port.fl.us

Memorial of K-9 dog Kalife
Below are pictures taking during the Memorial Service for North Port Police K-9 Dog Kalife who was handle by Officer Noel Coward. K-9 Officers from City of Sarasota , Sarasota County, Manatee, Punta Gorda and even Orlando attended the memorial. After paying his respects, Sumpter had the chance to meet police K-9 handlers from Manatee County to Punta Gorda. He also examined some of the K-9 units used in other towns. "I'm very familiar with K-9 police dogs," said Sumpter, whose two canine officers plan to speak to him about developing a stronger K-9 unit in the city to include more training time and interstate drug trafficking busts.
update:
I am working my K-9 partner Lucas who is 9 and I have a young dog that will be on the road soon. Lucas is going strong so no need to retire Him it just gives me more time to train the new dog. It is still hard to look at the site it brings tears every time. (so sorry) - lulu
submitted by: Lori Bigness, Human Resources Manager
---
In Loving Memory of
K-9 KROWBAR
2004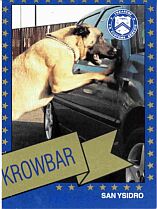 Partner: Officer Stephen Ralston
San Ysidro Port of Entry, San Diego, CA
U.S. Customs Service
San Diego is also the home port of the highest seizing drug dog...ever. "Krowbar" and his handler Steve Ralston were flown first class to Washington D.C. to receive the top cop award and medals from the commissioner of U.S. Customs. I have the ceremony on tape. Krowbar was an unusually large Malinois and well known here on the border. The drug smugglers actually had a contract out on him. Krowbar retired a couple of years ago and died in his sleep while on a camping trip in the desert. Steve has moved up to supervisor ( they don't work dogs) and is still with us. I know for a fact that he has some incredible stories about Krowbar.
---
In Loving Memory of
K-9 KILO
September 29, 2004

Handler: Jerry Niess
Marin County Sheriff's Office



3501 Civic Center Drive #145
San Rafael, Ca. 94903
Kilo, Marin Narcotic Detection Dog, Dies at Age 16
Marin Narcotic Detection Dog "KILO,"responsible for seizing nearly
$3,000,000 during her career, dies at age 16 (NOVATO, CA, September 29, 2004) -- Kilo, a Narcotic Detection Dog for the Marin County Major Crimes Task Force from 1992 through 1998, was euthanized last week due to cancer of the spleen. This female Labrador/Pitbull mix, chosen from a Sonoma County shelter for her high energy level and intelligence, was certified in locating cocaine, methamphetamine, marijuana and heroin. Since 2001, she was a member of the Marin Humane Society's K9 Care Program, which supports public service working dogs with routine veterinary care, emergency trauma care, safety equipment and boarding. At the time of her retirement in 1998, Kilo had participated in 203 cases, resulting in 272 case finds. She was instrumental in the issuance of at least 15 search warrants, and conducted 29 money alerts, assisting in the seizure of more than $2,869,000.
Over the course of her memorable career, she located more than 15 pounds of cocaine, 60 grams of heroin, several pounds of methamphetamine and thousands of pounds of marijuana. With her handler,
Jerry Niess
, Kilo also helped to educate children in local schools about the dangers of drug use. Kilo proved her mettle the first time she visited the Marin Humane Society Clinic.
According to K9 Care Program Manager Carol Skaggs, as soon as Kilo entered the clinic, she stopped hard, sat up on her back haunches, put her front paws together and started pawing at her. That was her sign for "Hit" -- in other words, she smelled drugs!
"Of course she did," remembers Skaggs. "We do have drugs in our vet clinic that we use for animals but that are also abused as street drugs. I had to lock everything up and assure her that she was right. Even though Kilo had been retired for three years at that point, she still knew her stuff!" After being her handler for five years, Niess and his wife Lisa adopted Kilo following her retirement in 1998 and are now feeling her loss keenly. "She was a great partner, a wonderful pet and the smartest dog I've ever met," says Niess. "We are very grateful to have had the support of the K9 Care Program for Kilo these last few years." The K9 Care Program was established in 1998 after the Marin Humane Society discovered that hardworking police, fire and search & rescue dogs receive little or minimal medical benefits during their careers and no retirement plan for their later years. Vet care and kenneling costs can be burdensome to public service department budgets and the K9 Care Program Fund was designed to ease this burden. Through this program, The Marin Humane Society Veterinary Clinic provides extensive physical examinations, blood work, X-rays, and flea, tick and heartworm prevention. Some canines have special dietary requirements and receive vitamin supplementation to maintain their high energy as active working dogs. Others are referred to veterinary specialists to diagnose and treat complex medical conditions. The K9 Care Program depends on private contributions for funding. To make a donation in memory of Kilo, you may send a check made payable to the
K9
Care Fund
Marin Humane Society
171 Bel Marin Keys Blvd.
Novato, CA
94949
For more information about the K9 Care Program, please call
(415) 506-6205
or email
clinic@marinhumanesociety.org
.

submitted by: Carol Williams-Skaggs
Shelter Medicine/K9 Care Manager
Marin Humane Society
California
(415) 506-6270
---
In Loving Memory of
K-9 KNITRO
September 18, 2004
(Knitro Von Hohenhuffles) Rottweiller began duty 4/15/94


Officer Gary White
Raytown Police Department
10000 E. 59 Street - Raytown, MO 64133
(816) 737-6016 (816) 737-6187 - (816) 737-6128
Missouri Police Canine Assoc.

It is sad to report that K9 Knitro was placed down on 9/18/04. Knitro was a 13 year old Rottweiler and had been retired from the Raytown Missouri Police Department after a great career. He made several felony arrests and criminal apprehensions. He saved me from escalating situations many times with his mere presence. I was particular close to Nitro since we got him as a puppy. He was my daughter's dog before turning to police work. His most embarrassing moment was when my daughter entered him in a local radio station contest when he was 1 1/2 years old. She dressed him up in a ballerina outfit and won 2nd place. But he made up for it by appearing on the TV show "COPs" after he was a working police K9. He also was featured in Rottweiler magazine. After doing a great job on the street he enjoyed his reward. a taco from the local Taco Bell. After his retirement, he enjoyed being in charge of the house while his replacement, K9 Kilo stayed outside. He tolerated Kilo. But just barely why this was the dog that took his place in the police car with lights and sirens and the late night trips toTaco Bell. After his retirement he still enjoyed going with us in our van to the local lake and watching those big dogs (deer) and found out that ice cream cones were as good as taco's. We miss him a lot. I still catch myself trying to step around him when I get out bed and turning the TV to the animal channel when we leave the house. That was his favorite channel. I know he is having fun with Midnite, Jake, Basco, Bill and the rest of his friends that were waiting for him. submitted by Brenda White
---
In Loving Memory of
K-9 KYRA
November 29, 2004


Handler: Tom Canfield
Hutchinson Correctionain
Sam Cline, Warden
P.O. Box 1568
Hutchinson, KS 67504-1568
PH: 620 662-2321 Email: HCFI@kdoc.dc.state.ks.us
Kyra" a black Belgian Malinois who was assigned to handler Tom Canfield, of the Hutchinson Correctionaln Facility, passed on November 9, 2004. Kyra had some tumors removed a few days prior and another quickly developed while at a training seminar in Lawrence, Kansas. Kyra was transported back to Hutchinson where she was taken to a veteranarian.
A few weeks later, "Kyra" passed. submitted by Kansas Police Dog Association.
In Loving Memory of


K-9 KAHN


August 25, 2004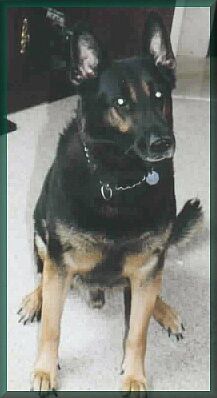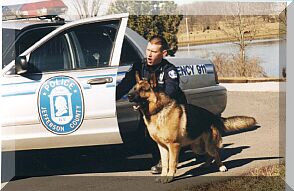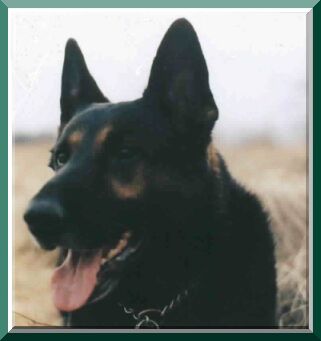 Partners: Officer Teddy Parks
and formerly Officer Brad Harris
Jefferson County Police Dept.
KY

In Memory of Kahn, Retired JCPD K9, Faithful Partner & Friend of Officer Teddy Parks
". . . With tears in my eyes, I drove you one last time to the vet. One last time, you were lying next to me. For some strange reason, you were able to stand up in the animal hospital; perhaps it was your sense of pride. As the vet led you away, you stopped for an instant, turned your head, and looked at me as if to say, "Thank you for taking care of me." I thought, "No, thank you for taking care of me." (from "Dogs Don't Have Souls, Do They?" By Chuck Wells, Palmyra, N.Y.) K9 Khan lived the good retired life 3.5 yrs while K9 Eros works.
In Loving Memory of
K-9 K.G.
June 19, 2004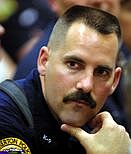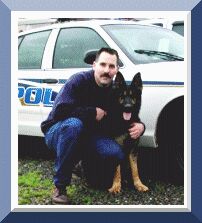 Handler: Officer Mike Davis
Bremerton Police Dept.
239 Fourth St.
Bremerton, WA 98337
360.478-0011
(360) 473-5220
bremertonpd@ci.bremerton.wa.us
CPR Fails to Save Police Dog


Bremerton, WA - 6/21/2004 by Derek Sheppard - Bremerton Sun 360 779 5588 - x5227
Despite emergency CPR by his human partner on Friday, Bremerton police dog K.G. died Saturday night, officials said Sunday. K.G. is the second canine partner Officer Mike Davis has seen lost in the line of duty. Davis' partner Buddy died in a shooting incident in 2001. Friday night, Davis and K.G. were helping Washington State Patrol troopers find two men who ditched a car on Sherman Heights Road and had run into a swampy area in a nearby quarry. K.G. had run ahead of Davis into the swampy area. When Davis arrived, he found his partner lifeless in the water. Police believe one of the fleeing men might have tried to drown K.G. After Davis performed CPR and revived the dog, K.G. was taken to an animal hospital. K.G. died Saturday night. The suspects, a 44-year-old man from Bremerton and a 39-year-old man from Poulsbo, were arrested on suspicion of a laundry list of charges. The two will likely appear in Kitsap County Superior Court today. Kitsap County Sheriff's Sgt. Jon Hytinen, a canine handler for 11 years, said the dogs often are thrust into dangerous situations in order to protect other responding officers, but added that the canine partners aren't just dogs. "They're not just your partner at work," he said. "They're a part of your family." Canine handlers comprise a small, tight-knit segment of the local law enforcement community, and handlers become close with their canine partners. Police agencies devote thousands of dollars, often with the help of donations, to purchase and train police dogs, and the canines live and train with their partners. "It's like losing a member of your family," Hytinen said, "almost like losing a child." In 2001, Davis's previous dog, Buddy, was shot and killed at Lions Field while pursuing two men. Aaron Williams was accused of shooting Buddy and Davis, who shot back at Williams, hitting him in the side. Hundreds mourned Buddy's death at a 2001 memorial, and donations poured in to help purchase and train his successor, K.G. Local police also received donations to buy bulletproof vests for the canines.

submitted by Jim Cortina, Dir. CPWDA
---
In Loving Memory of
K-9 KIMBO
June 12, 2004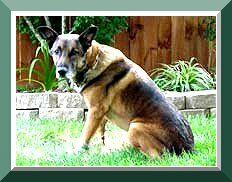 Handler: Officer Jeff Sams
Floyd County Sheriff's Office
Sheriff Randy D. Hubbard
311 W. 1st St # 151
New Albany, IN 47150
(812)948-5400

K9 Missing After T-storm
6/16/2004 theLouisvilleChannel.com
Police officers in one local town are hoping to solve a mystery that's hitting close to home. K9 Kimbo has been missing from the Floyd County Police Department since storms passed through the area over the weekend. The K-9 officer who's been partnered with Kimbo for several years said he has a unique attachment to the dog. Officer Jeff Sams has searched high and low for the Belgian Malinois that looks a lot like a German shepherd, WLKY NewsChannel 32's Abby Miller reported Tuesday.Some of Kimbo's fur is dark brown and some is light brown, and he has some gray around the muzzle. Sams said he thinks the thunder and ligtning from Saturday morning spooked the dog. Kimbo apparently pried the fence open and ran away. "Whatever rolled through here Saturday really had him terrified to stay in the kennel," Sams said.Not only is Kimbo helpful in assisting officers, but he's like a lot of other friendly pets, Miller reported. "This is a dog that goes to work every day with me," Sams said. "He knows more about me than my wife probably does. "Sams said Kimbo left home with a full stomach, but by now, probably is disoriented and scared. "There are days when you go to work and you're just not feeling good, but Kimbo would manage to do something to make you laugh," he said. Sams said he's driven the Lanesville country roads countless times, but hasn't seen any signs of Kimbo, Miller reported. "I've screamed until I'm hoarse," he said. "You drive the road, turn the siren on, honk the air horn on the siren box and holler out the window."Sams said though the dog is generally friendly, the unusual circumstances could affect his social nature. Residents should not approach him, but should instead call (812) 948-5400 if Kimbo is spotted. "He's probably under a lot of anxiety," Sams said. "It would be best if you see him, just call and I'll come out and get him."Please follow WLKY NewsChannel 32 and TheLouisvilleChannel.com for updates to this story as they become available.
****************
Kimbo joined the Floyd County police in 1999 and was involved in more than 300 searches.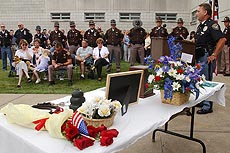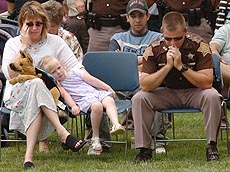 Capt. Rick Denny, right, of the New Albany Police Department spoke during yesterday's service for Kimbo.Christine Sams held on to her daughter, Calie Grace Sams, 3, as her husband,Floyd County Officer Scott Sams, got emotional during a memorial service for his canine partner Kimbo yesterday.
The doll on Christine Sams' lap is named Kimmy after Kimbo.
PHOTOS BY SAM UPSHAW JR., THE COURIER-JOURNAL