In Loving Memory of
K-9 JAGER
November 21, 2004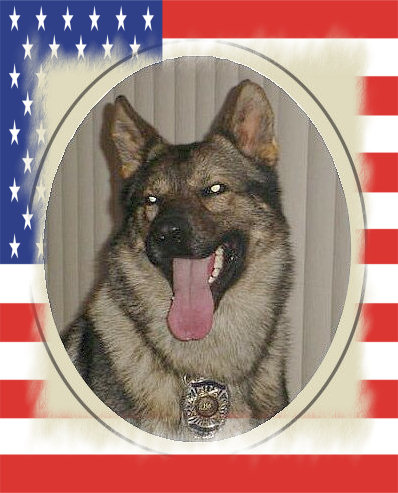 Partner: Captain Bryan Bass


BNSF

Resource Protection Solutions Team
5601 West 26th St.
Cicero, IL 60804
913 551-4479 & 913 551-4285


Burlington Northern Santa Fe Railway
spokesman: Steve Forsberg General Director Public Affairs
Rail cop mourns canine partner BY DAN ROZEK Staff Reporter

His partner was small but so excelled at police work that Capt. Bryan Bass said he always felt safe working with him. On Friday, Bass, who works for the Burlington Northern Santa Fe Ry. police, broke down in tears during a memorial service for his slain colleague, a 3-year-old German shepherd named Jager. Jager was killed in the line of duty late Nov. 21 while chasing two burglary suspects during a surveillance operation along the railway's 49th Street line. Police think Jager was struck and killed by the suspects' vehicle as they escaped. The loss hit the 41-year-old Bass especially hard because they had a tight bond that reached beyond just working together. Jager lived with Bass and his family, vacationed with them, and, Bass said, "was just like one of the kids.'' 'We fit'
"We did everything together,'' he recalled after the South Side memorial, which drew more than three dozen police officers, many of whom work with canine partners. During the emotional service, Jager's cremated remains sat on a flag-decorated table along with his collar and police badge 235-A. The items were flanked by a framed photo of the dog and a second photo of Jager with Bass. Bass, a stocky, 20-year police veteran, began working with Jager a little more than a year ago. It was Bass' first assignment as a K-9 officer, and he said he selected Jager last November because of the dog's spirit and energy. He wasn't deterred even though Jager, at about 70 pounds, was a little smaller than some of the other dogs that had just completed police training. "He was kind of the underdog,'' Bass said. "I was just starting out [as a K-9 officer]. We fit.' They first worked together in southern Texas, then transferred to the Chicago area in April. "I can't tell you how many times I've been on patrol and his ears would perk up because he knew someone was out there,'' Bass said. The memorial had many of the trappings of a traditional police funeral service, including a Chicago Police bagpiper and prayers from a police chaplain. "He was proudly and courageously doing the job he so loved when he was killed,'' said Chief Special Agent Ken Shaw of the BNSF police. A railroad spokesman said "there is progress being made'' in the investigation into Jager's death, although no one has been arrested. "We regard this as a very, very serious crime,'' railroad spokesman Steve Forsberg said .

Railroad Police Dog Killed After Scuffle with Thieves


Chicago, IL - 11/23/2004 Sun-Times - BY DAN ROZEK


A railroad police dog scuffled with a suspected burglar while patrolling a South Side freight yard, then was killed when the burglar's accomplice ran over the dog as the two men drove off, railroad officials and Chicago Police said Monday. Jager, a German shepherd believed to be about 4 years old, was working with his human partner and two other canine teams in a surveillance operation along the Burlington Northern Santa Fe Railway's 49th Street line about 11:45 p.m. Sunday when he was struck and killed, a railroad spokesman said. "Jager was doing his job and unfortunately paid a high price for it,'' said Steve Forsberg, a railway spokesman.


Watching freight cars

The dog and his handler, a railroad police officer, were watching freight cars parked on the rail line, which connects Burlington Northern Santa Fe Railway's Korwith yard to the Norfolk Southern Railroad's Ashland yard, according to Forsberg. When the dog's handler saw two men trying to break into a container car, he alerted Chicago Police, then moved to confront the men. Jager, who has been working for the railroad for about 18 months, used his jaws to grab one of the men, Forsberg said. As the dog wrestled with one suspect, the other jumped into a car. The suspect being detained by Jager broke free and ran to the car, Forsberg said. As the dog pursued, the driver apparently accelerated to escape and hit the animal, Forsberg said. "Whether it was accidental or intentional, we don't know,'' Forsberg said.


Suspects on the loose
Police described the vehicle as a blue station wagon but were still searching Monday for the suspects. Railroad police frequently use dogs on surveillance operations around rail yards, with Forsberg calling the dogs an "invaluable resource. They're extremely well trained animals.''



"A memorial service will be held for Police K-9 Jager, badge 235-A, who served the Burlington Northern Santa Fe Railway Police, Cicero, Illinois, and was killed in the line of duty on November 21, 2004, while attempting to subdue a burglary suspect.

The memorial service will be held 1100 hours, Friday December 10, 2004,
at the Midway Holiday Inn Select Hotel
(behind the Holiday Inn Express)
6520 South Cicero Ave., Chicago, IL 60638.
If you have any questions
please contact Chief Special Agent Ken Shaw at 708.924.5650."

submitted by Jim Cortina, CPWDA Dir.
---
In Loving Memory of
K-9 JUNE (SAR)
November 9, 2004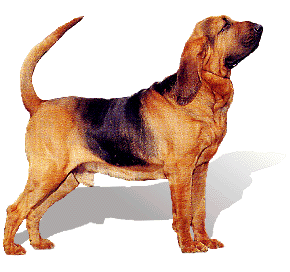 Partner-Handler: Durvis Stuart
Texarkana Search & Rescue
P.O. Box 2711 (mailing)
416 E. 3rd St.
Texarkana, AR 75504
Phone: (870) 779-4956


THE DOGS OF SAR
I remember the day was clear
And the scent was good
I remember the broken glass
Yet doing what I could
I remember your command
You said to Go and Seek
And listen for a weary cry
Although it may be weak
I remember long days and nights
No murmur could I hear
I remember that awful smell
You told me it was fear
I could not find a living soul
As I searched with paw and nose
Yet above this desperate scene
A new spirit rose
A year has past, new heroes crowned
My part a passing thought
But I am proud for what I did
No recognition sought
And who am I you may now ask
Who came from near and far
I am the one so aptly named
A dog of SAR

~~by Janis Dibert (C)

Search dog put down after life of service -
Tuesday, November 9, 2004 9:48 AM CST
By JIM WILLIAMSON - Texarkana Gazette
A bloodhound who found a KCS railroad engineer buried under about 12 feet of coal was "put to sleep" Monday because of a terminal illness. "June," a bloodhound who was 10-/1/2 years old, was euthanized by a Texarkana veterinarian at the request of Durvis Stuart of Foreman, who owned and trained her since she was 10 weeks old. "She was a trailing dog and a human remains detection dog. She worked all over Southwest Arkansas, Northeast Texas and Southeast Oklahoma. June had developed breast cancer, she had hip problems and in the last few months she had become totally blind. Her quality of life had decreased until it was no quality of life," said Stuart, who is also a reserve deputy for the Little River County Sheriff's Department. "One of the most amazing cases was the discovery of the railroad engineer buried in 12 feet of coal near Wickes, Ark. One coal train had stopped for a break. Another coal train was southbound had not received word about the train stopped ahead. Each coal train was a mile long with three engines in front and back. When the train rounded the curve near Wickes, the engineer couldn't stop the train. All six engines derailed. Thousands of gallons of diesel fuel were spilled. The wreck was about 200 yards long and the coal cars stacked as high as four cars," said Stuart. "The spilled coal had also filled up holes along the railroad track. June found the engineer about four hours after the accident in about 12 feet of coal. Naturally he was deceased," said Stuart. The coal was removed by earth moving equipment at the site where June "hit" as the location where the engineer was found. June was credited with finding five people who were lost during her career. Three of the people were Alzheimer's patients who had wandered away from their homes. "She was a wonderful dog and was trained under some of the finest bloodhound trainers in the U.S. and Canada. We had worked with all of the sheriff's departments in this area. She had done extensive work for the Arkansas State Police, Oklahoma Bureau of Investigation (OSBI) and the FBI in some murder cases," said Stuart. June was an original member of the Four States Search & Rescue K-9 Team in Texarkana. Stuart is training a 2 1/2-year-old German Shepherd, Lacy, to become a human remain detection and trailing dog to continue the tradition of June, said Stuart. "Big dogs have a short life span. God didn't intend for bigger dogs to live as long. For her dignity it was time to let her go," said Stuart.
---
In Loving Memory of
K-9 JAX
June 28, 2004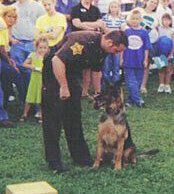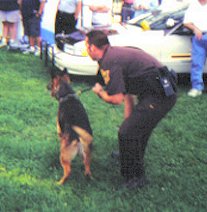 Handler: Officer Mike Johnson
Putnam County Sheriff's Office

Sheriff Mark Frisby
13 Keightly Rd
Greencastle, Indiana 46135
(765)653-3211
DOUG
K-9 "Jax" was serving with the Putnam County Sheriff's Department in Greencastle of Putnam County, Indiana since 1999. When he was first purchased by the sheriff's office. They discovered that he had a skin cancer and the department opted to have K9 Jax put to sleep. He was then saved from death by his owner and partner, Mike Johnson. When he bought Jax from the department and took 7 weeks off of work to train him in Kentucky. Ever since they have been companions. This dog has died in full honors as he has successfully found a massive amount of drugs including the closure of 21 meth and other drug labs. He has found numerous lost children and adults in his service, not to mention the capture of many escaped felons.
**********
5-Year K-9 Officer, Jax, Dies After Kidney and Liver Failure
Officer Down: Deputy K9 'Jax' - [Greencastle, Indiana]
The Putnam County Sheriff's Department has lost one of their K9's, Jax.
Jax, a four-legged employee with the department since 1999, was put to sleep due to a liver and kidney failure June 28. The organs' failure was caused by the heavy medications Jax was being given over the last four years for a health condition. "Jax hadn't felt good for about a week," Deputy Mike Johnson said of his partner. Jax teamed up with Johnson shortly after he was purchased in 1999 and lived with Johnson in his home until the K-9 died in late June. The health condition, which was not yet known, was a serious risk to the department. Johnson said he felt "so right about this K-9" that he purchased Jax with $7,700 of his own money. Shortly after, the Johnson - Jax duo went on to train in a K-9 training facility in Kentucky, not far from where Jax was purchased. Together they visited almost every elementary school in Putnam County, talking to children about the dangers of using drugs and smoking, and the benefits of being law-abiding citizens. Jax not only did education programs, but also helped Johnson with school searches at South Putnam, North Putnam, Greencastle and Cloverdale counties. He helped track several suspects on the run, and some lost people. Together they also spoke to church groups, Girl Scouts, Boy Scouts, children in the SPARK summer park program, at St. Mary-of-the-Woods, and to children at DePauw's Kids' Best Friend basketball program. During those education events, the children's eyes seldom left Jax, whether he was running a drill to show off his skills, or just sitting quietly at Johnson's side. "All the kids knew the dog," Johnson said just days following his partner's death. "They would come up to me and they wouldn't say 'Hi Mike' or 'Hi Deputy', they'd say 'Where's Jax?'" Jax had a sweet temperament that made him a safe friend for the children who like to give him hugs or pet him. In fact, the children at Roachdale Elementary liked Jax so much that they wanted to ensure he was safe when out chasing bad guys. They undertook a fund raising program and collected the money to purchase a bullet-proof vest for him. "He was so social you could have him around the kids and not even think about it," Johnson said. "He was such a good tool for me to use with these kids." And that is why Johnson, with the support of Sheriff Mark Frisbie, is hoping to raise donations to purchase another K-9 partner. A new dog costs $10,000 and will be purchased from Northern Michigan Canine, the same company that furnished the sheriff's department other canine. "Donations will go to purchase a dual purpose dog, to continue what Jax started," Johnson said, so the dog's duties will include the education programs, as well as the criminal interdiction. If you are interested in donating to the cause, please contact Douglas Buis at regal5044@aol.com to receive instructions on how to donate and
the online donation center submitted by Jim Cortina, Dir. CPWDA
---
In Loving Memory of
K-9 JUSTICE
June 22, 2004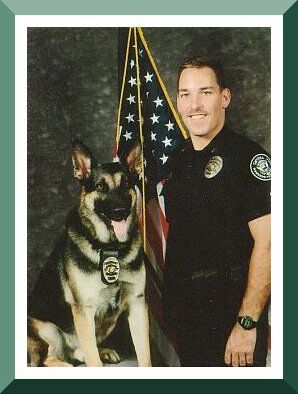 Partner/Handler: Det. Rick Hall
Smyrna TN Police Department
315 S. Lowry St.
Smyrna TN 37167
615-459-6644



The First & The Last
The first to sense the hostility of a suspect,
The first to react to protect his master.
The first to enter where danger lurks.
The first to detect the hidden intruder.
The first to take action against violence.
The first to sense his master's joy.
The first to know his master's sorrow or fear.
The first to give his life in defense of his master.
The last to be forgotten by those who work with
others like him.
They know him as a "Partner," not just an animal.
(author unknown) submitted by John Upchurch
---
In Loving Memory of
K-9 JENNER
June 8, 2004
K9 Jenner worked at WTC 9/11/01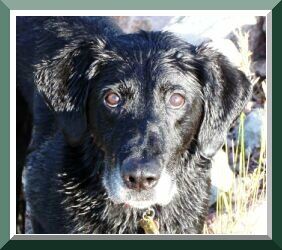 Handler: Ann Wichmann
FEMA + Ranger Service Dog for City of Boulder, CO
Front Range Rescue Dogs & Colorado Task Force 1
c/o W. Metro Fire Department
447 S. Allison Parkway
Lakewood, CO 80226

Jenner by the Sea

Please let me wail and cry over your body
And sob as your ashes wash into our favorite stream
My heart is broken

All those years we lived, loved, trained together
That shine, that glow, in your eyes
That look over your shoulder
When I would whisper in your ear
For you to find, to search, to go!

Quivering muscles
By obedience held
Until the exact moment of breathed command
Then launched that perfect body
Heart, mind, soul racing over the rubble and the fields
Searching!

You loved the mystery, the game, the hunt
No matter the terrain
You could fly over anything
Your nose in the wind and your tail high
A flag leading to the source
Follow me!

The bark of sheer joy, the YES! I found them!
The delight in your eyes, the leaps of sheer power
The thrill and shout of victory
And for you, the tug reward ….
Unbelievable power!

But the best was afterwards
When I would hold you in my arms
And tell you how proud I am of you
And how much I love you
And your eyes would soften and
your body would melt against my side

You did that when you knew you would die
Melted against me
In spite of the pain
You held yourself proud and true to the end
And trusted me to help you

That last night
Holding you under the stars
And remembering our times together
The walks, the oceans, Alaska!
The World Trade Center
And how much you taught me
My partner

Your eyes on me always made me a better person
Not like you, but trying
To become, more like you
So full of love and life and passion for your work
Quiet and gentle and wise

I am still listening for your voice
That bark of triumph
And those galloping feet
The glance over your shoulder
I found them!
Jenner, lead me on…..
~Ann Wichmann
Jenner by the Sea, handled by Ann Wichmann, Front Range Rescue Dogs, FEMA Colorado Task Force 1, City of Boulder Mountain Parks Ranger Service Dog. Jenner came from the Ornbaun Kennels in CA, and as a puppy, was desperate to be good. He was not always successful, but he tried very hard, and we had lots of fun, especially after I got used to his energy. Jenner was qualified as an operational air-scent search dog with Front Range Rescue Dogs at the age of two. At the same time, in a parallel training mode, we were working on certification as a Federal Emergency Management Agency (FEMA) disaster dog. We achieved the Type II (Basic) standard in October of 1994, and Jenner was one of the early dogs in the country to achieve the Type I (Advanced) certification in August of 1995. He, with his friend Cayman, was one of the founding dogs of Colorado Task Force 1. Jenner continued both wilderness and disaster work for most of his life. Jenner also became an important "trainer" for new handlers, humbling many who thought they could hold onto that toy!
Early in his life, Jenner passed his Canine Good Citizenship (CGC) test,
and also was certified as a Ranger Service Dog with the City of Boulder Mountain Parks. Jenner patrolled with his park ranger/handler regularly, helped present innumerable education programs throughout his life, and was the star of a video aimed at teaching dog control in the Mountain Parks. He was a natural showman, and gave many demonstrations locally and nationally on the skills of a disaster and wilderness dog. Jenner demonstrated wilderness and water search at the International Rescue Dog Symposium in Boulder in 1995, and appeared in a National Geographic program on search and rescue disaster dogs.
Jenner's search career was compromised by his handler's broken ankle and failing knees…. Nonetheless, he made several finds in both his wilderness and disaster work. Most noteworthy of these is his location of an elderly woman who had been lost 3 days in the Holy Cross Wilderness, and his find of a worker who had been killed in an explosion in the Great Western Sugar Plant in Scottsbluff, NE. Jenner experienced an amazing survival situation when he was swept into a large culvert while searching the Ft. Collins Flood in 1997, and was transported 1500 feet in an underground floodwater system. He showed great strength and a tremendous will to live, and emerged alive. Jenner's favorite activity was retrieving, and he achieved his Started Hunting Retriever (SHR) title with four straight passes at the age of eight, when his handler finally decided to let him pursue this activity. Jenner had a lot of attributes: excellent hips, great lineage, endless play drive, great temperament, and immeasurable courage. With these qualities, the decision was made to breed Jenner. At the current time, Jenner has 11 FEMA certified pups (and one grand-pup), as well as additional wilderness and retriever titled pups and grand-pups. Hopefully, his genes and spirit will enhance both search and retrieving lines for years to come. Jenner had his 9th birthday on deployment in New York City, and his vast experience in searching, his great agility, and his courage and determination really came through at this most difficult of searches. Like many of the search dogs, Jenner worked a double duty at the WTC, locating the victims of the disaster, and providing incredible solace and grief therapy to the workers. Jenner had a presence and a quiet, open welcome that invited strangers to hug him and talk to him, and the most incredible eyes that totally engaged people in communication. Together, we presented programs to share our experience and our grief, always amazed and healed by the love and concern expressed by the people who came to hear. In July of 2002, after collapsing on the trail on one of our favorite walks, Jenner was diagnosed with multiple myeloma and a weakened heart. His chemo-therapy was miraculous, and we owe a huge debt of gratitude to all the fine veterinarians who allowed him to have a high quality of life. After struggling for a year with priorities, in June of 2003 I retired from my 28 year career as a Park Ranger/Manager for the City of Boulder, with much of the incentive being to spend more time with Jenner. We traveled from ocean to ocean, played and retrieved, and went on long walks and swims in his beloved Colorado haunts. On June 4th of 2004, Jenner had a great time on a three mile hike and creek splash, retrieving logs, and wasn't even stiff coming home. The next day he was fine, but on Sunday he didn't want to get up. We spent two days trying to figure out a diagnosis, control the pain, and make things somehow work again. In the end, he was strong, dignified, courageous and totally present…… except that his spine had dissolved from the multiple myeloma. We both knew he had to go. I am so grateful for his lifetime with me, and that we had the chance to reminisce together about all our experiences, and that he died peacefully with his head in my hands. So many are not so lucky. Jenner was a gentleman, an inspiration, and a hero. He was friend, teacher, search dog, service dog, eager retriever – all at a whispered request - full of joy and love for life. He was a working partner and a dear friend, and I will always miss him.
In Loving Memory of
K-9 JACKSON
April 14, 2004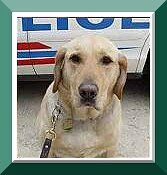 Partner: Officer James Yates
K-9 UNIT Metro Police Department
4667 Blue Plains Dr.
S.W. Washington, DC 20030
Ph: 202 645.0071

K9 Officer Involved In Fatal Accident - MPD Dog Dies In Crash Story by nbc4.com
LANHAM, Md. -- Police in Prince George's County, Md., say an officer's K9 partner died early Wednesday morning after a traffic accident. Investigators said the Metropolitan Police Department officer was traveling northbound on Forbes Boulevard toward Martin Luther King Jr. Highway, when a vehicle traveling in the opposite direction crossed the double yellow lines. The officer reportedly swerved to avoid the other vehicle, lost control of his car and struck a tree. He was transported to an area hospital with head lacerations. His dog, Jackson, was transported to an emergency animal hospital and pronounced dead. Jackson worked for the MPD for six years and had several arrests to his credit. Prince George's County police are looking for the driver of the second car.

D.C. police have lost one of their four-legged members. Jackson, a seven-year-old Labrador Retriever, died this morning after the car he was riding in was involved in an accident. Authorities say Jackson's handler, officer James Yates, was driving on Forbes Boulevard in Lanham when a car coming the other way crossed the line and headed straight for him. Yates swerved to avoid that car and wound up hitting a tree. He suffered non-life-threatening injuries, but Jackson wasn't so lucky. The dog died at an animal hospital. Jackson had been working for MPD the last six years as a narcotics dog. Prince George's County police are investigating the accident. A spokeswoman says the other car ever stopped. They're asking any witnesses to come forward.


submitted by James Cortina, Dir. CPWDA & Dusty Simon
---
In Loving Memory of
K-9 JD
2004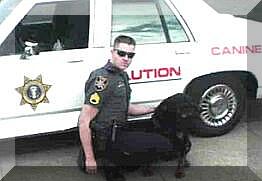 Partner: Joshua Ingraham
Police Department

It was a warm day in March and my K-9 and I were going to work like any other day (not knowing that it would be our last night together on patrol). Some time during the night he was poisoned by some unknown coward while in his patrol car and had to be put down three days later. He was the best partner I have ever had and would do anything for me. He lost his life doing the thing that he liked to do most - PROTECTING OTHERS. He will be missed greatly and will always be in my thoughts and my heart. Next time you are suiting up, give your K-9 some extra love because you never know when you will lose them.
Joshua Ingraham
---
In Loving Memory of
K-9 JORDY
2004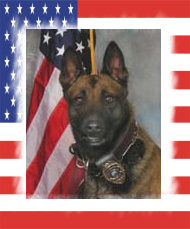 Handler: Sgt. Bob Roberts
Union County Sheriff's Office
100 W. Main St.- P.O. Box 30
Morganfield, KY 42437
Ph: 270 389.1303 fax: 270 389.0406
Email: ucsheriff@bellsouth.net
Sheriff's K9 dog euthanized
Editor's note: The following information is supplied by Scott Underwood.
Deputies from The Union County Sheriff's Office lowered the American flag to half staff today as the agency mourned the loss of one of its own law enforcers. The Sheriff's Office's 6-year-old canine deputy, Jordy, was euthanized Wednesday afternoon as a result of a sudden illness causing permanent paralysis. His death leaves the office without a K9 unit and in grief. Jordy (pronounced Yordy), was a Belgian Malinois and a deputy for the office since May 2004. He and his handler, Sgt. Bob Roberts, were responsible for scores of searches and accomplished numerous apprehensions during Jordy's tenure. "This is a heartbreaking time for our staff and for Sgt. Roberts," said Sheriff Rocky Nelson. "Jordy's relationship with Roberts was one of a true, life protecting, law enforcement partnership." Born in Scandinavia in 2001, Jordy was a dual purpose canine purchased by the Sheriff's Office with drug seizure monies. He and his handler were certified through the State of Ohio and North American Police Work Dog Association (NAPWDA). He was trained in obedience, drug and evidence detection, building searches, area searches, tracking, criminal apprehension and handler protection. The Belgian Malinois is known as an intelligent, courageous, and alert breed, with unwavering devotion to their masters. They are used today for herding and as therapy and search and rescue dogs, among other things. The Belgian Malinois also is known as a high energy breed with a need for regular mental and physical stimulation. It is believed to be an ideal watchdog and guard dog. It is aloof with strangers and can be aggressive toward other dogs and animals. When confined, it often runs in sweeping circles in an effort to stay on the move. It is protective of its home and family. Aside from presenting many public demonstrations throughout the county at fairs, schools and service organizations, Jordy assisted other Union County law enforcement agencies in addition to the Sheriff's Office. Among his many accomplishments, he helped the Marysville Division of Police track the location of a suicide victim. He assisted other agencies with seven felony drug arrests and 18 misdemeanor drug arrests in 2007 alone. He also helped the Federal DEA with the arrest of suspects and seizure of 173 pounds of marijuana. Jordy received unwavering care from the sheriff's office staff and his handler and showed no previous indications of any particular health problems. On Wednesday morning, Jordy began to display sudden signs of paralysis. He was taken immediately to a local veterinarian who referred Jordy to a
specialist in Worthington. After examination, the doctor's diagnosis was that Jordy suffered a fibro cartilaginous embolism (FCE). This is a stroke to the spinal cord, caused by some tissue from the spinal disc entering the spine's veins and putting pressure where the nerves leave the cord for the limbs, damaging them. The paralysis caused by a FCE is immediate with permanent dysfunction. The decision to euthanize Jordy was made. According to Sheriff Rocky Nelson and Lt. Jeff Frisch, efforts to find Jordy's replacement will be made as soon as possible. "Jordy proved to us how valuable a K9 unit is to the sheriff's office and other law enforcement agencies in our county. We certainly won't be able to replace Jordy's own demeanor, but in honor of him and his proven record, we need to carry on his legacy," Frisch said. A public memorial service will be held Wednesday at 11 a.m., at the American Legion Park Sean Doebert Memorial Amphitheater. Among representatives from other first responder organizations in Union County, K units from around the state are expected to pay tribute to their comrade.

Memorial contributions may be made to
the Union County Sheriff's Office K9 Program,
Attention Alicia
Bosch, 221 W. Fifth St.
Marysville, OH 43040.

For further information, contact Lt. Frisch at 645-4150 or Underwood Funeral Home, which is assisting the sheriff's office with funeral arrangements, at 642-7039.