In Loving Memory of
K-9 INGO
October 24, 2004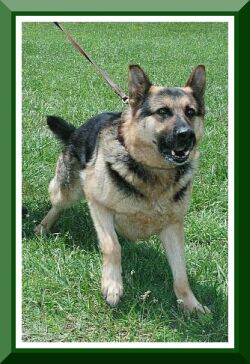 Partner: Officer Andy Gluba
Albemarle County Police Department
401 McIntire Road
Charlottesville, Virginia 22902-4596
Phone: 434-296-5807, Fax: 434-972-4061
The Albemarle Police Department regrets to inform the public that police canine Ingo died, October 24, 2004 as the result of gunshot wounds sustained during an apprehension of a burglary suspect. After being shot and paralyzed in the rear end during this altercation, Ingo continued to engage the suspect. His actions most probably saved the officers life. Ingo was 9 ½ years old and had been with the Department since 1998. His handler, numerous officers, and other canine handlers from around the region surrounded Ingo when he died. A memorial service will be held at a later date.
Anyone wanting to contribute to a fund to for a replacement canine may contact
Corporal Rob Heide

Phone: 434-872-4575.
Donations may be made to
Albemarle County Police Foundation.
401 McIntire Road
Charlottesville, Virginia 22902-4596

Ingo was a Czechoslovakian born and trained German Shepherd that was imported to the United States in 1995. He was purchased by the Albemarle County Police Department shortly there after and began a very productive career. During his six years of service, Ingo had numerous arrests, tracks, and drug finds to his credit. One of his several apprehensions of note was that of escaped convicted rapist Timothy Eades and a recent drug find of more than five pounds of marijuana. Ingo's list of training certifications is extensive. In 2003, he obtained the title of Certified Police Dog II and was one of only three dogs in this tri-state region to achieve this honor.
Recently, Ingo almost succumbed to an illness commonly referred to as "bloat", an illness from which most dogs do not recover let alone regain the ability to come back as a fully productive working police canine . Shortly after extensive surgery, Ingo was cleared by his veterinarian to return to full working status, which is a true representation of Ingo's drive and desire to serve the Albemarle County community and Police Department. The relationship between a police canine, the handler, and the Department is one of the most unique in existence, based as it is on the understanding that the dog may be required to sacrifice its life to save a citizen or an officer. Understanding this sacrifice does not lessen the strong bond that develops between dog and handler, and which extends to the officer's family as well as every member of the Police Department.
submitted by
Rob Heide
and below by Jim Cortina, Dir. CPWDA



Dog's death touches many
By Reed Williams / Daily Progress staff writer November 15, 2004

Albemarle County canine handler Andy Gluba received about 200 e-mails and more than 100 cards offering condolences after his German shepherd, Ingo, was fatally shot in a gunfight last month. One of the
most moving expressions of sympathy Gluba received was a silver bracelet with "Canine Ingo" engraved on it. A note inside the box said only that the gift was from Officer Hannan and Canine Stryker. There was no return address, and Gluba was unable to identify or contact the sender. "It brought me to tears," he said last week. "They did not even make it particularly easy to thank this person." Canine handlers and police officers nationwide have offered their support, along with many local community members. Gluba is expecting at least 40 canine teams, including at least two from out of state, to attend a memorial service for Ingo on Wednesday. As many as 500 people are expected. It is scheduled for 11 a.m. in front of the Albemarle County Office Building at 401 McIntire Road. In case of inclement weather, it will be moved inside the building to the auditorium. The service will include bagpipers, a
trumpeter and award presentations. Teague Funeral and Cremation Service donated a memorial stone that is on display at the county's new office off Fifth Street Extended and an urn for Ingo's ashes. Gluba and Ingo were partners for six years. "Fortunately, we've never had an officer die in the line of duty," county police Capt. Crystal Limerick said. "In effect, this is the first officer that was lost in the line of duty."
Police have charged Robert Lee Cooke, 31, with shooting Ingo on Oct. 24 and with breaking into a duplex and stealing a gun just before the shootout. Gluba had responded to a burglary call on Reservoir Road and chased a man toward Fontaine Avenue, releasing Ingo. The dog was shot
through the spine and later euthanized. Gluba and the fugitive exchanged fire and Cooke was shot twice, police have said. Cooke was released from the hospital this week and has a court hearing scheduled for Dec. 9.
Explaining the support he has received from around the nation, Gluba said canine handlers form an especially close-knit community. "We're all police officers, but it takes a special kind of person to work as a team with a dog, and I think that's why people have an even tighter bond among canine officers," he said. All this has helped Gluba cope with the loss of his dog, he said, though it has been difficult. At first he felt some guilt about Ingo's death. But he said other officers helped him realize that he didn't send Ingo to his death so much as he sent him to do his duty, which led to his death. "I know in my heart of hearts, if he wouldn't have done what he did, instead of me explaining to my children that Ingo died protecting daddy," he said, "someone would have been explaining that 11 their daddy's not here anymore."
*******************************

UPDATE: Dec. 19, 2005
Police dog memorial to be created By NRVToday

The Virginia Police Work Dog Association (VPWDA) and the Virginia-Maryland Regional College of Veterinary Medicine at Virginia Tech have announced plans to create a memorial to honor police dogs killed in the line of duty. The proposed memorial statue will be installed on the veterinary college's campus at Virginia Tech in Blacksburg. The United States Police Canine Association (USPCA) is also participating in the project. College spokesman Jeff Douglas says the concept of such a memorial began a few years ago. The idea started getting serious consideration a year and a half ago, and a campaign to raise money for the project was announced this October, on the one-year anniversary of the death of a police dog in the line of duty in Albemarle County. So the college and the Work Dog Association are seeking contributions to build the memorial, which will likely center on a statue of a German Shepherd police dog. The cost may reach $50,000. Money has been coming in, says Douglas, as has interest in designing the memorial. Douglas says he has no doubts that a police dog memorial would be a fitting tribute. The bond between police handler and dog exceeds the strong human-animal bond many of us feel with our own pets. The program will be formally announced in conjunction with an anniversary memorial service held for Ingo, a nine-year old Albemarle County Police Department German Shepherd that was killed on Oct. 24, 2004 during the apprehension of a burglary suspect that possibly saved the life of handler Officer Andy Gluba. That ceremony and a series of police dog demonstrations will be held on Saturday, Oct. 22, 2005 from 1 to 4 p.m. at Albemarle High School in Charlottesville. There are an estimated 250-300 working police dogs in Virginia, according to Officer John Hoover of the Roanoke City Police Department. Hoover, a certified master trainer with the North American Police Work Dog Association (NAPWDA) and a master trainer with the VPWDA, has been working to develop interest in such a memorial for several years. "It's tough to find the words that describe the incredible role these dogs play in law enforcement and public safety," said Hoover, who frequently conducts training sessions for police handlers throughout the mid-Atlantic region. "They put their lives on the line every day, just like our officers. They are partners and they are heroes." Hoover said that about a half-dozen animals have been killed in the line of duty since they began playing an active role in Virginia law enforcement about 35 years ago. Ingo was the most recent fatality in Virginia, and in February 2005, the Virginia Veterinary Medical Association posthumously awarded Ingo its annual "Animal Hero Award." "We're honored to partner with the law enforcement community on a project that celebrates such a noble cause," said Gerhardt Schurig, dean of the Virginia-Maryland Regional College of Veterinary Medicine. "Our society has become so deeply involved with animals as pets that we sometimes forget about the important contributions made every day by working and service animals. Veterinarians have an important responsibility to keep these working animals healthy and vital." Police dogs and their handlers must undergo extensive training and can earn a variety of certifications. For example, the North American Police Work Dog Association provides certifications in the categories of patrol or criminal apprehension, accelerant, bloodhound, cadaver, explosive, narcotics, tracking and trailing, utility and wildlife. Since 1983, the NAPWDA has certified more than 17,000 canine teams in the United States and about 3800 of those are still functioning with valid accreditations, according to the organization's web-site. The Virginia K-9 Memorial will be financed from private donations, according to Hoover, who is one of three NAPWDA master trainers in Virginia and only 54 in the nation, according to the NAPWDA. Interested citizens as well as organizations and corporations familiar with the law enforcement and security communities are invited to participate in the project through charitable donations. Those interested can forward contributions to the Virginia Police K-9 Memorial Fund, Office of Development and Public Relations, Virginia-Maryland Regional College of Veterinary Medicine, Virginia Tech, Blacksburg, Va., 24061.
Jury convicts man in police dog killing
At the end of an emotional trial, an Albemarle County jury found Robert Lee Cooke guilty of malicious wounding of a K-9 in the killing of Ingo the police dog, recommending that the Chesterfield man serve seven years in prison. Cooke shot Ingo while the dog chased him after a burglary off Reservoir Road, prosecutors said, paralyzing the animal. Ingo, considered a hero among the law enforcement ranks, was put to sleep because of his injuries. Officer Andy Gluba, Ingo's handler, shot Cooke in the back, paralyzing him from the waist down. Cooke also faces a five-year mandatory minimum sentence for possessing a firearm as a convicted felon and will be formally sentenced by Judge James A. Luke June 13. The 33-year-old Chesterfield resident has been free on bond, but was remanded into custody after the jury's verdict. Cooke's attorneys, Janice Redinger and Dana Slater, argued that their client shot Ingo in self-defense. Cooke testified that he aimed his gun at the ground and did not know that Ingo was a police dog. After deputies wheeled Cooke out of the courtroom, his mother burst into sobs. Commonwealth's Attorney Jim Camblos and some police officers who attended the four-day trial also became emotional at times, remembering the dog that served for six years. "The commonwealth feels very good about the verdict," Camblos said after Thursday's proceedings. "The jury spoke and rendered a very good verdict on behalf of Ingo."
****************
S

lain police dog's final act detailed


By Reed Williams / Daily Progress staff writer
October 26, 2004

Even after Officer Andy Gluba's canine was shot through the spine and partially paralyzed, it continued to struggle toward the gunman during a shootout Sunday in Albemarle County, police said. "He was a hero," Capt. Crystal Limerick said of the police dog, Ingo. "He saved Officer Gluba's life." he early morning gunfight left burglary suspect Robert Lee Cooke in critical condition and Ingo dead.

Cooke, 30, of Chesterfield, remained in intensive care Monday at the University of Virginia Medical Center, according to the Virginia State

Police. He was charged with two felonies: shooting a police dog

and possession of a firearm as a convicted felon. Gluba is on paid administrative leave, and state police are investigating the shooting. Sunday's incident began with a burglary call to a two-story duplex at 1074 Reservoir Road. Anthony Farish, who lives on the first floor of the wooden house, said he heard someone upstairs at about 1:30 a.m. He said he called 911 because the man who lived upstairs was moving out and no longer staying there.
"There's someone up there and there shouldn't be," Farish recalled thinking. "So I called the cops." Farish turned on the front porch light and saw a police car arrive a few minutes later. He said he saw a man walking down the gravel driveway toward Reservoir Road and heard a police officer shout, "Get down. … Freeze."
He said the officer then chased the man toward Fontaine Avenue, and he heard a single gunshot shortly afterward. Limerick said Gluba was using Ingo to track the fugitive when the officer came under fire. Gluba released Ingo, and the German shepherd charged the gunman, the captain said. Ultimately, the dog was shot in the back with a large-caliber bullet and its rear legs were paralyzed. "He continued to bark and he tried to pull himself with his front legs to continue to move at the guy," Limerick said. T

he dog died within two hours.

State police Sgt. David Cooper declined to say how many shots were fired or discuss the details of the incident, except to confirm that Gluba and the gunman exchanged gunfire. Albemarle County police are investigating the burglary. They said the second floor of the duplex had been ransacked and it was unclear what, if anything, was stolen. "We're still working on that aspect of it," Sgt. James Bond said. "It looks like the place had been gone through."
The man who had been living on the second floor declined to comment Monday.
+++++++++++++++++++++++++++++
UPDATE APRIL 21 2006

I have another little story that has come to light after Ingo's death
Approximately 3 years ago, Ingo tracked and found (bit) an escaped convicted rapist. This rapist was found within one block of where the victim lived. Needless to say, he did her no further harm and she never was able to meet Ingo or Andy. One week ago, Andy and Ingo responded to a residential alarm and the owner asked him if he new Ofc. Gluba and Ingo. He replied "well....that's us." The women identified herself as the rape victim and asked to meet Ingo. Andy reluctantly agreed (worried that the women might get bit) and she fully embraced Ingo like he was her own. Five hours later Ingo was shot and killed. Now, was this arrangement made from above or what?

~Rob
s
ubmitted by Jim Cortina, CPWDA Dir., & Shane Newbrough. MO. PD Association. and by
John Seilback of
http://www.harfordsheriff.org/K9.ht
m
---
In Loving Memory of
K-9 IKE
July 2004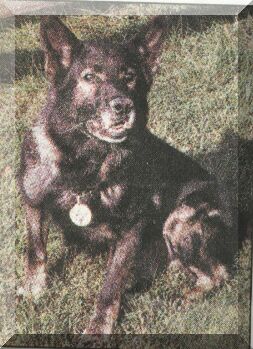 Handler: Officer Craig Bahe
St Charles Police Department
Chief of Police James Lamkin
2 E State Ave
St Charles, Illinois 60174
(630)377-4435
STC police 'career patner' - Ike was first canine on the force
by Lindsay Cole, Shaw News Service
Officer Craig Bahe's most unusual partner kept a low profile, understood only German and drank from a bowl. "We spent 24 hours a day, seven days a week together" Bahe said, "He was my bud." Bahe's police partner for eight years, Ike, was a German shepherd, the first canine on the force. Ike died this week at age 12.
News of Ike's death saddened many at the police department. He was a vibrant police dog, who worked at the front desk at the station. This dog had been an active worker and a career partner.
Ike was a part of the community before he joined the force in November 1994. Local businesses donated money to bring him to town. A contest was conducted to name him. Ike was trained as a multipurpose dog to sniff narcotics, bit and search buildings, as well as conduct public demonstrations. We did hundreds of demonstrations for the Boy Scouts, Girl Scouts, schools in the area and "National Night Out." Bahe said that Ike was quite the ham. He was born and trained in Germany so all of this commands were in German. It was important for commands to be in another language so that Ike couldn't be confused by other voices in a crowd. Police Cmdr. Dave Jannusch said that Ike strengthened the force. It was a tremendous step forward when we decided to take on a canine unit. Ike was instrumental in all types of work; narcotics, searching and especially for community operations in dealing with children and schools.
He created a connection between children and the police department. While serving as a police dog and after his retirement in 2002, Ike lived with Bahe and his family. Bahe described Ike as a "built-in backup," and said it was nice to know someone always was in the back seat with him. All he needed to do was push a button and Ike would be released. Bahe said Ike saved time with searches. It takes a dog 3 minutes to sniff an entire car for narcotics, but it can take a human hours. Ike was instrumental when it came to searching for criminals. Without him, we wouldn't have known which direction to go. His ability to track scent was much faster than it was for us to search an entire field. Ike also was useful when searching for people in buildings. Ike added the intimidation factor. I wouldn't even finish informing the person that a canine was coming in and they would run right person. Ike & Bahe helped set up the department's canine program for the future. It keeps one police dog at a time that generally works for 8 to 10 years. For a while Ike was the only police dog in the Tri-Cities and was called to help out in South Elgin, Batavia and Geneva. His veterinary services were donated by the Gateway Veternary Clinic and his food was donated by Critters Pet Shop, even after he retired.
submitted by Lorrain Wright, St. Charles, IL (,my Maid of Honor)
---
In Loving Memory of
K-9 K-9 IGOR
June 24, 2004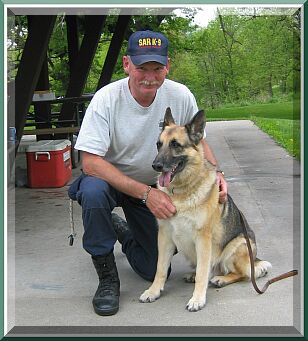 SAR Handler: Deputy Dave Bishop
ISAR
1225 Hawley
Jessup, IA 50648
Deputy Dave Bishop joined Iowa Search and Rescue in 1996 with his canine Igor and they certified together in 1998. Due to work commitments Dave resigned but returned in 2000. Igor is the only ISAR canine that completely went through the entire certification process twice. He flew through it the second time like he was never away. In the six years Igor served with ISAR he helped in many successful searches and became an icon in Blackhawk County in building an affiliation between the sheriffs department and Iowa Search and Rescue.As all SAR canines are, he was totally dedicated to Dave and was a prime example of not only what a non aggressive, well behaved SAR canine should be, but was an excellent example of what everyone likes to see in a German Shepherd.
Igor became suddenly ill and it was discovered that he had cancer. Our hearts have broken with Dave's today as all ISAR members were forced to say good bye to one of ISAR's greatest assets, our Igor.
submitted by Shirley & Anne