In Loving Memory of
K-9 HERTA
May 2004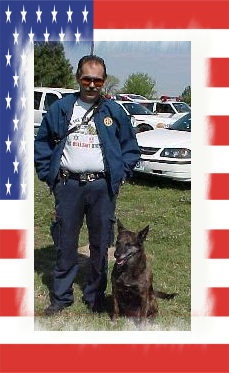 Handler: Lt. Rich Unrein
Barton County Sheriff's Dept.
1416 Kansas
Great Bend, KS 67530
620 793-1876
Greg Armstrong, sheriff@bartoncounty.net
K-9 Herta, a female Belgian Malinois passed away in May of 2004 after suffering from health problems.
Submitted by Kansas Police Dog Assoc.
---
In Loving Memory of
K-9 HOSS
AKA; Ajax V. Haus Golez
June 3, 2004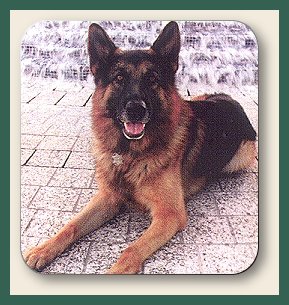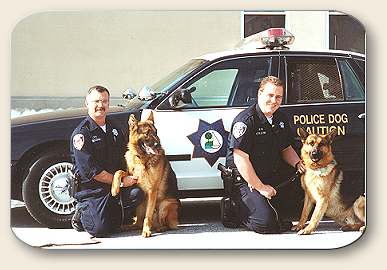 Handler: Officer Mike McLaughlin
Foster City Police Department
Chief of Police Randy Sonnenberg
1030 E Hillsdale Blvd.
Foster City, California 94404
(650)286-3300


Nearly three years ago, Hoss became a member of my family at home, and our Police family. Starting in the shadow of Kim, a lot was expected. Not only did he continue a tradition of excellence, he raised the standard. To those few, unversed in their value, who state,
"It's just a dog…" please consider the following:


Ajax "Hoss" vom haus Golez


Born: August 10, 1998 - Died: June 3, 2004
Police Service Dog, Foster City Police Department
July 4, 2001 to June 3, 2004
Searches: 97
Cover: 115
Alarm Calls: 106
Arrests: 32
Public Demonstrations 35
Whether it was greeting a 6-year-old with his patented "gimme five" handshake or finding a suspect hiding in an empty hot tub in a residential neighborhood, Ajax vom haus Golez, "Hoss", lived to do his job. For almost three years, he never missed a day of work. Credited with saving officers from injury on numerous occasions, Hoss lived to do his job. Paralyzed, with little hope of successful surgery, and in distress, Hoss trusted me to end the pain. For you see, for almost three years, Hoss lived to do his job.Whether it was reading with school children, fighting with a "bad guy" on the side of a freeway, or burying a comrade who fell in the line of duty, Hoss lived to do his job. For almost three years, he protected the citizens of not only Foster City, but answered calls from Atherton to Daly City. Hoss lived to do his job. Whether it was helping to keep over 600 "rowdy" fraternity members from getting out of hand, or convincing the wanted parolee to give up without a fight, Hoss lived to do his job. For almost three years, his presence prevented injury to Police Officers and suspects. Hoss lived to do his job. That job ended on June 3, 2004, less than 24 hours after his last arrest, when Hoss suffered an injury that cut off the blood flow to his spinal column. The cause of the injury is unknown, because he never complained, Hoss lived to do his job.


Holding you that last time, that last sigh A look,
a final kiss of my hand to let me know
You trusted me to close the circle and find the strength
To remember your courage, your honor, your unconditional love
And not the tears of our last Goodbye

Police put down one of its own By Dana Yates, Daily Journal Staff


217 South B Street #2




San Mateo, CA 94401




Phone: (650) 344-5200 - Fax: (650) 344-5290


When a Foster City police officer was thrown into traffic on Highway 101 last year by a drugged up parolee, it wasn't the department veteran on the call who saved him — it was canine recruit Hoss who latched on and stopped the suspect.
Less than three years after joining the force, Hoss was put to sleep last week after a mysterious injury left him paralyzed. Now, the department is left with a gaping hole and endless praise for the loyal pawed officer.
"What he lived for is to go to work, the commute time, training time and duty time. The dog trusted me to guide him and I literally trusted my life to that dog. It's a bond that is almost impossible to describe," said his trainer, Officer Mike McLaughlin. After returning home from the graveyard shift on June 3, McLaughlin and Hoss both went to sleep in the early morning hours. Later, McLaughlin was awakened by his 9-year-old daughter saying "Hoss can't walk, Hoss can't walk."McLaughlin said he was out of bed and at his dog's side "within 30 seconds, maybe less." The day took a drastic turn that left McLaughlin with one of the hardest decisions of his career — to end Hoss' pain by putting him to sleep. Both an emergency veterinarian and one of the state's top orthopedic veterinarians told McLaughlin there was at least one ruptured disc in his spine, preventing blood flow to his hind legs."No one knows what caused it, no one will ever know," said McLaughlin. "The dog never gave us any indication that he was injured." That's the kind of dog Hoss was, he lived for his job and did it well, McLaughlin said.McLaughlin is most proud of the way Hoss handled a 2001 case in San Mateo. A man ran from San Mateo police onto State Route 92 and hopped the fence into the Marriott Hotel, which was under construction at the time. Hoss was called in and found the man hiding in a room. He surrendered and no one was injured. Hoss was able to do in 10 minutes what would have taken two officers 30 minutes to do, McLaughlin said. Hoss, a German Shepherd, was born Ajax V. Haus Golez in the United States. He was trained in Germany and completed police dog training here where he learned to search, track and protect his trainer. He joined the Police Department on July 4, 2001 with McLaughlin as his trainer. McLaughlin is no stranger to heart-wrenching good-byes with canine co-workers. With the department since 1988, McLaughlin has had three dogs and trained many others. His first dog was on duty six weeks before he blew out his back leg by jumping off a balcony. His next dog developed an inoperable cyst six months into the job. His last dog lasted more than six years and formed a strong bond with McLaughlin. Given the chance, McLaughlin will take another dog. However, the chances are slim.
Without Hoss, the city is left without any dogs. The city's other dog left last week when its owner took a job elsewhere. Each dog costs more than $8,000 and given the financial crunch the city is facing, it's unclear if the department will see a new dog any time soon.


update:

Meet K9 FRANZ - new partner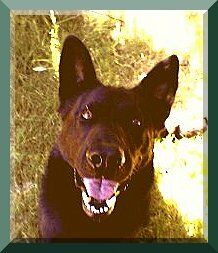 ---
In Loving Memory of
K-9 HARLEY
May 4, 1994 - September 18, 2004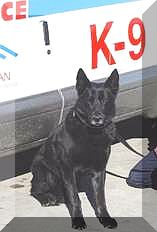 Partner: Officer Tim Malone
Fort Morgan Police Department
Chief of Police Keith A Kuretich
901 E Beaver Ave
Fort Morgan, Colorado 80701
(970)867-5670
It is with sadness that I report the loss of Fort Morgan Police Department's K-9, Harley. Harley was the partner of Officer Tim Malone. He was diagnosed with cancer recently and died on September 18th. Harley was a member of the Fort Morgan Police Department and would have completed six years of service on March 29th. He was commissioned and partnered with Tim to detect narcotics and as a patrol dog. Harley is credited with removing a substantial amount of drugs off the streets. He was active in the Fort Morgan and Brush school systems and loved the attention he received from students. He also was a very lovable and personable dog who loved what he did as a police canine for the department and the community. He was a valued member of the Malone family, and will be missed deeply by them as well as the Fort Morgan Police Department family.
Harley, a German Shepherd born in Holland on May 4, 1994, was given the name "Brick V.H. Jutter's Erf." He was purchased with donations from the Fort Morgan community. He was trained in detecting the odor of illegal drugs, tracking, weapons, and apprehension of criminals. He graduated from the United States Police Canine Association in the summer of 1995.
The death of K-9 Harley and the recent retirement of K-9 Mojko will leave the department without a police canine.