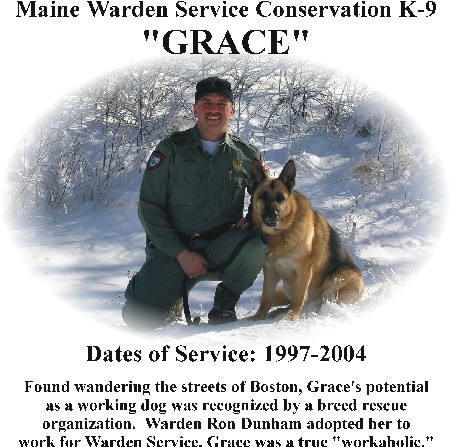 ---
In Loving Memory of
K-9 GUS
August 23, 2004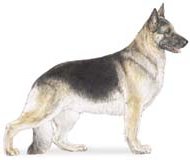 Partner: Deputy Joe Keil
Manitowoc County Sheriff Office
Sheriff Thomas Kocourek
1025 S 9th St
Manitowoc, Wisconsin 54220
(414) 683-4200

On August 23, the Manitowoc County Sheriff's Department suffered a loss that has been deeply felt throughout the department. K9 Officer GUS, a male German shepherd, passed away due to complications of anesthesia. K9 Officer Gus, in the opinion of many at the Sheriff's Department was one of the best narcotics dogs in the state. Sheriff's Deputy Joseph Keil and K9 Officer Gus worked together since February 23, 1998. During this partnership, they confiscated hundreds of pounds of illegal drugs, thousands of dollars in US currency, and numerous vehicles used in these crimes with a reported combined value of over a half million dollars. Deputy Keil and K9 Officer Gus were recognized as being one of the top narcotics teams in the state, and have received numerous certificates and commendations for the fine work they have done.
************
On August 27, a memorial was held to honor Gus. While that was appropriate, some reports would lead one to believe that property taxpayer dollars were spent on this memorial service. This was not the case. Often the County Executive, County Board, and, in this case, the County Sheriff must make budget decisions that aren't popular with the rank and file. This was one of those times. With County departments once again struggling to put together workable, bare-bones budgets, we often find there are many things we would like to do that simply are not feasible. If the County would have said "yes" to taxpayer dollars for this activity, it would be much harder to say "no" to other worthwhile activities that we just simply cannot afford.
submitted by Jim Cortina, Dir. CPWDA
---
In Loving Memory of
K-9 GERO
May 6, 2004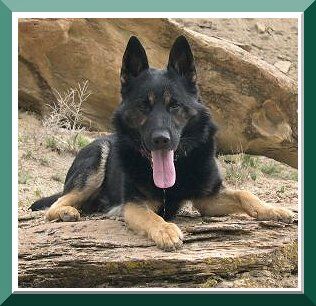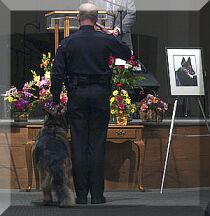 Handler: Officer Deanie Earthman
Grand Junction Police Department
625 Ute Ave.
Grand Junction, CO 81502
Tel # (970) 244-3555

Police dog killed in shootout
By ERIN MCINTYRE AND MIKE WIGGINS The Daily Sentinel
A police dog was killed in a shootout Thursday night between Grand Junction police officers and a man wanted for outstanding warrants. The wanted man also was shot and was in critical condition late Thursday. A police officer went to the Aladdin Apartments at 445 Chipeta Avenue shortly before 7:30 p.m. to deliver court papers, said officer Craig Campbell. "He saw a subject in a different apartment that he recognized as one of our local wanted subjects," said Sgt. Paul Quimby.The Daily Sentinel learned the suspect is 26-year-old John Robert Martinez, one of the Grand Junction Police Department's 10 Most Wanted suspects. He was wanted for failing to appear on a restraining order violation. When the officer approached the suspect, the suspect slammed the door and would not come out of the apartment, Campbell said. The suspect tried to climb out of one of the apartment windows as other officers arrived on scene, Quimby said. Then the shooting started."He was armed and started shooting at the officers," Quimby said.Tom Lambert, who lives across the street from the shooting, said he heard two sets of shots and then a single shot. "There were several different barrages of gunfire," Quimby said. It was not clear how many shots were fired by police or the suspect Thursday night. As officers were waiting outside the apartment for backup, they heard one more shot from inside the building, Campbell said. When officers entered the apartment, they found the man bleeding on the floor, he said. Campbell would not say where the man was shot or if police believed it to be a self-inflicted gunshot wound. At 10 p.m. Thursday, a St. Mary's Hospital nursing supervisor said the suspect involved in the shooting was in critical condition.Neighbors said they heard between six and ten shots fired. They said they saw a dog lying in the middle of the street and a "big guy" being taken away on a stretcher.Gero, a 5-year-old German shepherd who had been with the department for three years, was hit with one of the first shots fired, Quimby and Campbell said. About a dozen people gathered around the front door of All Pets Center on South Fifth Street, hugging and talking, shortly before Gero's death was announced.Potential charges for shooting a police canine include felony criminal mischief and aggravated cruelty to animals, Campbell said.The Grand Junction Police Department's policy for handling officer-involved shootings allows the chief to put the officer involved on administrative leave. An officer-involved shooting could lead to anything from a supervisory inquiry on use of force to a criminal investigation, Campbell said.Campbell said the shooting still is under investigation by the Police Department, and the Mesa County Sheriff's Department and the Colorado Bureau of Investigations will be investigating. Officers with the Sheriff's Department crowded the Police Department late Thursday.
submitted by Jim Cortina, Dir. CPWDA & Paul Quimby & Lisa Maestas
***************
Slain Police K9 Buried as Hero Grand Junction, CO - 5/16/2004 By Nancy Lofholm - Denver Post
Grand Junction police officer Geraldine Earthman lived with her canine police partner, Gero. She trained with him. She patrolled the streets of Grand Junction with him. She counted on him to protect her. On Saturday, Earthman was alive to cradle Gero's ashes at a memorial service because the 5-year-old German shepherd had done his job. He put himself between a man who was firing at Earthman and another officer on May 6 and took a fatal bullet that could have injured or killed one of them. For that, Gero - a dog that fellow officers affectionately noted "loved to bite" - was memorialized Saturday just as any other fallen officer would be. The first police dog to be shot in the line of duty in Colorado in 20 years had a motorcade across Grand Junction. He had a full-dress church funeral that reduced burly police officers to tears and had other police canines from across Colorado - the "paw bearers" - barking at the end of eulogies. Officers from as far away as Arvada and Cortez came with black ribbon over their badges. Fire trucks crossed ladders and hung an American flag at the entrance to the church. Families stood along roadways as officers passed. "Gero gave 110 percent all day long every day," said officer Lincoln Folkers, who served as a decoy for Gero's training. "I'm gonna miss being afraid of him." Gero was shot when Earthman and officer Eric Janusz responded to another officer's call for assistance in arresting a man wanted on an outstanding warrant. Janusz said he, Earthman and Gero went to the back of an apartment building to look for 26-year-old John Robert Martinez. Martinez came out a window firing at the officers. They had no cover. Janusz said Gero did exactly what he has been trained to do as one of about 125 police canines in Colorado. "He saw the threat and went towards it. He went directly in front of us and saved our lives," Janusz said. "Because of his heroic actions, the Grand Junction Police Department still has two officers on the force." Martinez was shot in the arm by officers during the altercation and went back into the apartment building and shot himself in the head, according to a coroner's findings. The incident brought out a groundswell of sympathy in Grand Junction. Citizens sent flowers and cards to the police department, thanking officers for the dangerous job they do as well as offering condolences on Gero's death. People and businesses have donated more than $3,000 so the department can buy another dog and train it, which costs about $10,000. Gero had come to Grand Junction from Slovakia as a skinny, dirty and undersized shepherd badly in need of training. He would snarl at anyone who came near him. But Earthman and other officers came to recognize his good qualities, including the fact that he was "wildly eager" to serve. "Gero was proud to serve and protect," said officer Jerry Hudson. "His No. 1 mission was to do the right thing for (Earthman) and his other officers." PHOTO: An officer and his canine partner pay their final respects to Gero, a Grand Junction police dog killed when he charged a gunman, saving the life of his partner and another officer.



Farewell to Gero -Sunday, May 16, 2004 - By DANIE HARRELSON The Daily Sentinel
Police officers and firemen read poetry. Veterinarians talked shop. Dogs yelped. And a little boy cried. Saturday's tribute to one of the Grand Junction Police Department's finest was as unique as Gero, the slain cop canine it honored. A May 6 gunfight between police and a wanted man ended the German shepherd's two years of service to the department and the community. The man who shot Gero, 26-year-old John Robert Martinez, died two days later from a self-inflicted gunshot wound. Gero's human colleagues and admirers, an estimated 600 people, commemorated his sacrifice with anecdotes, video clips and a few tears at Canyon View Vineyard Church. "My wife and my child have a husband and a father thanks to you," said Officer Eric Janusz, who recounted the night Gero died. The 5-year-old dog took a bullet that could have hit him or Gero's handler, Officer Geraldine Earthman. Those who addressed the crowd struggled for words to describe the dog. "Wild eagerness," veterinarian Bruce Kronkright said. He and veterinarian Mark Asmus recalled Gero's obvious impatience when they treated him for injuries. The dog was more interested in getting back to work. Firefighters Gus Hend-ricks and Lincoln Folkers spoke of helping Earthman train Gero. The two men served as "decoys," which often put them on the receiving end of Gero's bite. Before they sat down, both men told Earthman they were ready to pick up where they left off when she was ready to take on a new dog. Grand Junction Police Chief Greg Morrison spoke on Earthman's behalf. She called Gero an "attention hound." Law enforcement and emergency personnel throughout Colorado turned out to honor the fallen German shepherd. About a dozen canine officers took turns paying their respects before the service began. Handlers, with their hounds close behind, paused and saluted beforeGero's remains, collar and badge. "You can't express it in words," said Bureau of Land Management ranger Dee Lehman, who brought her dog, Hattie, from Glenwood Springs to the service. Kenyon Hendricks tried to tell the audience how much he missed his friend. He wasn't tall enough to reach the microphone. He cried a little and then took a deep breath before his last thought. "Now you are in a big police station in the sky," he said.
---
In Loving Memory of
K-9 GUNNER
February 19, 2004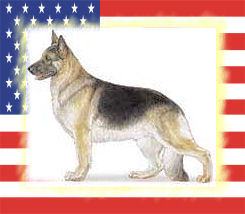 Partner: Officer Charles Smith
Charlotte Mecklenburg Police
address:
704 336 7658

the K9 Unit
Officer Smith lost his retired dog, Gunner on Thursday, Feb. 19th due to a heart attack. He joined the department in January of 2001. He served for over a year and retired due to an enlarged heart. Officer Smith currently handles K-9 Max.
submitted by Dusty Simon