In Loving Memory of
K-9 FLIK -
"FREE DOG"
January 22, 1994-October 7, 2004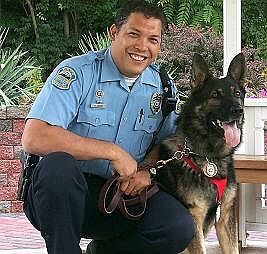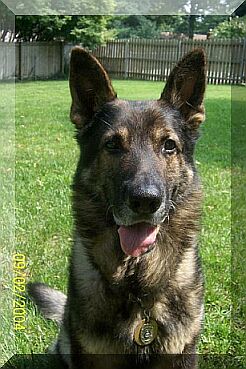 Handler: Officer Greg Casem
Ferguson Police Department
222 S Florissant Rd. St Louis, MO
(314) 522-3100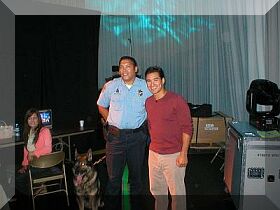 Mario Lopez the host to Pet Star on the Animal Planet Channel

+++++++++
Ferguson (MO) Says Goodbye to Star Canine Officer - Ferguson, MO - 10/24/2004 - Joe Scott - Of the St. Louis Suburban Journals
Flik was the city of Ferguson's best friend. For several years, he was the Ferguson Police Department's canine unit. He endeared himself to thousands of students at schools and others in a number of public appearances on behalf of the department. He also helped shine a national spotlight on the city when his handler, Officer Greg Casem, taught him to open and close the squad car door. That led to the opportunity to perform his trick on Animal Planet's "Pet Star" and the show "Amazing Animals."But Flik's storied life has come to end. He died in Casem's arms Oct. 7. Veterinarians discovered fluid around Flik's heart and two cancerous masses in his abdomen. The city will dedicate a dogwood tree in Flik's memory at 4:30 p.m. today (Wednesday) at Ferguson Police headquarters, 222 South Florissant Road. As he talked about Flik, Casem looked like he had just lost his best friend. "It took me an hour to make that decision," Casem said. "I didn't want him to be in pain. He fell asleep in my arms. I had to take his badge off. That was hard." </><>Casem was no longer using Flik in day-to-day police work. Flik was semi-retired after he began having difficulty getting into the land rover Casem drives. "We were not going to fully retire him," Casem said. "We planned to use him for demonstrations and for showing him to the kids. He was always so great with kids." </><>Casem said he had used Flik for a demonstration a few days before he died, and he seemed fine. "He never showed any illness," Casem said. "But the following Wednesday, I came home from training and he looked sad." A drive around the neighborhood failed to cheer Flik up. "He didn't bark, and he always barks," he said. Later that night, Flik didn't get up to go outside, and Casem took him to the Bridgeton Animal Hospital. In addition to being featured the animal shows, Flik was 10 minutes away from appearing on "The Tonight Show" with Jay Leno. However, Carson Kressley from "Queer Eye for the Straight Guy" went 10 minutes long, Casem said.Maybe it was something Flik said. "We did meet Carson," Casem said. "He was in a hurry and crossed in front of us at a hallway intersection. Flik barked at him. I think he scared him."</>submitted by Jim Cortina, Dir. CPWDA & submitted by: Russ Hess
UPDATE:
Thank you for doing that for us. My new dog is a very high drive dog. His name is Dan'o. He came to me named Cert. But we at Ferguson have a Cert Unit Civilian emergency response team, so I wanted to change his name and DAN'O was picked. Anyway he is again a very high drive dog and comes to me from the Royal Canadian Mounted Police, the Mounties. He is two and acts like a
two year old dog. Lots of play but very serious in his work especially the apprehension portion of our training. We have bumped heads a couple of times but I think he now knows who is boss.
**************

Flik was always wanting to work, ready to go at a moments notice and never wanted to quit. When at the station, he would jog in circles around Officer Casem in anticipation of going back on the street. While in the patrol car, he would relentlessly bark-waiting for action. This was a dog of astonishing talent. Officer Casem and Flik were certified through the United States Police Canine Association, Region 16. Flik had received several awards through local groups and Shepherd Clubs for tracking, evidence recovery, suspect apprehension and finding several hundreds pounds of narcotics. One award for locating a missing 10 year old girl.
Fliks many accomplishments was his ability to work a crowd. In the "Flik" of a switch, he could go from being the strong, aggressive police canine to the rub-my-belly fun loving dog. Flik and his partner Officer Casem had a relationship that transcended that of just "The Job." Flik was taught by Officer Casem to open and close the car door. This trick had landed both Officer Casem and Flik to appear on Amazing Animal Planet and Pet Star in Hollywood, CA. Flik was ill for only one day, until his death. Flik was a very special part of our Ferguson Family. He won the hearts of many and he will be greatly missed.


2003 OUTSTANDING K-9 AWARDS
http://www.gsdcstl.com/index.html
Outstanding K-9 Service Awards
Each year, the German Shepherd Dog Club of St. Louis, Inc. awards its Outstanding K-9 Service Awards. The awards are open to all German Shepherd K-9 Dogs located/headquartered within the Greater St. Louis Metropolitan Area: this includes the city of St. Louis; the Missouri counties of Franklin, Jefferson, Lincoln, St. Charles, St. Louis, and Warren; and the Illinois counties of Clinton, Jersey, Madison, Monroe, & St. Clair. The Outstanding K-9 Awards will be presented in 7 different categories. The Outstanding K-9 Awards have been given to K-9 teams from the Greater St. Louis Metropolitan Area according to categories of performance since 1991. The German Shepherd Dog Club of St. Louis, Inc., invites K-9 handlers to nominate their dog in the categories listed below for the annual awards which will be given each Fall.
AWARDS
SUSPECT APPREHENSION
Greg Casem & "Flik" Ferguson Police Dept.

EVIDENCE DETECTION
Greg Casem & "Flik" Ferguson Police Dept.
---
In Loving Memory of
K-9 FANTA
August 2004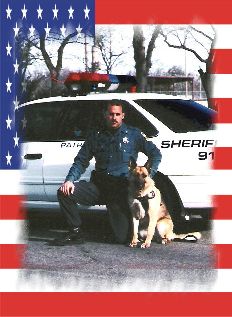 Handler: Mike Smith
Barton County Sheriff's Office
1416 Kansas
Great Bend, KS 67530
620 793-1876
Greg Armstrong, sheriff@bartoncounty.net
The K-9 Unit of the Barton County Sheriff's Office was first established in 1990. Since its inception, the Barton County Sheriff's Office has had the privilege of having four service dogs thanks to various community contributions with the latest being "Donna", a Belgian Malinois, who began her service in 2002. The K-9 Unit is designed to give deputies another tool to locate illegal drugs, find lost persons, pursue suspects on foot, uncover evidence, and most importantly provide additional officer and public safety. Deputy Michael Scothorn (Handler) and Donna have undergone numerous hours of training and also provide assistance on a regular basis to other state and local agencies in this region. Together they have assisted in many cases and have been very successful. Submitted by the Kansas Police Dog Association.
---
In Loving Memory of
K-9 FALCO
June 12, 1995 - February 11, 2004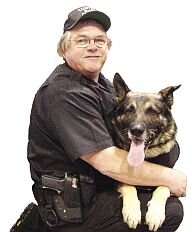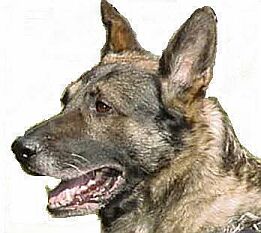 Handler-Partner: Dennis J. Scully (ret. PTL)
Taunton Police Department
Chief of Police David Westcoat
18 Pleasant St
Taunton, MA 02780
(508)824-7522

Taunton Police Department's K9 Falco was born 12 June 1995 in Wurzburg Germany. He arrived in the United States at Boston's Logan Airport on March 14, 1998, where I (Dennis J. Scully, Ptl.) picked him up and became his partner. Falco never showed any fear in training or with the many tasks he was asked to perform. Training for basic police work, Falco was very focused in tracking, apprehension and excelled in crowd control.
Falco did demonstrations in the schools. The Scully Family (wife Kathleen, 25 year old son, David) enjoyed and accepted Falco as the family member he was. He had the run of the house. He had been hit by a car while tracking on lead, and by a police cruiser. Assaults had taken their toll during crowd control and eventually, Falco was diagnosed with three herniated disc. Surgery was performed January 2003, with follow-up physical and water therapy. He responded very well to the therapy, but in December 2003, he began having problems with coordination. He was diagnosed with degenerative nerve damage in his back. Rather than leave Falco alone, K9 Falco and Handler Dennis J. Scully both retired from the Taunton Police Department on 26 December 2003. Falco loved to ride in the car, so he went everywhere. He needed to be lifted in and out, because he could not climb or jump. His condition continued to worsen.
On February 11, 2004, the decision was made, when K9 Falco could not control his rear legs, and he was euthanized.

***************
I went to the viewing of the Norfolk County K9, Axel, in January. Happen to be friends with the three K9 Handlers from Norfolk. Falco had trained with all three Norfolk County K9's. We had an old fashioned "Irish Wake" on March 4th 2004 for Falco at my home. Many of the Canine Handlers from around Massachusetts, along with officers Falco worked with, family and friends attended. MA-Vest-A-Dog's Kathy Hines & Sandy Marcal, who were instrumental in outfitting many of the Massachusetts Canine with bullet & stab proof vests, were king enough to attend. A permanent urn was presented to me, where Falco's Ashes were sealed inside, so he will always be with us. Meanwhile, the Taunton PD still has two K9 left. Handler Steve Correia had K9 Rexx, and Handler Robert Swartz has K9 Rex. Both dogs have been very well trained, as Falco was, by Capt. Jim Ballinger of the Plymouth County Sheriff's Department, and Lt. Ken Ballinger of the Barnstable County Sheriff's Department.