In Loving Memory of
K-9 DUTCH
2004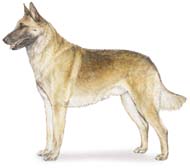 Pawnee County Sheriff's Department
Oklahoma
Dogs dying in hot police vehicles may be tragic, but it is not rare. In June, Dutch, a 7-year-old Belgian Malinois, died after the air conditioner failed in a Pawnee County sheriff's lieutenant's car in Oklahoma. The dog was in the car for less than an hour.

ubmitted by Jim Cortinia, Dir. CPWDA
---
In Loving Memory of
K-9 DONNER
April 27, 2004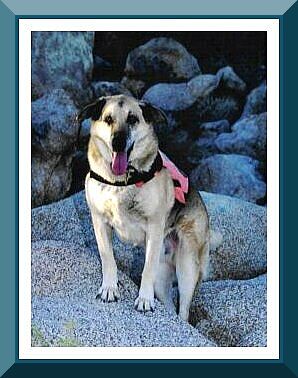 SAR Partner: Louie Villa
Sonoran Search & Rescue
Maricopa, AZ
ph: 602-550-7230
My name is Louie Villa and I came across your website a few months ago and signed your Guest Book. I was interested in some of your products that were available as I was retiring my partner Donner and was looking to the distant future when he would ultimately leave us. Unfortunately that day came a lot sooner than I would have ever imagined. My partner, Donner, was put to rest yesterday, Tuesday April 27th. Donner was a very special dog, and will be greatly missed. In July 1995, Donner became one of the first Arizona based SAR dogs to make a find when he found an 89 year old woman on the Tohono O'Odham Indian Nation. Donner participated in many searches within Pinal County and the State of Arizona. His easy going manner and friendly nature made him an excellent representative of the Pinal County Sheriff's Search and Rescue team. Donner made numerous trips to schools, nursing homes and PR functions as an ambassador for the Pinal County Sheriff's Office and was always the hit of the presentation. People say that a good dog will always make a marginal handler look good, and that's what Donner did for me. He taught me much more than I could have ever taught him.
Donner was my first search dog and the first dog that I ever had a real one-to one relationship with. I was extremely blessed to have been partnered with such an talented dog. Donner was my best friend and constant companion. Donner, when the pager goes off and it is time to go look for another lost individual, I will always find comfort in knowing that you are there watching over Blitzen and I. Good bye Buddy. Thank you for being such a big part of my life.


************

Lulu thank you very much for the service you provide and for the compassion you have shown me over these past few weeks. You have helped ease the pain I was feeling with Donner's passing. I have been extremely blessed in meeting you.
I hope that one day I will be able to tell you this in person.

THANK YOU and God Bless.

P.S. I never imagined that I would ever have such a strong relationship with a dog or other animal. Before my wife and I became canine handlers, my view was, dogs were pets and that we would outlive them. Whenever I put down one of our earlier pets I grieved for a day or two and got over it. This experience with Donner has really brought home how extremely close we really are to our pets. Especially the ones that we train and work with day-in and day-out.

My kids are also grown-up and out of the house. So our dogs are now our kids. Since laying Donner to rest, I find myself giving each one a big hug every time they are within reach. They are probably thinking 'Hey, what the heck's got into dad?'.

One thing that has happened that I think is really neat, is our Yellow Lab, Sid has suddenly begun to do some things that Donner used to do.
Sid never used to bark when I would come home, now he does. This was something that drove my wife batty about Donner. Donner used to sit at the fence and he had a really neat Welcome Home bark. Sid has begun doing that. Also Sid has begun to run his body between my legs for a body massage. Just like Donner used to do. He even has the same satisfied look on his face and licks me in the same manner that Donner did, when I massage down his spine and just above his tail. Sid never did any of these things prior to Donner's death. I think this is Donner's way of letting me know everything is okay and that he's still around watching over us.
---
In Loving Memory of
K-9 DINO
April 7, 2004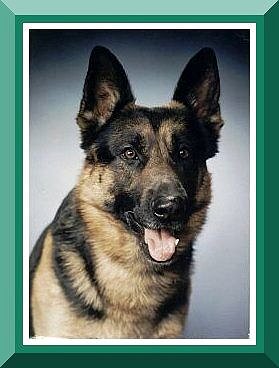 Partner: Officer Mike Leming
505 Commonwealth Ave
Erlanger, Kentucky 41018
(859)727-2424


Erlanger to honor memory of city's first police dog
By Shelly Whitehead Post staff reporter


For Erlanger police, he was the first -- and one of the best. And Thursday his fellow officers will memorialize, Dino, the city's first police canine. The affable 10-year-old German shepherd, who served the city from 1995 to 2003, died of old-age ailments on April 7. He retired from active duty last summer, but will be remembered by the two-legged peacekeepers he worked with as a prolific drug dog with a big heart. During his eight years with the Erlanger Police Department, Dino's special expertise was put to use 2,710 times, and he was involved in 226 drug and other criminal apprehensions. One of Dino's most memorable performances occurred toward the end of his career on a cold February night in 2002. It was raining and dark, and a distraught woman who had earlier considered suicide wandered into a thick wooded area near Interstates 75 and 275 in Erlanger. She called police from her dying cell phone, not knowing where she was but desperate for help.Helicopters and humans tried to find her in the darkness, but ultimately it was Dino who managed to track her down. Dino's handler, Officer Mike Leming, said at the time that as the dog approached the woman in the damp darkness, he found her rolled up in a ball and unresponsive, still clutching her dead cell phone. "He just stood there wagging his tail because he realized he'd found somebody and he did a good job," Leming recalled.Dino's productivity convinced city leaders of the value of a police dog, and today Erlanger has two: Arco and Sombie.At noon Thursday, Erlanger officers will memorialize Dino at a brief ceremony in council chambers. The service will include the elements afforded human officers, including a folded flag to be placed with Dino's picture in the Erlanger police training room.

submitted by Jim Cortina, Dir. CPWDA
---
In Loving Memory of
K-9 DIGGER
March 11, 2004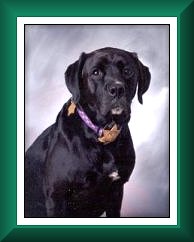 Partner: Undersheriff Jon Dearmore
Wahkiakum County Sheriff's Office
64 Main Street
Cathlamet, WA 98612
(360) 795-3242
FAX (360) 795-3145
WCSO narcotics canine (K-9) Digger was trained by Master trainer Diane Owsley, who has Diane's Barking Lot, Dogs for Law Enforcement in Seaside Oregon. Ms. Owsley has trained dogs for 20 plus years. Ms. Owsley started training Digger on January 9, 1996 at the Pro- Trainer Program at the Canine Academy Training Center in Leander Texas. Ms. Owsley trained with Digger for six weeks and completed the course and was certified. While at the Canine Academy Digger had 110 finds and 8 misses. Ms .Owsley also has trained with and is an associate member of the Oregon Police Canine Association (OPCA) ,a certifier for Drug Beat National Canine Certification Association, and has worked with many police and sheriff's departments, and is DEA certified. In late 1996 and early 1997 I started training with Ms. Owsley and Digger. On April 27, 1997. I was certified by Ms. Oswley and passed standards from Oregon Police Canine Association and the Washington Administrative Code (WAC) 139-05-915 requirements of Training for Police Dog Handler, 180 hours for general detection, as well as standards from the Washington State Canine Association. Digger is trained to find the "odor of controlled substances" on four different narcotics, marijuana (planted and processed), cocaine, heroin and methamphetamines. Digger and I have worked as a team together for five plus years and logged hundreds of hours in training and actual searching.

Digger and I belong to the Washington State

Police Canine Association (WSPCA) and Dogs Against Drugs/Dogs Against Crime (DAD/DAC). We have worked with CCSO/WCSO Drug Task Force, Longview Police Department, Pacific County Sheriff's Office, South Bend Police Department, Washington State Patrol, Naselle youth Camp Naselle School District, Wahkiakum School District, Warrenton Police Department (Oregon), and Tongue Point Job Corp (Oregon).

We have 45 plus documented cases were controlled substances have been found, or where drugs and paraphernalia were found. We have found and documented approximately $11,000.00 in currency on several searches that were related to drug possession and or sales.

Digger and I train approximately two days a week were he is working a rate of 95 percent or higher in finds verse misses, see training log.
**************

Officers mourn K-9 companion By Lisa Curdy

Wearing a black band of mourning over their badges, Wahkiakum County sheriff's deputies are remembering a fallen comrade whose antics included patiently waiting for food morsels and opening doors. Digger, a nearly 10-year-old Labrador and boxer mix, worked as the county's narcotics dog from 1997 until he was euthanized Thursday following a brief but severe viral infection. "I often joked that he was a person trapped in a dog's body," said Digger's K-9 handler, Undersheriff Jon Dearmore, from his Naselle home Friday. "He was as close to a human as you can get." The bond between officer and K-9 is stronger than most animal-human relationships, because they're together 24 hours a day, every day, Dearmore said. "I'm just a wreck," the 41-year-old said. "It's like losing a family member. I'll get through it, but I miss him like all get out." Dearmore met his canine companion in 1996, after he began looking into getting a K-9 for the department. The then road deputy "instantly fell in love" with the 8-month old pooch when they were introduced at the Barking Lot training facility near Seaside, OR."It was an instant bond, like electricity," the undersheriff said. Digger, who'd been an abused dog, was rescued and put into an Oregon Humane Society shelter, where master trainer Diane Owsley rescued him.The mixed-breed pup had been slated for euthanasia. Digger and Dearmore trained together every day and on weekends to fulfill their narcotics certification, Dearmore said. Until they were certified, "I had to leave him there every night, and it just killed me," he said. During his eight-year career with the department, Digger helped several police agencies locate about $350,000 of street-value narcotics, as well as about $12,000 in cash, Dearmore said. An "aggressive indication dog," Digger fulfilled his name and dug into whatever surface he was on when he smelled any variety of dope. A DARE officer for eight years, Dearmore took his furry partner to schools with him. "But if I didn't come to school with Digger, I wasn't welcome," he joked. "This guy was an absolute magnet. He loves people, but he loves kids dramatically more. You could see his demeanor change from happy to ultra-happy." The K-9 also helped calm people following a domestic violence incident or car wrecks, he said. Dearmore estimated that Digger was the recipient of more than 5 million pets in his lifetime. The 80-pound pooch was part of the family --- he slept in bed with Dearmore and his wife, or in their daughter's room. The usually frisky and upbeat Digger became lethargic about four weeks ago. Veterinarians performed surgery, gave medication therapy and administered numerous tests. The K-9 was suffering from anemia, which is when the red blood cell count declines below normal. It was caused by a viral immune-system deficiency. "The doctors chalked it up to eight years of sniffing drugs, being in and out of dirty cars and houses," Dearmore said. "The nature of his job played into." Digger was still heading to work with Dearmore until last week when he wouldn't get out of the car on a call. Thursday morning, doctors gave Dearmore two options: surgery or euthanasia. "He's had a second chance at life," Dearmore said he reasoned with himself that morning. "I am not going to let him suffer." He pulled his daughter out of school and called his wife. Digger's human companions drove to the Oregon animal clinic where he was being treated. "He walked into the room and wagged his tail, which was amazing. His happy meter went off one more time." Dearmore's long-time partner looked at him with "these big soft eyes," and everyone "prayed and cried on him," he said. "He was ready. His eyes told me so." Digger will be cremated, the undersheriff said. He's still having a hard time believing his friend is gone. "I'd roll lights and siren, and he'd hunker down," Dearmore said. "A lot of cops smoke after critical incidents, but I'd talk to Digger. He was the most incredible dog you've ever seen in your life. A super neat guy."



Paying tribute to Digger
A memorial service is being planned for Wahkiakum County Sheriff's Office K-9 officer Digger. Meantime, donations are being accepted at The Bank of the Pacific and Bank of America for a Cowlitz County Humane Society remembrance kennel. The animal in Digger's memorial kennel won't be euthanized and will stay there until they're adopted.
---
In Loving Memory of
K-9 DAMON
1998-February 21,2004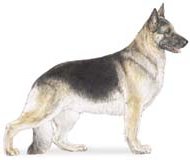 Partner: Officer Martin Gilliland
Kent City Police
319 S. Water Street
Kent, OH 44240
330-673-7732 - 330-673-3221
supervisor, Capt. James Goodlet
Chris Conery of the Memorial Animal hospital is attempting to raise funds to purchase another K9 for Officer Gilliland. See below for address to send donations:
K-9 Damon
Handler: Officer Martin Gilliland, Kent Police Department
c/o Cris Conery-Memorial Animal Hospital, 2222 SR 59
Kent, OH 44240
330-678-2770
Personal email:
coneryranch@aol.com
K-9 Damon died from a fast growing cancer. He was still on duty almost to the end. submitted by Joan Russell
---
In Loving Memory of
K-9 DAKOTA
September 4, 2004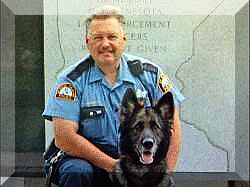 Partner: Officer David Longbehn
St. Paul Police Department
367 Grove Street
Saint Paul, MN 55101
651 292.3773
(reg calls) 651 291.1111

St. Paul Police K-9 Dies Unexpectedly
A St. Paul Police K-9, named Dakota, died unexpectedly Saturday morning. Dakota was a four-year-old German Shepard that served two years as the K-9 partner of St. Paul police officer David Longbehn. Dakota had a distinguished record of service and was certified as both a patrol service canine and narcotics detection dog. Officer Longbehn volunteered to put on a police K-9 demonstration with Dakota at the Minnesota State Fair last Friday in front of a large crowd. Longbehn found Dakota dead in his kennel early the following morning. An autopsy by a University of Minnesota veterinarian revealed that the dog died as a result of a rare intestinal complication. "While police K-9's are tools whose sense of smell and agility serve as a great resource, the bond that exists between dog and handler is incredible," Sergeant Paul Rhodes, a veteran K-9 handler and unit supervisor said. "The officers and their partners do more than just ride together, they respond to some of the most intense and dangerous situations encountered in all of policing," he added. St. Paul Police K-9's belong to the City of St. Paul. The dogs reside with the handlers and their families. They are purchased for the city with funds donated to the non-profit St. Paul Police Canine Foundation, which helps support all aspects of the department's nationally recognized program. "As a department, we will feel the loss of Dakota," St. Paul Police Chief John Harrington said. "Officer Longbehn and Dakota were a successful team and had a great working relationship. On a personal note, knowing that Dakota lived with and was cared for by Dave and his entire family, I cannot help but feel for them at this time," he added.
submitted by Dusty Simon amd
submitted by Jim Cortina, Dir. CPWDA
---
In Loving Memory of
K-9 DEZO
September 9, 2004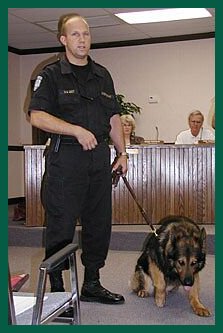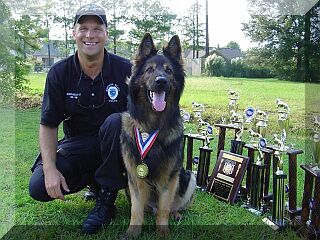 Partner: Phil Andryshak
Surfside Police Department
811 Pine Drive
Surfside Beach, SC 29575
843.913.6348

The memorial service is Monday, Sept. 13 at 2 p.m.
Public is invited. A local music show, Legends, 301 Hwy. 17 South, Surfside Beach, SC, has donated the use of their auditorium and singers for the memorial service. Working dogs from several states will attend. The police chaplain will be taking part in the service also. Dezo will be buried at Hillcrest Cemetery in Conway, SC. There will be TV, radio and newspapers covering the event. You could check www.myrtlebeachherald.com & www.myrtlebeachonline.com .the Krauses will be with you Mon. in spirit.
By Tom O'Dare - The Herald
Surfside Beach-Sgt. Phil Andryshak of the Surfside Beach Public Safety Department and his partner have been fighting crime together for over six years. Together, they've tracked down criminals and helped nab over $500,000 in illegal drugs. But now his partner, Dezo, has come across a foe he just can't beat. The trained dog has been diagnosed with inoperable cancer and has been given a prognosis of just a matter of days. Doctors have removed a fourteen pound tumor from the dog's stomach, but others have started growing back.
Andryshak has worked with Dezo, a dog trained to find criminals, weapons and drugs, since before he came to work with the Surfside Beach department. When the department hired Andryshak, it got quite a bargain, said public safety director Clyde Merryman. Already trained to work with Andryshak, Dezo came to the Surfside Beach department at no cost. Merryman said starting a K-9 program with the costs of buying and training the dog could cost a department thousands of dollars.
Since joining the Surfside Beach force, Andryshak and Dezo have been involved in a variety of cases. At a special recognition before the Surfside Beach town council in May, Merryman told of a situation in which Dezo found a gun that had been hidden in a tree trunk.
"This gun could just have easily been found by an unsuspecting child with disastrous consequences," Merryman said. "Dezo went right to it." In addition to his criminal tracking prowess, Dezo has won numerous awards at competitions throughout South Carolina and the Southeast, placing among the best in every contest he was entered. Dezo has become a welcome sight throughout the community, especially to school children, added Merryman. "Phil told me Dezo seemed to be feeling bad and he.





Posted on Thursday, Sep. 02, 2004




Saying goodbye to a best friend


By Joyce Armor - For The Sun News
One of the Surfside Beach Police Department's most decorated public safety officers has retired, but he doesn't know it yet.
Dezo, a 7-year-old, long-haired German shepherd, came to the U.S. from the Czech Republic when he was a year old. His handler, Sgt. Phil Andryshak, remembers the first time he saw the dog. "He was so full of energy, so motivated, and he was having a bad hair day. His hair was everywhere, and he had these hairs that crossed on top of his head that made him look like a devil dog," he said.
A native of Orange County, N.Y., Andryshak chose Dezo over four other dogs, despite concerns that he might be too much dog to handle, and they went through the six-week narcotic detection academy at the Orange County Sheriff's Department, graduating first in their class. Andryshak purchased Dezo for $2,500 because he knew it would be too hard to say good-bye to him if either of them got reassigned. Dezo became a nationally certified police dog in November 1998. He attended a 12-week patrol academy in Broward County, FL, the following year and worked with his handler for the Atlantic Beach Police Department before joining the Surfside Beach Police Department in 2003. "He's always been good at everything he ever did," Andryshak said. "He learned quickly and proficiently." Dezo is the only dual-purpose (narcotics and patrol) police dog in Horry County, Andryshak said. In his six years of duty, the canine's narcotics detection has resulted in more than 100 arrests and the seizure of more than half a million dollars in narcotics. He's a great police dog and a wonderful companion, Andryshak said. "He's been my best friend, my roommate and my partner since the day I got him." Surfside Beach Police Chief Clyde Merryman has known Andryshak and Dezo for several years. "They're like one in my mind," he said. "You don't see Phil without Dezo, and you don't see Dezo without Phil." Merryman had never seen Dezo work, and with Surfside Beach's community-friendly policing policy, the last thing he wanted was a growling, snarling dog on staff. "Phil kept assuring me that Dezo was great with kids, and it's true," Merryman said. "It's like flipping a switch. He can go from being so friendly to on-point at one command from Phil." Dezo has assisted in tracking dozens of fleeing suspects and has located several firearms during evidence searches. About six weeks ago shots were fired on Ocean Boulevard in Surfside Beach. Several suspects fled the scene on foot, and the K-9 unit was brought in. Dezo tracked a suspect's scent to a house several blocks away and circled a palm tree, then pulled a loaded semi-automatic pistol from the bark. "It could have been catastrophic if kids had found the pistol," Andryshak said. Lots of kids know and love Dezo, who has been to schools, churches and public events for K-9 demonstrations on agility and narcotics detection. The dog's talent, dedication and skills have garnered numerous awards. Dezo and his handler were named First Place K-9 Team for the State of South Carolina in May 2004, and Dezo has been named one of the Top 20 police dogs in the nation. Andryshak and Dezo were getting ready to do some training for the nationals, Aug. 1 when the dog became lethargic. The handler took him to Murrells Inlet Veterinary Hospital where Dr. Bruce Crull discovered an aggressive cancer that caused a basketball-size tumor on Dezo's spleen. The 14½ pound tumor was removed Aug. 3. Three days later, Andryshak learned the tumor was malignant and Dezo's condition was terminal.
"By that time, Dezo wanted to go back to work," Crull said. "He never stops working. He hears something, and he's on it. He's an amazing dog who has performed a great service to the community." Andryshak was not about to give up on his partner without a fight. He waited 10 days for Dezo to recover from surgery and then drove him to a specialist in Charleston for chemotherapy. By the time they arrived, a 1 lb. tumor had already grown back, and doctors told him the cancer was too aggressive to beat. By August 30, the tumor was again the size of a football. Dezo probably has only days to live. He still goes everywhere with Andryshak. He has been trained not to accept any people food, but now that the end is near, he's had a few Chicken McNuggets. "At first he wouldn't take them. I had to talk him into it," Andryshak said. "I've been blessed with two things in law enforcement: being in the K-9 unit and having Dezo as my partner. He's always been there for me, and I'm going to be there for him until the end." When the inevitable happens, Dezo will be buried at Hillcrest Cemetery in Conway after a full police service with honors. K-9 units from area departments are expected to attend.


submitted by

Lindsey

&

Joyce
************
The Service - 9/13/04
We have gathered together today to honor the memory of K-9 Officer Dezo. We have come to pay tribute to his service and to remember his contribution to law enforcement. We are also gathered here today to say thank you to all of you who serve and protect the public. I have been a Baptist minister for nearly 20 years. A couple of months ago I began working as a Family Services Counselor at Hillcrest Cemetery where Dezo will be laid to rest later today. Several days ago my manager, J.W. Russ, received a call from a female officer explaining Dezo's circumstances and asking about space in our pet cemetery. As the conversation progressed, the officer asked J.W. about a service to honor Dezo's service. She asked if J.W. knew a minister who would be willing to conduct a service for Dezo. He told the officer that he had a minister on staff at Hillcrest who just might be willing to help. J.W. knew I love animals. He told her I had three horses, a billy goat, five hermit crabs, a cat, a wife, and two children. He assured her I would be willing to help.
When J.W. hung up the phone, he asked me if I would be willing to help with the service for a dog. I told him that conducting a service for a dog would be an insult to my ordination and how dare he even ask. He asked if I thought the Presbyterian minister would have any trouble performing the service. I told him that I was certain a Presbyterian preacher would perform a dog's funeral. When J.W. asked me if I thought $500 was an appropriate honorarium, I just asked him one question, "Why didn't you tell me Dezo was Baptist?" I began to gain experience in ministry and in cemetery work at a very early age. As a young boy, I would bury my hunting dogs and other pets when they died. I would dig the grave, say a prayer, quote some scripture, sing Amazing Grace, and cry a little bit. I am experienced with dog funerals. Today, however, we are having much more than a "dog funeral". Today we are remembering a fallen officer and a friend. You have already heard stories and seen video describing Dezo's accomplishments and abilities. As Phil and I talked a few days ago, he told me a story about Dezo's training very early in their relationship. In fact, it was so early in their relationship that Phil's patrol car had not yet been fitted with a K-9 kennel in the back seat. After working with Dezo, the trainer asked Phil to put Dezo in the car while he worked with another dog. After a few minutes, the trainer realized there was a problem and suggested that Phil go get Dezo. Phil said that when he looked up at his car it was rocking. When his eyes connected with Dezo's, the car stopped rocking. Phil said he could see the white foam from his headliner falling like snow on Dezo. Dezo always wanted to be in on the action. At our first meeting, Phil gave me Dezo's profile which listed all of Dezo's accomplishments you have heard about today. When he finally got to the end of the list, I asked Phil, "Why wasn't Dezo a member of the union?" That list sounded like much more than any one team should have accomplished. Phil and Dezo went everywhere together. One person tried to tell me that you rarely saw them apart. What she actually said was that you could hardly tell them apart. I told her that it wasn't difficult for me; Dezo was a longhaired Shepherd. At our second meeting, Phil told me that his first night home without Dezo was very difficult. He could hardly sleep. Finally, he had an idea. He asked Suzanne to sleep by his bed so he could occasionally reach down and pat her on the head. He said he slept like a baby after that. Today's service brings different memories and emotions to each one of us. I am reminded of this past Friday afternoon as I stood in the office at Hillcrest looking out of the window as officer after officer drove by to a funeral service for Officer George W. Merritt. If you attended Officer Merritt's service, would you stand please? You may be seated.
I am reminded of a service I attended just a couple of months ago for three Horry County officers who had died in the line of duty: Dennis James Lyden, Henry O'Dell Stalvey, Jr., and John Ronald Floyd. If you attended that memorial service or worked with any four of these officers I mentioned, would you stand please? You may be seated. I remember the call, 18 years ago tomorrow, that came in the middle of the night to tell me that my uncle, Henry O'Dell Stalvey, Jr. had been killed in an automobile accident as he responded to a call. As a family member, I want to thank all of you who helped plan such a wonderful tribute to these officers. I hope today is one small way I can say thank you as we honor Phil and Dezo and all of you who put your lives on the line for people like me every day. I salute each and every one of you. God's word tells us that "there are friends who pretend to be friends, but there is a friend who sticks closer than family." (Ps. 18:24) I am certain that Phil would tell you that Dezo was a true friend. I recently spoke with a life-long friend of mine, who has been a law enforcement officer for many years. He spoke of relationships that can only be formed between people who have been in life threatening situations together. He spoke of spending 14 hours with someone in a car on a stake-out. He spoke of his son who calls a former partner of his Uncle. As I thought about Dezo's name, I thought of several characteristics represented by the letters of his name. These characteristics are true for officers everywhere. The "D" in Dezo's name reminds us that an officer must be disciplined and dedicated. Not only must officers be physically disciplined, but they must also be mentally disciplined. An officer must know how to hold his or her emotions when the average person might strike back at someone or be incapacitated by fear. Dezo was disciplined and dedicated. He trained hard. He won or placed near the top in nearly every competition he entered. He was always ready to serve. The "E" in Dezo's name reminds us of the energy and enthusiasm an officer must bring to the position. There must be a love for the job and the people one serves. It is not likely that this enthusiasm and energy will be generated by the figures on a check stub on pay-day. One of the first traits Phil saw in Dezo was his drive to hunt. In fact, Dezo was so enthusiastic and energetic that Phil was a bit hesitant to choose him. Dezo proved to be very capable and always ready. The "Z" in Dezo's name reminds us that an officer must be "zeroed-in". Hearing the words "zeroed-in" after completing time at a firing range tells an officer that his or her sidearm is properly sighted. This gives the officer assurance that the weapon is at top performance and will be effective when used. Law enforcement officers must be intensely focused as the lives of fellow officers and civilians depend on the officer being "zeroed-in". Dezo was "zeroed-in". He was focused and at top performance. He was ready to serve. The "O" in Dezo's name reminds us that he was an officer. What does it mean to be an officer?

It means that one has received special training and should be respected and honored. The term implies that one will protect and serve others even if the life of the officer is required to do so. Officers protect and serve others. An officer's needs and wants are placed beneath the needs of others. The Bible says in Proverbs 17:17 that "a friend loves at all times, and a brother is born for adversity." An officer must be ready at all times for adversity and difficult circumstances. Dezo was an officer who stood by his partner, protected his community, and was ready in every difficult situation. In the gospel of John, Jesus is recorded as having said there is no greater love than someone who is willing to lay down his or her life for a friend. Every day officers put their lives on the line for others. Dezo put his life on the line also. Today we remember his contributions to law enforcement. We pray for Phil, his family, and all fellow officers. Today we salute a fallen brother. Rest in peace, Dezo.


****************************
May we pray: Dear Lord,
Thank you for this day that we can come together to support our law enforcement officers. I thank you for the sacrifice that each one of them has made and does make every day to keep our communities safe. We pray today that you would protect them as they serve. We pray for their safety as they drive and as they perform their duties. We pray for their families who so often live with anxiety and fear. We thank you for spouses and children who support and love our officers. Today especially, dear Lord, we thank you for the contributions of one particular officer, Officer K-9 Dezo. We thank you for his service and accomplishments. We thank you for his sacrifice. We pray for Phil, his family, and the officers who knew Dezo personally. Give them comfort today as they grieve this great loss. Help them to remember good times


memorial service. RANDALL HILL/The Sun News




Flowers shaped like a doggie bone sit near Dezo's casket. RANDALL HILL/The Sun News