In Loving Memory of
K9 CHASE (SAR)
October 16, 2003- August 27, 2004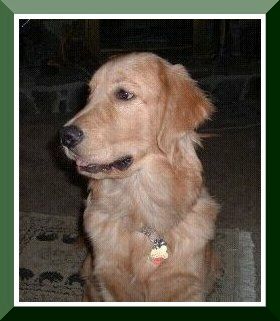 Partner: Tina Thompson
Indian Head, PA
********
You brought us such joy and laughter
and introduced us to the great people
we now call friends...
Knowing that God put you in our lives for a reason...
helping us get involved with others and helping
others get involved,
makes our parting even more sorrowful.
We will miss you Chase,
more than any simple words can explain.
I thank God for blessing us with the short time
we had the absolute pleasure of caring for you...
We love you Chase and pray Gods speed and
blessings on your Divine travels...
"Here's to absent Friends"



Chase
"Our Search and Rescue Dog"
You left us this 27th day of August 2004 for a Devine calling with God's Great Team.
I pray that as you arrive in Heaven all the angels will know and feel the blessings
that comes with your smile and love just as we have...
We knew that you were on a mission when you found us but we did not know that mission was us...



Chase died at our home on the deck, his heart gave out on him. We had a cardiologist do some tests and found him to have a heart murmur (sas). We all discussed the options and decided that a Golden's desire to learn and stimulate their minds was something we would not limit Chase from. We did however watch him to make sure he did not get over exerted and tired while working. He was a wonderful SAR dog and lived each moment to the fullest. It was what aspired him in life, and likewise; he certainly aspired us. Unfortunately that time was not as long as we would of hoped it to be. I miss him everyday, but will continue my work in Search and Rescue. I am currently with the Uniontown Police Department K-9 Search Team. We live near Seven Springs, about one hour from Pittsburgh. You were further east of us.
---
In Loving Memory of
K-9 CLINT
August 15, 2004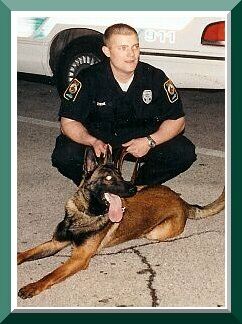 Partner: Officer Will Strunk
Bardstown Police Department
220 N. Fifth St.
Bardstown, KY 40004
502.348.3211
Officer Will Strunk and K9 Clint of the Bardstown Police Department 220 N Fifth St Bardstown, Ky 40004. (502)348-3211.
K9 Clint Killed August 15, 2004.
submitted by Jerry Nevitt
Police dog shot and killed by handler
Clint and Officer Will Strunk are frequently called out to help several other agencies when officers are looking for suspects. That's what officers were doing early Sunday morning. The K-9 attacked and the shot that killed the dog came from a deputy's weapon. Bardstown police got their K-9 Clint two years ago -- trained to find drugs, track suspects, and bite. "Go out, lay a track and Will and K-9 would go out and he always found it," says Chief Charles Marksbury of the Bardstown Police Department. "That was something we were really proud of, that he was a good tracking dog." Clint was a Belgian breed. Early Sunday morning, Clint and his handler met deputies in Howardstown ear the borders of Larue, Nelson and Marion counties, looking for a suspect under a bridge. "It was totally pitch dark down there and it was foggy because it was right down on the river," Marksbury says. "All of a sudden, he just turned and grabbed the officer by his left arm. He let go the first time and then he grabbed and bit down the second time. He couldn't get him off." That breed has powerful jaws. Deputies thought Officer Strunk's arm was broken. A deputy grabbed a pepper ball gun shot the dog a half-dozen times. Clint didn't let go. "Probably just antagonized him more. After a couple of minutes, the officer couldn't take it anymore. He told him just to shoot him to get him off of him." Officer Strunk is on sick leave he had 20 puncture wounds from Clint's bite, many down to the bone. Strunk got 16 stitches in his left arm. Bardstown officers aren't sure why Clint attacked his owner and partner. "It's got us all puzzled, what caused him to do this. We just figured it was all the commotion and he's not used to being around that many people," Marksbury says. Bardstown officers buried Clint Sunday. The chief says even after this incident, he wants to see the 10-year canine program continue. Chief Marksbury said Clint was very aggressive but also was an excellent tracking dog. A while back a deputy was nearly hit by a car and the people inside fled on foot. Clint tracked them down the highway, through the woods and found them in a cornfield.
submitted by Jim Cortina, Dir. CPWDA
In Loving Memory of
K-9 CYCLONE
May 17, 1990-August 2, 2004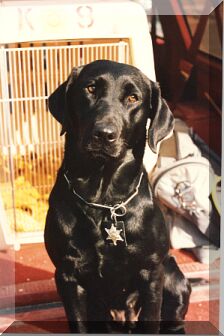 Handler: Deputy Matthew Episcopo
Madison County Sheriff
P.O. Box 16
Wampsville, NY 13163
Ph: 315 366.2318
fax: 315 366.2286 email:
Madison County loses a great crimefighter
by zenartist2, 8/3/04 14:09 ET
I
It is with regret that I inform you that K-9-Cyclone passed away last night, August 2, 2004. K-9 Cyclone was born May 17, 1990. K-9 Cyclone was Madison County's first K-9. She joined the Madison County Sheriff's Department in 1992 and was partnered up with her handler, Deputy Matthew Episcopo. K-9 Cyclone was trained by Sgt. Jeff Gates and Sgt. Earl Smith of the Onondaga County Sheriff's Department. The team achieved an Advanced Narcotic Detector Team Certificate from New York State as well as the German Polizei Narcotic Certificate. K-9 Cyclone retired January 2000. One of the highlights during her eight year tour of duty was being involved in a high-level sting operation where sixteen people were arrested, three pounds of cocaine was seized, twelve vehicles, ten guns and $56,220 in cash. K-9 Cyclone was involved in over 100 narcotics searches. K-9 Cyclone educated thousands of citizens, both young and old, and conducted over 150 K-9 demonstrations for the public and received several letters and commendations. I would like to thank all the people who supported K-9 Cyclone through the years. She will be greatly missed her friends and family and by those who served with her.
In Loving Memory of
Mia's Sri Yukteswar "CHOLO"
October 20, 1994 - May 25, 2004
Cholo was a disaster dog - FEMA Type II certification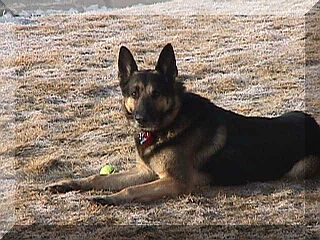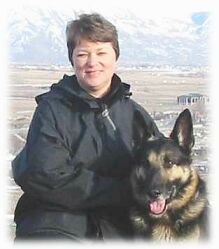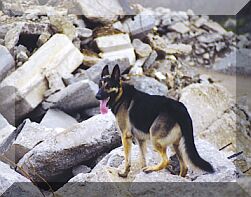 Joanne & Cholo during our SLC 2002 Winter Olympics Deployment 09-11-01
SAR Partner: Joanne Reitz
107 E. 10th St.
Kaufman, TX 75142
It's not too often in life that one acquires a magnificent working dog from such a humble background & pedigree. Cholo is such a dog. He not only has the working drives, but he is incredibly intelligent & hardworking with a high degree of trainability. He's very proud whenever he works.... much more than I could ever brag on him, for sure. He's not a dog that needs allot of supervision when it comes to working. He uses his head and works through any given situation incredibly well. He always wants to do a good job & is eager to please. There is not a stubborn bone in his body. Most importantly, he is very courageous, even when faced with a situation that he is afraid. There is a great deal of working trust between us that has developed over the years. I've seen him go into environments that he didn't want to go, just to get a job done. He can pull it together and move on. This is one of his great strengths... the ability to recover quickly when under stress. His motto in life is "if there's a way, I've got the will." If it's physically possible for him to get somewhere, move out of the way because he will try CHOLO turned 9 years old in 2003, and still runs circles around all of my other dogs. To date, I've had no genetic health issues to deal with K9 Cholo @ work
While in route to ground zero, we were visited by the 48 Hours camera crew. As usual, the media gravitates towards the dogs. In trying to get an interview, the crew became caught up in Cholo's attempts at "catching" their microphone equipment. He really wanted that fuzzy ball on the end of their microphone stick. The guys never could get a decent interview as long as they had that fuzzy ball up there for him to catch. Only a dog trainer with a high-ball driven dog, could appreciate the full extent of this photo! It's one of my more memorial ones.
I've restarted this announcement several times and have tried to put into words what I want to say, but nothing really seems right for this beautiful German Shepherd whom I've had the honor of watching work through the years. I just received word that Cholo died last night of unknown causes. Joanne Reitz is his partner and responded to the World Trade Center with Cholo in addition to other local disasters in the state of Texas. I've known them almost as long as I've worked in search and rescue and they were my colleagues on the Texas Task Force. Since retiring Cholo from disaster work Joanne has formed an organization that helps place potential working dogs in homes that will develop them as disaster dogs or with law enforcement in order to continue doing good things in the community.
When I think of Cholo I think of both him and Joanne as they had that special relationship that so many attempt to achieve, but so few accomplish. They were a partnership...they read each other...understood each other... and responded to one another in a way that only true partners can. Their path was a journey...a journey to making life better. I've never met a more giving person than Joanne. She never changed in all the years I've known her...even in the face of adversity. Her outlook on life is what made her put everything into her relationship with Cholo. Her loyalty to the Task Force and what it stood for made her work hard to achieve success with Cholo and to reach the goal of FEMA certification. During her journey with him she changed and grew as a person. Cholo taught Joanne so much about life and what it means. In death he is now teaching her how to live and how to carry on what they started so long ago together.
We laughed today remembering some of Cholo's antics...tearing a watermelon off a vine thinking it was a ball...collecting all the toys in the house and putting them under the bed...chastising the other dogs for doing something stupid...and always the loyal one...sleeping with his partner...watching out for her. Cholo is a father...yes he has a litter on the ground right now and several handlers are waiting to pick their new partner from this litter. Even in death Cholo has left his legacy...and I hope a few of his babies will be a new disaster dogs. Joanne signs her emails with this...."the soul's path is a journey towards home"...somehow I think there is hidden meaning in that. We all search for the perfect journey...the one that will achieve fulfillment in life. What we never realize is that life itself is a journey...one that is filled with mystery...with pain...with surprise...yet fulfilling...and yes it DOES lead to home. I hope with Cholo's legacy we each realize that what we do is very important in SAR. We're all in this because we want to do some good in the world and we want to make a change. I can't even begin to express how wonderful Cholo was and what a personality he had. I have always had an admiration for Shepherds and always will. Their presence is one of dignity and loyalty. I've begun to realize that their handlers are very much like them...Joanne expressed dignity and loyalty to her cause. May we all be so fortunate to have such a magnificent partner and may we all be so blessed to be steered down the right path. My hat is off to this team and my sincere condolences to Joanne for her loss of such an incredible dog. If you would like to learn more about Cholo go to her website:
http://www.dogswithamissionusa.com
http://www.dwamusa.com
Please send Joanne condolences at jmreitz@earthlink.net. Every email makes such a difference to someone who has lost their best friend. Susan Martinez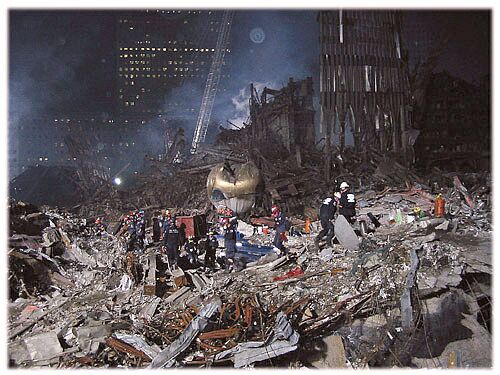 WTC Towers - the back courtyard area (notice part of airplane in above rubble)



DOGS WITH A MISSION USA
Specializing in working
Labrador Retrievers & German Shepherds
Joanne M. Reitz - Breeder/Trainer - Kaufman, Texas - (214) 629-3647
jmreitz@earthlink.net
http://www.dogswithamissionusa.com
http://www.dwamusa.com
---
In Loving Memory of
K-9 CAESAR
January 15, 2004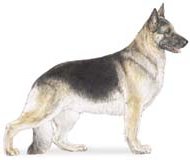 Partner: Rob Winkle
Kennedale Police Department
401 Municipal Dr
Kennedale, TX 76060
(817) 478-5416
We recently lost a member of our family, Caesar. She was a retired K-9 with the Kennedale Police Dept. in Texas. Caesar provided 6 years of service to the citizens and the Kennedale Police Dept. She also was a big part of our family. Caesar left this world on Thursday, January 15, 2003 from Liver Cancer. Although she had been retired for 2 years, she was the only K-9 at that department.
In Loving Memory of
K-9 CHEYENNE
1/22/01 ~ 5/17/04


Handler: Rhonda Krofecheck
Tri County K-9 Search Team - PA
Trainling and cadaver K-9
TRI-County K-9 Search Team

Rhonda is the handler. Her & K-9 Cheyenne were members with the TRI-County K-9 Search Team and was a duel purpose trained in Tracking & Cadaver . Cheyenne SAR Oeskeso......means SAR....search and rescue and Oeskeso means dog in indian. Cheyenne came to live with me from Vandalia, MO on April 19, 2001 as my birthday present from Scott. Started training at 4 months old, obedience and runaways, tracking. At 6 months attended her first cadaver class. December 24,2002had 9 puppies. Lived with her best friend Bud, Boyfriend...Mondo, Best Girlfriend....Gracie More than friends.......Partners Forever!!!!!!!
submitted by : Matt Smelser