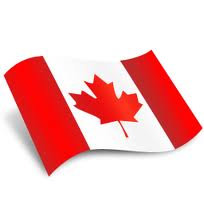 In Loving Memory of
K9 BROCK
November 2004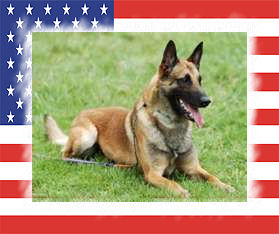 Handler: Const. Keith Fleury
Brockville Police Department
P.O. Box 2050
2269 Parkedale Avenue
Brockville, ON K6V 6N5
Phone: (613) 342-0127
Fax: (613) 342-0452
info@brockvillepolice.com
Retired police dog passes away
Brockville Police are mourning the loss of one of their own today, the canine Sep who served the force for more than six years. Sep, who was partnered with Const. Mike Grant as his handler, retired from active duty in 2008. He was 11 when he passed away Wednesday. Sep replaced the police force's first canine, Brock, who was handled by Const. Keith Fleury.
Brock retired in 2004 and is also deceased. Const. Shawn Borgford is handler of the third police dog, Trax, the active canine unit for the force Police Chief Adrian Geraghty said the police dogs help in numerous investigations dealing with drug activity, break-ins, mischief and vandalism and missing or wanted persons. But they also are ambassadors to the community and regularly visit schools and nursing homes and put on demonstrations at public events, said Geraghty."Any canine is not just a tool. It's a member of the police service." Sep's death weighs heavily on the officers and particularly on Const. Grant and his family, said Geraghty, who offered them condolences on behalf of the police service. Geraghty said the name Sep was chosen during a public contest and was given in honour of the fallen emergency service workers who died after responding to the 9/11 terrorist attacks in New York City. Insp. Scott Fraser said the canine units are popular at the schools and students still talk about Brock and Sep when Trax visits. (Published Nov. 2010)
submitted by Jim Cortina, Dir. CPWDA
---
In Loving Memory of
K-9 BREK
September 13, 2004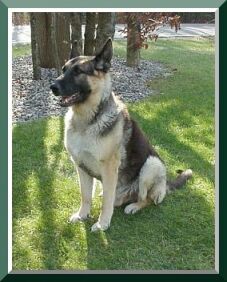 Handler: Richard Riley
Essex CountySheriff's K9 Unit, MA
Essex Co Correctional Facility & Sheriff's Headquarters
20 Manning Ave.
Middleton, MA 01949
(978) 750-1900

My name is Rich Riley. I am a handler with Essex County (MA) Sheriff's K9 Unit. My dog's name was Brek. I worked with him for six years before his retirement in 1999. He was a dual purpose Czech shepherd whom I competed with in USPCA events in the northeast. I had the pleasure of traveling to many places with him during these competitions, but the most meaningful memories with Brek come from my travels to Egg Harbor, NJ, Atlantic City, NJ, Tuckerton, NJ, and the friends I made there with him. I have long standing relationships with many handlers from that region whom I still talk with today! My K9 Brek was nicknamed " Twinkletoes" from several handlers at the Region 15 trials when he refused to jump the broadjump hurdles. I now have a dog named " Garo," who is half the dog "Brek" was. Brek was laid to rest on September 8, 2004. This was the worst day of my life exept for the passing of my father. He was my first K9 partner and so far the best! It is completly devastating to go through this.
---
In Loving Memory of
K-9 BRAVO
November 6, 2004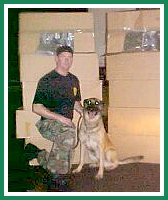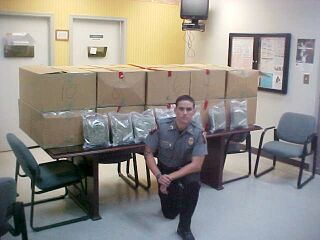 Handler: Officer Brian Faulk
Glynn County Police Department
157 Public Safety Blvd.
Brunswick, Georgia 31525
912-554-7800

Bravo died 11-06-2004 / 9 years old/ Belgin Malonios; Imported from Holland. He last deployment was a track on 11-01-2004. My pager went off around 0100 Hrs in the morning in reference to the department needed my dog to track a suspect who had fled from a traffic stop, so I got dressed and loaded Bravo up into my patrol vehicle. Bravo was bouncing around and happy to be going for a ride. Upon my arrival at the crime scene, I learned that the suspect had assualted two Police Officers on a routine traffic stop and ran off into the woods. I also learned that 2 other Police Canines had tried to track the suspect, but were unsuccessful. I then deployed Ole Bravo and put him the track of the suspect. Shortly there after, Bravo finds the suspect lying in the
wooded area. A couple of days later I took Bravo the Vets office and he was diagnosed with conjestive heart failure. I took Bravo home and Two days later I woke and found him in his kennel. But during the last days of his life I treated him like puppy and I grilled him a t-bone
steak. So he died a happy little dog.


I am the Canine Coordinator at the Glynn County Police Dept.
If I can be of any help please contact me at this e-mail address or 912-554-7838
Lt Robert T Putnam 119
---
In Loving Memory of
K-9 BRUCE
October 21, 2004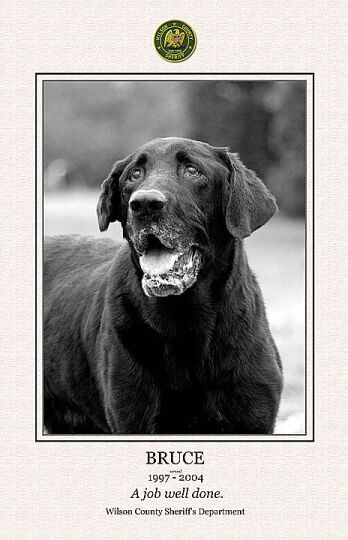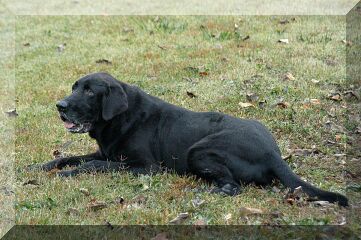 Handler & Partner: Det. Sgt. John Edwards
Wilson County Sheriff's Office
105 East High Street
Lebanon, TN 37087

Hi. My name is Dr. Harmon. I'm a vet in Lebanon, TN and today I had to do something I despise doing. I had to euthanize one of my favorite dogs, Bruce. Bruce was a rather large black lab who loved his job (drugs). He also loved to slobber apparently as he always had a string of it across his nose. He'd come in the office, shake his head and slobber would paint the walls. Show him a tennis ball and his world diminished immediately to include only that fuzzy lime-green sphere, which he would dutifully return to you, (dropped politely at your feet) and bound off again waiting intently for the next throw. He had one of the most lovable personalities I've seen in any dog. Bruce had his share of medical problems in the past but none that couldn't be kept under control or cured. A short while back however, his allergies became worse, he began to develop a few lumps and bumps and started losing a little weight. Then he began to limp on a front leg. The limp worsened and I was the unfortunate one who had to diagnose him with osteosarcoma (bone cancer) of the shoulder. I saw him a week ago and he would only barely attempt to put weight on the leg but he would use it to paw at someone to get their attention (hoping they had a tennis ball in their pocket, no doubt). Well, today was the day that we decided to euthanize him. It was one of those misty, rainy, gloomy days which made things sadder, but we did it anyway, for Bruce. I will forever miss that crazy, nutty, wonderful dog. I hate putting any animal to sleep but this was one of the worst. I was also quite proud to see the other officers, the chaplain, detectives and the Sheriff show up to support his handler. I hope all departments realize what a valuable asset these dogs are and also understand the emotional attachment of the handler to his dog and vice versa. I can't imagine going through something like this without the support of the department. After all, Bruce was "one of the 'guys'. " I also have to say thanks to his handler, John Edwards, for taking excellent care of him through the years. John (and his family) truly loved Bruce. It showed not in what he said but in his actions toward him. If Bruce hurt, John hurt. If Bruce was happy, John was happy. It was almost like a father and son. John was always so proud of him (with good reason). That, to me, is irreplaceable. Goodbye Bruce. You won't be forgotten.
Perry Harmon, D.V.M.
105 West End Heights
Lebanon, TN 37087
submitted by Russ Hess, USPCA Dir.
---
In Loving Memory of
MWD K9 BLACK Y070
February 1994 - 15 September 2004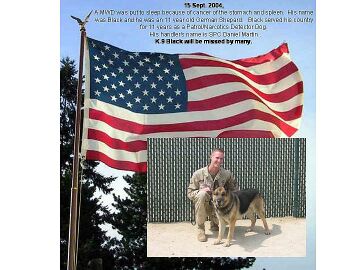 Faithful & True To The End
Handler/Partner: SPC Daniel Martin

Trust in me, my friend for I am your comrade. I will protect you with my last breath. When all others have left you and the loneliness of the night, closes in, I will be at your side. Together we will conquer all obstacles and search out those who might wish harm to others. All I ask of you is compassion, the caring touch of your hands. It is for you that I will selfishly give my life and spend my nights unrested. Although our days together may be marked by the passing of the seasons, know that each day at your side is my reward. My days are measured by the coming and going of your footsteps. I anticipate them at the opening of the door. You are the voice of caring when I am ill. The voice of authority over me when I've done wrong. Do not chastise me unduly for I am your right arm, the sword at your side. I and I shall experience a bond only by heir disdain. I will quietly listen to you and pass no judgment. Nor will your spoken words be repeated. I will remain ever silent, even vigilant, and ever loyal. And when our time together is done and you move on in the world, remember me with kind thoughts and tales. For a time we were unbeatable, nothing passed among us undetected. If we should ever meet again on another field, I will gladly take up your fight. I am a Military Working Dog and together we are Guardians of the Night. MWD Black was put to sleep because of cancer of the stomach and spleen. He was an 11 year old German Shepard. He service his country for 11 years as a Patro/Narcotics Detector Dog. He will be missed by many. submitted by: Brenda
---
In Loving Memory of
K-9 BANDIT
January 2004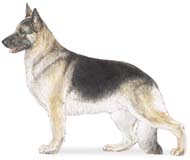 Partner-Handler Senior Officer Derrick Davis
Atlanta Police Department
675 Ponce DeLeon Ave.
Atlanta, GA 30308
404 817 6900

Funeral for K-9 Legend
Atlanta police Department will host a funeral for "K-9 Bandit", retired Georgia Animal Hall of Fame Narcotics K-9, at the Oak Crest Pet Cemetery, 2691 Harbins Rd. Dacula, GA on Friday January 16, 2004 at 2:00 P.M. Bandit, 14 year old Belgian Malinois was inducted into the Georgia Animal Hall of Fame in 2000 by the Georgia Veterinary Medical Association. During his seven year career, 68 kilos of cocaine and 502 grams of heroin. He responded to more than 817 calls for service and participated in 53 K-9 presentations for Atlanta youth at local area schools. Bandit is the only Atlanta Police K-9 that has received the prestigious recognition of induction into the Animal Hall of Fame. Since retiring in 2000 Bandit has been in the care of his former handler and partner, Senior Police Officer Derrick Davis.
For additional information, contact Officer Davis at 678 794 8965.
---
In Loving Memory of
K-9 BAT
February 6, 2002 - July 20, 2004
Always Loyal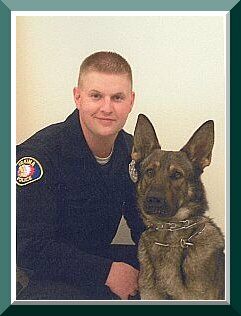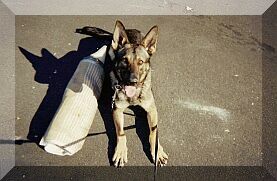 Handler: Officer Bruce Rogers
Yakima Police Department
200 South 3rd St., Yakima, WA 98901
509. 575-6200

I am Ofc. Bruce Rogers, the K9 handler for the Yakima Police Department in Washington State. I recently lost my K9 partner, "Bat" after he dug out of my yard and drowned in an irrigation canal. Another officer at my department said she spoke with me about your K9 memorial website. I am so relieved to have found some help on your website in saying goodbye to my best friend and partner. I did not know how to set up memorial until the info about your website surfaced. thank you so much. Sincerely, Bruce
*************************
Police Dog Believed Drowned
Yakima, WA - 7/30/2004 - AP
Yakima's newest police dog apparently has drowned in an irrigation ditch after escaping its handler's yard, police reported. The 2-year-old male Czech Shepherd named Bat had been with the Yakima Police Department only a couple of months.
The dog got loose July 20 after digging out rom under the newly installed chain-link fence at the home of his handler, officer Bruce Rogers, Capt. Greg Copeland Copeland said Thursday. Rogers began searching for the dog and eventually saw what he believed was Bat's body in the Roza Canal about two or three miles downstream from his home. Rogers was unable to recover the body because of the swift current. K9 Bat cost the city $6,000 to buy and about $6,000 more to train with Rogers, Copeland said. The apparent drowning leaves the city with only one police dog, Lektor, another Belgian malinois who has been with the department for several years. The breed is similar to the German shepherd.

submitted by Jim Cortina, Dir. CPWDA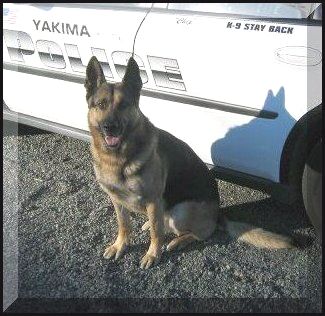 Meet new partner, K9 CHIP
Bruce, that's what this website is all about... support!! We all care. lulu
---
In Loving Memory of
K-9 BO
July 5, 2004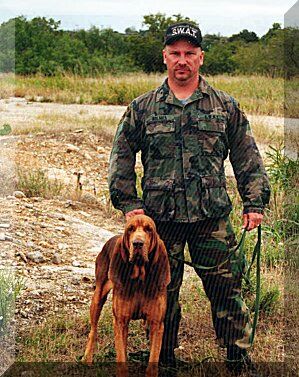 Det. Mark W. Holmes
Port Arthur Police Department
PO Box 1089 645 4th Street
Port Arthur, Texas 77641-1089

Instructor - Mantrailing
Mark is the Founder and president of Texas Bloodhound Search and Rescue. A Police Officer for 20 years, Mark has been a Detective for the last sevin years. Mark holds Instructor Licenses as a Firearms Instructor and Sub-Machinegun Instructor as well as a Master Texas Peace Officer certificate. Mark handles two Bloodhounds. "Bo", (pictured with Mark) and "Dixie". Mark and "Bo" have worked numerous high profile cases for various federal, state, county and local agencies in Texas and Louisiana. Mark also is a K-9 Mantrailing Instructor for the National Bloodhound Training Institute (N.B.T.I.) as well as the Texas Bloodhound Search and Rescue.
---
In Loving Memory of
K-9 BO
July 6, 2004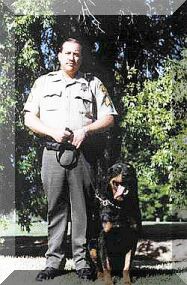 Handler: Sgt. James Bernardi
Madera County Sheriff's Department
14143 Road 28
Madera, CA 93638
Email Address:* sheriff@thegrid.net
Madera K9 officer dies while on duty
K9 "Bo" a happy go lucky Rottweiller who could outrun criminals and catch everyone of them on command died suddenly this morning while on shift. Bo, one of the county's popular attractions, was one of 5 K9's assigned to the force. Bo joined a team that has been in operation for more than 4 decades. Up until K9 Bo's untimely and tragic death, his partner, Sergeant Jim Bernardi headed up the pack with 5 full time working K9's - 3 assigned to the foothills of eastern Madera County, 2 patrolling the valley floor. Bernardi, one of the longest standing members of the K9 Unit, has trained dozens of dogs through the years, including one of his first partners named "Bear." "The Team has not only grown in numbers," notes Sheriff John Anderson, "keepers of the K9 Unit have expanded the program to include K9 expertise in fields of scent tracking (both air and ground), as well as cadaver, narcotic and evidence searches." K9 "Bo" along with many of our department's K9's, like "Rudy" and "Hasso" and Rocky and Zak as well as Lt. Smith's former partner, K9 "Keno" received numerous commendations for the critical roles they play in manhunts and pursuits. Sergeant James Bernardi's beloved partner was more than a work-dog ... "Bo" was as much a part of the Bernardi clan as Bernardi's own kids. "They loved him as much as he loved them." Sergeant Bernardi announced today that since K9 "Bo" could never be replaced, he is stepping down as Team Leader. Although his replacement has not been announced, K9 Deputy Scott Jackson is under consideration. Jackson's partner K9 "Rudy" is the department's only crossed trained dog in the fields of evidence and suspect apprehension, and who is credited with making a number of felony arrests, since joining the force. K9 "Bo" leaves behind his band of "brothers." They include: Drug sniffing K9's Zak (handled by Deputy Tyson Pogue), K9 "Rocky" (handled by Deputy Jeremiah Woods, K9 "Rudy" and suspect apprehension K9 "Hasso" (handled by deputy Landy Peterson.
***********************
K-9 dog for Mountain Area suspect apprehension dies
By David Richards - editor@sierrastar.com
One of the Madera County Sheriff's K-9 dogs died yesterday after serving the Mountain Area for the past five years in suspect apprehension. "Bo," the only Rottweiller of Madera County's five K-9 dogs, died Tuesday morning while on shift with his partner, Sgt. Jim Bernardi, said Erica Stuart, public information officer for the Madera County Sheriff's Department. "None of it makes any sense," Stuart said. "There was no sign, no indication. The dog was literally at the top of his game." Stuart said Sgt. Bernardi and Bo attended a K-9 training session late Monday night and everything appeared to be fine. On Tuesday morning, while on shift, "Bo" reportedly laid down, then went to sleep while in Bernardi's patrol unit. Stuart said Bernardi found that odd because it was a work day and because "Bo" seemed to be lively and had been jumping around that morning. Repeated attempts by Bernardi to wake "Bo" were unsuccessful. Stuart said it is unclear to why the K-9, estimated to be about 5 years old, died, but added that a heart attack is one possibility. "The one thing about "Bo" is that he loved as hard as he worked," Stuart said. "Kids loved him and he loved them. He never barked or growled, but he could catch a criminal on command. Not one of them could ever out run him. Don't even try it, just stay put. It will be a whole lot easier." Madera County Sheriff's K-9 history
Madera County's K-9 Unit began in 1963, launched by Deputy Jess West and his K-9 partner, a bloodhound named "Cheyenne." Until K-9 Bo's untimely and tragic death, his partner, Sergeant Jim Bernardi, headed up the pack with five full-time working K-9s - three assigned to the foothills of Eastern Madera County and two patrolling the Valley floor. The Sheriff's K-9 Unit is unique in that not every dog that comes to this department arrives with a hefty price tag. In 1998, for example, an Oakhurst resident made a generous donation to Sgt. Bernardi. That year, Bernardi was blessed with a Rottweiller named "Barron," who dedicated four years of service to the county. While the names and breeds of K-9s have changed through the years, the K-9 mission to find qualified dogs hasn't. As Sgt. Bernardi often says, "If he loves to play, chances are you've got the makings of a true K-9." For decades the Madera County Sheriff's Department has maintained a steady stream of highly-skilled hounds. But maintaining the program doesn't come cheap. There are food tabs, vet bills and weekly training missions, just to name a few - financed almost entirely by the deputies themselves. In fact, one deputy put a second mortgage on his home just to stay on the team, keep his K-9 on the force and the program afloat. Despite the economic hardship, Madera County deputies have successfully found ways to keep the K-9 Unit going and meet yearly certification requirements for 40 years. "Our department," says Deputy Scott Jackson, "has been graced with almost as many K-9s as the program has been in operation." Former K-9s "Max," "Major," "Jordi" and "Jed" were often called upon to meet and greet students at "Career Day" functions or strut their stuff during community demonstrations. There was "Lance," managed and trained by Deputy Roy Broomfield (now assigned to the department's on-campus deputy program) and "Otto," a gentle giant and perfect companion, remembers Deputy Larry Rich. "He was faithful, trusting and kind." Other agile K-9s like "Skipper," who helped Sergeant Chuck Reiring revamp the unit in 1983. "Bubba" ("Bo's" great-grandfather) and "Kino," two dogs trained by then Sergeant, now Lt. Steve Smith. Sgt. Bernardi, one of the longest standing members of the K-9 Unit, has trained dozens of dogs through the years, including one of his first partners, "Bear." "The team has not only grown in numbers," said Sheriff John Anderson, "keepers of the K-9 Unit have expanded the program to include K-9 expertise in fields of scent tracking (both air and ground), as well as cadaver, narcotic and evidence searches." K-9 "Bo" along with other department K-9s like "Rudy" and "Hasso" and "Rocky" and "Zak," as well as Lt. Smith's former partner, K-9 "Keno," received numerous commendations for the critical roles they play in manhunts and pursuits. Sgt. Bernardi announced Tuesday that since K-9 "Bo" could never be replaced, he is stepping down as team leader. Although his replacement has not been announced, Stuart said K-9 Deputy Scott Jackson is under consideration. Jackson's partner K-9 "Rudy," the department's only cross-trained dog in the fields of evidence and suspect apprehension, is credited with making a number of felony arrests since joining the force. K-9 "Bo" leaves behind his band of "brothers." They include: Drug sniffing K-9s "Zak" (a Springer Spaniel handled by Deputy Tyson Pogue); K-9 "Rocky" (a chocolate Labrador Retriever handled by Deputy Jeremiah Woods); K-9 "Rudy" (a Belgian Malamar); and suspect apprehension K-9 "Hasso" (a German Shepherd handled by Deputy Landy Peterson). Erica Stuart, public information officer of the Madera County Sheriff's Department, contributed to this report.
submitted by Jim Cortinia, Dir. CPWDA
---
In Loving Memory of
K-9 BUSTER
December 13,1993 - July 7, 2004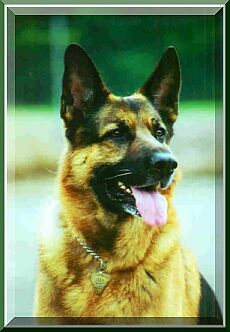 Handler: Capt. Annemarie Grant - C Region II Cmdr.
New Jersey State Police Dept.
Department of Law & Public Safety - Division of New Jersey State Police
P.O. Box 7068
West Trenton, NJ 08628

On July 7th, 2004, the New Jersey State Police lost a valued member of it's family when K9 Buster passed away. Buster joined the ranks of the NJSP in 1994 and had been trained as a Patrol/Narcotic Detector Dog. During the course of his service, Buster assisted in the seizure of over $28,000,000 worth of illegal narcotics and over $1,000,000 in U.S. currency. Buster also participated in countless field searches resulting in the location of numerous weapons and articles of evidence, as well as locating a run-away juvenile in a wooded area, and a fugitive wanted for assaulting a police officer. Our deepest sympathies are extended to Buster's lifelong partner and handler, Captain Annemarie Grant, Troop "C" Region II Commander.
K9 Buster - NJ State Police
December 13, 1993 - July 7, 2004
submitted by Sue Keenan, Elizabeth, NJ PD and written by Sgt. Tom Ferrugia.
---
In Loving Memory of
K-9 BOSCO
June 17, 2004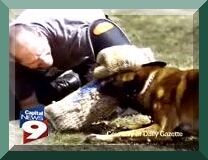 Handler: Deputy Scott Everson
Fulton County Sheriff's Office, NY
Thomas J Lorey - Sheriff
2712 State Hwy 29
Johnstown, New York 12095
(518)736-2100
NY K9 Dies in Hot Patrol Car; Procedures Changed -
Fulton County, New York - 6/25/2004 A.P.
June 18 - The Fulton County Sheriff's Department is now planning on taking new precautions to protect members of their K-9 unit. This comes after the death of one of their dogs. "Bosco" was left in a deputy's car Wednesday afternoon. The car was left on, with the air conditioner running, which has been a standard procedure with dog handlers. However, the air conditioner failed and when the officer returned to check on the Bosco, the dog was unresponsive and later died. The sheriff says they will now be putting the K-9s in their crates inside the air conditioned sheriff's department building.
submitted by Jim Cortina, Dir. CPWDA
MORE:
Accident leads to dog's death -
Updated: 6/18/2004 10:55 PM - By: Jessica Schneider
They called him Bosco. A frisky Belgian Malinois who was the resident PR dog. Each day he'd ride along with his handler, Deputy Scott Everson. And after the patrol was finished, he'd stay in the K9 car -- air conditioning running -- with Deputy Everson checking on him every half hour. But on Wednesday, the AC failed, and within minutes Bosco was in serious trouble. Sheriff Thomas Lorey of the Fulton County Sheriff's Department said, "He came back 25 minutes later and the dog was in distress. The air conditioning system had somehow failed and the dog's temperature had increased." It had shot up to 106 degrees -- six degrees hotter than an average dog. Young Bosco was immediately rushed to the Johnstown Animal Clinic. Dr. Amy French said, "So the first thing our ladies did was put him in the tub and start cooling him down." The team worked for hours, hydrating him inside and out. But the damage was done. Bosco was in severe shock. "What you can do is actually get your body hot enough to destroy blood cells, and that's what he was doing," French said. The high heat had been just too much for the K9. After receiving treatment in both Latham and Guilderland, Bosco succumbed to his injuries. Now, Sheriff Lorey said what once was standard policy will now be changed. "It's customary throughout the state, that I'm aware of, that K9 handlers always leave their dogs in the car with the air conditioning running. It keeps the dogs ready to work. I've changed the policy. The dogs will now accompany their handlers wherever they go," he said.
---
In Loving Memory of
K-9 BARKLEY - SAR
September 16, 1991 - February 8, 2004
(9/11/01) worked.........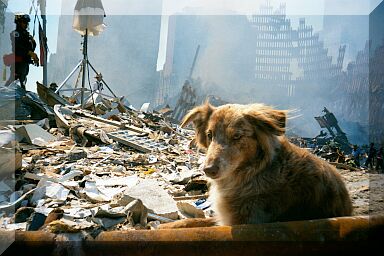 Handler: Michelle Eldridge
PO Box 141
Rockville, RI 02873



Barkley was certified:
Airscent search dog
Water search dog
Type I (advanced) FEMA USAR dog
We had been members of:
New England K9 SAR
DAWGS SAR
the MA-TF1 FEMA USAR team


Barkley was rescued when he was 15 months old and died when he was 12 1/2 after a long and successful career.
Ten and a half years ago I rescued an Australian Shepherd from the vet one hour after he was supposed to have been put to sleep because he had been unclaimed in the pound for four months. My friend's dog, Izzy, is listed on your site, said "You saved his life someday he will save someone else's." Ten months later he found a lost teacher who had been given up for dead. Barkley and I were together 24 hours a day for the next ten years. He went to the Atlanta Olympics, was the first dog in the eastern U.S. to be certified as a Federal Disaster Dog. We traveled extensively and his final mission began on Sept. 13, 2001 at the World Trade Center. He turned 10 while he was there. He gave every ounce of himself while he worked that week and performed like a true hero. Barkley developed cancer and it was discovered at the end of January 2004. The vet told me that he may only have a few weeks to live. We started chemotherapy and he seemed to be making a startling recovery. The vet now said he may live another year or more.
Barkley always slept on the first floor, upside down, in front of the door. He had never slept in bed with me. One night in January he followed me up to my room when I was heading off to bed. He put his paws up on the bed and insisted I let him sleep with me. He had not been feeling well and I obliged him. He lay down, with his head on my pillow and his back against my chest. I put my arm around him and was hugging and stroking him. I was enjoying this time with him, wondering why he was not feeling well. It was then that I discovered the lump on his neck. He stayed with me for most of the night. While he was sick and on chemo I often tried putting him in bed with me but he never wanted to stay. I beleive Barkley knew then that he was sick and he needed to tell me.
The night before he wandered off into the woods he asked to go out in the middle of the night. I let him out and he stayed out all night. The next morning I was feeding the horses and he passed by the fence. I tried to stop him and he sat in the most unusual way. He looked like he was on a mission and did not want to stop. He sat briefly, watching me, with his head slumped over like snoopy on top fo his dog house. I looked away for a moment to finish dropping hay and when I looked back he was gone. I didn't realize it then (he had seemed to much healthier lately) but I think he was saying good-bye.
On February 8, 2004 he wandered off into the woods. I found his body 5 days later on February 13. He had gone down to the lake, crawled under the cottage and gone to sleep....it was a beautiful spot and one of his favorite places to be....he never woke up. He was my best friend and constant companion. He will always be my hero. I miss him so much.
UPDATE:
Izzy and Barkley (Ed and I) were on the same search teams. We all traveled extensively together and the dogs were good friends. I am currently working a Border Collie named Lizzie. She has always been with me but was "second string" to Barkley. We have just joined the newly formed RI Urban Search and Rescue team and finally, at the age of 10, she has made it to first string. She is doing great and you would never know she is 10 years old. This photo was taken on September 16, 2001, Barkley's 10 birthday, at the WTC. He spent the entire day searching. Michelle
---
To Honor & Remember
K-9 BEAR
February 2004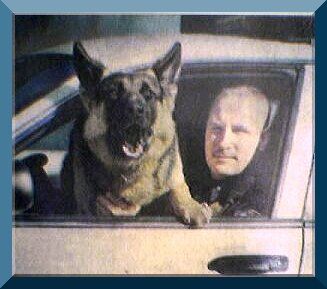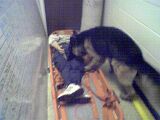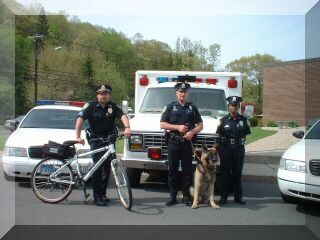 Handler: Officer Joseph Peterson
East Haven Police Dept.
Chief of Police Leonard Gallo
471 North High St .
East Haven, CT 06512
(203)468-3820

USPCA - 2003 SECOND QUARTER WINNERS — PATROL
Region 1 Dep. Robt. Nowlin Jr-K9 Rex Escambia CO, FL Sheriff's Dept.
Region 3 DFC Chris Gibbons-K9 Spencer Harford CO, MD Sheriff's Dept.
Region 5 Ofc.Keith Smith-K9 Kolja Evansville, IN Police Dept.
Region 7 Ofc. Joseph Peterson-K9 Bear East Haven, CT Police Dept.



Bear attacking a S.A.M dummy for our dive team, sam means submers- ible, anatomical manequin. the story is we were cutting through the locker room and the dive team leader left our life like training dummy in the rescue basket, well bear thought it was some one hiding, when I turned around he was gone. I heard the noise of him attacking this manequin. Well everyone thought it was the funniest thing. I had to command him off the dummy as if he made an apprehension.
+++++++++++++++++++
My name is Joseph Peterson. I am a 16 year veteran of the East Haven Police Department in Connecticut. My 4 year old shepherd just recently retired due to an illness, and seizures. It was very heart breaking. We trained in Yonkers, New York, under Gary Pietropaolo. We had numerous successful tracks in our short career. Bear just received a dedicated service medal, and now a letter from U.S. Rep. Rosa Delauro. This was a great honor for us as no other dog in our department history was ever recognized by Congress.



Medical woes sideline top police dog - Mark Zaretsky, REgister Staff 2/24/04
EAST HAVEN — Bear, the police department's decorated and popular police dog, is still ready to go every time patrol Officer Joe Peterson leaves his house to go to work. A handsome, black and brown 4-year-old German shepherd, Bear "is like Dino" from the Flintstones, jumping on Peterson and happy as heck to see him when he arrives home. Bear is one of the better sniffers and trackers people around here have seen in a long time, but he is no longer on the job. He has been forced into early retirement because of medical problems that just a few short weeks ago had Peterson worried that Bear might die. "It just breaks my heart," said Peterson, who now has to get used to going to work alone for the first time in a couple of years. Bear, who has won more than his share of honors and awards in his abbreviated career, was diagnosed with a bowel overgrowth and a gastrointestinal virus that caused him to hemorrhage. Bear was forced to go to animal hospitals twice in recent months, and doctors say the stress of the job exacerbates his condition, Peterson said. The Board of Police Commissioners honored Bear recently with a Distinguished Service Medal. His premature retirement "is a tragic loss to the East Haven Police Department," said Chief Leonard Gallo. "He was an excellent dog, and he made several successful tracks, including a bank robber and a lost person." Normally, a department would get six to nine years of service out of a police dog, Gallo said."The chief loves Bear," said Peterson. "He was just as upset about it as I was." Bear met hundreds of East Haven children while visiting town schools. The dog can be a playful critter when you first meet him, with eyes that seem to follow you around the room. He can be far from friendly, however, if he tracks you successfully. A one-word command from Peterson is enough to set him barking — or biting — up your tree. He also "has an uncanny sense of smell," Peterson said. Patrol Officer Bryan Kelley said Bear is so good that, in June 2003 at the United States Police K-9 Association regional trials, a world-renowned trainer who had just returned from China came up to them. "He was so taken aback by Bear's natural ability that he pulled Joey and Bear aside to do a training tape that he took back to China to show … how it's supposed to be done," Kelley said. But while Bear has gotten plenty of credit over the years, Bear and Peterson have always been a team, he said. "Joey doesn't really give himself enough credit," Kelley said. "Joey did a heck of a job, too."
submitted by Russ Hess, USCPA Dir.
---
In Loving Memory of
MPH BOB
February 24, 2004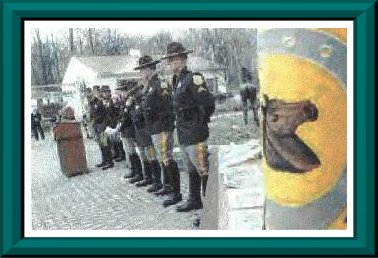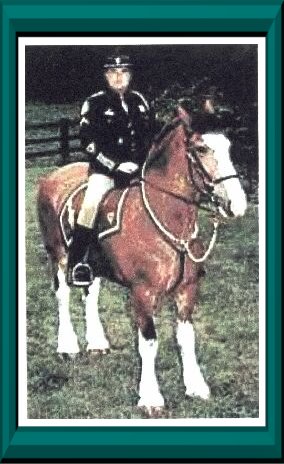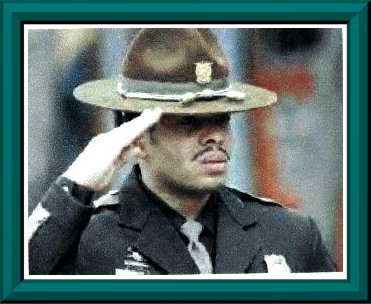 New Castle County Police Dept.
Delaware

Officer William Brown gets emotional during a memorial service for Bob, a popular police mount that served New Castle County police for six years before he died Thursday after a bout with cancer. Services for Bob at Carousel Park, attended by more than two dozen uniformed police officers and K-9 dogs, included eulogies and music.
++++++++++++++++++
New Castle County police honor 'Bob' for service Clydesdale was more friend than horse, officers say
By TERRI SANGINITI - Staff reporter
County police officers and the public paid their final respects Monday to a veteran New Castle County police mount memorialized during services at Carousel Park in Pike Creek. Bob, a 17-year-old Clydesdale, and at 17.2 hands the mounted unit's largest horse, died Thursday of cancer. County police Sgt. Nicole Hyden, who heads the eight-horse unit established in 1981, said Bob had been on the force for six years and was a favorite at parades and special events. With more than two dozen uniformed officers and four K-9 dogs at attention, Hyden eulogized Bob, but not as a horse. "I use the word friend in lieu of horse or police mount, because that's what Bob was to everyone," Hyden said. "Every time you saw him, he greeted you with genuine sincerity. And even if he was having a bad day, like everyone does, he never took it out on anyone." Hyden said Bob taught countless children how to ride at Carousel Park and was patient and gentle with awkward new riders. Bob and another Clydesdale, Ted, were donated to the department in 1998 by Patricia Walp in memory of her husband Donald, a Newark police officer killed in the line of duty April 2, 1987. Clydesdales, known for their intelligence and good temperament, comprise the entire unit. The Walps bought the draft horses when they lived in Illinois and brought them to Delaware when they moved. "They had the best of everything and they had the opportunity to show people what the breed is all about," Walp said. "They are truly called 'Gentle Giants,' and that's exactly what they are." In his early years, Bob had pulled an ice cream cart through the streets of Indiana, Hyden said. Since joining the police force in 1999, Bob not only patrolled residential neighborhoods, but also marched in local parades, attended Camp Day in Middletown, Sleepover Under the Stars at Carousel Park and was loved by children with whom he crossed paths. Mounted Officer William Brown recalled that when he first partnered with Bob two years ago at his first parade in Hockessin, he was amazed how all the kids waved and called Bob by name. "Everybody knew Bob," Brown said. Officer Ed Sommers, who was Bob's original partner, read a poem his wife wrote about the horse and Hyden gave one of Bob's shoes tied with a yellow ribbon to Walp, Brown and Sommers. The remaining horseshoe was kept for former county police Col. Jack Cunningham, who was not in attendance. County police spokesman Cpl.Trinidad Navarro said Cunningham liked to ride Bob on the weekends and in parades. Sommers, who rode the horse between 1999 and 2002, said Bob began ailing in early December. Last week, veterinarians at the University of Pennsylvania's New Bolton Center said the horse's pain had intensified to the point that it was time to put him down. After the eulogy, Sommers played taps on a bugle. A bagpiper played "Amazing Grace," turned away from the crowd and slowly walked over cobblestones toward the OK Corral in the Western-themed park. Hyden said county police Chief Col. David McAllister already has approved funding for Bob's replacement.
Reach Terri Sanginiti at 324-2771
---
In Loving Memory of
MWD BRIAN
May 31, 2004 (Memorial Day)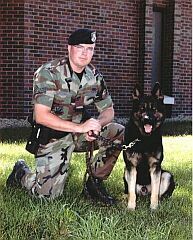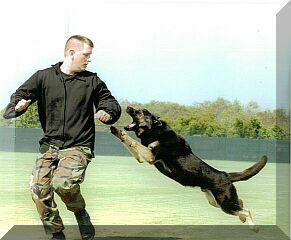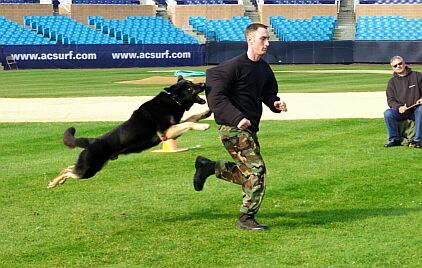 Handler: Jeremiah Jessen
Department of Defense
Military Working Dog Program
Ellsworth AFB
Air Force Military Working Dog Brian. My husband, former SSgt Jeremiah Jessen was his handler from 2001 to 2004. My husband was honorably discharged and is now a civilian police officer. I saw your posting on the U.S.P.C.A. website. I met Jeremiah while he and Brian competed against my father at a National U.S.P.C.A. competition. It was because of Brian that I met my husband. Brian passed away last year and will always have a special place in our hearts. Thanks, Dorie Shoutz Jessen

The 28th Security Forces Military Working Dog Section lost its most beloved teammate on May 31st 2004.
Brian, a 6 year old German Shepherd passed away in the early morning hours of May 31st. The cause of death was from a blood clot that released and stopped the blood flow to the rectum thus causing it to deteriorate which concluded in blood poisoning. Brian entered the Department of Defense Military Working Dog Program in May of 1999. There Brian was certified in patrol and narcotics and was assigned to Ellsworth AFB on 29 June 1999. Brian had many accomplishments while assigned to Ellsworth AFB. Here is a list of those accomplishments.
1999 --Received national tracking certification from the North American Police Working Dog Association. Brian became the only nationally certified tracking dog in the entire Air Force.
2000 --Named Best Dog in Air Combat Command.
--Confiscated over $8.5 million in illegal narcotics in El Paso TX while supporting the U.S. Border Patrol and Drug
Enforcement Agency.
2001 --Named Best Dog in Air Combat Command. Competed in the Department of Defense K-9 Trials at Lackland AFB TX and placed 3rd Overall in drug detection. Brian was named the Best Dog in the Air Force.
--Placed 2nd Overall at the United States Police Canine Association (USPCA) Region 12 field dog trials in Minnetonka MN. (Rookie Dog Division)
--Received national Patrol Dog 1 certification from the USPCA.
2002 --Placed 4th Overall at the USPCA Region 12 field dog trials in Fairmont MN. (62 Veteran dog teams participated)
--Placed 3rd Overall at the USPCA National field dog trials in Plant City Fl. (182 teams participated) Brian became the highest placing dog in the history of the Department of Defense at a National K-9 competition. Over 3,200 dogs compete in the USPCA. --Placed 1st Overall at the USPCA National field dog trials "Team Competition." (28 teams entered)
--Received national Patrol Dog 1 certification from the USPCA.
2003 --Placed 1st Overall in Criminal Apprehension at the USPCA Region 12 field dog trials in Waite Park MN. (82 teams participated)
--Placed 4th Overall at the USPCA National field dog trials in Atlantic City NJ. (128 teams participated) Brian once again proved he was one of the "Top Dogs" in the entire Nation. (128 teams participated)
--Placed 2nd Overall at the USPCA National field dog trials "Team Competition." (28 teams entered)
--Placed 5th Overall at the USPCA National field dog trials in the Criminal Apprehension Division. (128 teams participated)
Brian was responsible for 30 drug finds on Ellsworth AFB which led to the conviction of approximately 50-60 personnel on Ellsworth AFB. Brian was not only a beloved member of the 28th Security Forces Squadron Military Working Dog Section but also a beloved member of the 28th Bomb Wing. There will be a memorial service on July 7th 2004 at the Base Theatre in honor of MWD Brian. Ceremonies will commence at 1600 hrs. To the members of the 28 SFS K-9 Section Brian was more than just a dog; he was a Brother. We will meet Brian again someday, this time at Heaven's Gate. He was only 6 years old.
In Loving Memory of
K-9 BECK
May 5, 2004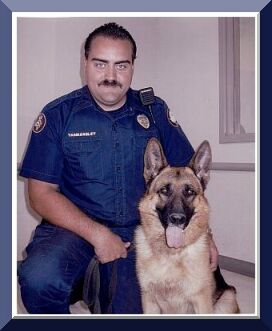 Handler: Officer James Tankersley
Little Rock Police Department
Little Rock,AR 72201
501 918.3900

The Canine Unit is made up of officers who utilize highly trained police dogs. These teams are assigned throughout the Patrol Division to be utilized to assist patrol officers in searches of buildings, searches for suspects, and the detection of drugs.
I lost my partner of four years, "Beck" on May 5, 2004. Beck was a six year old dual-trained patrol/narcotics German Shepherd. He had been battling what the Vet originally thought was Rocky Mountain Spotted Fever. He was diagnosed with RMSF during the first week of February. when my wife went outside to feed him and noticed he would not eat. This was very uncharacteristic of him as he usually ate so fast I used to worry that he would choke. For the next few months, his condition would vary from normal to very sore and almost lame. He continued to work on his good days and even tracked and located a felon who had fled from officers through yards, woods and a drainage ditch the night before he took his final trip to the Vet. When I took him in his temp was back up and his joints appeared to be very sore. After IV fluids, and X-Rays, the Vet thought he had identified Blastomycosis as a possible cause of Beck's illness. Soon after the Vet called to tell me of the new possible diagnosis, he called again and told me that Beck had stopped breathing and they were unable to revive him. After numerous tests and a necropsy it is still unknown what caused Beck's lengthy illness.
I take comfort in the fact that he basically went out working by finding the felon, but I hate that I was not there to say good-bye as he passed away. I am now in the process of locating a new (notice I don't say replacement-Beck will never be replaced) dog.
UPDATE
I am looking forward to getting another partner, he should be in town in the next few days. Of course that means six to eight weeks of training during the summer. The new dogs are coming from the Czech Republic so they wont used to the heat and humidity here so we will have to take it easy on them for a while. I'll try to keep you up-to-date on things here and hopefully I won't have any additions to your website anytime soon.
I now have a three year old silver sable colored German Shepherd named "Xantho."