In Loving Memory of
K9 ALIE
2004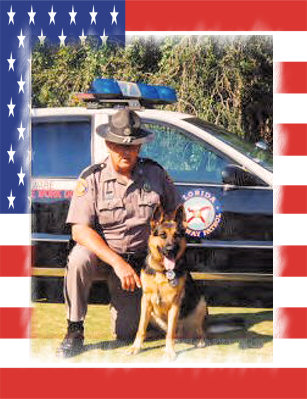 Handler: Trooper Bill Bruce
Orlando District of Troop K
Florida

K9 Alie began his career with the Florida Highway Patrol in August of 1996. K9 Alie and his handler Trooper Bill Bruce were assigned to the Orlando District of Troop K (Florida Turnpike). K9 Alie worked closely with the Metro Drug Unit in Orlando, one case involved the dismantling of one of the biggest heroin dealers in the region. Over $650,000 in cash recovered and distribution ready heroin valued at $1,000,000 was seized. Many other law enforcement agencies and citizens benefited from K9 Alie's dedicated work as K9 Alie not only hunted criminals, he provided demonstrations to school children throughout the Central Florida region.
In 2002, K9 Alie was diagnosed with prostrate cancer, and after surgery and treatment was able to return to duty. In March of 2003, Alie retired along with his handler Trooper Bruce. In 2004, the cancer had returned and in May of that year K9 Alie passed away. To this day school children and parents ask about and remember the beloved K9 Alie.
submitted by Bobby Earl
---
In Loving Memory of
K-9 ANDY
December 29, 2004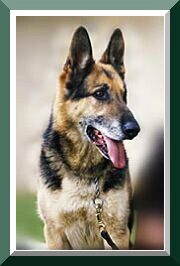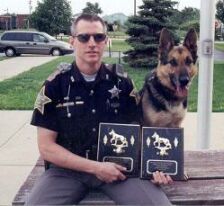 Partner: Sgt. Scott Hodson
Tippecanoe County Sheriff's Dept.
2640 Duncan Rd.
Lafayette, IN 47904
PH: (765) 423 9388

Sgt. Scott Hodson was a K-9 handler from 1992 until 2004. He was the first handler in Tippecanoe County and has watched the K-9 team grow to what it is today — 4 narcotics dogs and 1 bomb dog. Sgt. Hodson's latest K-9 partner was a German Shepherd named Andy. During Scott and K-9 Andy's years together on the road they were successful in making numerous drug finds as well as tracking felonious subjects. Scott and K-9 Andy competed in numerous competitions and walked away from most of them as winners. K-9 Andy is retiring and we wanted to acknowledge his exceptional service. Scott is still active in K-9 as the team leader and lead decoy. Scott and K-9 Andy became well known in Tippecanoe County as well as every adjoining county for their relentless pursuit of the criminal element. It is with great sadness that I announce the passing of my K9 partner, Andy. Over this past Christmas weekend I had boarded Andy while I was out of town. I picked him up early Monday afternoon 12/27. He seemed like himself, sitting up in the back seat and barking at everything. He seemed okay at that time. At about mid evening Monday he suddenly looked kind of lost. I was standing in our kitchen and he was in the living room with a straight line of vision to me. He stood up and started looking around the room and kind of looked a little panicked. He spotted me and ran over to me. Throughout Tuesday 12/28 he seemed to be okay except he seemed a little less energetic then usual. Yesterday 12/29, I saw him at about 10 AM lying down in our hallway. He was panting noticeably and I had no idea why. I kept an eye on him and he seemed okay. He went outside for his breaks as normal. He'd do his business and come right back in. At about mid afternoon I found him lying in the hallway again and his breathing was very labored. I called him to me and he made it up and toward me but couldn't maintain his balance and fell down. I rubbed his muzzle and then put my finger in his mouth. His gums were ice cold. I found no obstruction that I could see in his airway so I have no clue what was going on. I loaded him up in the car and headed to the vet. He walked to my car but I had to lift him in. When I put him on the seat he collapsed and couldn't seem to move. At this time he was still breathing but with difficulty. At one point he stood up and turned around in the seat and then laid down again. His head flopped down on the arm rest of the back door and he moaned a little. His breathing was still very labored. I got to Creekside and they brought out a stretcher. We took him into the trauma room and he was pretty much dead weight. Dr. Jackson could not find a heart beat with a stethoscope. His tongue was out and it was clear that he was already gone. I have no idea what happened to him and no autopsy will be performed. He will be cremated and I will keep him. Anyway, yesterday was a difficult day. He was a great partner and while I am grateful for the 6 years we were together, I will miss him dearly.
submitted by Dusty Simon & helped by Jim Cortina, Dir. CPWDA
---
In Loving Memory of
K-9 ABBY
December 16, 2004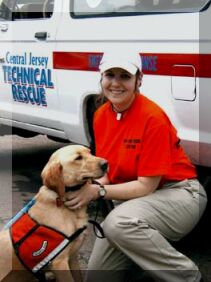 SAR Partner: Marnie Powell
Central Jersey Technical Rescue Team
New Jersey
It is with deep regret to inform you that our team member K9 "Abby" passed away suddenly on Friday evening 12/16/04. Abby was Marnie Powell's partner, a yellow Lab who was recently certified as a wilderness air scent dog. Abby came into Marnie's life as a foster dog from the Labrador Rescue, Marnie was volunteering at. Abby worked her way into Marnie's heart and home. Marnie recognized that Abby had what it took to be a Search dog. She was friendly, outgoing, and loved the game. Abby lived life at high speed, she played hard, she worked hard – it was all or nothing with her. On behalf of the team we have sent a donation in Abby's name to the Brookline Labrador Rescue. Also on behalf of the team, we extend our sympathy to Marnie for her loss. As a volunteer SAR dog handler, the time and the effort that goes into training are extensive, as well as the cost but there is one thing that can't be measured and that is the bond that forms with your partner. It is invaluable. Marnie hopefully your memories will comfort you and know that you and Abby will meet again at Rainbow Bridge. We're all here for you.
In Loving Memory of
K-9 ARGO
September 17, 2004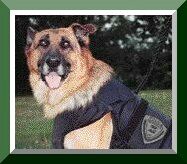 Partner: Officer Ginger Robertson
Springfield Police Dept.
321 E. Chestnut Expressway
Springfield, MO 65802
417-864-1810
Police say goodbye to hardworking Argo
-
Even-tempered animal joins six other police dogs at cemetery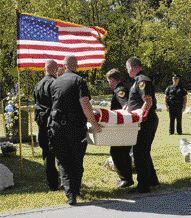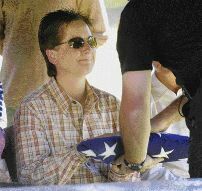 Springfield K-9 police officers carried the casket for his funeral.
Bob Linder News-Leader
Ginger Robertson receives the flag that draped the casket of Argo the service dog from Springfield police officer Phil Yarnell. Springfield K-9 police officers carried the casket for his funeral.
+++++++++++++++


Police to mourn beloved K-9 Argo Argo once found a lost woman who had Alzheimer's

.


By Amos Bridges - News-Leader Staff


Springfield police will bid farewell to one of their own Monday.
Argo, a German shepherd who began serving with the department's K-9 unit in 1995, is being put to sleep. He was taken out of service in 2001 because of cancer. He was one of the first dogs recruited into the department's K-9 Unit, formed in 1995 after several area Rotary clubs donated enough money for three dogs. In his primary role — sniffing out drugs and apprehending suspects — Argo had 37 felony arrests, 45 misdemeanor arrests and 165 drug finds, said Officer Matt Brown, police spokesman. But his highly trained nose was also capable of much more. About four years ago, Argo helped locate a Springfield woman with Alzheimer's disease. She had wandered away from her home and had become lost in a field. "The officers that were looking for her, family — nobody could find her," Brown said. "We eventually called K-9 out, and within 20 minutes, Argo alerted right on her." With the cold winter weather, Argo's help probably saved the woman's life, Brown said. "The medical staff that took care of her said that she wouldn't have lived through the night, left out in the field." Since his retirement in 2001, Argo had been living with his handler, Officer Ginger Robertson. She was unavailable for comment Friday, Brown said. Argo's demise was hitting her hard. "She's had the dog for so long, it's become a member of the family," he said. K-9s and their handlers are paired early on in their training, Brown said, and handlers often develop a deep bond with the dogs, which become pets as well as partners. "It's more than just a dog to the K-9 handlers." Argo will be buried at 3 p.m. Monday at the Service Dog's Memorial, at 4500 S. Lone Pine Ave.


Argo was buried at the Service Dogs' Memorial.
News-Leader File Photo, 1999 -

By Ryan Slight - News-Leader


Argo caught dozens of criminals with narcotics or evading officers during his six years with the Springfield Police Department. And none can complain he ever bit, said officers who remembered the even-tempered German shepherd with an unmatched enthusiasm. "I just loved to watch my dog work, whether he was finding a bad guy hiding in a building or out in the woods, or if he was finding drugs," Argo's handler and former Springfield police officer Ginger Robertson said Monday. "I miss him." She and the German shepherd retired in 2001 and lived together after Argo experienced a knee injury. But officers said the dog's spirits were undampened, even before he recently succumbed to cancer. After joining the department's K-9 unit in 1995, Argo racked up 37 felony arrests, 45 misdemeanor arrests and 165 drug finds. "You can definitely say the dog's performance was comparable to any police dog out on the road today," said Phil Yarnell, head trainer of the Springfield police service dog unit. Robertson's favorite memory was of the dog's discovering an elderly woman with Alzheimer's disease who wandered from home and became lost in a field about four years ago. "Otherwise, she would have died that night," she said. Several officers or supporters of Robertson stared solemnly as Argo's flag-draped casket was carried to Lakeland Pet Cemetery. Police canine handlers stoically flanked a Service Dogs' Memorial as their animals sat in the grass and wagged their tongues. The department has six trained dog teams. A distant dog's bark echoed as "Taps" played on a stereo. Attendees also paused for Louie Armstrong's "What a Wonderful World," which was said to be Argo's favorite song. Argo will join seven other Springfield police dogs buried at the site since 2000:


Caesar - Kastor - Lucky - Magic




Peacemaker - Preston - Wiko


The canine's casket and burial were provided free of charge, said Jeffrey Kicks, Thieme-Shadel-Hicks Funeral Service president.
Humans could learn admirable traits from Argo — loyalty, consistency, a strong work ethic and unconditional love — said Dick Cope of Klingner-Cope Family Funeral Home, who officiated Argo's service.
submitted by Dispatcher, Dawn Lanham, DE - Note: Ginger lost K9 Preston, Aug. 7, 2002, Page 580 in the book,


Heroes All Without Question

.
---
In Loving Memory of
K-9 ABARTH (AKA "Bart")
August 19, 1996 - January 1, 2004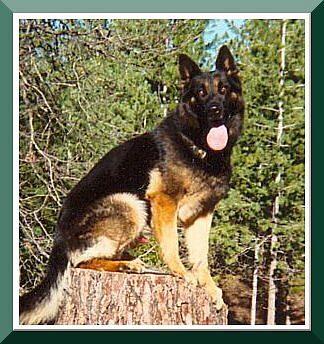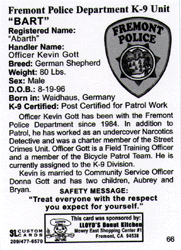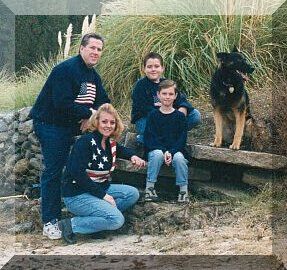 Handler: Officer Kevin Gott
Fremont Police Department
2000 Stevenson Blvd.
Fremont, CA 94537
Ofc. Kevin Gott........ His K-9 partner, "Abarth" died unexpectedly on Jan 1, 2004,
after a battle following stomach tortion, AKA Bloat..
Abarth was the best dog our Department has ever had and was a great loss for my Officer Kevin Gott and his immediate family and police family.

Abarth's last shift at work in Dec 2003, was successful, as he flushed out Auto Burglars just hours before becoming ill. He underwent hours of surgery and was expected to beat the odds....unfortunately he did not.

Abarth (Bart as we fondly called him), was still a working dog. Even with tubes and collars, he followed Kevin out to the curb to go to work, up until the night before he died. As soon as kevin got dressed in his work pants and boots, Abarth followed him around the house. It killed him to be left behind...he was so loyal and dedicated.





To K-9 ABARTH


Abarth, no longer a bad guy shall you find,
For now you walk with Jesus and live in our mind.

You lived hard and fast, as your battered badge shows,
Why God needed you in his Kingdon, only he knows.

Thank you for your loyal service, we cannot repay,
We'd have given anything for you to stay.

But, now you live in Heaven, so play, play, play...
We each have an ache in our heart, that just won't go away,
But, we ask that God blesses our family
and FPD each and everyday:

Until we meet again...
by Donna Gott (C) 01/02/04
submitted by: Donna Gott #2243
Community Service Officer/
Crime Scene Specialist/K-9 Mom - wife & mother
---
In Loving Memory of
K-9 AX
August 21, 1999 - June 1, 2003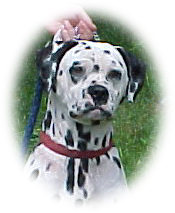 Partner: Tonya Slack
ISAR
(Iowa Search & Rescue)
We brought Ax home as a 4-month-old pup to be the mascot for our fire department, as well as a family pet. Though Ax was my husband's dog, I started training with him. Ax and I attended our first Iowa Search and Rescue practice, and we were both hooked! Ax made an excellent search dog. He loved it, and it's what he lived for.
Ax started having vision problems just over a year later. We took him to Ames, where he was diagnosed with juvenile cataracts, so we had to retire him from SAR at 18 months old. Ax dealt really well with his blindness, doing everything he had done as a sighted dog. He would do small searches (on leash for fun), slide down the slide at the park with the kids, and just have a blast. We had special commands so that he wouldn't do anything dangerous or run into anything, and most people couldn't tell he was blind unless I wasn't directing him. Then, everything was shattered again when he passed away suddenly on June 1st, 2003. We discovered that Ax didn't have juvenile cataracts at all. He had a brain anurism that had been affecting his vision, and he passed away when it ruptured that morning. He was retired January 2001.
Ax, we love you and miss you. You were an awesome partner and friend. Someday we'll meet again at the rainbow bridge.
---
09-11-01
In Loving Memory of
K-9 ARAN
March 31, 2004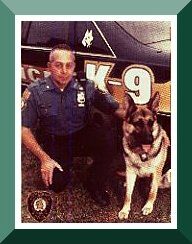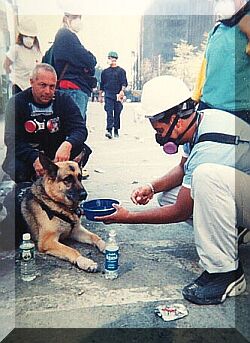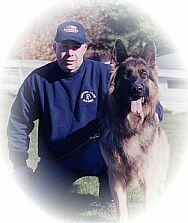 Partner-Handler: Officer Lou Venturini
Suffern Police Department
61 Washington Avenue
Suffern, NY 10901
845-357-2300


K-9 "Aran" joined the Suffern Police department in 1994. He is partnered up with Officer Louis Venturini. "Aran" and Lou went through extensive training to establish the solid bond required of a K-9 team.
K-9 Aran at WTC after 9/11/01

Retired Police Dog Dies - Suffern, NJ - 4/1/2004

By SUZAN CLARKE - THE JOURNAL NEWS


Flags flew at half-staff at Suffern Village Hall yesterday in honor of Aran, the German shepherd who walked a village Police Department K-9 beat for a decade. The 14-year-old dog died Tuesday night at Oradell Animal Hospital in Paramus, N.J. He had been suffering from a degenerative spinal disease, Suffern Police Detective Craig Long said yesterday. "We are all saddened by the loss of our beloved canine, Aran," Long said. "The Suffern police community mourns his death." Aran was the department's first canine. He joined the force in 1993 and worked with his handler and partner, Officer Lou Venturini, until his retirement in July 2003, when K-9 Hero officially took over. Aran's career had numerous memorable moments, Long said. "He was responsible for apprehending felons, saving lives, befriending children in our schools and the DARE program," Long said. During Aran's first month on the job, he and Venturini caught a bank robber about 30 minutes after the man ran out of the Marine Midland Bank in Sloatsburg. Venturini and the then-rookie, Aran tracked the suspect to his front door where he was arrested. The dog also frequently assisted other law enforcement agencies, and searched for missing people and hidden contraband. He and Venturini and Officer Anne Cawley, Venturini's wife and the department's backup K-9 officer, searched for survivors at Ground Zero following the World Trade Center terrorist attacks. Venturini handpicked Aran from the Sukee Kennel in Warren, Maine. The dog underwent police training at Orange County Canine Academy, where he displayed his character and ability for police work, Long said. "When he graduated from the K-9 academy, Aran had the much coveted title of top dog. He came out first in his class, both he and the handler," Long said. Not only was he a superb police dog, but he was great with people, too, Long said. "Aran was an extremely social dog and was charming and great with the children," he said, "but when given the command by Officer Venturini, he automatically switched into the police dog mode and I think that speaks to the tremendous character of the animal, as well as the handler, to be able to do that." On visits to schools, Aran would "stand there and literally, children could for an hour pet and caress him and when it came time for a demonstration, they saw the dog in action and they saw the power the K-9 had in apprehending somebody," Long added. The dog had a profound impact on many people's lives, said Long, adding that the relationship between Aran and Venturini was unique. "They had a special relationship, a symbiotic relationship," Long said. "More than just fellow officers. It was a friendship. It was family." James Giannettino, Suffern's mayor, agreed. "He did great, great things for the village of Suffern and the town of Ramapo and anybody else that needed him," Giannettino said of Aran. "Just a super, super police dog. "I mean, you can't say enough good about him. He was just a companion to Lou and Ann and all the police," Giannettino said. Aran lived with Venturini and Cawley and their family. Hero also lives with them.
A memorial for Aran will be in May, coinciding with National Police Week, Long said.




In the Fall of 2003, upon K-9 "Aran's" retirement, Officer Venturin
I began working with his new partner, "Hero." Like Aran, Hero came to the Suffern PD from Czechoslovakia and was also trained by the Sukee Kennel in Maine. "Hero" is certified in patrol, tracking, narcotics detection, search & rescue and evidence recovery.
submitted by Jim Cortina, Dir. CPWDA
---
In Loving Memory of
K-9 AXEL
January 3, 2004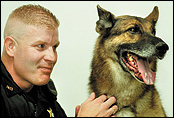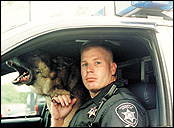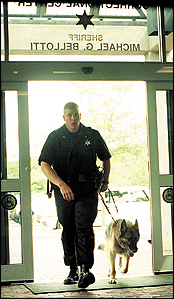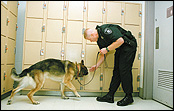 Partner: Jack Kilrain
Norfolk County Sheriff's Office
200 West Street
P.O Box 149
Dedham, MA 02027
PH:781-329-3705 - Fax: 781-326-1079

On Saturday January 3, 2004, I had to make the most heartbreaking decision to put my K9 Partner. "AXEL" to sleep due to cancer. K9 "Axel" was a young 8 years old German shepherd, Dual Purpose Police Service Dog, (Patrol & Narcotics). As all K9 handlers there is not enough words to explain the Love, Dedication, Devotion to be a Great K9 TEAM!!!!!.



MORE ABOUT AXEL
One of the Norfolk County Sheriff's Department's best officers takes his commands in Czechoslovakian, prefers to be paid in toys, and wears fur on the hottest days . Lt. Jack Kilrain and his partner have lived and worked together since 1996. Kilrain is 35. His partner is 56 - in dog years. Kilrain wears his hair short; Axel wears his long, with some strands of gray showing through. Both are trim and rugged looking, well-suited to be partners. When they're not on the job, Kilrain and Axel (also known as "Ax") make their home in Quincy with Kilrain's wife and the couple's first child, an infant daughter. Axel has accepted the family as his "pack." Kilrain says, "The dog is part of the family. If you don't have that bond, it's hard for the K-9 team to work together." A correctional officer for 14 years, Kilrain graduated from Bunker Hill Community College with a degree in criminal justice. In 1996, he became part of the K-9 Unit at the Norfolk County Sheriff's Office and Correctional Center in Dedham. He was promoted to lieutenant in May. The love between the officer and his canine partner is obvious. The German shepherd from Czechoslovakia was just 17 months old when he and Kilrain became a team. Together they attended an 18-week program at the Plymouth County Canine Academy. Training is ongoing. In fact, Kilrain says, "You have to train the way you work. You keep him healthy. You keep him trained. You keep him active. These dogs are pretty good until they're 10 years old. You don't really push it much after 10." "You have to expose these dogs to certain elements they'll have to work in that they don't see overseas," Kilrain says, citing as examples the slippery floors and dark corridors where the dog may have to go on an assignment. Among the most dangerous of assignments are armed robberies, he says. Kilrain stresses the importance of the dog's socialization so that the animal will be well-adjusted. After all, the working police dog is a public-service provider. "These dogs are very, very sociable," he says. Together, they go through 24-hour a month canine in-service training. In addition, Kilrain and Axel are United States Police Canine Association certified. "The care of the dog is each canine officer's responsibility," Kilrain says. There are three canine teams at the correctional center, one team to each of three shifts. The other teams in the unit include Brian Bersani and his dog Lobo, and Vincent Spathanas and his dog Meik. "We are on call 24 hours a day, seven days a week, 365 days a year," says Kilrain. Like the officers, the canines have bulletproof and stab-resistant vests. Manufactured by International Armor, the canine vests cost between $850 and $1,000. According to the Correctional Center's Web site, the vests were made possible "... by the money-raising efforts of local children sponsored by Massachusetts Vest-A-Dog, a nonprofit organization dedicated to keeping police dogs safe." All the K-9 dogs are European imports. They take their commands - 25 to 35 of them - in Czech. The sheriff's office takes care of all the dogs' expenses, but it is up to the canine officer to make sure the animal is well cared for. The dogs are kept lean and in shape. Axel's weight ranges between 65 and 70 pounds. He's fed 3 1/2 to 4 cups of dry food once a day, in the morning. He's allowed to take water 1 1/2 to 2 hours later - no sooner because he could develop "bloat" if the water swelled up the food. Kilrain likes to keep Axel's weight between 65 and 68 pounds during the summer. In talking about his work, Kilrain says, "Our main focus is the jail." Presently, there are 570 inmates. The correctional center is composed of two areas - the jail side, where they hold those who are awaiting trial; and the house side, where the others are serving their sentences. Seven to nine months is the average stay. Those who are sent to the center have a 2 1/2-year maximum sentence on any one charge. The center gets people with all the lesser charges - OUI and drug charges, mostly. "We've had some notorious people," such as abortion clinic killer John Salvi and Dr. Dirk Greineder, the Wellesley allergist convicted of murdering his wife, says Public Relations Director David Falcone. On a typical day, Kilrain will arrive about 20 to 25 minutes before his 3-10:30 p.m. shift. Roll call is from 3 to 3:15, when all assignments are given. Canine Units are assigned only to the perimeter posts outside. "We inspect each and every vehicle that enters the secure facility," Kilrain says. And the K-9 Unit keeps track of all visitors. "It's a mobile patrol. It's always a mobile patrol," says Kilrain. As part of the daily routine, every single door is checked; the infrared system is checked; windows are secured. All the K-9s are narcotics-certified, and sometimes, if there is a suspicion, they'll do searches in the correctional center. Mail products seem to pose the biggest problem, according to Kilrain. The K-9 Unit is called upon to support local police departments in searches for missing persons, drug detection and suspect apprehension. They also do a lot of outreach programs with children and senior citizens. Drug dealers can be tricky these days. Kilrain says they'll often try to conceal drugs in hidden compartments in their vehicles. "The dogs can find the drugs anyway," he says matter-of-factly. "The dogs will scratch at the area where they think the drug is. Cocaine is tough. Heroin is the most tough, but Kilrain says a dog's nose is 1,000 to 10,000 times more sensitive than a human's. "Everything they [the K-9] do is with their nose." The time it will take for the dog to make a "find" will depend on how much there is, where it is and how long it's been there. Kilrain says dogs can go through "nasal fatigue" if they've been working on a find for a long time. Kilrain leaves a conference room to set up a "find." He's taken half a milliliter of pseudo cocaine (a synthetic) and has saturated a piece of gauze with it. He hides it in a locker in a visitor room and brings in Axel. Kilrain says, while introducing his partner, "This is my boy. This is Ax. He'll do anything to save my life." When Kilrain puts a certain collar on Axel, the K-9 knows it's time to look for drugs. He asks the dog, "Where's your gifty?" Kilrain has hidden it in one of his pockets. The dog gets excited with the mention of the toy, a piece of PVC tubing with holes cut into it. The "gifty" is the reward he always gets, in addition to praise, for finding drugs. Getting the "gifty" satisfies Axel's play drive. Offering a little guidance on where to check for the "drug," Kilrain says the method of search is low, medium, high - in that order, because "Odor always falls to the bottom." He can hear the dog's breathing change as he gets closer to the "hide." Axel scratches at a certain locker door, and it's a score. Rewarding Axel with the "gifty," Kilrain smiles, and jokes, "He's got his cigar." The K-9 teams respond to requests by various communities during the year. For example, a police department may call for aid in apprehending a suspect. Kilrain mentions an occurrence in October 2000 when the Needham Police Department asked for the K-9 Unit's assistance. hardest [to sniff out]." An older woman had been robbed. She got a good description of the suspect. He was wearing a black sweatshirt and was carrying a pillowcase and a multicolor flashlight. It was 10 p.m. and dark, and the dog was in unfamiliar territory. Going from one street to another, through back yards all the way over to Great Plain Avenue, Axel was on the suspect's trail, finally nailing the suspect at the train station. After three or four months of investigation, it was determined that the suspect had committed more than 150 B&Es all over the Massachusetts and all the way up to New Hampshire. He had been hard to catch because he would break in at locations that were near public transportation, making it easy for him to get away quickly. Kilrain says that was just one of many rewarding investigations. At other times the partners have been called out to find missing persons, including seniors with Alzheimer's disease. "Our dogs track step for step [ground tracks], says Kilrain. "Without a good start, it's hard to establish the track." For instance, someone might say a suspect went out a certain door, so that will be the starting point of the investigation. Kilrain mentions that once outside, one hour of direct sunlight ages a track 10 hours, so it's best to get an early start. With Norfolk County covering 28 communities, Kilrain says, "It's a ton of work, but it's the best work that's out there," and mentions that he appreciates Sheriff Michael G. Bellotti's commitment to the K-9 Unit. Falcone agrees, saying, "The sheriff's been really supportive of this K-9 Unit. And it's worth it because these guys do great work. They get called out a lot by local police departments." When asked about future career aspirations, Kilrain says, "Right now this is something I've always wanted to do. I'm very happy I have the opportunity to work with the K-9."
---
In Loving Memory of
K-9 ALEX
July 23, 2004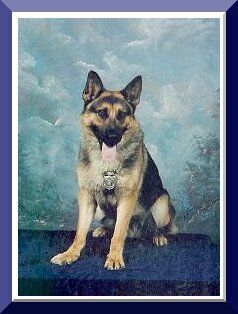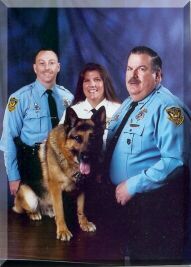 Handler: Earshel Philpot
Middletown Police Department
One Donham Place
Middletown, OH 45042
(513) 425-7700
billb@ci.middletown.oh.us
Middletown Police Department has a long history in the area of K-9 handlers. Currently we have two handlers, Officers Vince Lovejoy and Robin Stone. Their dogs are trained to track suspects from the scene of a crime, and to find hidden contraband or drug. Alex became very ill and
died at 10:30 this evening. We were to take him to the vet in the morning. We had the hole dug today. He was laying on the patio and my husband went out to make sure he could reach his water and he laid his head on Earshel's foot and died. We had put him outside earlier today cause he was peeing where he laid so we knew it was time. So we will bury him tomorrow with the other two. I'm sad but I'm glad he's not hurting anymore. He died knowing he was loved.
He served with the Middletown Police Dept. from 1995-2001 and
will be missed by Earl & Brenda Philpot, along with many others. submitted by Officer Philpot