In loving memory of
K-9 ZEUS
July 2, 2003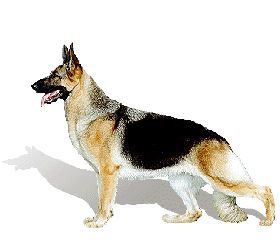 Handler: Officer William Gray
Huntsville Police Dept.
815 Wheeler Ave.
Huntsville, Alabama 35801
(256) 427-7009

On Wednesday July 2, at about 2100 hr. Huntsville, Police K-9 "Zeus" died in the vehicle of his handler Officer William Gray. Zeus was taken immediately to the Emergency Animal Clinic and doctors could find no apparent cause of death. Zeus is being taken to Auburn University for examination and hopefully pathology results will explain the death of this 6 1/2 year old German Shepherd. Zeus was purchased directly from Europe in 1998 and trained by Officer William Gray at the Huntsville Police Department. They have been working and competing together yearly on a National Level with the United States Police Canine Association for the past five years in both narcotics and patrol. This team was one of the top producing teams in the Unit and have been involved in many high profile apprehensions. Most recently they were awarded a Medal of Valor for the capture of an attempted murder, of a police officer, after a two-mile track through the mountains in rural Morgan County.
Sgt. Mark McMurray
Huntsville Police K-9 Unit
Office 256-883-3637 Cell. 256-658-9829

AL Police Remember K-9 At Funeral
By WENDY REEVES - Huntsville Times
German shepherd died suddenly of unknown causes Under the shade of a pine tree in a far back corner of the Huntsville Police Department's K-9 Range Friday, officer William Gray stood still as a stone statue while his partner Zeus was eulogized. Then, he struggled to hold back his tears as other members of the K-9 unit lifted the white burial box - a German shepherd's likeness painted at one end, black letters on the other. Z-e-u-s.
After the box was lowered into the ground, Gray and the K-9 Unit members shoveled dirt onto Zeus' grave. Zeus was one of the first two European dogs Huntsville department ever purchased, said K-9 Sgt. Mark McMurray. The 7-year-old dog's death around 9 p.m. on July 2 was "totally unexpected," he said. Gray found his partner dead inside the air-conditioned police car in which they rode. Zeus had shown no signs of illness or injury during training earlier that day. Experts at the Auburn University Toxicology, Pathology and Diagnostic Veterinarian Lab have not found a cause of death, McMurray said before Friday's funeral. An autopsy revealed nothing wrong with the dog's heart or brain, and he had not been poisoned or drugged. On Wednesday, the department started testing Gray's police cruiser for a carbon monoxide problem, one possible cause of death. As of Friday, no leaks had had been detected. There will be more tests on the dog's blood, said McMurray. Zeus had a distinguished record. He helped find $13,837 worth of illegal drugs, cash and other property, ranking him second in the eight-member K-9 unit, said McMurray. He also found more than 20 pieces of evidence for investigators at crime scenes during the past two years. Zeus and Gray also made some "amazing apprehensions" over the last five years, said McMurray. Zeus made seven apprehensions that required a bite to protect Gray. At least 50 other suspects gave up when they heard or saw Zeus. A recent apprehension came in Cullman County in February. There, Zeus made quite an impression, leaving the last suspect he captured with a bite calling him "one bad dog." Gray and Zeus were awarded the Police Department's Medal of Valor for their February capture. That suspect, Rodney O'Neal Hanna, 30, of Warrior was charged with two counts of attempted murder of police officers in Hanceville. Gray said that capture was the most dangerous he and Zeus had ever faced. After one officer was shot and others shot at, Huntsville police sent Gray, Zeus and SWAT officer Matt Killion to Hanceville to help search for the suspect. Gray and Zeus tracked the man down a creek. As they approached a bend, Zeus started running. The K-9 found the suspect in the creek, hiding under some branches. Zeus bit, and Hanna started to struggle. Officers had weapons drawn while Gray approached and handcuffed Hanna. Then officers found a cocked and loaded pistol Zeus had knocked out of the man's hand. If it hadn't been for Zeus, said Hanceville Police Chief Edward Potter afterward, other officers could have been hurt or killed trying to capture the suspect. ray said that Zeus, like most dogs, had a unique personality. When it came to work, the dog knew and did the job well. But, "Zeus had the closest mentality to that of a kid that I've ever seen in a dog," Gray said. That meant that while Zeus "just knew when it was more beneficial" to do what Gray instructed, the dog would also take advantage of times he could get away with something, "just like a child." Zeus loved to play with a volleyball he flattened in Gray's backyard, where the K-9 lived in a covered pen. After Friday's funeral, former K-9 officer Joey Torkar had a different take on Zeus' favorite game: "His favorite game was biting the bad guy," Torkar said, drawing a laugh from Gray. Gray said it's still hard to get back into the patrol car without his partner, or to leave for work without fetching Zeus from his pen. Gray said he will remember Zeus as a "great partner and a great friend."
submitted article: Dusty Simon & submitted photo: Jim Cortina, Dir. CPWDA
---
In Loving Memory of
K-9 ZAK
May 12, 2003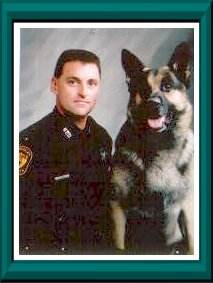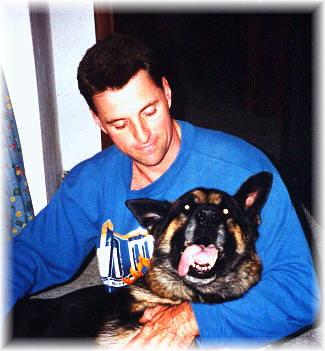 Handler: Officer Jim Losee
Norfolk Police Department
Police Administration Building
100 Brooke Ave. Norfolk, VA 23510
It is with regret that I inform you of the passing of K9 Zak today. Zak has been fighting terrible arthritis that ravaged his body. This morning I noticed that he could not move any part of his body except his head, but just a little. He just laid there looking very tired and very sad. I knew it was time and called the vet. I spend the next couple hours holding him and saying goodbye. He died peacefully at 2pm today. I will miss him terribly. He was a faithful friend and partner till the end...JIM



Previously
Here is a new picture of myself and Jaymo -Jaymo and Faro both recieved the Medal of Valor in April 2004 for their actions that resulted in K-9 Faro's death Myself and Officer Nowell also recieved the same awards.