In Loving Memory of
K-9 YULLA
February 10, 2003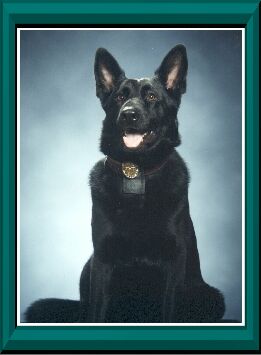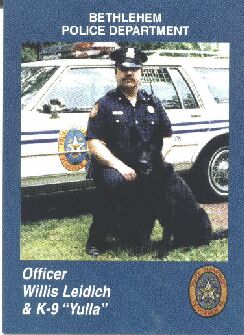 Handler: Officer Willis Leidich
Bethlehem Police Department
10 E. Church St.
Bethlehem, PA 18018
610 865 7187 main number & 610.865.7179
On back of the card:
Officer Willis Leidich has been on the Police Department since 1985 and assigned as a Patrol Office. He is married and has a daughter.
Yulla, a female GSD trained in narcotics detection and tracking. Personal Message: You have the right to say no to drugs.
Don't be pushed into doing something you don't want to. You have better things to spend your money on.
Saturday, February 15, 2003 By NICK FALSONE - The Express-Times



BETHLEHEM -- The city's first narcotics dog was pleasant with children, but tough on criminals. Yulla started many days by giving demonstrations at elementary schools and finished those days by sniffing out drug stashes at known crack houses. On Monday, a battle with several medical conditions came to an end when the 13 year old German Shepherd was put to sleep. She had spent more than five years serving the city's police department before retiring in 2000 to live as her handler's family dog. "She was one of the best dogs I ever had," Bethlehem Officer Willis Leidich said. Leidich took over as Yulla's handler in 1995. She joined the department about one year earlier after receiving training as a narcotics dog at Kromerhaus Kennels in Bethlehem Township, Leidich said. The department had police dogs prior to Yulla, but she was the first one specializing in detecting narcotics, Bethlehem Deputy Commissioner Daniel Meixell said. Yulla provided an important service to the department, Meixell said. For example, she was often able to sniff out drugs in hidden compartments of cars. Those compartments would often go unnoticed if not for the dog's ability, he said. Yulla helped locate drugs in several major raids through the mid to late 1990s. In 1994, she located drugs during a raid of the former Coffee House Tavern on Pembroke Road, a business that District Attorney John Morganelli once described as a "longtime, drug-infested nuisance." The raid led to the bar's shutdown. But outside of her work in locating drugs, Yulla had a personality different from most police dogs, Leidich said. She was passive, and very friendly to people, he said. "She did a lot of public relations because she wasn't really aggressive," he said, adding that she responded well to children when taken to schools for assemblies and demonstrations. When the time came for her to retire, her personality made for an easy transition into the life of a family dog. She spent her last years growing close to Leidich's young son and daughter. "We miss her a lot."



K-9 YULLA By: Officer Willis A. Leidich
Yulla was an AKC registered German Shepherd trained in narcotics detection. she was also trained in tracking and did some successful tracks in her career, along with other accomplishments. She had been certified by the Pennsylvania Police K9 Association in October of 1995 and was the first certified K9 on the department for narcotics detection. When she retired in 1996, we kept her as our family pet. Yulla was taken from us by pancreatic cancer in February, 2003. Our whole family will miss her. I will miss my partner, my friend. She was regal to the end and held her head high. she deserved all of our devotion and love. The hardest thing I ever had to do was to say "Goodbye" to her. She had enough strength to thank me for letting her go. I will never forget her.