In Loving Memory of
K-9 URK
January 18, 2003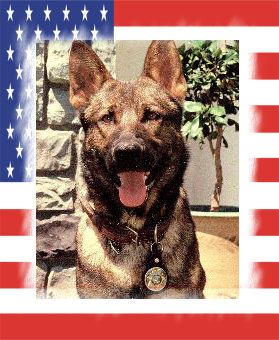 Partner: Deputy Daniel Settle
San Diego Sheriff's Department
Sheriff's Communications Center -5555 Overland Avenue, Building 19
San Diego, CA 92123-1219 -Non Emergency: (858) 565-5200 858.204.7486 C.S.
Chris Saunders
By Mark Arner
619-542.4556 Union Tribune Staff Writer - February 1, 2003
An Explorer scout wounded Saturday in a gunfight in which a police dog was killed was shot by a deputy returning fire, authorities said yesterday. Initial reports from sheriff's officials that the 20 year old scout, Brent Tracy, was shot by the man who fired on the squad car near a Vista intersection were wrong. "This is the kind of incident, with shattering glass and smoke in the air, that became very chaotic and the situation unfolded in a matter of a very few seconds," sheriff's Capt. John Tenwolde said. "The deputy was engaged in nothing less than a desperate, life-and-death struggle." He said Tracy was shot as he crawled on the street during the exchange of shots. Doctors operated on Tracy's upper right elbow. He returned home this week. In Superior Court yesterday, Robert Quintero, the man accused of starting the shootout, stood in a green jumpsuit used to identify potentially violent inmates and pleaded not guilty to three counts of attempted murder, one count of injuring a police dog and assault with a deadly weapon. Judge Daniel Goldstein set bail for Quintero, 33, of Vista, at $5.1 million. Quintero's defense lawyer said outside the court that his client was depressed over a failed relationship with his girlfriend and his inability to visit a 7 year old daughter who lives in Arizona. "That night, it just came to a head," said lawyer Michael C. Earle. Tracy, the scout, was on a "ridealong" with Deputy Daniel Settle, 33, and a police dog named Urk when they responded to a call of shots fired near Hacienda Drive and Melrose Avenue about 2:20 a.m., authorities said. Settle got out of his patrol car and began scanning the area with a spotlight, looking for the shooter, Tenwolde said, when shotgun pellets almost immediately shattered the car's windshield. Tracy "dropped in his seat," causing Settle to believe Tracy had been hit by a pellet, Tenwolde said.
Urk's memorial ceremonies will be as follows:
Date and Time: 01-31-03 @ 1500 Hrs.
Location: Brengle Terrace Park, 1200 Vale Terrace Drive Vista, California 92084
Contact: Deputy James Cady, or Sergeant Burt Quick
@ (858) 565-3253
********
October 24, 2003
A Vista man who fired a shotgun at a sheriff's deputy, caused the injury of a 20-year-old ride-along and killed a police dog will spend the rest of his life in prison, a judge ruled yesterday. A Superior Court Judge Marguerite Wagner sentenced Robert Quintero, 34, to three consecutive life terms for shooting at a patrol vehicle in January. A jury found him guilty of attempted murder and other charges Aug. 27. Prosecutors said Quintero fired six times at Deputy Dan Settle's parked patrol car Jan. 18 before he ran north across state Route 78 near Melrose Drive and escaped into a residential area. He was captured at his home the next morning. One shot went through the front window of the patrol car and fatally wounded Settle's canine partner, a 5-year-old German shepherd named Urk, who was in the back seat. Settle made a tearful statement to the judge, noting how close he and Explorer scout Brenton Tracy came to death on the night of the shooting. "The only reason that I am before you today is because Robert Quintero missed," Settle said. "Unfortunately, Robert Quintero is before you today because I too missed." Settle then addressed his remarks to Urk, calling the dog a "true hero" who tried to pursue Quintero even after being shot through the heart. "I am sorry that I was not by your side as you took your last breath," Settle said. "I have never met another human partner that would go unarmed into that kind of dangerous scenario to protect others. "It is for that reason that your loss is such a great one." Tracy, now 21, also testified yesterday. He was hit in the elbow by one of Settle's bullets that ricocheted off the ground when the deputy returned fire at Quintero. "Today my arm works all right," Tracy said, adding that he's had two surgeries on his arm. He said the emotional impact of that night hasn't gone away. "Every day I have to relive what happened on the night of Jan. 18," he said. "Sometimes it's like a videotape playing over and over and over." Quintero apologized to Settle and Tracy

and called them both brave men. He said he acted out of character that night, adding that he was depressed because he had just broken up with his girlfriend. "I'm a peaceful, easygoing person," Quintero said. "Anyone who knows me would tell you the same thing. I'm respectful and more than courteous to even the baddest of men." In a rambling speech, he told the judge he accepted responsibility for his actions but maintained that he never intended to kill anyone, only to scare them. But the judge said Quintero never appeared to show remorse during the trial.

During this time, Settle lost sight of the shooter and saw someone he couldn't identify. He later learned it was

Tracy, crawling toward him from underneath the patrol car. "He thought it was Quintero advancing toward him and fired three shots" from his department issued .40 caliber Glock, Tenwolde said. One of those shots struck Tracy in the elbow. "This was a very unfortunate aspect of a very complicated and chaotic, deadly scenario," Tenwolde said. Urk, a 5 year old German shepherd, was shot and killed by Quintero, said prosecutor Steven Carver. Sheriff's deputies and police officers clamped down on the neighborhood near west Vista Way after the shooting, closing off roads and searching for nearly 24 hours. Quintero surrendered peacefully when deputies found him inside a nearby home early Sunday. After his arrest, Quintero told deputies where he had buried the shotgun and ammunition, said Earle, the defense lawyer. Settle is on paid administrative leave and will return to work when he is ready, Tenwolde said. In two earlier cases, Quintero has pleaded guilty to misdemeanor resisting arrest, vandalism and lewd conduct and was sentenced to probation, said Carver. Quintero also had an arrest warrant in another case in which he is accused of beating up a man who told his girlfriend about his lewd-conduct conviction. "There's a pattern," Carver told the judge. "A pattern of violent conduct, violence toward police officers."

Waldo Nilo/Staff Photographer
Around 200 people gathered at the Moonlight Amphitheatre in Vista on Friday for a Sheriff's Department memorial service for Urk, a police dog shot in the line of duty on Jan 18. The German shepherd police dog was shot and killed during a shootout between its deputy handler and a suspect. "He's always protected us," Settle said during a press conference before the service. "I feel it is the same kind of loss as if it was a human partner." Sheriff's officials praised Urk as the department's top dog and said he had been prolific in making arrests and recovering evidence and property. The canine had apprehended 33 suspects, assisted in 230 arrests and participated in 1,302 searches in buildings and the field. Urk has assisted other deputies in apprehending suspects 1,203 times. "Saving cops' lives was one of Urk's specialties," San Marcos sheriff's Deputy Jim Cady said. The dog was the second canine in the Sheriff's Department to die in the line of duty. Another German shepherd was stabbed to death more than 20 years ago.
Urk, who worked and lived with Settle, was gunned down while out on patrol Jan. 18 with the deputy and Explorer Brenton Tracy, 20. The dog was not wearing a bullet-proof vest when Settle stopped his patrol car on Hacienda Drive to investigate suspicious activity. When Settle got out the vehicle, a gun battle began between himself and 33-year-old Robert Quintero of Vista. During the exchange, Quintero allegedly shot Urk while the dog was still in the vehicle. "He still made it a couple of yards after he was shot," sheriff's spokesman Chris Saunders said. Settle said the canine used his last breath trying to protect him. "He did what he was trained to do," Settle said. Meanwhile, in the exchange of gunfire, Tracy was shot in the elbow by Settle. The explorer, who spent several days in the hospital, said the shooting will not discourage him from pursuing a law enforcement career. Quintero is being held at the Vista Detention Facility in lieu of $5.13 million on eight felony charges, including attempted murder on a peace officer and assault on a police animal resulting in death. He has pleaded not guilty and his next court appearance is on Feb. 20. The gun battle was not the first time Urk was attacked in the line of duty. He had been kicked, punched, and had his eyelids torn off, Settle said. A suspect once tossed him 6 1/2 feet off the ground. At Friday's service, deputies honored their fallen hero with a helicopter flyover and other law enforcement canines stood with their handlers in the front the stage. Settle was presented with a statue of Urk that will be officially memorialized at a sheriff's museum in San Diego and at a canine law enforcement memorial at UC Davis. Settle, who says he has spent more time with Urk than his family, has received a new partner. On Friday, the deputy welcomed Hunter, a German shepherd from Denmark.
By Onell R. Soto

UNION-TRIBUNE

-

June 26, 2003 - CHARLIE NEUMAN / Union-Tribune
Man accused of firing on patrol car, wounding Explorer, killing dog
Sheriff's Deputy Jennifer Smith escorts Robert Quintero into court for his preliminary hearing. He was ordered to stand trial. VISTA - A sheriff's deputy testified yesterday he feared the worst when a man with a shotgun opened fire on his patrol car earlier this year. A 20-year-old sheriff's Explorer was in the passenger seat when the windshield shattered early Jan. 18, Deputy Dan Settle said. "The way he fell over, I thought he was dead immediately," Settle said. He said he fired back, protected the young man with his body and then sprinted after the gunman, who escaped after running across state Route 78 near Melrose Drive in Vista. Explorer Brent Tracy was wounded in the elbow in the cross-fire. But Settle's canine partner, a 5-year-old German shepherd named Urk, was killed by one of the assailant's 12-gauge slugs. Yesterday in Superior Court, Robert Quintero, 34, of Vista was ordered to stand trial Aug. 14 on attempted murder and other charges. If convicted, he faces life in prison, prosecutor Steven Carver said. Quintero led investigators to the shotgun after his arrest Jan. 19, said sheriff's Detective Christopher Serritella. "I'm pretty much screwed," Quintero said when asked where the shotgun was, the detective testified. "I'm going to go ahead and tell you." Investigators found a trail of shotgun shells leading from Quintero's 1991 Ford Explorer across the freeway, Serritella testified. A case containing 79 shells was found in the Ford, and a fanny pack in bushes near his home contained about 50 shells, he said. Defense lawyer Michael Earle doesn't dispute Quintero fired the shots, but he said in an interview yesterday the case doesn't amount to attempted murder. He said Quintero was despondent over a relationship and shot a tree in a canyon, shots to which Settle was responding. Earle said it's unclear whether Settle's patrol car was occupied when Quintero fired the first shot. Tracy testified he was exiting the car when he heard the first shot. He said he got back in and slouched under the dashboard for cover. During the volley of gunfire, he said he felt a burning sensation in his forehead. Doctors later recovered a piece of metal an expert said probably came from ammunition. Tracy got out again and was crawling on the ground alongside the patrol car when one of the bullets fired by Settle accidentally hit him, authorities said. Settle said that after the initial round of gunfire, he opened Urk's door by remote control and chased Quintero, who jumped a fence and ran across eastbound freeway lanes before shooting again from the median. Quintero then ran across westbound lanes and jumped over another fence, Settle said. When he returned to his patrol car, Urk was lying on the street. "He was dead," Settle said.
submitted by: Gustafson, Vickie J <vjgustafson@ucdavis.edu>