In Loving Memory of
K-9 TURBO SAR
Oct. 10, 2003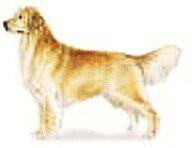 Handler: Scott Stroming
Wenatchee, WA

A SAR dog in my area that has died. His name was Turbo and he was a Golden Retriever. I saw the story in the Wenatchee World Newspaper. He was a part of the Back Country Recuses K-9s and the Chelan County Sheriffs Office Posse Dog Team. And trained with the Chelan County Mountain Rescue. His owner was Scott Stroming of Wenatchee, WA.
Tracy Studer
submitted
---
In Loving Memory of
K-9 TRACER
August 9, 2003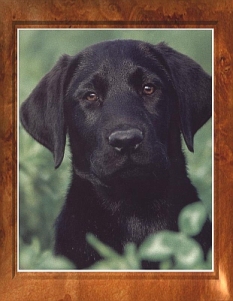 Handler: Police Chief Stephen Sparks
Palmer Police Department
Ellis County Sheriff's Office
972 845.3141 P.O. Box 489
Palmer, TX 75152

PALMER – The Palmer Police Department's drug canine, Tracer, has died from complications after overheating in a vehicle this past weekend.
According to a report filed with the Ellis County Sheriff's Office, Police Chief Stephen Sparks left the black Labrador in a vehicle for several minutes and discovered him in distress upon his return. Sparks told a sheriff's deputy that he immediately removed the dog and cooled him down before transporting him to a Waxahachie veterinary clinic, where he was told there was an 80 to 85 percent chance that the dog would be OK. A veterinarian contacted Sparks later, however, to report that the dog died that evening of a brain hemorrhage, according to the report. The incident is pending investigation by the sheriff's office as the outside agency called in to look at the matter, said sheriff's Lt. Danny Williams. "Due to this involving one of that agency's own officers, it would be a conflict for them to look at their own case." Heatstroke in animals can occur within a matter of minutes, according to information provided by the Ellis County SPCA, which notes that inside temperatures of a car can reach 120 degrees in a matter of minutes on an 80-degree day and that a cracked window does not provide the animal with any protection against heatstroke. To avoid accidents, the SPCA advises that people keep these rules in mind: • Never leave an animal in a car in summer. • Adequate shelter and water must be provided for outside animals or for animals that spend only some time outdoors. Put out several bowls of water – preferably in the shade – and check them often. Refill as needed and add some ice cubes. A dog can die in as little as eight hours when left in the sun without water. Even on a shaded porch in hot weather, a dog can die in 24 hours without water. Small wading pools are an extra treat; however, be sure to refill and clean them often so as not to attract mosquitos. • Grooming is important, especially for longer-haired dogs that can become matted. Matting leads to discomfort, which in turn can lead to hot spots that become inflamed and uncomfortable. Listlessness, panting, glazed eyes and/or labored breathing are all signs of heatstroke, according to information provided by the SPCA.
If an animal is suspected of having heatstroke, cool it down as quickly as possible and contact a veterinarian immediately.
For more information about the Ellis County SPCA, call (972) 935-0632
---
In Loving Memory of
K-9 TAKA
July 2003
K-9 cop heat victim
By JOANN LIVINGSTON - Daily Light Managing Editor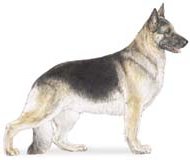 Handler: Deputy Mark Self
Cleveland County Sheriff's Department
Law Enforcement Center - Ken Smith K9 Unit
100 Justice Place
Shelby, NC
Telephone:(704) 484-4888

CLEVELAND COUNTY SHERIFF DEPT. Deputy: K-9 officers 'wear a badge' just like us
- Megan Diskin
- Star Staff Writer
Anyone who has seen the movie "Turner & Hooch" to its bittersweet ending understands that the bond between a police officer and his pooch runs deep. In fact, the movie illustrates that the loss can be as devastating for the officer as if he'd lost a comrade who walks on two feet instead of four. Two weeks ago, that's exactly what happened to the Cleveland County Sheriff's Office K-9 Unit. They lost one of their own. He went by the name Taka, walked on all fours and remained steadfast and brave in the line of duty. Deputy Mark Self had Taka, an officer in the K-9 unit, at his side for about 5 years. And Self, like the other sheriff's deputies, thought of Taka as another deputy sheriff. That is why the deputies in the K-9 unit wanted this article dedicated to Taka's memory. "They wear a badge just like us," said Deputy Mike Lawrence, with the Narcotics Division. Also a member of the K-9 unit, Lawrence is paired with Max. "He puts himself between you and the bad guy and is not afraid of anything," he said. But a donation from Bob and Annette Fain of Century Care in Shelby has somewhat eased Self's pain as well as the other deputies' sense of loss at the passing of their four-legged friend and partner. The Fains donated the $2,500 needed to purchase a new dog from Budapest, Hungary, to be trained for the K-9 program. His name is Capone. But he will not be paired with Self because he's a rookie deputy and needs to have a rookie handler - Deputy Chris Cook. Self has been partnered with another veteran K-9, Atos. Cook said that matching the right dog with the right handler is key to success in the field.
"If you don't have obedience, you don't have anything," Lawrence agreed. The training program for the K-9s is a rigorous one that runs anywhere from five weeks to three months, depending on the skill level of the dog. It consists of running through an obstacle course twice daily, once at 6 a.m. and a second time closer to midnight. The purpose of the training is twofold, Cook said. It braces the dog for the rigors of a deputy's day - which can span from early in the morning to late at night - and therefore instills endurance in the dog, Cook explained. But the training also prepares the dog for tracking down a suspect at night and teaches him adaptability to real-world obstacles. Orange cones are staggered in a row to mock a chase for the "bad guy," and the obstacles are designed to look like porches, open windows, brick walls, high fences and the like, Cook said. Lawrence said a common misconception is that the dogs are trained to kill the "bad guy," but they are taught simply to disable a suspect until the handler arrives to apprehend them. He added the caveat that, in a given situation, the dog bites when he needs to bite. "If your leg or head is sticking out, then look out because that's what's going to get bitten," Lawrence said. Another real-world scenario designed for the dogs prepares them to locate a "bad guy" in a hiding place. When the dog gets his man, he "indicates" and gets his handler's attention by scratching or barking, Lawrence explained. He also said the human sense of smell pales drastically when compared to the strength of a canine's snout. The O-factor, which relates to the dog's sense of smell, is at least a thousand times as strong in a dog as in a human, Lawrence said. He said to imagine the O-factor as the size of a pencil eraser for a human, while it is comparable to the size of a human thumb in a dog, Lawrence explained. Another analogy Cook used was that of driving up to a fast-food restaurant to order a hamburger. The person barely smells the hamburger, but the dog also smells the bun, ketchup and the pickles. "That's one of the reasons why they're so invaluable to us," he added. Lawrence said the key to training is for the K-9s to feel like they're playing rather than working. "If you let them play with a towel that you've purposely placed narcotics into, they're going to learn that smell and never forget it," he said. Above all, Cook said, the most important thing is fostering a good relationship between the deputy and the K-9. He added that the first few weeks is really a bonding period with the dog, when Capone can get used to his routine and get to know his family. "It's all about the bond," he said. The K-9 goes everywhere the deputy goes, both to work and home. "He feels what I feel," Cook said. Cook said that Capone has made great progress in a short time and should be ready to hit the ground running by the beginning of August. Deputy Ken Smith is the K-9 Unit coordinator. The unit has five deputies and canine comrades in all:
Deputy Mark Self and "Atos"
Deputy John McIntyre and "Zeusa"
Deputy Cliff Irvin and "Bo"
- Deputy Mike Lawrence and "Max"
- Deputy Chris Cook and "Capone"

notified by Jim Cortina, CPWDA Dir.
---
In Loving Memory of
K-9 TY
June 2, 2003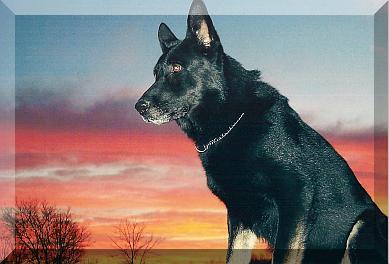 Handler: Cpl. Gerald Turning Jr.
Tinton Falls Police Department
556 Tinton Ave
Tinton Falls, New Jersey 07724
(732)542-4422

TINTON FALLS - He was a community devotee of a different breed. He was best friend to the law and to one police officer. He was Tinton Falls' K-9 patrol Officer Ty. The sweet-natured, skilled tracking, narcotics and patrol dog died suddenly June 9 from an illness that shows no warning signs. Ty's sudden death shocked and saddened not only his human partner, Cpl. Gerald Turning Jr., but it left a great void on police beats near and far. A K-9's job is often performed discretely; nonetheless, they are touted as four-legged patrol heroes. Ty was considered one of those heroes by his police colleagues and supervisors.
At nearly five years old, the black German shepherd "was just coming into his prime," said Major Gerald Turning, father of Turning Jr. and head of the borough police department. The K-9 officer's death came so rapidly that the department had an autopsy done "to make certain he wasn't poisoned or something," Turning said. "It turned out that he had a bizarre illness which goes undetected and can occur in large-chested dogs. It's called bloat. As I understand it, the dog's stomach turns over in the [chest] cavity. You can't see it coming." Calling the loss devastating, Turning reminisced that Ty was not only a "very social dog," he was a top-notch K-9. Ty, he said, had just returned from a K-9 trial/competition in Auburn, Mass., where he won first place in obedience, second in agility and third in search, placing as a top dog in the nation's Region 4 of the K-9 community. The high placing in the Massachusetts trial qualified Ty for the National Police Dog Trial. "His loss just hurts everyone," Turning said. A teletype was sent out to police departments in the area, many of which Ty assisted in narcotics and missing persons searches as well as nabbing criminals on the run. In addition to aiding State Police and the Monmouth County Prosecutor's Office with his keen sense of smell (800 times that of a human) and attention to detail, Ty assisted Eatontown, Asbury Park and Middletown police departments whenever his help was needed. "Ty and Cpl. Turning have provided invaluable service to our department," Middletown Police Chief John Pollinger said. "We are saddened not only by his death but the fact that such a wonderful K-9 had such a short life. His loss is a tremendous one." Pollinger recounted that in Middletown, Ty and retired K-9 Rookie helped in missing persons searches and tracking suspects. The two, he said, served as role models for the profession. "Before we got our K-9 unit up and running, we called upon Tinton Falls a number of times," Pollinger said. "Ty and Rookie were both in great demand all over the county," Turning said. The team of Ty and Turning graduated from the borough's in-house patrol dog school, conducted by Capt. Glenn Rogers (Rookie's partner) in January 2000. The two completed State Police narcotics school training in December of the same year. Ty also completed several certifications in tracking, patrol and narcotics during his short career. While the borough is proceeding to train K-9 Shane, a shepherd, to partner with officer Thomas Dennehy, and a Belgian malamute to partner with Turning, "Ty will be greatly missed by the citizens of Tinton Falls," Turning said. "He was a very social, special dog. The loss is especially difficult for my son. A K-9 is basically on his partner's hip from the time he starts training with him. We have to keep moving with the program [K-9]. But it's very difficult to say goodbye."

submitted by Jim Cortina, Dir. CPWDA
---
In Loving Memory of
K-9 TOI #14
May 30, 2003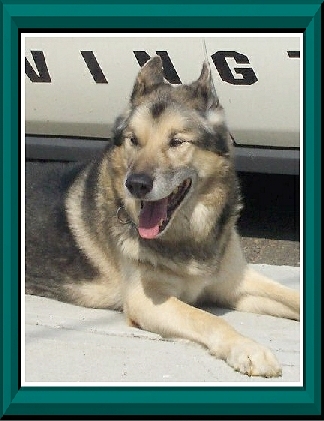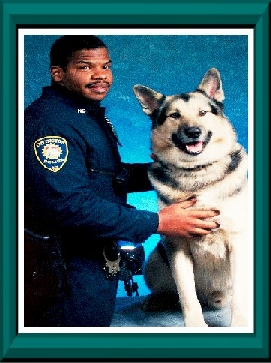 Handler: Michael Walker
Irvington Police Department
1 Civic Square, Irvington, NJ 07111
Main Number 973-399-6600
K-9 Toi was not just a friend he was a great partner. He was better than having a human one. Once training was completed we both hit the streets of Irvington, where head had (87), k-9 apprehensions out of 11 1/2 years in service. There has been times where I shouldn't have made it home but thanks to my partner Toi and GOD we both came home safe. Every time when I got dressed for work Toi would start running from room to room before I say to him, 'Are you ready to go to work,' and he would then run pass you and just about knock you down to get out the door. At this time I would place his collar around his neck and open the front door so we could go to work. I remember when responding to jobs and I activate the lights and siren, Toi would stand in the middle of the car and start howling until the sirens were turned off. He knew his car #, and once we were dispatched he would bark as if he knew what was being said. Toi knew the difference when he was at work and not. When home Toi stayed under my wife (Gail), more then he did me. She would have to step over him while she was cooking. He would look up at her as if to say, 'am I in your way." She would tell him to move and he would go to the middle of the kitchen. He was excellent with our kids. When our son was little he use's to grab Toi's tail and slide while Toi walked. Our twin girls would try to dress him up by putting sunglasses and hats on him and he would just stand there and let them do what ever. About a year ago Toi began having problems with his hips which the vet gave him medication to help with the pain. Once on the medication he was able to still do his work. But towards the last five months Toi began to get worst. Toi loved doing his job and pleasing me, and I loved him. After a while the medication seemed like it was not helping him any more. So I began to give him Buffrin to help the pain. On May 27, 2003, Toi could not make it up the stairs and I looked at him and I knew that it was getting near for my friend. Toi began to struggle very bad to stand to his feet I then knew that he was ready to go home. This feeling was the worst I ever felt. He then placed his head on the ground and I walked away because I could not see my friend my partner in that condition. Before laying him to rest on May 30, 2003, to remember my partner I got the Police car that he last road in and took some pictures of him laying next to it so that we could remember our friend as the 'Big Dawg' that he was. Once he was laid to rest he would be cremated and his ashes would be brought back home. I thank GOD for the partner/friend that he blessed me with for so long. Now he's continuing his job with GOD where we will meet again someday. Farewell my friend, we love you. Your partner, your friend. K-9 Off. M. Walker, IPD submitted by John Gillespie



A POLICE DOG'S PRAYER
Oh almighty God,
whose great power and eternal
wisdom embraces the universe,
watch over my handler while I sleep.
Protect my handler from harm
while I am unable to do so.
I pray, help keep our streets and homes
safe while my handler and I rest.
I ask for your loving care because
my handler's duty is dangerous.
Grant my handler your unending strength
and courage in our daily assignments.
Dear God,
protect my brave handler,
grant your almighty protection,
unite my handler safely with the family
after the tour of duty has ended.
I ask nothing for myself.
Amen
This poem really touched both of our hearts and it also brings back a lot of memories about the good times we've had and the joy that he brought to our family. The crying part I do that everyday and I get the strength from thinking of the joy and protection that he brought.
..UPDATE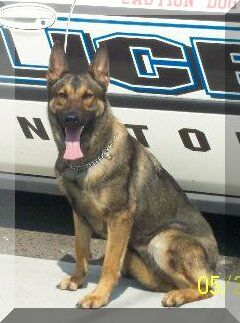 My new partner name is Diamond,my girls named her.
---
In Loving Memory of
K-9 TIGER
February 23, 2003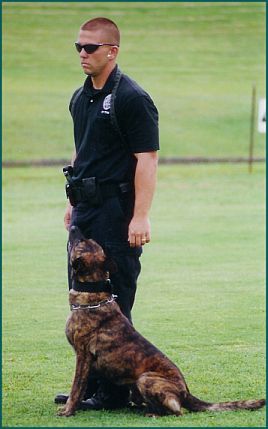 Handler: Officer Rusty Aycocke
Blount County Sheriff's Office TN
Blount County Justice Center - 940 E. Lamar Alexander Parkway
Maryville, Tennessee 37804
Phone (865) 273-5000 - Fax (865) 273-5134

K-9 Tiger had surgery on Friday February 21st (minor surgery, for a hernia problem). After surgery, Tiger suffered complications from an undetected bacteria that could have been in his system for about a year. The bacteria had evidently gathered around his heart and ultimately caused his lungs to fill with fluid. (During the hernia surgery, the vet neutered Tiger because his prostate was enlarged--now we know that the prostate trouble was probably the root of the bacteria.) Tiger had not shown any signs of a serious problem. He was eight and a half years old, but he acted like a five year old. He was in excellent condition and was always anxious to work.



`More than a pet, he's an officer's partner' - - Service honors K-9's life
2003-03-02 - - by Anna C. Irwin - of The Daily Times Staff
More than 200 people turned out Saturday to celebrate the life of K-9 Tiger, paying tribute to the police dog who died a week ago from post surgical complications and to his partner, Blount County Sheriff's Deputy Rusty Aycocke. Trophies and awards the K-9 and his partner earned were spread out on the apron of the stage at the Theater in the Park along with several large photographs of the dog. The team's cruiser bearing Tiger's name was parked near the side of the stage with a white floral tribute spelling out "Tiger" across the windshield. K-9 trainer and handler Bob Suarez assured the audience that no one is "putting a dog and a human on the same pedestal, but a police canine is more than a pet; he's an officer's partner. Few of us know anyone willing to throw themselves in the line of danger to protect you." The program opened with the Blount County Fire Department Color Guard presenting the flag supported by the Blount County Sheriff's Office and Maryville Police Department Honor Guards. The Blount County Sheriff's K-9 Unit, eight dogs and their handlers, saluted Tiger and Aycocke from the stage as 16 dogs and officers from other law enforcement agencies lined up in front of the stage for the opening of the memorial service. Alcoa and Maryville K-9 teams led the group. Other agencies represented included the Lenoir City and Clinton police departments and sheriff's offices from Loudon, Knox, Sullivan, Carter, Campbell and Hawkins counties. Blount County Sheriff's Office Chaplain Randy Cruze, coordinator for the chaplains program, called Aycocke a "poster boy" for the sheriff's office, commending him for his professionalism and recounting the first time he saw Tiger and Aycocke in action. Cruze also cited the dog's willingness to lay down his life for his partner and "the people they serve and protect." Cpl. Rusty Borden, K-9 Unit supervisor, remembered the day he and Aycocke first saw Tiger in 1996. He said Aycocke watched the dog demonstrate his skills and decided he wanted Tiger as his partner if he could become a K-9 officer. Citing Suarez' description of the Dutch shepherd as "high-spirited, a little small, a little weird looking," Borden said Tiger was "unusually striped" and looked "too small" but had "so much courage, speed and mental toughness." He said once Tiger and Aycocke were paired, he watched the partnership, friendship and bond between the two grow. "Tiger was kind of small for a police dog," Borden said. "But he had the heart of a tiger." Cpl. Chuck Garner said he and Aycocke became Blount County deputies on the same day in 1995 and were paired with their K-9 partners -- Kilo and Tiger -- on the same day in 1997. The two young deputies and their dogs worked together to become the first place K-9 Team (two pairs of officers and dogs) in the region for the last two years. That was one of may honors earned by Tiger and Aycocke during the dog's service. Dr. Ed Lehman, veterinarian for the K-9 Unit, read a letter to Aycocke he and his staff had composed. The letter cited Tiger's devotion to his partner and friend. Aycocke's wife, Whitney, read a poem composed by her mother in honor of the dog that was part of her family, even part of the wedding party when she and Aycocke were married in October 1999. Several gifts -- a plaque, a scrapbook, and a shadowbox --were presented to Aycocke and his wife, then the deputy extended his thanks to the community for their support during the time he and Tiger were working together and since Tiger's death on Feb. 23. "He was my best friend as well as my partner," Aycocke said. "He was loyal, loving and faithful. I spent thousands of hours with him, training and working, but he taught me more than I taught him -- to be a more responsible person, a better person." submitted by pam