In Loving Memory of
K9 RADEK
January 24, 2003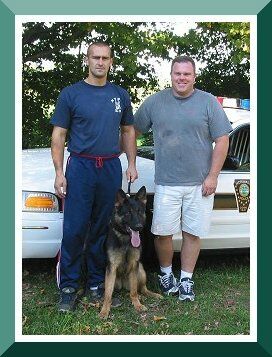 Handler/Partner: Officer Frank Holland
Norwalk Police Department
Norwalk Department of Police Service
297 West Avenue Norwalk, Connecticut 06850
203-854-3000 info@norwalkpd.com
MEMORIAL SERVICE FOR K-9 RADEK
Monday 2/3/03 at 12PM
Eagles Club
Norwalk Police Department
297 West Avenue
Norwalk, CT
A reception will follow
.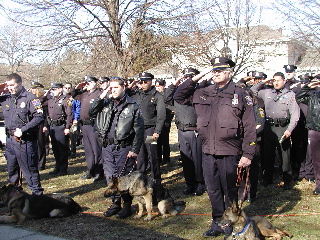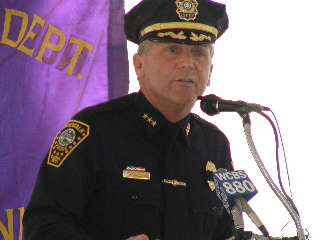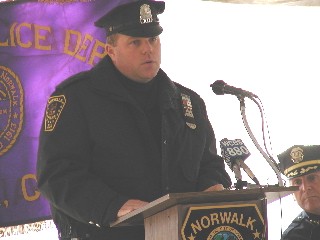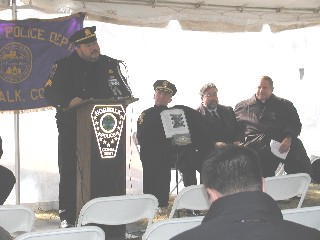 K-9 Radek killed on 1/24/03 at 0145 hours on Allen Road
In the early morning hours of January 24, 2003 PSD Radek of the Norwalk, CT Police Department was struck and killed by a passing motor vehicle while checking the perimeter of a building whose burglary alarm had been activated. Radek was a 17 month old German shepherd dog, who had only been in service two months prior to his death. He was credited for two narcotic seizures in his short tenure. The most notable was a find of 30 bags of marijuana hidden in a concealed compartment of a motor vehicle. His premature death has devastated his handler Patrol Officer Frank Holland and his family. "Radek was perfect fit in my family, he loved my children as much as he loved to go work and play," " He was a beautiful animal, words cannot describe the degree of heart break we are experiencing right now." Radek will be greatly missed as the flags fly at half mast in front of the Norwalk Police Department.

Officers Mourn Police Dog At Memorial Service - Norwalk Police Dog Dies In Line Of Duty
NBC 30 Connecticut News
A 17-month-old German shepherd, a member of the Police Department's K-9 unit killed while on duty, has been honored with a memorial service. Police officers from as far away as Florida gathered for the memorial service at Norwalk Police Department headquarters Monday. The police officers wore black bands across their badges signifying that they are in a period of mourning. The service was in honor of Radek, a member of the department's K-9 Unit for just two months before he was struck and killed by a car Jan. 25. The dog was killed while he and his partner/handler, Frank Holland, were responding to a burglar alarm at the Norwalk Senior Center complex. Officers from West Hartford, Stratford, Greenwich, Bethel, New Milford, Westport and Massachusetts attended the service. Several of the officers brought their own K-9 partners with them. The Rev. David Howell, police chaplain, delivered the invocation, praising the canines in service. "We thank you, Lord, for the love that our police dogs give us," Howell said. During Radek's time with the Police Department, he is credited with two narcotics seizures.

submitted by Jim Cortina, Dir. CPWDA
---
In Loving Memory of
K-9 ROSCO
October 13, 2003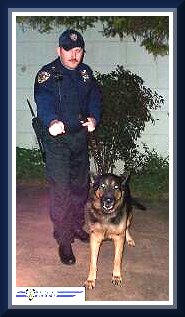 Handler: Jamie Laird

Retired - Lt. Commander
NYPD ESU Unit Brooklyn NYC
My K-9 partner and friend PD Rosco a Black & gold German shepherd to the memorial list. He has passed away after finding him deceased due to natural causes on Monday October 13th 2003 0822hrs. Pd Rosco served with me and was my last K-9 partner serving from 1990 to 1995 with me through the NYPD ESU Unit in Brooklyn NYC. Rosco retired with me and saw out his years with the respect and my endearing love and gratitude and thanks. I owe him as my life and safety he had saved during our tours of duty. He will always be a part of my heart and soul and his spirit and will be still by my side watching over me all through till the end my candle is snuffed out and we are together once more.
A POLICE DOG'S PRAYER
Oh almighty God,
whose great power and eternal
wisdom embraces the universe,
watch over my handler while I sleep.
Protect my handler from harm
while I am unable to do so.
I pray, help keep our streets and homes
safe while my handler and I rest.
I ask for your loving care because
my handler's duty is dangerous.
Grant my handler your unending strength
and courage in our daily assignments.
Dear God,
protect my brave handler,
grant your almighty protection,
unite my handler safely with the family
after the tour of duty has ended.
I ask nothing for myself.

Amen.
---
In Loving Memory of
K-9 REXO
September 20, 2003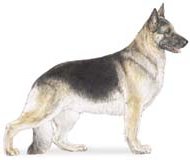 Handler: Officer Steve Spano
Greeneville Police Dept.
Vermont

Memorial Service Held For Rexo, The Police Dog Officer Down: Rexo K-9 - [Greenville, Vermont]
By BILL JONES, The Greeneville (TN)
About 30 people, including law enforcement officers, a judge and veterinary medicine professionals, took part in amemorial service on Wednesday for Rexo, the Greeneville Police Department's former drug-detection dog. Rexo, a five-year-old German shepherd who had been imported from Holland, died Sept. 20 following surgery to remove a tumor from his liver. The brief, 12:30 p.m. service was held in a meeting room at the East View Recreation Center. It featured a greeting from the man who had been Rexo's "partner," Greeneville Police Officer Steve Spano. The service also featured a scripture reading and prayer by the Rev. Gerald Rudd, pastor of the First Church of God and chaplain of the Greeneville Police Department. "I just wanted to do this for him so people could come by and honor him," Officer Spano told the audience at the opening of the service. "He was a happy-go-lucky dog. He was pretty much my best friend. I loved him to death, and it was a shock to lose him, especially the way I did." Arranged on a table at the front of the meeting room were framed photos of Rexo and Spano from their earliest days together in 2000. Among the photos were several that showed Rexo and Officer Spano with groups of school children, and one that showed the pair with Gov. Phil Bredesen. Also arranged on the table were Rexo's leash, bullet-resistant vest and favorite chew toy. At the center of the display was an oaken urn that contained Rexo's ashes. The urn bore a photo of Rexo and a plaque with the inscription: "In Loving Memory of Rexo, a True Friend & Loyal Partner." After his death, Rexo's remains were cremated, free of charge, at the Hitchcock Memorial Crematory in Elizabethton. Officer Spano said he wanted to thank that facility for the service it provided.


Partners Since 2000


Before the service, Officer Spano said that in May 2000 he and Rexo became partners at a Texas dog-training facility. "They tried to match the personalities of the dogs and officers," he said. Officer Spano said that, after he and Rexo began working together, the dog soon learned that whenever he was in uniform, the pair was going on duty. "He would just sprint out of the kennel and run to the patrol car," Officer Spano said. Speaking wistfully about his late K-9 partner, Officer Spano recalled that Rexo had a keen nose for detecting illegal drugs. Rexo's biggest "drug find," Spano said, was 14 pounds of marijuana hidden in the closet of a Morristown residence. The illegal drugs were found while he and Rexo were assisting Morristown police. The dog's only reward for finding hidden illegal drugs was getting to play with a red chew toy that Spano carried on his belt. During the ceremony, Officer Spano told the audience that Rexo "loved to work, loved to play and loved to scare people." He noted that Rexo liked to bark at people who chanced to walk past the K-9 patrol car in which he was kept while on duty. But Spano said Rexo was not a violent dog and was not trained for attack duty.


Pastor's Comments


During his remarks, Pastor Rudd read a passage from the 22nd chapter of the Bible's Book of Numbers that recounts the story of how a donkey saved its owner, a prophet, from being killed by an angel because the prophet had planned to speak against Israel. The prophet's donkey, Pastor Rudd said, saw the angel although the prophet could not and turned away from the angel three times, protecting its owner from death "An animal in this particular instance in the Bible gives salvation to an individual who was wanting to do something that was not appropriate," Pastor Rudd said. "Those of you who are familiar with the work of a police dog know that many times they step into the line of danger on behalf of police officers. "This gives us three ideas, I think. One is the idea of faithfulness. The second is the idea of caring, and, lastly, the idea of love for the job and for the officer. "I think it's appropriate here today. We ought to keep in mind that God uses a lot of different people and a lot of different things in our lives to remind us of His faithfulness, of His love and of His caring. "Today when we come to this location and this time and see the relationship that took place between a man and the dog that served and was faithful to him, that loved him and cared for him, we ought to honor him." Pastor Rudd said he was sure the officers present realize the service that Rexo provided. The community at large, he said, "should understand the way God can use the animals that He created to serve mankind as a reminder of the way that God has loved each one of us." In a prayer offered at the conclusion of his remarks, Pastor Rudd thanked God for Rexo's service to the community. "We pray that you would give each one of us here a reminder of how the life of this dog shows us about the love of almighty God who gave Himself for us."
Stephen B. Phillips
K-9 Training And Consultation
716-373-3146
http://www.thedogguy.net\
submitted by Dusty Simon
---
In Loving Memory of
K-9 ROWDY
June 30, 2003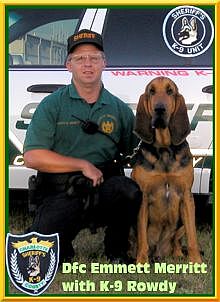 Handler: DFC Emmett Merritt
Charlotte County Sheriff's Department
7474 Utilities Rd. - Punta Gorda, FL 33982
941-639-2101 Fax Number: 941-639-7054
Email link: sheriff@ccso.org
Sheriff's K-9 "Rowdy" dies. Jun 30, 2003 - FOLLOW-UP INFO ON DEATH OF CCSO K-9 "ROWDY" A memorial service is expected to be held Wednesday (July 2) for "Rowdy," a Charlotte County Sheriff's K-9 bloodhound who died this morning at his home. A time for the special service will be announced later. Rowdy's partner, DFC Emmett Merritt, said he checked on Rowdy at 5:00 a.m. this morning, but found him dead around 10:00 a.m. An animal necropsy is being formed this afternoon by a Punta Gorda veterinarian to determine the exact cause of death. Rowdy was born in February 1999 and was four months old when donated to the Sheriff's Office. DFC John Heck got him as a puppy and started his training. Rowdy came from the Alie Foundation, a bloodhound placement service out of Englewood, Colorado. DFC Merritt was given Rowdy two years ago to work with as his partner. Heck now has K-9's Hutch and Midnight. Rowdy's tracking accomplishments are many. The CCSO K-9 staff pulled together several accomplishments attributed to Rowdy.
They include:
July 8, 2002: DFC Merritt and K-9 Rowdy were called to locate a missing 47 year old mentally challenged adult. Rowdy tracked the missing man and found him a half mile away.
July 12, 2002: DFC Merritt and Rowdy were called to locate a runaway 12 year old. After obtaining a scented item, the team found the missing juvenile sleeping in an unlocked pickup truck.
Sept.. 13, 2002: A call came to track a female who took numerous pills in a suicide attempt and ran into a wooded area. Rowdy tracked the woman's scent from a shirt she wore and located her, saving her life.
Oct. 8, 2002: A missing 9 year old left her home and was last seen going into a woods. K-9 Rowdy used a pillow case for a scent and found the girl.
Oct. 8, 2002: A call was received for a suicidal male who ran into a woods with a knife. After using clothes as a scent article, Rowdy located the man lying in a ditch, bleeding profusely.
Nov. 26, 2002: An elderly female wandered away from her home. Two hours later, DFC Merritt and Rowdy showed up and tracked the woman who was found unconscious in a large dog house.
May 19, 2003: A missing 8 year old ran from school into a wooded area. After using a scent article, the boy was found. DFC Merritt said Rowdy was wagging his tail when he located the boy. They pulled the brush back to find the boy and Rowdy licked his face. K-9 Rowdy has dozens of other accomplishments to his name as the CCSO tracking bloodhound. He also was a very lovable K-9 who visited many area schools and was a big hit with children.

UPDATE - 9/9/2003
Sheriff's K-9 team wins tracking award - Rowdy's nose may be gone, but his fame grows. The late bloodhound and his handler, Charlotte County Sheriff's Deputy First Class Emmett Merritt, were honored Monday with the Trailing Team of the Year Award from the Missing Children Information Clearinghouse. Gov. Jeb Bush presented Merritt with the award on the steps of the old capitol. "It was great," Merritt said. "This was the first time I've ever been to the capital. "It was a great honor and award, but my biggest reward is when you return missing children back to their families." Unfortunately, Rowdy's award was posthumous. He died June 30 at Merritt's home of what are presumed to be natural causes, not unusual for a bloodhound. An honorary bone was accepted by Merritt's new K-9 partner, known for now as "Diamond." He'll be officially named by Charlotte County elementary students in a Friday morning ceremony. Charlotte County was selected over four K-9 teams from Brevard, Marion and Polk counties, but Merritt said the other nominees were happy he and Rowdy won. "Rowdy was an excellent dog, that's why we ended up getting it," Merritt said. The award was based on the team's performance locating missing children in 2002, said Kristen Perezluha with the Florida Department of Law Enforcement. "Merritt is a four-year veteran with the CCSO, and the agency's only K-9 officer," Perezluha said. "Rowdy's contributions were three cases involving children." The dog helped locate and recover a runaway juvenile in July, tracked a missing 9-year-old girl in October and in May of this year, he found an 8-year-old boy who ran from a school bus into a wooded area." "The brush was so thick, I couldn't see the child," Merritt recalled. "When I pulled it back, there he was, and Rowdy was licking his face." Even for a bloodhound, Rowdy was exceptional. "They've got the instinct to track, I'm just the guy at the end of the leash," Merritt explained. "You've got to be able to bond to the dog, he does it because he loves you. And you've got to be able to read him, that's why we were so successful." You can e-mail Malcolm Brenner at: mbrenner@sun-herald.com

submitted by Dusty Simon
In Loving Memory of
K-9 RENO
June 1, 1996 - September 11, 2003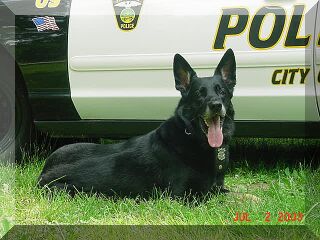 Handler: Officer Dale Merchant
Garfield Heights Police Dept.
5555 Turney Rd. - Garfield Heights, OH
216.475-6607

On September 11th, 2003, I lost my K-9 partner, Reno, to cancer. Reno was honored by the Bil-Jac Dog Food Company and the German Shepherd Club of Northern Ohio in the years of 2000, 2001 and 2002. As a hero dog in tracking, and for his accomplishments while on duty. He was a truly special dog. The city of Garfield Heights and all who knew him in their lives agree. He can walk into heaven with his head held high for a job well done. God rest his soul.A memorial service will be held on Tuesday, September 23, 2003 at 2:45 PM at the Garfield Park. Reno will take his final patrol from the park to City Hall where a service will take place.

submitted by Jim Cortina, Dir. CPWDA
---
In Loving Memory of
K-9 ROBBY
July 2003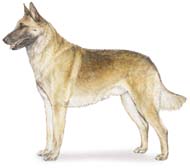 Handler: Deputy Charlie Robinson
Court House Caretaker
West Palm Beach, FL

Beloved canine deputy dies By Susan Spencer-Wendel, Palm Beach Post Staff Writer Friday, August 1, 2003 ph: 561 820.4100
WEST PALM BEACH -- Deputy Robby, the lovable-looking, bomb-sniffing canine caretaker of the courthouse, died Tuesday. He was almost 7 years old, five years of that spent working downtown in county buildings. Robby's survived by no known progeny, but a courthouse staff and a handler, Deputy Charlie Robinson, who dearly loved him. "Next time, we won't get so emotionally attached," said chief court administrator Susan Ferrante Thursday. Ferrante said Robby was one-of-a-kind -- the first bomb-sniffing dog assigned full-time to a courthouse in Florida, perhaps even the nation. He spent four hours a day patrolling the building, the perimeter and county buildings, then sat in the mail room running his nose over all incoming items. Robby is a Belgian Malinois, one of the American Kennel Club's smallest breeds of shepherd. The breed was developed for sheep-herding and is known as a confident dog with a strong desire to work. Robby was actually deputized and wore a badge around his neck. And he was great with the school groups. "Kids loved Robby. He really knew how to turn work off and on," Ferrante said. The other bomb-sniffing dog currently assigned to the courthouse isn't as affable, she said. Over the years, Robby worked only about eight bomb threats, but provided an extra sense of security in the new age of terrorism. By Thursday, staff members responded in kind, collecting $400 for a donation to a local animal shelter. A memorial service organized by the Palm Beach County Sheriff's Office will be held at a later date.
submitted by Jim Cortina, Dir. CPWDA, Inc.
---
In Loving Memory of
K-9 ROCKO
May 7, 2003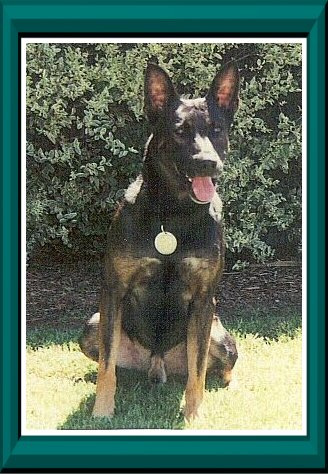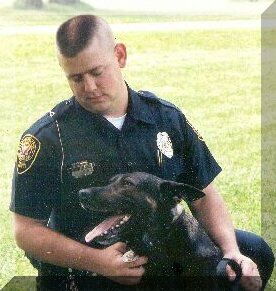 Handler: Officer Marty Mcneely
Morganton Department of Public Safety
304 College St. - Morganton NC 28655
Ph: (828) 438-5290 or 438-5291
My name is Marty Mcneely and I work for Morganton Department of Public Safety in North Carolina. This is to let you know about the loss of my K-9 partner, Rocko. He was a 4 year old Belgian Malinois. He was my partner since August 2001. He was nationally titled in patrol work in Holland and we were certified as a patrol and narcotics detection team by Eastern States Working Dog Association. He developed a serious medical condition which resulted in having to put him down on 5-7-03. I held him in my lap as the vet gave the shot. He looked up at me, then rested his head in the bend of my arm. His loss has been extremely hard on me and on my family. K-9 officers are told to view their dogs as merely a piece of equipment that can be replaced and that we should not get emotionally attached to them. Then they give us a patrol car and set us out together to work a district. Those who suggest that a police K-9 is "just a piece of equipment" has never done what we do, nor could they. K-9 officers around the world are blessed each day to be a part of something bigger than themselves and are truly fortunate to experience such unconditional love. K-9 Rocko wasn't just my partner, he was my friend, pet and companion. I will miss him always.
UPDATE: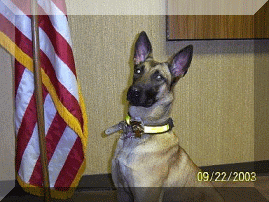 I will meet my new partner, Kelly, on Aug 29 in Fayetteville, NC. She is a 1 year old Belgian Malinois, blonde, except for her muzzle and tip of her tail. She is full service (patrol and narcotics) and weighs approx 54 lbs. She is at Four Winds Police Dog Center in the Netherlands right now and will be flown over with her trainer on the 28th. The past 3 1/2 months have been awful lonely without a partner in the car, but that's about to change.Kelly is smart and very social.
submitted by Marty McNeely


GUARDIANS OF THE NIGHT
Trust in me my friend, for I am your comrade.
I will protect you with my last breath
when all others have left you.
The loneliness of night closes in,
I will be at your side.
Together we will conquer
all obstacles and search out
those who might harm others.
All I ask of you is compassion
and the caring touch of your hands.
It is for you that I will unselfishly give my life.
Although our days together may be
marked by the passing of seasons,
I know that each day at your side is my reward.
My days are measured by your footsteps.
I anticipate at every opening of the door.
You are the voice of caring when I am ill.
The voice of authority when I am wrong.
Together we shall experience a bond
only others like us will understand.
Outsiders see us with envy.
I will quietly listen and pass no judgment,
nor repeat your spoken word.
I will remain silent and ever loyal.
When our time is done, you move on in the world.
Remember me with kindness and that nothing
passed among us undetected.
If we should meet again on another street,
I will gladly take up your fight.
I am a Police Working Dog.
We are the guardians of the night.
~author unknown
---
In Loving Memory of
K-9 RANGER
August 1, 1997 - March 3, 2003
Tour of duty with HCSO -09/11/2000-03/03/2003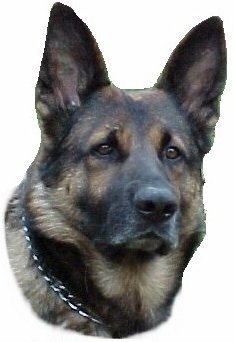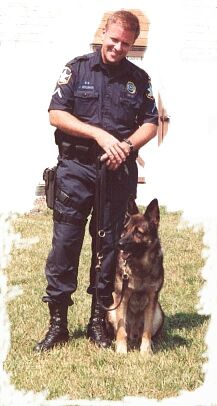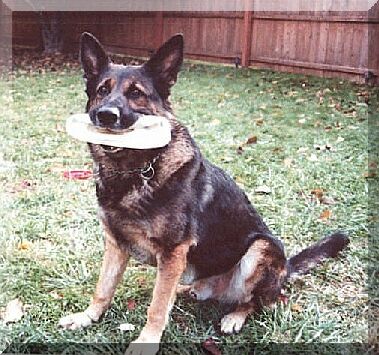 Handler: DFC John Seilback
Harford County Sheriff Office
HARFORD SHERIFF'S WEBSITE
45 S. Main St. - P.O. Box 150
Bel Air, MD 21014-0150
(410)838-6600


In Memory of K-9 Ranger
by John Seilback
On 03 March 2003, the Harford County Sheriff's Office lost one of its K-9 deputies, K-9 Ranger. K-9 Ranger was a German Shepherd imported from the Czech Republic in September of 2000, when he was about 3 years old. K-9 Ranger was assigned to Deputy First Class John Seilback, and the team was the first in the agency to be trained by the Montgomery County Police Department K-9 Unit. Dfc Seilback & K-9 Ranger graduated second place from Patrol K-9 Class 29, missing first place by just a few points. The team, going by call sign K-9-7, hit the street in December of 2000. Less than one month later K-9 Ranger had his first tracking find, locating a suspect in a possible sexual assault hiding in his house after he had fled on foot from police. Thus started a productive, if short, career finding criminals and keeping the citizens of Harford County safe. K-9 Ranger's final tracking apprehension occurred less than one month before his death, where he tracked and bit a suspect who had fled from MSP during a stolen vehicle pursuit. In the interim K-9 Ranger had tracked and located 18 criminals wanted on numerous felony and misdemeanor charges. These tracks resulted in K-9 Ranger being twice nominated for the USPCA (United States Police Canine Association) Region 3 Patrol Award, which he won for the fourth quarter of 2001. Winning this award also resulted in Dfc Seilback and K-9 Ranger being recognized by the Harford County Council with an Official Proclamation being issued to the team on 07 May 2002. Dfc. Seilback and K-9 Ranger also competed in the USPCA PD 1 ( Police Dog 1) trials, held in Martinsburg, W.Va., and Gaithersburg, MD. In both of these trials K-9 Ranger successfully won his PD1 Certificate, becoming the first K-9 in Sheriff's Office history to do so. In the Martinsburg trials K-9 Ranger won Third Pace/Novice/Search class. At the Gaithersburg trials K9 Ranger made "National" level points, meaning he could have gone to the National PD1 competitions. Unfortunately K-9 Ranger broke his foot at the Gaithersburg trials and spent the next month on light duty. During that month K-9 Ranger was trained by the Baltimore City Police Department K-9 Unit in Narcotics Detection. K-9 Ranger finished class in about half of the time normally allotted for the training in finding drugs due to his zeal for work. Subsequently K-9 Ranger was the only cross- trained K9 in the Sheriff's Office for a short while, until Dfc Gibbons and K-9 Spencer could be trained in narcotics work. From June to Ranger's untimely death, he aided in the arrest of over a dozen suspects on a variety of drug charges. His work also led to 3 search warrants being executed and over $13,000 in cash and a handgun being seized in separate incidents. Dfc Seilback and K-9 Ranger also participated in numerous demonstrations for public groups, aided in crowd control in numerous potentially volatile situations, and conducted many foot patrols during their time working together. Counting tracking finds, narcotic arrests, and patrol assists, K-9 Ranger aided in the arrest of 60 subjects during his brief time with the Sheriff's Office. On Thursday night, 27 February, K-9 Ranger fell extremely ill. Friday 28 February he was on intravenous support to aid in his deteriorating health. Sunday night 02 March K-9 Ranger's health had become grave enough that surgery was necessary to attempt to save his life. Unfortunately, he did not recover from operation and died. K-9 Ranger was a joy to work with and his death is a great loss for his handler, Dfc John Seilback, the deputies of the Harford County Sheriff's Office, and the citizens of Harford County K-9 Ranger will be sorely missed.



Burial Dulaney Memorial Gardens
March 13, 2003 -Reception at Fallston Volunteer Fire Company, 2201 Carrs Mill Rd, Fallston, MD 21047. Reception starts at 1200 hrs. and will include some light refreshments. I will have some of Ranger's articles on display to honor his memory. The reception is being held first to accommodate those coming from out of county, as the funeral service is a very short distance away from I-83. Procession departed to Dulaney at 1330 hrs. Funeral at Dulaney Memorial Gardens, K-9 Section, 200 East Padonia Rd, Timonium, MD 21093, burial time is for 1430 hrs.. Dismissal from grave site. K-9 units from all over MD will attend. Received emails from as far away as Canada and Australia who saw memorial on this site. I thank you all again for the care and concern during the past week, which has been very tough. (Those of you K-9's know what it's like.) The support given me has made a world of difference, you have my undying gratitude.


My sincerest thanks for those who have expressed their condolences either in person or by contacting me otherwise. Ranger's funeral was attended by K-9 Units from the following agencies: Baltimore City Police, Elkton Police, Howard County Police, Montgomery County Police, and Maryland State Police. We had a motorcade of about 60 cars and the procession was about 1/2 mile long and also included vehicles from Fallston Volunteer Fire Company. Both FVFC and Bel Air Volunteer Fire Co. did a "tower arch" with a giant US flag at the cemetery entrance. Memorial items were presented from both the HCSO and BPD K-9 Units, both of which were very touching. The service was very well done and I thank all that participated.


It is with great regret and sorrow that I report the passing of my beloved partner Ranger, who died on the operating table this morning around 00:15 hrs.. He had an aggravated infection of his pericardium, acute pancreatic, a ruptured intestine as the result of a blockage, and an aggressive form of cancer growing on his spleen. He was very miserable this evening and looked almost 8 months pregnant with all the fluids that were built up in his system. I was blessed with the opportunity to spend about 30 minutes with him prior to his surgery. Unfortunately, he did not survive. At least now he has relief from his pain. I am thankful to the Lord for blessing me with such a wonderful dog and cherish every memory of the past 2 1/2 years. He titled in the USPCA twice and even won a tracking award for a street apprehension, and was an outstanding street work dog. I shall miss him greatly. I thank you for your thoughts and prayers during this long, long weekend.
K-9 RANGER ID # 1979 tour September 11, 2000
to March 3, 2003.
Rest well, dear buddy, I love you. John



K9 UNIT
The HCSO's K-9 unit began in the late 1960s. The HCSO is responsible for both the jail and law enforcement in the county. Though we are all under the sheriff, the jail and L.E. sides are separate. I worked the L.E. side. The jail K-9 unit consists of 2 handlers with Rotties. The L.E. K-9 unit consists of 3 patrol dogs (GSD's )and 1 bomb dog( Choc. Lab). We had the 3rd handler waiting in the wings for the next class, so now we are down to 1 patrol and 1 bomb dog for the time being. It has been a long time since I worked with the actual 3 handler rotation. For over a year, I have been on call almost 24 hrs.. a day. Of course, I am now not on call for the time being. We care for a county with a population of over 240, 000 residents and have everything from inner city section 8 type housing to rural mansions and everything in between. We are the home of the Aberdeen Proving Ground and Edgewood Arsenal military installations. I-95, US Rt.1, CSX & Amtrack all come through our county, so we are very busy. Each K-9 handler will probably conduct about 60 or more building searches, several dozen tracks, and many, many drug scans every year.



Card Game Grudge Prompts Home Invasion Robbery
Contact: Ginger Rigney, PIO-Telephone: 410-836-5403-(July 29, 2002)
HARFORD COUNTY, MD: Two Edgewood men disgruntled over losing money in a card game have been charged with allegedly committing a home invasion robbery in hopes of stealing back their winnings. Harford County sheriff's deputies arrested Kevin Turner, 27, and Andre Williams, 22, on July 29, 2002, after they allegedly forced their way into a home in the 600 block of Longwood Court in Edgewood around 2:10 a.m. The female resident of the home, 33 year old Carolyn Reece, hid in a closet and called 911. Reece told dispatchers that someone was in her house with weapons, and that she could hear them tying up her boyfriend, 29 year old Maurice Miles. Miles, an avid card player, had been winning money in card matches for about a week prior, and Turner and Williams showed up at the home under the pretext of playing another game of cards. When Miles opened the door, Williams allegedly pointed a gun at him and forced his way into the home. He then tied up Miles with tape, put a pillowcase over his head and beat him in the head with a handgun, ransacking the home for money. Sheriff's deputies had the house surrounded with patrol units and a K-9 unit within three minutes. When deputies entered the house, Turner tried to pass himself off as a victim, saying someone else in the house was being beaten and robbed. Williams jumped out of a second floor window. Deputies arrested Turner and Deputy First Class John Seilback's K-9 "Ranger" apprehended Williams as he tried to flee. Deputies recovered $850 from Williams along with Miles' wallet and identification. Both men were charged with armed robbery, robbery, use of a handgun during the commission of a felony, first degree burglary, first- and second-degree assault, and theft of more than $300. Miles was taken by ambulance to Upper Chesapeake Medical Center for treatment of his injuries. He has since been released.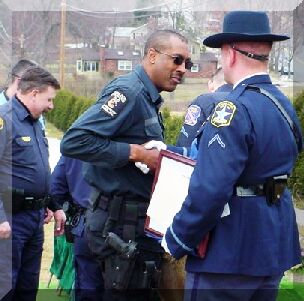 Bo Curry, Ranger's trainer in my basic K-9 class back in '00. He is a marvelous man and has been very supportive the past week, having lost his own partner prematurely back in '01.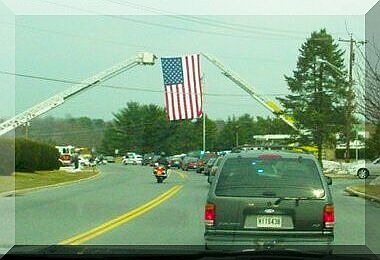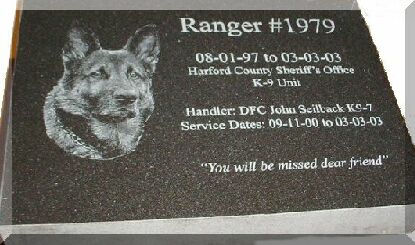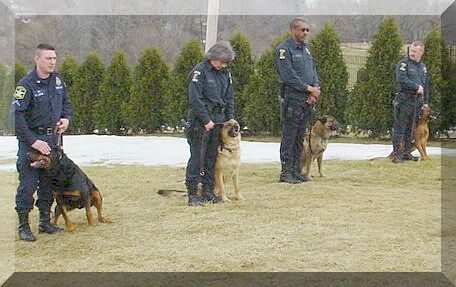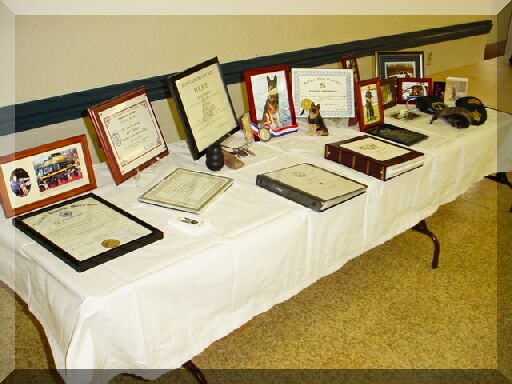 Motorcade of about 60 cars and the procession was about 1/2 mile long and also included vehicles from Fallston Volunteer Fire Company. Both FVFC and Bel Air Volunteer Fire Co. did a "tower arch" with a giant USA flag at the cemetery entrance.
---
In Loving Memory of
K-9 ROCKY II age 16
January 1, 2003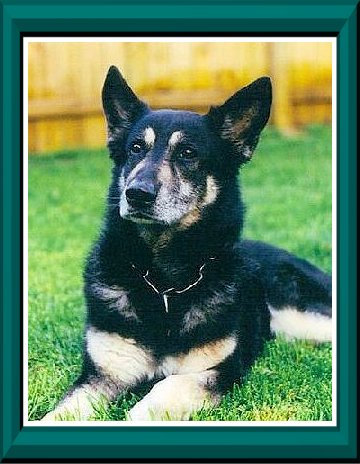 Handler: Officer Jane Martin
Memphis Police Department
201 Poplar Ave. Memphis, TN 38103
phone: 901-458-2112

Rocky and I met June 1988. He was 19 months old and had been donated by his owner to the Memphis Police Department Dog Squad. As a police officer for more than 10 years, I had no idea what kind of partner Rocky would become to me. We trained together for 14 weeks under some of the hottest conditions the South could hand out. Rocky would never fit the description most people have of a trained police dog. Work was a game and he loved to work. He also liked to perform, so we demonstrated his abilities at day care centers, schools and our Mid South Fair. He loved children and was very friendly. Yet when it was time to put in our 8 hours in a patrol car, he knew his business. He has assisted me in over 200 arrests during his 7 year career as a working police dog. He was always by my side and the best partner I've ever had. I went into numerous situations with Rocky I never would have gone alone. Rocky was also trained as an explosive detection dog. Rocky led a very busy and productive life. He earned a much-deserved retirement, living in my home his last 8 years. He turned 16 on Nov. 19, 2002. Rocky learned to stay behind when I left for work with a new dog. He had to settle in to protecting the house and yard, with his worn teeth and graying muzzle. We were a team. He watched over me and I trusted him. I watched over him as he gently slipped away on Jan. 1, 2003. Rocky made it possible for me to become the first woman dog handler on the Memphis Police Dog Squad. He was my best friends. I yelled my warning and released my dog.
---
In Loving Memory of
K-9 RICO
January 24, 2003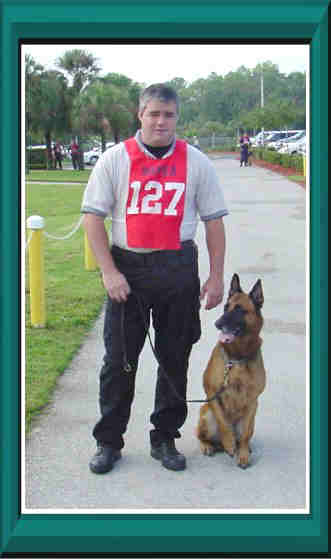 Handler: Deputy Chris Picou
Lincoln County Sheriff's Dept. MS
215 Justice St. - Brookhaven, MS 39601-3324
Phone:(601)833-5231 - (601) 754-5700

Drug dog 'Rico', family pets killed in fire
By: Matthew Coleman January 24, 2003 The Daily Leader, Brookhaven, MS ph: 601. 833.6961 call Mon.
Icicles hung from bushes as firefighters extinguished the last remnants of a fire that destroyed the Chris Picou family's home during the coldest night of the year. A short distance away, a bloodied Picou, his wife Laurie, and three children, T.J., Matthew and Christopher, sat in a truck, thankful to have survived the fire that gutted their West Congress Street home early Friday morning. "I'm so happy and glad to have my kids. We barely got out of there," Picou said as he talked with a concerned friend over a cellular telephone. The fire began sometime after Picou, the Lincoln County Sheriff's Department's K-9 officer, arrived home around 3 a.m. after working a detail in Pike County. He estimated that Laurie awoke him around 4:30 a.m. to tell him the house was on fire. Laurie Picou said it appeared the fire began on the eastern side of the home. "The whole backyard was lit up like daylight," she said. "The house was completely gone by then," Chris Picou said. Laurie, Matthew, 8, and Christopher, 5, got out of the home by going through one of the children's bedroom windows. Chris and T.J., 12, escaped through the parents' bedroom window. "I had to break the window because it was froze shut," said Picou, his cheek and a right hand bleeding from cuts and burns. Five family pets, 3 dogs, including K-9 Rudy, who was in training and two cats inside the home because of the cold weather -- did not survive. The low temperature Thursday night and Friday morning was 14 degrees. Included were a new narcotics dog that Picou had recently purchased and his long-time narcotics enforcement companion, Rico. "He was my boy...," Picou said about the dog that was sleeping in the bedroom with Chris and his wife. "I tried to get him to jump out the window, but I guess he panicked and didn't understand." Brookhaven Fire Department Chief Paul Cartwright said the home, which was once occupied by Mayor Bill Godbold, was fully involved when firefighters arrived on the scene around 5:17 a.m. Godbold lived in the home in the mid 1980s, fire department officials said. Laurie Picou said appliances in the home were turned off. Cartwright said a cause of the fire had not been determined. The state fire marshal was called to the scene to start an investigation. "It's going to be a while because we've got to let it cool down before we can inspect the fire scene," Cartwright said about determining a cause. Picou's home was the second Lincoln County Sheriff's Department's officer's home destroyed by fire in less than two years. Deputy Sudie Palomarez's home on Highway 583 burned in November 2001. Lincoln County Sheriff Lynn Boyte and other department officials were in the process of setting up fund-raisers to help the Picous. A special account has been set up at State Bank, officials said. Despite the tragedy, Chris Picou managed to find a small bit of humor in the situation. "I'm going to find a way to get in the paper," said Picou, who is often featured in news reports on his successful drug enforcement activities. Laurie Picou was hopeful and said the family will be all right as it recovers from the fire. She was thankful that Chris and their children survived. "That's all I need. Everything else is trivial," she said.
State Bank & Trust
147 S. Railroad Ave.
Brookhaven, MS 39601
Attn.: Chris and Laurie Picou Fund
Account #: 303248374
Additional Contacts:
Sgt. Clint Earls - Brookhaven Police Department
(601) 835-4457
Capt. Dusting Bairfield - Lincoln County Sheriff's
Office - (601) 754-5700
In Loving Memory of
K-9 RINGO
August 5, 1989 -February 4, 2003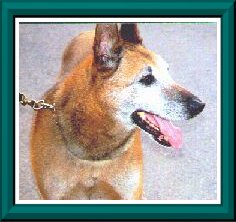 Handler: Officer Loyd Berger
Del City Police Department
Chief of Police - James "Phil" Taylor
2800 Epperly Dr. - Del City, Oklahoma 73115
(405)671-2840
..
RINGO - Belgian Malinios
Born: 5 Aug. 1989
Entered Air Force at Lackland AFB, TX 4 Dec.1990
Graduated/Certified: Narcotic Detection 10 Jan. 1991
Graduated/Certified: Patrol Dog Training 24 Apr. '91
Arrived Tinker AFB: 9 May 1991
Recipient of the:
AIR FORCE COMMENDATION MEDAL
FOR MERITORIOUS SERVICE
9 MAY 1991 TO 31 MARCH 2002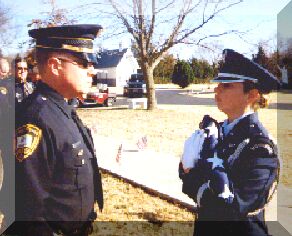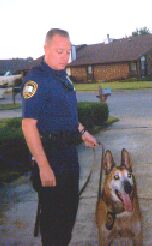 Presentation of flag to Officer Berger


During his 11 years of service at Tinker AFB, OK Ringo distinguished himself by meritorious service to the 72d Security Forces Squadron, 72d Support Group, 72d Air Base Wing. He provided exceptional security and narcotics detection during two, 120 day U.S. Customs Service deployments to California. During those deployments, he expertly located 190 pounds of marijuana, 117 pounds of cocaine and $37,000 dollars destined for narcotics traffickers. Back on the streets of Tinker Air Force Base, Ringo's extremely reliable narcotic detection led to the discovery of more than 90 grams of marijuana, 11 grams of meth amphetamine, 5 grams of hashish and 3 grams of cocaine greatly aiding force protection efforts. Furthermore, Ringo diligently conducted over 90,000 random vehicle inspections and 43,000 building searches ensuring a safe community. The singularly distinctive accomplishments of Military Working Dog Ringo culminate a long and distinguish career in defense of his country and reflect credit upon himself and the United States Air Force. Adopted by Officer Loyd Berger of the Del City Police department on 15 April 2002. Formally retired from Air Force service 23 July 2002. Ringo continued to show an eagerness to please and to serve. He patrolled the streets of Del City with Patrolman Berger helping to re-establish a canine program for Del City. As a member of a family for the first time, Ringo, who always had "handlers", now had a "Mom and Dad". He enjoyed long walks with Mom and Dad, having his own toys, bed, and a quiet living space. He was spoiled with popsicles and peanut butter treats. He stared with puzzlement and wonder at the two other family pets – the pugs. He couldn't quite figure out what those little things were! He loved being "just a dog" on his days off, but couldn't wait to go to work with Daddy every chance he could. Ringo did not show any signs of slowing down until a week before his death. He stayed active and "puppy like" until the end of January 2003. In his eagerness to please, he did not let on that he had any pain or felt bad. After a short illness, he was diagnosed with a tumor that was found to be cancer. He went to be with our Lord on 4 February 2003. He was preceded in death by one pug – Tori, in Aug. 2002. He will be missed by all who knew him and especially by those who loved him: Loyd, Lisa-Ann, and Lindsey Berger and the pugs, Rusty, age 15 ½ years and Teka age 4 months.



Police dog loses his life to cancer 2003-02-11 - By Brittney Guest - Staff Writer
Del City police officer, Loyd Berger, laid his partner to rest Monday, Feb. 10, 2003. They worked together less than a year, but Berger considered Ringo a part of his family. Their relationship was short lived, because one week ago Ringo, Berger's K-9 partner, lost his life to cancer. After their first meeting with Ringo, a Belgian Malinois, Loyd and Lisa Berger began the adoption process and incorporated the dog into their lives. Before he became a loved house pet and backup officer to Berger, Ringo served 12 years in the U.S. Air Force. He uncovered cocaine, marijuana and other illegal drugs on the streets of Tinker Air Force Base and during deployments to California. He once detected 117 pounds of cocaine. His work earned Ringo the Air Force Commendation Medal for Meritorious Service. Because of his role in the Air Force and as a police dog, Ringo was buried with a ceremony that included a gun salute and a folded flag presented to Berger. Twenty police dogs, some of whom served in the Alfred P. Murrah Federal Building recovery efforts, are buried at Precious Pets Cemetery in Spencer, co-owner Linda McCullough said. In addition to K-9 burials, the cemetery holds services for birds, fish, donkeys and other pets. "They are just so important not only in the community, but in helping the officers," McCullough said of police dogs. "It just validates that they were important to someone." Lisa Berger said her husband is taking the loss day by day. "He knew when it was time to go to work when I came out in uniform," Berger said of Ringo. "It's hard to go to work without him." While Ringo's muscular body could be intimidating, he always knew the difference between working and playing, Berger said. "He looked mean. He acted mean, but at heart he was a pup," he said. Ringo accompanied Berger on routine traffic stops and patrol work, and became a reliable partner. "He was there to watch my back," Berger said. Until recently, Air Force trained dogs like Ringo were put to sleep if they were in poor health. Now, the dogs can be adopted by police departments establishing K-9 units.
"Tinker" is the Air Force Base near Oklahoma City that Ringo worked for nearly 12 years.
"Tinker Take Off" is the name of the newspaper for Tinker Air Force Base.
---