In Loving Memory of
K-9 PIRAD
July 26, 2003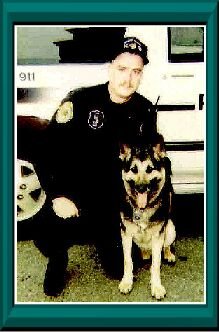 Handler: Jay Turner
Muncie Police K9 Unit
1201 North Broadway Avenue
Muncie, IN 47303

RETIRED DOG PIRAD ON JULY 26TH.PIRAD SERVED FROM 1993-2003 WITH JAY BUT WAS HANDLED JOHN BLEVINS FOR A BRIEF TIME BEFORE JAY GOT HIM.THE SITE FOR MPD K9 IS MUNCIE K9.ORG. submitted by: DUSTY Simon
In Loving Memory of
K-9 PRESTON
2003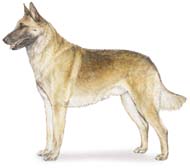 Handler: Officer Darin Dougherty
Columbia Police Department SC
803 401.8842
(K-9 Trainer Officer: Andre Williams) submitted by Dusty Simon
---
In Loving Memory of
K-9 PIETIE
July 1, 1996 - February 19, 2003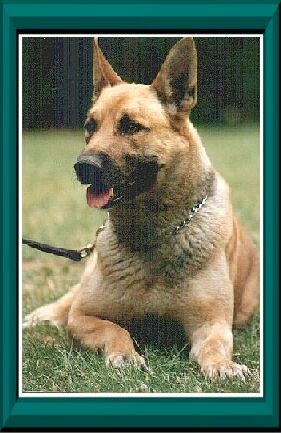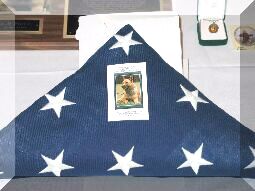 Handler: S/Cpl. Donald (Donnie) Witte
Wilmington Police Department
William T. McLaughlin Public Safety Bldg.
300 N. Walnut St. - Wilmington DE 19801


.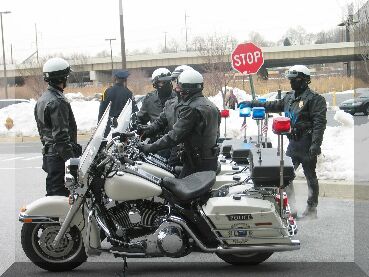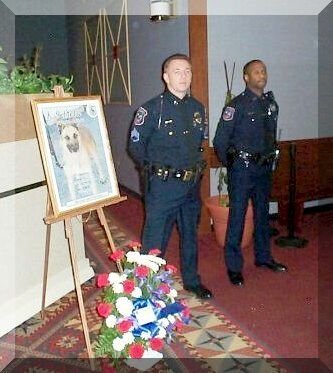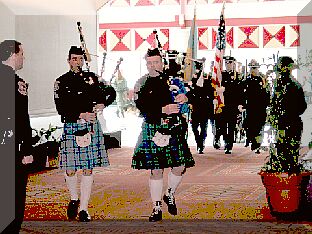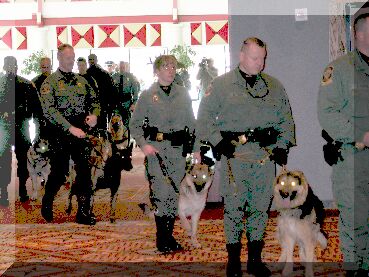 x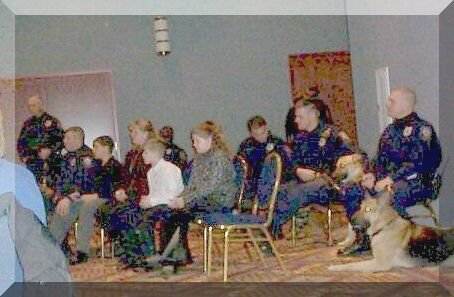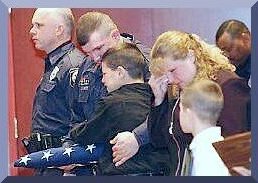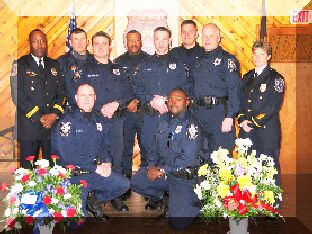 Left to right -
Master Cpl. Dennis O'Connor, the Witte family: S/Cpl. Donald Witte, hugging his son, Christopher, 13; wife, Dajuana, 2nd son, Donnie, 11, & daughter, Ashley.
*Since this service was only 2 hours away from us,
Bob & I attended. A service we will always remember........ We all felt the loss of Pietie even if we didn't know him.
Linda O'Connor & Terry , Dawn, & Marissa Stipa thanks you for all your help with this site
February 19, 2003, Wilmington Police K-9 Department lost K-9 Pietie, a Belgian Malinois. Pietie was undergoing a cat-scan for obstruction in his nose. During a search in a contaminated creek and wooded area, Pietie was in the process of apprehending a second suspect involved in a robbery when a foreign object was apparently lodged in his nose. He had an allergic reaction to the dye used in the cat-scan and went into cardiac arrest. They were unable to revive him. Officer Donald Witte, handler of five years was by his side. During Pietie's five years of service he received four outstanding service citations, and one life saving citation. He was responsible for over 75 drug trafficking arrests, and numerous felony arrests involving guns and stolen cars. Pietie and his partner Donnie were members of SWAT. Pietie was also North American police work dog certified and Eastern Police K-9 certified. He was well known and adored by everyone.



Dennis O'Connor started the Wilmington K9 unit in 1996 with Asko. He became a K9 trainer shortly after. Pietie was one of his first certified Police K-9s. Currently, there are eight K9 handlers in the city. They are a tight group and are all taking the loss of Pietie quite hard. One day while they were training on the third floor of the Police station, Donnie and Dennis turned around and realized Pietie was gone. As it turned out, Pietie got tired of training and decided to leave. He got in the elevator, pushed the button and headed down. The elevator stopped on the second floor, Pietie waited like a gentleman as another officer entered. They rode down together and got out at the parking lot. The officer headed to his patrol car as Pietie headed to his. He was tired of training and ready to get some real work done.


Police dog, Pietie, was cited for outstanding performance during his five years with the Wilmington Police Department. He died Wednesday, February 19, from an allergic reaction to anesthesia. Wilmington police spokesman, Lt. John Snyder said a foreign substance lodged in K-9 Pietie's nose while he was tracking a suspect last month with his partner, Officer Donnie Witte. The unknown substance caused an infection. Pietie was taken to "Veterinarian Imaging" in Ambler, PA to undergo an MRI. While being prepped for the procedure, Pietie had an allergic reaction to the anesthesia and died. Among his many awards, he was honored with a istinguishedService Ribbon for assisting an officer who witnessed a gun fight at 24th & Tatnall Sts. on August 8, 2001. Snyder said Pietie would especially be missed by city children whom he frequently visited at the schools.



Police from 4 states pay last respects to Wilmington K-9 By TERRI SANGINITI - Staff reporter
02/27/2003A procession of 32 police dogs and their handlers filed into the Riverfront Arts Center on Wednesday for a ceremony honoring Wilmington K-9 Piete, who died last week from injuries received in the line of duty. In December, Officer Donald Witte and the 6-year-old Belgian Malinois were tracking two armed robbers into a heavily wooded area. A piece of wood became imbedded in the dog's nose, causing an infection, K-9 commander Lt. Carolyn Henry said. After being injected with dye at Veterinarian Imaging in Ambler, Pa., while undergoing an MRI to locate the foreign object, the dog went into cardiac arrest and died Feb. 19. Wilmington police officials said Piete's death is the first line-of-duty dog death since the unit was formed in 1997. Piete was one of the unit's first trained police canines and had served for five years, spokesman Cpl. Stephen Martelli said. Piete's memorial ceremony was replete with a police honor guard; bag pipes; chaplain's prayers; taps; and tears and accolades from fellow officers. The 11 a.m. ceremony attracted police and city officials, retired police officers and K-9 law-enforcement representatives from 18 agencies throughout Delaware, Maryland, Pennsylvania and New Jersey, including nine dogs from New Castle County Police Department's unit. There were fond recollections of the way Piete used to run sideways when chasing someone, or how he used to bark louder than his handler spoke over police radio. Witte, who got Piete in 1997 when the dog was 16 months old and trained him, sat at the side of the stage with his family. "I know dogs become a part of the family and actually adopt us," Wilmington Mayor James M. Baker said. "For the citizens of Wilmington, this is a tragedy for all of us." Baker bestowed the city's highest award, the Wilmington Award, on the dog. Applause after each speaker triggered barks and yelps from the nearly three dozen K-9 dogs lined up at attention around the room for the hour-long service. Public Safety Director James Mosley presented Witte with a City Council proclamation citing Piete's five years of achievement as a vital part of the city's K-9 crimefighting team. Wilmington police Chief Michael Szczerba ended the service by retiring Piete's K-9 number 3 from the police roster over police radio. "Memorials can be found in many places and at many times, but principally in our hearts," Szczerba said. Master Cpl. Dennis O'Connor, K-9 unit trainer, said afterward that Witte and his family want to get another dog. "In the meantime, I want to get the best dog out there for Donnie," O'Connor said. "Donnie as a police officer is probably one of the best out there." Reach Terri Sanginiti at 324-2771.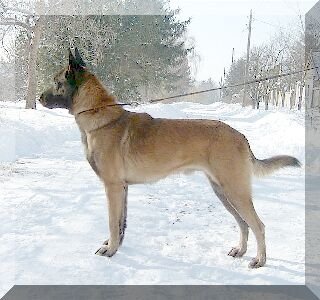 K-9 Jeff will be new partner for Donnie
In Loving Memory of
K-9 PRINCESS
April 12, 2003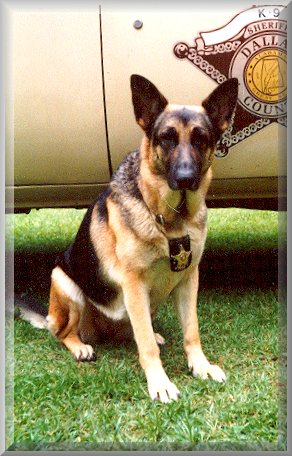 Handler: Deputy Jay Dempsey
Dallas County Sheriff's Office
Orange Beach P.D.
P.O Box 1039
Orange Beach, AL 36561
251 981.9777

On April 12, 2003, 14 year old K-9 Princess died at her home in Orange Beach, AL after a long fight with artritis and cancer. Princess was Jay "Packy" Dempsey's first K-9. He raised her from a 6 week old puppy in Selma, AL where she was certified as a Narcotic dog in 1991 and serviced with the Dallas County Sheriff's Office until 1999. Princes was the recipient of 3 National "Out standing bravery in the line of duty' awards, placed in the top 20 fives year in a row at the National Narcotic Detector Dog Association National Competitions, and received 2 officer of the year awards. On Dec. 7, 1994, Princess save the life of Officer Dempsey and subsequently "in the line of duty' produced a video for officer survival training.
---
In Loving Memory of
K-9 POPEYE
May 21, 2003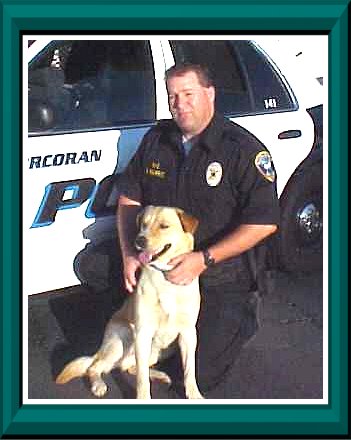 Handler: Officer John Harris
Corcoran Police Department
1031 Chittenden Avenue
Corcoran, California 93212
559 992 5151
Randall W. Leach, Commander
Popeye came to the Corcoran Police Department April 29, 2002 and died May 21, 2003.
He will be missed by the department and the community.
Corcoran police mourn loss of drug sniffing K-9
Popeye, a male yellow Lab, came to the Corcoran Police Department April 29, 2002. Officer John Harris and Popeye started their partnership literally sharing the same motel room while they completed an intensive five weeks of training. Once their training was complete they reported for duty and spent the next year working a night shift and doing what Popeye and Officer Harris did best, they found illegal drugs and made arrests. Popeye and Officer Harris were a familiar sight in our community of 10,000. Many a time youngsters would yell out Popeye's name as the black and white patrol car passed. Officer Harris would take the time to stop and get Popeye out of the car on leash and let the kids pet the playful yellow Lab. Then it would be back to what they were trained to do, detect illegal drugs and work to rid our community of the drugs that plagued so many communities all over the country. Popeye was a very effective detection dog and had his share of success searching for and locating drugs. He was trained to locate Opium, Marijuana, Methamphetamine, Cocaine and Heroin. During Popeye's career he found it all. He built a reputation that was well known throughout the surrounding several counties and to his credit Popeye was specially requested by outside agencies to assist in the service of search warrants on several occasions. Popeye loved to work. To Popeye work was fun. He would become noticeably excited when his handler would approach his kennel wearing his uniform. To Popeye that meant he was going to spend the day being asked to do what he loved to do, search for drugs. Sadly, on May 21, 2003, Popeye's career was ended prematurely. He died as a result of heat exhaustion due to an unfortunate, unforeseen equipment failure. He succumbed at the veterinarian's office, having been rushed there by his caring partner, however nothing could be done and Popeye passed away early that evening. Popeye will be missed by many.
submitted by Jim Cortina, CPWDA Dir.