In Loving Memory of
MWD NERO USAF
April 1, 2003 (Kuwait time)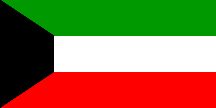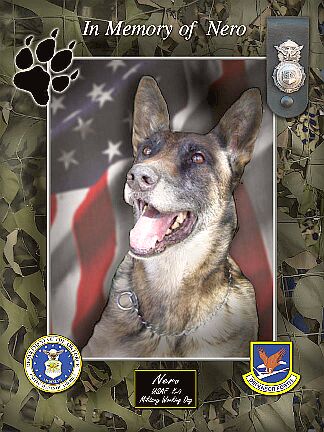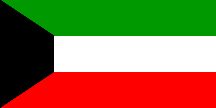 Handler: SSgt. Kelly Bales

I have some information on the Military Working Dog Nero you have posted on your site. I was the Kennel Master in Kuwait in charge of the dogs. Nero and his handler worked for me for 3 months. I just wanted to fill in some missing information: Nero Die on 1 April 2003 Kuwaiti time. Kuwait is about 7 hours ahead of the east coast. The handler of Nero was SSgt Kelly Bales. The team was deployed to Kuwait from Tinker AFB, OK. I have provided a picture of a filed cross we put out in front of the kennel. There is a K9 Nero tribute on my organizations web page. www.scwda.org If you have any other questions please feel free to email.
Jason Campbell
It is with sympathy, I announce the passing of one of our own on April 1st. Although a K-9, I've have the opportunity to see NERO in action many times at the search pit. His main job was to provide early detection on explosives in the event the 'bad' guy attempted to bring onto the compound. Nero searched many people, equipment and vehicles while assigned her. In just two months, he and his partner would have transferred to South Korea for another tour. NERO was working at Kuwait City International Airport, the major land port where airplanes bring troops and equipment into the country. He wasn't feeling good and they rushed him to Camp Doha where the local vet works. After several hours of emergency surgery, they were unable to save NERO.
The cause of death was bloat. His spleen knotted up. After further review, the vet found cancer had struck and all were amazed he was still working. This just goes to show how hard these dogs work for their country and will work till the end.
You know there is some history to the name NERO. A dog named NERO on Christmas Eve, 1966 while working post with his handler alerted and they sounded the alarm to help stop an infiltration of Tan Sa Nut AB during the Vietnam War. NERO was wounded along with his handler. NERO was brought back to the States and used for the recruiting of dogs. He lost his eye.
Kuwait City, Kuwait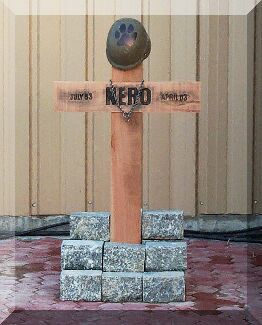 ---
In Loving Memory of


K-9 NUTZ


October 3, 2003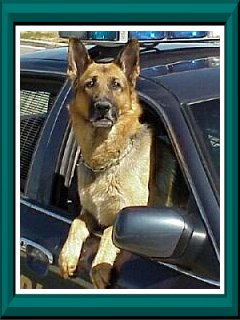 Handler: Officer Jeff Herro
New Berlin Police Department
Public Safety Building
ph: 262 782 6640
13600 West National Avenue
New Berlin, WI 53151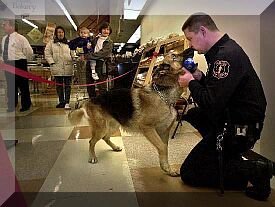 New Berlin - Nutz the police dog drew national attention three years ago when he scared off a would-be burglar at a kennel, then rewarded himself by raiding a nearby Waukesha Sentry store and feasting on a $30 rib roast.

Police Nutz and his handler, New Berlin Police Officer Jeff Herro, visit with Sentry Foods customers after his misadventure in 2000. The German shepherd, an eight-year veteran of the New Berlin Police Department, is also being remembered by officers as a strong force in narcotics investigations, having sniffed out close to $100,000 in drugs and money during his service. Nutz died Oct. 3 after his handler, Officer Jeff Herro, took him to an emergency veterinarian the evening of Oct. 2 with stomach torsion, a condition in which a dog's stomach twists, cutting off blood flow. According to police, surgery was performed at 2 a.m., but after Herro later consulted with the department's regular veterinarian, it was determined that Nutz's condition would not improve. "Jeff then made the decision of letting his partner go at 5:45 a.m. so he wouldn't suffer anymore," Sgt. Joe Volz said in a statement about Nutz's death. The Police Department recently finished a community fund-raising effort to replace the department's two aging K-9 Unit dogs, Nutz and another German shepherd, Niko. About $20,000 was raised - more than enough to purchase two dogs. In a coincidence Volz called "bittersweet," the new dog, Bac, finished his obedience and tracking training on the same day Nutz died. Nutz gained notoriety in March 2000 when at age 8, he scared off an intruder at a pet motel where he had been staying while Herro was on vacation. New Berlin's police dogs live with their handlers, who continuously train and care for the dogs. After thwarting a robbery at Best Care Pet Motel in Waukesha, Nutz escaped from the kennel and made his way to the Fox Run Sentry grocery store nearly 2 miles away. Nutz bolted through a delivery door and ran straight to the meat counter, where he was caught on store security cameras munching on the pricey roast. Chased off by store workers and a deliveryman, Nutz was later found about a mile away. The dog made national news after his adventure and also appeared on the television news magazine show "Inside Edition."
Nutz "had the delicate nose that could pick out the best cut of meat from the butcher shop display," Volz said in the statement, alluding to the Sentry incident. But Volz and Police Chief Gary Blunt said New Berlin police will also remember Nutz for more than his 15 minutes of fame. "He was a beautiful animal," Blunt said. "He really was a nice size, and he was a very intelligent dog, from what I remember working on the street with him." Volz said dog-handlers such as Herro develop a strong, emotional bond with their canines, and that for Herro, letting his partner go was "one of the hardest (decisions) he will ever have to make." "He goes to work with you, sleeps at the foot of your bed and puts in countless hours of training with you," Volz said. "You basically spend more time with this animal than you do with any other member of your family." New Berlin's new police dog, Bac, will be introduced to the community on Tuesday during a 7 p.m. Common Council meeting at New Berlin's City Hall, 3805 S. Casper Drive. Wisconsin. submitted by Jim Cortina
---
In Loving Memory of


K-9 NICO
November 4, 2003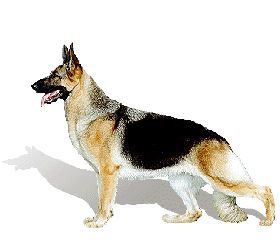 Handler: Linda Binkley
Main Office: Snohomish Sheriff Office
3000 Rockefeller, M/S 606
4th Floor, Courthouse
Everett, WA 98201
Phone: (425) 771-0200
or bard@ci.edmonds.wa.us.

Wayward WA K-9 is Euthanized; A Sad Story Edmonds, Washington - 11/5/2003 - SEATTLE TIMESA longtime police dog with a reputation for biting innocent people was euthanized last night. Nico, an 8-year-old German shepherd, was removed from its handler Oct. 24 and quarantined by the Snohomish County Sheriff's Office. On Oct. 23, the dog had escaped from a backyard kennel at Edmonds Police Officer Linda Binkley's house in Marysville and attacked a jogger, said Snohomish County Sheriff's Office spokeswoman Jan Jorgensen. Binkley was not home at the time and is not being disciplined, Stern said. Jorgensen said the female jogger sustained substantial injuries to her legs, shoulder and back. The jogger was the fifth person Nico had bitten disobediently since 1997. Stern said yesterday that he decided to euthanize Nico after the dog's veterinarian said the animal was likely to continue to attack innocent victims. Jorgensen said Nico's routine quarantine ended last night. Stern said yesterday he expected the dog to be euthanized immediately afterward. Joe Bennett, an attorney representing two of the five dog-bite victims, has filed claims with the city of Edmonds disclosing his intention to file civil lawsuits on behalf of his clients. When Bennett heard that Nico was being destroyed, he angrily said that the dog was "erratic" and the department should have addressed its biting well before the most recent attack. Edmonds Police Chief David Stern said yesterday he could not respond to Bennett's complaint because the incidents are likely to be the subject of legal action. In April 1997, Nico bit a 10-year-old girl outside Binkley's former Everett home after the officer briefly left the dog unsupervised, according to an Everett police report. In January 2000, Nico bit Lynnwood police Officer Al Correa's leg instead of a fleeing suspect. Binkley and Nico had been called in to help Correa. Bennett said that in April 2000, Nico bit a 15-year-old Marysville girl in the thigh as she was walking through Binkley's new neighborhood in Marysville. Binkley was with the dog in her front yard at the time. The girl, who is now 19, has filed a claim with the city saying she intends to sue. In March 2001, Nico bit Edmonds Community College student Adam Taylor 10 times in his legs as he tried to turn in a term paper. Taylor, who suffered permanent scarring, had no idea police were doing a training exercise on campus, Bennett said. Taylor filed a claim with the city at the end of 2001. "These were accidents waiting to happen," Bennett said. Monroe police Sgt. Eduardo "Ed" Jany said yesterday that he and his police dog, Chico, have trained with Nico and Binkley. "I've never seen anything that would send up a red flag with that dog,"
Jany said. submitted by Jim Cortina -- no more info on this sad story.
---
In Loving Memory of
K-9 NERO
December 27, 2003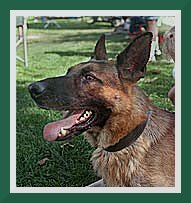 Handler: Deputy Gooler badge #935
Sacramento Sheriff Department
711 G . St. - Sacramento, CA 95814
916-874-5115
webmaster@sacsheriff.com
CA K9 Nero Dies After Rollover During Pursuit Dateline: Sacramento - 12/28/2003 - SACRAMENTO BEE
Nero, a 5-year-old German shepherd working as a police dog with the Sacramento County Sheriff's Department, was killed in a
vehicle accident early Saturday during the pursuit of a stolen car.
Sgt. Lou Fatur said Nero was in a patrol car with his deputy sheriff partner, who apparently lost control of the car around 12:45 p.m. near Marysville and Elkhorn boulevards in Rio Linda. Fatur said the vehicle rolled over several times, and Nero was ejected. The deputy, who was wearing a seat belt, sustained minor injuries and was taken to Mercy San Juan Medical Center. Nero was taken to an emergency veterinarian but later died. Fatur said the name of the veteran officer involved in the accident is being withheld. "He's really upset over this," Fatur said. Nero had been with the Sheriff's Department and his partner for more than four years. Fatur said a memorial service for Nero is planned. Nero at the Western States Police Canine Association trials.
UPDATE
Hundreds of local law enforcement gathered Wednesday to honor a K-9 officer killed while on duty.
The Sacramento County Sheriff's Department paid respects Wednesday to "Nero" -- a 5-year-old German shepherd. Nero was killed 10 days ago, when a patrol car rolled over on the way to a call. "They're one of the most important, next to our officers, programs we have. When you lose one, it's like losing a member of your family," said Sheriff Lou Blanas. Nero had been with the Sacramento Sheriff's Department since 1999. The deputy he was assigned to survived the accident with only minor injuries.
submitted by Jim Cortina,Dir. CPWDA & Carrie
---
In Loving Memory of
K-9 NIKO
January 2003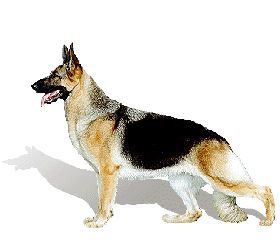 Handler: Senior Officer MacMarin
Huntington Park Police Dept.
6542 Miles Ave.
Huntington Park, CA 902555-4386
313.584.6254

We lost another police service dog the other night. It happened suddenly while the handler and dog were at work. The dog collapsed and stopped breathing. We are not sure why yet. The dog had not had any previous medical history of concern. The handler, Senior Officer Mac Marin, started CPR and I drove him to the veterinary hospital. We arrived quickly, but the doctors were not able to bring him back. Niko was only a 7 years old German Sheppard. He was the most experienced dog we had. NIKO is a German Sheppard selected for our department and imported to this country from Germany. NIKO was currently trained for patrol services and in narcotics detection. He will be sorely missed.
Sgt. Neal Mongan
Huntington Park PD
Huntington Park Police Canine Officers Association
P.O. Box 1027
Huntington Park, CA 90255
---
In Loving Memory of
K-9 NARCO
March 24, 2003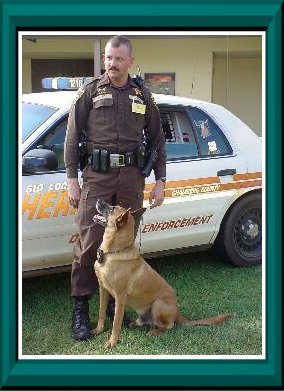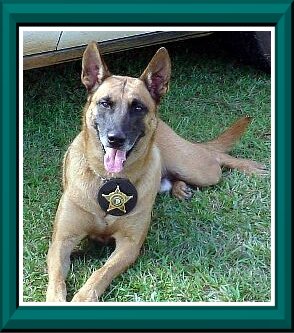 Handler: Sgt. Mike Parrish
Chambers County Sheriff's Department
Chief Deputy C.M. Williams
Chambers County Sheriff's Department
2 Lafayette Street - Lafayette, AL 36862
(334)864-4333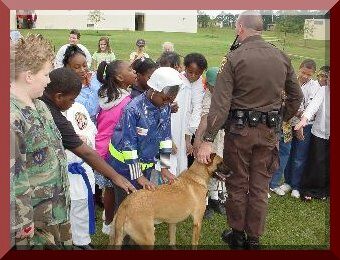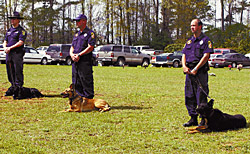 Narco visiting students - - - Graveside funeral services K-9 Narco 3/27/03
Chambers County Sheriff's Department K-9
K-9 Narco killed in the line of duty By From staff reports - Valley Times Staff Writer
Lafayette -- The Chambers County Sheriff's Department reported this morning that it received a call around 12:30 CST Monday from a man who owns property in the Post Oak Fork community in a rural area of the northern section of the county. He said that he'd observed a pickup truck in a wooded area behind an old country home that's used as a hunting camp. He reported a strong chemical odor at the home site, a sheriff's department official said. Sheriff's deputies, including Sgt. Mike Parrish and K-9 partner Narco, and Chambers County Multi-jurisdictional Drug Task Force officers responded to the scene. Upon their arrival, three men attempted to flee. Parrish instructed them to halt, and when they refused to do so, he released Narco in an attempt to apprehend them. It has been reported that one of the suspects, who has been identified as David Franklin Cotney, 30, of Valley, fired a 12-gauge shotgun killing the canine officer. He then attempted to turn the weapon on Parrish before being subdued and taken into custody. The sheriff's department reported that the two other suspects fled into the woods and reported that officers from several law enforcement agencies cordoned off the area. The spokesman reported that a helicopter was requested and dispatched from the Alabama Bureau of Investigation Aviation Unit to perform an air search and reported K-9 tracking units were sent from the Lee County Sheriff's Department and the Opelika Police Department to aid local law enforcement agencies in the ground search. He said that tracking dogs located a second suspect, who was covered with leaves and limbs in a brush thicket cover in an attempt to evade discovery by the helicopter unit. Allen Lee Nelson, 34, of Valley was then taken into custody. Law enforcement officials learned the identity of the third suspect, Jonathan Boyd Weldon, 26, of Lanett who was spotted in Valley later that day and was recognized as one of the suspects. The Valley Police Department was notified, and following a high-speed chase that ended in the Cleveland Road area, Weldon fled and eluded capture. The sheriff's department took him into custody at a residence in the West Point Lake community of Booger Hollow. All three suspects are currently incarcerated at the Chambers County Detention Center and face charges of killing a police dog, attempted murder and unlawful manufacture of a controlled substance first degree. A spokesman reported that an illegal drug lab was located behind the old home site. A sheriff's department spokesman said funeral and memorial services for Narco will be held sometime on Thursday, March 27.



Bridges honors drug dog Narco's memory By From staff reports Staff Writer March 26, 2003 10:34 AM EST
CUSSETA-State Rep. DuWayne Bridges honored the memory of a Chambers County drug dog killed Monday in the line of duty. The dog, named Narco, was a community favorite, beloved of children and senior citizens throughout the area. He was killed when a suspect shot him during a successful drug raid in a rural area in northeast Chambers County. "All of us who had been around Narco loved him and were saddened to hear of this tragedy," Rep. Bridges said. "It's most important, though, to recognize the sacrifices that are made by the men and women who work so hard to keep the scourge of drugs off our streets. The gunshot that took Narco could easily have done the same to a Sheriff's deputy or a police officer. I am pleased that the three individuals were captured and will be brought to justice." Rep. Bridges said he's pleased that a ceremony will be held Thursday to honor Narco's service to the community. "Since
I will be unable to be present when the service takes place," said Bridges, "I wanted to let the men and women of the Chambers County Sheriff's Department. I want everyone in law enforcement to know that I respect and honor them and their efforts to protect
our county."



The three K-9 officers and handlers shown above attended Thursday's graveside service of the Chambers County Sheriff's Department's fallen comrade, Narco. The Lee County K-9 Unit, the Opelika Police Department K-9 Unit, the Phoenix City K-9 Unit and a Military Police K-9 Unit were among those attending the service. (Photo -Anne lenn-Holliday)
In Loving Memory of
K-9 NERI
2003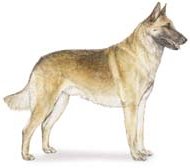 Handler: Officer Kevin Canady
Kinston Police Department
P.O. Box 339/301 E. King St.
Kinston, NC 28502
252 939.3139

K9 partner injured on duty - June 07, 2003 Karen McConkey Staff Writer


Law enforcement officers will vow that covering your partner's back is an unspoken code of the police brotherhood. Kinston K9 Officer Kevin Canady and his partner, Ringo, learned firsthand how strong the brotherhood bond is. Ringo fought off an attacking pit bull while Canady was searching for a shooting suspect's weapon in the 300 block of North Adkin Street.

"He was trying to protect me, the other officer and himself," Canady said while scratching the ears of his four-legged partner.

Canady and Ringo were scouring a block of Adkin Street, looking for a weapon police believed was involved in an 11:35 p.m. shooting of 20-year-old Aaron Eugene Landers of 816 E. Gordon St. After questioning residents about loose or possibly dangerous dogs, Canady took Ringo to the backyard of a house where the shooting suspect, 19-year-old James Lee Ivan Walls, had been arrested about 2 a.m. in connection with shooting Landers.




While in the backyard, a pit bull next door lunged at Canady

and Ringo, broke down the fence and attacked the K9. The pit bull was chained in its owner's backyard, but the chain was long enough to allow the pit bull to go through the fence, Canady said.

"I tried to separate the two dogs," Canady said. "When I couldn't pull them apart, I shot the pit bull."
Ringo's injury was minor. Dr. Ray Randall is treating him for the bite wound and making sure the energetic dog has no other injuries.


On Monday, it was back to the beat as usual, as far as Ringo was concerned. "He's wide open," Canady said.


Ringo is a 3 ½-year-old Belgian Malinois. He arrived in Kinston in June 2003. He replaced

K9 Officer Neri who died three months earlier during surgery for a chest infection.


Kinston Public Safety Chief Greg Smith commended Ringo for his bravery.
"He stood his own against a 100-pound pit bull," Smith said. "We're proud of him."
submitted by Jim Cortina, Dir. CPWDA