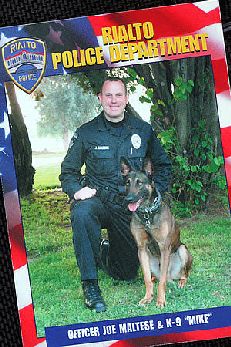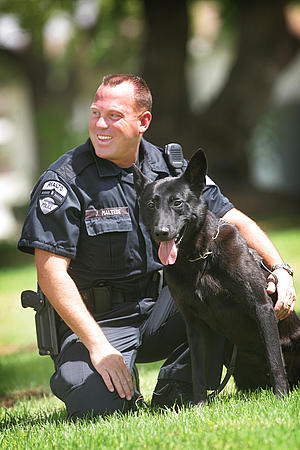 Handler: Officer Joe Maltese
Rialto Police Department
128 N. Willow Ave.
Rialto, CA 92376
Dogs may be man's best friend, and one could make the case that police dogs are an officer's best friend. In Rialto, a group of volunteers has made it their mission to be the officers' best friend -- human and canine alike. Friends of Rialto Police K-9s, a nonprofit organization formed in 1986, buys dogs for the department and pays for their training and equipment. It's the sort of community support that Rialto Police Chief Mark Kling says is rare in law enforcement circles.
Community Support
Few police departments can boast that a charitable group covers a crucial part of their budget, he said. In Rialto's case, that would be Casper, Robbie, Gilley and Smoky, the Police Department's furry four-legged peacekeepers. Friends of Rialto Police K-9s purchased all four, with Smoky the newest recruit.
It was a bittersweet turn that brought Smoky to the Rialto Police Department. He replaces Mike, a brown Belgian malinois that joined the force in June 2003. But last December, a veterinarian discovered that Mike had cancer. The dog's handler, Rialto police Officer Joe Maltese, took him out of service so he could spend his remaining days taking life easy.
Mike died three months later.
Friends of Rialto Police K-9s wasted no time finding a new partner for Maltese, and in June he and Smoky began six weeks of training. He became Rialto's newest patrol dog in July. Maltese said he sometimes slips up and calls him Mike, the memory of his first canine partner still fresh.
Sad Farewell
In December, Maltese and Mike, who was trained in narcotics detection, were serving a search warrant when the dog found a large amount of methamphetamine and cash in a closet, Maltese said. "He ran off just fine, but he came back limping to me," the officer recalled. "A day later, he was still limping." The doctor took X-rays, and the diagnosis came on Christmas Eve. Mike had osteosarcoma, or bone cancer, in his right hind leg. "That was his last arrest," Maltese recalled. "For several weeks he rode with me, but I didn't deploy him." The veterinarian prescribed pain medicine for Mike and warned Maltese that the osteosarcoma would make the dog's bones brittle."On March 31, we put him down because he broke his leg the night before," Maltese said. "It was probably the hardest day of my life."
Dog's Happy Place
Friends of Rialto Police K-9s covered the veterinary costs, including euthanizing Mike. "I asked (the doctors) if they could put him to sleep in the back seat of my patrol car," Maltese said. "I thought it was best to put him down where he was happiest." Maltese took the body of his 75-pound partner, who turned 8 a month earlier, to Gateway Pet Cemetery in San Bernardino. The Friends group picked up the tab for Mike's cremation and gave the ashes to Maltese. "They're at my house, on a shelf in my office," he said. It's the final remnant of the bond the officer and his dog shared, on duty and at home, for almost five years.
Drilling for Fun

It was a loss that muted an otherwise joyful season in Maltese's family -- the birth of his second child, a son, occurred the month before. Mike loved police work, especially the search drills to warehouses and residential neighborhoods that Maltese devised each week. He recalled the time a Rialto police officer lost his badge during a foot chase through a vacant field on Foothill Boulevard.
Police combed the area but couldn't find it. Mike took up the search and quickly located the badge, Maltese said. During his first week on the job, Mike assisted in a robbery investigation at a convenience store parking lot on Riverside and Merrill avenues. The fleeing robber tossed his gun and the victim's car keys, but Mike found them in tall bushes. "You put a lot of trust in these dogs," Maltese said. "You count on these guys to save your life, to find the bad guy."


Two Dozen Dogs

Greta Hodges, president of the friends group, estimated the group has purchased 26 dogs for the Rialto Police Department over the years. Most come from Adlerhorst International Police K-9 Academy, a 7-acre training facility in Glen Avon, in Riverside County. Dave Reaver, co-owner with his wife, Pip, opened the business in 1976. Reaver was a reserve officer for Fontana Police Department and a reserve deputy with the Riverside County Sheriff's Department between 1977 and 1998. "All of our staff are retired policemen and dog handlers," Reaver said. He travels to Europe every month, purchasing the dogs from Holland, Belgium, Germany, the Czech Republic and Slovakia and shipping them back to California.
Close to Home
Each time the Rialto Police Department needs a new dog, a canine officer and a representative from the friends group go to Adlerhorst to make the selection. Then the dog and handler train at Adlerhorst -- "eagle's nest" in German -- five days a week, eight hours a day, for six weeks. In the early years, Friends of Rialto Police K-9s supplied the department only with equipment for its police dogs. In 1990, the group purchased its first dog, Sammy, Hodges said. The Police Department needed to replace a dog named Enzo, who was becoming so arthritic that his handler had to pick him up and put him in the patrol car, Hodges said. "The city didn't have the money to buy a new dog," Hodges said. "We love our officers, and we would go to bat for them any day of the week." Each time Rialto needs to replace an ill or aging police dog, the 145-member group raises the $9,500 tab. They issue each Rialto canine a metal police badge -- worn on its collar for community functions, but not on duty -- and provide them with bulletproof vests and booties to protect their paws if they have to walk through debris, Hodges said.
After a dog masters patrol duty, the friends pay the $3,800 cost to send it to narcotics detection training. The group also covers the expenses for Rialto's canine teams to travel to police dog competitions, Hodges said. Reach Mary Bender at 909-806-3056 or mbender@PE.com
by MARY BENDER The Press-Enterprise