In Loving Memory of
K-9 LUKE
February 20, 2003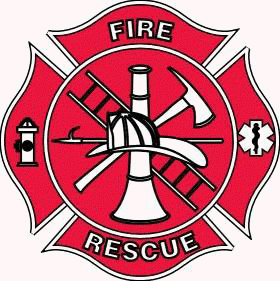 Handler: Deputy Chief Garry Ashdown
Canine Accelerant Detection Handler
Ulster County Arson Task Force
147 Green Street - Kingston, NY 12401
Mailing Address: PO Box 3486 - Kingston, NY 12402
Phone: (845) 340-8629 - Fax: (845) 331-1623
E-mail:

This is Luke on his graduation. He was a 3-1/2 years old black Labrador retriever whom I had the distinct pleasure of being his handler for the last 2-1/2 years. Luke was a stray picked up in October of 2000 and was found by New York State Canine Accelerant Detection Head Trainer Michael Knowlton. Mike had turned Luke over to me on December 12, 2000 to bond for 2 months prior to the start of the NYS Canine Accelerant Detection School. We began our training on February 12, 2001 and graduated with honors on April 14, 2001. During Luke's brief life, we were able to gain a conviction after trial for an arson fire in Orange County in September 2002. No one could have been more proud of Luke than I was. His life came to an end on February 20, 2003 after Luke was let out for his morning run and disregarded his training to stay out of the road and was struck by a minivan. I was able to run and be by my partner's side for the last few minutes of his life and tell him how much I loved and respected him. He will be GREATLY MISSED by my daughter Megan and son Jeffrey. My wife, Sherie, was extremely fond of him and I am totally devastated by his death. I will always remember my pal who taught me patience and the love I'll always have for him. God Bless You Luke....Daddy will always love you......


Garry is going back to dog school in August 2003. He will be back online in Sept 2003.
---
In Loving Memory of
K-9 LEXX
February 11, 2003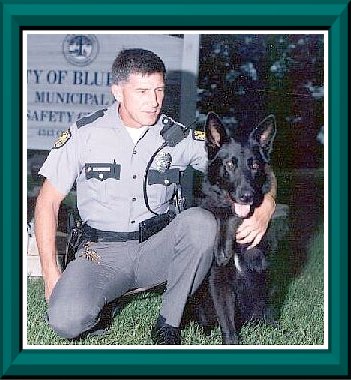 Handler: Officer Dave Julien
Blue Ash Police Department
4343 Cooper Rd. - Blue Ash, OH 45242
Phone - 513-745.8559
Chief of Police Chris Wallace
Officer Dave Julien of the Blue Ash Ohio Police Department lost his K9 Lexx on Tuesday to cancer. I learned about Lexx who died of cancer, from the other Blue Ash Police Department K9 handler, Sgt. Dennis Boone. He is the K9 supervisor, however, he works 3rd shift. I will try to obtain a picture and his service record for the memorial and send it to you. I visited the web site and was very touched. My deepest sympathies on your loss, I have also felt this pain that has taken part of me. Thank you for caring and remembering the unselfish ones.
Your friends , Joe DiPietrantonio & Axel - Norwood Police Department.



P.S. I have a poem that I acquired when I had my first partner Atlas. This is also to honor of LEXX
AM I WORTHY?
I met him as a young man, I was far beyond my years.
I met him with his mom and dad, his life was just beginning
His ruffled hair and dark mischievous eyes told me his story
and my love for him bloomed when he kept licking my face.
I thought, can this trusting puppy be what I want?
Then I thought,
AM I WORTHY?
I kept thinking of the token words "Protect & Serve."
I looked at this tiny forlorn fluff of hair, could he do that?
My doubts and fears would quickly disappear.
His strength and intelligence amazed me.
How could this small animal out do a worldly man
like myself, I had a lot to learn.
AM I WORTHY?
I thought training him cannot be this easy,
he showed me how easy it was
Couldn't I just realize that he knows exactly what I want.
He made me proud,
and I wondered as we worked together
what he thought of me?
AM I WORTHY?
So many jobs we have done together.
the bad guys we have captured,
and the good guys we have found
The praises we have sought,
and the ridicule we have met.
AM I WORTHY?
Time goes by so quickly, we are both a little older now
and not so lively in our step.
It's a little frightening how rapidly our lives pass by
A boy - A puppy - A man - A dog
I start to think about retirement.
Does he think about his death?
AM I WORTHY?
We've had such a short time together,
his lifetime is a shining star in mine
I try to show him all I know, he ends up teaching me.
AM I WORTHY?
It's time. I tell him he's older now and must stay home.
I have called in sick - he never has.
AM I WORTHY?
While I am gone, he guards the house.
He never feels the pain.
He meets me at the door as if to say,
"I am glad you made it on your own."
AM I WORTHY?
The vet tells me there's no hope,
I cry and pray that he is wrong.
My wife tells me he died in his sleep.
I know he never slept on duty.
AM I WORTHY?
I bury him in the backyard, a place he called home.
I wonder if he thinks it just another place to
"Protect and Serve" and I wonder...
AM I WORTHY?
What can I ever do in my lifetime
to deserve what I have known?
His wagging tail, his eyes,
his love say more than I can ever share.
AM I WORTHY?



by: Joseph McPeek, 9/29/84 Eric county Sheriff's Dept. OHIO
In Loving Memory of
K-9 LILY
2003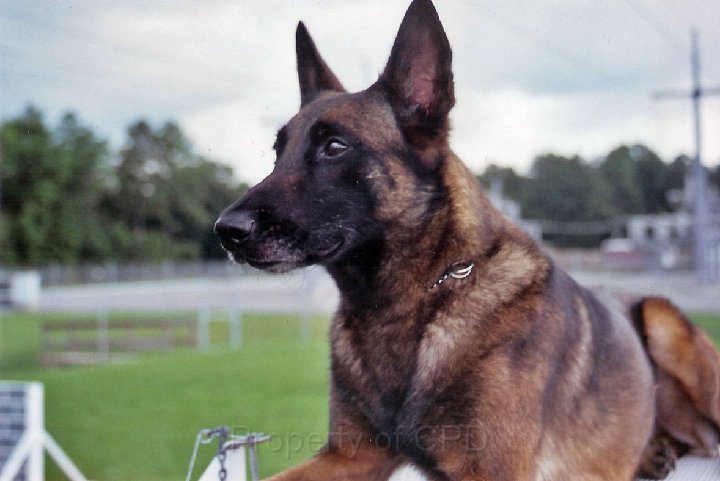 Handler: Officer Darin Hicks
Columbia Police Department
1 Justice Sq
Columbia, SC 29201
(803) 545-3500
Lily was still in training hanged in kennel with leash, accident submitted by Dusty Simon
In Loving Memory of
K-9 LUCKY
October 01, 1992 - November 10, 2003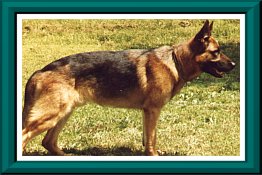 Handler: Brett Simon
Miami Township Police Department
5900 McPicken Drive
Milford, Ohio 45150
My retired dog named, LUCKY had to be put down due to cancer.
Lucky was my first K9 partner. He who was a dual purpose police service dog , patrol and narcotics. Lucky worked the street for four years before being injured during and apprehension and had to be retired. I had to put him down today due to cancer.
He was eleven years old.
Lucky was awarded:
Three letters of commendation:
Act of bravery award,
Voted the 1997 Hero Animal of the year in the state of Ohio for saving a man's life.
Brett & Lucky
UPDATE
The Canine Unit was established in 1997 and consists of Officer Brett Simon with Canine Czar and officer Bob Rose with Canine Nico. Both Canine Teams are certified through the Ohio Police Officer Training Academy and have received advanced training in narcotic detection, tracking and patrol techniques. Both teams receive training on a weekly basis to maintain peak performance from the canines. The units have patrol cars that are specifically adapted for canine use. They have dark tinted windows and a modified airflow system to aid in reflecting sunlight and maintaining desirable cooling capabilities. The cars are equipped with remote controlled door openers to allow the dog to exit the vehicle without the Officer returning to the vehicle. The vehicles are equipped with training bite sleeves, muzzles, leashes, and various other equipment used during training and work related functions. The Canine Units were utilized by several outside agencies for tracking, drug searches and building searches. Their success rate in finding narcotics has been remarkably high. They were also very successful in tracking and apprehending suspects in various criminal activities. The Canines were also utilized for demonstration and educational purposes including the criminal justice program at the University of Cincinnati, Clermont College.
---
In Loving Memory of
K-9 LEX
November 12, 2003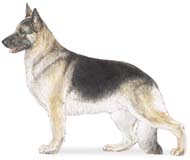 Handler: Officer Fred Cass
Stephenson County Sheriff Department
15 No. Galena Ave.
Freeport, IL 61032
815.235.8252
On November 12, 2003, Officer Fred Cass has lost his K-9 Partner, LEX from Pancreatic Cancer that came on extremely quickly.
Sincerely ,
Scott Wernet & K-9 Dux - Stephenson Co. Sheriff Dept.
Stephenson County is in the north-western part of Illinois. K-9 Lex was a retired Freeport Police dog (retired about 1 yr) and his handler Fred(Brian)Cass took him. Fred had recently went to another police department (Lena, Illinois). Lex was living with Fred and became sick on Sunday. He didn't get any better and was put down on 11-12-03 approximately 12:45 PM.