In Loving Memory of


K-9 KELLY


September 16, 2003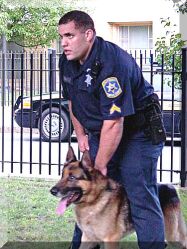 Handler:
CPL Christopher Boujoukos
Suffolk County Sheriff's Department
20 Bradston Street
Boston, MA 02118

From the time I first met my husband, all he ever wanted was to be a K-9 Officer. He finally was granted his wish about 3 years ago. He received a great Czech shepherd named Kelly. Kelly was a moody and miserable dog at first, who only enjoyed my husband's company. After a while, though, he started to love our whole family. I couldn't believe the transformation in this animal. My husband enjoyed his job greatly and most of all, loved Kelly. Kelly finally got his first big drug hit which was 2 1/2 pounds of marijuana just a few short months before he died. He had bloat, and because of complications of his surgery, he died in September, 2003. I was so unsure of how to deal with my husband's and my own loss. I wrote a poem for my husband this year at Christmas time, and had it made into a plaque for him. My husband's name is Christopher Boujoukos. He is a Corporal with the Suffolk County Sheriff's Department in Boston, Massachusetts. I have attached an excellent photo of my husband and Kelly that was taken shortly before his death at a demonstration for some inner city kids in Boston.


DON'T CRY FOR ME (A tribute to K-9 Kelly)


Don't cry for me, because I'm still here




Sometimes I whisper that in your ear.




A K-9 partner for you, a friend for me




What a match we had begun to be.




So many times with you I'll never forget




You made me a Deputy and also a pet.




I worked hard for you all the while




Nose to the ground, tracking for miles.




I wore my badge with a sense of pride




Waiting to find the perfect hide.




A love for the job through and through




I would've laid down my life for you.




Training together day after day




Work for you, for me just play.




I was invincible with you at my side




A strong personality I couldn't hide.




The sickness that took me, I tried to fight




Who would ride with my partner at night?




I'm sorry to leave you and take a final fall




You tried to save me, you gave it your all.




Don't cry for me, because I still roam




It was just my time, God called me home.


Author: Jennifer Boujoukos
---
In Loving Memory of
K-9 KEEYA
August 11, 2003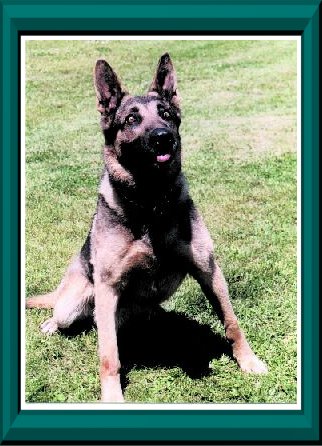 Handler: Deputy Terry Boltjes
Mille Lacs County Sheriff's Department
640 3rd Street SE
Milaca, MN 56353
Times photos by Dawn Slade Keeya waits patiently for instructions from his handler.
The photo was taken a few days before he was put to rest. submitted by reporter, Dawn Slade, TIMES

K-9 Keeya is gone, but his service to the community will not soon be forgotten. The eight-and-a-half-year-old German shepherd was put down on Monday, July 7 due to a spinal disease known as lumbosacral stenos is (a fairly common acquired or congenital problem in shepherds that deadens the nerves to the hind legs). The Mille Lacs County Sheriff's Department had an excellent K-9 for seven years, who helped put away quite a few criminals. He sniffed out drugs, stopped bad guys from fleeing police, and tracked down missing persons. Keeya's track record consisted of 13 criminal apprehensions, 12 criminal apprehensions through presence, numerous suspect tracks and building searches, dozens of narcotic finds and well over a dozen felony drug arrests. Leroy Lassard was Keeya's original trainer and handler. He began working with the dog when Keeya was just 14 months old, then passed the dog on to deputy Terry Boltjes in 2001 before Lassard retired from the force. Sheriff Brent Lindgren praised both Leroy and Terry for their work with Keeya. "That's what made Keeya such a successful part of the K-9 program," he said of the handlers. And though the bad guys may not have pleasant memories of the police dog, Keeya was known to many in the community as a lovable shepherd who enjoyed being praised and having people scratch him behind his years. So many children in the community were touched by Keeya during demonstrations. I saw kids watch with delight as Keeya showed off his talent for sniffing out drugs, "attacking" fellow officers and jumping out of the sheriff's car at the touch of a button when his handler was in need. And it wasn't just the kids, adults enjoyed seeing him in action as well. Keeya performed for school children, Cub Scouts, the sheriff's youth camp and D.A.R.E. programs. Keeya was a smart dog. He knew the difference between the good guys and the bad. He could receive lovin' graciously and enthusiastically one minute and the next he'd be barking like crazy as he worked on tearing off a protective sleeve from the trainer's arm. Keeya was going to retire from the force in August and several people inquired as to who would get to keep Keeya in hopes they might get to bring him home. I was one of those people. But it wasn't really much of a question. Boltjes knew he would continue taking care of Keeya (he wasn't about to let him go). Besides, it's not a good idea for a K-9 to retire with a family unfamiliar with police dogs. "People don't realize, that dog becomes a member of your family," Lindgren said. In June it was discovered that Keeya had a spinal disease and not hip dysplasia as previously thought. Boltjes could only watch so long as Keeya quickly lost the use of his hind legs. So the decision was made to put the dog down. Keeya will now be cremated and his ashes will be buried at the Boltjes' home. "It's a tough time," Lindgren said, "even though there's a replacement dog, there's still a grieving process." So we must say good-bye to a courageous dog that gave his all to help our community in so many ways. He served us without wanting anything in return. Well...except for maybe a treat now and then and someone to throw a ball or dummy for him. Thanks for everything ,Keeya!
submitted by reporter, Dawn Slade
---
In Loving Memory of
K-9 KATA SAR
July 19, 2003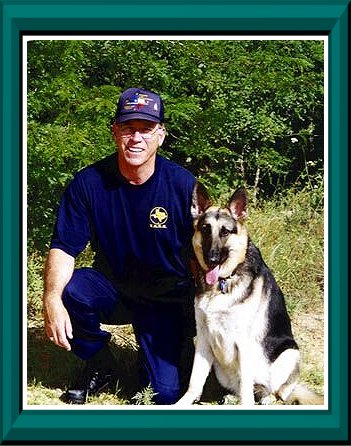 Handler, Ron Patterson
T.A.S.K.
629 Depot St.
Jacksboro, TX 76458
It is with much sadness that we announce the passing of Ron Patterson's K-9 Kata on July 19th from renal failure . Kata and Ron had just passed their first Mission Ready Man trailing Certification on May 24th, 2003 after training for one year. Kata ran a 42 hour old trail in a contaminated area to acquire her Mission Ready status. She was the first German shepherd to pass a TASK trailing certification since 1999. We had been looking forward to good things from Ron and Kata. Ron and K-9 Kata had recently attended a seminar in Arkansas as a representative of TASK. I'll never forget instructor, Lee Weatherall telling the story of asking a team of students if they thought their dog could find a missing runner, Ron was the first to say, "My dog can!" and he meant it! Kata was all he promised she would be and more. We will truly miss Kata at our Sunday night training's. I've enclosed a photo of Ron and Kata taken by his wife Sue. Please remember Ron and Sue in your prayers. It is always sad to lose a good dog and even sadder to lose a dear friend. Kata had recently become ill and for the past two weeks she just wasn't herself. Last Sunday she was still at training though, even though you could tell her heart just wasn't in it. Please join me in extending your condolences to Ron and Sue. Ron displays the true heart of a K-9 handler and has opted to start over. He begins a new with three month old black German shepherd, Greta, that he recently purchased from Tofteinhund Shepherds with the help of trainer, Kimberly Watson and training coordinator, Clyde Watson. We wish them well.
Kim and Clyde Watson
TASK
---
In Loving Memory of
K-9 KODY
Sir Kodiak Bear Von Peine
June 28, 2003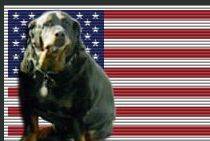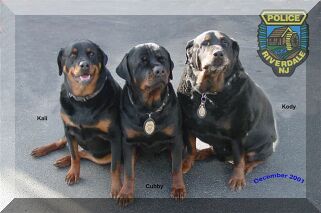 Handler: Sgt. John Peine
Riverdale Police Department
2 Dalton Drive
Riverdale, NJ 07457
973. 835-0034

On May 5, 1999, Elsa gave birth to 10 puppies, five boys and five girls. All but two of Kody's pups have moved out and are doing great with their new families. His son Kodiak's Cub "Cubby" and his daughter Kalispell Montana "Kali" live with Kody and their handler Sgt. John Peine and his wife, Dawn. Cubby and Kali have followed in their dad's paw prints and are both Police Dogs. Cubby is certified in narcotics detection and Kali works in search and rescue. Cubby has taken over Kody's day-to-day police work since his pop is now dealing with diabetes. Kali is not utilized as often in day-to-day police work, but did spend some time at the World Trade Center after the 9/11 attacks. Kody seems to get enough satisfaction on training days giving his kids some pointers and still attending community events.



It is with great sadness that the Riverdale, NJ Police Dept announces the death of its first police K-9, Kody. Sgt John Peine and K9 Kody graduated the Passaic County Police K-9 Academy in 1994. Kody served the police department for nine years in Narcotics Detection. Three years ago, he went into semi-retirement after being diagnosed with diabetes. Kody remained active in educating the children in the DARE program about police K-9 and the danger of narcotics. He will be greatly missed by the department and the children of the borough.
A memorial was held July 5 at Riverdale Borough hall,
91 Newark Pompton Turnpike
Riverdale, NJ
Contact person is Disp. Leaver or Ptlm Quant, 973-835-0034



MORE about KODY
Sir Kodiak Bear Von Peine is his full name. Kody to his friends and Police colleagues. Kody was born in Kinnelon, New Jersey on April 25, 1992. He started training to be a Police Narcotics Dog at 6 weeks of age. He was to be the first Police dog in the history of the Riverdale NJ P.D. Kody received his formal training at the Passaic County Police K-9 Academy under the direction of the Passaic County Sheriff's Department. At 1 ½ years old Kody was certified in Narcotics detection. When he's not fighting crime, Kody appears at local schools, civic events and churches teaching the dangers of Drug Abuse. Kody is a male Rottweiler and weighs in at 150 pounds. In 1998 he met the love of his life, Elsa, is her name. Shortly after meeting Elsa, the couple decided to start a family.
notified by: New Castle PD, DE dispatcher, Dawn Lanham
***************
K-9 Kody's WEBPAGE:
http://www.riverdalepd.org/
---
In Loving Memory of
K-9 KAI
July 18, 2003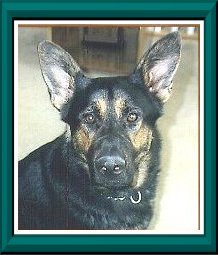 Handler: TSgt. Doug Rollison former Deputy
Leavenworth County Sheriff Department, Sheriff Department
www.leavenworthcounty.org/
Ph: 913-682-5724 - Fax: 913-684-1027
601 South Third Street
Suite 2077
Leavenworth, KS 66048



Kai passed away on Friday, July 18th. He would have been five years old in August. He is missed terribly. Even more so now that I know we will never get to see him again. Kai passed away while Doug is on active duty in the middle east. Cause? Illness, possibly due to a broken heart. Kai was taken from the Rollison family after Doug went on active duty. He served with another handler. His entire life changed; his handler was new, his home wasn't the same, his family wasn't there. The Rollison family was never the same either. They didn't visit him, fearing it would make the adjust even more difficult for both. Doug is a T.Sgt and on his way home, thinking that Kai can return to him on the job and to their family. It will be a mixed emotional home- coming. Kai is the second memorial for Deputy Rollison on this website. He is thinking of giving up the K9 life and looking into another type of work for the department. We wish you well Doug, in whatever you do, whenever you return to civilian life again.
---
In Loving Memory of
K-9 KAISER II
June 23, 2003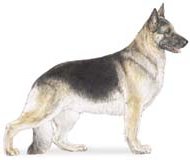 Handler: Officer Ivan Reed
Seville Police Department
6 Spring St.
Seville, Ohio 44273
330.769.4003

He died from a spinal tumor. Seville officer recalls canine partner Kaiser
By BRUCE F. GRIFFIN - Staff Writer-Medina News Gazette
The connection between Patrolman Ivan Reed and his partner on the street, Kaiser, a German shepherd, began when the puppy chose him. "He's the one that came to me, sat between my legs" and when "he looked up at me, I knew this was him," Reed said. Monday, Reed lost Kaiser, 11, to a spinal tumor. "He was on the road with me for five years," related Reed, who's been with the department for 12 years. Kaiser was purchased from a Westfield Township breeder in April 1992. He was 7 weeks old at the time. He started police training in November of that year, trained by former Mogadore Police Chief Tim Wilmuth, and certified as a K-9 dog April 1, 1994. Reed paid for the training out of his own pocket. At the time, the 47-year-old village patrolman said, Kaiser was Medina County's only police dog. German shepherds are known for their intelligence and loyalty. Kaiser's fur was mostly black, with "some red in him. He was a beautiful dog," Reed said. Kaiser was retired from the department several years ago. There are no plans to replace him, Police Chief Kris Weir said. "Maybe at a later date," Reed said. "Right now, it is just a little too hard." Village Councilwoman Leslie Miller, who 20 years ago worked with Reed on the rescue squad, said there would be a service for Kaiser. A date and time has not been announced.
notified by Jim Cortina, Dir. CPWDA
---
In Loving Memory of
K-9 KATIE SAR
May 4, 2003


Handler: Sue Keenan
Dover Brick First Aid Squad
Elizabeth Police Department
328 Emberly Rd.
Brick, NJ 08723

K-9 "Katie" was adopted from Jersey Shore Animal Center in Brick, NJ on 10-5-2000 after spending 15 months there. Because of her high play drive I felt she would be a good candidate for Search and Rescue Work. She went through obedience training and went on to trailing and Cadaver training. In January of 2003 she was diagnosed with Cancer in her Spleen. She went through chemotherapy and continued her training. She attended many seminars throughout her illness; including Marcia and Andy Rebmann's Advanced Cadaver class. Katie was a member of the Dover Brick First Aid Squad with her partner Sue Keenan. Katie had gone through two years of training and was approaching the stages of becoming a Certified K-9. On May 4, 2003 I just returned home from North Carolina with a new K-9 and while introducing "Katie to "Bak"; Katie collapsed and was rushed to Red Bank Veterinary Hospital where she Passed away.

Katie will be sorely missed.

UPDATE


Since I brought BAK home from North Carolina (GSD imported from Czech Republic), we have been training many hours sot get certified in tracking and wilderness air scent. I am also training a Belgian Malinois, RENO who is 10 months old for cadaver work.
---
In Loving Memory of
K-9 KIMRUS
February 21, 2003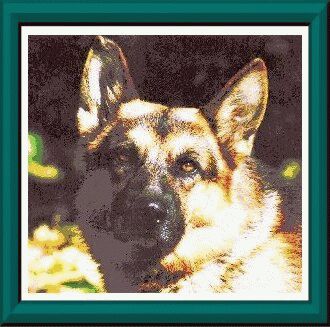 Handler: Cpl. J. David Crockett
Northwood NH Police Department
1020 First NH Tpke, Northwood NH 03261
(603) 942-9101


MY PARTNER
My dog is more than my partner you see,
Because he is a very good friend to me.
He's the nose I don't have, the eyes I have not,
He's one of the best partners most cops isn't got.
Day by day we do what we do best,
His four paws never seem to rest.
He always does whatever I ask,
Seeming to enjoy every task.
I know one day his work will be done,
But for now we can only have fun.
For my dog is more than a partner to me,
My dog is my best friend and he always will be. author unknown

Northwood K-9 dies following surgery BRUNO MATARAZZO Jr - Democrat Staff Writer 332-2200, Ext. 5024
Sunday was a difficult time for Cpl. Dave Crockett to be in his cruiser. It was quieter and lonelier than other days as he traveled on the First New Hampshire Turnpike, a road that he and his partner had driven up and down many times during their five months together. Those days are only memories now, following the death of Northwood Police dog, Kimrus, who died Friday from internal bleeding following surgery for a cyst in his prostate in a Chichester veterinary hospital. "He was my pal, he'd sit in the back of my car and today, I went out there and he wasn't there. He was my best friend, he worked with me, he went to the gym with me, he helped outside to do yard work," Crockett said. Kimrus, in his short time with the department, managed to search for two car thieves in Auburn and rescue two young children who were lost in the woods behind their home in Chichester for almost three hours. Problems began two weeks ago when Kimrus had trouble relieving himself. Crockett brought his partner to his regular veterinarian who didn't see the severity of the problem and gave the Kimrus some pills to help solve his problem. But the problem didn't go away and another veterinarian in Chichester believed that having the dog neutered would solve the problems being caused by the cyst. At 11 p.m. Thursday, Kimrus came out of surgery fine, although a little groggy, but five hours later, more problems began surfacing. He went into toxic shock and began bleeding into his lungs, stomach and intestines and died two hours later at 7 a.m. "They tried everything they could, I know they did," Crockett said. And for the last time, Crockett spent Friday holding and petting the dog he worked hard to bring to the town's police department. Crockett had worked previously with canines, while in the Air Force, and wanted to bring one into the department since he joined. Crockett worked to get a drug and patrol canine for more than a year and after three attempts he finally found a match and a working relationship with Kimrus. The officer and the dog spent the past five months riding their cruiser equipped with a cage for the dog, with Crockett at the wheel and Kimrus in the back, always on the lookout. "Today was the first time I had driven my car without him. I remember he used to get all excited when he sees his dad put on his uniform," Crockett recounted. Crockett is in the process of getting a new dog for the department and hopes to find a match within the next couple of weeks. "I've worked so hard for this, we've got to do it for Kimrus," Crockett said. Police Chief Michael D'Alessandro said the K-9 patrol will continue. Crockett is currently seeking donations in order to purchase a new dog and is asking Hannaford's and other local companies for funds. He said response to Kimrus' death has been overwhelming, including a pledge by Northwood Power Equipment to match any donation by Hannaford's. A new dog is expected to cost anywhere between $4,000 to $5,000. A full-fledged police ceremony, complete with bagpipers, is being planned for Kimrus at 5 p.m. March 6 at Coe-Brown Northwood Academy. Crockett says he plans to retire the dog's harness, outfitted with the department's first-ever Life Saving Award, which the two received after saving the two children in Chichester. Donations may be made to the Northwood Police K-9 Association, 1020 First New Hampshire Turnpike, Northwood, NH.


Meet new partner, REX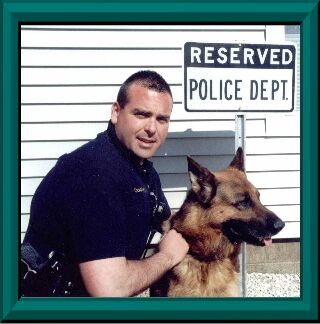 2006 - Stacy and Cheryl Walker