In Loving Memory of
K-9 JOCK
December 2003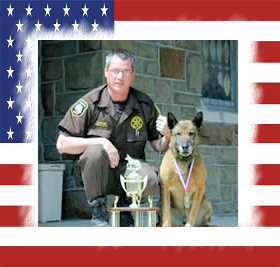 Handler: Sgt.Scott Tatrow
Allegan County Sheriff's Department
112 Walnut Street
Allegan, MI 49010
Phone: (269) 673-0500
Email Us
"Jock": In December of 2003, members of the Sheriff's Office mourned the passing of K-9 "Jock", of natural causes. Sgt. Scott Tatrow served as handler for Jock, an 11 year old Belgian Malinois who had served a long and distinguished career at the Sheriff's Office, and earned a reputation as one of the top narcotic detector dogs in the nation. Jock was also a cancer survivor, and even participated in the American Cancer Society's Relay for Life.
---
In Loving Memory of
K-9 JUPP
September 26, 2003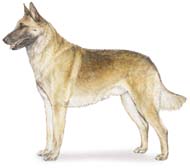 Handler: Office Dan Reed
LaPorte City Police
P.D. Phone # ( 219 ) 362-9446
1206 Michigan Ave. Laporte, IN 46350
City police dog Jupp dies By COLLEEN MAIR —Herald Argus News
In their time together, LaPorte City Police Officer Dan Reed used a knotted towel to reward his K-9 partner Jupp for his achievements in the field — a towel he loved to chew on. Over the years, the two of them worked side-by-side finding drugs and catching criminals. Reed considered the dog his third child. Early Friday morning, the K-9 was found dead in his kennel, after nearly six years of service with the LaPorte City Police Department. Not uncommon in larger dogs, Jupp's stomach turned over, blocking the oxygen to his body. Still, the death was unexpected. "It's sad. He was a part of this department," said LaPorte City Police Chief Walter Brath. Reed spent eight hours a day with his partner at work. When off-duty, the two played together at home with Reed's wife and two small children as the family pet. "He was a part of the family," Reed said of his love for the animal. After finding the lifeless body of his partner and friend Friday morning, Reed was devastated. "He's going to be greatly missed by a lot of people in the community," he said of the 8-year-old canine. "He made an appearance at a lot of public functions." He would have been nine in January. Jupp, the fifth LaPorte City Police dog, was always excited to go to work. Born in Frankfurt, Germany, he specialized in narcotics, tracking, building and area searches and apprehension work. He was trained in finding five drugs, including cocaine, marijuana, LSD, heroine and methamphetamines, as well as Ecstasy. He was also a member of the city's SWAT team, arriving at the department in December 1997. For three years, Jupp was the only patrol dog in LaPorte and Porter counties before the LaPorte County Sheriff's Department purchased Arras and Branca, two Belgian Malinois who specialize in bomb and narcotics detection. He would have retired at 10 years old."I'm going to miss everything about him. He was a great companion and a great partner," Reed said. At this point, the department is looking into their options about whether or not to replace Jupp. "We're just not sure right now. Dogs and training are expensive," said Brath. When the decision is made, Reed will be waiting. "I'm definitely interested in handling at least one more dog," he said.
---
In Loving Memory of
K-9 JUNIOR
January 2, 2003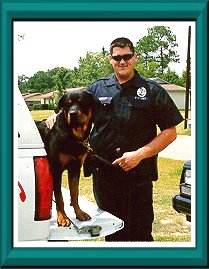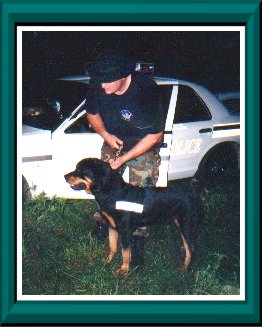 Handler: Andy Sutley
Dothan Police Department
P O BOX 2128
DOTHAN, AL 36302

On January 2, 2003, I lost my partner, K-9 Junior. We worked together for six and a half years. Junior had over 100 arrests and found several hundred thoursand dollars in drugs, cash and vehicles. Junior is missed by all, especially me. Junior died of liver and kidney failure. It was hard after 6 1/2 years of working 12 hour shifts. Junior had quite a reputation in the southeast. I have been to many K-9 schools all over AL, FL, MS and LA and everywhere I went nobody could believe a Rottweiler could make such a police dog. I miss him alot and have called my new dog Junior a few times. My new partner's name is K-9 Nelson, a Belgian Malinois, who will be hitting the streets with me.
Officer Andy Sutley - last photo of Junior notified by Dusty S.
---
In Loving Memory of
K-9 JAEGER SAR
1998 - 2003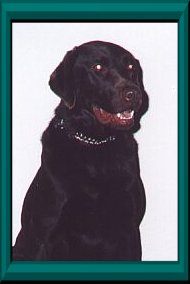 Owner and Handler: Anna Wyatt
Iowa Search & Rescue
7170 Creek Water Dr.
Centerville, Ohio 45459
615 5th Ave. East
Oskaloosa, Iowa 52577

When Anna and Jaeger first came to Iowa Search and Rescue, Anna said she had gotten Jaeger from a farmer. The first time she saw him he was in a barn with the pigs and he really smelt like one. The first thing she did when she got him home was give him a bath. Anna named him Jaeger which means "hunter" in German. At that time she had no idea she would meet up with ISAR members and Jaeger would indeed become a hunter of lost, missing and drowned victims. Jaeger was a real asset to ISAR with his search capabilities and an ambassador for all search dogs as he was friendly to every person and animal he met. Even if aggressive dogs approached him he turned his head the other way and ignore them. Jaeger never showed a mean streak toward anyone. To get your affection, Jaeger would just sit down by you and lean into your leg until you pet him. He would then fondly look up at you with those big brown eyes and smile. Jaeger and Anna joined ISAR in 1999, where they attended many public demonstrations and spread the word about the asset of search dogs nation wide. They certified as a team June 2001 and went on to search for many missing and drowned victims. Anna and Jaeger recently moved to Ohio, but still remained members of ISAR. Jaeger fell asleep in his kennel Sept 7 at the age of 5, and that is where Anna found him. We have no knowledge what happened to him because just 5 hours earlier he was jumping and drinking water showing no signs of illness. The loss of Jaeger has been a great shock to all members of ISAR as well as to Anna. He will be fondly remembered by all.
submitted by: Shirley Hadenfeldt
Canines A.L.I. and L.E.A.
Secretary
Iowa Search and Rescue
---
In Loving Memory of
K-9 JAKE
July 11, 2003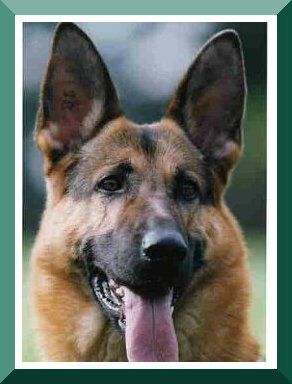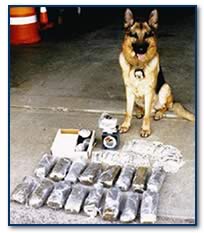 Handler: Lt. Jeanne B. Frost
Waupun Police Department
16 E. Main St. P.O. Box 232
Waupun, WI 53963
920.324-7911

Sadly on July 11, 2003, K-9 Jake passed away quietly at home. Complications had set in from an on-duty injury he sustained in July 2002 while searching for an escaped prisoner. K-9 Jake retired from the Waupun Police Department in September 2002. He will be missed

.

K-9 Team
One of the most valuable tools ever enlisted in the law enforcement profession is the canine. Because of their superior senses, dogs are able to locate illegal narcotics, explosives, accelerants and people who might have otherwise gone undetected by humans alone. With the proper training and temperament, these animals have also become wonderful public relations tools for police departments.
The canine's ability may be demonstrated for any interested group. Children enjoy watching the police dog perform fascinating feats, and many see him as a hero that catches the bad guy.

The canine's superior detection ability enables the canine handler to conduct thorough and complete searches with minimal time and personnel.

A dog can always outrun a man, and the fear of being bitten often works in favor of the pursuers. The canine is trained to pursue a fleeing subject. All canines are trained for recall when pursuing a subject. Should the subject stop and surrender, the dog is not allowed to bite and is recalled to heel. Patrol trained dogs are sometimes better than bloodhounds for criminal pursuit purposes, since they afford the handler a margin of protection. Their training includes specific instructions to prevent anyone from harming their handler. Bloodhounds provide virtually no protection for their handler, yet will usually trail for a much longer period of time and may be used effectively on a "cold trail". If weather and other conditions allow, a two-week-old trail is not out of the question for a well trained bloodhound.
The canine is trained to search and find explosives in buildings, vehicles, and many other areas. Dogs trained in this discipline are not cross trained in narcotics work as narcotic sniffing dogs scratch their finds and scratching a bomb may detonate it.
Generally the dog may be utilized under the same conditions as an officer would use his baton or other non lethal weapon. The canine handler may allow his dog to bite if the handler or dog is assaulted, to stop a felon from escaping, or to prevent a subject from injuring another citizen.
The police service dog teams are able to: track and find wanted criminals or missing persons in urban, rural or rugged wooded areas;
search all types of buildings for criminals in hiding;
search for evidence or property connected with a crime;

search for illegal drugs that

have been hidden;

chase and apprehend criminals escaping arrest who may be armed and dangerous;
act as a deterrent and back up in dangerous situations such as fights, riots and disturbances;

provide high profile foot patrols of places such as schools, shopping complexes and parks

The Waupun Police Department has used dogs since 1989. For more information on our dog team.
Update: Lt. has a new K9 named ARCO