In Loving Memory of
K-9 IKON
March 24, 2003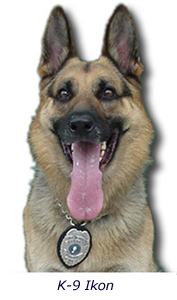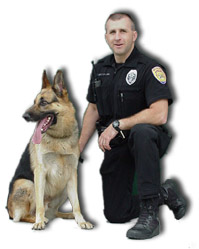 Handler: Officer Chip Higinbotham
Everett Police Dept.
3002 Wetmore Avenue - Everett, WA 98201
(425) 257-8400
s Lt. B. Deckard
On March 24, 2003 at approximately 10:30 p.m. Officer Chip Higinbotham and his partner K-9 Ikon were involved in the pursuit of a wanted felon in the Silver Lake area. The suspect a 33-year-old Everett man was stopped for a traffic violation. Officers discovered that the suspect was wanted for an outstanding felony warrant for a Violation of the Uniform Controlled Substance Act, a narcotics violation. The suspect fled from officers on foot. A foot pursuit began from the 900 block of Peters Place. Ikon and Officer Higinbotham tracked the suspect on a circuitous route through the Silver Lake Neighborhood to Interstate 5 near 112th Street, closing the distance on the suspect. Officer Higinbotham released Ikon to track through some thick underbrush. The suspect fled across Interstate 5, with Ikon tracking him. A passing motorist struck the K-9 who was gravely injured, and the suspect escaped on foot. The motorist did not stop after the accident. Officers transported Ikon to a veterinary clinic where he died from his injuries at around midnight. On the morning of March 25th officers continued the search for the suspect and located him at a residence in the 900 block of Peters Place. The suspect was booked into the County Jail for the Arrest Warrant. Ikon served the Everett Police Department for 5 years and was a deeply loved member of the Everett Police department. He was an 8-year-old German Shepherd police dog that had been obtained by the department through the Vancouver Police Department in Vancouver Canada. Ikon, like all Everett Police K-9s, served with great distinction and courage throughout his career with the department. Ikon was an integral part of Officer Higinbotham's family throughout his career, living at the home of the officer during off duty hours. Officer Higinbotham and Ikon were committed to community involvement providing demonstrations for a large number of community groups over his career. Ikon will be greatly missed by our community.

A community memorial service for Ikon
PLACE: Everett New Life Center
6830 Highland Drive
Date: April 2, 2003 at 1:00 P.M.
Members of the community are welcome to attend.
Sgt. Boyd Bryant
Public Information Officer

. Chip is scheduled to go back to work on the 23rd. He will be going back to the same crew, just without Ikon. FROM: Sgt. Boyd Bryant #205 Public Information Officer

*********************
Thank you for the kind messages. Officer Higinbotham and his family greatly appreciate the support. We have received requests from the public about donations in Ikon's memory. Donations may be made by check payable to: The Everett Police Department K-9 Fund
Checks should be mailed to:

The Everett Police Department
3002 Wetmore Avenue
Everett, Washington 98201

Remember - you are welcome to attend the memorial service. The News release contains a link to a map detailing the location of the memorial. Ceremony. MAP --Sincerely, Sgt. Boyd Bryant #205, Public Information Officer, Everett Police Department,
3002 Wetmore Avenue, Everett, Washington 98201
******************

"I have been in Law Enforcement for eight years having been hired first by the City of Snohomish in late 1991, and then moving to Everett in early 1992. I am married with two children, both still at home with my wife and I. When I am not working I enjoy water skiing and playing baseball, having played in college in central Arizona, and presently playing on the Everett Police Fast Pitch Softball team. "Upon becoming an Everett Police Officer I was initially assigned to the Patrol Division where I served as a Patrol Officer for the first six years. I became a Canine Handler in early 1998, teaming up with Ikon at that time. Ikon and I attended formal training for three months in Vancouver, British Columbia, returning to Everett as a fully certified Canine Team in June 1998. When I was a child I had an opportunity to observe a Police Canine demonstration in my hometown. From that moment I set a goal for myself to someday become a Police Canine Handler. In addition to working as a Patrol Officer, and now a Canine Handler, I am also a fully qualified member of the Department's Tactical Unit as a Special Weapons Technician and Sharpshooter. I greatly enjoy that part-time position as well as my full time assignment with Ikon."



Ikon is four-year-old German Shepherd that was born in British Columbia, Canada. He had some limited training prior to becoming my partner. He was trained using the German language, and he receives all of his commands in German. He was approximately two and one-half years old when he became an Everett Police canine. He weighs in at 80 pounds and his markings are Black and Tan. Upon becoming my partner he attended the formal training with me in Canada and is now my constant companion when we are on duty.
"He lives with me at my home, enjoying his own kennel when there. He gets along great with my other German Shepherd, as well as all members of my family. He likes children and does very well when we do demonstrations at local schools. He loves to play ball and swim. Actually, he loves anything to do with water and he has been known to attack garden hoses when the opportunity arises. Ikon has been directly responsible for 19 captures since he and I began working together, with the most significant one being the capture of a suspect fleeing from a Burglary. This person turned out to be a wanted felon out of the state of Mississippi, who was found to be armed with two stolen handguns after capture."
Officer Chip Higinbotham


Originally submitted by Everett Police K9 unit, Suzanne Eviston submitted to me by Tracy Studer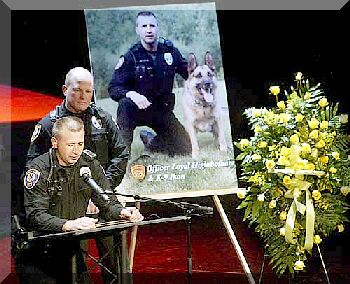 Daily Record Newspaper
Photo by Stephanie S. Cordle / the Herald
By Cathy Logg - Herald Writer
Everett police officer Chip Higinbotham speaks at a memorial service for his canine partner Ikon in Everett Wednesday afternoon. Hundreds say farewell to police dog that died in the line of duty. Everett police officer Chip Higinbotham speaks at a memorial service for his canine partner Ikon in Everett Wednesday afternoon.
Reporter Cathy Logg: 425-339-3437
EVERETT -- The photographs showed what words tried to describe. Ikon at work, lunging with his teeth bared, totally focused on someone or something just out of view. Ikon in training, dragging a "suspect" by the pant leg out of a patrol car. Ikon at play, standing next to "dad" at the edge of a lake. Ikon at rest, sprawled atop a patrol car, taking advantage of a lull in his shift. Ikon as a puppy, before he became one of the Everett Police Department's K-9s with a badge. Nearly 300 people -- including more than 50 police dog handlers -- turned out Wednesday for a remembrance ceremony for the 8-year-old German shepherd. Ikon died March 25 after being hit by a car while tracking a suspect running across I-5 near 112th Street SE. He was memorialized during a ceremony at the New Life Center. Those attending the ceremony walked past a gathering of other police dogs and their handlers, who came from as far as Oregon, British Columbia and Eastern Washington to honor one of their own. Many of the speakers had stories to tell of Ikon, including officer Chip Higinbotham and his wife, Dena, and their children, Randy, 18, and Allison, 12. "Ikon was not just a dog to me," Allison Higinbotham said. "He was like a second brother. He was a one-of-a-kind dog, and I will never forget him." When other dogs were playing with balls and chew toys, Ikon was playing with two-by-fours and pieces of drain pipe, she said. She described him as "goofy, happy and sweet." Others spoke of Ikon's loyalty and devotion, gentleness and courage, and of the more than 80 suspects he captured in his six years with the department. Randy Higinbotham, who sometimes played the bad guy during K-9 training sessions, called Ikon a "police officer, partner, friend and member of the family." The dog always found him, no matter where he tried to hide. Police officers jokingly called Ikon "psycho dog" because of his eagerness, spirit and fearlessness in doing his job, said K-9 trainer Sgt. Gord McGuinness of the Vancouver B.C., police department. He described Ikon and Higinbotham as one of the most impressive K-9 teams he's ever known. "We had our go-rounds early on trying to decide who was boss of the situation," Chip Higinbotham said. "And most of the time, it turned out to be him. He was a phenomenal dog." No decision has been made on whether Chip Higinbotham will get another police dog for a partner. "We want Chip and his family to have some time to recover," Sgt. Boyd Bryant said. "It's a very substantial commitment. The dogs become a core facet of a family."
In Loving Memory of
K-9 IGOR
Igor Vom Kulten Eck
March 24, 2003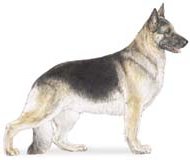 Handler: Officer Perry Martin
FORT PIERCE POLICE DEPARTMENT
Eugene Savage
Department Chief of Police
920 South US 1 - Fort Pierce, FL 34950
772-461-3820
Police officer remembers his K-9 partner By Derek Simmonsen staff writer 3-29, 2003 -Fort Pierce Tribune
Officer Perry Martin and his K-9 partner Igor had a secret language. If the German shepherd cocked his head and his ears pointed in a certain direction, it meant the suspect was that way. If he passed a door, cocked his head to the side and kept walking, it meant the person was hiding behind the doorway and Igor was merely checking the other doors to make sure no one else would get the jump on Martin. For about a decade, Martin spent every hour of every day with Igor Vom Kulten Eck, the department's legendary K-9 and one of the most celebrated and toughest dogs ever to work for the force. Igor was put to sleep Monday after back and muscle problems became so severe that he could hardly sleep at night. It was a rough moment for Martin, supervisor of the K-9 unit, who fulfilled a lifelong dream when he joined the unit with Igor in 1991 after spending five years with the department. "When I was a little kid, I found out that police officers could take their dogs to work," Martin said. "Ever since then, I've wanted to do this. I've always been into dogs." As he sorted through Igor's photographs and awards Wednesday afternoon, Martin's current K-9 Jazz curled up near his feet. While Igor had a fierce reputation, it is the quieter moments they shared that bring a smile to Martin's face. Like the time Igor served as best man at his wedding. Or the way the 112-pound dog, who never hesitated in tackling a suspect, would come home each night to check on his best friend Scooter, a pot-bellied pig who taught him how to use a doggy door. When it came to work, though, Igor was all business. "He was very, very protective of me," Martin said. "He had a pretty nasty reputation . . . he was not a sociable dog." Fellow officers knew not to approach Martin lightly while Igor was working or the dog could well attack them. Criminal suspects -- he had about 70 apprehensions in his career -- learned a similar lesson. Despite his grumpy demeanor at work, Martin said the dog never snapped at any of his children. "He was just an all-around good police dog," said Sgt. Katherine England, who has known Igor since joining the force in 1991. "Igor had a hunch for it. He was quite an asset." Igor joined the force at the age of 18 months, going through 400 hours of basic training and hundreds more hours of training practice during his career. During that time, he got to know many of the officers on the force well. "We get close to the dogs," England said. "They are a fellow officer. They put their lives on the line for us." As Officer Robert Stagner, a former K-9 officer, noted at Igor's retirement: "He commanded respect when he came out of the car." Igor retired two years ago, almost 13 years old, and initially had a hard time getting used to civilian life. "When I got home I would let him ride in my car for a bit," Martin said. "He would get real antsy otherwise." his old age began to take its toll on Igor, he eventually settled into his new, quieter life. Even in retirement, Igor still received plenty of birthday cards, notes and letters from people around the country who have followed his career, Martin said. "I'm going to miss him," Martin said. "He was always, always with me. If I was on vacation, so was he. Where you saw me, you saw him, too."



Martin's currently works with K-9 Jazz -------- Fort Pierce Police K-9 Igor plays ball with his handler, Officer Perry Martin, in December 1999.
In Loving Memory of
K-9 ISO
February 24, 2003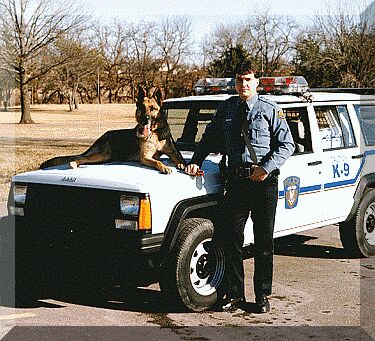 Handler: Detective Billy Jones
Belton, MO Police
Detective Unit
7001 E. 163rd Street - Belton MO 64012
816.331.5522 Fax 816.322.7057
GREAT NEWS! The Discovery Channel's Animal Planet was out at the sanctuary during November 2000 filming a story on Home For LifeŽ! The basis for the story is a retired police dog named Iso. He is from Belton, MO Police Detective Unit. The police detective, who had been Iso's partner, was unable to keep Iso at his home after the dog's retirement because he was barking and disturbing the neighbors. Detective Jones believed that Iso was bored and frustrated with nothing to do all day after his career of 10 years with the police force. Because of Iso's age (12 years) and his specialized training as a police dog, he was not suitable for adoption. We are excited to have him come to live at Home For LifeŽ where Iso will have a new role as the greeter/guard of the new Feline Isolation Habitat building. We believe that it is good for a dog like Iso to have a job to do that will make him feel he is still worthwhile and important. Animal Planet plans to air the show sometime this Winter or early Spring!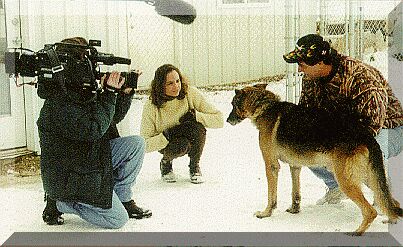 K-9 Iso interviewed for Animal Planet on TV 2001
Detective Billy Jones, Iso's partner on the Belton, MO Police Force, introduces Iso to Lisa Micallef,
Home For LifeŽ Executive Director



Since "Iso's Good-bye" debuted on the show "A Pet Story" on June 1, 2001, people all over the country who saw the program have written and emailed to see how Iso, the star, is faring. Iso continues to thrive. The show has been rebroadcast a number of times through subsequent seasons, never failing to touch and inspire viewers who saw Iso find a loving home for his retirement years after a lifetime of service as a police dog in Missouri. submitted by Kelly G.