In Loving Memory of
K-9 GINO & KOKO (pet)
August 31, 2003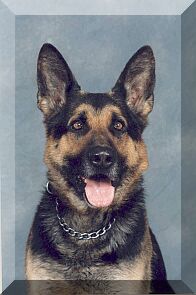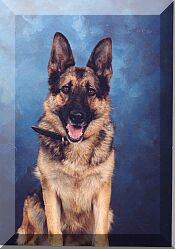 Handler: Constable Darren Leggatt
Calgary Police Service
Support Section, Canine Unit
6528-11 Street N.E.
Calgary,Alberta, Canada T2E 7J4


Tragedy in Canada; Air Conditioner Fails;
K-9 Gino and Pet Dog, Koko Die
Calgary, Canada - 9/2/2003 - Emma Poole, with files from Scott Crowson Calgary Herald
Calgary police will look at adding a temperature safety device to K-9 unit vehicles to prevent service dogs from accidentally overheating and dying, a senior officer said Monday. The move comes one day after Gino, an 11-year-old male German shepherd, died after being left in a newer model unmarked CROWN VICTORIA outside a northeast police station. Gino, along with police service dog Koko, a six-year-old female German shepherd, were left in the vehicle while Const. Darren Leggatt finished paperwork. Leggatt's own dog also died. Although the air conditioning was running, a malfunction in the car is believed to have caused the car to start blowing hot air. "We would look to see if there's any products available to prevent a similar incident," said Insp. Gord Pelly. Some agencies, including Virginia State Department of Corrections and the U.S. Secret Service, have installed a warning system called Hotdog in their K-9 vehicles to prevent overheating. Criminalistics Inc., an American company, sells the product, which can be programmed for several responses when the temperature limit is exceeded. It can lower electric windows, activate the car horn or lights, and repeatedly activate a pager alarm. The basic model retails for about $450 Cdn. The dogs' deaths have sent a ripple of sadness across the police service, especially within the K-9 unit, a tight-knit group known to spend more time with their animals than their families. Leggatt, a 15-year member of Calgary Police Service, has been with the K-9 unit for the past four years. He was working as an acting sergeant during the holiday weekend and was in the office doing paperwork Sunday when the incident occurred. The two police dogs, as well as Leggatt's family dog, a German shepherd, were left in the vehicle with the air conditioning running.
The dogs had been checked on throughout the day and were allowed out of the car to exercise and play several times, said police. Leggatt returned to the car in the afternoon and opened the back door to find all three dogs in cardiac arrest. The vents inside the car had been blowing hot air for an unknown length of time. Leggatt performed cardio pulmonary resuscitation on Koko, who is trained at detecting explosives.
Once he was revived, Leggatt moved on to Gino, one of the most successful dogs in the service. He called for help over his radio. All three dogs were rushed to the Emergency Animal Clinic in Inglewood, where the family pet and Gino were pronounced dead. "Gino was a unique service dog who had the ability to go from getting his belly rubbed by a kindergarten class to the apprehension of a house breaker in a matter of minutes," said Insp. Kevin Brookwell, commander of the police support section. "Darren and Gino were one of our most consistent and successful dog-handler teams. They were responsible for the location or apprehension of numerous criminals, almost on a nightly basis, and Gino will be sorely missed." Gino was born in Hungary and came to the CPS in 1999. He took commands in Hungarian and spent time as a service dog in Edmonton. Koko, born and raised in Calgary, was treated by vets and is improving on an hourly basis. Police expect her to make a full recovery. Police received several angry calls on Monday from Calgarians. "A lot of people are not so happy," said Pelly. He said the unmarked unit has been removed from service and will undergo testing. Canine officers from across Alberta sent their condolences to Leggatt at the Calgary unit, where there are about a dozen police dogs. "You really create a bond with these dogs. It's like having a regular person in the car," said Const. Rod Koshowski, a four-year member of the Edmonton Police Service's K-9 unit. "You rely on them, totally. I really don't think people understand the bond." It's standard procedure to leave the animal in an idling cruiser while the officer conducts business, as long as the air conditioning is running, said Koshowski. "(The cruiser), it's like (the dogs') office. It's their place when they're working," he said. "It's their safety zone." Koshowski said Edmonton officers have been told not to use the air conditioning inside their cruisers at their highest level. While the fan can remain on high, the temperature should not be at the most extreme level. Air conditioning units have been known to seize when on high levels for long periods, he said. Const. Gord Stull, a six-year veteran of the Medicine Hat Police Service K-9 unit, said his dog, Nero, prefers to remain in the cruiser. "For him to come into the building (with me), he would feel like he's working," said Stull. "Their rest time is in the vehicle." Initial investigation into the Calgary dog deaths shows the air conditioner malfunctioned and began blowing hot air. The temperature outside was already 28 C. Upholstery in a vehicle can heat up to temperatures that make it impossible for animals to cool themselves. It can take less than 10 minutes to send a dog in a hot car into cardiac arrest. "We'll also be looking at our operating procedures to determine if this situation can be prevented in the future," said Brookwell.


UPDATE: September 6, 2003
Calgary police say clogged radiator led to death of police dog and family pet
A clogged car radiator led to the heatstroke deaths of a police dog and a family pet and the severe injury of a bomb-sniffing canine, a force spokesman said Friday. The dog that survived the August 25 accident inside the Ford Crown Victoria police cruiser has made a steady recovery and was to go home to his master, Const. Darren Leggatt, on Friday, said Insp. Kevin Brookwell. "We're very optimistic Koko will be back to work -- a lot of time and effort was put into getting her to that level (of explosive-sniffing)," said Brookwell. Despite efforts by Leggatt to revive him with CPR, police canine Gino died. A test on the cruiser used by Leggatt when the accident occurred Sunday traced the fatal episode to a radiator clogged by grass seed, tree fluff, bugs and dandelions, said Brookwell. The obstructions cut off the supply of cooler air to the engine, which overheated. "To protect the engine, the car's systems shut down and one of the first things to go is the air conditioning," said Brookwell. "The clogged radiator had a domino effect all the way."
After an hour of test-running the car under conditions similar to last Sunday's 29 C temperature, the cruiser's air conditioning began to fail, said Brookwell. The findings confirm Leggatt -- who'd checked on the dogs while parked at a northeast police facility last Sunday -- had done nothing wrong.
Bob Chaters
submitted by Jim Cortina, Dir, CPWDA

UPDATE
During the past months Darren has been training a new dog with the anticipation of being back on the street.
---
In Loving Memory of
K-9 GUNNER
March 21, 2003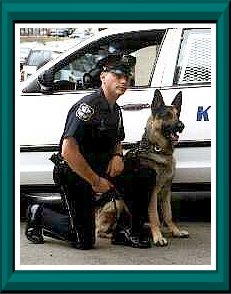 Handler: Sgt. Timothy Shea
Waterbury Police Department
236 Grand St.
Waterbury, CT 06708
TJShea@snet.net

I would like to take a moment to thank all of for your kind e-mails. This are very difficult times we are all living in and working in. When one of our own is hurt or killed, it hits us all of us very hard. Weather it be a close friend, someone we work with or maybe someone we have never met, but chose to take up the challenge of wearing the uniform. Those who worked with or trained with Gunner knew the level of respect and acceptance that had transformed Gunner and myself into what I felt was an excellent working team. I don't want to name names (Scribner, Holland, Nott, Calvello, Robinson, all the WTBY. guys and a cast of other characters) , but those people who worked and trained with Gunner had respect for him. I know I did after that third trip to the E.R. If you can indulge me a moment I would like to tell a few funny stories about Gunner. There was a time that I was called out on a nice sunny Sat. Gunner of course was ready to go anything to get out the house and into a cruiser. The vice squad had picked up a guy during the night who was suspected of large marijuana sales. They had a warrant for the house but could only find a joint in an ash tray the suspect said would be there. When I came in with Gunner (off lead) it was funny to see the vice guys stick to the wall motionless. Gunner immediately went to a walk in closet in the master bedroom. The vice guys said "we checked in there its clean "but Gunner pressed on. He came out with a teddy bear about 3' high, I sent him back he returned with several packages of unopened under garments I sent him back in. He was hitting in the same spot so I told him in handler terms he understood to cut the crap. I sent him back in and a moment later he emerged with a large bag of pot. Gunner feeling he had done his job and not receiving his chew toy promptly headed for the front door. I of course was still just standing there looking at that big bag of pot. yelled at one of the detectives to close the front door but they wouldn't move near Gunner.He decided enough was enough and exited to rest in the car but the door was closed. Gunner trotted off down the street with over a pound and a half of pot in his mouth. I was trying not to laugh because the vice guys were yelling to get the stuff. I called out to Gunner who made a prompt return and dropped the pot outside the car door. When all was said and done evidence was found to prove this guy had moved several hundred pounds of pot in only a few months. I wonder how his Memorial Day weekend will be seeing he is still a guest of the state. Well I guess one story is enough because we all have them and they are all special because it was our partners who accomplished them. Unfortunately Gunner was forced to retire due to my promotion a few years back as it appears the same may be done to me in the not so distant future. This is because of several on the job injuries to my dominant arm and hand. was very much looking forward to spending time again with my partner. Now my rear seat is empty and a lead hangs from a door handle empty at each end. Gunner can no longer feel pain and is among his piers awaiting the return of his handler, partner and friend. His ashes adorn my mantle with a picture of he and I in better days. I would like to send my deepest sympathy to Frank H. and Todd R. I feel your pain and my thoughts are with you and your partners. Thank you all for taking the time to read my thoughts sorry they were to long. God bless each and everyone of you, stay safe and loyal and honest to yourselves and partners. When it comes down to the tough times that's who you can count on.
With all my thanks, Sgt. T.J. Shea WTBY. P.D. Semper Fi
notified by Jim Cortina, CPWDA Dir.
In Loving Memory of
K-9 GRANITE
April 21, 2003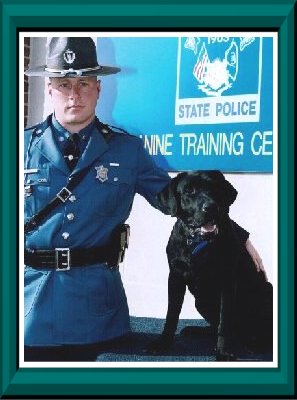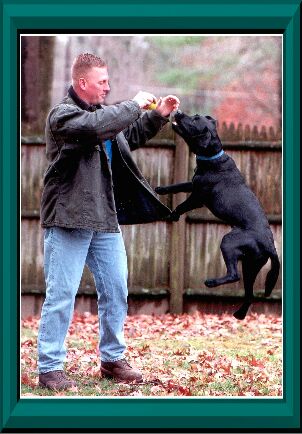 Handler: Tpr. Michael Cherven Jr.
Massachusetts State Police
Department of Fire Services
PO BOX 1025 State Road
Stow, MA 01775
PH: 978-567-3310
photo courtesy of MA State Police
State police lose K-9 trooper by Tom Farmer - Thursday, April 24, 2003
The Massachusetts State Police lost one of its bravest and most beloved investigators this week when Granite, an explosives sniffing black Labrador, was struck and killed by a car in Hopkinton at the start of the Boston Marathon. The 2-year-old dog, one of a dozen used by the State Police Fire and Explosion Investigation Section, bolted from trooper Michael Cherven Jr.'s Ford Bronco before he could leash the K-9 and was struck in the head by a passing car. Cherven, whose late father, Michael Sr., was a detective with the State Fire Marshal's office for 10 years, was so distraught at the scene that his wife, Carolyn, drove there to console him. ``I don't think there are any words that can explain the loss,'' Cherven said yesterday. ``Some people say it's your partner but partners go home at the end of your shift and don't come home and sleep on your pillow or on your bed or at your feet. ``He goes to work with you and is by your side 24 hours a day, seven days a week. I was devoted to him and he was devoted to me.'' State Fire Marshal Stephen Coan has offered to set aside an area at Department of Fire Services headquarters in Stow to bury Granite and other dogs from the unit when they die in the future as a memorial to the valuable and dangerous work they perform. ``It's a great tragedy any of us who have pets can understand in terms of personal loss in addition to the professional loss we have also suffered,'' said Coan.
****************
Dog killed in pre-race accident By Norman Miller - Wednesday, April 23, 2003 - Assoc. press.
HOPKINTON -- A bomb sniffing dog brought in to help with Marathon security was killed Monday when he was run over in a staging area before the start of the race. Granite, a 2 1/2-year-old black Labrador, had been on the job for about 1 1/2 years, according to Jennifer Mieth, a spokeswoman for the Massachusetts Department of Fire Services. "It's very sad," said Mieth. "Every person who has a dog or cat, they know it's a member of their family. When you have a dog you work with every day, the bond is even more intense." Granite's partner was Massachusetts State Police Trooper Michael Cherven Jr., who was assigned to the fire services department. The accident occurred when Cherven and Granite were at a staging area in Hopkinton prior to the race. They were part of a security detail to help control and patrol the 20,000 runners and spectators who gathered in the town. While in the staging area, many of the vehicles were being moved, and Granite jumped out of Cherven's vehicle, and was hit and killed, Mieth said. "He was in the wrong spot at the wrong time," Mieth said. Granite was a trained explosive detection canine, and worked with Cherven in the hazardous devises unit. Cherven was emotionally distraught after the death of his canine partner. "Michael's father was an officer assigned to us, and he was one of the first to have a dog assigned to him -- an arson investigator," said Mieth. "He grew up in a home with state police dogs." "He's absolutely heartbroken," she said. The death leaves the state fire marshal's office with only four bomb sniffing dogs. The office is in the process of obtaining three more, and one may be assigned to Cherven.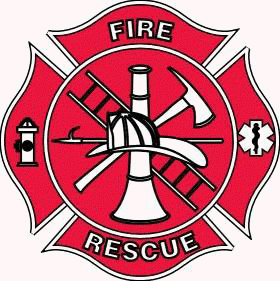 Cherven could not be reached for comment yesterday. Mieth said he took the day off to grieve his fallen comrade.
Granite may be honored in the future, Mieth said. "The marshal is looking to create a burial site here (the Massachusetts Fire fighting Academy in Stow) for any dog who has a death in the line of duty," Mieth said.
Notified by J. Cortina - CPWDA
photo: graduation from Ct. State Police's 10 week Explosive detection K-9 program.