In Loving Memory of
K-9 FARO
Badge # K-107
August 22, 2003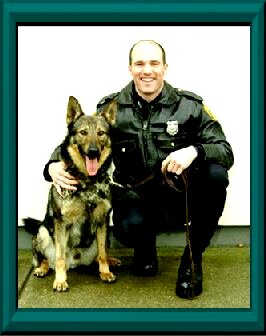 Handler: Officer Jerry Nowell
Norfolk Police Department
Police Administration Building = K9 unit
6101 S. Cape Henry Ave.
Norfolk, VA 23502
Faro and his handler, Officer Jerry L. Nowell, Jr. Officer Nowell has been with NPD since 1990. He and
Faro were assigned to the K-9 Corps in June, 2001, at which time they became partners. Faro was four years old at the time of his death; his K-9 number was K-107. Wanted to make you aware that we lost a K9 dog last night, August 22, 2003. Myself and Officer Jerry Nowell resounded to a robbery in progress behind an apartment house at 0430am. We caught the robbery in progress and the suspects ran from us. Officer Nowell released his dog, FARO, who chased the suspect and bit him in the ankle. Suspect shot FARO in the chest, killing him. Nowell returned fire striking suspect in the foot. I released my dog, Jaymo, who bit suspect in the arm and leg area, at which point the suspect threw a gun. FARO died instantly. I will get further info, so that we can add FARO to your site.
submitted by: Officer Jim Losee. Norfolk, VA P.D. & J.Cortina, CPWDA


Norfolk police dog killed while halting robbery suspect
The Virginian-Pilot © August 24, 2003
Police officers are mourning the loss of one of their own today. Faro, a German shepherd who worked for the
department for two and a half years, was fatally wounded early Saturday morning as he attempted to nab an armed robber. Faro was one of two dogs trained as police service animals to respond to an armed robbery in the 9300 block of 1st View St. around 4:30 a.m. As police units approached the scene, at least two suspects fled. One, Patrick Marcel Davis, was halted by Faro, police said. Davis pulled a gun out of his pocket and shot Faro,
who died at the scene, said Maravia Ebong, a police spokeswoman. Officers arrested Davis, 25, who faces charges
of robbery, abduction, killing a police service animal, possession of a firearm by a felon, and two counts of possession of a firearm in the commission of a felony. Homicide and robbery units are still investigating the case.
Anyone with any information is asked to call 1-888-LOCK-U-UP.
update:

Man Gets 39 Years for Robbery, Killing Police Dog
************************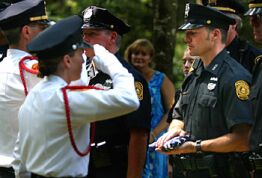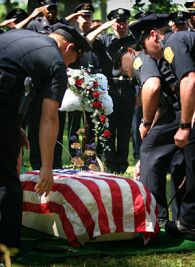 Photo by Hyunsoo Leo Kim / The Virginian-Pilot

Faro was shot to death last Friday while apprehending a robbery suspect.
Photo by HYUNSOO LEO KIM / THE VIRGINIAN-PILOT
By MATTHEW ROY, The Virginian-Pilot - © August 30, 2003
An American flag draped the small white coffin. Police officers stood stiffly in a solemn tribute under towering pines. Flower arrangements adorned the open grave -- some with bone-shaped dog biscuits attached.
Faro, a Norfolk police dog shot to death while apprehending a robbery suspect last weekend, was laid to rest Friday in a pet cemetery in Virginia Beach. His send-off drew attention to the region's working police canines, trained to waylay suspects, protect police officers, search for people and, in some cases, sniff out contraband or bombs. It also highlighted the strong bonds between police and the dogs they handle, which officers take home to their families after shifts on the streets. Early last Saturday, Faro was killed doing his job. Police gave this
account of the incident:

The 4-year-old German shepherd was one of two police dogs who responded with officers to an armed-robbery call in the 9300 block of 1st View St. around 4:30 a.m. Robbers had forced a man to the ground at gunpoint. At least two suspects fled as police approached. Faro stopped a man, Patrick Marcel Davis, 25, as he attempted to get into a vehicle. Davis pulled a gun from a pocket and shot the dog. Faro's handler, Officer Jerry L. Nowell Jr., ordered Davis to drop his weapon, but he did not. Nowell fired, striking Davis in the foot. Another police canine ``engaged'' the man, who fell to the ground and tossed his gun to the curb. Officers arrested Davis, who faces charges of killing a police service animal, robbery, abduction and weapons counts.

Faro and handler Officer Jerry L. Nowell Jr.Photo courtesy of Jerry L. Nowell Jr.
Faro's funeral service began at the police K-9 Training Range near Norfolk International Airport. More than 30 police dogs, some from agencies around the state, sat in three rows with their handlers. Police from as far away as Roanoke attended, as did civilians. Top police officials praised Faro and his comrades. Norfolk's canines work for mere love and praise and, in return, give their all, said Lt. Wally Driskell. ``These dogs stand for everything that is good and loyal,'' he said. Acting Chief Shelton L. Darden lauded Faro as a hero. A bagpiper played ``Amazing Grace,'' and more than a few in the audience sniffled. A police motorcycle escort led the mourners in a procession to Garden of the Pines pet cemetery in Virginia Beach for graveside honors. Faro was buried next to Lobo, a police dog killed in the line of duty by a car in 1983, and Iron, shot while pursuing a suspect in 1997.
K-9 officers place the casket of Faro while other officers salute during memorial service Friday. An honor guard
fired ceremonial rounds near the grave. More prayers were offered. Nowell accepted the flag from the coffin
from members of an honor guard. Two buglers played taps. Officers shook Nowell's hand afterward. Faro's death was tough on his handler, other officers said. ``He said the hard part is when he goes home and sees the empty kennel inthe backyard,'' Driskell said. ``That's when it occurs to him that Faro's not coming home.''
Norfolk, VA - 4/3/2004 - The Virginian-Pi
---
In Loving Memory of
K-9 Sgt. FRATZ
April 20, 1991 - May 15, 2003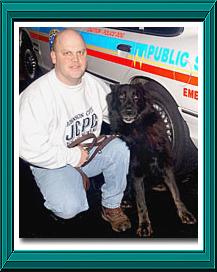 Handler: Officer Jeff Stork
Johnston City Police Department
601 E MAIN ST.
Johnson City,TN 37605
ph: 423 434 6160
My name is Jeff Stork and I was Fratz's partner for the last 3 1/2 years. Here is some info about him. Fratz was a 12 year old long hair German Shepherd, who began his law enforcement career in 1994 with the Washington County, Tennessee Sheriff's Office with Deputy Shawn Franks as his partner. Their K-9 program was dissolved a few years later and I obtained Fratz in the Fall of 1999. Fratz was a patrol/ narcotics detection dog and he started his newcareer as my partner at the Johnson City Police Bureau in February 2000. Fratz was retired on November 1, 2003 due to medical conditions. In the almost 4 years that we were together Fratz was responsible for over 50 felony arrests, over $50,000 in cash seized and over $100,000.00 in seized automobiles.
UPDATE: Jeff has another partner, Barry, a Belgium Malinois. submitted by Dusty S.
---
In Loving Memory of
K-9 FERO
April 25, 2003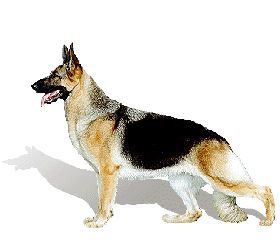 Handler: Officer Darryl Benedict
Philadelphia Police K-9 Academy PA
8501 State Rd. - Philadelphia, PA 19136
215.685.8088
Police dog dies after being hit by car in Far Northeast. A police dog was killed yesterday when
it was hit by a car in the Far Northeast section of Philadelphia. Police said Fero, a 9-year-old German shepherd
that did bomb-sniffing work, escaped from the home of it's handler, Officer Darryl Benedict, on Tyrone Road and was struck by the car near Ancona and Medford Roads. The dog was taken to Rhawnhurst Animal Hospital, where it was pronounced dead shortly after 4:30 p.m., police said. Inspector William Colarulo said Fero's death was "a big loss" for the department.
notified by: Tracey Studer Posted on Sat, Apr. 26, 2003 Phila. Inquirer
---
In Loving Memory of
K-9 FALCO
March 4, 2003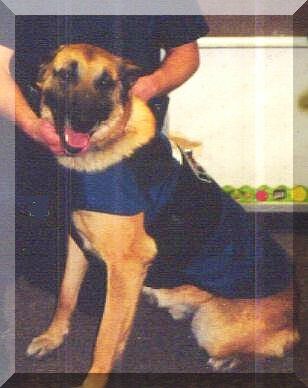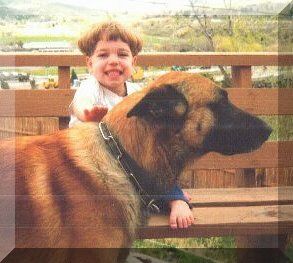 Partner: Deputy Eric C. Walker
Bannock County Sheriff's Department
Office Sheriff Lorin W Nielsen 4322
N. Old Hwy. 91
Pocatello, Idaho 83205
(208)236-7114
"The Once Again Prince"
by Irving Townsend
We who choose to surround ourselves with lives even more temporary than our own
live within a fragile circle, easily and often breached. Unable to accept its awful gaps,
we still would live no other way. We cherish memory as the only certain immortality,
never fully understanding the necessary plan...
Deputy Eric C. Walker and his K-9 companion Falco, a Belgian Malinois, have been partners since October of 1997. He wasn't in ill health and was about nine years of age. Monday was their dog training day and Eric said he was like a puppy and had a great training day. We woke up Tuesday morning to find Falco dead. It was a bit of a shock and has been an adjustment for all of us, obviously more so for my husband Eric.



The Idaho State Journal, May 23, 2002 submitted by Katrina Walker
Falco was about 90 pounds. and the top of his head came up to my hip (about 34 inches) so he was big for a Malinois. He loved to work. He knew which day was work and would begin to pace the deck when it was getting time to go. He was a dual purpose dog; a hold and bark dog. He found quite a bit of drugs in his service with Bannock County. One of his largest finds was in the fall of 1999, when he found 178 lb. of marijuana, worth about $404.00. They were bales wrapped in paper and contact paper.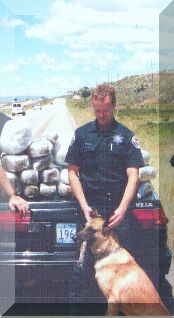 (In photo above) June of 2000 where he found 90 lb. of marijuana. There are other types of drugs here, too that
he found in different traffic stops. Falco also got a few bites in his time. It was all a lot of fun for him.
We really miss him a lot. He was a good house dog, too. We were a little careful of him around the family
the kids weren't allowed to have him inside unless we were home. Falco loved to get pets and was quite a leaner
if you were petting him. I think he must have been one of the best, (although everyone thinks that of their dog)
He and Eric made a great team and law enforcement here will miss them.



Reasons why I am so grateful to have worked with Falco. He found just under one million dollars worth of drugs during his 5 1/2 year career. He has backed me up when I was alone and out numbered, he has entered into danger to keep me and other officers safer from it, and helped in apprehending rapists, attempted murderers, escaped, eluding and dangerous felons. He was kind and attentive company during long and quiet patrol hours and he made me look good in the fulfilling of my duties. I was looking forward to life with him after his retirement, but his time on Earth was cut short. I am grateful for the memories he left and the love and appreciation of people like yourself have shown. Thank you again.