In Loving Memory of
K-9 EX
February 22, 2003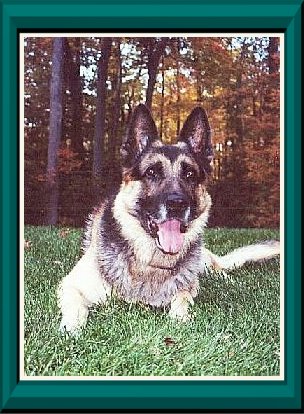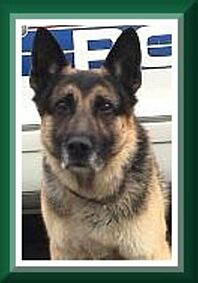 Handler: P.O. Robert P. Tauber, Jr.
Yonkers Police Department
730 E. Grassy Sprain Rd. - Yonkers, NY 10710
914-377. 7388

K-9 Ex was appointed to the Police Department on June 5, 1995. In January 2000, Ex had surgery to remove a malignant tumor on his side. On February 22, 2003, he lost his battle with cancer and was laid to rest. To his credit have been multiple burglary arrests, surrenders and the identification to the S.W.A.T. team of the hiding spot for two armed felons. However, his handlers proudest moment was the track of a robbery/murder suspect in the pouring rain at 0400 hrs. The track of over 1 mile in length encompassed woods/trails/grassy hills/a park and the crossing of a 4 lane roadway to the rear of a housing complex consisting of over 250 apartments. Although the track ended at a locked door, detectives were able to follow up inside and locate a suspect.



On a personal note to all the K-9 handlers out there: after retiring Ex in 2001 due to cancer, I was soon thereafter regretting my decision. Watching him run around my property with my wife and daughter I thought I'd retired him too soon and he could have returned to work after his recovery from surgery. Today I realize that it was one of the best decisions I ever made. Memories of his happiness and the happiness he brought to my family and myself over the past 3 years are priceless. If you get the opportunity enjoy your partner at home in a relaxing atmosphere. The time goes by so quickly it's a blur.



To my faithful partner who taught me Czech -
You will never be forgotten and always be in my heart, thank you for protecting me - Love Daddy.
To my best buddy and constant companion -
I love you and miss you, especially all the noise you made and the hair you shed in the house- Love Mommy
To my best friend -
I miss you every day and every day ask mommy and daddy if you are okay - Love MacKenzie.
P.O. Robert P. Tauber Jr.
---
In Loving Memory of
K-9 EDDIE
November 20, 2003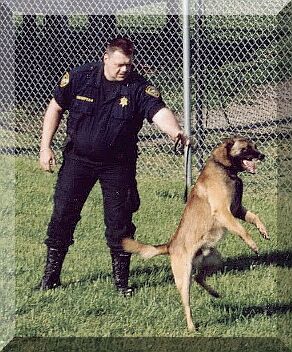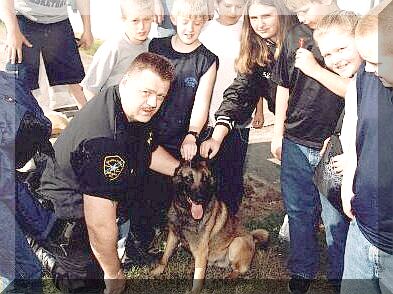 Handler: Det. Greg Jones
Graham County Sheriff's Department
45 Main St.
Robbinsville, NC 28771
828 479.3352



My name is Greg Jones I was Eddie's, human partner. I started a K-9 program with Eddie about 3 years ago. I work for a small town police department and now also a small town sheriff's office. Neither department's budget could afford the proper equipment for Eddie so I bought allot of second-hand equipment i.e.; the K-9 carrier for my vehicle.I almost gave up on the program., but every time I looked at Eddie, he would revive my spirits and we kept on struggling toward achieving our goals. The first night Eddie & I worked at the Graham County Sheriff's Office, we made 2 marijuana and 1 methamphetamine arrests. The sheriff provided a car and equipment for Eddie. I bought an old carrier, that's what caused Eddie's death.

Training:
Eddie & I were starting to do some of the things we both had dreamed of finally becoming a respected K-9 unit. We were both loving this. still we had some problems such as training time and funds. The only time I could seriously train Edddie, was while I was a National Guard duty with the NC Army National Guard, 210th MP Company, of which I am a member. My commander allowed me to have time and help accomplish this. Eddie loved to train and I would always put 110% effort into this. A lot of time I would implement Eddie into whatever training we were having with the soldiers. It was here that Eddie passed away. After a good day of training, I put Eddie back into the car. As I went inside to complete my training forms, Eddie tried to get out of his carrier. He caught his neck chain on a piece of the broken carrier cage and died. This sounds very childish, but I hope dogs go to heaven so I may see him again. He and I may get a good beat patrolling there, then I'll know it's really heaven.. Greg Jones, Detective, Graham County North Carolina




EDDIE
I knew you were special, from the very minute we met
You took a glance at me and I at you, that day, I will never forget
We bonded strong with each other, our partnership on its way
Together doing our job, by each other's side we'd stay

Each task we'd meet and tackle head on
We would see each dark night through to the new day's dawn
Together we were unbeatable, even when we stared fear in its face
You tried with all you had to help me make the streets a safer place

I put my faith, trust and strength in you and you put yours in me
In all things we did, it was how it should be
You stood by me in all things, good and bad
So I wouldn't have to stand alone
You were the best partner, by far I have ever known

A big part of you will stay forever with me
A big part of me died with you
so when you look down from the "Rainbow Bridge"
And see me crying you will know I miss you too.
---
In Loving Memory of
K-9 ECHO
December 19, 2003


Handler: Officer Sean Siggins
South York Regional Police Dept.
47 E. High Street
New Freedom, PA 17349

Ecko was tragically killed by a speeding vehicle on Monday, December 15th. Sean Siggins is his handler and K9 are with the S. York Regional Police Dept., 47 E. High Street, New Freedom, PA 17349.
submitted by Rodney & Theresa Furrow

A fund has been set up for K9 Echo
email : Theresa Furrow, RT,CVT
Sr. Pediatric Cardiovascular Technologist
Pediatric Cardiology/Cardiac Catheterization Lab
University of Maryland Medical System
22 S. Greene Street
Baltimore, Maryland 21201
410-328-6667 410-328-8670 fax