In Loving Memory of
MWD CEZAR
1996 ~ 2003


Partner/handler: Mc Gowan M. Anderson Jr., TSgt, USAF
Kennel Master / NCOIC MWD Section
377 Security Forces Squadron
Kirtland AFB, New Mexico

MWD Cezar was born in May of 1996 and entered military service in June of 1998 —completing both patrol and explosive training at Lackland AFB, San Antonio, Texas. MWD Cezar was assigned to Kirtland AFB in November 1998. Cezar, in his 7 years of duty as a patrol/explosive MWD, had a total of six handlers with SSgt John V. Helms logging the most time on leash. They were partnered together for a total of 23 months as a team.
---
In Loving Memory of
K-9 CUBBY
October 13, 2003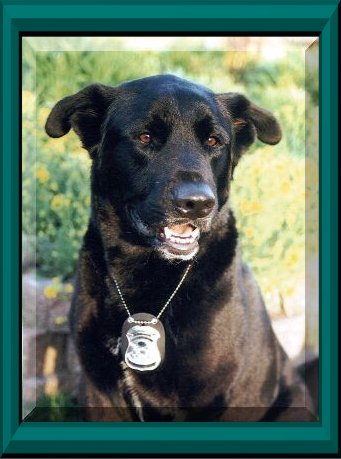 Handler: Officer Timothy Lindstrom
New Baltimore Police Department
50910 Washington Ave.
New Baltimore, MI 48047
586 725-2181

All about Cubby
The story of Cubby is an interesting one. Cubby was a black lab mix. We had no paper work on him, but we believe he may have been part Akita or part pit bull. Cubby was taken to the Humane Society as a young adult (2 years old) coming from the streets of Detroit. The leader dogs for the Blind School picked him up from the Humane Society believing he would be a good candidate. The school in Rochester, Michigan found him to be too hyper and he flunked out. A master trainer then tested cubby to see if he would be a good candidate for a police K-9. He found Cubby to be exceptional as a narcotics dog. Cubby was then trained by the master trainer and was then paired up with me. I was at the New Baltimore Police Department. Cubby and I (Tim Lindstrom), went to the Oakland Police K-9 Academy. Cubby and I passed the academy in 1999. He became certified in narcotics through USPCA and NAPWDA. Cubby then came to New Baltimore where he worked over the next four and a half years. He assisted in 290 narcotic arrests. In that time, Cubby helped keep the schools in the Macomb County and St. Clair County area drug free.
Cubby assisted in arresting narcotic dealers and users in the schools allowing the good kids to feel a little safer. He also assisted with narcotics raids and searched so many vehicles, I lost count. Cubby found many hidden compartments in vehicles that the officers would not have found by themselves. Cubby was also an asset to me on street patrol. In four and a half years, I never had to fight anyone on the street due in large part to his fierce bark. The subjects would hear his bark and would decide to give the narcotics up and not fight with me. Cubby was also aggression trained and could back up his bark if needed. He had the rare gift of knowing when to turn it on and when not. He definitely was a master of reading my body language. Cubby also loved to perform demonstrations for the youth and adults alike. He seemed to come alive in front of an audience. He could endear his heart to you in a one time visit. For me, it was pure joy to work with Cubby as he made my job that much more exciting and fun to do. When I put my uniform on every day, Cubby would be waiting at the back door so he would not miss going with me. Cubby just loved to work and was fun to watch in action. In August 2003, I found a tumor on his right side. WE called the vet's office and they scheduled a surgery for the following Monday. Within that week, fifteen more tumors showed up and we knew he was in trouble. The surgeon removed all of the tumors and within another week, fifteen more showed up. The biopsy revealed that the tumors were undifferentiated soft tissue sarcoma grade three. We then had a chest x-ray performed and it was determined he had several spots on his lung. The very next day, he was taken for chemotherapy. To help defer the cost of the chemo treatments, a benefit dinner was thrown for Cubby in his honor on October 5th. More than 950 citizens showed ;up for the spaghetti dinner. It was an honor to see so many people in the Metro Detroit area had fallen in love with Cubby. They wanted a chance to help him. The Metro Detroit News Teams ran several stories on him. He became a local hero. He was so loved by the community. The New Baltimore Police Association earned enough money from the dinner and other donations through the mail to pay for his treatments. Unfortunately the cancer spread to Cubby's central nervous system. He began to have seizures that could not be stopped by medicine. On October 11th, Chubby was put to sleep to save his dignity and not let him suffer. That moment was the hardest in our lives for my wife, Heidi, and I. We miss him terribly. I wrote a children's story about Cubby in the spring of 2003. It is a heart-warming story of a mutt who would become a police K-9, honored by his fellow officers and community. The story is at several different publishers firhgt now and it will take months before we find out if they want to publish the book.
I thank you for thinking of my "little hero."
written and submitted by handler, Officer Lindstrom - notified by Jim Cortina, Dir. CPWDA
---
In loving Memory of
K-9 CYRUS

November 30, 2003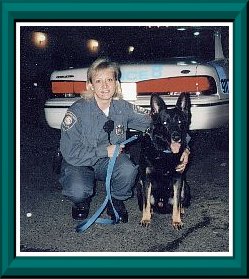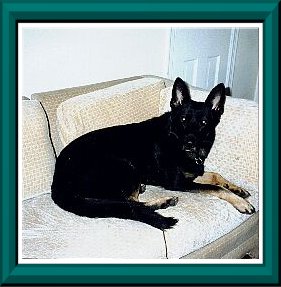 Handler: Katheryna Iwanenko
Irvington Police Department
1 Civic Square
Public Safety Bldg.


Irvington, NJ 07111


(973)399-6600

With the saddest regret, I announce that K-9 Cyrus, my partner of 5 years with the Irvington Police Department, my child and best friend, succumbed to cancer on 11/30/03. He gave so much and asked for nothing. He deserved so much more.




HE IS JUST MY DOG
He is my other eyes that see above the clouds,
My ears that hear above the winds.
He is the part of me that can reach out into the sea.
He has told me that am his reason for being.
By the way, he rests against my leg.
By the way, he thumps his tail at my smallest smile.
By the way he shows his hurt
when I leave without taking him.
I think it makes him sick with worry
when he is not with me.
When I am angry, he clowns to make me smile.
When I am happy, he is joy unbounded.
When I am a fool, he ignores it.
When I succeed, he even brags.
Without him, I am only another man.
With him, I am all powerful.
He has taught me the meaning of devotion.
He is loyalty itself.
With him, I know a secret comfort and peace.
He has promised to wait for me, whenever, where ever.
I will always need him as much as he needs me.
"He is just my dog!"
~unknown author~
---
In Loving Memory of
K-9 CAKO
June 9, 1999 - November 20, 2003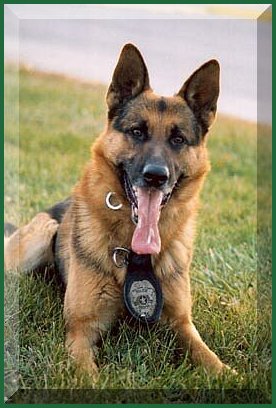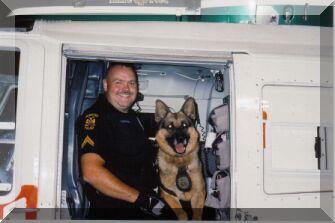 Handler: Officer Shane Newbourgh
Moberly Police Department
300 N. Clark Moberly MO 65270
660-263-0346


I hoped that I would never have to send you this email.
My partner, my friend, K-9 Cako passed away Thursday, November 20, 2003 at 1807 hours from sudden kidney failure. He had been hospitalized since Monday night. He put a hard fight. I told him if he was tired of fighting the pain it was ok. The decision was made to put him to sleep due to the irrepairable kidney damage. When the doctors unhooked him from the IVs, Cako passed away, he passed away on his terms. He passed away with his collar and badge on and me in full uniform, that is how he would have wanted it. I miss him, I am sad.

IN LOVING MEMORY OF

K-9 CAKO


The Moberly Police Department regrets to announce the death of

K-9

Cako

, patrol partner of Corporal Shane

Newbrough

,

on

November

20th ,2003.

Cako

passed away at 6:07 PM, Thursday evening from kidney failure.

Cako

was born

on

June

9th , 1999

and purchased in October of 2001 by the Moberly Police Department through a Federal Grant.

Cako

began his service with the Moberly Police Department in December of 2001. During his tour of duty with the Police Department

Cako

was involved in many tracking and search operations not only for the Moberly Police Dept. but also for other law enforcement agencies around the

Randolph County

area.

Cako

has assisted in the successful prosecution of many drug cases.

Cako

& Shane visited area schools to give talks and demonstrations of the K-9 officers and

handlers

job and abilities.

Cako

was a

true "officer

"; while able to complete dangerous and sometimes demanding tasks he was gentle enough to bond with some of our youngest citizens allowing even 2 year olds to pet him. Private services for Cako will be on Tuesday, November 25, 2003.

Cako will be sadly missed by Cpl. Newbrough and the officers and staff of the Moberly Police Dept.

submitted by the Moberly Police Department 11/21/03





CAKO's proudest moments in a helicopter


"TO MY MASTER"
I know it seems so sad that I
was just so young.
But my time has come and my
call to duty done.
I gave ever faithful my
Eyes, Ears and Heart
Together a team formed
a Bond none can part.
At your side was my place
I served Loyal and True.
Ever so watchful for my
Master in Blue.
But I recieved a call that I
had to face alone,
The Mighty Lord himself
had summoned me Home.
I will live here on Earth through
your Memories & Love.
But Always Remember
SHANE...
I will be watching from above.
- In Loving Memory of Cako-
Love, Naomi and Zachary
****************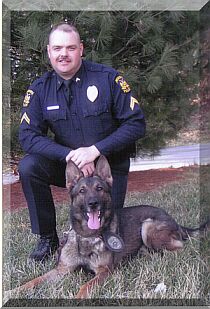 UPDATE:
Meet K9 Shadow
---
In Loving Memory of
K-9 CHERO
Holland Herder (Dutch Shepherd)
September 4, 2003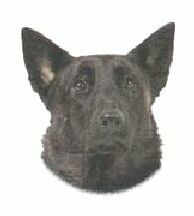 Handler: Tiger Parsons
St Joseph Police Department
501 Faraon Street
St. Joseph, MO 64501
(816) 271-4714
moved to 816 233 3377 - Sheriff's Dept.
Drug Strike Force dog found dead
S
t. Joseph News-Press - Saturday, September 06, 2003
A veteran canine for the Drug Strike Force died unexpectedly Thursday night. Chero, an 11-year-old Dutch shepherd, passed away from natural causes while working, said Mike Strong, coordinator of the Strike Force. Mr. Strong said Chero's handler, Tiger Parsons, found the dog dead in Mr. Parson's air-conditioned vehicle at the Strike Force headquarters.
"This is absolutely a great loss for all of us, especially his handler," Mr. Strong said. "He was a useful tool and very good at what he did. That makes this loss even harder for all of us here." Mr. Strong said Chero had thousands of searches under his belt with both the Strike Force and the St. Joseph Police Department. Mr. Strong said the Strike Force hasn't yet explored the possibility of getting a new canine, but he expects the unit to get a replacement somewhere down the road. submitted by Jim Cortina, Dir. CPWDA
---
In Loving Memory of
K-9 CHOCKO
September 20, 2003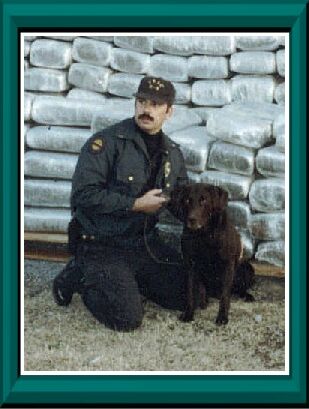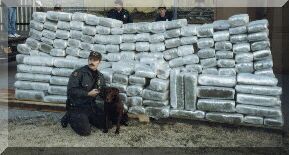 Handler: Sergeant James Chaney
State of Tennessee
Department of Safety
Commercial Motor Vehicle Enforcement Division
Nashville, TN 37249-1000
615-325.7373

Chocko, a chocolate Labrador Retriever was laid to rest today. Chocko was a Drug Detector Dog employed by the Tennessee Department of Safety, Commercial Motor Vehicle Enforcement Division. Chocko retired in 2001, but not before being responsible for nearly 800 drug arrests in his 11 year career. In 1993, Chocko and his handler, Sergeant James Chaney, were recognized by the US Department of Transportation, Drug Interdiction Assistance Program, for having the largest highway interdiction of marijuana for the year. That seizure, in excess of 3,000 pounds, remains to this day, the largest seizure in the state. As a working dog and as a friend, he will be missed. "
Chocko was a really great dog and will be missed by all of us. He was initially certified in July of 1990 and renewed in October of 2000. He was a hapy dog that enjoyed his "work." Of course was best buddies with the handler's son, James. He enjoyed his retirement and loved a happy life playing with his favorite game "Chase the ball."
submitted by Jim Cortina... 9/25/03
thanks for letter and photo from Dave Frost.
---
In Loving Memory of
K-9 CHARLY
April 7, 2003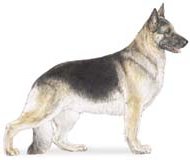 Handler: Lt. Sterling Johnson
Simi Valley Police Dept.
3901 Alamo Street
Simi Valley, CA 93063
(805) 583-6950

Retired K9 Charly dies at age 13- Ventura County Star
Retired Simi Valley police K9 officer Charly died April 7 of complications caused by a heart condition. He was 13 years old.
Charly was the sixth canine for the Simi Valley Police Department, beginning his career on Aug. 28, 1992. He was trained for patrol, narcotics detection and SWAT operations. He retired Oct. 25, 1999, when his partner/handler, Sterling Johnson, was promoted to sergeant.
During his seven years of working the streets, Charly was directly involved in 909 arrests, 855 building searches, 2,164 area searches, and 362 narcotic searches. He was recognized for his ability to locate large amounts of narcotics, including cocaine, methamphetamine and marijuana. In August 1994, Charly received national notoriety when he was bitten by a suspect he had located. Charly won many K9 competitions in his career. In the 1992 World Police and Fire Games in Colorado Springs, Colo., Charly placed third in obedience and agility. In 1993, he and another Simi Valley police dog, Carlo, won team awards at the Redondo Beach K9 trials.
---
In Loving Memory of
K-9 CALEB
May 29, 2003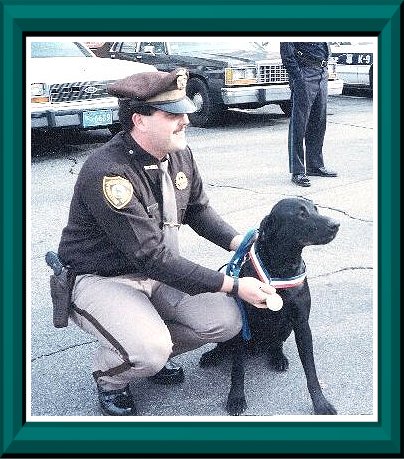 Handler: Officer Michael Jennings
Paxton Police Department, Worcester County Sheriff
10 West St
Paxton, Massachusetts 01612
(508)755-1104
County: Worcester
I am a retired police officer and I have a black lab, CALEB who died tonight, He was sick with cancer for the last several months. Caleb was 13 years old, He was donated to the Worcester County Sheriff Department in 1993 by N.E.D.S he was suppose to be a seeing eye dog but he was so high strung and he just wanted to play. Caleb graduate first in his class at the Boston Police Academy. It seemed that he was born for law enforcement all he ever wanted to do was find his toy. As soon as I would turn on the siren he was ready to go. The only draw back to this was if I was just backing up a officer it seemed he was mad that he did not get to work. Caleb has been fighting cancer since November of last year and he lost his battle on May 29th. I am so relieved that I was able to be with him to the end. It is a honor that Caleb can share this Memorial with all the other heroes in these pages.
God bless you Caleb you will be missed.
---
In Loving Memory of
K-9 CHIKO
July 22, 2003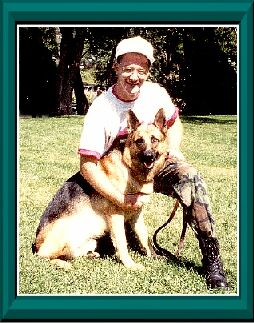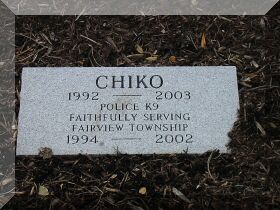 Handler: Robert "Woody" Swank
Fairview Township Police Dept. PA
Fairview Township Police Department
Eric A. Bistline, Chief of Police
599 Lewisberry Road
New Cumberland PA 17070
(717) 901-5267

He was born in June 1992 and passed away on July 22nd 2003. Chiko served Fairview Township from August 1994 until April 1st 2002. Chiko was a ten year old German Shepherd from Czechoslovakia who passed away on Tuesday July 22nd 2003. Chiko had been diagnosed with cancer several months prior. Chiko was able to pass at home in the arms of his handler, Robert "Woody" Swank and Chiko's (human) sister, Hannah. Chiko began service with the Fairview Township, Pennsylvania Police Department in August of 1994. Chiko was retired on April 1st 2002. Since that time, Officer Swank has joined the Harrisburg City, Pennsylvania Police Department. An informal, yet well attended, service was held at the Fairview Township Municipal Building on Friday July 25th 2003 at 2PM. Chiko was laid to rest outside the door to the Police Department. The Fairview Township Police Department has ordered a marker to be placed at the burial site.
submitted by: Curt & Dina Heckler
send cards to:
Harrisburg City Police Department.
City of Harrisburg Bureau of Police
McCormick Public Services Center, Suite 211
123 Walnut Street - Harrisburg, PA 17101-1681 (717) 255-3131
---
In Loving Memory of
K-9 CASIO
May 8, 2003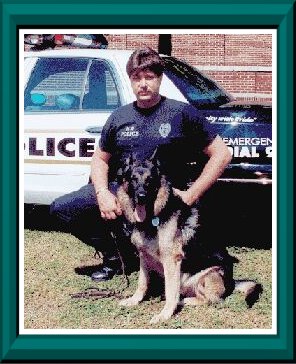 Handler: Officer Dan Parker
Terra Haute Police Department
17 Harding Ave.
Terra Haute, IN 47807
812 238.1661

Casio stated with the Terra Haute Police Department in 1996. He retired in 2001. Casio passed after a surgical operation. He was a great officer and partner. He was the first addition to the department's current K-9 program and was the driving force that made it what it is today. He started The Package Interdiction Program for the department, intercepting numerous packages of narcotics. Casio represented the T.H.P.D. by receiving an award at the 2000 K-9 Olympics. He has served and protected the city for the last seven years. He was on our own "Guardian Of The Night." We will always remember him in our hearts.



By Maura Halpern/Tribune-Star - May 12, 2003
In the center of the City Hall courtroom stood an easel with a large framed pastel portrait of a German shepherd. His large metal collar with his own mini badge and brown leather leash draped over the frame. Casio, the Terre Haute Police Department's first police dog in the K9 program, died last week after recuperating from surgery and was remembered Sunday afternoon during a memorial service. About 50 people attended the service, and some wiped away tears as canine officers delivered emotional eulogies about Casio's contribution to the department. "Casio wasn't just a regular dog, he was a great partner and team leader," said Officer Brian Worley, a K-9 officer. "He went far and above any regular dog -- he made everything look so easy." Worley held back tears as he finished his eulogy with a poem he wrote about the "guardian of the night," as Casio was described. Framed photographs of Casio and awards and certificates given to him and his handler, officer Dan Parker, lined two tables that were set up near the podium. A red and blue Superman costume also was draped over the table, one the dog wore while patrolling on Halloween in 1999. After the eulogies, an honor guard folded a flag in honor of the 11-year-old canine. Parker then saluted the flag and wiped away tears. Although the canine retired in 2001, he continued to sniff out trouble and went on to inspect public venues for explosives. He was the Police Department's first dual purpose dog -- where he was both on patrol and detected narcotics. The department currently has four police dogs who were trained with Casio's help and now follow in his paw prints. At the end of the ceremony, the honor guard conducted a 21-gun salute near the City Hall's flagpole, where the police dogs stood barking nearby with their handlers. "He set the standards for the other dogs," Parker said about his fallen partner. "The list goes on and on -- even when his health was bad he never gave up working. He was the original."
MEMORIAL SERVICES
Sunday, May 11, 3:00 PM
Terra Haute City Hall
Final Resting Place:
Dan & Lis Parker's residence
Bearers:
Todd Haller, Terry John,Brian Worley, Dan Whalen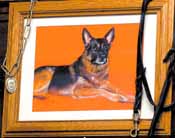 A FRIEND REMEMBERED: Adorned with his police badge and leash, a portrait of Casio stands in the front of the Terre Haute City Hall courtroom. (Tribune-Star/Chet Piotrowski, Jr.) Terre Haute police officers honor department's first dog in K-9 program with memorial service.
notified by Chrissy John
---
In Loving Memory of
K-9 CERKO
October 23, 2003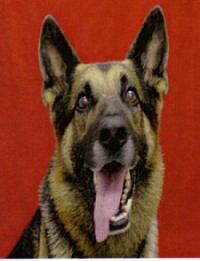 Partner: Officer Ken Pabelick
Milwaukee County House of Correction
Wisconsin

K-9 Cerko, a German Shepherd, was assigned to Officer Ken Pabelick in the spring of 1994. When acquired, Cerko did not even know how to bark as a young dog. It was noticed that he would do almost anything for his kong, so he was trained in narcotics, using his Kong as a reward. Throughout Cerko's career, he responded to hundreds of fights and altercations. He has done narcotic searches in every nook and cranny of the House of Correction. Inmates were tested and 9 times out of 10 it would come back positive based on Cerko's indications.
In early August, 2003, Cerko was diagnosed with spleen cancer and had it removed. Biopsy results showed it was malignant. On October 22, 2003, while at recertification at Steinig Tal Kennels, Cerko assisted the Mayville Police Department in a narcotics search of the area high schools. Cerko had the drive to do it, but physically he could not. On October 23rd, 2003, the difficult decision was made to put Cerko to rest. The cancer had spread to his lungs and he was suffocating.
Milwaukee County truly appreciated the service of K-9 Cerko. To the end, he did what he was trained to do:
Serve and Protect the community.
In Loving Memory of
K-9 CIRO
January 16, 2003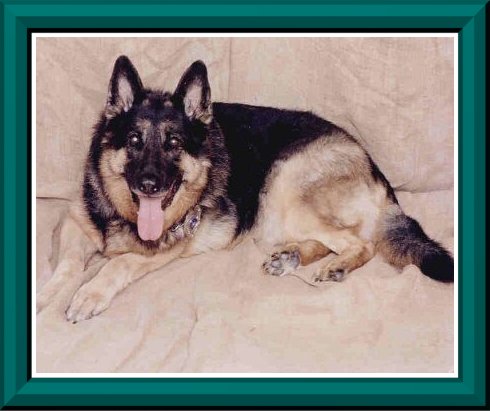 Handler: Corrections Officer Eric Filler
Meyerstown, PA
Lebanon County Prison
730 E Walnut St. Lebanon PA 17042
ph 717-274.5451
Former K-9 officer bids dog farewell - Tuesday, January 21, 2003 - BY TOM BOWMAN The Patriot-News - 717-272.3759 x 11
To some people, Ciro was just a 10-year-old German shepherd who died Thursday, Jan. 16, 2003.
To former Lebanon County Prison corrections officer Eric Filler of Myerstown, Ciro was his partner. "I don't know anybody in this world who would give their life for me," Filler said. "But I know that dog would have." Filler worked 13 years at the prison, the last three as K-9 officer with Ciro as his drug dog and partner. Ciro lived with Filler
and his wife, Karen, and daughter, Hannah, in their Myerstown apartment. When it was time to go to work,
"I'd start putting my uniform on in the morning and that dog would just gear right up," Eric Filler said. "He'd
run back and forth to the door. I'd open up the door, tell him to get in the truck. He'd run." The Lebanon County Drug Task Force bought Ciro for drug searches throughout the county and in the prison. Ciro patrolled all of the prison except the kitchen. "It was so weird. I didn't know how he distinguished a prisoner from a correctional officer, but as soon as he'd see an inmate, he'd go nuts," Eric Filler said. "He'd start barking and carrying on. I'd physically have to calm him down. Give him his command to calm down. It was just uncanny." A.W. Castle III of Mechanicsburg trained Ciro and Filler. Ciro was born in Germany and trained in the Czech language. So Eric Filler had to give him commands in Czech. Ciro loved to demonstrate his drug search skills for Boy Scouts and Girl Scouts and at crime prevention exhibits in area fire houses. "His eyes would brighten up. His tail would start going. His ears straight up in the air and his eyes as round as could be," said Karen Filler. "He was so excited. And he was ready to go." On Jan. 1, 2000, Eric Filler quit his prison job and paid a token $1 to the county for Ciro, who retired that day. Then Eric Filler took a job installing Coca-Cola machines. "The first couple of months, it bugged him to see Eric go to work, he didn't understand," Karen Filler said. "But after that, you were lucky if you could even wake him up in the morning. He was a total retired dog. All he wanted to do was play." In recent months, Ciro's problems with his hips, present since birth, got worse. He was in pain much of the day. Karen Filler gave Ciro buffered aspirin to kill the pain so he could jump up on the couch. Thursday, Eric Filler and daughter Hannah came home to find Ciro dead. He was cremated. Eric Filler is keeping the dog's ashes. "It was a godsend," Karen Filler said. "He was in pain. He was getting old. And we didn't have to make that decision to put him down."
---
In Loving Memory of
K-9 CHICO
January 5, 2003


Handler: Officer A. J. Pearson
Wilson Police Department NC
120 N. Goldsboro St. - P.O. Box 10
P.O. Box 10 Wilson, NC 27893
Ph: 252.399.2323

K-9 Chico was a Belgian Malinois imported from Holland. He weighed about 48 pounds. Chico was a partrol-narcotic dog. He worked the streets from 1988 to 1999. He was trained in obedience, building searches, agility, evidence searches, criminal apprehension, and narcotics. Chico was responsible for the largest find in the 7th judicial district. He retired in 1999. Cancer was found in Chico in 2000. He was Wilson Police Department's first K-9. Chico passed away on January 5, surrounded by his family. Officer Pearson is a twenty three year police veteran who started working as a police officer in 1978. He became a K-9 handler in 1988.


Officer Pearson now has K-9 Yeager who was born in March 1998. He is a dual purpose K-9, used in apprehension & detection. Trained to track and detect suspects and missing persons. He is also trained to detect several different types of narcotics, conduct building & area searches, criminal apprehension & protect his handler and citizens. He finished 9th place at the USPCA PD1 Field Trials in Onamia, MN.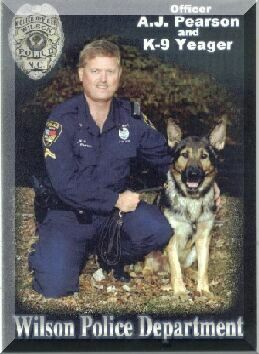 In Loving Memory of
K-9 CLIFF Badge #1452
April 23, 2003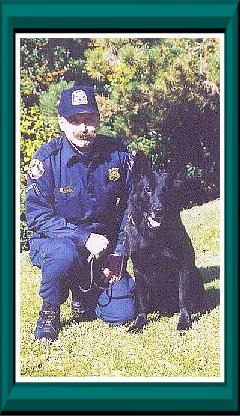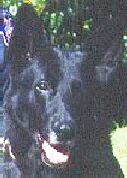 Handler: Pfc. Tom Harding
Howard County Police
3410 Courthouse Dr
Ellicott City, MD 21043

Cliff is an 8 year-old German Shepherd and is trained in EXPLOSIVES & FIREARMS detection.
Cliff is the senior canine on the Department and is a favorite amongst the police officers, many of whom knew him when he was a puppy. Cliff's hobbies include sleeping, eating, and sleeping. Cliff is a very dedicated, reliable member of the K-9 unit, and is often used in public presentations and K-9 demonstrations. Cliff that he retired about 2 months ago. Unfortunately, today he had to put his partner to sleep due to advanced displasia and arthritis. Here is a link that should give you enough to put Cliff on line. Cliff was a splendidly sociable pup. The need to properly match a potential police K-9 with a handler is an extremely complex task. The handler and the K-9 MUST have personalities which compliment and balance one another. The selection of both dog and man is a tedious process, and strict standards must be met to realize the full potential of the K-9 team. Pfc. Harding is a recognized expert in police K-9 training throughout the region and his expertise is reflected within the ranks of the K-9 unit.
***************
Watching Tom Harding work his dogs inspired me to pursue K-9. Notified by J. Seilbach - cards mailed April 25
In Loving Memory of
K-9 CHOLE SAR
July 23, 2003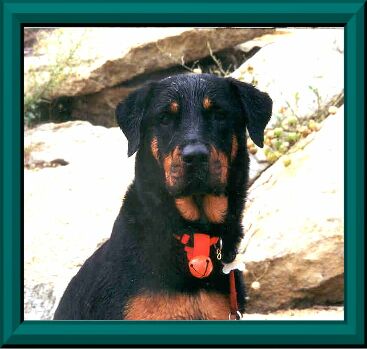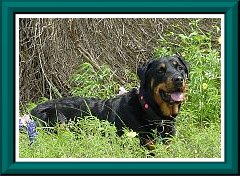 Handler: Ann Spurlock
ICQ 70650356
Richmond, TX 77469

For no bond is stronger than that of K-9 and handler and nothing breaks that bond ... not even death. Please help me in remembering my beloved Chloe. When I picked up Chloe at 16 weeks of age, she was a sweet puppy. She came to me, put her chin on my knee as I knelt down to say "hi", and we were never separated after that day. Chloe started her SAR career as a trailing dog in 1999 with Lone Star Search and Rescue and moved to human remains recovery with Special K9s of The Woodlands in 09/2000. She had three finds in her career before her retirement from an illness called irritable bowel disease. Those who have met her know that she IS an ambassador for the rottie breed and the shinning star of my household. She never met a stranger and those she had not met were just friends yet to be seen. Chloe changed a lot of people's mind about what a rottie is and should be. She has enjoyed a wonderful retirement for the last 2 years. It's been a long hard recovery for her and she has fought valiantly for her life and my happiness. She died peacefully at the vet's office on the morning of 07/23/03. Chloe and I shared the same birthday 07/18. Chloe's ashes will be spread in Galveston Bay where she loved to play and romp and where she had her first find locating two drowned fisherman. Rest well my friend. I miss you terribly and will NEVER forget. I know you and I will be together again at Rainbow Bridge.
*************
Thank you Dana (Berry) for submitting Chloe's name. Halley and Chloe will be waiting for us and we will all play again one day - whole and happy.
In Loving Memory of
K-9 CHANCE
2003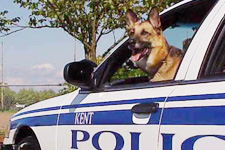 Handler: Officer Bateman

K9 Chance's Story
It was May of 1999 when Officer Dave Patterson and I headed out to a secluded house in Graham to survey a potential dog for me. What we found there more closely resembled a certain cartoon coyote named "Wile-E" than a German Shepherd named "Chance". He was 15-20 lbs under weight for his size, and absolutely filthy. Needless to say he was not a stunning specimen to look at. However, it only took a few minutes of actually working with him to realize that he had the potential to be a great dog. Chance and I started our initial training through the Department of Corrections at McNeil Island in July of 1999. At the conclusion of the class we had to pass what is affectionately called "Hell Night". A practical examine that consists of six straight hours of room searches. It was during this very difficult and stressful test that I realized just how special Chance was. At the end of the night, once all the scores were tallied up we found out that we had scored a perfect 100%. This was only the second time in the history of the DOC K9 training program that this had been done.
Chance and I hit the ground running in September of 1999 and never looked back. With Patterson as our partner and mentor, Chance continued to develop into an extremely effective drug dog. It did not take long for me to figure out that all he really needed me for was my opposable thumb. Someone had to do the driving and write up the paperwork. In Chance's career, which spanned from September 1999 to January 2003, he completed 1,512 applications with 1233 finds, and hit on $674,513 narcotics cash. He averaged 454 applications a year and 38 applications a month. In the unofficial category of "Dog Treats", Chance tracked down and consumed an estimated $1 billion dollars worth from various hidden locations around the PD. But I think it is pretty safe to say that all of the contributors to his "Cookie Fund" feel that it was money well spent.

Chance was quite a character both at work and home. I'm sure just about everyone had the pleasure of experiencing one of his Cujo-like barrages of barking. He would always wait until you were right next to the window and close enough for maximum impact. Or maybe you were one of the many unfortunate victims that happened to be in the PD as he tore through the hallways looking for his next milk-bone fix. These are just some of the great memories he gave us over the years. He was an amazing dog, and it was a privilege to serve as his chauffeur.
Written by Officer Bateman
submitted by Jim Cortina, Dir. CPWDA