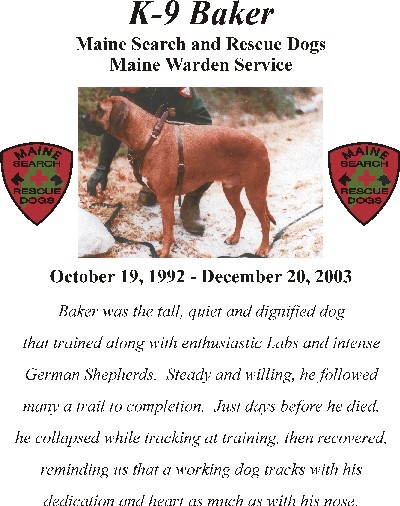 ---
In Loving Memory of
K9 BUDDY
date? 2003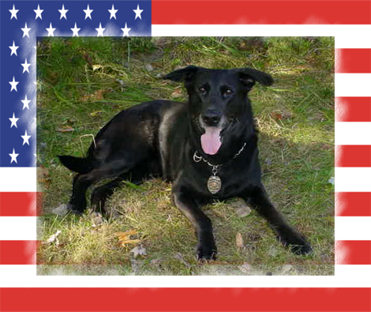 Handler?
Atlantic City Police Department
---
In Loving Memory of
K-9 BELLA - WTC - SAR
July 6, 2003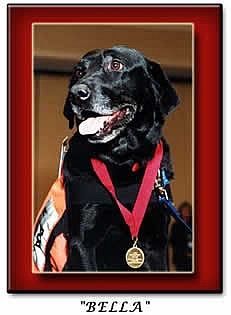 Handler: Captain Rita R. Tinsley, DVM
Stewart County, Tennessee K-9 Search and Rescue Unit
BRASDA (Barren River Area Search Dog Assn)
Bowling Green, KY

Bella was a Black Labrador from the Stewart County, Tennessee K-9 Search and Rescue Unit (volunteer) who worked with the K-9 Recovery Task Force at the World Trade Center. She was Dog #16. We responded with BRASDA (Barren River Area Search Dog Assn) from Bowling Green, KY. Bella was later inducted into the Tennessee Animal Hall of Fame as Outstanding Professional of the Year in 2002. In addition to working recovery at the World Trade Center, Bella helped in the recovery of 13 drowning victims in Tennessee and Kentucky, and in recovery or evidence finds in 3 murder cases. She passed away July 6, 2003.
Captain Rita R. Tinsley, D.V.M.
---
In Loving Memory of
K-9 BLUE
December 23, 2003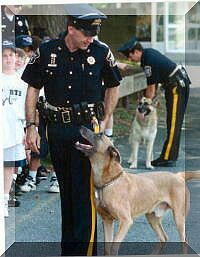 Handler: Sgt. John Davis
Bergen County Sheriff Office
Sheriff Joel G Trella 1 Court St
Hackensack, New Jersey 07601
(201)646-2200

K-9 Blue was euthanized on December 23, 2003. Blue was handled by Sergeant John Davis of the Bergen County Sheriff's Department. This K9 team graduated from the Atlantic City K9 Academy in February 1990. Thank you, Denny and Joe.
You have been friends through it all.
---
In Loving Memory of
K-9 BUDDY
October 24, 2003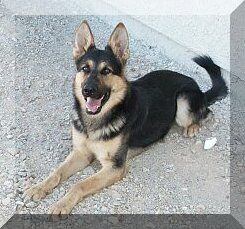 Handler:: Officer John Jenkins
Las Vegas Metro Police Dept.
K-9 Division - 4511 W. Cheyenne Ave. Suite 401
N. Las Vegas, NV 89030 - 702-229-3441
Las Vegas Police Dept. K9 Unit NV
****************************
PERSONAL NOTE:
John went back to work after operations and recoupiration from losing his K-9 Rudi on April 1, 2002 (LODD). He has been back on the job for 3 weeks (to my knowledge). Please send emails to John for support. sent cards over night 10/28/03 = Service 10/30/03
(submitted by Dusty Simon & Kathy Mourning)
Tribute to Buddy, Rudi, The K9 officers And all the other K9's that have passed away FROM THE CRAIG ROAD PET CEMETERY

Dear God,
Here's Buddy, Please listen to my prayer,
An infant he was, I know that you're there,
He gave his life, but he didn't understand,
He paid the price, which God did demand.
His future cut short, I question thee why,
His brothers stand firm; They serve by and by,
You taught us to trust, we do as you please
Your K9's are here, whenever the need,
So help us dear Lord, For this I do pray
Take my life instead, so they'll live another day.
So Buddy my friend, You'll worry no more…
You're definitely 1st class, You're new as before.
In the line of duty, your life you did give,
Your legacy, your spirit, long both may they live.
God has as assignment, I know you can't wait.
Your duty an honor to patrol heavens gate.
You won't be lonely; your life will be sweet,
Now you will join Rudi and the others Elite.
So Buddy be proud, for you know that we care,
And we'll see you in heaven,
For there's life out there.

WRITTEN BY
Charles Cooper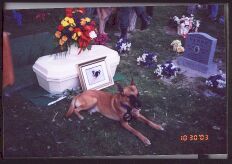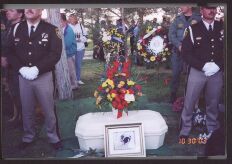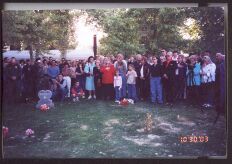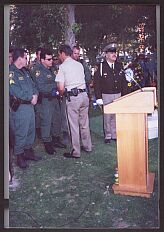 more photos in ULs below.......
http://www.lvmpdk9.com/cgi-bin/emAlbum.cgi?cmd=show_thumbs&path=Buddy's_Funeral&img=18&page=3&tn=1
*****************************
October 31, 2003 Metro officers, public say goodbye to slain police dog By Mary Manning LAS VEGAS SUN
More than 100 people including several Metro Police officers with their dogs in tow Thursday filed silently by a casket containing 18-month-old Buddy, a German shepherd killed in the line of duty last week. Buddy accompanied Metro Officer John Jenkins everywhere for 30 days until a week ago today, when he was shot and killed while waiting, a muzzle over his snout, in his partner's sport utility vehicle. "The pain of the loss is not diminished by the short time we had to bond," Jenkins said, holding back tears, standing by the casket at the Craig Road Pet Cemetery. "This was a very traumatic experience. There's no way to describe the frustration I felt that night." About midnight Oct. 24 Daniel Nunez, 23, carjacked a couple stopped at a gas station at Martin Luther King Boulevard and Bonanza Road, police said. As police tried to chase Nunez down, twice more he carjacked vehicles, until he came upon Las Vegas Paiute tribal police officer Mike Hinton at Lake Mead Boulevard near Buffalo Drive. Nunez, who was armed, took Hinton's weapon and drove off in the officer's car. A tribal police dispatcher riding with Hinton flagged down Jenkins and K-9 officer David Newton, both seven-year Metro veterans. In separate vehicles, they chased the stolen tribal police car. Nunez left the car after it crashed into a pole. Mike Horn, handler and trainer for Metro's police dogs, said Nunez came at the officers firing with a gun in each hand. Jenkins returned fire as Nunez advanced on his SUV. Jenkins attempted to move his vehicle but was showered by glass as the window he was standing near was shot out. By this time Nunez was near the front of the SUV. Jenkins headed for new cover. Nunez continued firing at Jenkins, then stole his SUV. Buddy was sitting in the front seat. "I called for him to come out of the truck several times when I decided I could no longer stay there," Jenkins said, but Buddy didn't come. "Words can't describe the frustration and pain I felt when I couldn't get him out of the truck. My heart just sunk." Nunez shot and killed Buddy and then turned a gun on himself, police said. Jenkins described Buddy, a German Shepherd born in Holland, as playful and gentle. "If his toy wasn't around, he'd find the nearest rock," he said. Buddy's formal training was scheduled to begin this Saturday. It was the second time Jenkins experienced the loss of a police dog partner. The first was Rudi, a Belgian Malinois, who was killed in a traffic accident. Jenkins had just returned to duty with Buddy after spending 18 months in surgery and rehabilitation after the traffic accident that killed Rudi. "It was great to be back with a new partner," Jenkins said. Lt. Kent Bitsko, the police dog unit leader, said that Jenkins will have a new partner soon. K-9 officers from Murray, Utah; Phoenix; West Covina, Calif.; Henderson; North Las Vegas; Boulder City; Nye County; and the S. Air Force and Metro's Search and Rescue bloodhound team attended the funeral services, which included a color guard, a 21-gun salute and taps. Mike Horn, Metro's dog handler and trainer, said he has had several canine partners in his 18-year career. "It doesn't get easier coming out here (for a funeral.) It gets harder for me," he said. Celeste Smith and her daughter Sherry Simmons, both of Las Vegas, attended the service because they love animals. "It's such a shame he got shot because he was muzzled," Smith said, recalling how she gave her dog, a collie-shepherd mix, to the military during World War II when she was 14 years old. "I felt real good about it at the time, but I'd never do it again," she said. For Las Vegas businessman Rob Clavier the service was a way to pay back a debt of gratitude to police officers. "I was thinking about the firefighters in California and the soldiers in Iraq," Clavier said. "Police officers are really the soldiers of society." Law enforcement officers save lives, take lives and even sacrifice their own lives, Clavier said. Although Clavier did not know any of the officers, he said he respects what they do. "They are one of the few people who still make house calls." He said the only positive thing he could say about the funeral was that he was relieved that "it's a dog they were burying and not an officer." But Pat McCann, who read a brief eulogy for Buddy, said Clavier was wrong. McCann said Buddy was "an officer in fur, a rookie in training." Dogs "share in the fortune of human existence," McCann said in the eulogy. "For he is alive and well and runs with passion in his new life." Jenkins said he is ready to begin training a new partner to honor Buddy's memory. "It's my goal to get back out there and find some more bad guys with my next partner."



The man who police said was responsible for carjacking five vehicles, including two police cars, and killing a police dog Friday morning was identified this morning as Daniel Nunez, 23. The Clark County coroner's office said Nunez of Las Vegas killed himself with a gunshot about 2 a.m. Friday. Metro Police said he shot himself while being chased by patrol cars along U.S. 95. He had no felony record in Nevada, police said. Police said the series of five carjackings started just after midnight Friday at Martin Luther King Boulevard and Bonanza Road, when two men took a car by force. About an hour later the stolen car crashed near the Suncoast on Rampart Boulevard, police said. Witnesses told police a person got out of Nunez's car and ran into the Suncoast parking garage, but Capt. Tom Lozich said officers couldn't find that person and called the report "unsubstantiated." Before leaving the lot, Nunez stole a sport utility vehicle instead, police said. At the corner of Lake Mead Boulevard and Buffalo Drive, police said, Nunez attracted the attention of an off-duty Paiute tribal officer. Nunez pulled a gun on the officer, took the officer's gun and stole his car, police said. A passenger with the tribal officer flagged down two Metro K-9 officers who were just finishing a dinner break, and the K-9 officers chased the stolen tribal patrol car, police said. Nunez jumped from the police car at Tenaya Way and Lake Mead Boulevard, leaving the patrol car to crash. Two Metro K-9 officers, John Jenkins, 36, and David Newton, 32, both seven-year veterans of Metro, chased Nunez and exchanged gunfire with him before Nunez stole one of the K-9 SUVs and fled on U.S. 95 southbound, police said. Homicide Lt. Tom Monahan said Nunez fired at the officers with both his own gun as well as the tribal officer's weapon. As he led Metro officers on a chase along U.S. 95, Monahan said, the evidence shows he shot himself in the head. The coroner's findings confirmed that conclusion. "This was pretty straightforward," Coroner Michael Murphy said this morning. "It was clear that this was self-inflicted." Police also found the muzzled police dog, Buddy, shot to death in the stolen SUV, Monahan said. The SUV crashed into the center median near the Jones Boulevard exit. "Buddy was a newer dog and he and his handler were just getting to know each other," Lozich said. "He was just starting his career with Metro." Buddy was expected to become an active member of the K-9 Unit early next year. A funeral for Buddy will be held at 3 p.m. Thursday at the Craig Road Pet Cemetery near Tenaya Way in northwest Las Vegas. Many other Metro service dogs killed in the line of duty are buried there. Metro's K-9 unit has 25 dogs -- patrol, bomb-detection and drug-detection dogs. The dogs can cost up to $5,000 each and including training, the costs can total $15,000 to $20,000 per dog. Friday's fatal shooting of a Metro Police dog was the second time that a Metro dog has been killed in the line of duty. A third was accidentally killed by the officer who was supposed to be taking care of it. On March 28, 2002, another dog, Rudi, was crippled when the police car he was riding in while headed to a call was struck by another car. Rudi, a 2 1/ 2-year-old Belgian Malinois, was later put to sleep. In April 1999 another Metro dog died when he was accidentally locked in a patrol car in an officer's garage. Fred, a 4-year-old German shepherd, was staying in an officer's garage until his kennel could be built. When the officer came home and saw his small son on a tricycle heading for the street, he parked his car in the garage and went to get his son. Fred apparently saw the open car door and got inside the vehicle. The officer closed the door without knowing that Fred was inside.
---
In Loving Memory of
K-9 BALI
April 4, 2002 - October 23, 2003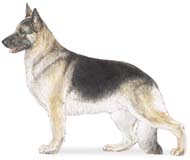 Handler: Cpl. A. Kaldewaay
Las Angeles Police Department
K-9 Bali shot in the line of duty while being on the job for one month. You're forever in our hearts.
Carjacking spree ends in shootout, suicide, K9 killed By Dan Kulin and Jace Radke
A man killed himself this morning after stealing several cars, including two police vehicles, getting into a shootout with Metro Police officers and killing a police dog, officials said. The series of five carjackings in northwest Las Vegas started just after midnight and police had major roads closed this morning for the investigation, causing a rush-hour traffic jam. The crime spree ended when the man apparently shot himself in the head while driving a stolen patrol SUV along U.S. 95, Metro Lt. Tom Monahan said. It all began with the carjacking of a sedan in the 1500 block of West Bonanza Road, near Martin Luther King Boulevard, Lt. Les Lane, a Metro watch commander, said.Two suspects stole the car by force and drove off. About an hour later, he said, the car crashed at the Suncoast. The two suspects got out of the wrecked car and one fled on foot, Monahan said. The other robbed a car from an elderly couple, then saw a Toyota Rav4, abandoned the stolen car and carjacked the sport-utility vehicle, Monahan said. In the area of Lake Mead Boulevard and Buffalo Drive the lone carjacker attracted the attention of a Paiute tribal police officer, who was off duty but in uniform and in his patrol car, probably on his way home, Monahan said. The officer approached the suspect, who pulled a gun on him, took the officer's weapon and stole the tribal police car.He ordered a female passenger out and drove off. The woman flagged down two Metro K-9 officers who were finishing a dinner break nearby. They saw the tribal patrol car heading east on Lake Mead Boulevard and gave chase, Monahan said. Between Buffalo Drive and Tenaya Way, the man bailed out of the stolen patrol car, which continued moving several hundred yards before it crashed to a stop, Monahan said. The man started firing at the K-9 officers with a gun in each hand, Monahan said. One officer returned fire and drove around to get into a better position. Monahan said. The other stopped and took cover behind his patrol car, an Expedition sport-utility
vehicle, he said. When the second officer tried to get back into his SUV to move, the gunman shot out his driver's side window,
Monahan said. The officer took cover again, and the gunman jumped into the patrol SUV and took off, he said. It's only the second time in his 19-year career Monahan could remember a patrol car being stolen. "We're trained to get out of our cars," Monahansaid. "The last thing you worry about when you're taking fire is whether the car is still running." At some point in the stolen K-9 vehicle, the man shot the police dog, who was muzzled, to death, Monahan said. He drove the SUV onto U.S. 95. Other officers joined the chase on the freeway. "The evidence suggests that the suspect shot himself once in the head while driving at freeway speed," Monahan said. The SUV continued about half a mile along the freeway, then crashed into the concrete barrier, he said. The gunman, who had not been identified this morning, was pronounced dead at the scene, Monahan said. Monahan said the gunman appeared to have died of a gunshot wound in the head and did not appear to have other wounds, but an autopsy, to be conducted Saturday,would determine the official cause of death. Toxicology tests also will be done, Monahan said. No one other than the gunman and police dog was harmed, Monahan said. Monahan said it was lucky that the series of chases occurred late at night. "Were this to happen at 2 in the afternoon instead of 2 in the morning, we probably would have had bodies all over Lake Mead," Monahan said. Themultiple police scenes caused Lake Mead Boulevard from Buffalo to Tenaya to beclosed during the rush hour, as well as part of U.S. 95. The freeway was openedabout 8 a.m. Lake Mead reopened about 10:15 a.m. About 8:30 a.m., police began to let people walk across the streets to the many shops and businesses in the area near the shooting. "I'm a little surprised that this happened in this neighborhood, but itdoesn't sound like it started here. I guess these things can end up anywhere," said Dina Anderson, a nail technician at Destination Garden Spa, 7331 W. Lake Mead Blvd.At nearby Cimarron-Memorial High School, Principal Janice Rowland said as a precaution the school locked the gates leading to the parking lot during first period. "We did that so that we could make sure we knew who was coming in and out of campus," Rowland said. "Other than that, it's been business as usual for us, with the exception of a lot of tardies this morning. "Stacey Fishberg, a massage therapist who works with Anderson, worried about how the street closures would affect the business. "We're going to be losing hundreds of dollars today. Fridays are our big days and make our week for us," she said. But the two spa employees said the thing that most upset them was the news that the police dog had been killed.
---
In Loving Memory of
K-9 BARRY
April 19, 2003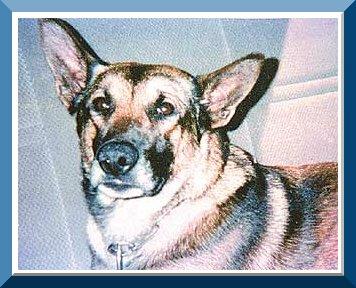 Handler: Officer Bill Pyles
Kodiak Police Department
217 Mill Bay Rd,
Kodiak, Alaska 99615
907.486.8000 • Fax 907.486.8023

Barry, a canine who worked with officer Bill Pyles of the Kodiak Police Department, is shown in the 1990s. Barry died April 19 from a burst tumor. The pair performed drug investigations together for seven years in the mid 1990s.
On patrol in his Ford Explorer, Kodiak police officer Bill Pyles still looks over his shoulder at the empty seat behind him. It's an old habit. For seven years, Pyles was part of the Kodiak Police Department's only K-9 team, specializing in narcotics enforcement. The team busted a lot of drugs in their time. But all that came to an end last month when Pyles' partner, police dog Barry, unexpectedly died. "It was a sad time," Pyles said, "because a lot of the (police officers) here today had been around Barry for a long period of time." Since then, Pyles has been patrolling solo on his 4 p.m.-to-midnight shift. During his shift one recent Saturday evening, Pyles talked about Barry. For five years Pyles, 43, was a member of Kodiak's Drug Enforcement Unit, created to crack down on a narcotics problem that peaked on the island in he mid-1990s. That job teamed him up with Barry, a Belgian Malinois. The reed is reminiscent of a German shepherd. Barry was born and initially trained in Belgium. The dog was later bought by Adlerhorst International Police Dog Handler School in Riverside, CA. When Kodiak police decided they wanted a narcotics dog in 1996, they sent Pyles and state trooper Kurt Ludwig, an experienced dog handler, to riverside. After three days of looking over the selection, they bought Barry for $2,600 with money raised by the local Elks club. A month long narcotics training course ensued. Barry learned how to smell hem all -- marijuana, cocaine, heroin, meth amphetamines -- and in a variety f locations and quantities. After training in California, Barry and Pyles trained more at atroopers facility in Palmer to earn the state certification required for the dog's work to be accepted by Alaska courts. Finally, the two were ready to go to work. "Cocaine and marijuana. Cocaine was huge and probably still is. There was ust a lot of cocaine coming inhere, " Pyles said. "Boat, plane, post office, UPS, Fed-Ex, you name it." Pyles remembered an early bust with Barry. "They called Barry and I in there to search this apartment. Immediately I knew (the dog) was on odor by what he was doing." Barry started to scratch the wall with his head, pointing at a potted plant ranging fromthe ceiling. Buried in the pot, police found cocaine and marijuana. One of Barry's biggest busts included a couple of pounds of marijuana,6 ounces of cocaine and a couple of ounces of meth amphetamine. Barry turned out to be a public relations tool for KPD as well, putting on demonstrations for kids or organizations. "We did a lot of demonstrations for the elementary's, showing the kids what Barry does and how he does it," Pyles says. "We spent a lot of time doing a ot of demonstrations when we weren't on the road working. "That was one thing Barry really enjoyed. He loved being around people. He as really a people dog. I could take him into any of the schools and you'd have 20 or 30 kids in there and it wouldn't faze him. I had kids pulling on him, leaning on him, poking him. He just loved kids. He never got aggressive." Though the dog was trained to be aggressive when needed, most times the gnarl and bared teeth aren't necessary. Pyles says police dog handlers everywhere agree that sometimes just having a dog on scene makes the situation calmer. "I know there were a few times where we went to a bar fight and the (car) window would be open," with Barry's head sticking out, Pyles says. "You would hear guys make comments like, 'Watch it, there's a cop dog there.' And guys would say to me, 'You're not going to let your dog out on me, are you?' During his drug busting days, Barry carried out 180 narcotics searches. He found drugs 42 times and found drug paraphernalia numerous other times. After five years in the drug unit, Pyles asked that the partners move to patrol so he could spend more time with his family. The department approved, with the agreement that the team would always be on call for any searches that came up. On April 19, the duo's patrol shift went smoothly. Pyles even took Barry out for exercise, which he usually did about twice per shift. "I had him at one of the parks and was throwing sticks," Pyles said. "He was going full speed ahead."
Then the two went home. But Barry couldn't get out of the car, Pyles said. "When I opened up the door, I knew immediately something was wrong. He stood up and his front legs started shaking. Then he fell back." Pyles checked Barry's heart rate and could tell the dog's breathing was labored. He shut the door, ran into his house and called the vet. "The vet told me to bring him in right away." An hour later, Barry was dead. "When the vet told me he was gone, I didn't want to believe it. He just went so fast." The vet "was going to have to open him up to find out what had happened, "Pyles said. "I didn't want to see that. So I went home. My wife and I just sat there." Half an hour later, the vet called. Barry died when a tumor in his spleen exploded. A liter of blood had spilled into his body, and Barry died from internal bleeding. Pyles didn't see it coming. That's what frustrates him the most. "Right after it happened, there were so many times I would look back and not see him there (in the back seat), and it would scare me because he was always there," Pyles said. "Maybe I just haven't accepted it yet or it's taking me a long time. Seven years constantly seeing him there and seeing him with his head sticking out the window."
---
In Loving Memory of
K-9 BLACKJACK
July 2003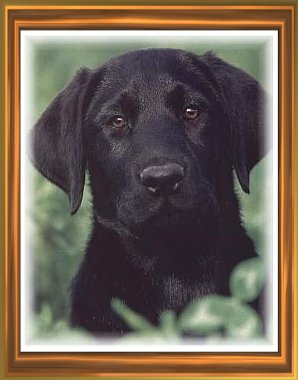 Handler: Deputy Louie Almonte III
El Paso County Sheriff's Dept.
TX
915 546-2212
July 9, 2003 Sheriff's office to retire badge of top canine Daniel Borunda - El Paso Times
Borderland - Blackjack, an award-winning El Paso County Sheriff's narcotics dog, died last weekend, officials said Tuesday. The Sheriff's Department is scheduled to retire the black Labrador retriever's badge number today, officials said. Blackjack and his handler, Deputy Louie Almonte III, were the 2001-02 Texas Narcotics Peace Officers Association dog team of the year. notified by Jim Cortina, Dir. CPWDA
---
In Loving Memory of
K-9 BEAR SAR
May 4, 1993 - September 7, 2003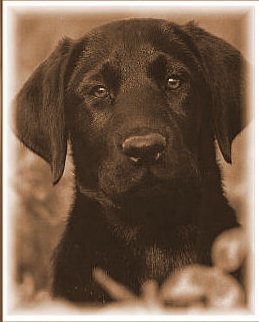 Handler: John Gilkey
PA USAR Task Force 1
Bear, the urban search and rescue dog that died on 9/11/03 from my FEMA Urban Search and Rescue Task Force from Pennsylvania. I have spoke with John, Bear's handler and he is fine with us trying to put this together. If you could give me a phone number to call you so we can get the ball rolling finally that would be great. John told me that he just purchased a book that had a picture of Bear in it and I was wondering if it was your book. I am embarrased to say it but I have not had a chance to see your book yet and I can't wait until I am able to get my hands on it. I look forward to hearing from you and Thank You again for all of the wonderful things you do for our four legged partners. John is finally able to talk about this and I hope we can still put something together. Thanks again.
submitted by Rich Grant
PA TF-1 K9
---
In Loving Memory of
K-9 BALOU

January 1, 1995
-
May 21, 2003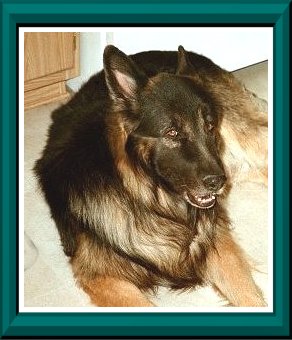 Handler: Lt. Robert Cutler
Eureka County Sheriff Department
phone # 775-237-5330
411 N Main St. - Eureka, Nevada 89316
Laurance Etter, Sheriff

"BALOU" to May 21, 2003 - 123 lb.. Czechoslovakian Shepherd
October of 1998 the Eureka County Sheriff's Office obtained Balou from another agency in the state who was terminating their K-9 program. So when I was asked by my Lieutenant at the time if I wanted to be a K-9 handler I was ecstatic and couldn't wait being a big dog lover. Well little did I know having a trained Police service dog is a bit different than having a dog for a pet. My first acquaintance with Balou was very interesting he bit me and wouldn't let go, well it was all over from there on, a few jerky treats later we were forever bonded. It was a lot of work for the first few months, you see Balou sat in a kennel for about 9 months before I got him not working at all, so he was a little rough around the edges. When I finally got home my wife (Terrina) saw him and fell in love instantly. Then he snapped at her and she was wondering what it was she fell in love with. A few garbage bags of hair later and Balou started looking more like a beautiful Shepherd and less of a furry alligator. Over the next four year Balou became my best friend and my protector, and Terrina's pretty boy. Balou was responsible for several narcotics arrest, keeping narcotics out of the local high school, and made several felony warrant arrest go much smoother than they normally would have. Balou was pure energy, I have never seen any dog so eager to work and so eager to please and be rewarded of course with his wrapped towel which smelled like marijuana. Balou was a faithful partner with a unique personally at times we couldn't even tell he was a dog, every night he was like a little kid, he got up on our bed to say goodnight and then went to lay on his bed. He had one little nitch he always wanted to lay with his blanky (a 4 foot leather leash). Everyone in my department knew not to even try and get his leash or they would suffer the consequences. Balou will always live in our hearts and in our souls and always and forever in our memories. Balou was diagnosed with Melanoma Cancer on May 21st, which encapsulated his lungs and heart. The vet stated that he had probably only had it for a month or two at the most. obviously we didn't have a whole lot of time to prepare ourselves for the bad news. I rushed home from work on this day to only have 45 minutes left to spend with him. (But I made the best of it). Balou has been laid to rest at the Eureka County Sheriff's Office in which he served so faithfully. Hopefully soon we will be able to immortalize him with a lasting tribute of a headstone. Thanks again for everything. I could ramble on for ever about my friend, Balou. Rob Cutler
---
In Loving Memory of
K-9 BLESK
December 16, 1990 - March 20, 2003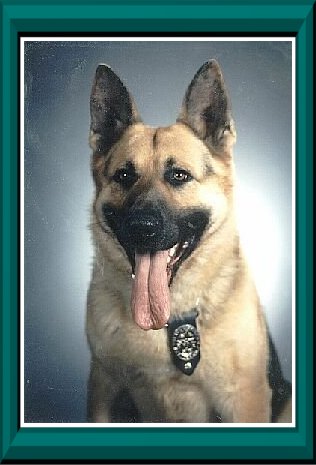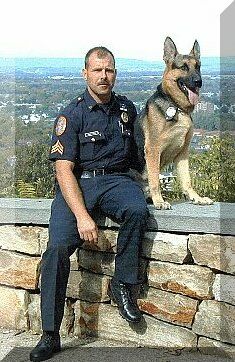 Handler: Sgt. Jack Fliter
City of Bethlehem Police Dept.
10 E. Church St. Bethlehem, PA 18018
610 865 7187 main number & 610.865.7179

I lost my retired K-9 partner, Blesk, on 20 March 2003. K-9 Blesk was a patrol dog, born 12/16/90, and imported from Czechoslovakia. He retired from active service in September, 2000. He was a wonderful partner. He was credited with 72 arrests during his career. Blesk had to be put down at the age of 12 years after developing spondelosis.



I am presently the K-9 unit supervisor for my department. This is my third K-9 partner, which is a patrol/explosives dog, K-9 Alan. Alan became my partner in September, 2000. He is my new patrol/ explosives partner, Alan (pronounced O-lahn), also a German Shepherd, from Hungary.
---
In Loving Memory of
K-9 BOCK
August 24, 2003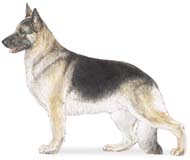 Handler: Mike Andrel
Darby Twp. Police Dept.
Sharon Hills, PA
Bock.. My bomb dog pass away on 8-24 he died in Peggy's arms in our driveway. He was 11 and died of congested heart failure.
This is Mike's 3rd K9 on this site. 2001, 2002, 2003.
---
In Loving Memory of
K-9 BUCKLY
July 1991 - November 29, 2003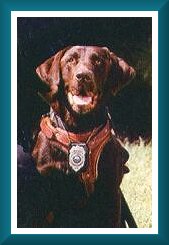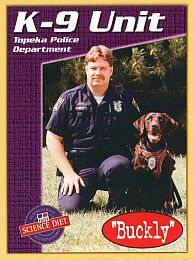 Handler: Officer Kelly Roberts
Topeka Police Department
Buckly's official start date with the Topeka Police Department was January 1, 1994 and officially retired November 25, 2003 total days active duty, 3615. He passed away November 29, 2003 at 10:55 am. Kelly told me that Buckly was born in June 1991. Buckly was a chocolate lab and a narcotics detection K-9. Buckly was partner to Officer Kelly Roberts also of the Topeka Police Department, Topeka, Kansas. Buckly lost his battle with cancer only 4 days after he retired. Buckly was diagnosed with cancer shortly after Chief was.

LuLu,
I am sitting here at my computer crying over my friends loss of his partner. I had no idea his time for making a decision was so near. Officer Kelly Roberts and I went to jr. high and high school together and he is one of the most wonderful people you would want to meet. He always thinks of others first and holds a dear place in my heart. His partners name was Buckly. Buckly was a chocolate lab that the Topeka Police Department adopted from the Humane Shelter in August 1993. Buckly was born in June 1991. Kelly started training Buckly on Jan. 1, 1994 and went on the street with him on March 4, 1994. Buckly was a narcotic detection K-9 for the Topeka Police Department. In March 2002 K-9 Buckly was diagnosed with a Mast Cell tumor and underwent chemo treatments and was declared in remission on June 12,2002. Sadly Bucklys cancer returned with a vengence and Kelly had to put him to sleep yesterday, 11-29-03 to allow him to die with the dignity that we all wish we could die with. Below is the e-mail that Kelly sent me.
"Well I had to do what I really didn't want to do today. I had to say
good-bye to a dear friend. Buckly was really hurting and his legs were
swelling and the blood was being cut off. Julie I couldn't stand to see him loose his dignity and not be able to be the Buckly we all knew and loved. I know he is better off now, Whole and living a great life, chasing all the dogs he wants and eating anything he wants, There will never be another dog as deep in my and my families hearts as Buckly. Thanks for all your support and prayers. Buckly will have a place of honor at Mount Hope with the other K9's. Not sure when we will put him down but it will be sometime next week. I'll let you know when. Take car and stay safe. Kelly"
His e-mail brought tears to my eyes and as I read it once again it brings back the pain of losing Chief. Buckly and Chief started at the same time. I have to laugh because I always imagine one of Angel Chiefs jobs is to guard the gate at Rainbow bridge and Buckly and him hated each other. I told Kelly that I imagine when Buckly passed over the bridge Chief had a few words to say to him or at least a few barks and growls. Whenever the K-9 Unit would get their picture taken as a group you would always see Kelly and K-9 Buckly and Me and K-9 Chief at opposite ends of the line. They were always looking into the photo at each other and would not look forward. I will be e-mailing you a photo of Kelly and Buckly and if you could make him some cards I know he would treasure them. I will also e-mail you a message to post on your website after I get up today or tomorrow so Buckly can hold a special place at your site. You are truly an angel sent from God, dear.
submitted by: Julie, Angel Chief and K-9 Joker
---
In Loving Memory of
K-9 BRITT
November 30, 2003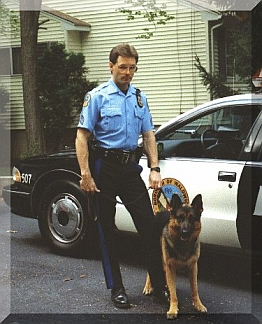 Handler: Officer Steve Brincat
NYPD K-9
718-492.8305
Bad news "Britt" was put to sleep over the weekend, he had a tumor and was in a lot of pain so they put him down on Sunday -
it was very sad, he was about to retire. Brincat was upset, but Brincat was the one chosen to get Romeo, they started
training together on Monday.
---
In Loving Memory of
K-9 BRUNO
November 13, 2003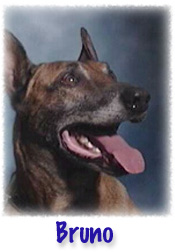 Partner: Officer Mark Reese
Mesa Police Department
130 North Robson, Mesa, AZ 85201
480- 644.2211


Police Service Dog, BRUNO, was obtained by the Mesa Arizona Police Department in August 1994. He had originally been imported to go to a south Florida Police Agencey, but he was a little "wild" for them. Bruno was three and a half years old and had more energy than most other mammals. After a couple of months of training Bruno hit the streets. He quickly earned the name of "psycho dog" from other Officers. Bruno ALWAYS gave 120% and was always in the mood to go to work. He motivated other Officers with his energy and willingness to catch the bad guy. After about five months, Bruno was to be cross trained to a narcotic dog. I never thought he could focus enough to be a reliable narc dog. Bruno proved me wrong. He became the best narcotic dog the City had and even at the time of his death still holds the largest narcotic find by a dog in the history of Mesa, Arizona. The find was two-thousand pounds of cocaine that was concealed in a semi-trailer. Bruno worked seven years for the department and was retired at the age of ten years old. I decided to leave the K-9 unit with Bruno after I had served for ten years as a dog handler. I transferred to the Aviation Unit and Bruno became a "pet". Bruno enjoyed retirement and was given as much attention as I could afford to. About two years and a half years after retirement Bruno became ill and was diagnosed with a cancerous tumor which invaded a major artery. Bruno passed away on 11-13-03. He was the ideal dog. He was an extension of me. He was my partner who was always there for me. I will always miss you , Bruno.
---
In Loving Memory of
K-9 BRYAN age 9
March 27, 2003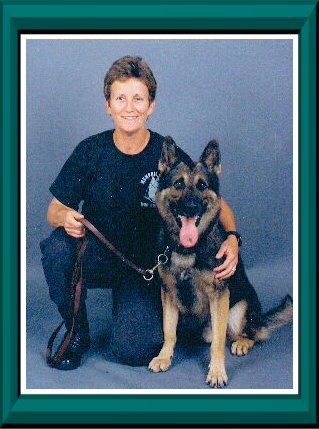 Handler: Officer Jane Martin
Memphis Police Department

March 27, 2003 at approximately 0500 hrs. I lost my partner, Bryan. I should have been off and getting ready to leave for Ohio to see my daughter and son-in-law. Our squad was short that night and instead of raising hell about someone being called in to work over-time, I worked. Bryan and I had the whole city of Memphis to cover from 2200 hrs. till 0500 hours. It was the last call of the night, alarm on a business with one possibly still inside. There were plenty of officers on the scene covering the building as I arrived. I was advised of an open window and could see the overhead door the suspect was trying to exit as officers arrived. Bryan and I entered the building by the open overhead door and closed it behind us. Bryan moved toward the rear of the building and began indicating odor around a small pick-up truck, which was parked inside the building. He scooted under the rear of the truck, which was backed up to another overhead door. All I remember is a slight sound and I no longer heard the sound of my dog. I heard muffled noises and could see flashlights on other side of the fiberglass wall of the building. I advised over the radio I could not find my dog and asked if he was outside the building. I heard someone say over the radio that Bryan was outside. I frantically looked for the opening he had exited the building. I could not find it. I heard someone say "shots" over the radio and asked if someone had shot my dog. I was advised that he had been shot. I tried every door I had in that area and could not exit the business. I ran for the front of the building to the door we had entered the building and asked where my dog was. I found him at the rear of the building a couple of feet from the hole he had exited. He was already dead. I found the rear overhead door had a hole that the officers had covered with a big green garbage can. I believe the odor my dog picked up was from the officers standing near this hole and he pushed out this hole toward the officers. I had not been told before the search about this hole. The officers ran and my dog bit three officers before a fourth officer came up and shot at him twice. They said Bryan released on the second shot and ran back toward the rear of the building and dropped. I'm not sure how many times he was hit. This all happened in a matter of seconds. I could not get out of the building fast enough. The officers panicked and my dog was just doing his job. I worked with Bryan for 6 years. He was first and foremost a patrol dog and also trained in drug detection. He was good with his nose. He was not social, but he loved me and would never hurt me. Bryan was my second dog in my almost 15 years on the Memphis Dog Squad. This should have not happened. I have become a part of talking to our recruit classes and in-service classes about what to do in situations with dogs, be it police dogs or citizens' dog. If I can get one officer to try something else instead of deadly force on a dog I will feel like my partner had not died in vain. Bryan was cremated and is back home with me. He joins my first partner, Rocky. Rocky was 16 years old 11-19-02. He spent the last 6 years of retirement in the comfort of my home. Because of failing health I put him down on New Years Day of this year. I was just starting to let him go when this happened to Bryan. They set side-by-side in my den,"the two best partners I ever had."
---
In Loving Memory of
K-9 BRYSON
January 24, 2003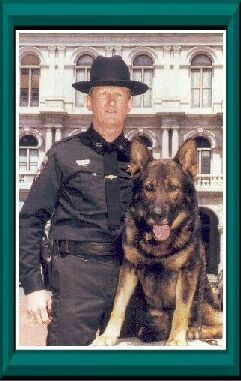 Handler: Deputy Bob Rinfrette
Cattaraugus County Sheriff's Office K-9 Unit
301 Court Street - Little Valley, New York 14755-1090

716-938-9191 - 1-800-443-3403 (New York State Only)
K-9 Bryson and his handler were handling a accident on interstate # 86 (Rt.17) in Cattaraugus County New York when there Police Car was struck by another Vehicle. The incident happened yesterday 1-24-03 at about 10:30 AM . Bob had minor injuries and was treated and released with a separated shoulder. One of his dogs "Bryson," a German Shepherd, was killed when apparently thrown through the rear window of the vehicle and had to be put to sleep because his injuries were too much to survive. His other dog, a malinois, was also with him but had a minor injury.

A memorial service will be held on 2/8/03 at 11:00 a.m.
at Limestone Fire Department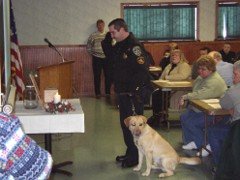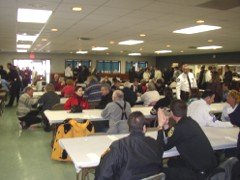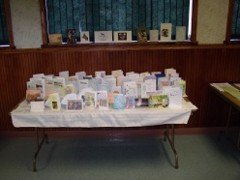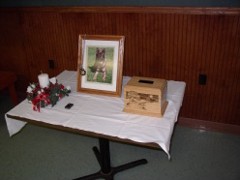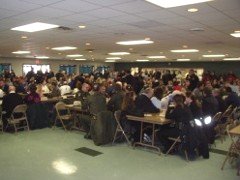 The service for Bryson it was very heart wrenching, there were more than 150 police officers, family & friends.


Thank you Butch ( Lou ) Hudson also for photos (NY) Greg Thomas (AZ) & Jim Cortina (CT) for notifying me.
We met Butch when we were visiting Niagra Falls.... He's much more handsome than this photo .... and as nice a person to match.

Deputy Robert Rinfrette knows some people won't get it.
They won't understand why he's having such a hard time saying goodbye to a dog. But Bryson, a 7-year-old German shepherd, wasn't just a dog. He was Deputy Rinfrette's partner. Bryson is the first member of the Cattaraugus
County Sheriff's K-9 unit to die in the line of duty. He died Jan. 24, 2003, following a traffic accident on Interstate 86. "With the Columbia tragedy and everything else that's happening, I know I'm not the only one suffering," Deputy Rinfrette said, referring to Saturday's loss of the space shuttle with seven astronauts aboard. But it's his grief over Bryson's loss, that's giving him nightmares and keeping him awake at night. Deputy Rinfrette is recovering from injuries
he sustained in the accident. He was struck by a pickup truck while standing on the road. He tried to save Bryson that day, taking him to a veterinarian while ignoring his own injuries. Sheriff Ernest Dustman finally had to order Deputy Rinfrette to go to the hospital. "I lost my best friend, my partner, my buddy and my son," Deputy Rinfrette said of Bryson. "I wish I could have went with him. I just hated
to see someone I love so much suffer that much." He never married. Deputy Rinfrette has devoted his life to law
enforcement and his dogs. He said it's impossible for him to not think of his dogs as his children. Bryson was mortally injured when a tractor-trailer struck the rear of Deputy Rinfrette's patrol vehicle along Interstate 86. Deputy Rinfrette was parked on the shoulder of the highway investigating a minor accident at the time. Bosch, another of Deputy Rinfrette's K-9s, survived the accident. A memorial for Bryson is planned for Saturday at 11 a.m. in the
Limestone Fire Hall near where Deputy Rinfrette lives. The public is invited to the service. Fellow K-9 handler Deputy Christa Heckathorn and Foster (Pa.) Township Police Lt. David Gomes are organizing the event. Deputy Heckathorn said K-9 handlers and police officers from across
New York and Pennsylvania are planning to attend. During his 26-year career, Deputy Rinfrette and his dogs have helped police agencies around the country. They've been called upon to search for missing children, drugs and bombs. Deputy Heckathorn said the community is also responding. "The outpouring of support has been incredible," she said. Deputy Rinfrette and Bryson are well-known in the region. Each year they would appear at local elementary schools and fairs. Deputy Rinfrette said for the last seven years he and Bryson attended every Drug Abuse Resistance Education (D.A.R.E.) graduation for elementary school children in
the Olean area. Lt. Gomes has known Deputy Rinfrette for 23 years. Yet he found it difficult to describe the bond between Deputy Rinfrette and Bryson. "If you're a K-9 handler, it's not like you can leave the dogs at the office, they come home with you," he said. "If you're K-9, you're K-9 24/7. What a lot of people can't understand is the devotion of your entire life to something like this." As close as K-9 handlers are to their dogs, Deputy Rinfrette's relationship with Bryson went that much deeper, he said. "Whenever Bob went out on patrol, he always took his number one dog with him, and that was Bryson," he said. "It's hard to explain. Everything about Bryson was about Bob and everything about Bob was about Bryson."
---
In Loving Memory of
K-9 BOCK
August 24, 2003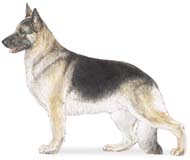 Handler: Mike Andrel
Darby Twp. Police Dept.
Sharon Hills, PA
Bock.. My bomb dog pass away on 8-24 he died in Peggy's arms in our driveway. He was 11 and died of congested heart failure.
This is Mike's 3rd K9 on this site. 2001, 2002, 2003.
---
In Loving Memory of
K-9 BLACKJACK
July 2003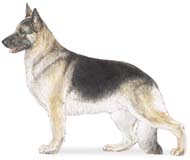 Handler: Deputy Louie Almonte III,
TEXAS

Contributed by Anonymous on Monday, July 14 @ 06:19:31 MDT The Sheriff's office will retire the badge number of their top canine Blackjack and his handler, Deputy Louie Almonte III, were the 2001-02 Texas Narcotics Peace Officers Association dog team of the year. Blackjack and Deputy Almonte also took 1st place in the team competition at the NNDDA Nationals this year.