In Loving Memory of
K-9 AX
August 21, 1999 - June 1, 2003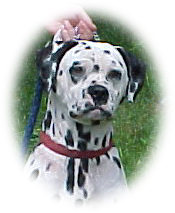 Handler: Tonya Slack
ISAR
(Iowa Search & Rescue)
We brought Ax home as a 4-month-old pup to be the mascot for our fire department, as well as a family pet. Though Ax was my husband's dog, I started training with him. Ax and I attended our first Iowa Search and Rescue practice, and we were both hooked! Ax made an excellent search dog. He loved it, and it's what he lived for.
Ax started having vision problems just over a year later. We took him to Ames, where he was diagnosed with juvenile cataracts, so we had to retire him from SAR at 18 months old. Ax dealt really well with his blindness, doing everything he had done as a sighted dog. He would do small searches (on leash for fun), slide down the slide at the park with the kids, and just have a blast. We had special commands so that he wouldn't do anything dangerous or run into anything, and most people couldn't tell he was blind unless I wasn't directing him.
Then, everything was shattered again when he passed away suddenly on June 1st, 2003. We discovered that Ax didn't have juvenile cataracts at all. He had a brain anurism that had been affecting his vision, and he passed away when it ruptured that morning. He was retired January 2001.
Ax, we love you and miss you. You were an awesome partner and friend. Someday we'll meet again at the rainbow bridge.
---
In loving memory of
K-9 AJO
June 2003


Handler: Sgt. Boyd Williams
Monroe County South Police Department
MCSO - Attn: Training Unit
5525 College Rd. (West)
Key West, Fl. 33040
305.292.7010
Ajo was born June of 1991.
Started his career on October 1994.
Retired from Patrol work November 1998.
Retired from Narcotics work December of 1999.
Laid to rest June 2003.
It was difficult losing AJO, but I am at ease knowing he is not suffering. He suffered a beating a few years ago during the criminal apprehension of a wanted felon. As a result he went blind in one eye and suffered periodic seizures when overheated. I worked him strictly as a narcotics dog for a few more years, but as he got older he went completely blind. He also suffered from chronic reoccurring tumors. The last one was in his flanks. That combined with his age made surgery out of the question. So when it got to where I could see he was uncomfortable, I knew it was time. I will work on a photo for you. submitted by Dusty Simon
---
In Loving Memory of
K-9 ABBY
September 11, 2003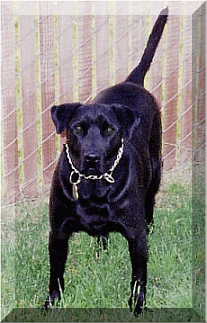 Handler: Officer Adam Chavez
San Luis Arizona Port of Entry
U.S. Customs Service
1000 Second Ave Suite 2100
Seattle, WA 98104

Abby, a female black lab and pit bull mix, was found in an animal shelter in the South. Sitting on death row, a simple towel saved her life. A recruiter for the U.S. Customs Service threw a towel toward her, and because of her eager response, she was hired. Abby's career was spent on the Arizona / Mexico border. She spent three years sending drug smugglers to jail and getting over $13.0 million in drugs off the streets. Abby was named consistently "Top Dog" each year that she worked. She loved her job. Abby also did many demonstrations for schools and organizations. Unfortunately Abby injured her back while on duty and was not able to work any longer. She was given a retirement party at work and had her picture taken for the local newspaper. Her partner Adam brought her home to enjoy retirement. Abby took to retirement immediately. She was Adam's loyal partner, but she became his wife, Jan's companion and constant shadow. Abby had a long and peaceful retirement ruling the household. Her biggest dream was to be a lap dog. Unfortunately she was a bit too big to fulfill this dream, yet she definitely got her cuddle time on the couch. Abby loved people. She knew how to work it for getting attention and love. Abby lived a happy and long life. She was 15 years young when she passed and very healthy until the last 2 weeks of her life. Adam and Jan were with her at the very end, letting her know how much she was loved. She will be deeply missed and never forgotten.

American Indians & Dogs
There is a story told by the American Indians
that the Great Spirit decided to divide
the worlds of animal and man;
so he gathered all the living beings on a
great plain and drew a line in the dirt.
On one side of the line stood man;
on the other side stood all of the animals.
And that line began to open up into a great
crevasse; and at the last moment,
before it became unreachable,
dog leaped over - and stood by man.
- Unknown author
Submitted by Sean Mulligan
---
In Loving Memory of
K-9 ALEX
"ALIX OL MILCS"
July 5, 2003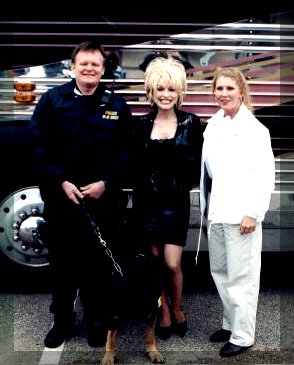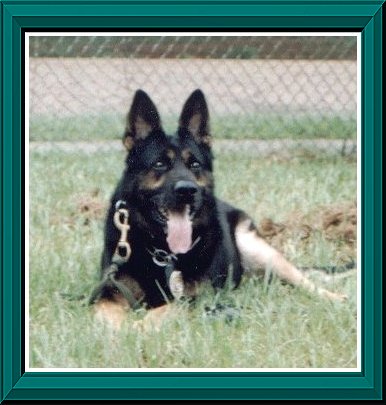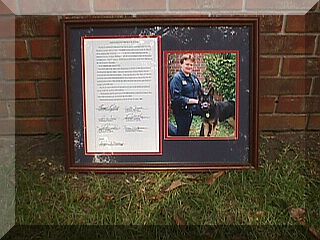 Steve, Alex, Dolly, wife, Diane, Reserve Police officer - K9 Alex & Steve honored by the city of Amory
Handler: Sgt. Steve Hunt
Amory Police Department
Chief of Police Ronnie Bowen 109
South Front St Amory, Mississippi 38821
(601)256-2676

Alex had passed on when I found him Saturday morning, July 5, 2003 in his indoor air conditioned kennel. He had been featured in an article of our local paper, "The Amory Advertiser" on July 2, 2003, only three days prior while I was on vacation. We worked together from October 3, 1994 to July 5, 2003. He was the best partner I'll ever have. Alex was Amory Police Departments first K9 and was purchased with majority of the funds raised by local citizens, civic clubs and the city. It has been a tremendous loss to my wife and I. Alex was a dual purpose German shepherd, born in Czechoslovakia and trained in Germany. I am so thankful that I spent a lot of time with him. My family dearly loved Alex. We visited the local schools, churches, civic groups, nursing homes, scouts and other organizations who requested demonstrations. Alex always performed with excellence and always made me very proud. I can recall him traveling with my wife and I to New Orleans where we attended a Street Survival Seminar. Alex would stay in the Riverside Hotel with us. We started to get on the elevator and everyone would say, we'll catch the next one, okay? His mannerism was very good in public, never caused any problems or destroyed anything. He lived in our home and one day my wife said, "Where's Alex?" We saw Alex come out of my son's room with ketchup on his nose and he returned to find his roast was gone. That was so funny to us, how Alex had sneaked in while we went out to get something else. That was when I first got him. He never chewed on anything or bothered anything else. My door panels and head liners in both my units where we worked out, were never destroyed or damaged. I was writing a warning ticket one day and I saw a German Shepherd that looked like mine standing in front of our unit. I said to myself, that dog looks like mine.
I looked back and the door was opened. He had opened the door and got out. I quickly commanded him to get into the auto and he did. I quickly had the handles removed because I knew he had discovered his own door popper. We caught a burglar inside a building one night. We apprehended him after we answered a silent alarm. I will never forget how silent he was as we searched perimeter until we found suspect in the building. I had another incident where a man bailed out from a vehicle crossing traffic fleeing into the woods. Alex located him under a brush top with brick and cover all around. He sniffed out drugs on many occasions for me and other officers. I remember one night we got the first meth in this area that I had ever seen that resulted in two arrests and handgun seized. I remember several times where I arrested wanted felons on the road that he would bark so loud and never take his eyes off me as he looked on from the unit. I remember one time we were in the Kiwanis Club meeting for a program and they started to sing. Alex just howled out loud. Everybody just died laughing as I tried to quieted him, but they loved it. His loyalty to me will never be forgotten and I cherish his memories. He would give his life for me and always watched me when I was out of the car. When we were off, he would walk by the car and try to push the handle up with his nose. He always would sound off I you asked him, if he wanted to go to work. I thought of the many good times as we had a memorial at my home on Saturday, July 5 at 3 P.M. My pastors spoke at the memorial, the Chief of Police and officers that I worked with, made remarks and I spoke. I appreciate the many phone calls, flowers, donations to charity in his honor, word of concern etc. We will miss him for a long time. My grandson, Stone, said, "don't be sad, Big Daddy, I loved him too." that rattled me for a 2 1/2 year old to say. Thanks to everyone that has been a part of getting Alex for us. The kindness they have shown to us during this loss. Alex is buried out in our backyard where we spent so much of our off duty time. I would also like to say thanks for this website that shares our story. May God Bless Each Of You. We will never forget you, Alex and I think of you each time I start to get into my unit, as I see your decorated grave with flowers and grave marker. You were the best, rest in peace, Buddy!
Steve & Diane Hunt, Me Too, "Stone"
---
In Loving Memory of
K-9 AMUR
September 22, 2003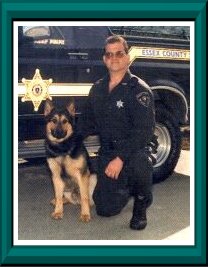 Handler: Officer George Gikas
Essex County Correctional Facility
& Sheriff's Department
Middleton, MA

Amur was a K-9 with the Essex County Correctional Facility and
Sheriff's Department in Middleton Massachusetts since March 1997. He was a beautiful Czech German Sheppard. My husband, George Gikas, was his proud handler. We lost Amur September 22, 2003, one of the hardest days of our lives. He was not only a great working K-9, but a much loved family member. He started to get sick and one week later he was gone. He was supposed to have a biopsy of his liver but he never made it for that appointment. He had liver cancer and it progressed much too fast. He was only eight and a half when he died - much too young and very unexpected. We were not prepared to lose him so soon, although I don't think we would ever have been prepared not to have him with us.
Amur was always more than happy to go to work. He enjoyed every day whether he was on his regular shift at the jail, at a school demo, or out on a call from a local police department. At home he was just a regular dog who not only protected his partner, but our entire family. When he came in the house each night he would check to make sure our children were in the bedrooms then he would go have his dinner. He was an extremely protective dog who always made me feel safe. It has been very hard getting through the past month and a half. Amur will always be loved, remembered and extremely missed. He was an honor to have as part of our family.



I am proud to also say that on October 29, 2003 George picked up his new partner, Asmar. He is almost 2 and a ball of energy. They have begun training and will be certified and working at the jail together soon. We are looking forward to getting to know and love Asmar but we will never forget our Amur. The new dog is great - he is the complete opposite of Amur, but we are getting used to him. We did find out something strange though - Arson (the new dog, we changed his name) was one puppy out of seven and one of the other puppies in his litter was named Amur - so we feel that our new dog was approved and sent to us from our Amur.
---
In Loving Memory of
K-9 ARNIE
K-9 Asslan von Melanchthon
February 9, 1992 - March 13, 2003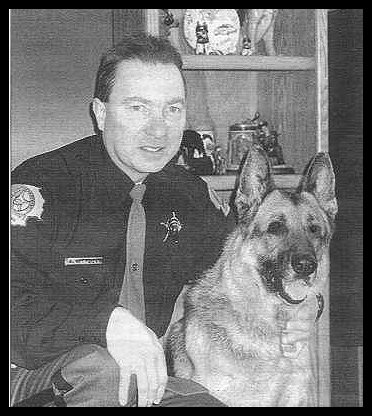 Handler: Deputy Gerry Van Hoorn
Luzerne County Sheriff Office
Sheriff Barry Stankus
Chief of Administration Carol Roman - Chief of Operations George M. Kamage, Jr.
200 North River Street
Wilkes-Barre Pennsylvania 18711
Telephone 570-825-1651 - Fax 570-825-1849
Local law enforcement remembers Arnie
by Tim Gulla - Citizens Voice Staff Writer
By all accounts, Arnie, a German shepherd, was a remarkable and valuable member of local law enforcement. Along with his handler, Luzerne County Sheriff Deputy Ger. Van Hoorn, Arnie sniffed out more than $500,000 worth of drugs during his 10 year career as a police K-9. His sensitive nose was attuned to the distinctive smell of explosives. His extensive training ensured he always had the appropriate disposition, be it around wanted felons or young school children. Last month, after 10 years of service, Arnie became ill and died. To show how important Arnie was to law enforcement, members of several agencies assembled at the county courthouse on Thursday to recognize Deputy Van Hoorn for his work with the dog and to say they appreciated the services Arnie had provided to the community. Hank Macuch, a retired Hazleton police office who now serves as president of the Pennsylvania Police K9 Association said he had been watching Van Hoorn train Arnie since Arnie was only 10 weeks old. "Very few people understand the bond and the relationship between a police canine and his handler." Luzerne County Chief Deputy Sheriff George Kamage noted that Van Hoorn had trained the dog on his own and bore all of the expenses. Arnie was one of the most highly trained police canines in the state. We just wanted to recognize what Van Hoorn did with his canine. van Hoorn said that working with Arnie was a labor of love. He obtained the German shepherd who had a registered name of "Asslan von Melanchthon" from Germany when he was only 7 weeks old. Van Hoorn said he has attempted to train other German shepherds, but none was quite as adapt at police work as Arnie. Van Hoorn of Hazleton began volunteering his time with the Luzerne County Sheriff's Department's Canine Unit in 1986. He became full time deputy four years ago. Arnie actually had his own identification card at the Luzerne County Courthouse. The loss of Arnie hasn't resulted in a loss of desire to keep working with a police canine. Van Hoorn acknowledged. instead, he plans to begin training a new dog in the near future. He said he recently made arrangements to obtain a 14 month old German shepherd named, Bart from Czechoslovakia. He explained that he didn't want to start from scratch with a puppy and that German shepherds from Czechoslovakia had better blood lines for police work. Ger. and Arnie accomplished a lot. The dog was a phenomenal dog and Ger. was a dedicated handler and still is. Thursday's gathering was attended by officials from the state police, Hazleton police and numerous members of the Luzerne County Sheriff's Department and Pennsylvania Police K-9 Association. A plaque presented to Van Hoorn by the K-9 Association red, Arnie will continue to watch the back of his beloved partner, but is now serving another Master in a larger, but much safer jurisdiction. Sheriff Barry Stankus said , "We just wanted to pay respect and admiration to the many years of dedicated service by Deputy Van Hoorn and his partner, Arnie."


A TRIBUTE to K-9 "ASSLAN von MELANCHTHON" Presented on this day, April 10th, 2003, by the members and Board of Directors of the Pennsylvania Police Canine Association. "ARNIE" will be eternally remembered for his courage, keen nose, loyal service, long list of accomplishments, and unselfish dedication to the Luzerne County Sheriff's Department, and the citizens of Luzerne County in the Commonwealth of Pennsylvania. Together with his trusted partner, Deputy Albert "Gerry" VanHoorn, he executed his duties with diligence, and bravery, that so often goes unnoticed by the general public, and "Arnie" never once asked for more than the praise and undying affection of his handler. "Arnie" will continue to watch the back of his beloved partner, but is now serving another Master, in a larger, but much safer jurisdiction. "PAS AUF, ARNIE! We will work together again." FOREVER A POLICE SERVICE DOG
submitted by Jim Cortina, Dir. CPWDA
---
In Loving Memory of
K-9 ANDOR
June 15, 2003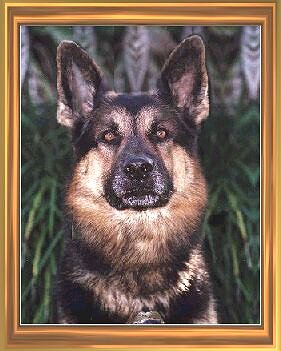 Handler: Deputy Steve Sprouse
Oakland Park Police Department
(now Broward County Sheriff Dept.) FL
954.561.6111
301 N.E. 38th St.
Oakland Park , FL 33334
Andor served the Oakland Park Fl. Police Dept. from 1993-1997 as a crossed trained patrol and narcotic detection dog. Andor was a German Shepherd born in Holland. After his 12 week patrol dog school in Metro Miami Dade he worked the night shift in the City of Oakland Park, Broward County, FL. Andor competed and received National points in several regional K-9 field trials. Andor took 5th place in the total search category in the 1994 USPCA National Police Dog Trials. Andor and his handler received 7 Official Departmental Commendations and 1 Officer of the Month Citation for K-9 related incidents. Andor was directly responsible for locating over 100 hiding or fleeing felony suspects, including many robberies that involved shootings. Andor performed dozens of K-9 demonstrations for the public and was always a hit with his energetic obedience routine. Andor had to retire in 1997 due to an arthritis condition. After his retirement he lived with his handler and the handler's wife and kids for 6 additional years as the family pet. In 2003 his arthritic condition got so bad he had to be put down. He will be missed and remembered by many in the South Florida area, especially those whom he lived.
submitted by DUSTY SIMON
---
In Loving Memory of
K-9 ADAM
February 2003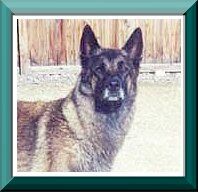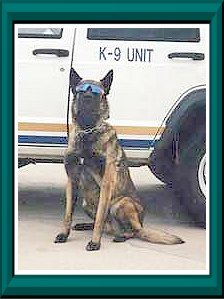 Handler: Deputy Jon Shiels
Boulder County Sheriff's Office
1777 6th Street, Boulder, CO. 80302
303-441-3600 - 303-441-4444

Adam was a Belgian Malinois born in Holland, he was put into service in 1995 and served the Sheriff's Office for over 6 years as a Certified Police Dog. Adam Certified in PD1 Trails every year earning "Top Dog" in 1998. He also earned several awards including the Jack Lennog Memorial Award for Certifying in PD1, Tracking, and Narcotics in the same year, 2 years in a row 1998, 1999.
Adams biggest seizure was $209,000 in cash, which was being shipped from Boulder to Seattle, WA. for drug payment.
Adam was put to sleep in February of 2003 due to medical problems. He was 14 years old. submitted by Dusty Simon
---
In Loving Memory of
K-9 ARGO
February 27, 2003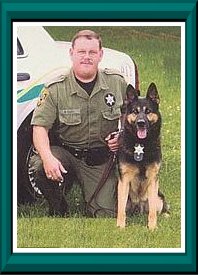 Handler: Cpl. Mark Baird
Sullivan County Sheriff Department
P.O. Box 589 - Blountville, TN 37617
(423)279-7500

Sullivan County Sheriff's Office regrets to inform you of the loss of K-9 Argo. He became ill Thursday and was taken to the UT Hospital where veterinarians determined the K-9 had spleen cancer. Immediate surgery was done and K-9 Argo passed away during surgery as a result of complications. K-9 Argo was six years old and had made numerous felony arrests, while keeping Sullivan County safe. K-9 Argo was handled by Corporal Mark Baird. He will truly be missed by the Sullivan county Sheriff's office and by his handler, Cpl. Mark Baird.
---
In Loving Memory of
K-9 ALF
March 3, 2003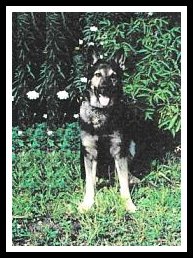 Handler: Deputy Bob Rinfrette
Cattaraugus County Sheriff's Office K-9 Unit
301 Court Street
Little Valley, NY 14755-1090
716-938-9191 - 1-800-443-3403 (New York State Only)
2003 was not a good year for Bob, Deputy Rinfrette. On Feb 15 we took our 12 year old K-9 Alf to the vet, because his stomach was just growing. He was diagnosed with a tumor on his spleen. On the 24th, we took Alf for a second opinion just to be told to take him home and make him comfortable. On March 3 at 4:30 PM, Alf was put to sleep. That was just 5 weeks and 3 days after the accident that took Bryson from us. Alf was trained as a bomb detection K-9 and tracking. Alf was an excellent tracker, finding many suspects, and also once a suicide victim. As for bombs, Alf was called many times to schools for searches and also was used at Chautauqua Institute to do bomb sweeps for President Clinton, and to Alfred University for Mrs. Clinton. At the time of his death, Alf was retired and liked to stay home. 3 more k-9's were sadly lost before these 2, Bryson & Alf, K-9s Brutus, Buck and Luke. All 3 of these handlers & K9s worked with Deputy Rinfrette until retirement and/or medical problems kept them from working. Brutus was Bob's first dog, he was put to sleep in 1991. Brutus specialized in narcotics and tracking. He was also featured in a episode of "Unsolved Mysteries" with Bob. They still play it every now and then. He suffered from degenerative myelopathy. Buck was put to sleep in November 1999 just around thanksgiving. a few months before that he recovered from a stroke remarkably. Buck was used for tracking and patrol and demonstrations. Luke was put down on 1-12-2002. Luke was used for narcotics and cadaver detection. He lost one leg due to getting hit by a car 8 years before. Vicki
---
In Loving Memory of
K-9 ASKO
June 1994 - March 6, 2003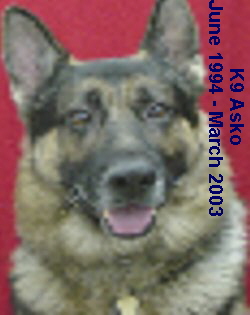 SAR Handler: Officer C. Keen
Previous Partner 1996-1998: Sergeant M. Wojtalewicz
Milwaukee County House of Correction
Wisconsin

Canine Asko, of the Milwaukee County House of Correction, was originally trained in 1996 with Sergeant M. Wojtalewicz, which made for an easy transition when Canine Asko was later assigned to Officer C. Keen in September of 1998.
On March 5th, while at Keen's home, Asko was observed vomiting, defecating, and cowering in pain when approached. He was rushed to the vet and found to be severely dehydrated. Canine Asko was immediately placed on IVs and stabilized. On March 6th, 2003 Canine Asko's vitals plunged and the difficult decision was made to lay him to rest.
Asko's favorite past time at home was playing with the family dog in the backyard where Officer Keen had constructed a 6' high fence. During his career, Canine Asko had been in every dorm and inmate area within and outside the institution. Asko was involved in 200 disturbance calls and numerous C.E.R.T. calls. Asko also thwarted an escape attempt.
Milwaukee County truly appreciated the service of Canine Asko.
Even when he was in so much pain, he still thrived to do what he was trained to do: Serve and Protect the community.
In Loving Memory of
K-9 ANDOR (II)
2003


Handler: Brad Wentlandt
Greenfield Police Dept.
5300 W. Layton Ave.
Greenfield, WI 53220
414.761-5300

Greenfield's second K-9, Andor, a Belgian Malinois, also died in 2003 from injuries resulting from a fall due to an arthritic condition which had been plaguing him. Andor, assigned in 1992, retired in 1995 due to a hip injury and lived at home with his handler, Brad Wentlandt. Andor was the first Belgian Malinois assigned to the Greenfield Police Department K-9 Unit and led the way for subsequent Malinois K-9 units.
---
In Loving Memory of
K-9 AEGOR
March 13, 2003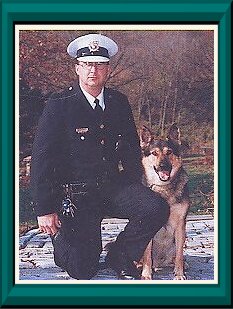 Handler: P.O. Bobby Boyce
Cincinnati Police Department K-9 Division
5083 Colerain Ave.
Cincinnati Ohio 45223
Ph: 513-352-4088

P.O. Bobby Boyce lost his partner "Aegor" to cancer on 3/13/03. Aegor served the Cincinnati Police Division for eight years.
He was Patrol and Narcotic certified. Aegor was responsible for taking many bad guys off the streets.
submitted by Friends, Joe Dipietrantonio & Axel


Officer Boyce received another partner, K-9 Cyrus.
---
In Loving Memory of
K-9 ALKO
April 20, 2003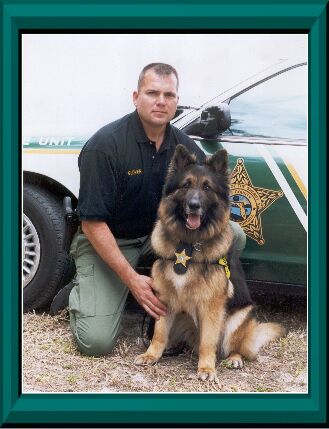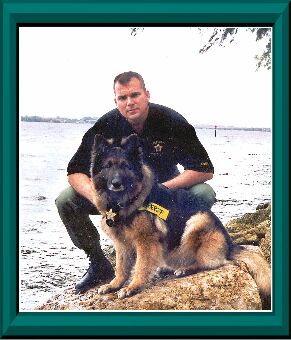 Handler: Deputy Frank Glover
Lee County Sheriff Department
14750 Six Mile Cypress Pkwy.
Ft. Myers, Florida 33912
(239) 477-1000

Police dog dies as result of injuries By JEFF CULL
A 6 year old sheriff's dog died Sunday of injuries suffered while trying to protect his partner and help capture a knife wielding prowler the day before. Alko, a German shepherd and three year veteran of the Lee County Sheriff's Office, died at 4 p.m. Sunday. He is believed to be the first K-9 officer to die on duty, said Lt. Rich Dobson, supervisor of the major crimes unit for the sheriff's office. "The unit was formed in the late 1970s, and we've never had one killed in the line of duty," he said. Alko died of injuries received when the suspect, Roger Jackson, 34, reportedly stabbed and kicked him Saturday trying to escape deputies. The stab wounds, Dobson said, did not appear serious. "It was blunt trauma," he said. "The guy was just kicking him." An autopsy this week will determine the cause of death. Deputy Frank Glover, Alko's handler, was also wounded when Jackson slashed him with a knife after leading deputies on a brief car chase. Glover was released from the hospital with 12 stitches and 34 staples in his left arm. Another deputy, Vallie Arvin, 39, was treated for bruises and was back to work Sunday. Glover was extremely upset over the loss of his partner of three years, Dobson said, and did not want to talk about the incident. Jackson, who has prior arrests including aggravated assault with a deadly weapon and domestic violence, was "acting bizarre" when Arvin approached him at about 3:30 p.m. Saturday, a report said. He initially cooperated but turned on Arvin, punching and kicking her before escaping, according to the report. Jackson then led deputies on a short car chase before abandoning his vehicle and jumping into a canal. Alko caught up with Jackson, but Jackson began punching the dog. Glover jumped to Alko's aid and was severely cut by a knife Jackson held, the report said. After using Tasers and chemical agents, deputies were able to subdue Jackson. Alko was taken to the Suburban Animal Hospital on Palm Beach Boulevard with two stab wounds and internal injuries, Dobson said. Jackson remained in the Lee County jail Sunday in lieu of $100,000 bond. He is charged with aggravated battery on a law enforcement officer, resisting arrest with violence, fleeing and attempting to elude, aggravated assault on a law enforcement officer and battery on a police dog. Alko was a very good work dog, but he was also a wonderful pet.




Hundreds remember K-9 'partner' at service Saturday, April 26, 2003 - By STEVE SCHMADEKE,
With somber ceremony, the first Lee County police dog killed on the job in the past 40 years was memorialized Friday. The 6 year old German shepherd, Alko, who served with Lee County sheriff's Cpl. Frank Glover for three years, died Sunday from injuries suffered while helping his handler arrest a knife wielding man in Fort Myers.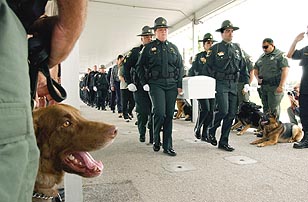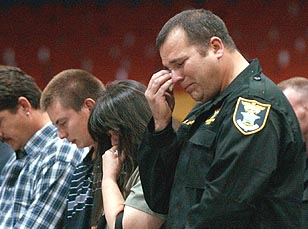 Lee County Sheriff's officers carry police dog Alko, a 6 year old German shepherd who died in the line of duty protecting handler Cpl. Frank Glover, through a procession of close to 50 K-9 police dogs during a memorial service at the Lee County Civic Center in Fort Myers on Friday. Gary Coronado/Staff



"He'll be missed because he laid down his life for his friends," Sheriff Rod Shoap said in a speech to the 300 or so law enforcement officers from across the state who gathered at the Lee County Civic Center. Observers dabbed their eyes as a white casket containing the dog's remains was carried into the auditorium by four police officers in full dress uniform. A woman had passed out black bands beforehand that some officers put over their badges.
Cpl. Glover, who still has stitches from last weekend's attack, sat in the front row of blue folding chairs, while police officials stood up and gave superlative laden speeches about courage and transcendence and the bond people have with their dogs. "I don't think police dogs die," said Sgt. Steve Ford, altering a line from Gen. George MacArthur's famous speech to Congress. "They're just ... in another place, waiting for their next assignment." "Alko tore up more of my training equipment by himself than the rest of the K-9 unit combined," said Cpl. Russell Graham, who choked up several times as he described the fight that took the dog's life.
"Your actions during this battle easily could have saved Frank's life," he said, glancing at the white casket. "For this I thank you from the bottom of my heart. You are truly a warrior." The memorial included a "video salute" with footage of Alko training set to Sarah McLachlan's "I Will Remember You," followed by a seven gun salute. A plaque and flag were presented to Cpl. Glover and a long line of officers filed by to shake his hand or hug him. After the event, Sgt. Steve Ford, who oversees the Lee County K-9 unit, explained why police dogs were deserving of such a ceremony. "They are our partners," he said. "I wish there were words that could easily describe that. But the bond that a handler has with his dog is just unexplainable."
Alko will be cremated and his ashes placed in an urn on Cpl. Glover's mantle, Ford said. He added that he was planning to meet Cpl. Glover at an Orlando kennel next week to try to find a new dog compatible with Glover. "In Frank's own words, 'He wants to get back in the saddle as soon as possible," Notified by J. Cortina - CPWDA Dir.
*********************************
Our 16 month old daughter still carries his favorite chew toy, ( they used to play tug of war with it), around the house calling for him. We all miss the way he would wake us up with a cold wet nose, in the face every morning. We are all trying to adjust and get to know the new dog, but we will never forget our Alko.
In Loving Memory of
K-9 ARAN
March 31, 2003
K-9 Aran at WTC after 9/11/01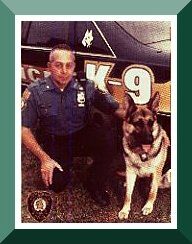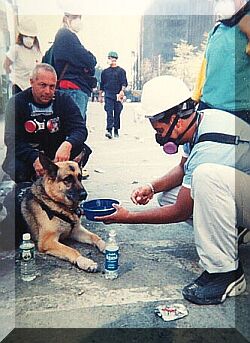 Handler: Officer Lou Venturini
Suffern Police Department
61 Washington Avenue
Suffern, N.Y. 10901
845-357-2300

K-9 "Aran" joined the Suffern Police department in 1994. He is partnered up with Officer Louis Venturini. "Aran" and Lou went through extensive training to establish the solid bond required of a K-9 team.
Retired Police Dog Dies - Suffern, NJ - 4/1/2004
By SUZAN CLARKE - THE JOURNAL NEWS
Flags flew at half-staff at Suffern Village Hall yesterday in honor of Aran, the German shepherd who walked a village Police Department K-9 beat for a decade. The 14-year-old dog died Tuesday night at Oradell Animal Hospital in Paramus, N.J. He had been suffering from a degenerative spinal disease, Suffern Police Detective Craig Long said yesterday. "We are all saddened by the loss of our beloved canine, Aran," Long said. "The Suffern police community mourns his death." Aran was the department's first canine. He joined the force in 1993 and worked with his handler and partner, Officer Lou Venturini, until his retirement in July 2003, when K-9 Hero officially took over. Aran's career had numerous memorable moments, Long said. "He was responsible for apprehending felons, saving lives, befriending children in our schools and the DARE program," Long said. During Aran's first month on the job, he and Venturini caught a bank robber about 30 minutes after the man ran out of the Marine Midland Bank in Sloatsburg. Venturini and the then-rookie, Aran tracked the suspect to his front door where he was arrested. The dog also frequently assisted other law enforcement agencies, and searched for missing people and hidden contraband. He and Venturini and Officer Anne Cawley, Venturini's wife and the department's backup K-9 officer, searched for survivors at Ground Zero following the World Trade Center terrorist attacks. Venturini handpicked Aran from the Sukee Kennel in Warren, Maine. The dog underwent police training at Orange County Canine Academy, where he displayed his character and ability for police work, Long said.
"When he graduated from the K-9 academy, Aran had the much coveted title of top dog. He came out first in his class, both he and the handler," Long said. Not only was he a superb police dog, but he was great with people, too, Long said. "Aran was an extremely social dog and was charming and great with the children," he said, "but when given the command by Officer Venturini, he automatically switched into the police dog mode and I think that speaks to the tremendous character of the animal, as well as the handler, to be able to do that."
On visits to schools, Aran would "stand there and literally, children could for an hour pet and caress him and when it came time for a demonstration, they saw the dog in action and they saw the power the K-9 had in apprehending somebody," Long added.
The dog had a profound impact on many people's lives, said Long, adding that the relationship between Aran and Venturini was unique. "They had a special relationship, a symbiotic relationship," Long said. "More than just fellow officers. It was a friendship. It was family."
James Giannettino, Suffern's mayor, agreed. "He did great, great things for the village of Suffern and the town of Ramapo and anybody else that needed him," Giannettino said of Aran. "Just a super, super police dog. "I mean, you can't say enough good about him. He was just a companion to Lou and Ann and all the police," Giannettino said. Aran lived with Venturini and Cawley and their family. Hero also lives with them.
A memorial for Aran will be in May, coinciding with National Police Week, Long said.
submitted by Jim Cortina, Dir. CPWDA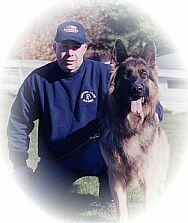 In the Fall of 2003, upon K-9 "Aran's" retirement, Officer Venturini. I began working with his new partner, "Hero."
Like Aran, Hero came to the Suffern PD from Czechoslovakia and was also trained by the Sukee Kennel in Maine.
"Hero" is certified in patrol, tracking, narcotics detection, search & rescue and evidence recovery.