In Loving Memory of
K-9 ZEUS
July 23, 2002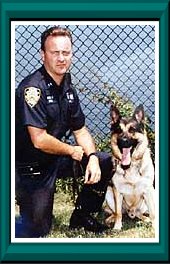 Handler: Officer Robert Schnelle
New York Police Department
NYPD K-9 UNIT
140 58TH STREET - P.O. BOX 35
BROOKLYN NY 11220
ph: 718-492-8300 k901nyc@yahoo.com

The Special Operations Division is here to support, coordinate, monitor and record the activities of its six sub-units. It provides resources, support and staff, enabling them to accomplish their respective missions. The S.O.D. executive staff responds to critical and emergency situations to insure that all units concerned work together to resolve such incidents safely and efficiently. Through our Aviation Unit we provide fast life saving air-borne response, and invaluable aerial observation capabilities. Our Emergency Service Unit is staffed by some of the most highly trained officers and equipped with state of the art life saving and emergency equipment. Emergency Service K-9 is one of the largest and most professional K-9 units in the country. The Harbor Unit responds to waterborne incidents with all the latest emergency equipment and expertise. Their Scuba team is highly respected, and coupled with Aviation give New Yorkers the only air sea rescue operation ready to respond twenty fours hours a day in the Tri-State area. The Homeless Outreach Unit assists the homeless population in getting services and helps them find shelter, thus raising the quality of life for all New Yorkers. Anti Graffiti Vandalism Unit has and continues to make great strides to rid New York of the destruction and vandalism of public and private property. I am very proud of the work the men and women in the Special Operations Division perform daily. We are a resource ready to assist other units of the N.Y.P.D., here to deliver the best police services in the world, to the capital of the world, N. Y. City.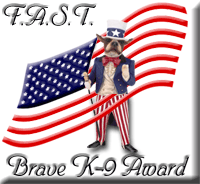 for working on WTC, 1993



N.Y.'S FURRIEST DIES AT 10 By PHILIP MESSING 2129645039 NY Post 7/25/02

TOP DOG: Zeus with Officer Robert Schnelle. - NYP: Bolivar Arellano
Zeus, the most highly decorated police dog in NYPD history, has died, the department announced yesterday. The end came suddenly on Tuesday morning for the 10 year old German shepherd, who spent most of his life chasing down criminals, solving murders and recovering the remains of people buried under the rubble of terrorist bombs, unforgiving hurricanes or building collapses. He died at the North Bellmore, L.I., home of his former handler, Police Officer Robert Schnelle. Zeus had been a full-time family pet since his retirement from active duty two years ago. "He was a great dog, a happy dog, a sociable dog. He was one in a million," said a somber Schnelle. A cancerous tumor on his spleen suddenly ruptured Tuesday morning, causing internal bleeding that claimed his life, Schnelle said. Zeus was just 8 weeks old when he was teamed up with Schnelle. He was the first NYPD dog to search for victims when the World Trade Center was bombed in 1993. In April 1995, he worked steady 12-hour shifts in the rubble of the Oklahoma City bombing. That August, Zeus helped solve an 8 year old murder by sniffing out a corpse buried four feet beneath earth and concrete in the back yard of a Queens home. In 1996, he was on duty in Atlanta, during the Olympic bombing. He also helped with hurricane duty in St. Thomas and Puerto Rico that year and in the Dominican Republic in 1998. News of Zeus' death was particularly sad for Schnelle's two sons, Joseph, 9, Nicholas, 7, who learned about it when they returned from camp, Schnelle said. Zeus had kept the boys company during the day while their dad patrolled the city with 2 1/2 year old Atlas, who succeeded Zeus and also lives at the Schnelle home, even Atlas feels the loss. "They were like father and son," he said of Zeus & Atlas. "He knows he's not around." for working on WTC, 1993.
---
In Loving Memory of
K-9 ZEUS
September 9, 1995 - September 28, 2002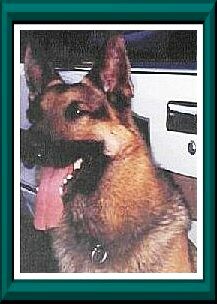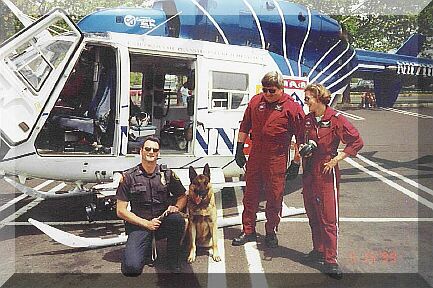 Handler: Officer David Denton
Middletown Township Police Department
5 Municipal Way
Langhorne, PA 19047
(215) 750-3845 ext. 444
www.mtpd.org

Grieve Not For Me
K-9 Zeus served the community for five years and was a loyal partner to Officer David Denton. I unfortunately found Zeus in his kennel on that uneventful morning in distress. A common complication, he had flipped his stomach. I rushed him to an emergency Veterinary clinic. Due to complications from the surgery, Zeus died later that day. Zeus was due to work on the day of his death and do a demonstration for the public. During his career, Zeus was instrumental in apprehending suspects that committed crimes against society. He was also responsible for locating a missing child five miles into a wooded area. His death is a tragedy for Ofc. Denton and great loss to this department. We are having a memorial for Zeus - on October 29th. DALE
---
In Loving Memory of
K-9 ZEIKO
June 2002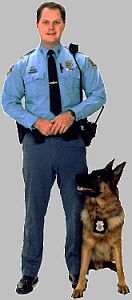 Fond du Lac, Wisconsin

Farewell My Friend -
by Sergeant Steve Klein
It's never easy to lose a friend or a loved one, let alone your partner who has been by your side day and night. Being a K-9 officer brings many positive experiences and opportunities. I recently was faced with that harsh reality with the passing of my partner, K-9 Zeiko. Zeiko was an 8-year-old German Shepherd imported from Europe. I was teamed up with Zeiko in May of 1995. The first day I went to K-9 school, they had all the dogs in the central kennel. I went out to the kennel and there was this beautiful dog with his tail wagging feverishly. Our eyes locked onto one another and we just stared at each other for a moment as his tail continued to wag. We hit it off right away, forming a very tight bond that even surprised the instructors and other students in the class. It was as if we were meant to be together and had known each other forever.Even my 5-year-old son recognized the incredible bond that Zeiko and I shared. My son Landon had asked my wife Carmen, "How come Zeiko doesn't look at me like he looks at Daddy." My wife asked him what he meant. Landon said, "Zeiko looks at Daddy so special, and he doesn't look at me or anyone else like that." It is a bond only other K-9 handlers will ever get to know or truly appreciate. Zeiko died from Hermangio-Sarcoma, a form of cancer which can start out as a small skin tumor, not visible to the eye. It can get into the blood vessels and balloon out over night. Most often, once the cancer is diagnosed, death will occur in1 to 4 weeks. Until Zeiko was diagnosed with cancer, he had been very healthy with only a torn pad or a wound from a dogfight with one of his fellow K-9s.
On May 15, 2003, I noticed Zeiko had a slight limp that I had not previously noticed. Much to my surprise, I saw a tumor on Zeiko's left hindquarter which seemed to appear overnight. I took him to my local vet who suggested I take him to the Animal Referral Center in Appleton right away.
Once at the hospital in Appleton, the bad news was relayed, cancer which had already spread throughout his system. Nothing could be done for him but they did not believe Zeiko was in any pain at the moment. A prognosis of 2 to 4 weeks was given during which I would monitor his quality of life. Normally Zeiko was an outside dog, but I brought him into the house to spend the remainder of his time in the house with his family. Zeiko seemed to be doing well, except for an occasional limp, and he continued to eat and drink normally, and even played sometimes. I was still hoping he would prove the doctors wrong. After letting Zeiko outside on the morning of May 23rd, I went to check on him. After calling him for several minutes, he came around the corner of the house crawling on his front 2 legs, completely dragging his back end on the ground. As soon as he saw me, he laid down. I let him rest a minute, thinking that the tumor was rubbing on the nerve as I was told it might by the doctor. I once again called Zeiko's name and he tried with every ounce of energy to come to me. He collapsed to the ground and once again our eyes locked as they did that first time we had met. I knew at this time that my friend was telling me he could fight no longer. Within a half hour, all of the K-9 handlers in our unit showed up at my house. They honored Zeiko by turning on their squad car emergency lights while escorting us to the vet. With his last bit of strength, Zeiko stretched his head and neck up to try and look out the window. The vet gave Zeiko a couple of shots and soon thereafter Zeiko left us, with me holding his head in my arms, with family and friends by his side. The members of our K-9 Unit and I planned a memorial for Zeiko at our department. I would urge all departments to offer their K-9 officers the opportunity to have a memorial service. It was very therapeutic for me to have the chance to say goodbye to my partner and to see the outpouring of support from the other K-9 handlers throughout the state and the citizens we served. It doesn't take much planning and something this simple goes a long way. Zeiko lived for 2 things. He lived to work and to please me, and he loved to play with kids. It was no secret that Zeiko loved to take a bite out of crime, literally. Every time he would catch someone and we would escort the bad guy back to our squad, Zeiko would actually get a big smile on his face that spread from ear to ear.Officers had to chase down a guy who had stolen a car and gotten into an accident. I responded and began to assist with subduing the subject as he was now fighting with officers. The suspect was swinging wildly and kicking. We tried pepper spray with no effect. The next thing I knew, here was this dog grabbing the guy by the leg. Zeiko knew we had our hands full with this guy, so had jumped through the divider into the front seat and out to the door to help us! Even with Zeiko hanging onto the suspect and having been pepper sprayed, the suspect still put up a fight but we were able to get him cuffed. Zeiko loved children and always tried to engage them in playing tug-of-war with him. Last week, the neighbor's dog was out and jumping on some kids. Even with Zeiko as sick as he was, he ran over and cut in front of the other dog and growled as if to say, "don't jump on the kids." Zeiko's love for children carried over to his work. He once tracked to a playground where a suicidal 13-year-old was found hiding in a tube slide. By finding her so quickly, she was able to get the emergency help she needed after taking several medications. Zeiko probably saved her life. I could go on for hours with stories of Zeiko, but by now I think the picture is clear of what Zeiko meant to me. Zeiko served the citizens of Fond du Lac with pride and dignity. He was always there when I needed him and never thought twice about having to put his life in jeopardy for me. I salute you Zeiko. Goodbye, my partner, my friend.
---
In Loving Memory of
K-9 ZEUS
October 29, 2002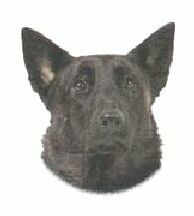 Handler: Officer Mitch Waters
Indianapolis Police Department
IPD Canine Section - 901 North Post Road
Indianapolis, Indiana 46219
(317) 327-6696

Officer Bitten By Indianapolis Police Department Dog Kills It
Indianapolis Star -October 30, 2002
A dog in the Indianapolis Police Department's K-9 Unit died Sunday night, shot down after attacking an IPD officer. Zeus, a 2-year-old Dutch shepherd, attacked Officer Brett Seach sometime after 10:30 p.m. Sunday. Police hoped Zeus would help them find a man who had run away after Seach pulled his car over. Zeus tracked the suspect to a porch,
but in the struggle to catch the man, Seach ended up shooting Zeus twice after the dog bit his forearm and bicep and caused deep puncture wounds, according to a police report. Zeus is the second dog to die from officer fire in IPD's K-9 unit, which is one of the largest in the country and has operated since 1960. An undercover narcotics officer killed the first dog, Valco, on July 17, 2000, during a drug raid on the Near Northside. The officer did not know Valco was a police dog. Only a few dogs die each year in the line of duty, said Joan Hess, assistant to the director of the U.S. Police Canine Association in Springboro, Ohio, the country's largest K-9 certification group. She said she had never heard of a dog being killed by officer fire. IPD has 11 bulletproof vests for its 33 dogs, but officers prefer not to use the vests because they make the dogs hot and tired, said Lt. Paul Ciesielski. The vests usually go on when an armed suspect is present, he said. Zeus and his partner, Officer Mitch Waters, were called to the traffic violation Sunday night and found the suspect in the 3700 block of Rural Street. Waters had let go of Zeus' leash to take a lawn chair the suspect was using to poke the dog. Seach was providing cover for Waters at the time Zeus attacked him, but Ciesielski did not know if Seach had his gun drawn. A dog might run at an officer with a gun pulled, and Dutch shepherds are known to be more excitable than other dogs in K-9 units, Hess said. Zeus and Waters, a nine year IPD veteran, graduated from training and began patrolling together in August. Waters plans to hold a private burial for Zeus. The suspect, 18 year old Michael A. Dobbins, was arrested later and faces preliminary charges of auto theft, resisting arrest and battery on a law enforcement animal. Seach and Dobbins were treated at Wishard Memorial Hospital and released.
****************
K-9 deaths spur IPD to rethink policies
Changes proposed to protect animals, ease patrol officers' fears of being bitten.
By Tom Spalding November 21, 2002
They are four-legged friends of law enforcement -- but in the past 21/2 years, Indianapolis police officers have proved far more deadly to their K-9s than the accused crooks the dogs often chase. Two of the dogs have been shot by police officers, but none has been killed by a suspect. That's why IPD, which has the nation's second-largest K-9 squad, is making changes to protect its animals while allaying fears among the street-beat patrol officers. Those steps include proposals to change policy, toughen investigations of attacks and add extra training for street cops. Ironically, because police often see firsthand the dogs' effectiveness at snaring fleeing suspects, many have a real fear of the animals' ferocity. "It's not really a high risk," said Sgt. Craig Patton, a lead K-9 trainer. "However, it is something that can occur." A dog bite led to the most recent K-9 fatality on the 33-dog, 19-officer Indianapolis K-9 unit. On Oct. 27, an East District officer shot and killed a 2-year-old Dutch shepherd named Zeus after the dog mistakenly bit his arm. "If you are afraid of police dogs, I understand that," Patton told a day-shift group of officers at the West District on Thursday. "But it's not a reason that if you are going to be bitten, to give the dog the death penalty." At the Indianapolis Police Department, incidents of dogs biting an officer occur, on average, just once a year. Besides the bite to the officer, K-9s bit seven people during felony captures in October, while 22 other felony suspects and four misdemeanor suspects were captured without a bite. And dogs were used in 58 building searches, 72 narcotics searches and 17 explosives checks. IPD's rate of dogs biting suspects -- about 19 in every 100 cases where K-9s are used -- is lower than a national standard. Merritt Clifton, editor of a Clinton, Wash.-based animal protection newspaper called Animal People, said a handful of police dog tragedies occur annually. Other experts say it just can't be helped. "It's always good to make changes," said Bob Eden, a dog handler in British Columbia who operates the K9 Academy For Law Enforcement. "It's still going to happen. It's the nature of the beast. Dogs just do not have the ability to reason things out, so accidents occur." IPD's Emily Huff, a day-shift patrol officer in the West District, said she's been involved in on-foot pursuits and chases where a K-9 was at the front. "I stay back and I don't worry about them biting me -- it doesn't even really cross my mind. They make our jobs easier." For skeptics, though, "I don't think it'll change the way they feel," she said. Police officers' fear of dogs extends to those on the street. In fact, nearly three-fourths of the time when Indianapolis police fire their guns, it's to shoot a dog. In September, an Indianapolis Star computer analysis of police records uncovered the trend, a pattern of shootings that resulted in the deaths of 44 dogs since 2000. IPD regulations regarding animals allow officers to shoot "in imminent danger situations." IPD's dogs perform a range of tasks, from pregame bomb sweeps at Indianapolis Colts and Indiana Pacers games to narcotics searches -- their efforts recovered $2 million alone this year -- as well as suspect apprehensions. To his knowledge, Patton said, no officer has ever suffered a line-of-duty death from a K-9 attack. An IPD undercover narcotics officer killed the first dog, Valco, on July 17, 2000, during a drug raid on the Near Northside. The officer did not know that Valco, who was shot four times, was a police dog. In the most recent case, Zeus and his partner, Officer Mitch Waters, were called to a traffic violation and found a suspect in the 3700 block of Rural Street. Waters had let go of Zeus' leash to take a lawn chair the suspect was using to poke the dog. Officer Brett Seach was providing cover for Waters at the time Zeus attacked him. Police dogs should generally be on a leash, but it is acceptable to let a dog go free if circumstances warrant. If the suspect runs around a house or goes out of sight, the dog handler is not to let the dog go further. "They are essential, as far as I am concerned, especially around here where the population is so dense and the houses sit so close to each other," Patrolman Mark Frazier said. "You get a tight perimeter set up, and the dog will find the person."
************
Officer Waters started training another K9 named MIKKO Nov. 4, 2002
In Loving Memory of
K-9 ZUCCO
October 30, 2002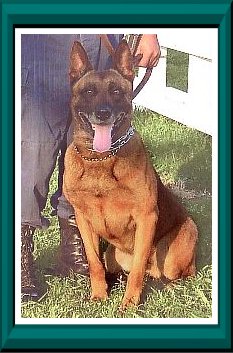 Partner: Officer Michael Hughes
New Orleans Police Department
K9 Division - Harrison & Marconi Sts.
New Orleans, LA 70124
504.483.2040 - *504.826.2828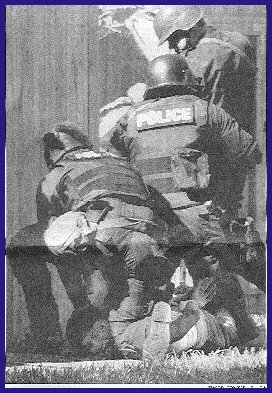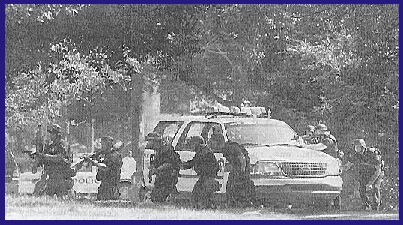 Police dog tracking suspect is killed
3 N.O. men booked in bank robbery try
10/31/02 -By Walt Philbin or (504) 826-3301 - The Times-Picayune
A bank robbery suspect chased by police into a Lakeview neighborhood Wednesday fatally shot a police dog before emerging from beneath a house and surrendering to police SWAT negotiators about six hours later, authorities said. Two other men, including a suspected getaway driver, also were arrested in the case. All three were booked with attempted bank robbery, a federal charge that carries up to 20 years in jail, the FBI said. The police dog, a Belgian Malinois named Zucco, died of a gunshot wound shortly after being taken to a veterinary hospital, police said. "It's tough. It's like one of your own going down," said Sgt. Harold Chambliss, a long-time K-9 member who works in the same unit as the dog's handler, Officer Michael Hughes. Hughes "is devastated," Chambliss said. The K-9 unit was responding to an incident that began when a man with a revolver confronted a bank employee opening the Hibernia Bank at 7033 Canal Blvd. shortly before 7:30 a.m., and forced him inside, FBI spokeswoman Sheila Thorne said. The man, joined inside the bank by a second man carrying a shotgun, ordered the employee to open the bank's vault, the FBI said, but the employee said he wasn't able to, and the two men left. The alarm sounded, and two N.O.P.D. officers detailed to a Lakeview Crime Prevention District responded quickly and spotted two suspects on foot. Police arrested Darius Copelin, 20, 4601 Stephen Girard St., in the 800 block of Turquoise Street in Lakeshore, and recovered a shotgun. Police spotted the other suspect, Andre Cassimer, 19, 3704 Garden Oaks Drive, Algiers. He emerged from a nearby driveway, jumped a fence and disappeared. Police quickly surrounded the block, and Hughes led Zucco from yard to yard to track the man, police spokesman Capt. Marlon Defillo said. When they got to a house at Walker and Memphis streets, Zucco picked up a scent and started to go under the house, officers said. That's when he was shot. Hughes picked up the dog and rushed to a police unit. Two neighborhood boys, ages 12 and 8, watched from the front window of their house across the street. "He had the dog in his arms like this," the older boy said, making a cradle with his own arms. Authorities evacuated residents from the house and two adjacent to it as the SWAT team tried to negotiate with Cassimer, first by megaphone, then with a microphone they dropped beneath the house, Defillo said. After a few hours, he began talking with negotiators and asked whether he could talk with his grandmother, officers said. Shortly before 1:30 p.m., he agreed to crawl out from under the side of the house and surrender to negotiators, police said. "We waited him out and he finally got tired," Defillo said. A handgun was found under the house, police said. After the federal charge is resolved, Cassimer, also faces a state charge of killing a police dog, which carries a possible three years in jail, Defillo said. A third man, Calvin Anthony Scott III, 22, 5947 Providence St., was arrested later Wednesday afternoon. Authorities allege Scott was the getaway driver.
**********
Zucco The loss of a man's best friend 11/10/02 By Sheila Stroup - Staff writer/The Times-Picayune
A memorial ceremony Thursday, November 7, 2002. The ceremony for Zucco, a 4-year-old Belgian Malinois, will be at 10:30 a.m. at the New Orleans Police Department K-9 compound in City Park at Harrison Avenue and Marconi Boulevard. It was a perfect fall morning, not cold but crisp, with a sky so blue it could bring tears to your eyes. Thursday was the kind of day I think of as "dog weather." On such a day, a dog will lift his nose and breathe in deeply, savoring the possibilities. It was the right kind of morning to pay tribute to Zucco. At the New Orleans Police Department K-9 compound in City Park, the air was laced with rich aromas coming from the stable next door, and dozens of police officers stood waiting for the ceremony to begin, their uniform shirts matching the color of the sky. A plaque next to the wooden urn told the police dog's story: "In memory of K-9 Zucco," it said. "A 4-year-old Belgian Malinois was killed in the line of duty on Oct. 30, 2002, while he and his handler, Police Officer Michael Hughes, were searching for a bank robbery suspect."
+++++++++++

Dogs and Heaven

The service was held in the shade of a pecan tree, in the training yard where Zucco had learned the skills he needed to become one of New Orleans finest. The Rev. David Julian, police chaplain, gave the invocation, and after his prayer, he told how Zucco had returned to his handler's side after he was shot. "Zucco was faithful to the end," he said. "He was a faithful member of the New Orleans Police Department." Police spokesman Capt. Marlon Defillo thanked the crowd for coming to the service and for their concern for Zucco and his partner. Then he read the poignant "Dog's Poem After Death," about a dog who tells his master he will wait for him outside the pearly gates because, "I'll miss you so much, if I went in alone it wouldn't be heaven to me."'Part of the family.' Police Superintendent Edwin Compass spoke of Zucco's courage and dedication. "These animals aren't just animals; they're part of the family," he said. "It's a sad day for the New Orleans Police Department, because he was one of our own." A wreath of white carnations trimmed with blue ribbons was brought forward while the lonesome sound of "Amazing Grace" played on bagpipes filled the air. After the 21-gun salute, an officer played taps on the trumpet, and as the echo began, dogs in a nearby building began to bark, saluting Zucco in their own way. When the service was over, people lined up to offer their condolences to Hughes, saying the awkward things you say to a man who has recently lost someone he loves. I asked him if he would get another partner, and he said yes, that in a few weeks he'd have a replacement dog. Could another dog replace Zucco? I asked, knowing the answer as soon as I asked the question.

"No," he said, smiling sadly. "Not Zucco. Never."