In Loving Memory of
K-9 WINDY (Kaylar'sWind Song) SAR
December 22, 1994 - October 22, 2002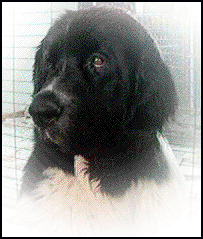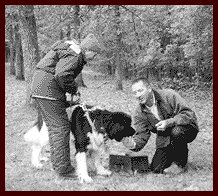 Handler: Kathy Reed
704 Maple St.
Grinnell, IA 50112

Windy was a gentle giant and just loved to be cuddled as most newfy's do. Although she grew a lot larger then other ISAR newfs,
she displayed a beautiful black and white coat that was unmistakable. She was a beautiful dog. Even with her great size she moved with grace and agility. It was amazing. She was the first Newfoundland I ever saw run. I remember hiding for her in the woods in the winter and she would find me and lay on me. She certainly kept me from getting cold!! She was a certified canine with ISAR and served us well. Windy's enemies were brooms and vacuum cleaners. Her friends were many, children, kittens, divers on the Linn County dive team, police officers and grieving families at Search Call-outs. She is fondly remembered by many people.



Windy and her handler went to a cadaver seminar and Windy found out that she LOVED cadaver scent. Of course, Windy LOVED most of all to show her owner she had made a find, and this was accomplished by giving her a thump with both paws...(this was taught to her when she was a LITTLE Newfoundland, before she weighed more than her owner!) One time when Windy was on a water search, a little old lady on the bank wanted to know why "that handler in the boat has a cow with her?" Windy was on a practice search once
when she went hightailing it out of sight into a city building where the sand for the winter was piled up high. Windy scrabbled furiously up the huge pile of sand. Her handler shook her head in despair, thinking Windy was after a critter, since she knew the "victim" had not been hidden there. Suddenly from the top of the sand came a gruff voice..... "I was only tryin' to get some sleep...." Windy had found her first and only homeless man. submitted by Shirley Hadenfeldt
---
In Loving Memory of
K-9 Winston
2002


Handler:Officer Dan Southwell
Las Vegas Metro Police Department
Stats of LVMPD
In loving memory, we would like for all to say, "thank you" to our partners who died after giving years of service to our community, and never got the chance to live out life in retirement as a pet. The following dogs have passed away within the last few years:
| | | | | | | |
| --- | --- | --- | --- | --- | --- | --- |
| Fred | | Patrol Dog | | Partner | - | DuWayne Layton |
| Rudy | | Patrol Dog | | Partners | - | Mel English and Darren Garness |
| Winston | | Narcotics Dog | | Partners | - | Eric Kerns and Danny Southwell |
| Breston | | Patrol Dog | | Partner | - | Steve Junge |
| Rudi* | | Patrol Dog | | Partner | - | John Jenkins |
| Duke | | Narcotics Dog | | Partners | - | Mike Horn and Mike Blasko |
| Dak | | Patrol Dog | | Partners | - | Mike Horn and Mike Campbell |
| Danny | | Patrol Dog | | Partner | - | Frank Sorrentino |
| Clyde | | Explosives Dog | | Partners | - | Duwayne Layton and Jay Carlson |
| Cigan | | Patrol Dog | | Partner | - | Rory Tuggle |
| Buddy* | | Patrol Dog | | Partner | - | John Jenkins |
| Ex | | Patrol Dog | | Partners | - | Pat Barry, Bob Hindi, and Robert Johnson |
| Laslo | | Patrol Dog | | Partner | - | Jay Carlson |
| Moss | | Explosives Dog | | Partner | - | Jay Carlson |
All of these K-9's, except John Jenkins' Rudi and Buddy, have in past years, competed in Metro's K-9 Trials, like the one you attend now. Please watch and enjoy the work of those dogs you see today, for we don't know what tomorrow will bring.
---
In Loving Memory of
K-9 WOODROW
Badge No. 537
May 24, 2002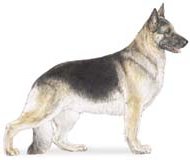 Handler: Officer Joseph Arrison
Philadelphia Police K-9 Academy
8501 State Rd.
Philadelphia, PA 19136
610.685.8088
Police dog killed in too hot car
The Internal Affairs Division is investigating how a German shepherd in the Canine Unit died Friday.


By Thomas J. Gibbons Jr. 215-854-2642 or tgibbons@p... INQUIRER STAFF WRITER 5-30-02
A city police dog died last week after being accidentally left inside a patrol car for more than four hours with the windows up, officials said today. When found shortly after 12:30 p.m. last Friday, Woodrow, a 5-year-old German shepherd assigned to Officer Joseph Arrison of the Canine Unit, was already dead, police said. Arrison, a 28 year veteran who has been in the Canine Unit for 15 years, has been temporarily reassigned pending the results of an investigation by the Internal Affairs Division, police said. "It's a tragic, tragic incident, and the officer is devastated," said Capt. Alan Kurtz, who commands both the Canine and Mounted Units. The loss has deeply bothered Arrison, investigators said. Efforts to reach him today were unsuccessful. The accident occurred after Arrison and Woodrow finished their shifts about 8 a.m. last Friday, police said. Arrison, 49, of Northeast Philadelphia, stopped at K-9 Unit headquarters at the Police Academy on State Road to drop off his cruiser and transfer Woodrow from his compartment in the back of the police car to Arrison's personal car for the drive home. Canine Unit officers are permitted to take their partners home and receive a stipend from the city for their care. Arrison routinely took Woodrow home after work, officials said. Before moving the dog, however, Arrison stepped inside headquarters to complete some end of shift paperwork and have a cup of coffee. He left a short while later but forgot about Woodrow, who was still inside the cruiser, investigators said. Last Friday was a warm day, topping out at 85 degrees. By the time Woodrow was spotted by another police officer, the temperature was already reaching 80. The police car's windows were up, so the temperature inside the vehicle was well above that because of the searing sun, investigators said. A necropsy indicated Woodrow died of heat exhaustion, according to police. Charles Spencer, a director of the Pennsylvania Society for Prevention of Cruelty to Animals, said that warm weather and closed vehicles can be a recipe for tragedy. "It only takes a short amount of time," Spencer said. Kurtz, the Canine Unit commander, said Woodrow's death may spark changes within the unit. Kurtz said he was looking into the possibility of installing heat sensors inside Canine Unit vehicles that would automatically drop the windows slightly, start a fan, and set off the vehicle's siren when the temperature became excessive while a dog was inside. Canine Unit officers and their dogs develop close bonds, both on duty and at home, where the animals often become members of the family. Investigators said Arrison was stunned when contacted at home about Woodrow's death. There are no plans for a departmental burial for Woodrow, Kurtz said.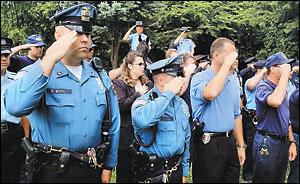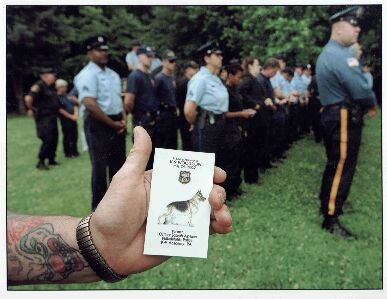 K-9 officers pay last respects to Woodrow

German shepherd 'will be sorely missed,' cop says By ADJOA ADOFO Posted on Thu, Jun. 20, 2002
He was one of the guardians of the night. Woodrow, a 5 year old German shepherd, fought crime, protected his human partner, and was an asset to the police force. Yesterday, in the grass field of the Police Academy exercise yard, K-9 officers from throughout the Philadelphia area gathered to pay respects to the revered K-9 officer, who died when he was left in a hot police car for about three hours by his partner, Officer Joseph Arrison. The attendees, police officers in their K-9 uniforms and police dogs, stood solemnly as Capt. Allen Kurtz, K-9 commander, read a short anonymous poem that has been used for years by the K-9 Unit:
My eyes are your eyes, to watch and protect you and yours.
My ears are your ears, to hear evil minds in the dark.
My nose is your nose, to scent the invader of your domain.
And so you may live, my life is also yours.
On May 24, Arrison had gone home, leaving Woodrow in a squad car at Police Headquarters. The heat in the rear of the vehicle reached 94 degrees and killed Woodrow, police said. Though the status of the investigation is still continuing, police believe it was just an unfortunate accident. Arrison, who is still in service, just made a mistake, police say. Arrison and Woodrow were constant companions ever since becoming partners a year ago. "Joe would take his dog wherever he went," Kurtz said. Police say Arrison was too upset to attend the service. He has Woodrow's cremated remains and will choose where to bury the ashes. Woodrow entered the service only a year ago in July. During his brief time with the police he became one of the most decorated dogs in the K-9 Unit. He was responsible for 10 arrests and many drug confiscations, police said. Officer Robert Wyszynski described Woodrow as easygoing and peaceful. Wyszynski said he used to play ball and hide-and-seek with Woodrow in the exercise yard. "He was a good police dog who loved his handler," said Sgt. Paul Bryant, head trainer of the K-9 Unit. In the exercise yard, a fenced-off K-9 memorial is set up, listing all the police dogs in the unit that have died. The board stands behind a statue of a police dog with a police badge on a chain around its neck. Woodrow's name and police No. 537 was added. "He will be sorely missed," Wyszynski said.



Police give Woodrow a stirring farewell The city K-9 died last month when he was accidentally left in a hot car.
By Thomas J. Gibbons Jr. - Inquirer Staff Writer MICHAEL S. WIRTZ / Inquirer



Police officers honor Woodrow, a 5-year-old German shepherd, during the memorial service at the Philadelphia Police Academy. In a leafy setting at the Philadelphia Police Academy, where a statue of a benign-looking police dog sits at ease, Woodrow got a hero's goodbye yesterday morning. There were ranks of officers in starched summer uniforms who rendered in unison a crisp hand salute; prayer cards "in loving memory of K-9 Woodrow"; a bugler who played Taps; and even the staccato sound of gunfire from the nearby academy firing range that provided, coincidentally, a fitting backdrop to the scene.And there were speeches - all in memory of Woodrow, a 5 year old German shepherd who died of heat exhaustion last month after his handler accidentally left him inside a Canine Unit cruiser with the windows rolled up for more than four hours. The memorial was not open to the public."We're honoring his service to the city of Philadelphia - his short, but wonderful time of service, not the way he tragically passed away," said Capt. Alan Kurtz, who commands both the Canine and Mounted Units.Then Kurtz read a poem, written years ago - possibly by a Canine Unit officer, he said, and left behind at headquarters.
My eyes are your eyes, to watch and protect you and yours. My ears are your ears, to hear evil minds in the dark. My nose is your nose, to scent invaders of your domain. And so you may live, my life is also yours.
Woodrow was found dead in his compartment in the backseat of a police car at the Canine Unit at the Police Academy on May 24 shortly after 12:30 PM. His handler, Officer Joseph Arrison, 49, had stopped at the headquarters about 8 AM to drop off his patrol car and transfer Woodrow, who lived with him, to his personal car for the drive home. But, after doing some paperwork inside the squad room, Arrison, a 28-year veteran, left for home, forgetting Woodrow, who remained inside the cruiser as the temperature on the warm spring day headed into the 80s. Another officer found the animal dead around lunchtime. The dog was later cremated. Arrison, who did not attend yesterday's memorial, has been shifted out of the unit pending the results of an investigation by the Internal Affairs Division. Officers have said the accident has left him "devastated." "He was too bereaved, too upset at the very thought of coming. He just could not handle it emotionally and we understand," said Kurtz, privately explaining the officer's absence before the ceremony. Woodrow's name and badge, No. 537, were officially added yesterday to a canine memorial at the academy. City Councilman Frank Rizzo thanked the more than a dozen canine officers from outside police departments who joined city police at the ceremony, and he lauded local philanthropist Kal Rudman "for all the good things that he does for the Philadelphia Police Department." Rudman, who also was present, will pay to replace Woodrow and is also financing the purchase of two more dogs for the Canine Unit. In addition, he has pledged to pay the $400-per-vehicle cost of installing sensory systems in the unit's dozen squad cars. If the temperature in the vehicle becomes excessive, the windows will drop, a fan will kick on, and the vehicle's siren or horn will sound. Officer Mark R. Smith, of the West Whiteland Township Police Department, brought his canine partner, Caesar, to the memorial in his department car, which is equipped with the sensory system. Smith, a 21-year veteran, said he welcomed the installation of the units in 1999. They had been paid for by donations from the public. "It's an awesome responsibility," said Smith, demonstrating how the system works. "They're counting on us as much as they work for us." Then Smith spoke kindly of Arrison, whom he said he knows from training at the academy. "He's lost a part of his family," Smith said. "He's hurting."





Updated: October 4th, 2004 10:49:00 AM


Philadelphia K-9 Units Generously Given Cooling

SIMONE WEICHSELBAUM Philadelphia Daily News via the Associated Press


Cool, dreary days are common in the the Czech Republic, where a Philadelphia police dog named Levi was raised. Levi likes that kind of weather. He got a sticky hot surprise when he spent his first summer sniffing for bombs in Philadelphia, where some days feel like the business end of a blow dryer. Now, thanks to a generous philanthropist, the German shepherd won't become a hot dog. The police car he rides in has recently been outfitted with an automatic cooling system, designed to save dogs stuck in overheated cars. "Woof woof woof," Levi barked the other day as he happily climbed into the back of a police car with the help of his partner, Officer Victor Cross. Levi, 6, is among the dogs in the police K-9 Unit enjoying the dozen CoolGuard systems purchased for the Police Department by Kal Rudman, a philanthropist who frequently aids police causes. Each CoolGuard system costs about $350 and includes a vehicle temperature monitor that activates when the car interior exceeds 87 degrees. When the car gets too hot, an alarm sounds, the rear window lowers and a fan exhausts the hot air. "I never had to use it," said Officer Cross, proudly noting that his partner of two years has never experienced heat exhaustion while on the bomb-sniffing beat. The two K-9 cops recently assured the safety of Democratic presidential candidate Sen. John Kerry by conducting a precautionary search for explosives at the Franklin Institute before he spoke there last month. Rudman's donation came after a story about another police dog that wasn't so lucky. Woodrow, a veteran police German shepherd, was forgotten inside his police car in May 2002. His partner, Officer Joseph Arrison, found the dog slumped over the next morning. Immediately after Woodrow's death, entertainment industry publisher Rudman called the K-9 Unit and offered to help. "It was a no-brainer," said Rudman, who learned about the cooling system and offered to equip each of the K-9 patrol cars with the devices. Rudman also has given the Police Department bullet-proof vests for dogs, horses for the now-disbanded Mounted Unit and six dogs. While Levi prefers the air conditioning on hot days, a four-legged colleague named Azeem is a fan-loving pooch. Azeem, a cadaver-sniffing K-9, likes to ride with his partner, Officer Paul Bryant, with the CoolGuard system's fan blowing over his fur. "I drop the windows and it lets a nice breeze blow across him," Bryant said. "He likes it." Azeem, 9, avoided commenting on the CoolGuard. He was too busy running in a field behind the K-9 Unit office. Photos compliments of Jennifer Midberry Philadelphia Daily News
---
In Loving Memory of
K-9 WILLIE
September 29, 2002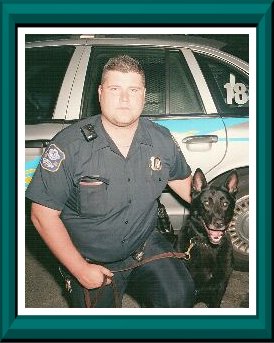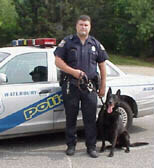 Handler: Officer Peter M. Morgan
Waterbury Police Department
255 East Main Street - Waterbury, Ct. 06702
P.D. Phone # 1( 203 ) 574-6921
email
K-9 Willie was a working patrol dog for the Waterbury Police Department with Officer Peter Morgan for three years. Earlier this year, Willie was diagnosed with a bone disease in his front elbow. On 9/29/02, Willie's condition worsened to a point to where he had to be put down. Willie was 6 years old. During his three year career, he made several suspect apprehensions and narcotic finds for the police department. He will be sadly missed by Officer. Morgan and the Waterbury Police Department. Notified by Jim Cortina, CPWDA Dir.



10/1/02
Receivd a thank you note from Officer Steven Flaherty, Jr. accompanied Officer Morgan for support when K-9 Will was put down. Also received grateful email from Officer Peter Morgan. And. this one from Ofc. S.Flaherty: thank you for taking your valuable time and effort to send Officer Pete Morgan. for the Memorial K-9 cards. I am also a K-9 handler on the Waterbury Police Dept, and I have had my partner for almost 7 years. I was with Pete at the time we put Willie down, and he took it very hard.....and to know that there are citizens out there who care for us and our partners is very comforting.....
Thank You
Off. Steven Flaherty Jr.
Waterbury Police Department