In Loving Memory of
K-9 TORI
December 14, 2002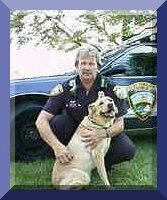 Handler: Chief Don Perkins
Clay Township Police Department
Clay Twp Police Dept-8207 Arlington Rd - Brookville OH 45309
937-833-4015
I am sad to report that the Clay Township, Ohio Police Department has lost a valuable member of its Department, K-9 Tori. On 12/14/2002, Chief Don Perkins' K-9 and best friend, K-9 Tori, passed away suddenly and unexpectedly from an irreversible seizure late in the evening. Tori, an approx. 8 year old yellow lab, started their K-9 program in 1996 as a Narcotic Detection K9, and was purchased from donated funds. After two K9 handlers moved to other departments, Chief Perkins found himself to be the only one interested in taking Tori on as his K-9 partner. K-9 Tori had many accomplishments while serving the community in and around Montgomery County, Ohio and will be sorely missed. Keep Chief Perkins in your thoughts and prayers during this troubling time. thanks Dusty Simon for submitting.
---
In Loving Memory of
K-9 TYLER
September 1 ,1989 - October 1, 2002


Handler: Sgt. Ron Labarriere
Kenner Police Department.
500 Veterans Boulevard
Kenner, Louisiana 70062.
(504)712-2200

On October 1st at 4:40 A.M., my first canine partner, K-9 Tyler, known to alot of you as "Big T" passed away. K-9 Tyler was in service from February 1992 until July 1999 with the Kenner Police Department. At that time he was retired due to hip problems. In 1992, K-9 Tyler, became a member of the Kenner Police Department, most of all he became my partner and BUDDY. He served as the department's only narcotic detector dog from February 1992 until August 1999. At that time he retired and became a full time family member. K-9 Tyler was loved by all who met him. He will be greatly missed.He is now in a better place & best of all, he is not hurting. He can now run again, to catch his giftie,
which he loved very much.
---
In Loving Memory of
K-9 TY
January 2, 2000 - September 12, 2002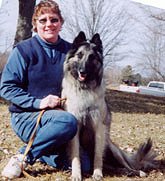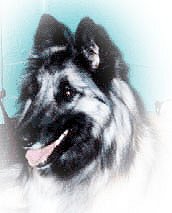 Handler: Karen Hermanson
2744 350th St
Jewell, IA 50130



BELGIAN TERVUREN CANINE IN TRAINING
Ty was only 2 years old when Handler Karen Hermanson had to have her put down. She suffered from a degenerative muscle disease. Unfortunately Ty was just approaching the stages to become a certified canine with Iowa Search and Rescue. She had gone through almost two years of training and had become confident in air scenting, cadaver and article searches. It was not only a horrible loss for Karen but a devastating blow to ISAR to loose such a young search dog.
Karen had worked hard with Ty and we sympathize with her in her loss. It is always difficult to deal with the loss of a pet and especially hard when that pet has become your "partner" during the many months of training.
**************
"Ty" beloved companion and search dog in training of Karen Hermansen died of illness at an early age. Karen had worked hard with Ty and we sympathize with her in her loss. It is always difficult to deal with the loss of a pet and especially hard when that pet has become your "partner" during the many months of training. Ty taking her CGC test - Ty discovering cadaver scent. Here are the words that Karen wrote about Ty when she was alive and working towards her certification: Ty is shown above as a two year old Belgian Sheepdog. We joiined ISAR on 3.24.01 and met the group in April 2001 at a practice session. Ty and I were eager to learn about rescue services using dogs. All I knew were childhood stories and Lassie movies and the use of dogs to save human beings. Ty was one year old and didnt know anythig. Being a puppy her strong points were curiosity, fetch, tug of war, and she trusted me. After meeting the ISAR members they taught us how to find fellow members inside building and in the wilderness. We were introduced to cadaver scent, scent articles, wind direction around trees, buildings, and slopes. As I worked Ty on very basic search skills we developed and built a solid foundation of trust. She is more confident in strange places and on unstable footing. She has matured into a two year old and I enjoy takiing her to our ISAR practice sessions and to public places. Our first year as probationary members gave us knowledge and guidance on how to study, practice, and perfect search skills. As of March 2002 Ty and I are full members with ISAR. We will continue to learn more details and advance our skills as this year passes. We have been motivated and encouraged by all the members and training officers with ISAR.

submitted by
Shirley Hadenfeldt
---
In Loving Memory of
K-9 TASJA
July 1, 1994 - June 13, 2002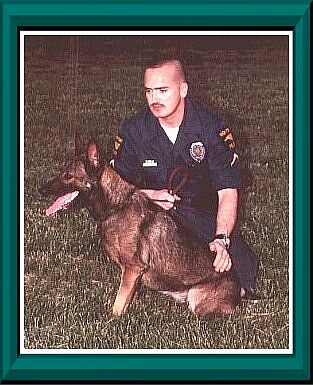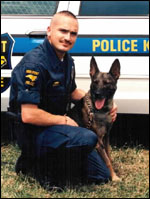 Handler: Terence Garrison
High Point Police Department
1009 Leonard Avenue
High Point, North Carolina 27260-5321

Tribute to TASJA
A few days ago, I had to put my K-9 partner, Tasja, down. I know I did the right thing and, that I had no otherchoice.
Tasja and I had simply had been dealt a bad hand that we couldn't beat. The situation, Tasja's kidney failure was beyond my control, and even that of our top notch vet, Dr. Harvey Goho. Even so, it was the hardest thing I have ever done and thus far, the saddest day of my life. Tasja, a small but excessively feisty Malinois was above the par. Most handlers, like any parent out there, feel this way, but in my case this is entirely true. Her numbers speak for themselves. She was never in a situation where she disappointed me. Her only fault, if it can be considered such, was her overly aggressive nature. She was a fearless, tireless being who even in the end, didn't know what it was to quit. In the days before her death, she found over 10 bundles of heroin and apprehended a bad guy. Is that exceptional for a police working dog?
I think so.
You see, she was dying even then, her toxin levels should have incapacitated her according to our vet. But she was an incredible dog, Why should her death have come about in a way any different from how she lived the rest of her life? So it is with a heavy heart that I mourn the passing of my partner, my friend. I suspect she will have been the greatest dog I will ever have had the privilege of handling. During her career, Tasja recovered the following:
413,718 in narcotics,

$53,340 in cash,

$28,852 in property.

83 criminal apprehensions

43 public information programs performed

26% successful tracking average
An impressive record! Tasja was my K-9 partner for the City of High Point for a tragically short 4.5 years.
Semper Fi, Tasja

Police remember dog partners 7-2-02 - By CHERIS HODGES, Staff Writer (Nelson Kepley/ŠNews & Record)
HIGH POINT -- K-9 Officer Tasja was, by all accounts, a loyal ball of energy. High Point police officers Tim Tonsor (center) and Terence Garrison embrace during a service honoring Tasja, a K-9 officer who died last month. From the day she came to the High Point Police Department to the day she was put to sleep, Tasja gave her all, officers said at a memorial service held in her honor Monday afternoon. Officers from patrol to vice narcotics filled the City Council chambers in City Hall to pay their respects to Tasja, who died of kidney failure last month. From finding drugs to returning lost equipment to officers, Tasja was a big part of the department, Chief Blair Rankin said during the service. Rankin recalled the time in September when Tasja captured a robber and recovered his gun as one of the highlights of her five-and-a-half-year career. Police also honored Starko, a retired K-9 who died in May. Starko was one of the department's first police dogs. "They are more than just dogs to us handlers," said Officer Tim Tonsor, the department's dog trainer, in opening the service. "They are our companions, the officers' last resort and the citizens' savior." Tonsor, who trained Tasja when she came to the department, described the dog as tenacious. But last month, the dog's kidneys began to fail. Her handler, Officer TerenceGarrison, had her put to sleep. A visibly shaken Garrison was presented with a plaque memorializing Tasja. He called his partner always faithful and loyal. "Our personalities matched," he said. "She was very outgoing." Terence Garrison and Tasja. Garrison recalled the day Tasja found a missing toddler and took her home.The little girl crept out the back door of her house while her father slept. Detectives found the little girl, but had no idea where she lived. Tasja was called in to find the girl's home. She led a track straight to the girl's back door. During her police service, Tasja recovered more than $495,000 worth of property, narcotics and cash. "She was like a nuclear powered Energizer Bunny," said Officer Daryl Delagrange. Delagrange read the eulogy at the memorial service. He called himself Tasja's biggest fan. The day Tasja was brought to High Point, Delagrange was one of the first people to meet her. "I thought, 'What a sweet dog,'" he said. But on the ride from the airport to the department's kennel, Delagrange said Tasja transformed from "Barbie to Witchblade." Delagrange said she was aggressive and ready to work. "We thought we were going to have to feed her with a slingshot." "Tasja was the alpha male of a pack of dogs," he said. "If Supergirl showed up to claim her dog, I'd understand."
Contact Cheris Hodges at 883-4422, Ext. 240, or chodges@news-record.com (Contributed photo/ŠNews & Record)

---
In Loving Memory of
K-9 TITAN
March 12, 2002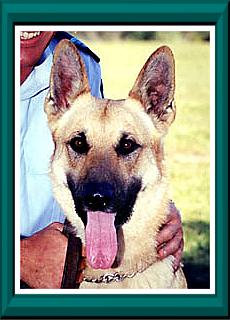 Handler: Snr-Sgt John Casey
AUSTRALIA
the Courier-Mail (newspaper)
General address:
41 Campbell Street
Bowen Hills
Brisbane Queensland 4006
Telephone: (07) 3666 8000
Fax: (07) 3666 6696

Postal Address:
GPO Box 130
Brisbane Queensland 4001
Canine hero was true Titan
Paula Doneman
16 March 2002
Titan - Queensland Police Service K-9 Canine hero was true Titan
Paula Doneman - The Courier Mail Newspaper Australia 16mar02
The state's top police pooch, instrumental in the dramatic capture of Childers arson murder Robert Long, died this week. Six-year-old Titan had a heart attack during surgery after he was injured at training on Tuesday night. The canine hero and his handler clashed with Long in bushland 30km from Childers in June 2000 after tracking the itinerant fruit picker. The feats of the German shepherd endeared him to people around the world. During the struggle, Long stabbed Titan, cutting his paw, before turning on his handler and slashing his face. Today is the first time Titan's photograph has been allowed to be published as Special Emergency Response Team members cannot be identified. Titan's death has devastated his handler and the close-knit 60-strong dog squad. State co-coordinator Snr-Sgt John Casey said Titan was responsible for apprehending many criminals after graduating in 1998. "These two were unique – an excellent handler who is totally dedicated to being a policeman and dog handler and a dog who was very strong," he said. Sgt Casey said dog squad duties were very physically and mentally demanding. "A dog must have a high drive to retrieve and defend its handler and other police – other police and community also have to rely on the dog and the handler to protect them well," he said. "They must have a steadiness under gunfire, be physically fit and around two years old. "We are so short of dogs and to lose one of our best will affect the whole squad because he won't be replaced easily."



Police dog Titan, who caught the Childer's backpacker murderer, died days before Long was convicted
---
In Loving Memory
K-9 TURBO
April 22, 2002


Deputy Sherri Bagwell
Bay County Sheriff's Office

32405 Bay County Sheriff's Office
3421 Hwy. # 77 - Panama City, FL
Cyber-Substation Sheriff Guy M. Tunnell
3421 N. Hwy 77 Panama City, FL 32405
(850) 747-4700

Turbo had spent many years on the streets and the last two working with the DARE program in the schools. Turbo was a clown and had alot of personality, but his bite was strong and his nose was good. He loved to beg for "treats" out of the "junk machine", and could outsmart just about anybody. He loved his toy, his friends and his handler. He was euthanized Friday due to severe hip problems at 9 years of age. He will be greatly missed by those of us who loved him.
********
Bay County Sheriff's Office Mourns the Loss of Turbo 04-22-2002
Today, we mourn the loss of a 8 year Bay County Sheriff's Office veteran. Sheriff's Office K-9 Turbo passed away Friday, April 19, 2002 after a debilitating illness. Turbo was born in Largo, Florida and joined the Bay County Sheriff's Office after extensive training in Bay County with his handler, Deputy Sheriff Sherri Bagwell. During his career, Turbo was responsible for the apprehension of numerous suspects with his tracking abilities but excelled in his abilities to search out and locate illicit narcotics which led to hundreds of drug arrests. Turbo was assigned to the Field Services Division in 1995 where he spent three years working Patrol. In 1998, his social skills were recognized and he was assigned to the D.A.R.E. Program where he spent his remaining years, working with the children of the Bay County School System giving thousands of hours helping them to learn about the dangers of drug and substance abuse. Turbo was buried at a country site near his home with a small service attended by his family and friends of the Bay County Sheriff's Office.
thank you Sherri for the beautiful photo..... lulu
---
In Loving Memory of
K-9 TAZ
March 19, 2002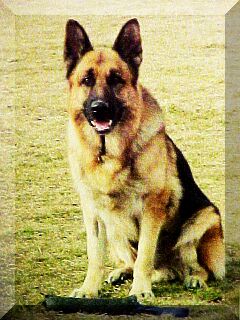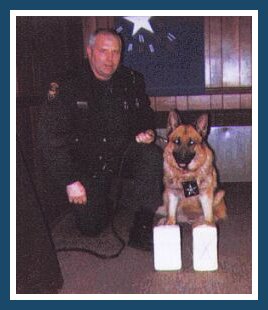 Handler: Officer Scott Ptacek
Franklin Park Police Department
Illinois
It has taken me all long time to do this, I still miss him my partner, TAZ. Taz was my partner for seven years for the
Franklin Park Police Department. Taz developed cancer and lived about five weeks after having his spleen removed.
Taz was a good partner. We did a lot of drug secures and searches. I will miss him for my remaining six years that I have left on the Police force. I'm impressed with your web site. I found your site, when I was looking for a K-9 urn for Taz. Please keep up the good work. My department seeems to have forgotten about Taz. I will never forget him and the precious time we had together. Thanks again, Scott
************
Franklin Park loses police dog BY CHUCK FIELDMAN - STAFF WRITER
Taz, the 7-year-old German shepherd who worked for the Franklin Park Police Department for more than six of those years, was put to sleep March 19, about a month after it was found he had cancer. After the cancer was detected, Taz, whose illness was the subject of the March 20 main Images feature, had his spleen removed, but there was nothing else doctors could do for him. Scott Ptacek, the officer who trained Taz, worked and lived with him, said a week earlier that he would not hesitate to have the dog put to sleep once the cancer got bad enough to cause it great suffering. Flags flown at the Franklin Park Police Department and Village Hall, which have been at half-staff since the March 5 death of longtime resident/village historian Rodger Hammill, will continue that way park residents are hopeful that another dog will be added to the force. Deputy Police Chief Jack Krecker said several factors probably should be considered before a decision is made about adding another dog. "Things have changed quite a bit since we got our two dogs," Krecker said. "At that time, there weren't many departments in the area with dogs, and our dogs helped out in other towns as well as in Franklin Park." Krecker said area police departments have since added their own dogs. "My opinion is that the departments should all get together and work together where the dogs are concerned," he said. "It's possible that there are now so many dogs out there that they're not all getting the type of street work they need. "I just think we need to look at every aspect of this before making a decision." Krecker said purchase of another dog would run $8,000 to $9,000. The same amount would be needed for training, and the department also would have to pay for food and medical care of another dog. "You also have a $25,000 (police) car that can only be used for one man and one dog," he said. "And, you have a lot of calls that you can't use that officer for because the dog is in the car. You're not going to send that officer on a traffic call or to transport a prisoner. "Losing Taz has been an emotional thing, and that's the hard part. The question now is do we try to get approval (from the Village Board) and go out right away and get another dog, or do we wait and take a look at the whole picture. "We have to be responsible to the taxpayers."
Mike K.
---
In Loving Memory of
K-9 TANGO
August 30, 2002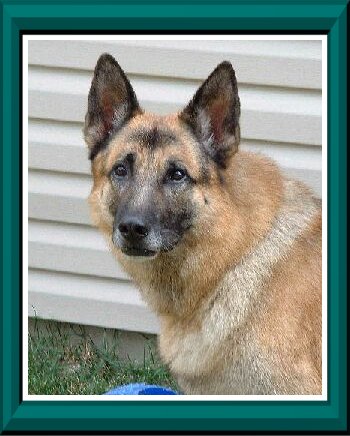 Handler: Ptl. William Sierchio
Barnegat Township Police Department
900 West Bay Avenue
Barnegat, NJ 08005
609 698.0080
K-9 Tango was a 10 year old male German shepherd. He was with the Barnegat Township K-9 Unit since it's inception in January 1996. Tango retired from service in December of 2001 due to the advance of a degenerative myolopthy in his spine. He was euthanized August 30 from complications of the disease. Tango and his handler, Ptl. William Sierchio attended the Dover Township Police Patrol Dog Class #3 in 1996, as well as the NJ State Police Scent Dog Class #3 in 1996. He certified with the U.S.P.C.A. and the N.A.P.W.D.A. in patrol, narcotics and tracking. Tango was responsible for countless narcotic searches, tracks and public demonstrations in Barnegat as well as surrounding towns. Tango will best best remembered as a fearless, proud and loyal patrol dog. He left a lasting impression on all who knew and worked with him. The Barnegat Township P.B.A. Local 296 is in the process of establishing a K-9 memorial for Tango. He will be greatly missed, but never forgotten.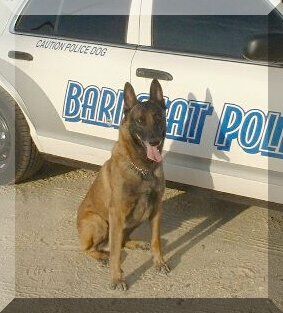 Meet Nitro- new partner