In Loving Memory of
K-9 PRESTON
August 7, 2002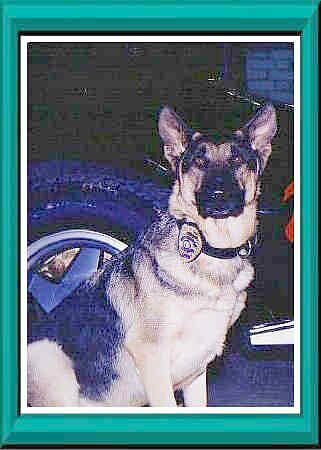 Handler: Officer Ginger Robertson
Springfield Police Department
321 E. Chestnut Expressway
Springfield, MO 65802-3899
PH 417.864.1810 xx
Missouri K-9 Association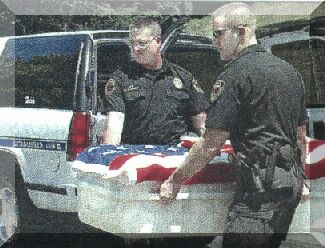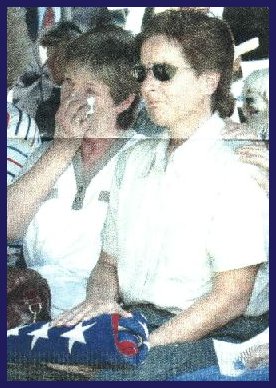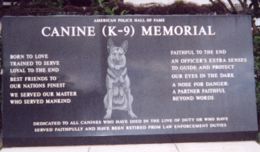 Officers Heil & Yarnell carry the body of K-9 Unit Narcotics dog, Preston to burial site.
Member of Springfield Police Dept. for just three years was bred for the work. Hearken Preston came down the hill from Rivermonte Memorial Gardens, led by a police escort.
Preston service the Springfield Police Dept. for three years before he slipped three back discs and had to retire in 1994. But oh, did he ramble, when he rambled. Preston was the first police dog brought into service for the city force in twenty years when he was commissioned in 1991. As a police Vehicle bore his coffin to the Lakeland Pet Cemetery, about 35 people and dogs waited to honor the dog who had service without hesitation. Before the tent where we gathered, a black granite monument with Preston's image etched into it introduced the six law enforcement dogs already buried there. "They faced danger at a single command, willing to give their lives for the officers they loved and trusted," the inscription read. "We thank them for their heroism and we honor their memory." Officer Val Hewett, who helped train Preston, gave a eulogy. At times, it was hard to hear her force, softened by emotion. "I was able to be there when the training process for Preston started," she said. "It was so awesome." Preston's partner, Ginger Robertson, explained later that she went to Darlene Cavin's Hearken Kennels near Rogerville to train a black Labrador retriever to be her police dog, but the Lab just didn't take to the work. Preston, in his kennel, thought that was fine. "I kept going out there with my I kept going out there with my Lab, and this scrawny looking shepherd kept trying to get to me." Robertson said, "He was going to be my dog, no matter what." In time, Robertson and Cavin agreed with Preston. "Magic" the Lab wasn't destine to be a police dog. Preston was. "His line had been bred for service for 30 years." Cavin said. Hewett has one of Preston's sisters and five more of his siblings went into law enforcement. Hewett eulogized Preston, a handsome dog reflected in photos at a table near the funeral tent. She remembered when she backed up Robertson on a call and found Preston sitting formerly alone in the front yard of a house. "I saw the devastation on Preston's face, it was like "What do I do ?" Robertson remembers the incident too. Preston always sat in place as commended. "I tackled the guy and the guy ran. I was in the back yard fighting the guy, and Preston never moved." Hewett also remembered the time she was helping Robertson train Preston and wore the "bite suit: the padded suit used to help train the dog for the field. "I'd run into the yard," she said, and try to behave as a perpetrator. She recounted the time shed' thought she'd fool Preston by putting her arms over her chest, only to be bitten in the rear end. "That's when we changed to a full body bite suit." Then there was the time mad-cap Preston sat on the accelerator of a golf car, he and Robertson were riding at the Ozark Empire Fair. As they barreled toward a parked semi truck, Robertson managed to pry the 115 pound dog off the pedal just in time to avoid the sailing underneath. As Rivermonte personnel prepared to bury Preston after the service, Robertson gathered the cloth, and memorabilia from the table near the funeral tent. "He was a wonderful dog." she said and folded the cloth. "And he was my best friend."
contact New Leader columnist Sarah Overstreet at 417.836.1188.
In Loving Memory of
K-9 POLO
July 2002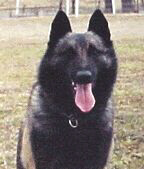 Handlers: Officers Guy Palladino and Ed Boese
Stillwater Police Department
Norman McNickle, Chief of Police
701 South Lewis - P.O. Box 1725
Stillwater, Oklahoma 74076 USA
Phone (405) 372-4171 - Fax (405) 742-8284
Polo was purchased from Gulf Coast K9 in November of 2001. Polo, a male Belgian Malinois, was born and trained in France. He was titled French Ring I. Polo was utilized in the areas of narcotic detection, patrol, and tracking, he was able to track over numerous surfaces with admirable accuracy. In the summer of 2002 tragedy struck the K9 unit again. Polo came down with E-Coli virus. After a long struggle, Polo passed away in July of 2002. Polo will be remembered in Stillwater for his endless energy and desire to work. He made numerous narcotic finds and performed all of his duties with tireless devotion. submitted by- Jim Cortina, Dir. CPWDA