In Loving Memory of
K9 MONTY
May 20, 1993 -May 9, 2002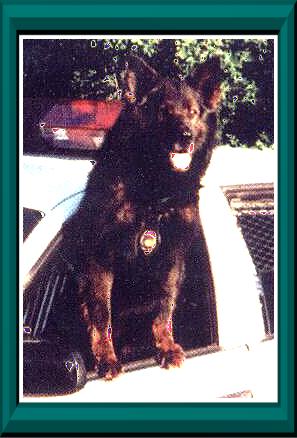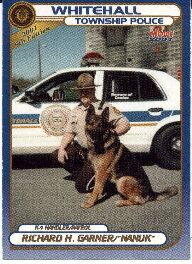 Officer Rich Garner
Whitehall Police Department
April 26, 1996 - Sept. 30, 2000
3731 Lehigh St. Whitehall, PA 18052
610.437.3042, Ext. 113, Dispatch 610.437.5252
Whitehall police have triple threat By Al Recker - Press writer
Whitehall police now have a triple threat in keeping crime and vandalism down: patrol cars, bike patrols and K-9 dogs. The township patrol division reported one of its police dogs is responsible for the apprehension of a suspect involved in a shooting incident in Allentown June 1. In a report submitted to the commissioners, Chief Dennis L. Peters said 3 township police officers assisted Allentown police in apprehending a suspect involved in a shooting. A police officer's partner, K-9 Monty, located the suspect on a city rooftop. It allowed police to quickly take the suspect into custody. "Without Monty, it is doubtful the suspect would have been located," the report said. There were eight K-9 dog deployments in June. Police said the specially trained dogs worked the Cementon Fair "with no incidents." There was weekly training held with the dogs and other departments. Several K-9 demonstrations were given to youth groups in June. Township police increased the use of bike patrols in neighborhoods, parks and Rails to Trails. The department said an intensive patrol of the Cementon Fair by foot, bike and motorized patrols "resulted in a successful week with no problems." Noting "apprehensions that require unusual skill or police work," the patrol division said it responded last month to Weis Markets because of a report of an attempted vehicle theft with a woman hanging on the hood and a male driving away. A police officer arrived on the scene and cut the vehicle off, and the suspect was arrested and jailed. Four juveniles were arrested for stealing bicycles on West Union Street. A Macy's employee suspected of theft was apprehended in the outside mall area. Police are conducting extra vigilance at convenience stores due to recent robberies in the region. A robbery at CR's Market, Egypt, is being investigated by detectives. There are also increased patrols at the UniMart area because of youngsters congregating in the summer. Township detectives took on 17 new cases last month. Detectives arrested an individual suspected in the armed robbery of the Lone Star Steakhouse on Grape Street. The suspect was in prison on non-related charges. There is another suspect sought by detectives in connection with the robbery.


ALL ABOUT MONTY
Monty is a long haired German Shepherd from Czechoslovakia. Before joining the Whitehall Police Dept. in April 1996, he went through several weeks of intensive training with his handler, Rich Garner. Monty has assisted in several arrest in areas of tracking, building searches, crowd control, and narcotics. Along with police work, Monty also gave many demonstrations for the public. He seemed to take pride in his "demos" and got along exceptionally well with all who attended, especially children. Monty is a wonderful partner who will be missed by all at the police department. He retired to the home of Rich and continued to be loved by his family eternally. "They do not fear bad news; they confidentially trust the Lord to care for them, they are confident and fearless and face their foes triumphantly. (Psalm 112:7-8)
ALL ABOUT RICHARD H. GARNER
Officer Garner has been a police officer since March 1989. He has new partner, "NANUK" joined the force in 9/2000.
They are both members of the ERT team, and Nanuk lives at home with Garner's wife, and 4 children and Snickers, "family cat." Rich enjoys wrestling, football, weightlifting and coaching youth sports. Notice: Avid fan of the Pittsburgh Steelers. Nanuk also misses Monty very much, who passed away due to lung cancer.
POLICE K-9 HONORED UPCKA article- Written by Ptlm. Jeffrey Coleman, Whitehall Twp. PD
A memorial service was held today at the Whitehall Township Municipal Building for Police K-9 "Monty". Monty was recently diagnosed with an advanced stage of lung cancer and was euthanized on May 9, 2002. Monty was born on May 20, 1993 in Czechoslovakia and joined handler Richard Garner and the Whitehall Township Police Department in April 1996, after several weeks of intensive training. He retired in September 2000 and took up residence with Garner's family. Monty was a patrol and narcotics dog, and assisted in many arrests in Whitehall Township and surrounding jurisdictions. Monty was called upon to do building searches, tracks, crowd control, and narcotics work. Monty and Garner are members of the Whitehall Township Emergency Response Team, which has been recently integrated into the Lehigh County Municipal Emergency Response Team (MERT). Monty was also involved in numerous demonstrations every year at various events such as carnivals, church groups, schools, and pet stores. He took pride in his demos and interacted well with all people, most especially children. Monty's handler, Patrolman Richard Garner, is an eleven year veteran of the Whitehall Township Police Department. He is the senior patrolman on the night shift platoon where he patrols with his new K-9 Nanuk. When not at work, Garner enjoys weightlifting and coaching both wrestling and football in his home town of Catasauqua. Monty's service was attended by several members of the Whitehall Township Police Department and officers and K-9 patrols from Easton, Palmer Township, Allentown, and the Pennsylvania State Police. Chief Dennis Peters, Officers Paul Davis and Jeffrey Coleman spoke at the service. Handler Richard Garner spoke words of thanks to all who attended and reflected on his days with Monty while fighting back tears. Officer Karen Bailey read a moving poem entitled "Guardians of the Night". Ashley Zuber played "America the Beautiful", "Amazing Grace", and "Taps" on the bagpipes. Channel69 News and several other news agencies including the Whitehall-Coplay Press were also in attendance. Rich Garner stated that Monty's illness came quickly on the week leading up to May 9, 2002. Garner noticed Monty was not feeling well earlier in the week and was not eating well. He took Monty to the Allentown Animal Clinic where he was given an exam. His x-rays showed an advanced stage of lung cancer. Today we said good-bye to a hero, teacher, and friend. Monty will never be forgotten for his service to Whitehall Police and the citizens they protect and serve. Monty set the standard for all present and future K-9's to follow. He was a true "Guardian of the Night".

http://www.wfmz.com/news/index.asp
Channel 69 News June 14, 2002 @ 5, 6 & 10 PM.
TRIBUTE TO FALLEN WHITEHALL CANINE COP
Posted June 15, 2002
A SPECIAL TRIBUTE TO A FALLEN CANINE COP IN WHITEHALL
THIS HOLIDAY. -------- ((:05 NATS OF BAGPIPES UP FULL)) -------- DOZENS GATHERED FOR A CEREMONY TO HONOR OFFICER MONTY THIS MORNING. HE DIED OF LUNG CANCER LAST MONTH. MONTY AND HIS PARTNER WORKED THE NIGHT SHIFT. THE STAFF PRESENTED A PLAQUE TO HIM IN THE DOG'S MEMORY. --------
((OFC. RICH GARNER: "When I would start by 11pm, he's still roaming around the house watching everybody and wanting to be by everybody's side, and then taking him to work every night, it was just, I knew it was a good friend with me all the time."))
MONTY WAS TRAINED TO SNIFF OUT DRUGS & TRACK DOWN SUSPECTS.
HE ASSISTED IN MANY ARRESTS. HE WAS 9 YRS.-OLD.


The Morning Call By Kirk Beldon Jackson 610-820-6790 June 15, 2002
A hush fell over the room as Whitehall Township Patrolman Richard Garner prepared to share stories about Monty, the German shepherd he had taken care of -- and who had taken care of him -- for the last six years. Garner started to thank everyone who had come to the memorial service for Monty, who died in May of lung cancer. But he couldn't finish his sentence. He bowed his head and cried, and the audience of about 50 people, some of them K-9 officers like himself, applauded. ''He was one of the best partners I ever had ...,'' Garner said later. ''He was always there for me.'' Officers and dogs from Palmer Township, Easton, Allentown, Emmaus and Coplay and from the state police attended the service Friday at the Whitehall municipal building. As in a ceremony for any fallen officer, there were stories from colleagues, such as Patrolman Jeffrey Coleman's recollection of what happened when an unruly mob surrounded officers quelling a disturbance at a Whitehall High School football game. The crowd parted ''like the Red Sea'' when Garner let Monty go, Coleman said. ''His presence parted a crowd that would have taken at least 10 officers to disperse.'' Whitehall Police Chief Dennis Peters said Monty had been trained in patrol work and drug detection. During his career, he was frequently lent to other departments. The department now has two dogs -- Nanuk, a German shepherd trained in patrol and drug detection who lives with Garner, and Ylan, a Belgian Malinois taught to detect explosives. Garner recalled that one of his first tracking experiences with Monty came after a man in a vehicle rammed cars on MacArthur Road outside the Lehigh Valley Mall, then ran away and hid in a truck behind the Salvation Army building. Monty found him. Garner said dogs are described as tools in police work, but they eventually become more. ''Once you start working with them and you know that they're there for you, and you know that they will protect you no matter what, that bond becomes tighter and tighter,'' he said.

Rich became my "Cover" on my 2nd book, K9s Are Human Too
www.k9heroesbook.com
In Loving Memory of
K9 MARK
May 18, 2002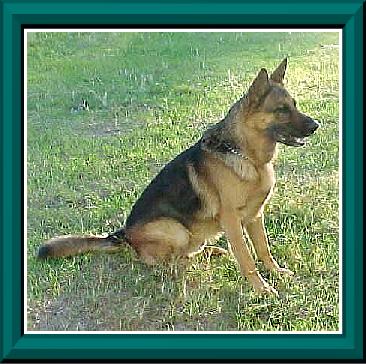 Partner: Deputy Bert McCue
Osceola County Sheriff Department
400 Simpson Rd. - - Kissimmee, FL 34744 - 407-348-2222
Police honor fallen canine By Katherine Leal Unmuth | Sentinel Staff Writer Posted May 24, 2002
KISSIMMEE -- At work and at play, 24 hours a day, police dog, Mark was at the side of Osceola County deputy sheriff, Bert McCue: sniffing out illegal drugs, tracking down escaped prisoners and even entertaining schoo lchildren. Mark, a 6 1/2-year-old German shepherd who died Saturday, was honored Thursday outside the Osceola County Sheriff's Office with a memorial fitting for a fallen officer. "He was just a gentle, gentle dog," said McCue, teary-eyed as he twisted a tissue in his hands. "I spent more time with him than anybody. I could trust him 100 percent. He was there for me, never failed me." Mark was euthanized after a deputy accidentally ran him over with a car while the dog was chasing down a man accused of kidnapping and beating an ex-girlfriend. Mark had served with the department since 1998. He helped with 75 drug seizures, including finding a kilo of cocaine in a vehicle earlier this month. Mark also participated in 33 felony arrests. He was one of five dogs owned by the department. Police and their canine partners traveled from Ocoee, Apopka, Orange County and other surrounding areas to attend the memorial.
They covered their stars with black tape, as they would do for any fallen comrade. People lined up to offer condolences to McCue, who was given a plaque bearing the police-dog poem "Called to Give My All." Staff Sgt. Jason Campbell drove from Patrick Air Force Base with a military dog, Dasty, to salute the fallen dog. He called canine units a brotherhood. "He [the dog] helps you grow," said Campbell, who operates the kennel on the base. "When you've got problems you can call on him and he'll listen. He teaches you about life." Seminole County Sheriff's Sgt. Karen Mills, who brought her dog, Bolo, said police dogs are true partners and co-workers to the people with whom they work. "They're there for you when you need them, ready to give their lives for you," she said. The dogs are talented and invaluable on the job, said Orange County Sheriff's Sgt. Ed Durant, who brought his dog, Shadow. He said whenever a dog dies, it's considered "another officer down." McCue already has been given another dog, named Fritz, to care for and to try to bond with as a new partner. He'll never forget his old partner, though. "This means a lot," he said, looking at the crowd of people at the memorial. "I want them to know it's for Mark."



Katherine Leal Unmuth can be reached at kunmuth@orlandosentinel.com or 407-931-5932.
Osceola deputy's car strikes police dog By Rene Stutzman | Sentinel Staff Writer - 407.324.7294 Posted May 19, 2002
ST. CLOUD -- An Osceola County deputy sheriff ran over one of the department's police dogs before dawn Saturday as the animal was chasing down a man accused of kidnapping and roughing up his former girlfriend. Mark, a 6 1/2-year-old German shepherd, had just been unleashed and was about 100 feet behind the suspect when Sgt. Tom Bartels ran over him, said Osceola sheriff's Bureau Chief Jerry Geier. Bartels was just arriving on the scene as the dog darted across Jay Drive in front of him. The patrol car was traveling about 20 to 25 MPH when it hit the dog and a tire rolled over him, Geier said. deputies took the dog to the Orlando Animal Hospital, where the veterinarian determined his back was broken. After consulting with the department, euthanized him. "The dog had very severe injuries," Geier said. "His chance of survival was very minimal." The dog, one of five owned by the agency, had been with the department since 1998. He had been involved in 75 drug seizures -- including a $55,000 cocaine haul earlier this month -- and 33 felony arrests. The dog was assigned to Deputy Bert McCue. Geier said the agency would have some sort of memorial service later this week. The accident happened about 5 a.m. after a woman reported a former boyfriend had broken into her home and held her there against her will for about half an hour. He shoved her against a wall and threatened to kill her before she managed to escape, according to a police report. Louis Benjamin Butler, 25, a laborer, was being held in the Osceola County Jail on charges of burglary of an occupied dwelling with a battery, false imprisonment, resisting arrest without violence. Butler was facing no charges related to the dog's death, Geier said, because there was no evidence he meant to harm him.



OSC News Gazette Service scheduled for fallen K-9 May 23, 2002
A memorial service is scheduled today for Osceola County Sheriff's Office K-9 Mark after the dog was struck by a deputy's patrol car. On Saturday, deputies responded to a report of an occupied burglary that occurred about 5 a.m. at a Jay Drive residence. The victim called the sheriff's office when she found suspect Louis Butler, 25, inside her residence, sheriff's office reports said. When deputies arrived at the location, they tracked the suspect to a nearby wooded area, who began to flee upon seeing authorities. After giving Butler a warning to stop, the dog was deployed. Butler was near Jay Drive with the dog about 30 yards behind him, when the suspect ran in front of an approaching sheriff's office patrol car. That's when the dog was struck by the car, which was moving at 5-10 mph, sheriff's office reports said. Deputies transported K-9 Mark to a veterinary hospital in Orlando, where they learned the dog had a broken back, and therefore, was put to sleep. Butler, however, was apprehended. K-9 Mark came to the sheriff's office in 1998 and was involved in many anti-drug operations and assisted in many felony arrests, sheriff's office reports said. The service will begin at 9:30 a.m. in the courtyard in front of the sheriff's office at 400 Simpson Road. The public is welcome to attend. Police nab auto theft, burglary suspects Two Orlando men were hunted down by Kissimmee police after a brief chase Tuesday. While on foot patrol in the Hideaway Bay apartment complex, Kissimmee police officers observed a suspicious vehicle parked with the doors open. As the officers attempted to investigate, two suspects, Jason Maldonado, 16, and Kenneth Rodriguez, jumped into a vehicle, which was listed as stolen out of Orange County. As officers were pursuing the vehicle, it became disabled in the area of Smith and Cherry streets when two of the tires were deflated from hitting curbs, Kissimmee police reports said. Both suspects then exited the vehicle and continued on foot. Maldonado was apprehended minutes later. Officers then set up a perimeter and captured Rodriguez a short time later. It was later discovered that Rodriguez had broken into a home on Carson Street and attempted to steal a bicycle, before being stopped by the homeowner, reports said. Both suspects were booked into the Osceola County Jail.



The Osceola County Sheriff's Office will have a memorial service at 9:30 a.m. Thursday for [Mark Pino], a police dog that was euthanized Saturday.
.
In Loving Memory of
K9 MIRANDA
August 2, 2002
worked 9/11/01 WTC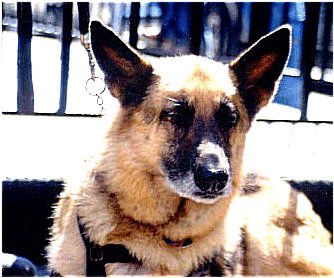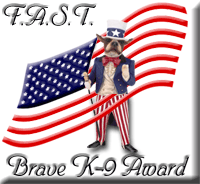 Handler: Sgt. Dale Warke
Midwest Search & Rescue
Lebanon Police Department
Lebanon, IL
618.537.6131

Two Metro East police officers are headed back to New York city for September 11th memorial tribute, but their police dog partner, Miranda won't be participating. As the smoke bellowed over lower Manhattan on the day of the attacks, Lebanon police Sgt. Dale Warke loaded his police trained German trained German shepherd named Miranda into his jeep and along with officer Joe Paulfrey, set out on the 16 hour drive. They arrived to find themselves on one of the first few dog teams at the site. They searched to exhaustion and slept on the street the first night. Miranda found dozen of bodies over five days of work, including recovering a fire chief and his assistants. But she found no survivors. Miranda trained as a police dog for years, but with little street experience, cut her chest and injured her leg on the fifth day of searching the pile. The dog's injury was severe enough that Warke decided to return home. the ordeal contributed to her decline in health. She was always high spirited. But after this, it was like the energy was sapped out of her. She's trained to find live people. the canine has since died from health problems linked from searching at ground zero. Miranda developed muscle control problems, eventually to the point where she became immobile. she lost 30 pounds of weight in a month. She was euthanized and cremated on August 2nd at the age of 14.
The effort and sacrifice made by the dog inspired the owner to launch his own search and rescue group in the Metro East area during this past year. Warke and Paulfrey founded Midwest Search and Rescue K9 teams, based out of Collinsville, IL. The group is a collective of police officers, firemen, and other EMS professionals, from the area who can respond to emergencies. They have been called out on many searches this year. Warke plans to head to ground zero early this week to spread Miranda's ashes at the site. Something is drawing me back, and I have to go. 911 was Miranda's last call to duty, it seems a fitting resting place for a brave partner.
---
In Loving Memory of
K9 MAX
July 2, 2002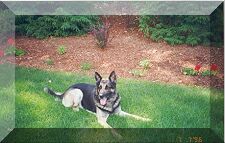 Handler: Tpr. Dennis Sullivan
MA STATE POLICE K-9 SECTION
164 Pond Street
Stoneham, MA 02180
PH: (781) 279-1283 164

Tpr. Dennis Sullivan most recently lost his retired K-9 Max. "Sully" (Sullivan) went to the basement to say hello to his old partner and saw that he was in distress. His tummy had twisted (flipped). Even as the Tpr. Sullivan sped to the local vet, ole Max would lift his head when he heard the siren activated to clear traffic. He would lift his head to answer that last call to duty and then passed the Rainbow Bridge. He was one of the greatest dogs the MSP has had.
---
In Loving Memory of
K9 MIDNITE
Registered name: Missouri Midnite Shadow
July 5, 1989 - August 6, 2002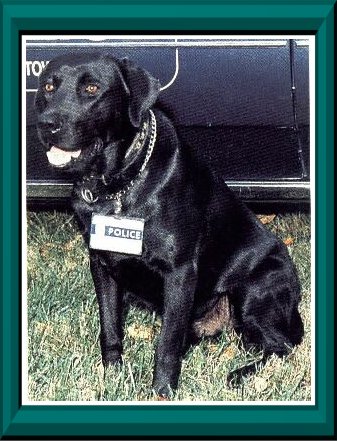 Handler: Officer Gary White
Raytown Police Department
10000 E. 59 Street - Raytown, MO 64133
(816) 737-6016 (816) 737-6187 - (816) 737-6128



Meet: Knitro & Kilo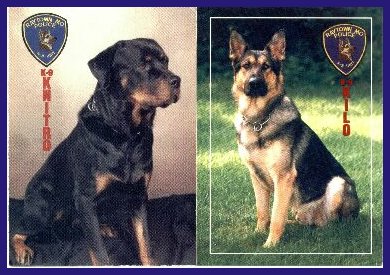 Midnite said, "Crime prevention is something you can really get your teeth into."

I would like to thank everyone who help me with my loss of K-9 Midnite who was put down 8/6/02 due to illness. Midnite was a black lab & Ridgeback mix of 13 years old. Midnite was special to me and my family. He was my first K-9 and took all the mistakes I made in stride. He started as a family pet and my daughter took a while getting over that I made him a working dog, but became proud of his duties as a K-9. He was able to again become a family pet in 1994 when I started my second dog, Knitro. Midnite enjoyed a retirement and eating M&M's that he got hooked on while working with me. I want to give Paul Thompson a big heart felt thanks for being with my family and me when Midnite got his last ride in the patrol car on 8/6/02. Midnite, you will be missed and you are special. Keep Jake, Bill, Basco, Arco, Kai, and Kemo and all the other K-9's company up there.
Gary White
Raytown, Missouri Police Department
Gary White, President
Missouri Police K-9 Association
7612 Elm St. Raytown, MO 64138


KNITRO
(Knitro Von Hohenhuffles)
Rottweiller
Began duty: 4/15/94
Handler: Officer G. White
Duties: Patrol & Drug Detection

KILO
(Rasty La Grua CS)
Born: 2/17/95 in Czechoslovakia (GSD)
Began duty: 6/1/98
Handler: Officer G. White
Patrol & Drug Detection