In Loving Memory of
K9 LEX
December 10, 2002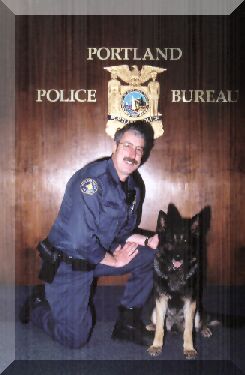 Handler: K-9 Officer Bert Combs
Portland Police Bureau
1111 S.W. 2nd Ave.
Portland, OR 97204
503-823-2154

"LEX" in Latin means "LAW" "Pretty darned appropriate for a police dog!"
On Tuesday, December 10, 2002, at 12:07 p.m., "Lex", the K-9 partner of Officer Bert Combs died of an apparent heart attack while tracking a suspect. After apprehending the suspect, Lex returned to his handler, Officer Combs and died. Lex was a 7-year-old German Shepherd and 6-year veteran of the Portland Police Bureau. Lex was also one of two Portland Police Bureau K-9's trained as a member of the SERT team. Lex was responsible for the capture of 126 suspects during his six years with the Portland Police Bureau. Lex is the third dog trained by Officer Bert Combs since he joined the K-9 unit in 1986. Officer Combs is a Master Trainer of police dogs in the State of Oregon. Lex was very dedicated to his work and to me. Out of all his captures, none really stnads out. They were all bad guys and some were quite dangerous, but Lex made their patures "routine.". I never had a suspect challenge me when Lex was barking and woofing during a confrontation. They always gave up and submitted to arrest. That truly the benefit of having a police dog as a partner. Bad guys will fight with officers, but very rarely will they fight with a German Shepherd. I cannot hoep but wonder if any of those 126 captures that lex made actually saved my life, or kept me from getting hurt. If Lex had not been there, would one of those suspects have made the decision to take me out? I guess I will never know. I do know I loved the little guy and I'd like to think the feeling was mutual. He was a hell of a police dog.


This Sunday 4/13/03 I start work with my new partner, Brutus. We just finished training on Wednesday and we're both ready to go.
---
In Loving Memory of
K9 LOGAN
October 3, 2002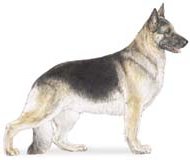 Handler: GARY COLINS
Kettering Police Department
3600 Shroyer Road - Kettering, OH 45429
(937) 296-2555 - FAX (937) 296-3219

K-9 Logan served the department from 1994 to January 1997.
After K-9 Officer Gary Colins was hurt, he left the unit and retired. No other information is available.
---
In Loving Memory of
K-9 Lauren SAR
January 21, 1991 - January 1, 2002 1:15 AM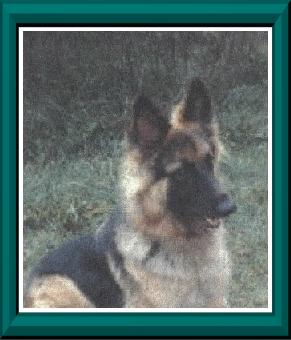 Handler: Helen Young
Iowa Search & Rescue

It is with sadness I report the loss of ISAR's past canine, Lauren, partner of Helen Young. Lauren joined ISAR after spending 3 years living in a crate. Despite her great love for Helen and memberso of ISAR, she just did not care to find anyone. Helen soon retired Lauren from searching. That, however, was not Lauren's last contribution to ISAR. She was called upon many times to help break ISAR Canines of aggressive behavior. Lauren would just look at their aggression as if to say, "What is your problem?" She was an awesome help to our organizaiton. Before her recent retirement, she taught obedience classes with Helen for the Humane society. ISAR member that knew her are not going to be the only ones to miss her. Although she never found anyone, Lauren most certainly earned her place in Heaven.
---
In Loving Memory of
K-9 LARS
November, 1992 -February 22, 2002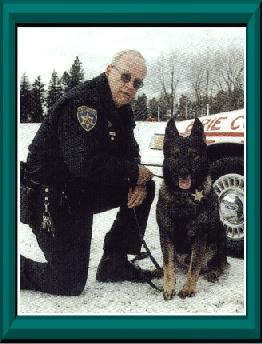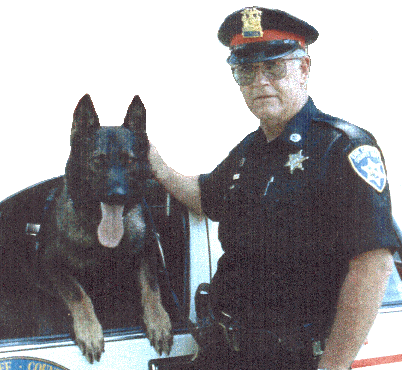 If you want to do drugs.. .there's nothing to fear, but "Fur" itself!
Deputy Lucian C. Hudson
Erie County Sheriff's Department
Erie County Sheriff's Office
10 Delaware Avenue, Buffalo, NY 14202
(716) 858-7088
Lars was born in Czech Republic and purchased by the sheriff's office with drug seizure money. Brought to the U.S. Deputy Hudson and Lars were together 6 years. Earned their NYS-BMP certification as a police K-9 team. Lars trained in area & building searches, criminal apprehenson, tracking, crowd control, officer protection and drug detection.
**********
Erie County Sheriff's K-9 Dog "Lars" Died UnexpectedlyFrom Natural Causes
Erie County Sheriff's Office K-9 Dog "Lars" a 10 year old Czech Republic German Shepherd died unexpectedly from natural causes on Saturday, February 16, 2002. Lars was the first trained duel purpose (patrol and narcotics) K-9 dog in the history of the Erie County Sheriff's Office. He was trained to the level of ZVV1 in the Czech Republic and received his narcotics training at the Amsel Kennels, under the direction of Owen Tober of Akron, New York. The K-9 Dog worked with Federal, State and Local law Enforcement agencies:
FBI, DEA, State Police and Town and Village Police Depts. Lars and his handler did many K-9 Demonstrations at the Erie County Fair, local schools, Boy and Girl Scout meetings and Senior Citizen groups. The K-9 Drug Awareness Program for Middle and High Schools evolved as a result of having this specialized K-9 Dog. Lars was trilingual, he understood his commands in Czech, German and in English. During his long career the K-9 Dog alerted on large amounts of Marijuana, Crack Cocaine, Cocaine, Heroin, and a variety of other drugs. Some of the most memorable finds he was involved in are:
• 26 Kilos of Cocaine in suitcase for the DEA.
• Two suit-cases with 15 lbs. Marijuana - Buffalo International Airport.
• 65 hits of Heroin hidden in engine compartment of Chevrolet S-10 pickup truck.
• The first time, after Lars finished narcotics school, he assisted the Career Criminal Task Force,
found $4700.00 in cash & 2 oz. of Crack Cocaine.
• Apprehension of suspect hiding in soybean field in the Village of Springville.
Lars and his handler also did many demonstrations for schools and organizations. K-9 Dog Lars was placed in service from June of 1994 until February of 2002. Deputy Sheriff L. C. Hudson, handler for Lars, will have a Sheriff's Office , to be held March 20, 2002 at 11:00 a.m., at the Colden Fire hall, Town of Colden. The Colden Fire hall: Rt 240 (State Road) Corner Gutkunst Road, Town of Colden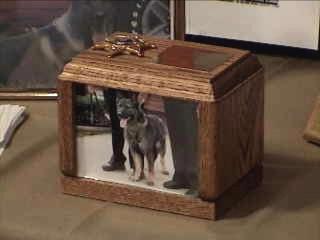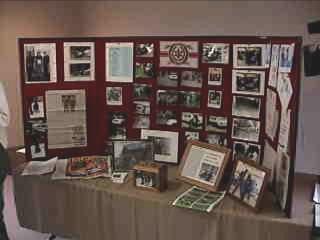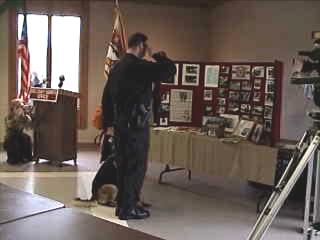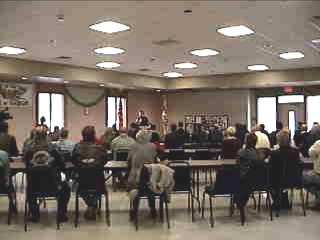 Thanks to Officer Kevin Retzer & Lou for all you help.