In Loving Memory of
K9 KINDO
October 27, 2002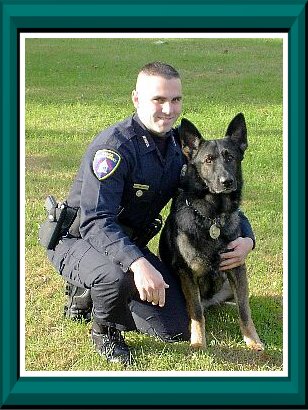 Handler: Patrolman James Antonelli
New Milford Police Department
10 Main Street - New Milford CT 06776
(860) 355-3133

The New Milford Police Department announces the passing of our 5 year-old police service dog K-9 Kindo. Kindo was assigned to Patrolman James Antonelli in the Spring of 2001. He died this morning, Oct. 27, 2002, as a result from a rare type of bloat that affects the intestinal tract rather than the stomach. "Kindo" was trained in patrol and narcotics detection. With the assistance "Kindo," a valuable member ot the New Milford Police Department, had attended countless public demonstrations. The team most recently apprehended a man hiding in an attic after officers were unable to locate the suspect.
Just an interesting fact; The community of New Milford helped in the selection of their K-9 "Kindo"'s name. Kindo will be missed by all, but especially his partner, Jim.
Notified by Jim Cortina CPWDA Dir.


I recently got a new K9 named Onyx and he is great. Although he will never replace Kindo in my heart I have a new love for Onyx. You certainly have my permission to use anything about me or Kindo in your book.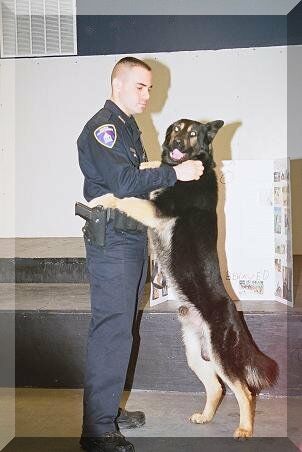 ---
In Loving Memory of
K9 KILO
July 28, 2002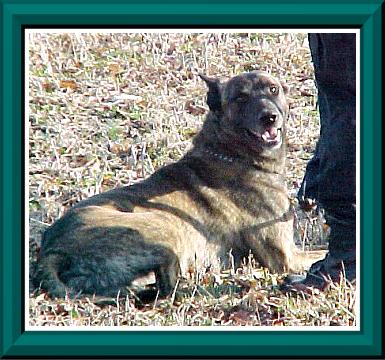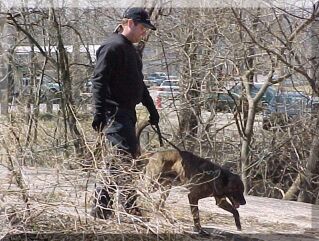 Handler: Officer James White
Derby Police Department
229 N. BALTIMORE AVE. - DERBY, KS 67037-1601
316-788-1557 [SEDGWICK County]

"Kilo," a six year old Belgian malinois, was put to sleep after suffering from severe heat stroke. "Kilo" had been with handler Jim White and the Derby Police Department since 1997. "Kilo" was trained in narcotics detection, tracking / trailing, and patrol work.
submitted by Kansas Police Dog Association
---
In Loving Memory of
K9 KEMO
October 17, 1995
Began watch: October 1998 End of watch:August 2, 2002 6:50 PM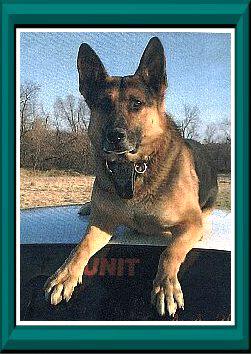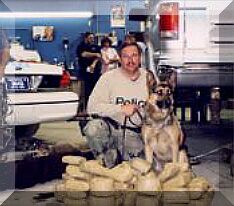 Handler: Sgt. John Bullard
Independence Police Department
Missouri K-9 Association
Independence Police Department
223 N. Memorial Drive • Independence, MO 64050
816.325.7872 General Information • 816.325.7316 Fax

Loss of a Friend Date: Aug. 8 2002 6:50 PM
On August 2, 2002 Independence Police K-9 Kemo lost his battle with cancer. In the later part of June, Kemo began losing weight and having problems with his rear legs. Numerous tests were conducted with no clear cut answers. Dr. Schrock, Dr. John and all of the staff of John Veterinary Clinic did a great job of comforting Kemo and his family while they waited for test results. Kemo was referred to the University of Missouri Veterinary School in Columbia, MO. Again numerous tests were conducted, consultations were made with other doctors, other clinics even other veterinary colleges in an effort to determine what was causing Keno's problems. On August 1, a series of more invasive tests were conducted. The conclusion of those tests revealed a highly aggressive Cancer in Keno's spinal column. The prognosis for treatment of this type of cancer would have been at best temporary. The cancer left Kemo in a great deal of pain and the inability to walk. The decision was made that Kemo would leave this world with all of the dignity that he had brought to it. Kemo's body will be temporarily loaned the University of Missouri Veterinary School in Columbia, MO where research may be conducted hopefully to help create a cure so this type of tragedy will not occur again. Eventually, Kemo will be laid to rest at the site of the Independence Police Department's K-9 Training Facility. Kemo was born on October 17, 1995 in Holland with the registered name of Iron Vom Grauen-Stahlhammer. Kemo's career began with the Independence Police Dept. in October of 1998 when he and his handler, Sgt. John Bullard, attended basic handler's school at Vohne Liche Kennels in Denver, IN. Since that time Kemo has responded to 2082 canine calls for service. He assisted in 133 public demonstrations for school kids, neighborhood block watch groups, & others showing off his skills for finding narcotics and making apprehension to 16,312 members of the community. His criminal interdiction work helped in apprehending 26.5 criminals (the .5 was because Kemo had to share one apprehension with the rookie, K-9 Haas.) Between the two K-9s, the person that was going to run, couldn't quite give up fast enough. Kemo had 112 narcotics finds with one of them being the largest load of marijuana ever confiscated by the Independence Police Department. That find resulted in the removal of 100 pounds of marijuana from the streets of Independence and the seizure of the van that was transporting the marijuana in the gas tank. Kemo left a lasting impression on anyone who ever caught him during a training session. He also left a lasting impression on a couple of officers who happen to get in his way during a criminal apprehension. Kemo will be missed by his mom, Konnie, his brothers and sisters, Jennifer, Jim, Michelle, Ian, Andy, Jared, Erik and his little buddy-Budrow. He will also be missed by many other co-workers, friends, school kids, neighbors etc. Kemo will especially be missed by his dad, John. Going to work won't be the same without him. No one to talk to, no one to help watch the people in the cars beside us, no one to put his muddy feet on my seat or to steal a french fry from my hand. Especially no one there to watch out for me or to provide me with that rather moist lick up the side of the face as if to say "Hey let's go get the job done." Just one last comment to make, and that is to Terry. Hey Brother, I'm sending you a good partner and a good friend, but he is only on loan to you until I get there. You two patrol those heavenly streets and be sure to watch over the rest of us yet to come. You two take good care of each other and while you're at it work with him a little bit and see if you can get him to spit that damn sleeve.
**********
Good Bye, best friends
Officers say goodbye to Kemo K-9 officer dies of rare cancer By DARLA McFARLAND The Examiner 8/10/02
Independence police dog Kemo, who died Aug. 2 from cancer. He touched the lives of thousands of children, uncovered hundreds of pounds of illegal drugs and aided in dozens of searches for dangerous criminal suspects. On Aug. 2, Independence Police K-9 officer Kemo lost his life to a rare form of spinal cancer. Kemo's partner and handler, Sgt. John Bullard, said his dog was more than a pet, more than a partner and more than a friend. "I think it is hard for people who do not work close with animals the way we do to understand," Bullard said. "There is a very special bond between an officer and their K-9 partner. It has been very touching for me, for my family and for the other guys in the unit." K-9 officers live at home with their handlers. The dogs ride in the back of a patrol car with their heads resting inches from their handler's shoulder. "They are right there with us, 24 hours a day. We spend more time with the dogs than with our own families," Bullard said. Kemo was born in Holland in 1996 and trained in Indiana. He received his commission with the Independence Police in 1998 and was partnered with Bullard. In his career, Kemo did more than 130 public appearances and demonstrations for thousands of school children and neighborhood groups. He was trained as both a narcotics dog and for patrol duties that included locating suspects hiding from police. "His big claim to fame is probably a hotel search we did with the DEA in January 2000," Bullard said. "As soon as we exited the car, he did a bee-line for this van in the parking lot. It was a textbook example of a vehicle search." Kemo's keen nose uncovered 100 pounds of marijuana concealed in the gas tank of the van. He has also found drugs concealed in the steering columns of a passenger car and dozens of other places. "They (the dogs) can find drugs in places we would never look. Criminals can be very ingenious," Bullard said. Besides sniffing out narcotics, Bullard said the canine officers protect the lives of their handlers and other police officers. The dogs are sent into dark woods, basements, empty buildings and other places where possibly dangerous criminals are hiding from police. "That is probably the hardest thing for us ­ to send our K-9 into a situation where they could be seriously hurt or killed. If you think that doesn't affect us, it does, believe me," Bullard said. "But, if it is to protect the life of an officer or a citizen, then that is their job. They would give their lives for us, without hesitation." Kemo has served the last four years with no major injuries or problems, Bullard said. Then, this June, he began to fail very suddenly. "He was dropping weight pretty fast, and we noticed him dragging his left rear foot," Bullard said. "He must have been in pain long before that but he never showed it. He was a very stoic dog." Local veterinarians ran tests and put Kemo on medication, but he continued to lose weight. Eventually, Bullard took Kemo to the University of Missouri School of Veterinary Medicine in Columbia, Mo. Lead physicians there tested again and recommended new medicines. "Nothing was working. The pain just got worse and he kept losing weight," said Bullard. Finally, Kemo fell to 20 pounds under his former weight, even with double servings of food. The MU veterinarians performed a CAT scan and finally found the cause of Kemo's decline ­ a rare form of cancer attacking his spinal cord and nervous system. "We made the decision to have him put to sleep the next day," Bullard said. "We wanted him to go with as little pain and as much dignity as possible." Kemo's body was left with researchers at MU to explore the nature of his rare cancer. He will be cremated and returned to Independence later this month. Bullard wants to have a proper resting place waiting for him. "We had the idea to do a memorial for the K-9 officers a long time ago. We just never had a permanent place to do it," he said. Now, the K-9 unit has taken over a building on Missouri 78, just east of Blue River Community College. The building was donated by the Little Blue Valley School District, which occupies another building on the property. The planned memorial site is a 42-foot gravel circle with a 50-foot flag-pole standing in the center. Bullard and other K-9 unit officers went Friday to select a memorial stone for the cite. The stone will be engraved with a picture of a German Shepherd, the breed of many police dogs, including Kemo. "We just feel it is right that they should have a memorial to recognize the contribution they make to the department, to the community and to the fight against crime," Bullard said. Kemo's name will be engraved with the names of two other lost K-9 officers ­ Arco, who died in July 1996, and Jake, who died in June 1997. The K-9 unit is still collecting contributions to pay for the memorial site and to complete renovations of the new facility, kennels and training grounds. Contributions can be sent to FOP/Coins for Canines, c/o Sgt. John Bullard, 2150 Independence Center, Independence, Mo., 64057. Additional funds are also needed to pay for the cost of purchasing and training two new police dogs. One dog will fill Kemo's place and the other will take the position of K-9 Larry, who retires later this month.
To reach Darla McFarland or call her at 350-6321.
---
In Loving Memory of
K9 KINO
April 15, 1989 - July 5, 2002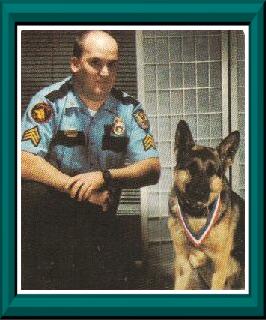 Handler: Sgt. Michael Schmittinger
Northern Berks Regional Police Dept. PA
5710 Leesport Ave. - Reading, PA 19605
610.926.2999
Kino worked from 1991 to 1999 He retired after 8 years of duty. He was born in Czechoslovakia on April 15, 1989. He was trained to the level Sch II and sent to this country in November, 1990. He was nationally certified as a trained patrol dog and nacrotics detector. Kino's favorite activity is helping his partment in catching criminals, sniffing out illegal drugs and protecint innocent people. Kin was born in czechoslovakia on April 15, 1989. He was trained to the level SchII and sent to this country in November 1990. In Sept. 1991, he became an official police dog. He is nationally certified as a trained patrol dog and narcotics detector. His hobbies are sleeping and playing ball.



GRIEVE NOT FOR ME
Grieve not for me for it has been ordained,
that my journey here be short.
Grieve not for me for my loyal presence
will ever remain in your heart.
I was sent to be a Guardian,
for the Guardians of Law in Blue.
A fearless, noble protector,
with a bond that few con construe.
With character unshakable,
and senses that are well heightened,
I was sent to be a defender,
so that your burden here would be lightened.
Grieve not for me for in heavenly blue,
our reunion day will come.
Grieve not for me for as partners again,
We will defend a greater Kingdom.
~unknown author
---
In Loving Memory of
K-9 KASEY
May 13, 2002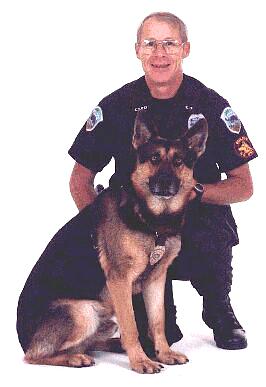 Handler: Officer Rick Quigley
Coral Springs Police Department
2801 Coral Springs Dr. Coral Springs, FL 33065
(954) 346-1201 fax (954) 346-1210

A good friend of mine and a long time K-9 handler and trainer from Coral Springs, FL Police Department, Rick Quigley, suddenly lost his dog yesterday. A little over a week ago his dog, "Kasey" yelped after jumping a hurdle in training. After some muscle relaxing medication no change was noted. Yesterday a specialist diagnosed two crushed vertebrae, which were unrepairable, and "Kasey", a four year old German Shepherd, had to be put down. Recently "Kasey", a cross trained patrol/narcotic detection dog, alerted to a large quantity of cash in a vehicle, which is now in forfeiture proceedings. If anyone on the list would like to send Rick an e-mail with condolences, I'm sure he'd appreciate it. He's devastated.