In Loving Memory of
K9 JAZZ
December 27, 2002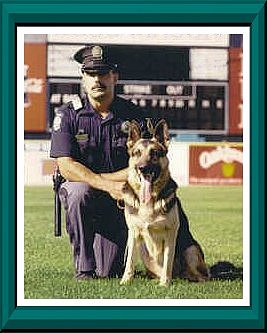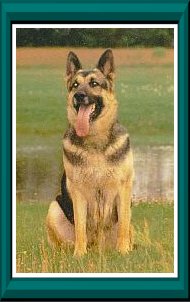 Handler: Tony Balzano
Portland Police Dept.
Michael J. Chitwood, Chief of Police
109 Middle Street - Portland, Maine 04101
207-874-8300
I just lost my retired K9 partner, JAZZ, to spinal cancer. It was the hardest thing I ever had to dowhen I decided to have him put down, two days after Christmas! He was 10 years old. We had worked together for 8 years. I now have a new partner, my third over the 18 years of my career.
---
In Loving Memory of
K9 JOURIE
September 18, 2002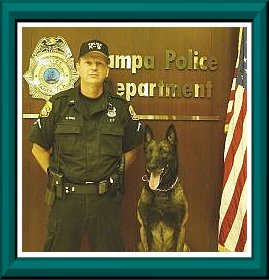 Handler: Officer Keith Bush
Tampa Police Department
One Police Center 411 N. Franklin Street
Tampa, Florida 33602
(813) 276-3200

K-9 Jourie died of heat stroke. He was three years old. He broke out of his protective kennel by chewingand ran around in the heat which caused the heat stroke. He was found by the side of the building by his handler, too late for help. He is sadly missed not only by Officer Bush, but the entire department. He was not working on the street very long, but long enough to have three street apprehensions. Officer Bush is now working with a German shepherd named FALCO.
---
In Loving Memory of
K9 JIMMY SAR
May 17, 2002
result of - WTC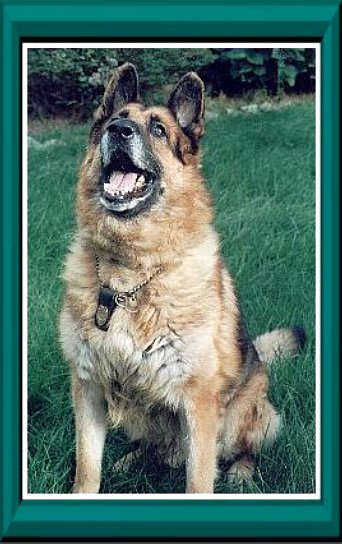 Rescue & Recovery K-9
Handler & Owner: David Vitalli
Owner: Dee Vitalli
1162 Union Ave. Newburgh, NY 12550
ph: 845.566.4417

Jimmy, WTC rescue dog, dies By Beth Quinn - Times Herald-Record
Newburgh – Jimmy, the search-and-rescue dog, died in his sleep yesterday morning. He was 8 years old. Jimmy's story appeared in the Record last October. With his best friend and owner, David Vitalli of Newburgh, the German shepherd dog searched for survivors at Ground Zero in the aftermath of the attack. For three weeks, the man and dog picked their way through the smoking wreckage, looking for survivors. Tethered to David's torso, Jimmy sniffed for the scent of distress – a sign that someone was alive. He breathed in the dust, the debris and the soot in a tireless effort to save someone. In the end, the man and dog found no one. And, in the end, death found Jimmy. "He breathed in so much of that bad air," said Dee Dee Hurlburt, David's mother and partner in the family's security business. "He developed respiratory problems about a month after the Ground Zero search." Jimmy's health gradually deteriorated. The breathing problems took a toll on his good heart until it gave out in the dark hours yesterday morning. "Thursday afternoon, I sat with him," said Dee, who takes care of the four dogs that form the backbone of their business. "I told him, 'You don't feel so well, do you, Honey.' I brushed him, and we talked for awhile." He was the best of their dogs, said David. At Ground Zero, he would nudge David on, even in the face of such defeat. "He tried so hard," said Dee. "He never gave up. David had to carry him out of the rubble to get him to leave." Yesterday, David carried his best friend's body away for the last time.
*******************
October 21, 2001 They were ready for rescue, not disappointment By Beth Quinn -The Times Herald-Record
Jimmy paced in his kennel as he watched David load the Hummer. Ice. Ropes. Respirators. First-aid kits. Boots. Dog food. Jimmy knew. He knew they were going to work.
"Semmot! Kereshed! Semmot! Kereshed!"
David said the Hungarian commands over and over to his 8-year-old search-and-rescue dog to prepare him for the job ahead. It is the language Jimmy learned as a pup in Budapest, before coming to David when he was a year old. "Rescue! Bark! Rescue! Bark!" It is shorthand for "Find someone who is still alive! Bark to tell me where!" Jimmy paced. It would be like before. Like the time he and David went to Oklahoma City to find the person who was still alive. To bark so David knew where to dig. Jimmy found the person. Many persons! He barked many times. "Nana la kausch! Nana la kausch!" David would say it, over and over. "Good boy! Good boy!" Jimmy stood by as his 32-year-old master, David Vitalli, said goodbye to his family at their Town of Newburgh home and the three other shepherds who would stay behind. Then Jimmy settled into his car cage as David drove the Hummer out of the driveway onto Union Avenue and headed south. They were going to New York City. They were going to Semmot! Kereshed! It was Sept. 11 at 7 p.m. They would be there by 8. Troop T of the state police had cleared the way for David and Jimmy, and for the thousands of other volunteer rescue workers pouring into the city to find, to save, to bark. For three weeks, the German shepherd would work, strapped to David's torso. For three weeks the dog would sniff and the man would dig with his bare hands. For three weeks they would go into holes where there was something, something! Could it be someone alive! Man and dog would push themselves, trying, trying. But in the end, there would be no nana la kausch. There would only be exhaustion and collapse and the salty tears on David's face for Jimmy to lick away. Jimmy is one of four search-and-rescue shepherds that David Vitalli uses in the operation of Vortek Corp., his Newburgh based security business, which provides guards for hire. But David and the dogs also help police agencies. They search for missing persons. The dogs sniff for bombs. They smell out drugs. But the World Trade Center wasn't business. This was volunteer work. David could help. And he knew that Jimmy was the most indefatigable worker. If there was a live person to be found, Jimmy would do it. He was trained for such jobs with the use of pseudo scents, made for such purpose. In New York City, he was to smell for the scent of distress. It's the odor of a chemical the body gives off in a high-stress or trauma situation.
***************************
That's what Jimmy seeks when David gives the rescue command. But when David and Jimmy arrived at Ground Zero, it was another smell that overwhelmed the shepherd: the smell of death. His nose was in chaos – the scent of distress from rescue workers competed with the scent of corpses. All this, on top of the fire smell he'd noticed way up town, as far north as the Harlem River Drive. He'd begun walking in circles in his cage, his nose in the air. What was this that David was bringing him to? David parked near Ground Zero, but it would be several hours before Jimmy was let out of the Hummer. The earth was too hot. Days later, the heat would still burn Jimmy's pads and would cause David's boots to melt to his feet. The broken glass and twisted metal were everywhere. Fire erupted from this hole, that hole. Piles of rubble collapsed without warning. Jimmy had no boots to protect his feet. His shaggy coat would catch fire too easily. He would have to wait until 2 a.m. Wednesday before David let him out of the Hummer to begin his job. But how to smell through all the debris in the air, the powdered concrete, the smoke, the dust? The dog and man stood in total darkness, in two feet of ash, of broken bits of things. Broken bits of bodies. David attached his dog's leash to a harness around his own chest. Dog and man were tethered together. The dog's ID is tattooed in his ear. He wears a metal tag on his collar. David wrote his own name and Social Security number on his arms, his calves, the front and back of his torso. Dogs don't care what happens to themselves when they're on a search mission. And Jimmy was on a mission. He didn't notice the cuts on his feet, the singed fur, the stinging eyes, the fires, the hoses, the sounds. So many dogs, so many men and women searching, searching. More than 1,100 dogs by one estimate. Labs, poodles, beagles, mutts, shepherds, rottweilers. The handlers took their dogs off the "bark" command. It was too chaotic. There was too much reason to bark. The scents of stress and death were everywhere. Instead, Jimmy just stopped and stood still when he came upon a scent. Every few feet, he stopped. Then David would go down, into a hole, to check. Is it? Is it? Body parts were sent out by the bucket brigade, who sifted through the debris – millions of tons of debris – with their hands, looking for something that could be identified as a child's father, a man's wife, a son, a daughter. The people with posters lined the site, just beyond the yellow tape. Time and again, David took his dog out of the debris to the street for a break, a sense of normal. But there was no normal. "Have you seen this person?" they asked David. My daughter wears an ankle bracelet, she has a barrette in her hair, my son has a red stone in his ring. Take this picture of him. Take my phone number. Call. Please call. David's pockets bulged with their posters, their pieces of paper. "Can I hug your dog? Can I pet your dog? I love him. Thank you, thank you for looking." On one of the days – who knows which one? – a little girl, no more than 6, wrapped her arms around Jimmy's neck. "Is your dog looking for my daddy?" she asked David. "Yeah, honey." "Will you come to the party we're going to have when you find my daddy? Will you bring your dog to the party?" Oh, God. The water brought into the site for the rescuers was often lukewarm, but the people behind the yellow tape made sure the dogs had cold water. Jimmy lapped their offerings, poured into David's respirator mask for the dog to drink from. "Thank you, dog, thank you." Veterinarians walked through the crowd of rescuers carrying oxygen, asthma pumps, IVs, gauze, sutures. Some dogs died, David heard. He doesn't know for sure. Booties were distributed for the dogs, sent down from a company in Canada. Leather to protect the feet, Velcro to hold them on. Jimmy wore them for a 12-hour shift – which one? which day? which night? – but the wet metal was slippery. He lost his footing, slid in the ruins. David removed them and Jimmy went back to work on his naked, sore, blistered feet. As the days wore on, the dogs grew depressed. They weren't finding, rescuing, barking. The living person is their goal, and it is also their reward. Jimmy was failing, failing. He was not nana la kausch. He was bad. Still, he nudged David back when they went out for a break. Try more. Try harder. The dog pushed himself to the point of collapse. David carried him out of the rubble to rest in the Hummer with the air conditioner on. Just a little fresh air. Just a little break. David heard that one of the dogs found a white pigeon alive in the rubble. The rescuers named the bird Hope, it was said. The man and the dog went back to work. Again. And again. And then they stopped. After three weeks, they stopped. Jimmy was sick. A growth on his back had gotten worse. The vet wanted to remove it, to test it. David knows the results. He isn't talking about it. But Jimmy knows. He knows his final mission was a failure. He didn't find. He didn't bark. He wasn't nana la kausch. And it is Jimmy's daughter, 2-year-old Nieka, who will be with David the next time he loads the Hummer and says, over and over, Semmot! Kereshed! Jimmy rests his head on his paws as he looks mournfully through the bars of his kennel door. His work is not entirely ended just yet. His David needs the tears licked away from his face once again.



Loosing Jimmy was as hard to me as if I was loosing a member of my family, though he really was a part of my family. No matter how large the task, or the type job we where on he was always ready to go. Even though I saw he health going at "Ground Zero" he wanted to keep searching. He did not want to stop. Many times he kept me going even with entering Hell as I saw it. I hope and pray that the poem on the back of the card is true. That some day I will see my best friend again.
Thank you again and God Bless.
David Vitalli, handler
---
In Loving Memory of
K9 JETTA
March 27, 2002
(SAR) Rescue & Recovery K-9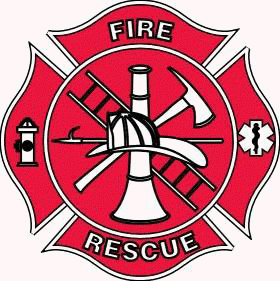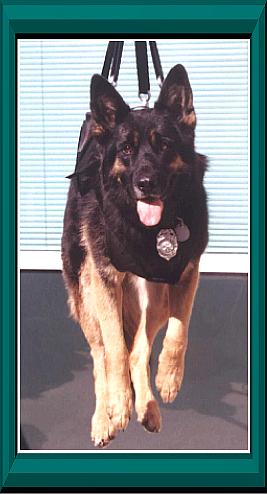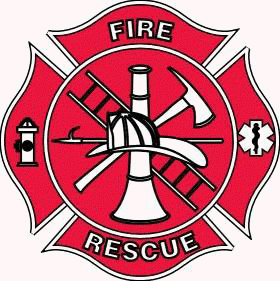 Handler: Patrick Horn
Spanish Lake Fire Protection District MO
The Missouri Region C Technical Rescue Team Canine Division

Tribute to a Friend - Who Am I?
My career began at the FBI Academy in Quantico, Virginia. From there I moved to St. Louis to my new home. I began my training with my new handler and started my new job with the Spanish Lake Fire Department. I have my own union card from the International Association of Firefighters Local 2665. I'm loyal, trustworthy, dependable and give unconditional love. I have touched the hearts of over 25,000 people at public demonstrations and I have stood shoulder to shoulder with fellow firefighters and police officers at memorials. I have been to hospitals and licked the faces of terminally ill children and brought smiles to the faces of elderly people in nursing homes. I'm also the mascot for the Missouri Children's Burn Camp. I have marched in parades, been to D.A.R.E camps and many other functions for the department. I have taught in High Schools, Colleges, Police and Fire Academies and the FBI. I can rappel from a 5 story training tower, fly in a helicopter, and jump from a rescue boat. My job is to find you whether you are alive or have perished. I have been talked about, laughed at and criticized for what I do. I don't know anything about politics, department rules or disciplinary procedures. I have found a 6 year old girl, a 7 year old girl, two 14 year old boys, and an elderly Alzheimer's patient who walked away from his nursing home. I have assisted in two first degree murder convictions, and one 2nd degree murder conviction. Because of me our state now has laws to protect others just like me. I have received the Firefighter of the Year Award. I'm the only employee of my kind who has received an Outstanding Service Award from the Director of the FBI, Louis Freeh. I have assisted in finding 15 drowning victims, several suicide victims and so on. I have looked for the remains of our Governor on a mountainside, and was called to duty to go to New York to look for our fellow brothers and sisters. To those of you I have helped, I bring closure, comfort and relief. I'm proud of the job I've done and live for it. I have done my duty and others like me will carry on the tradition. For those I have met along the way of my career I want to thank you for your support. For the non-believers, you now believe in what I do. Who Am I? Jetta - Search and Rescue Canine - Spanish Lake Fire Protection District Missouri Region "C" Technical Rescue Team Canine Division -- Free Dog 3/27/02
**************
Grieving humans pay last respects to rescue and recovery "legend."
BY VALERIE SCHREMP 1 636.946.3903 Of the Post-Dispatch - 03/29/2002 08:38 PM
Pat Horn, his wife Keli, holding their nine month old daughter Maggie, sit close to the flag draped coffin of Jetta, the rescue dog. Pat Horn was the dog's handler. The flag draped casket sat in the front of several rows of chairs, and Spanish Lake firefighter Patrick Horn looked on somberly. So did Lincoln County Fire Chief Steve Fair, & Affton Fire Captain, Bill Albright. Also the deceased's brothers and sisters from other police & fire departments:
K-9s CODY, CINDER, ALI, MOSES, & PRICE
came Friday morning to pay their respects to Jetta, a 10 year old German Shepherd, who died Wednesday. She suffered a ruptured disk in her back, perhaps from an old injury, and had to be euthanized. Jetta wasn't just Horn's best friend. She was a rescue and recovery dog, called a "legend" and even a "firefighter" by her human companions. Jetta is credited with finding missing children and an elderly Alzheimer's patient who walked away from his nursing home. She helped with three murder convictions, found 15 drowning victims and has searched for remains after the plane carrying Gov. Mel Carnahan crashed. She has looked for just about every missing or murdered child the area has lost in recent years:
Arlin Henderson, Gina Dawn Brooks, Heather Kullorn, Angie Housman.
Inside the bays of station house No. 1 of the Lincoln County Fire Protection District in Troy, Mo., the Rev. Glenn Davis, chaplain of the Wright City Fire Protection District, stood next to the casket and led the group in prayer. "Whether the hero is a man on two feet, or his companion on four feet, they are heroes who are worthy of honor," he said. As they left the firehouse, the firefighters and police officers and their dogs filed past Jetta's closed casket, where she lay with her badge and orange rescue vest. Some paused and saluted. A funeral procession accompanied the casket to the Horns' house, southwest of Troy, where family members had dug a grave alongside a creek. A recording of bagpipes playing "Amazing Grace" wailed from a boombox. Firefighters carried Jetta's casket down two lines of firefighters and police officers. Under a graveside tent, the firefighters folded the flag from Jetta's casket. Fair gave the flag to Horn and hugged him. In a cold, steady rain, Davis led the group in another prayer. "Bless all of those who have lived their lives answering the alarm," he said. "Bless all of those who will bring comfort to those in crisis. Bless Jetta, who has been called home by the master's alarm, called to comfort."
"Jetta was more than a service/SAR dog, she was our pride and joy."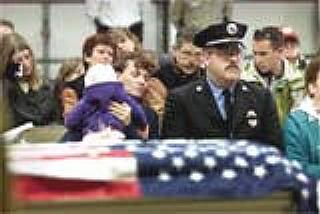 Jetta began her training at the FBI Academy in Quantico, Va., and then moved to St. Louis to live with Horn and his wife, Lincoln County firefighter Keli Horn. Jetta was one of the founding members of a group called the Missouri Region C Technical Rescue Team, and through her work, was the only rescue dog to get an Outstanding Service Award from the director of the FBI. Pat Horn, his wife Keli, holding their nine month old daughter Maggie, sit close to the flag draped coffin of Jetta, the rescue dog. Pat Horn was the dog's handler. (LARRY WILLIAMS/P-D)
---
In Loving Memory of
K9 JAMBO
February 8, 2002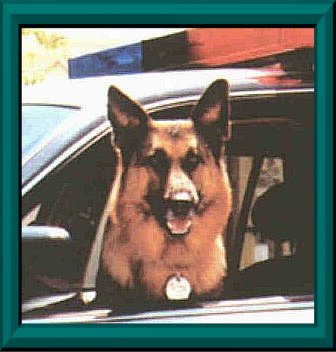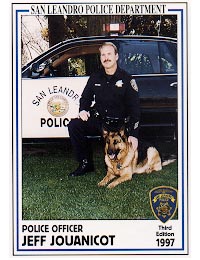 Handler: Officer Jeff Jouanicot
San Leandro Police Department
901 E. 14th Street - San Leandro, CA 94577
Ph: 510.577.3201
Jambo made his 58th and final arrest on February 5, 2002 and was euphemized three days later as a result of the injuries sustained while fighting with the suspect. Jambo's handler, Officer Jeff Jouanicot, became involved in a brief struggle with a suspect who then fled on foot. Jambo was sent to apprehend the suspect who was caught and stopped as he tried to climb a fence. Jambo pulled the suspect down off the fence and the suspect landed on top of Jambo. The suspect struggled with Jambo and Jambo held the suspect until Officer Jouanicot arrived. Officer Jouanicot took the suspect into custody after a brief struggle with the assistance of Jambo. It was later learned that Jambo had sustained internal bleeding as a result of the struggle with the resisting suspect. Jambo apparently had an unknown tumor on his spleen, which burst during the struggle. The cancer was determined to be inoperable and Jambo was put to sleep on February 8, 2002. Jambo was a very gentle dog with the public but all business when he was dealing with suspects. He was very well known in the community for his numerous public appearances as well as the many visits to local schools. Not only the department but also the public will miss him as well. End of Watch: February 8, 2002 Jeff has been a police officer for 18 years and is assigned to Patrol as a K-9 handler. His partner is Jambo. Together they worked swing-shift where they assist in searching for hiding suspects. Jeff is also a member of the SWAT team and has worked in the Criminal Investigation Div. as a Robbery Detective. Jeff has been a Field Training Officer and a Crime Scene Technician. In his off time he enjoys camping and boating with his wife and two daughters. Personal Message: Help Jambo and I take a bite out of crime.
---
In Loving Memory of
K9 JET
March 20, 2002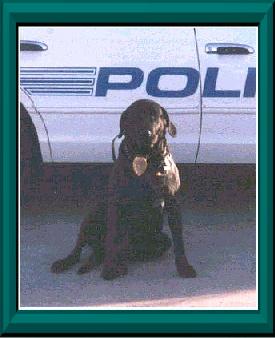 Handler: Sgt. Gabriel Cebada
Gallup Police Department NM
K-9 Supervisor
451 State Road 564
Gallup, NM 87301

Metro Dispatch
Attn.: Beth Analla
2215 Boyd Ave.
Gallup, NM 87301
Administration (505) 863-9365 FAX (505) 722-2113 505-726-0926
gallupnmpd.com police@gallupnmpd.com

My K-9 "Jet," after nine years of service as a narcotics police dog he was retired to me. He lived happily with his other police K-9 companions and family. Unfortunately after so many years of dedicated service, his aged body could no longer keep up with his still bright and playful mind, almost as if he still was expecting to "go to work daily," not realizing he was too old. He passed away this week.
Sincerely, Sgt. Gabriel Cebada
---
In Loving Memory of
K9 JUNO
July 7, 2002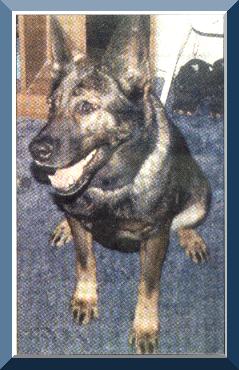 Handler: Deputy N. R. (Ray) Shearin
Vance County Sheriff Office
156 Church St.
Suite 004 Henderson NC
27536-5574
R. Thomas Dreedlove, Sheriff
phone: 1 252.738.2200
Pat. Adm. Assist.
patayscue@hotmail.com