In Loving Memory of
K-9 IKE
November 26, 2002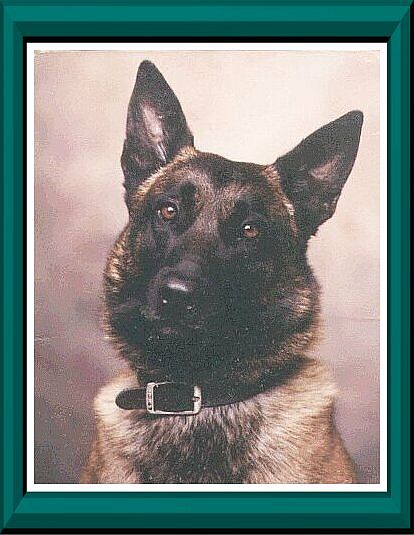 Handler: K-9 Officer Chester Eads

Rockingham County Sheriff's Department
P.O. Box 128 1088 Hwy. 65
Wentworth, NC 27025
336-634-3232 & 336-634-3239

K-9 Officer Deputy Chester Eads of the Rockingham County - Sheriff's Department lost a partner and companion on
Tuesday November 26th 2002
Ike, a 7 year old IPO trained Belgian Malinois died from stomach cancer. Although the cancer had progressed unknowingly to the point that was beyond treatment, Ike worked with as much energy, desire and dedication as he did when first assigned to the Sheriff's Department K-9 division. Ike was all business when on duty and when off duty a member of the Eads family. Matthew, Deputy Ead's 7 year old son, loved playing with Ike. Ike would snatch a toboggan hat off of Matthew's head and run away with it so Matthew would have to chase him. The 60 lb. dog's favorite thing, though was jumping six feet in the air into the arms of handler, Eads for acknowledgement of a job well done. Ike was only with the department for three years due to his extended training and certification in tracking, but during his three years, he had his share of apprehending suspects that would have gotten away without his keen nose and the confiscation of illegal narcotics. The most serious incident Ike was involved in occurred in May 2001. Ike was sent into a house with the Special Response Team to locate a male suspect after a seven hour standoff and deployment of tear gas. Ike went in and gave his handler notice of interest to a closet, the suspect came from under a pile of clothes and fired from the closet striking a Special Response Team member in the stomach. The team member sustained only a bad bruise thanks to his vest. The male suspect was shot in the arm and surrendered. Without K-9 Ike drawing attention to the closet, more severe injuries could have been sustained. Ike will truly be missed by the K-9 Division as one of the best to protect and serve.
Special thank you, Officer Randy Howell for all the above information.
The First And The Last Canine
The first to sense the hostility of a suspect,
The first to react to protect his master.
The first to enter where danger lurks.
The first to detect the hidden intruder.
The first to take action against violence.
The first to sense his master's joy.
The first to know his master's sorrow or fear.
The first to give his life in defense of his master.
The last to be forgotten by those
who work with others like him.
They know him as a "Partner,"
not just an animal.
(author unknown)
---
In Loving Memory of
K-9 IKE
March 21, 2002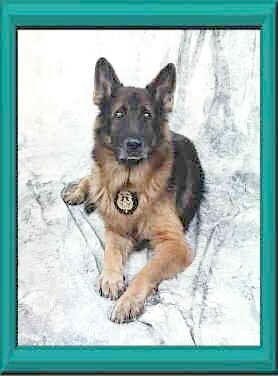 Handler: Sgt. Gary Kamp
Lee County Sheriff's Office
14750 Six Mile Cypress Pkwy.
Ft. Myers, Florida 33912 - 239-477-1193 or 239-410-3528
Hopefully more information to arrive email thanks to:
Deputy Larry King
Public Information Officer - Lee County Sheriff's Office - Fort Myers, Florida for all his help & photo.
---
In Loving Memory of
K-9 IWAN
March 10, 2002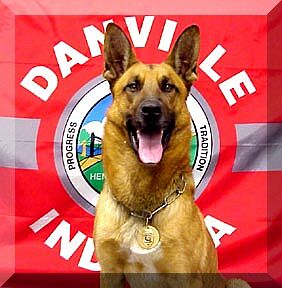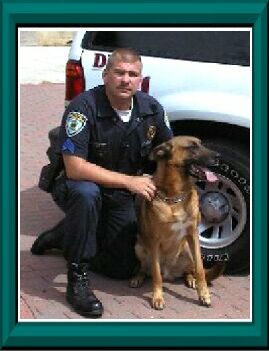 Handler: Sgt. Cory Mason
Danville Police Dept. IN
147 W. Main St. - Danville, IN 46122
317. 745.2486

Monday - 3/18/02 - memorial service - Rev. Cannon
Donation will help pay for a new police dog - March 26, 2002
DANVILLE, IN -- Kroger Co. and Milk-Bone have donated $5,000 to the Police Department to help replace Iwan, a highly trained narcotics and attack dog killed March 10 in a traffic accident. Chief Garry T. Edwards said the donated money would help the department buy a new dog and help pay for specialized training for the animal and its handler, Sgt. Cory Mason. "The new dog will cost $8,500. We also need funds to pay room and board for Sergeant Mason during the four weeks of intensive training with the new animal," Edwards said. He said the new dog would be purchased from a Michigan kennel specializing in dogs trained for law enforcement. Edwards said Iwan was insured for $7,000. The department has filed a claim with the insurance carrier. "This (donation) will be a big help to us," said Edwards.
On March 10, Iwan, a Belgian Malinois that had worked with Mason for five years, got out of his kennel and ran into the path of a Danville fire truck on an emergency run. Mason and other police found the dog's body the next morning. Officials of Milk-Bone, a maker of dog biscuits, have helped police departments nationwide obtain more than 145 dogs, said Jeff Golc, Kroger's manager of public affairs. The grocery chain is happy to offer aid, too, he said. The joint donation was made Monday at the East Main Street Kroger." We are pleased to be able to help the department replace the dog. We like to be good citizens."
************
March 13, 2002 Hendricks County Beloved police dog is killed by truck Indianapolis Star Joseph Gelarden 1 317 272.4404
DANVILLE, IN -- Iwan, a Belgian Malinois who helped the Danville Police Department track down bad guys for the last five years, died when he was struck by a truck. "It is kind of sad around here this week," said Lt. Jerry Cunningham. Police said after Iwan got off duty Sunday, the dog got out of the gate at the home of his handler, Sgt. Cory Mason. Mason and other officers searched the neighborhood until about 3 a.m. After dawn, the dog was found dead along U.S. 36 near Hendricks County Road 525 West. Later in the day, a truck driver called police and said he had hit a dog. "Iwan was kind of goofy. He was playful around the station and liked to explore the trash cans. He was a great dog. "But when Cory told him to bite, he was like a land shark," Cunningham said. Media officer mishandled dog incident, chief says.
**************
March 14, 2002 Police dog's death linked to fire truck
Danville -- A Police Department dog killed last weekend in a traffic accident actually was run over by a Fire Department fire truck, police said Wednesday. Police Lt. Jerry Cunningham admitted he skirted the truth in a news release when he said Iwan, a Belgian Malinois, was hit Sunday night by "a vehicle traveling along U.S.#36." Cunningham said he intentionally hid the identity of the fire truck "for obvious reasons." Danville Police Chief, Garry Edwards, did not return phone calls Wednesday. Iwan, purchased for the department in 1998 with $8,000 donated from a local business, was used to find narcotics, for rescues & to run down suspects. The Belgian Malinois (pronounced mal-an-wah) breed is a member of the shepherd family. Since 1998, Sgt. Cory Mason had worked with Iwan. The two were on duty Sunday until the evening hours, when they returned to Mason's home near U.S. 36 & County Road 525 West. Iwan was put in his pen. Later that night, Mason noticed the gate open and the dog missing, and he began to search for Iwan. Others helped him look for the dog until about 3 a.m. On Tuesday, Cunningham said a truck hit the animal. He said the driver of the truck called police and said he had hit a dog. But when questioned Wednesday, Cunningham changed his story. "The Fire Department said they had a run on a car fire on Sunday night," he said. "On the way, they thought they hit a dog. The next morning, the firefighters learned the Police Department was looking for an escaped animal. "They put 2 & 2 together." Cunningham said, the dead animal was found beside the road.


7/21/02 Sgt. Cory Mason is in the 3rd week of training with his new K-9.