In Loving Memory of
K-9 HARLEY
January 23, 2002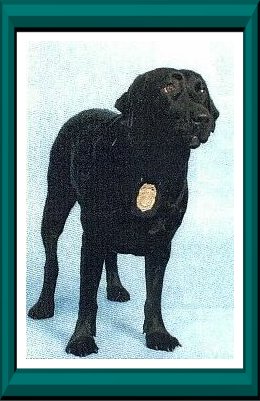 Handler: Officer Robert Skrutsky
Stratford Police Department
900 Longbrook Avenue,
Stratford, Connecticut 06615
Phone: 203-385-4100
4 legged drug specialist dies in Stratford service by Steven Scarpa Connecticut Post
Police have lost an officer known for nosing around in garbage and bugging colleagues for treats. Eccentricities aside, this officer was known as a standout narcotics detective and an integral member of the force. Harley, a black Labrador, specializing in narcotics detection, died after a brief heart illness. He was 9 years old. Harley, who joined the department in 1994, partnered with Detective Robert Skrutsky and worked on more than 600 cases. Harley and Skrutsky were also popular figures at community events, performing more than 500 Demonstrations for schoolchildren and other civic groups. Skrutsky was unavailable for comment. Lt. Thomas Rodia of the narcotics unit said Harley was "Good at finding things you couldn't see." During one drug raid, officers came up dry, Rodia said. But Harley kept scratching and sniffing at the staircase. After removing some panels from the stairs, sure enough, the drug stash was uncovered. Capt. Paul Aurelia, commander of the Detective Bureau said that during another raid, officers found minor drug paraphernalia, but not the big haul they were looking for. Harley kept scratching and clawing at the back of a closet, and closer inspection showed the closet had a false back leading into a room stocked with the means for growing marijuana. "he was very accurate. There was no mistake with his nose." said Aurelia. When Harley wasn't catching bad guys or entertaining schoolchildren, he often could be found lying on the floor in the department hallway. "He had the best job in the whole place, really." said Aurelia.



MEMORIAL SERVICE FOR K-9S GROLL & HARLEY
Canine officers honored Chris Snyder, Staff Writer September 26, 2002
The Stratford Police unveiled a monument last Thursday to two of their fallen officers, police dogs Groll and Harley. An honor guard of K-9 units from around the state, and the Stratford Police Honor Guard, was present to show support and dedicate the memorial. "They are fearless, loyal and loving," said Chief Michael Imbro of police dogs. "Their passing impels us to recognize the short amount of time we have." Officer Celeste Robitalle, Groll's handler, said, "I'll never forget the day I met Groll for the first time. He was a skinny, hyper German shepherd who wouldn't listen to a word I said. I know Groll is in good company with K-9s Shadow, Max and Jack." Detective Jack Cratty read a poem, "Guardians of the Night," from the North American Police Working Dog Association website. The author is unknown. Groll was the department's patrol dog. Harley was a narcotics dog. The monument is made of black marble and bears the names of all Stratford's police dogs since the program's inception in 1985. "It is one of the most successful programs we have implemented over the years," Imbro said. "Just the presence of a trained K-9 and his handler makes a criminal think twice." The department plans to replace the two dogs it lost recently and add a second patrol dog. Each dog will cost $6,000. The department has received some outside help in raising funds for the new dogs. Erica Pazkowski, a Bunnell High School freshman, raised $5,024 toward the cost of a new narcotics dog. "[She started collections at] the end of January," said Vicki Spada, Erica's mother. Capt. Andrew Knapp said, "Vicki Spada and her daughter Erica Pazkowski went above and beyond the call of duty. Pazkowski collected money at Flood Middle School, Stop & Shop and other locations, and also received mail-in donations. "She really liked Harley," Spada said. "She always looked forward to seeing him. She's an animal lover. She says the K-9s are a very important part of the police department." Spada and Pazkowski have two dogs at home.
©Stratford Star 2002
Captain Andre Knapp, department spokesman, said the department plans to replace Harley as soon as possible. With the passing of Harley, there is now one German shepherd on staff trained in patrol work and narcotics detection. But finding a replacement so universally loved may be hard. Every day about 4 PM Harley would come by Knapp's desk and scratch at the bottom drawer, looking for treats. "Because he was a Labrador and specifically trained for narcotics he didn't have the aggressive tendencies that dogs trained for patrol work had, " Knapp said. He was just a good dog. An excellent dog." Rodia said.
---
In Loving Memory of
K-9 HUNTER
August 20, 2002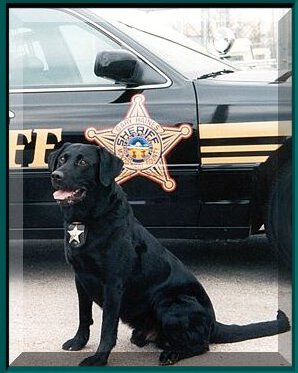 Handler: SGT. LARRY SCHROEDER
MONTGOMERY COUNTY SHERIFF DEPARTMENT
330 W. Second St. ~ P.O. Box 972 ~ Dayton, Ohio 45422
~ PH: (937) 225-4357 ~ 937.225.6442 - direct line to office
Hunter was a great K-9 and partner. He recovered over 4.5 milliom in cash and another 10 million in drugs. I would have to say he did his part in the war against drugs. I have his son Magnum 2 1/2 Labrador, he his so much like his father and a great bird dog and drug dog. I am looking for a yellow female pup now to carry on the Hunter line. And yes there will be a Hunter Jr. My dad used to call HUNTER his grandson. My parents kept him while we were in Mississippi for Christmas. My dad spoiled him. I was in a cruiser crash and was unable to get a hold of Cindy to come and get him before they took me to the hospital, so I call my dad to come and get Hunter. When he got there the other officers tried to get Hunter out of the car and he about ate them alive. My dad walked up to the open the cage door and got him out with no problem. They were 'big buds' till the end.

Sgt. Larry Schroeder of the Montgomery County Sheriff's Department, here in Dayton, Ohio lost his retired black lab this past Saturday. His dog HUNTER, a black lab of fourteen years passed away of natural causes. Hunter served the department for over eight years. He worked with Deputy Shirley Doran from 1991 to 1994, Deputy Officer Randy Duff from 1994 - 1995 and Deputy Larry Schroder from 1995 - 1999. Larry ended up working with K-9 Jake, another black lab on the Drug Task Force from 1999 to April 2001, until being promoted to Sgt. in the Montgomery Sheriff's Dept. He had patrol dogs from 1967 through 1994 and drug dogs from 1991 to present. At the time between 1991 - 1994, they had three labs in service. After 1994, only one drug dog. The department has three partrol/narc canines since September 2001 and have made many drug finds and apprehensions since they hit the street in December. K-9 Jake is working with his new handler on the drug task force.
---
In Loving Memory of
K-9 'Hojee'
Von Silberwiese
July 28, 1994 - June 10, 2002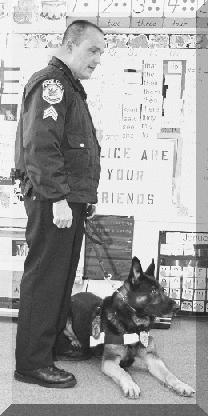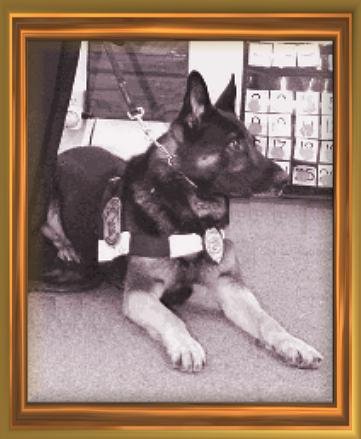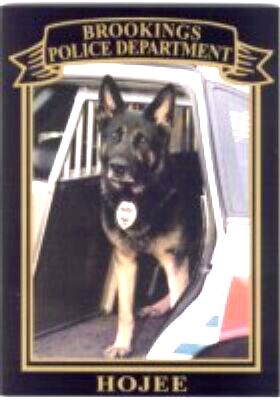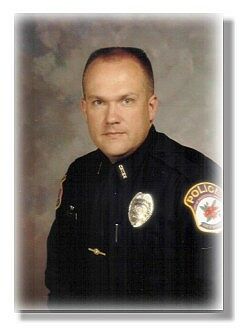 Badge # 27813 (ret.)
Handler: Chief Chris Wallace
Brookings Police Dept.Oregon
898 Elk Drive - Brookings, Oregon.
Phone: (541) 469-3118 Ext 221
Email
Officer Rich Garner (who informed me of this loss) of the Whitehall, PA Police Department & is on the cover my of 2nd book, "K9s Are Human Too" - is not connected to this dog, other than having one of his brothers, and assisting in the VERY beginnings of his training. I knew the officers, & watched Hojee progress. The Brookings Police Dept. is sad to announce the death of K-9 Hojee Von Silberwiese, due to illness. Hojee served for 6 years and helped in the apprehension of numerous felons in both Oregon and California. He was the first K-9 to assist Pelican Bay State Prison. Hojee was a TREMENDOUS dog, friend and he was always loyal to the community he served, he will be missed! The Brookings Police Department's K-9 force consists of a Belgian Malinois named Robby. His handler is Officer Donny Dotson. The K-9s primarily ride on patrol nightly and get involved in a variety of cases. They do everything from sniffing out illegal drugs, to chasing down and holding fleeing suspects.



BROOKINGS PD BIDS FAREWELL TO LOYAL CANINE By BRIAN BULLOCK Curry Coastal Pilot
The Brookings Police Department is mourning the death of a fellow officer this week. On Monday morning, Hojee von Silberwiese, a six year police dog of the force, died, and his passing is being felt not just throughout the police department, but throughout the community. Hojee, perhaps the most well known officer on the Brookings police force, was put to sleep after a short, valiant battle with a spinal disease. Brookings Chief of Police Chris Wallace felt the loss the hardest. He handled the 8 year old German Shepherd from when he was a pup until he "jacketed him up" for the final time on Monday. "When you're a handler, you spend more time with your dog than you do with your wife and kids," Wallace said quietly during an interview Monday. He said he would often get home with Hojee late at night after his family was asleep, so he would wind down in front of the television with him by his side. And Wallace said he would wake up and get ready for work with Hojee raring to go after his wife and children had left for work and school. Because of that bond, Wallace said he had to spend part of Monday with his young daughters who had known Hojee as their only dog. At work, Hojee was easily the most well trained and effective officer on the Brookings police force, Wallace said. He was certified as a police K-9 officer by the time he was 2, an incredibly early age. Hojee was effective in any realm in which he was placed, Wallace said. He was a great tracker. He was cross trained in narcotics detection and he was an outstanding public relations officer, he said. "His tracking instincts were phenomenal," Wallace said, explaining his ability to find either people or drugs that others could not. Wallace said Hojee tracked down one particular area felon twice within weeks and discovered a cache of marijuana when other officers and dogs couldn't. The chief also said Hojee became a trusted partner and loyal friend. "You get in a few situations where you get him protecting you or another officer and that bond just gets stronger," Wallace said. "Hojee was one of us," said Lt. John Bishop, who had also known Hojee since he was a pup. "When we did search warrants, I can't tell you how much more at ease we were when he was with us. "Those dogs save our lives. hey keep us from getting hurt." In addition to his daily duties in law enforcement, Hojee visited with Brookings-Harbor school children through the department's Safety City and similar programs. Wallace said Hojee's popularity was also felt well beyond the department. He said a woman at the Azalea Festival ran up to him with tears in her eyes asking for another "Hojee" trading card. "She said her son had a card he went to sleep with every night and he had just worn it out," Wallace said with a smile. He gladly obliged the request. "On a certain level, he was the community's dog. God just allowed me to handle him," Wallace said. That kind of loyalty is why Hojee's death has hit the department so hard. When the time had come for Hojee to be put to sleep, Wallace, Bishop, John McKinney, one of Hojee's trainers, and Donny Dotson, an officer who handles K-9 officer Robby, were present. "There's going to be very few times you'll see four officers with tears in their eyes, but (Monday) was one of them," Bishop said. Wallace said the toughest thing he has ever had to do was take Hojee's badge off for the final time. He said it was difficult because Hojee's mind was still very sharp, he just couldn't control his hind legs. "One thing I would like to say to the community is a sincere 'thank you,'" Wallace said. "We've gotten a lot of messages from the community about Hojee." Wallace brought out a framed poem he received while he was handling Hojee. Bishop read the poem, "Guardians of the Night," that Wallace said was a perfect description of Hojee. "Trust in me my friend for I am your comrade. I will protect you with my last breath. "When all others have left you, and the loneliness of the night closes in, I will be at your side. Together we will conquer all obstacles and search out those who might wish to harm others. "All I ask of you is compassion, the caring touch of your hands. "It is for you that I will selflessly give my life and spend my nights unrested. "...Together you and I shall experience a bond only others like you will understand. When outsiders see us together, their envy will be measured by their disdain. "I will quietly listen to you and pass no judgment. Nor will your spoken words be repeated. I will remain ever silent, ever vigilant, ever loyal. "And when our time together is done and you move on in the world, remember me with kind thoughts and tales. For a time we were unbeatable. Nothing passed among us undetected. "If we should ever meet again on another field, I will gladly take up your fight. I am a Police Working Dog and together we are Guardians of the Night." "That was Hojee," Bishop said. The Brookings City Council, through a request from the police department, voted Monday to erect a memorial to Hojee and other K-9 officers who served the force.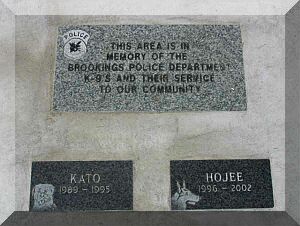 A photograph of our police canine memorial at my department. The stones were donated by the community withthe request a memorial be made for our fallen K-9 heroes.
---
In Loving Memory of
K-9 HALLE SAR
November 6, 2001 - April 28, 2002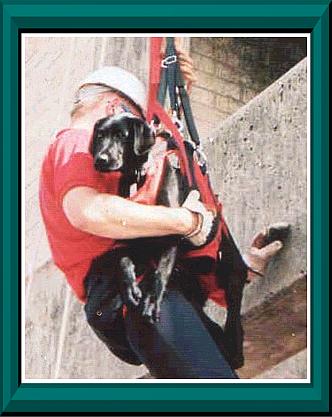 Handlers: Jason and Dana Berry
Greater Houston Search Dogs
& Houston Fire Department
817 Dollins St Katy, TX 77493 281-391-9264

Our beautiful Halle who died on Sunday 4-28-02. Halle was a wonderful 48 lb. black female lab. She was a shining star for Greater Houston Search Dogs and will be missed by all who worked with her. She was born 11-6-2001 and her short life has touched us all. God decided that she had more important things to do. She is our angel and she will never be forgotten. She is with us, my parrot says "Common Halle" as soon a we walk in the door each day. We know she is happy and want to honor her life.
Dana and Jason Berry



One of the youngest members of our team fell several stories from an open window to her death on Sunday. This is the first loss for Greater Houston Search Dogs and a very heartbreaking loss for all our members. Hale was the perfect search dog--the one dog you wish you could find. Her handlers are the type of people you wish you had a hundred of on a team. I am announcing this to all so that Hale did not die in vain. Her handlers, Jason and Dana Berry want to try and prevent accidents such as this by increasing awareness among all handlers. Please look at all potential hazards in your training and search environments. Dogs do not always understand they can fall and hurt themselves. Jason & Dana are professional fire-fighters and understand safety issues, yet this happened to their dog--it was a freak accident. Dana watched helplessly as her dog fell to the ground. They performed CPR yet Hale died in their arms.

July 2003 - A friend of mine just lost her SAR dog yesterday from an intestinal disease and even though I know exactly how she feels I find myself struggling for words of comfort. So, I turned to your website once again for comfort and as soon as did I found those words I had been looking for. You bring out something very beautiful that is deep inside each of us. You are wonderful. When Halle fell from the window of a 4th story building a little more than a year ago, you were my strength. Thank you.



Halle (Nov 6, 2001 - April 8, 2002) spends her days serving the heavenly SAR world and waiting to cross the Rainbow Bridge. However, one year after God recruited her to heaven he delivered us another miracle. Halle's parents had a litter of 13 puppies and we have Hank, her little brother, picking up where she left off. Hank is one of Greater Houston's new shining stars and he, like Halle, amazes us more and more each day.
Sincerely,
Dana Berry and Jason Berry of Greater Houston Search Dogs
---
In Loving Memory of
K-9 HUNTER
July 15, 1999 - April 19, 2002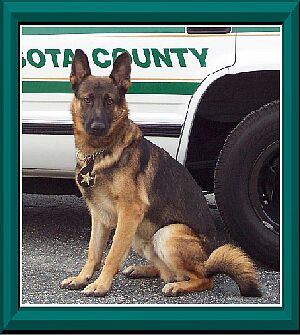 Handler: Deputy Brian Biegel

Sarasota County Sheriff's Department
2071 Ringling Blvd.
Sarasota, Florida 34237
(941) 861-5800

I just wanted to say thank you for posting Hunter's Picture on your website. Not a day goes by that I don't think about him. He was my life, my partner, but most of all, he was my best friend. Hunter had a heart defect from birth called cardiomiopthy. His heart was enlarged and his aorta was small. Hunter worked through a ten week training program plus four months on the road with just 1/3 of his heart functioning. Most people don't realize what these animals mean to us as K-9 handler. I felt like I lost a part of me when Hunter passed. It was a difficult time.
K-9 Hunter was born in Budapest Hungary. He was a sable German shepherd. In four months, Hunter had nine criminal
catches. He located over six pounds of marijuana, one hundred hits of XTC, thirty grams of cocaine and two handguns.
He also was used in the seizure of a 1993 BMW 325i. Hunter was nationally certified in the detection of marijuana, heroin, cocaine.
He also trained in the detection of meth amphetamine and XTC. He will be missed for his excellent work, but more so for
his unconditional love and service. Hunter died of heart problems.
submitted by: 941.362.2900 - Joshua LaRose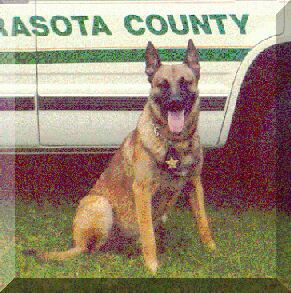 Meet Ozzi
NOW I'M HAPPY TO TELL YOU I HAVE A NEW PARTNER, K-9 OZZI, A 2 1/2 YEAR OLD BELGIAN MALINOIS. I HAVE ATTACHED A PICTURE OF HIM ON THIS EMAIL. THANK YOU FOR EVERYTHING YOU DO ON YOUR WEBSITE FOR EACH AND EVERY K-9 HANDLER.