In Loving Memory of
K-9 FRESCO
June 7, 2002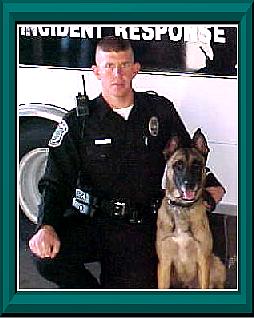 Handler: Officer Derek Welch
Dumas Police Department
K-9 Unit - 124 E. 7th St.
Dumas, TX 79029
Phone: 806-935-3998 - Fax: 806-935-5548

(a very involved true story - I almost gave up my passion... this was just too hard to be a part of)
On June 7th early in the morning, somewhere between 1:30 AM and 7 AM, someone broke into the back yard of Officer Welch's property. They took K9-Fresco from his pen along with K-9 Lexi. Lexi is a 6 month old Belgian Malinois prospect. K-9 Fresco was a 2 1/2 year old Belgian Malinois imported by Global Training Academy from Holland in August of 2001. The next day at approximately 4:30 PM, K-9 Fresco was discovered by the animal control officer near the entrance to the city dump. He was rolled in a tarp dead of unknown injuries. K-9 Fresco was a narcotics detection dog, but not formally trained for patrol work.
He was lured from his home while his handler was working to protect others. He was killed and dumped like a piece of trash,set there near the entrance for his handler to find him. K-9 Fresco had been with the Dumas Police Department since October of 2001. K-9 Fresco was responsible for making several small narcotics cases. He recently was certified USPCA and NPCA. At the time of his death, he held three separate certifications for narcotics detection.


Drug Dog Death Under Investigation 06/10/2002 by Rachel Kim
NBC 4 Amarillo -- Serving the Texas Panhandle Since 1953
The Dumas Police Department has lost one of its own over the weekend. Narcotics canine "Fresco" was taken from his partner's home and later found dead. All that's left of Fresco is the football he used to chew on and the memories his partner has of their days together on the narcotics unit. "It's difficult to explain, unless you've been a canine handler before. You're with your dog 24 hours a day, 7 days a week, very rarely are you two not together. Whether it be at the house or on patrol in the car," said officer Derek Welch. A brief separation of the two ended up in tragedy. "The chief of watch at the time had assigned the officer (Welch) another patrol car, because his was down. So, the animal was unable to go to work that night and as a result it was left at the officer's home," said chief Dale Alwan. Welch says usually, Fresco's kennel is kept latched so he can't get out. On Friday morning, he found the door open and Fresco gone. The next day, Welch
received word of Fresco's whereabouts. "He was rolled in a gray tarp, rolled outside a dumpster. Fresco also had a chip or chunk missing out of his left ear and I just rolled him over and saw that he was missing the tip of his left ear and I knew it was him," said Welch. "I don't know at this point whether there was foul play or not. We're waiting on somereports to come back in," said Alwan. Until then, all the officers who worked with Fresco can only remember hiscontributions. "It was a benefit to the city of Dumas and its people and the police department and in our efforts in enforcing narcotics laws," said Alwan. As for Fresco's partner, he's handling his loss day today. "It's tough to realize he's not coming back," said Welch. Chief Alwan says Fresco wasn't the only dog missing. Welch's personal dog was also taken, but later found shot twice in the leg. That dog is expected to recover. Alwan also tells us that ifthis is found to be a direct act of criminal conduct, the person or persons responsible will face some stiff consequences. It'll be considered a third degree felony. This can mean two to ten years in prison as well as a fine of up to $10,000.

LEXI-LOU
The local animal hospital called today and said they thought they had Lexi (girl). We went and checked and it was her. She had been brought in by a farmer on Saturday. She had been shot twice with a .22 caliber weapon of some sort. She is alive, but she will have to undergo at least one if not two or three surgeries to get her back to normal.She was shot in the right hip which shattered the bullet and broke her leg. She was also shot in the right front leg which fractured that leg as well. She has been sedated and her surgery is scheduled for first thing in the morning. She has a good chance of living a healthy long life if everything goes all right. Not sure how I will pay for the surgery, but I will worry about that later. I have to go talk to my chief regarding burial of Fresco in the local cemetery and have a graveside service. Now concerned about burial site, marker and casket. I think I have a friend that can maybe build a makeshift casket. Anyway, thank you so much for the time, effort and money you spent on the cards, it means a lot to me. I will keep you posted on anything further. Lexi is our personal dog, she is all ours as we purchased her from a breeder in Colorado a few months after I got Fresco. She s all ours, we call her Lexi Lou, but she answers to LuLu. As for the vet expense for Lexi, I have no idea where it is coming from except payments maybe. It will run $600-$800 plus follow up appointments.

Lexi-Lou came home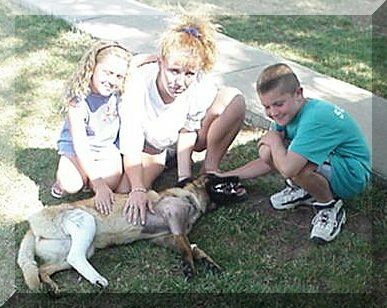 Donations to help, can be made For
Lexi Lou % Dumas Animal Hospital
Dr. Gailyn Rogers DVM P.O. Box 922 Dumas, TX 79029
An Officer and His Dog:
Dumas police officer Derek Welch poses with the drug dog Fresco. Drug dog's death raises questions By KAY LEDBETTER - June 12, 2002
Fresco, the Dumas Police Department's drug enforcement dog, died sometime after he went missing from his pen Friday. It's not known whether his death was the result of foul play or just the dog escaping from the pen and getting hit by a car. Dumas Police Chief Dale Alwan said he hopes that a necropsy he requested on the drug enforcement canine will help put the case to rest. Fresco, a 2-year-old Belgian Malinois imported from Holland, was purchased by the city of Dumas from Global, a company that trains bomb detection and drug dogs, Alwan said. He had been on the job about eight months in Dumas. In April, Fresco and his partnering officer, Derek Welch, were certified in drug detection by the National Association of Police Canines and the U.S. Police Canine Association. "We actually had a dog prior to Fresco," Alwan said. "The first dog was Benny. He, for whatever reasons, didn't work out, and we returned him to Global and obtained Fresco." Alwan said the department has been involved in a number of drug raids in Dumas and Cactus, and Fresco was on the majority of the warrant searches. "He performed well and had a lot of potential," Alwan said. "He was coming along just fine." That was until Thursday night. Welch's patrol car needed maintenance, so it was not available for patrol. He had to take another car that was not equipped for the canine, so Fresco wasleft at Welch's home, Alwan said. On Friday morning, Fresco was missing. "We don't know what happened. We don't know if he was released or taken or just got loose," Alwan said. "There's nothing conclusive at this point, but an autopsy has been performed on a dog found that we believe will be proven to be Fresco," Alwan said. "He had a little nick out of his ear, and this dog had a similar marking on his ear, and it had a tag that belonged to Fresco." Welch's personal dog, which also was missing Friday morning from the back yard, was found Saturday night by a resident who did not know to whom it belonged. The resident took the dog to a local veterinarian. The veterinarian treated the animal for two small caliber gunshot wounds, Alwan said, and it should be OK. The dead animal was located at the city landfill and the other outside the city limits, he said. "If there are facts that suggest that this was the end result of criminal activity, we would pursue criminal charges. But at this point, I have no reason to believe that," Alwan said. "If anyone has any information, if they found a carcass and took it to the dump, I'd appreciate a call," Alwan said. "It would help us put closure to the situation and maybe help us determine what happened. "We'll approach the city and request the narcotics canine be replaced. But I'd first like to put closure to this."

He was my dog, he was my partner, but most of all he was my buddy -
he will be missed terribly.
~Officer Derek Welch
Meet Maverick- born 5/26/02 KNPV bloodlines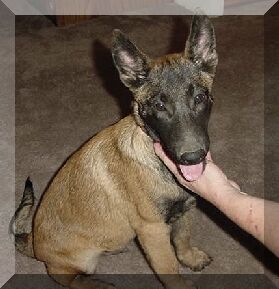 6/11/02 - no news regarding
who killed Fresco?- don't ask...., no further investigations have been done. This story upset me so much, I almost gave this passion for helping handlers up!!
---
In Loving Memory
K-9 FLAME SAR
1995 - Feb. 16, 2002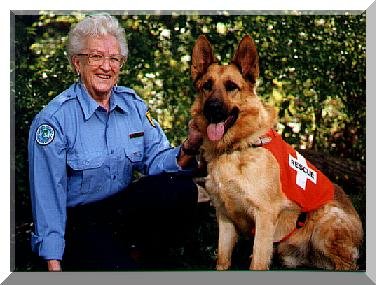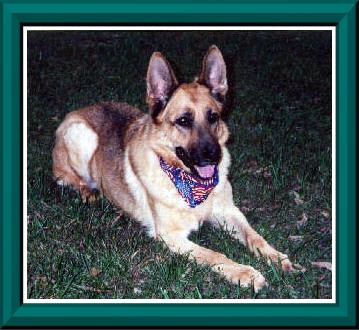 Handler: Helen Young
Iowa Search & Rescue
710 West North St
Madrid, IA 50156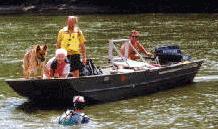 Meet newest member being trained for SAR, K-9 BLAZE
Helen Young with Iowa Search and Rescue recently lost her beloved canine partner Flame. Flame was diagnosed with cancer at the age of 7 and within two weeks left us. Flame was an ambassador for SAR canines, as you can see in the picture I have attached. (Flame and Helen were also in the Bridgeport Leather catalog this year) He was certified in Air scent wilderness, water and evidence. Flame gave ISAR 4 years of service and helped find closure for many families. The members of ISAR miss him almost as much as Helen does.
Submitted by: Shirley Hadenfeldt and A.L.I. Secretary , Iowa Search and Rescue
"Thank you for what you have done! "
---
In Loving Memory
K-9 FANG
April 22, 2002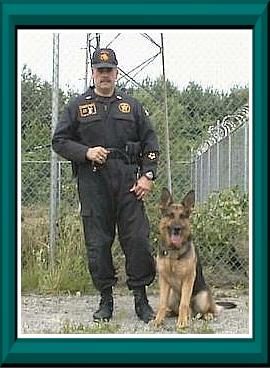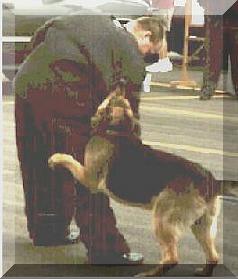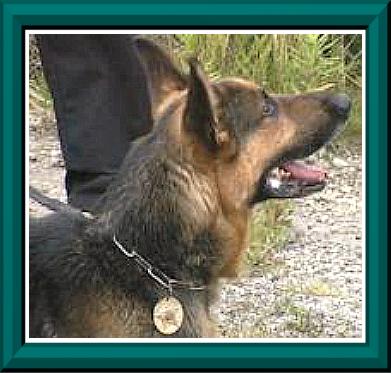 Handler: Lt. Dan D' Annunzio
Trumbull County Sheriff's Dept.
150 HIGH ST WARREN, OH 44481 - phone: 330.675.2508

The policy of the Trumbull County Sheriff's Office is to utilize a professionally trained canine team to assist in the daily operations of the department. The canine team is a valuable law enforcement tool for use in criminal apprehension, evidence location, narcotics detection, building searches, tracking, article search, search and rescue and promoting favorable public relations. The canine team went through rigorous training in Freemont, Ohio for six weeks and is certified by the State of Ohio in patrol and narcotics. The canine team is also certified by the North American Police Work Dog Association. The dog "Fang" was imported from the Republic of Czechoslovakia.



APRIL 22, 2002, THE TRUMBULL COUNTY SHERIFF'S
On April 22, 2002, the Trumbull County Sheriff's Department lost our K-9 FANG. Fang was still on active uty; as he was for the last six years. He passed early in the morning from intestinal problems during surgery.
Fang was a dog that loved his job. He gave his all every time he was needed. We did more demos than I can count and everyone loved him. Fang was also a member of the SWAT Team with the county. Fang's biggest bust was 2.25 million dollars wroth of cocaine. He tracked a 72 year old woman who escaped from a nursing home at night in 40 degree weather. Several people had been searching for some time before Fang was called upon. He found her in a short amount of time. She was taken to the hospital and treated for exposure. Without him, she might have not made it. That is just some of the things that Fang did in his time with us. My heart goes out to Lt. Dan. I was not his handler, but I feel a great loss now that he is gone for I was his decoy. We had a special bond and I will miss him greatly. Fang didn't like many people, but he liked me. I feel like I have lost a friend. Officer Mike aka; Fang's Decoy
Officer Mike & K-9 Fang training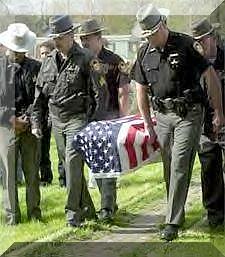 K-9 Fang's service
---
In Loving Memory
K-9 FAX
April 23, 2002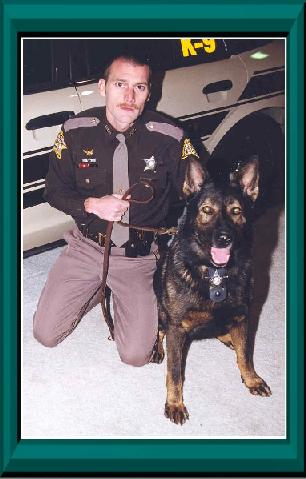 Officer Brian Harpp
Lake County Sheriff Department
3811 S. Liverpool Rd.
Hobart, IN 46342 - 219 755-3392
County police remember fallen canine Fax Police dog died Tuesday after protecting handler from pit bull.
BY CAROLINA PROCTER Times Staff Writer Posted on Sunday, April 28, 2002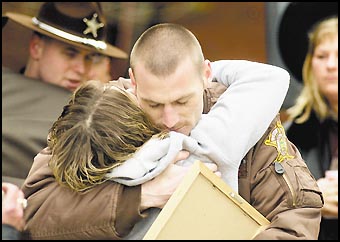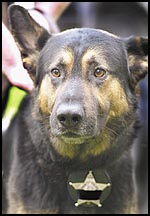 "K-9 Dakota," a Lake County Sheriff canine and partner of Officer Brian Marsh, wears a black band on his police badge in honor of Fax during Saturday's memorial. The service included a 21-gun salute and a bagpipe rendition of taps.(John Luke / The Times) and.........
Friends, relatives and fellow law enforcement officers embrace Officer Brian Harpp following a memorial service Saturday for Fax, the Lake County Sheriff's police dog who died Tuesday after a fight with a pit bull. Harpp was the 6-year-old German shepherd.
*******
CROWN POINT -- Officer Brian Harpp stood among dozens of his fellow officers and their families, fighting back tears and remembering his canine partner. Fax, a 6-year-old German shepherd and a member of Lake County police's canine unit, died Tuesday after a fight with a pit bull. During a service for Fax on Saturday morning at the Lake County Law Enforcement Memorial, Harpp talked about the dog that was like a son to him; the dog he took to work in the morning and brought home at night. "You were my friend, my buddy, my pal," Harpp said, quoting a poem for Fax titled 'My Partner'. "You loved to wrestle and pal around, but you knew it was time for work when I put my uniform on. Together we protected our town." About 75 people attended the service, including Sheriff John Buncich, Police Chief, Mike Arredondo, dozens of Lake County police officers and several officers from other area police departments.



Members of the county's canine unit lined up with their dogs and saluted Fax. "He was my best friend. He was my son," Harpp told them. "Fellow canine brothers, take a moment to look down at your partner. Give him a hug and a kiss for me. Give him the love and protection he gives to you." Arredondo delivered the service's opening remarks. "These dogs are there to protect, but (police officers) see them as family," Arredondo said. "... These dogs are very special." The 20-minute program ended with a 21-gun salute by the Lake County Tactical Team and a bagpipe rendition of taps. During the gun salute, police dogs chimed in with barking. "Fax deserves all of this," Harpp said. "He's an excellent dog." For several minutes after the service, Harpp received hugs and words of consolation. When it ended, Harpp talked about losing the dog he's worked with since 1996. "All kinds of people are trying to help me out," he said. "A guy came over and tried to give me a little female German shepherd. I appreciated it, but I couldn't (accept it). It's hard right now." Fax died after fighting a pit bull to keep it from attacking Harpp and Officer Nathan Jazyk. Harpp and Jazyk were in Calumet Township trying to handcuff the pit bull's owner when the owner ordered his dog to attack the officers, police said. Fax didn't die from fight injuries; he died from a heart attack after surgery at the Calumet Emergency Veterinary Clinic in Schererville, according to police. Police officials said a new trained dog for Harpp would cost between $5,000 and $10,000. But for Harpp, there is no price tag for replacing
Fax. "He knew every word I said, and I understood him," Harpp said. "It was like two people talking."
Carolina Procter can be reached at (219) 662-5325.
*******************************
Man offers own pet to replace dead police dog April 26, 2002
GARY, IN - A Gary man has offered to give his dog to the Lake County Sheriff's Department as a replacement for the German shepherd that died after a fight with a pit bull. "I know how attached a person can get to a dog," said Dwight Taylor, 46. "When I saw that story about the police dog that died, it reminded me of my dogs." Taylor said Wednesday he was willing to give his 11-month-old German shepherd mix, Ol' Boy, to Ofc. Brian Harpp, whose canine partner, Fax, died from complications during surgery. The Lake County Commissioners, however, voted Wednesday to buy a new dog to replace Fax. The dog fight took place Tuesday as police were investigating a report of a suspicious vehicle. While Robert Lee Dorman Jr., 38, was being arrested, his pit bull lunged toward Harpp and Fax. Harpp shot and killed the pit bull, and Fax was taken to a Schererville veterinary clinic. His wounds were not life threatening, but he died from a reaction to the anesthesia. Dorman has been charged with criminal recklessness and criminal mischief.
*****************
very special thanks for photo to Officer Mitch King, Jr. Assistant Systems Manager/ Webmaster Computer Services Lake County, Indiana, Sheriff's Department - 2293 North Main Street - Crown Point, Indiana 46307



BRIAN JUST GOT A BELGIAN MALINOIS NAMED TICO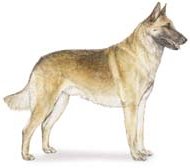 (June 15, 2002)Lake County Commissioners honor fallen police dog
Officer receives $5,000 check to replace Fax, killed in mauling.
BY BILL DOLAN Times Staff Writer - Posted on Thursday, 5/09/02
CROWN POINT -- Lake County police Officer Brian Harpp wiped tears from his eyes Wednesday as County Commissioners honored his fallen police dog, Fax. The voice of County Commissioner Frances DuPey -- whose son has been a county police handler for seven years -- wavered as she read the tribute and announced a $5,000 gift to Harpp to buy a new canine to replace Fax, who was mauled by a pit bull April 23 in the line of duty. She said the board commended Fax, "for his valiant efforts and valor in the line of duty while protecting officers of Lake County, Indiana which resulted in his sacrificing his life." "I appreciate the check," Harpp told the audience at the commissioners meeting, "but it is not what I'm looking for. I think everyone knows what I want and cannot have." DuPey said she understood. "I was very touched by what happened," she said. "A police dog is like a family member. We hope this money will help toward the purchase of a new dog, which many people don't realize the officer himself has to purchase." Harpp replied, "On behalf of myself and the office of the sheriff, I appreciate the support I've received from everyone who is helping me get through this period." Harpp, Ofc. Nathan Jazyk & Fax were investigating an intruder parked in a field near 49th Ave. & Wilson St. when the truck driver released a pit bull that attacked Fax. Harpp was forced to shoot and kill the pit bull. Fax later died of injuries from the mauling. The pit bull's owner, Robert Lee Dorman, 38, of 4606 Woodbridge St., Gary, has been charged with criminal mischief.
---
In Loving Memory of
FRISKO
January 10, 1998 - September 8, 2002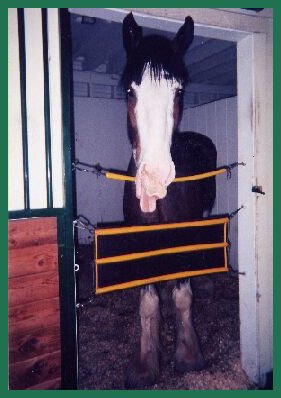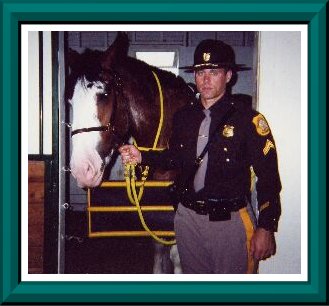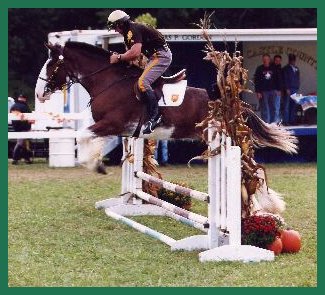 Officer James Henasey
Mounted Police New Castle Police Department
NEW CASTLE HEADQUARTERS BLDG.
3601 NORTH DUPONT HWY. NEW CASTLE, DE 19720
302.571-7900 (302) 395-8171

The Rest of the Story: Harley a great healer for crime victim By TERRI SANGINITI Staff reporter
01/09/2003Jim Henasey broke out in a big grin Wednesday as he uncovered a newly customized Harley-Davidson motorcycle in the showroom of Mike's Famous near New Castle. And it might be some time before that grin goes away. "I'm going to spend the rest of the day looking at this, and planning another trip," Henasey said. "Maybe I'll even ride it." The New Castle County patrolman learned firsthand what it felt like to be a crime victim when his customized 1997 Harley-Davidson was stolen two months ago on a charity toy run to Children's Hospital in Philadelphia. Henasey thought his beloved set of wheels could not be replaced. He had customized the Harley over the past two years and figured it was worth more than$24,000. His insurance company reimbursed him the depreciated value. Mike Schwartz, owner of Mike's Famous, said he picked up the $9,500 tab for customization to make Henasey's new 1999 Soft Tail Harley look just like his old one. "Our pledge to him was that he'd get his bike back to whole," Schwartz said. "It wasn't a stretch for us to do, and we're happy to do it." The new motorcycle is an early birthday present for Henasey, who turns 33 Friday. Schwartz, a longtime sponsor of the annual toy run, said the customization was a fair exchange after what happened to Henasey while he was doing a good deed. The five-year police veteran, along with about 10,000 other bikers, participated in the 22nd Annual "For the Kids" toy run sponsored by the Delaware Valley Chapter of Alliance of Bikers Aimed Toward Education. Proceeds from the annual charity event benefit the Ronald McDonald House in Philadelphia, chapter coordinator Mark Schultz said. After dropping off toys for the sick children, Henasey walked out of Children's Hospital to find his motorcycle had been stolen. Henasey was one of three participants victimized that day. New Castle resident Mark Franklin also had his 1999 Soft Tail Springer Harley taken. Schwartz said he also helped Franklin upgrade his lost set of wheels by matching the $1,500 Franklin received from his insurance. The 31-year-old iron worker, Henasey's neighbor, bought his 2003 Harley Davidson Soft Tail Deuce just in time for Christmas. "I went through a lot, but it was worth it," he said. "I was in Harley withdrawal. My wife couldn't wait until I got it." Schwartz said it's all about charity. "They were penalized because of something they were doing good for the community," Schwartz said. "We want to encourage people to be charitable." Franklin and Henasey said their bad experience last year won't prevent them from participating in the toy run again. "The toy run provides so much for the kids," Henasey said. "Riding up to the hospital with the kids looking out their windows smiling, it does so much." Reach Terri Sanginiti at 324-2771 or sanginiti@delawareonline.


DEAR BOB AND LOUISE KRAUSE:
I RECEIVED YOUR MEMORIAL CARDS FOR FRISKO ON 102802. I WANTED TO THANK YOU FOR SPENDING THE TIME AND EFFORT IN DEVELOPING THE WEB SITE ; AS WELL AS, THE MEMORIAL CARDS. I'VE GIVEN THE CARDS TO OTHER OFFICERS IN MY UNIT AND TO ALL OF THE BARN WORKERS THAT CARED FOR FRISKO. I PLAN ON SENDING SOME TO THE DOCTORS AT NEW BOLTEN CENTER THAT TREATED FRISKO. I HAVE PUT MINE ON THE DASH OF MY POLICE CAR WHERE THEY WILL ALWAYS STAY. I HAVE SENT THE CARDS FOR DAWN THROUGH INTEROFFICE MAIL AND SHE SHOULD RECEIVE THEM SHORTLY.
FAMILIES FROM OUR COMMUNITIES STILL ASK WHERE FRISKO IS ESPECIALLY THE KIDS THAT MADE HIM THEIR FAVORITE. ONE WEEKEND I WAS WORKING A SPECIAL COMMUNITY EVENT AND A LITTLE GIRL CAME UP TO ME AND ASKED WHERE FRISKO WAS AND I TOLD HER HE PASSED AWAY. I ASKED HER IF SHE WANTED TO PET THE HORSE I WAS RIDING THAT DAY AND SHE SAID FRISKO IS THE ONLY HORSE I PET AND SHE LEFT SOBBING. ON A HAPPIER THOUGHT I WAS TOLD BY THE LIEUTENANT OF OUR UNIT THAT THE FARM IN CANADA WHERE WE BOUGHT FRISKO HAD CALLED US. THEY SAID THEY HAD A TWO YEAR OLD CLYDESDALE FOR SALE. THEY ALSO SAID HE WAS ALREADY 18 HANDS TALL AND IS STILL GROWING. HOPEFULLY WE'LL BE ABLE TO BRING HIM DOWN. I GOT FRISKO WHEN HE WAS TWO YEARS OLD. I HOPE TO TRAIN THIS HORSE TO BE AS GOOD AS FRISKO. THIS SHOULD BE A TOUGH CHALLENGE BUT IT SHOULDN'T BE AS BAD AS ME LEARNING HOW TO RIDE. WE'LL SEE WHAT HAPPENS. AGAIN THANKS FOR SENDING ME THE MEMORIAL CARDS AND TAKING THE TIME TO MEMORIALIZE FRISKO ON
YOUR WEBSITE.

PFC. JAMES HENASEY
NEW CASTLE COUNTY
MOUNTED PATROL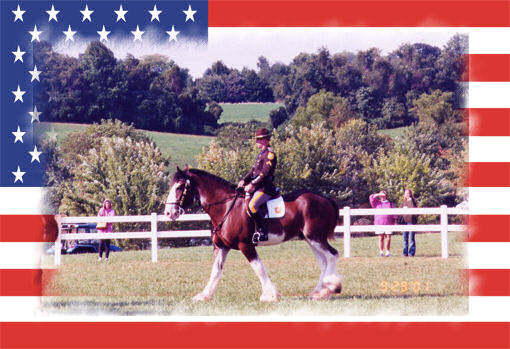 Frisko by his rider, James Henasey

Frisko was an 18-3 hands high, 2000 lb. Clydesdale born January 10, 1998 at Carson Farms in Listowel, Canada. He was purchased by the New Castle County DE [Mounted] Police Dept. on March 1, 2001 and was brought to Carousel Stables to begin his police training. Frisko arrived barely green broke with nothing, but an aggressive attitude. He quickly took charge of his turnout field and became a leader among all the horses, an odd feat, since Frisko was the youngest horse in the unit. Frisko also became a favorite with the public, who often came to the stables to visit the police horses. He began his police training April 1, 2001. It was clear from the beginning, that he was eager to work and attack any obstacle. As his rider, I began training the same day with absolutely no experience with horses and no riding ability. Learning to ride a horse was tough on Frisko, because of his rough gaits, but his confidence in the ring, made it much easier to learn. During our training, I found that it wasn't a challenge to make Frisko a good police horse; it was a challenge for me to keep up with his advancement in the training. In his seventh week of training, we competed in the Devon Police Equestrian competition and took seventh place. After training, Frisko continued to advance and lead the other horses. He competed in the National Police Equestrian competition in 2001, placed fifth in the obstacle course competition and helped the team to a second place finish. He again competed in the Devon police competition in 2002, and placed third. As his rider, Frisko never backed down from anything I asked him to do. I always thought he could get better and better, and I think he did too. During the summer of 2002, Frisko contracted a hoof infection that became extremely serious. He under went a surgery at the New Bolten Center in Pennsylvania. Frisko was admitted to the hospital and became a favorite among the doctors. The doctors explained the seriousness of the operation and the expenses involved. Dr. Krause, his surgical doctor, knew the police unit had a limited budget, and she and the other doctors within the hospital donated the majority of their services to help save Frisko. Shortly after returning home from the hospital, Frisko seemed fine and eager to get back to work. Sunday, September 8, 2002, Frisko was in his stall. In a matter of 20 minutes, he laid down and died of toxic shock, caused by the antibiotics he needed to survive. As his rider, I wanted him to be tough and to do the things I asked. He did that and much more. Up until his death, he never showed his pain and was never lame and continued to go out and work with me. He had a heart of gold and unfortunately not the body to go with it. The saddest part about losing Frisko was that he had the confidence to do anything I asked, just as a true friend and partner would do.
---

After motorcycle was stolen, police officer vows to return to charity event next year
By TERRI SANGINITI - Staff reporter - 324-2771

11/05/2002 Even though he lost his prized Harley Davidson at a charity event in Philadelphia, New Castle County Patrolman James Henasey said it will not deter him from participating in the event next year. Henasey was one of three bikers whose customized motorcycles were stolen while they were inside Children's Hospital handing out toys to the young patients during Sunday's 22nd Annual "For the Kids" toy run. The event, which drew about 10,000 bikers, was sponsored by the Delaware Valley Chapter of Alliance of Bikers Aimed Toward Education. The 32 year old officer described how he felt when he returned to the hospital parking garage to find his 1997 black and silver soft-tail customized Harley Davidson had vanished. "I was in awe," Henasey said Monday. "Everybody who knows me knows that this motorcycle is the only thing I care about." The five-year police veteran recently lost his mounted partner, Frisco, when the horse died from a hoof ailment. "Pretty much the only thing I did was ride one or the other," he said. Henasey, who was making his fifth toy run, said he locked his bike before going into the hospital at 34th Street and Civic Center Boulevard. When he returned 15 minutes later, all that was left in the spot where his $25,000 motorcycle was parked was a helmet, he said. When Henasey realized that he was a victim of crime, his police instincts quickly kicked in. "I canvassed the area, talked to the cops and checked the buildings for surveillance," Henasey said. "I felt like I was on the street investigating a theft." Philadelphia Municipal Judge Seamus McCaffery, the charity run's grand marshal, said the crime casts a shadow over a worthwhile undertaking. McCaffery, who has a $27,000 customized Harley, said he feels Henasey's pain. McCaffery said the thief is probably another biker who, if captured, would probably have to appear in his courtroom. "I'm going to have to recuse myself," the judge said. Henasey said all he wants is his motorcycle back. "Next year, I'll be back with another toy for the kids, and hopefully with another Harley," he said.