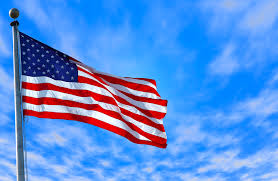 In Loving Memory of
K-9 DANDY
December 1, 2002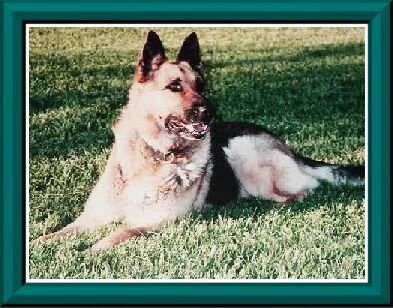 Handler: Capt. Mark Reid
Hopkinsville Police Department
112 West First Street
Hopkinsville, KY 42240-2319
(270-890-1500)

Police officers mourn death of K-9 Dandy By JENNIFER P. BROWN 502-887-3236
Kentucky New Era
Hopkinsville police were collecting donations today to buy a headstone for one of the department's original police dogs after the animal died over the weekend. At the recommendation of a veterinarian, the retired K–9 Dandy was euthanized Saturday, officials said. The dog suffered from a degenerative disc and had become paralyzed about mid–way down his back, according to Cpl. Mike Wood, public information officer. "He couldn't walk unless someone helped him," Wood said. Dandy's handler,Capt. Mark Reid, buried the dog this weekend on his family's farm in South Christian.Dandy was a German shepherd. He was 13 years old and had been retired from police work for about four years. After being retired, he became a family pet for Reid. The dog came to Hopkinsville in 1992 from the Czech Republic. Dandy and another German shepherd, Enzo, were the first two K-9's purchased for the department. Enzo died in early 2001.Dandy was trained to locate felony suspects by scent and sight and was used to search buildings and track people outdoors. He also was trained to protect police officers. During his six years of police work, Dandy was credited with 29 felony apprehensions. In seven of those cases, he had to physically stop a suspect. Wood said he was collecting donations today
from police officers who wanted to help buy a headstone for Dandy. Citizens who want to make a contribution should contact Wood at 502-890–1522.
---
In Loving Memory of
DAKOTA
L.E. Mounted Horse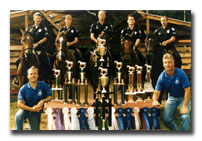 Officer Steve Bland
Savannah Police Department
Dakota was 12 years old. He died on 11/14/02 from Cushings disease and laminitis. The rider was Steve Bland of the Savannah Police Department. The Mounted Unit consists of five Police Officers and six horses. Policing on horseback provides the flexibility to patrol areas that vehicles cannot easily reach, such as squares, parks and other pedestrian areas.It also provides a "perch" from which riders can easily observe crowd activities or look over walls and fences. The horsesare immensely popular with residents and tourists, and provide a means for maximizing citizen contacts in the downtown area.The Savannah Police Department has a rich history with its Mounted Patrol, dating back to 1796. Today, the MountedPatrol is not only popular with the public and especially children, but they are also an immensely useful as a tactical instrument in the face of an unruly crowd.
---
In Loving Memory of
K-9 DANNY
September 19, 2002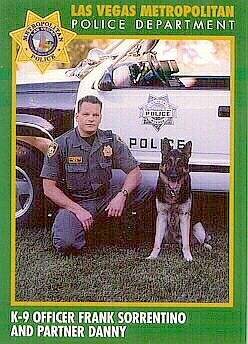 Handler: FRANK SORRENTINO
Las Vegas Metro Police Department
Officer Frank Sorrentino retired his German shepherd, Danny, earlier this year. Danny serviced 4 years on patrol with him.Danny died due to cancer. He currently handles a Belgian Malinois named K-9 Iwan for patrol and a black lab named K-9 Jake for drugs.
---
In Loving Memory of
K-9 DUKE
July 25, 2002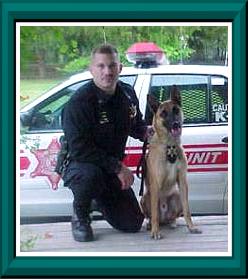 Handler: Deputy Brian Thompson
Genesee County Sheriff's Office
Sheriff Gary T. Maha
Genesee County Sheriff's Office
14 W. Main St. - Batavia, NY 14021-0151
(716) 345-3000, ext. 237
gmaha@co.genesee.ny.us visit us at http://www.co.genesee.ny.us/
The Genesee County Sheriffs Department is looking for a new drug-sniffing dog, after the second death
of a K-9 in recent months. Duke, a German shepherd, had been with the department for just three weeks. He died on the operating table, during what was supposed to be routine dental surgery. "The surgery was winding down, after 2 1/2 hours," said Genesee County Sheriff Gary Maha of the events leading up to the death. "All of the sudden for some unknown reason the dog went into cardiacarrest." Efforts to revive the dog proved futile. Maha says Duke's death was particularly tough for his handler, Deputy Brian Thompson, because of what happened to Yentil, the department's previous K-9. She was hit by a tractor-trailer and killed last November. The department is now searching for a new K-9.
This is second K-9 memorial on my site for Deputy Thompson... so sorry!
---
In Loving Memory of
K-9 DAK & K-9 DUKE
July 17, 2002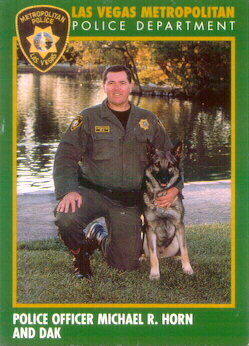 Handler: Officer Mike Horn
Las Vegas Metro Police Department
4511 W. Cheyenne, Suite 401 - N. Las Vegas, NV 89030
702-229-3441
Attn: Kathy Mourning/K-9

We have received news today that one of our most treasured friends, Dak, has a tumor on his heart and will have to be put down within the next 24 - 48 hours. His human partner, Officer Mike Horn, will miss him so much. Mike lost his drug dog, Duke, just a month ago. Officer Mike Horn is a 21 year veteran w/Metro and 16 years with K-9 unit. He is our Patrol Dog Trainer, and a Medal of Valor recipient. He has been partners with Dak, a 8½ year old German Shepard for 4½ years. We would love to have some of the cards made up for our services, if possible. (sent)
October 23, 2000
MIKE HORN, a Metro Police K-9 officer (at left), moves away as his partner Dak, a 7-year-old German shepherd, protects him from "agitator" Duwayne Layton during the Las Vegas Police K-9 Trials on Sunday at Western High School.


Dak in action



and Meritorious Service Recipient. Holds the title of Judge-Polizeischutzhundprufung. President of Friends for Las Vegas Police K-9s. A Member of the NV Task Force #1 FEMA Team ;that responded to the World Trade Center. Lost both k9 partner. LVMPD lost 5 K-9s this year.
---
In Loving Memory of
K-9 DASTY
June 10, 2002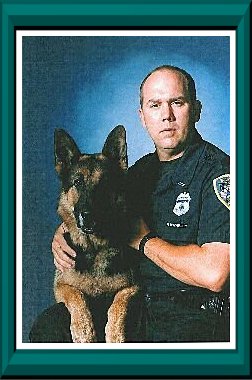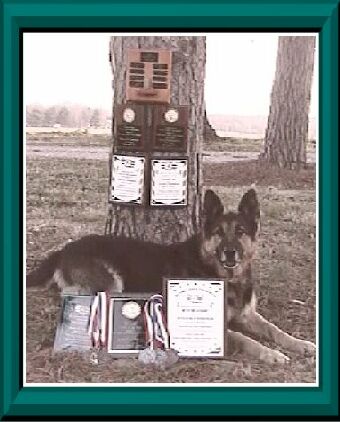 Handler: Officer Nick Henderson
Evansville Police Department
Special Operations Platoon - K-9 Unit
15 New MLK Jr. Blvd. Evansville, IN 47708
812-436-7948

Officer mourns K-9 'partner 'By JOE ATKINSON Courier & Press staff writer June 18, 2002 (Dasty's awards above)
Evansville police officer Nick Henderson didn't think anything of it when his K-9 partner, Dasty, got hurt during a chase earlier this month. The dog was going over a fence while chasing a fugitive, and he came down on his belly, eliciting a loud yelp. Dasty then got up and continued his chase. "He'd fallen and hurt himself plenty of times before," Henderson said. Less than a week later, Dasty, a decorated police dog and Henderson's partner, died of complications from that fall. The fence had punctured his bladder, causing an initial discomfort that doctors couldn't identify. By the time they could, it was too late. The loss hit
Henderson hard. The officer, who recently was named the department's police officer of the year, had ridden the night shift with Dasty for more than three years, during which time the dog lived with Henderson's family. Everybody has come up to me and said, 'Sorry for the loss of your dog,' but it was a lot more than that," he said. "He was my partner for three years; I drove around in my car with him for eight hours a night, then I'd take him home at night and feed him, andI'd wake up that afternoon, (and) my little boy would be outside with him, just throwing a stick and playing ball." The whole family has taken Dasty's death to heart, Henderson said. But none has taken it harder than the dog's partner, who described his best experiences on the force as those where he worked with Dasty. A particular highlight, he said, came when the duo was awarded one of their three "Catch of the Quarter" awards from the United States Police Canine
Association for capturing a suspect barricaded in a Washington, Ind., home. "(The man) ran inside and said he wasn't going back to jail, and he was taking someone with him," Henderson said. "Dasty went in and searched the house and found that the guy had climbed over a wall and buried himself in the insulation; Dasty drug him out by the arm so wecould see his hands and see that he was unarmed and arrest him." In his five years on the force, Dasty found and seized more than $275,000 in illegal drugs and currency and won several awards in USPCA trials. Now that Dasty is gone,Henderson said he expects to continue working in the K-9 department of the police force. "The hard part's going to be going to work and driving around without my partner; it's going to be an awfully lonely 8-hour shift."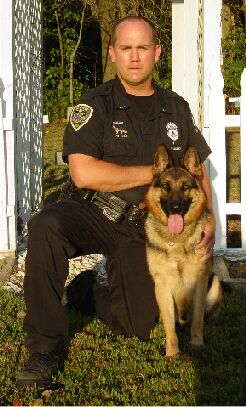 Nick with new partner, REX -OFFICER NICK HENDERSON NOW HAS A NEW DOG,
A 17 MONTH OLD GERMAN SHEPHERD NAMED REX.
---
In Loving Memory of
K-9 DUCHESS
March 28, 2002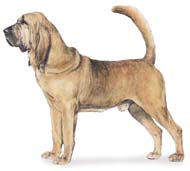 Handler: Deputy Josh Payne
Anderson County Sheriff's Department
South Carolina
K-9 Unit - 305 CAMSON RD
ANDERSON, SC 29625... 864.260.4400

My name is Don Hodges Jr. I am a Master Deputy K-9 Handler with the Anderson County Sheriff's Office. I was given one of the memorial cards today for K-9 Duchess. She and her handler Deputy Josh Payne were my partners. The grief we went through during that rough time period was awful. Several times I heard members of the local community say " But it was just a dog". To them it was just a dog but to me and other dog handlers it is a part of us just like a child is. We as handlers work long hours for little pay or recognition and that suits us. My dog 'Chief' is my friend and my partner. The day will come when he is laid to rest and when that happens I can say without a doubt "Well done thy good and faithful servant." Thank you says so little, but the cards will keep Duchess in our minds and hearts. She was not just a dog.
SHE WAS MY FRIEND.


Police dog killed in shooting accident By Charmaine Smith - Anderson Independent Mail - 4/2/2002
An Anderson County sheriff's deputy accidentally shot his own dog this weekend as the two chased after a man who had fled fromIva police. Duchess, a bloodhound who had been with the Sheriff's Office for a year and a half, was shot by her handler, JoshPayne. At 3:16 AM, Saturday, Mr. Payne tried to return his .40-caliber handgun to its holster after chasing down a man who fled through the woods on S.C. 413, Sheriff's Capt. John Skipper, said that Mr. Payne was holding a flashlight on thesuspect with one hand and Duchess' leash and the weapon with the other hand when the dog jumped, causing Mr. Payneto squeeze the trigger of the gun to accidentally go off. Duchess was struck in the hind quarter and the bullet traveled through her body. Mr. Payne and other officers tried to render first aid to the dog and transported her to an emergency veterinary hospital in Greenville, but she died later the same day. "This is one of those unfortunate things that happen
in law enforcement," the captain said. The two had responded to a call that a car being chased by Iva police had wrecked at S.C. 413 and Wilson Creek Road. The car had sped away from Iva officers who tried to pull it over because its tail-lights were out. Iva Police Chief Jimmy Ray Sutherland could not be reached about the case Monday. A passenger in the car, whose name was unavailable, was arrested at the scene of the accident, but the driver fled. Mr. Payne and Duchess responded to the scene to help find the suspect, along with fellow officer Brian Andreas and his dog, Spike. The officers found and arrested the driver, whose name was also unavailable, about 30 to 40 yards from the road, hiding in a culvert. "They drew guns on him, but they did not shoot at the suspect," Capt. Skipper said. Mr. Payne has worked with the Sheriff's Office K-9 Unit since 1999 and was Duchess' sole handler. The bloodhound lived at Mr. Payne's home and had become a part of his life. Duchess was allowed to tag along with Mr. Payne and his wife on their honeymoon about two months ago. "Dogs are your partner," A private funeral is planned for Duchess later this week.
---
In Loving Memory of
Don Vom Ederbergland
K-9 Sgt. Don
February 10, 1996 - January 1, 2002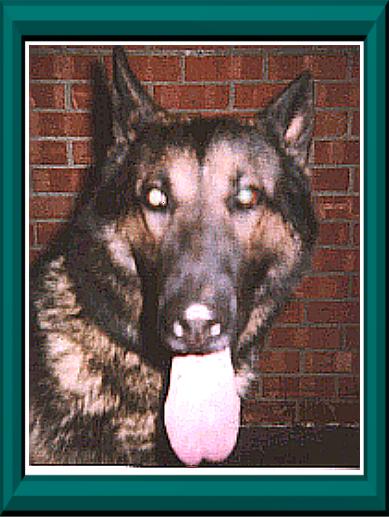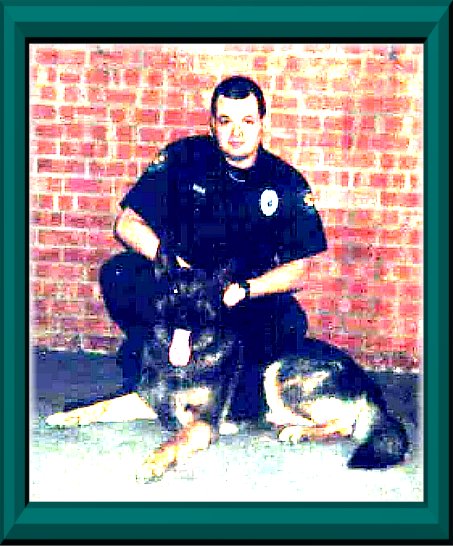 Handler: Officer Ron Ross #3
McLoud Police Dept. OK
P.O. Box 1250 McLoud, OK 74851
405 964.3325

Sgt. Don was a member of the McLoud police department for 1 1/2 years. He was partnered with Officer Ron Ross on December 2000, Sgt. Don was given his commission and badge #7 and Sgt. Don and Officer Ross were partners ever since. He is credited with removing a lot of drugs off the streets. He was active in the McLoud school system and loved the attention he received from the students. He also was a very lovable and personable dog who loved what he did and gave his life doing what he loved protecting his partner officer Ross. A very valued member of the Ross family and will bemissed deeply by the Ross' as well as the McLoud police department family. Sgt. Don was born on Feb. 10, 1996, in Germany & given name Don Vom Ederbergland. He was purchased by Rebecca Mosenthal of West Virginia.She trained him to be one of the best police dogs, MS Mosenthal then received a job assignment that would not allow her the opportunity to take Sgt. Don with her so she donated him to the McLoud Police Department where he remained until he gave his life protecting his partner Officer Ross.
****************
McLoud police dog dies after being shot By JAMIE JENKINS - SNS Staff Writer The Shawnee News-Star
The new year had a rough start for the McLoud Police Department after its police dog died Tuesday from multiple gunshot wounds. Officer Amanda Tackett said the dog, Sgt. Don, was the partner of K-9 Officer Ron Ross. Tackett said the four legged officer was shot several times at about 10:45 p.m. New Year's Eve. After the shooting, Ross immediately took Sgt. Don to a local veterinarian where he was stabilized before being taken to the Veterinary Emergency and Critical Care Center of Oklahoma City, she said. Tackett said early Tuesday that Sgt. Don was in a coma and breathing with a respirator. "We're just praying and hoping for the best," she said. But the dog died later that afternoon. An investigation into the shooting incident is being conducted by the Pottawatomie County Sheriff's Office. Under sheriff J.D. Hodges said no arrests had been made by Tuesday afternoon. Hodges said Ross apparently was either loading or unloading Sgt. Don from his patrol car when a neighbor's dog distracted the animal. The K-9 reportedly escaped the officer and began barking and growling at the other dog on the neighbor's porch, Hodges said. The neighbor then allegedly shot the dog. He said the McLoud officer had already taken the dog for emergency care when Deputy Will Dodd arrived. A statement was taken from the alleged suspect, he said. Hodges said no arrests were made for a number of reasons. "We did not see the shooting take place," he said. "We didn't get a statement from the McLoud officer until today (Tuesday)." Hodges said laws regarding weapons are different in the rural areas than in the city. "There is a right to protect a person's property," he said. "Our deputy handled the situation properly." He added that the question of whether the alleged suspect knew Sgt. Don was a police dog or if he was on duty has yet to be answered. That factor could play a role in punishment if any charges are filed in this case. Hodges said the investigation will be turned over to the district attorney once it is completed.



Jan. 5, 2002
- McLoud faces charges in shooting death of police dog By KIMBERLY D. MORAVA SNS Staff Writer 214-3962.
A McLoud man faces a felony charge in the shooting death of a McLoud police dog. Tommy Dale Delk, 50,
of 11655 Highway 177 is charged with injury of a police dog, and in the alternative, killing of a police dog.
The charge was filed Friday in Pottawatomie County District Court, shortly after Sgt. Don, the police dog, was
buried in a Spencer pet cemetery. The shooting of Sgt. Don occurred New Year's Eve. The dog died Jan. 1.
On the count of injuring a police dog, Delk is accused of injuring and disabling Sgt. Don. Felony information alleges Delk shot Sgt. Don several times with a semi-automatic rifle during that commission of a misdemeanor. That misdemeanor is listed as reckless conduct with a firearm, "creating an unreasonable risk of great bodily harm toothers and demonstrating conscious disregard for the safety of defendant's neighbors by firing his semi auto rifle in the direction of his neighbors," felony information reads. In the alternative of count one, the district attorney's office filed a charge of killing a police dog. On that count, Delk is accused of killing Sgt. Don byshooting him multiple times. A probable cause arrest affidavit was filed with the charges. The shooting of Sgt. Don reportedly occurred as his partner, McLoud K-9 Police Officer Ron Ross loaded his dog into a patrol car. While doing so, Ross noticed a "dark, pit bull type dog running up to him as if to attack Officer Ross," the affidavit said. The dog appeared to have broken loose from a chain in Delk's house or yard, the record shows. The affidavit indicates Ross affirmed that Sgt. Don leaped from the patrol car to protect him, then chased the neighbor's pit bull back to the Delk's yard. Officer Ross went to retrieve Sgt. Don, the affidavit indicates, but because of previous encounters withhis neighbor, Ross "screamed as loud as he could that there was a police dog there, multiple times before Delk began shooting," the affidavit claims. At the time of the shooting, Sgt. Don had a police badge atop his collar, the affidavit reads, and the area where the two dogs were was well lighted. Ross indicated Sgt. Don was shot "multiple times from his back as he was going to Officer Ross away from Delk's house" the affidavit reads. Some of the shots were reportedly fired in the direction of Officer Ross and his house. After the shooting ceased and Sgt. Don was shot,
the affidavit claims, "Officer Ross heard immediately, among other things, laughter coming from the Delk's porch area." Ross reportedly sought immediate veterinary care for Sgt. Don, but the canine later died. The affidavit reports that Delk told sheriff's deputies at the scene that he shot eight to 10 rounds from his SKS semiautomatic rifle.None of Delk's dogs were reportedly injured. The probable cause warrant also claims that Delk knew Officer Ross as a police officer and knew Sgt. Don was a police dog. Pottawatomie County District Attorney Kay Christiansen attended the funeral for Sgt. Don Friday. The service was held at Precious Pets Cemetery in Spencer, where the Tecumseh Police Honor Guard as well as officers and K-9s from various law enforcement agencies attended. "He (Sgt. Don) is considered a downed officer," Christiansen said. If found guilty of either charge filed against him, Delk faces punishment of a fine up to $1,000 and/or imprisonment for up to two years.



Words will never be available to describe how loved and respected he was.
Thank you for caring. Officer Ron Ross #3 McLoud Police Department.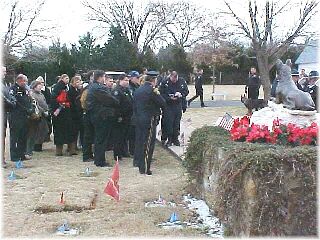 Service with full honors, January 4, 3 PM Oklahoma time.


in my guest book:
I wanted to say thanks for all that you had done back in January of 2002 for my partner and I just thought
I would come by and take a few minutes to honor all the other fallen K-9 Heroes. I did get another K-9 his name is Rex and hes a 1 year old german shepard with alot of heart and right now goofy as can be! Well thank you again! Ron Ross
---
In Loving Memory of
K-9 DALLAS
January 3, 2002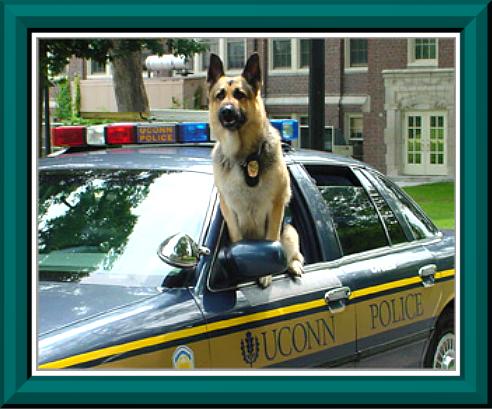 Handler: Officer Paul Ossella
University of Connecticut Police
Main campus - Storrs
126 North Eagleville Road
Storrs, CT 06269
Officer Mourns Loss of Best Friend By Rachel Stein
The sympathy cards are piled high on the desk of Police Officer Paul Ossella. Hundreds of people wrote to express sympathy for the loss of his partner, Dallas, who died Jan. 3. Dallas was no ordinary police officer. He was a K-9 cop. "Dallas was a great patrol dog," says Ossella. "He was very protective of all the officers on the force and made a great impact on the community he served." Dallas, a German Shepherd, was the third patrol dog employed by the UConn Police Department. He had worked with Ossella and the department since May 1999. During this period, Dallas and Ossella performed many services: searching buildings, recovering evidence, and controlling crowds. These services were sometimes extended to the surrounding communities of Coventry, Willimantic, the State Corrections Department, and the Connecticut State Police. "Dallas's presence on a call would put everyone's mind at ease," says Ossella. "Dallas was a great tracker, so he would make parts of the job much easier." Dallas also performed many demonstrations. "He was a very social dog," says Ossella. The two visited E.O. Smith High School in Storrs to talk about drugs and alcohol, gave a skills demonstration at the African American Cultural Center on campus,and also competed in the K-9 Olympics." The University of Conn Police have obtained another dog for training and eventual deployment in the community. Benny, the new German Shepherd, will start the 14-week State Police canine training program on Feb. 18. Ossella will accompany him throughout the program.


Officer Osella has obtained another K-9, and is doing well with him. Thank you for your interest in K-9 Dallas. Thank you, Captain Warren O. Gilmour 4-11-02
---