In Loving Memory of
K-9 BUDDY
December 27, 2002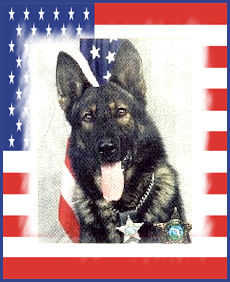 Handler: Deputy Mike Roberts
HILLSBOROUGH COUNTY SHERIFF'S
Cal Henderson, Sheriff
P.O. Box 3371 - (813)247-8000
HCSO K9 Unit - 5808 Wilkins Rd
Tampa, FL 33610

SHERIFF'S CANINE " BUDDY" DIES
The Sheriff's Office regrets to announce the death of one of it's honored canines, " Buddy." Buddy died unexpectedly at his handler's, Deputy Mike Roberts residence on December 27, 2002. Deputy Roberts and Buddy, who had worked the previous night shift, had just completed playing in the back yard with the family. When Deputy Roberts checked on Buddy in his kennel about twenty minutes later, the canine was discovered not breathing. Buddy was rushed to an emergency veterinary clinic and pronounced. A necropsy will be conducted, today at a clinic in Kissimmee to determine cause of death. Foul play is not suspected. Buddy was a 3 ½ year old German Shepherd that was brought in from the Czech Republic. He had been on the canine unit for 2 years. He was certified in tracking and narcotic detection. He was just re-certified on December 8th. Buddy's last catch was on December 12th, when deputies pursued a stolen car. Several Sheriff's cars were crashed into including Deputy Robert's vehicle. Despite a heavy rain, Buddy tracked down two suspects in a field. Sergeant Mark Olive, K-9 stated, "Buddy was one of our finest dogs. His forte was tracking, he will be missed." Deputy Roberts is a 14 year veteran of the office and a 2 year veteran of the canine unit. He will start training a new dog as soon as it is selected.
********
Buddy, a German shepherd was born in Czech Republic in 1999. He began working as a Sherriff's Office Patrol Dog in Jan. 2001.
He is also trained as a Drug detection dog. He will be missed by all, especially by his handler, Deputy Mike Roberts.

Slain Tampa officer leaves behind wife, 3-year-old son 8/20/09 Florida

Cpl. Mike Roberts, seen here at his promotion ceremony last month, had served in the U.S. Air force and U.S. Army. He was an 11-year veteran of the Tampa Police Department.
A police officer was gunned down Wednesday night in Sulphur Springs, and died despite efforts by a patrol sergeant who performed CPR on the wounded man on the sidewalk of Nebraska Avenue. The attacker ran through a park at Yukon Street and hid in a back yard, officials said. Police dogs tracked him there, and he gave up without resistance. Just before 10 p.m., the officer, Cpl. Mike Roberts, responded to a call about a suspicious person, and approached a man pushing a shopping cart along Nebraska Avenue around E Arctic Street.
Assistant Chief Jane Castor said the 11-year Tampa police veteran and the man with the cart quickly got into a violent confrontation. Roberts, 38, chased the man across the street, but the man broke free and ran back to his cart. There, the man pulled a gun out of his backpack, and hit the officer in the head with it several times, then drew back and pulled the trigger. Roberts had on a bulletproof vest, but the slug caught him in the arm, Castor said. It slipped through his arm and lodged in his chest.
The officer had radioed in that he was on the scene with the suspicious person, and the dispatcher asked him again and again if he was all right. When he didn't answer, she dispatched backup, Castor said. The first to arrive was a sergeant, who saw Roberts down and ran to him. Then he saw the shooter pointing an AR-15 at him. Castor said the sergeant took cover behind a Dumpster, and the man ran away. He then rushed to his fellow officer and started performing
CPR while other police converged on the scene and chased after the shooter.
Ernie Allen, 49, was walking home from the dog track and encountered the aftermath of the shooting. He said about 20 police cars roared down Nebraska Avenue and an officer was doing CPR on a man stretched out on the pavement. An ambulance took Roberts to Tampa General Hospital's trauma center, where he died, police said. He is survived by his wife and a 3-year-old son. Castor said the man with the shopping cart had been heavily armed. Police found two 9mm Glocks, a .22 caliber pistol and the AR-15 assault rifle in his possessions.
The cart was full of military gear.
Tampa Mayor Pam Iorio and police Chief Steve Hogue went to the hospital to meet with the officer's family, Castor said. Castor said she had been on her way home when she heard the call go out, "Emergency. Officer injured.'' She arrived about 10 minutes after the incident. Asked about the source of the weapons in the possession of a man pushing a shopping cart, she said he had a receipt from Fort Bragg, N.C., for the purchase of all the weapons. He is the 27th Tampa police officer to die in the line of duty. According to police records, Master Police Officer Lois Marrero was the last officer shot in the line of duty, on July 6, 2001, and Detective Juan Serrano died in a car crash on Feb.25, 2006. He is the 17th Tampa police officer to be shot and killed in the line of duty. submitted by Jim Cortina, Dir. CPWDA
---
In Loving Memory of
K-9 BEAR
November 12, 2002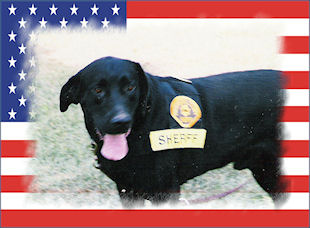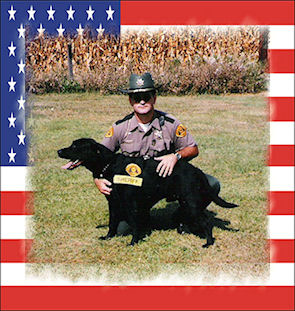 Handler: Deputy Scott Devereaux
Pocahontas County Sheriff's Department
Sheriff Robert "Bob" Lampe
99 Court Square
Pocahontas, Iowa 50574
Non-emergency: (712)335-3308 Fax: (712)335-4300
E-mail the Sheriff's Office

Police K-9 Found Shot to Death 11/12/02 Backup news staff writer Richard Rogers
HAVELOCK, Iowa - A black Labrador retriever used by Pocahontas County as a drug dog was found Saturday dead of gunshot wounds.
The dog, Bear, had been reported missing by his handler, Deputy Scott Devereaux.
Bear, a five-year-veteran K-9, was found in a ditch, said Sheriff Bob Lampe.
Bear was a successful drug dog and had also located several missing children.
The agency is offering a reward for information.
---
In Loving Memory of
K-9 BARRY & K-9 TANK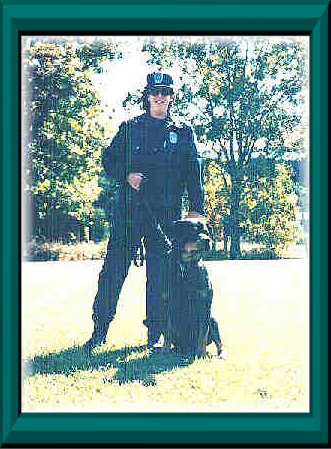 Patrol Dog - Rainbow Bridge Nov 20, 2002 & Patrol Dog - Rainbow Bridge June 1, 2002

Handler: Officer Carol Catizone
Department of Corrections

My heart is aching. I had to do one of the hardest things I have ever done in my life at 2:00 P.M. today. I took my former partner/patrol dog "Barry", Belgian Malinois, to be put to sleep. Barry has always been an extremely hyper dog who required a very strong handler. While we worked in the prisons together, he was the best prison dog in our entire region. But he always was a extremely high maintenance dog, meaning you had to work with him every day to keep him safe and in control. If he felt you were, in the smallest way, weak or not feeling well or whatever, he would take advantage of the handler. K-9 Barry & K-9 Tank protected their fellow officers (as they were certified officers even though they were dogs), their handler and the public during their many years of service in the many maximum security facilities they were brought into.



In Memory of my partners, K9 Barry (Belgian Malinois) and K-9 Tank (Rottweiler) who stood up against the worst environments and situations to ensure the safety of staff, myself, and the public. You are missed more than you will ever imagine.
All my love & respect,
Senior Corrections Officer Catizone
(Former K9 Patrol Dog Handler/DOC)
My eyes are your eyes,
To watch and protect you and yours.
My ears are your ears,
To hear and detect evil minds in the dark.
My nose is your nose,
To scent the invader of your domain.
And so you may live,
My life is also yours.
---
In Loving Memory of
K-9 BRESTON
2002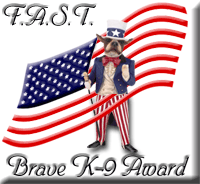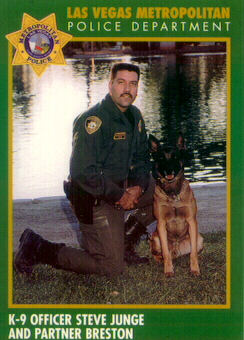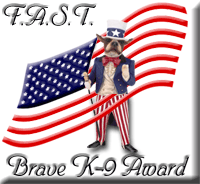 Handler: Officer Steve Junge
Las Vegas Metro Police Department
Steve, 12 years with Metro, 7 years K-9, two time recipient: Unit Citation, Valorous Conduct, and one Meritorious Service Award. Trial Chairman and organizer. Defensive Tactics Instructor. Partners: K-9 liaison to NV Task Force #1 FEMA Team that responded to New York City during the World Trade Center disaster. patrol Dog Partner, Breston, Died in the year 2002. Now teamed with Sam, A 1 1/2 year old Black Labrador Explosive Detection Dog.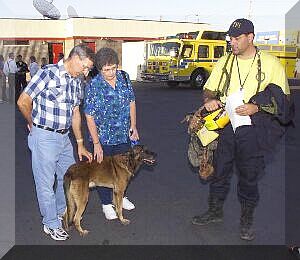 K-9 Breston working at NYC WTC 9/11/01 Kathy will get back to me regarding anniv. of 9/11 for Scott.4 dogs
involved Dak, Breston, Zorro & Matjo, 2 deceased.
"
Until you were actually there and we're on the pile and smelled, and observed it, and felt it -- you just really couldn't appreciate or understand the magnitude of that unfortunate incident." Officers, Mike Horm, Eric Kerns, Steve Grungi, and Sgt. Todd Lacuda were in New York as part of Nevada's FEMA team -- looking for victims and helping New York Fire Fighters in any way possible. Now, Sheriff Jerry Keller is honoring the men with Metro's Meritorious service award -- for a job well done at Ground Zero. "They were subjected to falling debris, and extremely hot temperatures -- from the fires still burning beneath the collapsed buildings of the World Trade Center." Yet, in some ways the award is bitter sweet. Since last September the department has buried two of its four K-9 rescue dogs -- who served in New York. While their deaths were unexpected it is not believed their time in New York was a factor. Along with the Canine officers, the Sheriff handed out a number of other commendations today. Six officers received life-saving awards. Four others were honored for exemplary service.
---
In Loving Memory of
K-9 BUBBA
August 30, 2002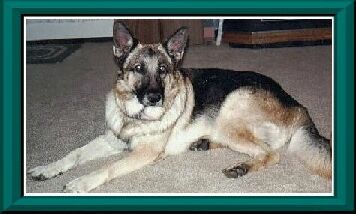 Handler: Cpl. Keith Baumann
Anne Arundel County Police Department
8495 Veterans Highway - Millersville, MD 21108
410-222.8525

Bubba was like my best friend. We worked together every night that I went to work for six years.
He is already missed very much.
K-9 Debilitated by cancer, police dog Bubba dies Most of the $30,000 donated for care remains
by Gabriel Baird Sun Staff The Baltimore Sun
Bubba, the Anne Arundel County police dog who assisted in more than 100 arrests during 11 years of service, died over the weekend after a long bout with cancer. The German shepherd made headlines for helping apprehend thieves and purse snatchers. But his friendly way with others made him so popular that hundreds of people chipped in to pay for his medical treatment. "It was his personality that made him," said Cpl. Keith Baumann, Bubba's handler. "He was so social and friendly with people."
Bubba managed to postpone retiring for two years after the life threatening disease was diagnosed in 1999. "He took his medicine and kept on going," Baumann said. One night after Bubba received chemotherapy, he and Baumann responded to a call that three men breaking into vehicles in Glen Burnie had run from police. Bubba chased them behind a department store, and Baumann made the arrest. Bubba was trained to use force if necessary. But off duty, he was a different dog, living with Baumann and his family. When police funds for treating Bubba ran out, the Society for the Prevention of Cruelty to Animals called for help and more than 650 people responded with donations totaling about $30,000 to help Bubba. "He was the epitome of German shepherds," said E. Joseph Lamp, a member of the society's board. "He was such a tough guy. He was tall and strong and had all of the Rin Tin Tin-type color in him, with the mixture of brown and black." The fund-raising drive got the attention of the U.S. Secret Service, which invited Lamp, the Baumann family and Bubba to the White House a few years ago. They toured the grounds, then Bubba waited in the car while Lamp and the Baumanns peeked inside the Oval Office and played with President Clinton's chocolate Labrador, Buddy. When cancer forced Bubba to retire, he would wag his tail as Baumann put on his uniform, then follow his former handler to the door. Baumann would pat the dog on the head, then go to work with another German shepherd. "It was kind of sad to leave my old partner there at the door," Baumann said. When Baumann returned from work, Bubba was waiting. As Bubba's health worsened, he tried to get around, but his spine was deteriorating and he often fell. Baumann had Bubba euthanized August 30. Baumann is adjusting to life without his former partner, and if his new partner or any of the other four legged members of the county's canine unit fall ill, nearly $20,000 remaining from Bubba's fund will be available to help pay for treatment.
---
In Loving Memory of
BUDDY (not a K9)
(former White House dog)
January 3, 2002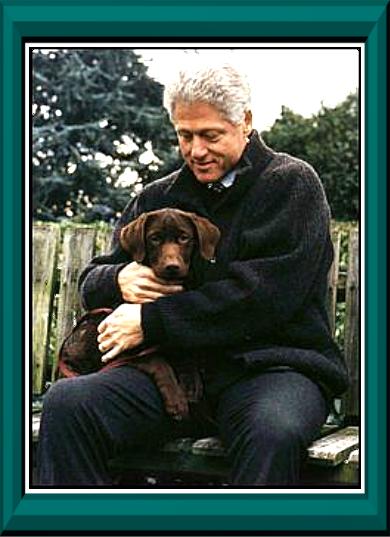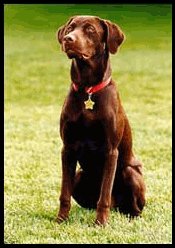 Bill &, Hillary Clinton (Ex USA President) (Buddy is not a K9...he is a White House Pet)
Buddy descendant to join ex-president in Chappaqua By Jim Fitzgerald, Associated Press, 04/26/02
CHAPPAQUA, N.Y. -- Former President Bill Clinton, who said the death of his dog Buddy was the worst thing to happen to him after leaving the White House, will be bringing a new pup to Chappaqua in a month or so, his office said Friday. The new dog has a lot of Buddy in him -- another chocolate Labrador retriever, he was sired by Buddy's nephew. Clinton and his family are "very excited about the new puppy," said spokeswoman Julia Payne. She wouldn't divulge the dog's name. The breeder, Linda Renfro of Wild Goose Kennel in Federalsburg, Md., said the puppy had been temporarily called B.B., for Bill's Boy, until Clinton bestowed the new name a couple of weeks ago. The dog "does seem very much like Buddy to me," Renfro said, "except that I think he's probably a bigger eater. From what I have seen of him, his sole ambition 24 hours a day is to eat." He is 3 months old and weighs 25 pounds, she said. Renfro said Clinton had yet to see the dog. "He's called me a couple of times and when he finally made the commitment that he was going to get a puppy he asked me to pick out the one that we thought would be best suited. That's what we had done with Buddy also." The puppy is now in the hands of a trainer, who is using the dog's new name. Payne said the dog will be coming to Chappaqua in late May or June. Buddy, who was 4, was struck by a car and killed in Chappaqua in January. Clinton told a Newsweek interviewer last month that the dog's death was "by far the worst thing" to happen to him after leaving office. "I've had dogs all my life ... but I was never so attached to one," he said. ..
Clinton Says He Named New Dog Seamus The Associated Press
CHAPPAQUA, N.Y. June 6 — Former President Clinton revealed in Northern Ireland that his new dog will have an Irish name. At the opening Wednesday of a peace center named for him, Clinton encountered a chocolate Labrador retriever and told the crowd that his own chocolate Lab will be called Seamus, spokeswoman Julia Payne said. Seamus, pronounced Shay'-muss, is the Gaelic form of James. The dog is still being trained at the Maryland kennel where he was born in February and is expected to join the former president at his Chappaqua home later this month. At the kennel he was called B.B., for Bill's Boy, while Clinton decided what to name him. Clinton's White House dog, Buddy, was killed by a car in Chappaqua in January, an event the ex-president said was "by far the worst thing" to happen to him after leaving office. Seamus was sired by Buddy's nephew, and breeder Linda Renfro said he seemed much like Buddy, "except that I think he's probably a bigger eater. From what I have seen of him, his sole ambition 24 hours a day is to eat." Clinton was in Enniskillen, Northern Ireland, to open the Clinton Center, which is designed to be a base for Catholic-Protestant reconciliation work and international study of the Irish conflict. Clinton's interest in Northern Ireland encouraged the Good Friday peace pact 4 years ago.
***************
Former first dog Buddy killed by car January 3, 2002 The Clintons got Buddy, a chocolate labrador, in December 1997.
CHAPPAQUA, New York (CNN) -- Former President Bill Clinton's dog Buddy was killed Wednesday by a passing car outside the family's Westchester County, New York, home. The former "first dog" was struck at about 12:15 p.m. on Route 117, a busy two lane street close to the Clintons' home on Old House Lane in Chappaqua. According to police, Buddy was struck by a vehicle driven by a 17-year-old girl after "playfully chasing a contractor" who had just left the residence. Secret Service agents rushed after Buddy when they saw him chasing the contractor's van off the property, and arrived at the scene moments after the dog was struck, New Castle police Lt. John Vize told CNN. The agents immediately took Buddy to Chappaqua Animal Hospital, where the dog was pronounced dead, Vize said. No members of the Clinton family were at home at the time of the accident. A spokeswoman for the former president told CNN the Clinton family is "deeply saddened" by Buddy's death. A family statement said Buddy was "a loyal companion and brought us much joy. He will be truly missed." Clinton received a 3-month-old Buddy as a gift in December 1997, weeks before the surfacing of the Monica Lewinsky scandal, which ended with Clinton being impeached by the House and found not guilty by the Senate. The dog's namesake was Clinton's great uncle, Henry Oren "Buddy" Grisham, who died in June of 1997. Clinton said at the time that Grisham was a father figure to him, in addition to having been a dog trainer for 50 years. Buddy, a chocolate Labrador retriever, was frequently seen at the president's side at the White House and on travels, and joined Clinton when he moved to New York one year ago.
**********************
Buddy memorial added to Clinton exhibit in Arkansas Thursday, January 3, 2002 - USA
CHAPPAQUA, NY -- Buddy, the United States' former First Dog. the most respected character to occupy the White House at the end of the 20th century, died just outside his upstate New York home Wednesday afternoon. According to Officer Bruce Cathie of the New Castle police, the 4-year-old Chocolate Lab was struck and killed by a Ford Explorer on Route 117, a busy two lane road at the end of Old House Lane where the ex-president and family now live. It was determined that the 17-year-old driver of the vehicle, Halie Ritterman was not at fault. Officer Larry Green said that Buddy "just darted out in front of a car." Secret Service agents indicated that Buddy ran off "playfully chasing a contractor" who had just left the property in a van. Agents rushed after the dog and arrived at the accident scene moments after he had been struck, police reported. Buddy was taken to the Chappaqua Animal Hospital where he was pronounced dead. A spokesperson for the Clinton family issued a statement that the former resident and his wife are currently vacationing in Acapulco, but they are "deeply saddened by Buddy's death." The ebullient Labrador had joined the White House as a puppy in late 1997 and quickly rose to political fame as the most -photographed presidential pet. His rambunctious hijinks won him constant notoriety, such as the time when he attacked and devoured a box of reporters' doughnuts, or when he cleverly tangled Bill Clinton up in a leash and knocked the president to the ground in front of TV cameras. "He was a loyal companion, brought us much joy," said the Clintons. "He will truly be missed." The former president will not be charged with breaking the town's leash law which bans people from letting pets off their property while not under control. Mr. Clinton's last dog, Zeke, a Cocker Spaniel, was run over by a car in Arkansas.
cards mailed priority 1/4/02 55 W. 125th St. 14th FL, NY, NY 10027 no word from anyone on Pres. Clinton's staff



NEW LAW
(previous to this K-9s were euthanized at the end of tour)
Robby was the "Poster Boy" who changed the laws
regarding K-9s in wars since WW I. President W. Clinton signed this new law. November 6, 2000, H.R.5314 became Public Law No: 106-446 amending Title 10, United States Code, to facilitate the adoption of retired military working dogs by law enforcement agencies, former handlers of these dogs, and other persons capable of caring for these dogs. The full text of this law can be found on the Library of Congress website: http://thomas.loc.gov/cgi-bin/bdquery/z?d106:h.r.05314:
---
In Loving Memory of
K-9 BEXAR
March 20, 2002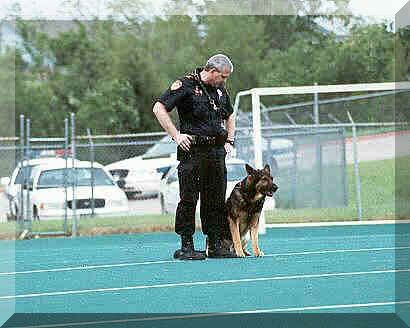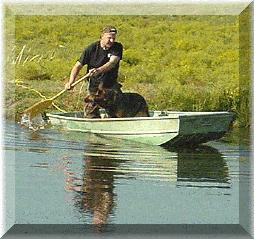 Handler: Brian Griffeth
Garland TX Police Department
P.O. Box 469002
217 N. Fifth St. Garland, TX 75046-9002
972.205.2000
Bexar has served heroically and has received numerous awards throughout his career. Griffeth and Bexar hold the unique distinction of apprehending over 100 criminals during their partnership. The Garland Police Department Canine Unit currently has four handler/K-9 teams offering 24 hour coverage to Garland. Police K-9 dogs, properly trained and handled, give police officers one of the finest non lethal aids in the prevention and detection of crime. The Garland Canine Units to provide the maximum amount of safety to officers, citizens, and suspects while investigating criminal activities, especially in instances of felony offenses. Statistics show that the proper use of a canine unit reduces the number of officer involved in shootings in a police department. He was a great dog, with 139 apprehensions. He found over 400 pounds of drugs in his career and he was my second dog. We worked the streets together since January 1995. I never regretted a moment of time that I spent with him.
"He was a joy to be around and work with."
---
In Loving Memory of
K-9 BO
March 1,2002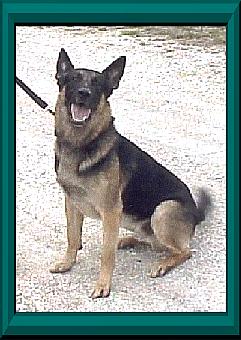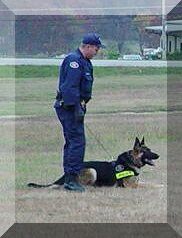 Handler: Officer Brian Bunch
West Plains Police Department
(417) 256-2244 Mail Address P. O. Box 710
302 E. Broadway
West Plains, MO 65775-0710
Bo was born in Holland and brought to Somerset, TX for narcotic training. He was almost 6 years old. The first week in February I noticed Bo was having problems with his balance. The vet checked his ear, felt he had an inner ear infection. Feb. 27th, Bo lost balance again and fell. The vet thought it was something else and I took him to the MO University at Columbia.. Bow went lethargic, I carried him into vet's office. Vet felt he had a severe inner ear infection. Feb. 28th, I was contacted by vet and was told he had a massive tumor in his lower brain stem and was inoperable. March 1, I picked my partner up. I brought him to West Plains and he was put out of his misery. I took him to my home town of Cabool and buried him at my family's farm.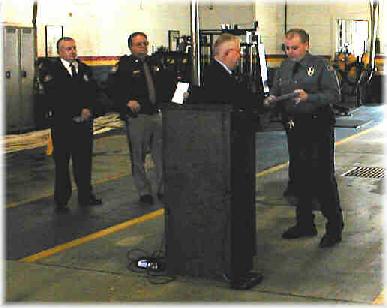 MEMORIAL SERVICE
The West Plains Police Department held a Memorial service for "Bo" on Friday, March 8, 2002. Bo was with the Police Department for six years from 1996 until 2002. During that time he had 160 drug seizures in 307 call outs while working with patrolman Brian Bunch. In the picture, Royce Fugate, City Administrator, is show presenting Brian with a plaque recognizing Bo's achievements. A plaque was also presented by the County Sheriff's office and the South Central Drug Task Force. Joey Hiett, Dept. Chaplain, made some remarks. Veteran's Memorial at People's Park Memorial Service for Police Dog "Bo." Book Discussion Group is being organized At The West Plains Public Library. The West Plains Police Department held a Memorial service for "Bo" on Friday, March 8, 2002. Bo was with the Police Department for six years beginning in 1996. Fugate, City Administrator, is show presenting Brian with a plaque recognizing Bo's achievements. A plaque was also presented by the County Sheriff's.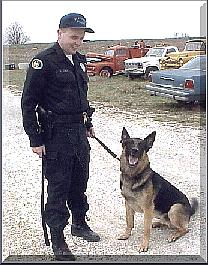 Thank you, Brian for opening your heart and sharing your never ending love for former partner, Bo. Meet K9 Hans 4/29/04.
---
In Loving Memory of
K-9 BEAU
Feb. 15, 1997 - Sept. 19, 2002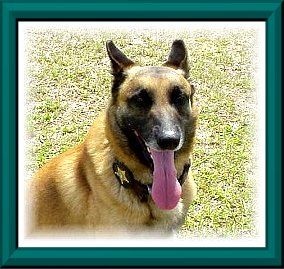 Handler: K-9 Deputy Johnny Eubanks
Okaloosa County Sheriff's Office
1250 North Eglin Parkway
Shalimar, FL 32579
(850) 651-7702 - (850) 651-7410
The Okaloosa County Sheriff's Office recently lost a member of our family. K-9 "Beau" passed away on September 19, 2002 after battling an unexpected illness. Beau was a 5 year old Belgian Malinois handled by Deputy Sheriff Johnny Eubanks. Beau began his law enforcement career with the Okaloosa County Sheriff's Office in 1999. He is certified through the United States Police Canine Association and is trained in narcotics detection, tracking, and all phases of criminal apprehension. A special tribute is being planned for a later date.
**********
More about the K-9 Unit
Dogs and their handlers must constantly train to maintain the performance standards for which the Okaloosa County Sheriff's Office K-9's are renowned. The Belgian Malinois and German Shepard breeds have proven to be well-suited for the many tasks that Okaloosa County K-9's must perform. The unit has three German Shepards, "Rocky", "Rex" and "Valko", and the rest Belgium Malinois. Many people instantly associate "police dogs" with drug detection, but that is only one of the many jobs that the K-9's perform well.
---
In Loving Memory of
K-9 BRIGG
July 1991 - October 26, 2002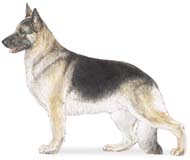 Handler: Sgt. Rod Mamero
Payson Police Department
1025 South Gilbert Road
Gilbert, Arizona 85296
The Payson Police Department here in Arizona lost a retired K-9 last week. The handler was Sgt. Rod Mamero.
K-9 Brigg died from complications of surgery and an unknown illness. If this still applies I will get you a photo and bio. Thanks, Rod
submitted by Greg Thomas Gilbert Police Department K-9 Unit
---
In Loving Memory of
K-9 BOBBY
March, 2002


Handler: Sgt. John Owens
Belle Glade Police Department
40 W. Canal St.
S. Belle Glade,
Florida 33430
(561) 996-7251
********
Look into my eyes now
As I am here before you
See all my loyalty and love
All our time here is finite
My loyalty and love are not
I have been here for you always
Trained beside you
Fought beside you
Slept beside you
We shared many sunrises and sunsets
We logged many miles in our patrol car
We tracked bad guys under many stars
I have had my time and career
Now it is time, I have no fears
I know you will shed many tears
For my sake, find another to take my place
One who is brave and a familiar face
Enjoy your time here
My Master dear
Lay me to rest and as I depart
Know I live now and forever in your heart
Faithfully dedicated to all of our partners who have passed on,
Written by: Luis Ledbetter
Finder of the lost
Defender of the weak
Family to a few
A friend to all
Together we stood ten feet tall
We helped fight crime
We ruled the streets for a time
Together we helped fight the war on dope
I was always there to help you cope
To live with you was my greatest joy
You gave me love and my favorite toy
I loved your family as my own
I had the joy of watching them grow
All I have is a simple request
I have grown old and need to rest
I will always be with you
My Master so dear
I am with the Lord now
And by his side
I am young again and work with pride
You know my love for you is strong
And will carry on in your heart
After I have gone
Always remember you were my greatest fan
I was honored to be partnered with a policeman
Thank You for all the love and memories
I carry them in my heart eternally
Written by:Luis Ledbetter
BELLE GLADE, FLORIDA — K-9 Bobby, a legend, a hero!

On March 27, 2002 I attended the funeral for K-9 "Bobby" a highly decorated police K-9 for the Belle Glade (Florida) Police Department. K-9 "Bobby" had terminal cancer and had passed on. It was a sad day for law enforcement. The Belle Glade Police Department lost one of the finest police dogs around the state. It was a great turnout, and the ceremony couldn't have been at a nicer place. It was held on the lake at Slim's Fish Camp. The wind was blowing, the sun shining and after the ceremony began, there wasn't a dry eye in the crowd.
I think my whole body shuddered from within when the alert tone sounded over the public address system at the funeral. The next words that came across was a police dispatcher calling, "Belle Glade Police Department to K-9 Bobby?"....and when she attempted to call him three times and there was no answer, she came back over the radio and said, "Belle Glade Police Department to all units..............



K-9 Bobby is 10-7."
K-9 "Bobby" had served his community well, and his job on earth was done. It was now time for him to move on. For I truly believe that K-9 "Bobby" was called upon to handle another task. A greater task than he had ever preformed. He is up there right now on patrol. Diligently watching, always on his guard, and most of all....keeping heaven safe. We'll all miss K-9 "Bobby." A true protector of the people, his partner, and fellow officers.
K-9 handler Sgt. John Owens is pictured here with K-9 "Bobby." John is now assigned with a new police dog and is back out there protecting and serving the City of Belle Glade, Florida.