Memorials to Fallen K-9s


2002-A
The F.A.S.T. Co. donates sets of memorial cards to all partners
I need your help to inform me of such losses.


Dept. addresses available for those who want to

send condolences

to officers. See below
---
In Loving Memory of
K-9 ANNA
AKA; Anna Von Haus Foxcathcer
December 12, 1997 - August 2, 2002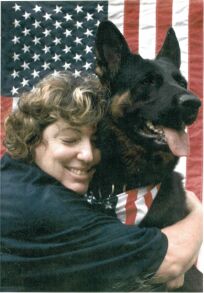 Handler: Sarah Atlas
NJ Task Force-One
Barrington, NJ

Deployed to the World Trade Center attack Sept. 11, 2001
Certified therapy dog through The Bright and Beautiful Therapy Dogs, Inc. and held a Canine Good Citizen from the American Kennel Club.
Anna selected me when she was 8.5 weeks old. She marched up to my pant leg and started tugging with all her might. Guess she knew even then!
I have had many dogs prior to Anna, but never have I felt a loss so intensely. She gave me the courage to get through the horrific attack and its aftermath and the confidence to know we did the best we could. A day does not go buy that I feel her loss. I am humbled in her honor! Anna and I arrived within 3 hours of the first tower being hit.
We worked 10 days. Two months after returning she was diagnosed with a rare disease. 11 months since deployment she was euthanized.
Sarah Atlas and K-9 Tango & Szara


Anna, the south Jersey search and rescue dog who served at the World Trade Center only to be forced into retirement with injuries thought to be related to her 10 days at ground zero has died. Anna, 4, died Friday at the University of Pennsylvania School of Veterinary Medicine in Philadelphia. She suffered from a virulent recurrence of discospondylitis, a rare infection that first struck her after she and Sarah Atlas returned from working at WTC. The disease caused lesions on the GSP's spinal cord and destroyed some bone. Her immunity system was severely compromised and she continued to be treated with antibiotics and painkillers. After her condition worsened, doctors discovered the infection had spread and become much more difficult to treat. It was then the decision to put Anna to sleep was made. She was in a great deal of pain. Anna made national headlines after students at Haddonfield's 3 elementary schools began a campaign to raise money for another SAR dog.
---
In Loving Memory of
K-9 ADDIE-SAR
May 10, 1994 - October 22, 2002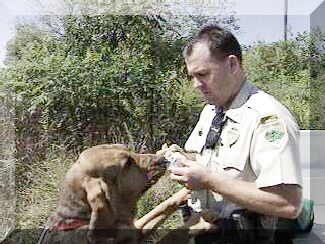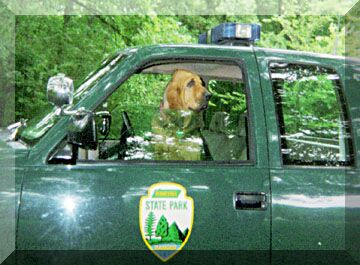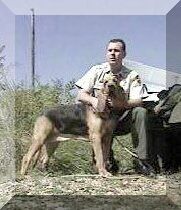 Handler: Chief Ranger Shane Petty
Tennessee State Park
2314 River Road
Henry Horton State Park
Chapel Hill, TN 37034
866-836-6757

State Parks Canine Officer Passes Away Reporter: Andy Cordan - News 2 Nashville
6Tennessee state parks lost one of its best officers this week: Addie, a search and rescue dog. Park rangers told News 2, Nashville, the bloodhound's super senses led to a large number of finds in the state of Tennessee, and when Addie wasn't catching bad guys or saving lives, she was visiting more than 8,000 school kids across the state teaching outdoor safety. She died this Tuesday. News 2 first met Officer Addie and her partner, Chief Ranger Shane Petty, back in 2000. "She's been in on over hundred searches." On that day, Addie and Shane had just finished successfully tracking two teenagers who had escaped from the Middle Tennessee juvenile detention center. Tuesday night, Officer Addie passed away from natural causes. "She stretched out, laid her head in my lap, and breathed her last breath. Sad the way she went," said Petty. With a tear in his eye, Petty told News 2 his partner of eight years left behind a legacy few dogs can touch. "I've been in a lot of tough situations. She saved my life that night." Petty told News 2 he was tracking a gunman through the woods when Addie suddenly signaled that the bad guy was close. Instead of moving forward, petty waited for backup. "The guy told me, 'If you'd come over that hill, I'd have shot you.'" And when it comes to finding people, few bloodhounds had a better nose than Addie. "We've made a lot of communities safer - chased bank robbers, mass murderers." Officer Addie came from good stock. Petty said her grandmother, Sally, was one of the bloodhounds who tracked and found James Earl Ray when he escaped from Brushy Mountain Prison in 1977. "It killed me. I have her picture on my dresser." Petty's got tons of memories, including those of a partner who loved to gobble up Velveeta after a job well done. "A lot of people can say this is just a dog, but this is my partner. She was a family member, also." Addie was buried in Henry Horton State Park, where she lived. It's there a small plaque will be placed in her memory for now.
++++++++
reporter: Rita Venable
Officially named Adeline, Addie was born May 10, 1994, at Brushy Mountain State Prison. Chief Ranger Shane Petty acquired her when she was ten weeks old. (Her great grandmother, Sandy, tracked down James Earl Ray when he escaped from Brushy Mountain in 1977.) Addie was named for Adeline Wilhoite, who, in 1845, purchased land along the Duck River for a grist and saw mill which later became Henry Horton State Park. Her name is fitting for, technically, Addie is owned by the State of Tennessee to aid in locating lost campers and hikers in the Tennessee State Parks. Her head is as big as a soccer ball. Her sleepy eyes are slits (Who needs 'em anyway with such a nose?), and she has to throw back her head and let her skin slide back so she can see you. Her ears hang down to her throat. Her soft tawny fur covers her skin, which hangs in loose flapping sheets all over her head. When you pull it up slightly from her neck it feels like thin crust pizza dough. In fact, everything about is Addie is loose, from her long, supple legs to her swinging tail. This loose skin is called a cape and enables the bloodhound to twist out of brambles, thickets, and barbed wire fences when it is on the trail. When the dog is working the cape slides forward and partially covers the eyes making it difficult to see. Like her skin, Addie's attitude is loose most of the time, too. When you first see her lying on the ground, she looks deceased and could probably maintain this posture for hours on end. (She may sleep up to 20 hours a day.) That is, until it's time to work. "When she lies around like that, she's storing up energy," observes Petty. When he snaps on Addie's long leash, however, she resurrects and staggers up on all fours sweeping the ground with her nose. When Petty gets in his vehicle, turns on the blue lights and backs around by her pen to pick her up, Addie starts baying, whining and moving around excitedly. Addie has been used not only in Marshall County but Maury, Williamson, Rutherford and other surrounding counties as well. She has assisted in locating suspects accused of parole violations, D.U.I., armed robbery, drug trafficking and arson, plus a prison escapee from Louisiana and a burglary ring suspect. She has also trailed a "Peeping Tom" on two occasions. She has trailed people through woods, fields, hollows, and creek beds to houses, trees and thickets. Once, she located a person hiding behind a chimney on a roof. Addie locates people not by their footprints, sweat or body odor, but by millions of skin cells which fall off human bodies. She can catch a scent of a person on horseback or on a bicycle. She can even trail a person through water if the water is slow-moving. The faster a person runs, the more skin particles break free and fall to the ground. It is estimated that a bloodhound can smell up to 2 million times better than humans. The length of a bloodhound's ears are important also. Called "leathers," the ears should hang below the nose. The ears brush the ground and actually move scent particles into the nostrils especially on cold, damp days. Roger Caras, author, naturalist and bloodhound owner, wrote a book about bloodhounds titled "Yankee," and affectionately calls them "slobber-chops." According to Caras, a bloodhound can pick one person out of tens of thousands and almost never becomes confused. For many years, the record for trailing a criminal was held by the bloodhound Nick Carter. In the early 1900s, he followed a trail that was 105 hours old, which led to the conviction of the fugitive. Since that time, his record has been more than doubled to over 210 hours old-almost nine days old. Some dogs will follow human scents for up to 50 miles, and one trailed a person for 138 miles and found them. The breed is so respected that bloodhound tracking is considered acceptable evidence in U.S. courts. Only once were Addie's abilities challenged in court. When Petty pulled out his record book of more than 900 documented practice trails, however, there were no more questions. Addie's success rate of "finds" is about 78%, which is extremely high for a bloodhound.
For Addie and other bloodhounds the sport ends once the trail terminates. When Addie finds someone, she may jump on them, but would never attack them. She is just saying in her own way, "This is it! This is the one I have been looking for!" Then, she expects her reward, which is piece of cheese. Some bloodhounds prefer dill pickles or Milky Way candy bars—wrapped or unwrapped. "Most of the time you just chase 'em and chase 'em and they'll end up hiding in the bushes, and she knows it. When she gets close and knows they're hiding, she wags her tail and whines. Most people had rather be shot or sprayed with Mace than attacked by a dog," says Petty. Tracking criminals is not all that Addie does, however, Petty and Addie are involved with project K.E.E.P.S. (Kids Exploring Environmental Programs Successfully) and the "Hug-A-Tree" program, which teaches survival skills for those who are lost and disoriented when outdoors. As the finale, Addie tracks a child who hides nearby. Sometimes Addie's searches are more than play. Once she found a mother and two children (ages two and six), who had wandered from their rural home in Marshall County. Petty and Addie tracked them for about three miles through a thick cedar glade in the dark. When they found them about 1:00 a.m., they were crying, scared, and scratched from head to toe. The children were barefooted. Addie and another bloodhound based out of Cleveland are the only two tracking dogs in the state certified through the Tennessee Emergency Management Agency. Addie did not become the fine bloodhound that she is on her own. She has excellent bloodline, yes, plus talent and desire, but she would not have become what she is without skill, patience and trust from her handler. From the moment he brought her home and took her on her first trail run, Petty has focused on her training. When Addie was just a puppy, she and Petty attended the Crater Criminal Justice Academy in Petersburg, Virginia together. After the initial training, Petty read books on bloodhound training, but credits much of his knowledge to Phillip Wendt. Wendt was a charter member of the North American Search Dog Network and owned a bloodhound while living in southern New Jersey. There he helped rescue mentally impaired people who wandered from the facility near his home. Together, he and his dog experienced more than 1,000 trails. Over the years, Wendt has helped other bloodhound teams get started. "I have worked with 50 or more bloodhound teams, and there are only two that I am proud of. One of them is Shane Petty and Addie," says Wendt. "Shane is an outstanding handler." "The problem with most teams is the trainer, not the dog," Wendt continues. "I have seen very few bloodhounds that won't trail, but some trainers try to out-think the dog. Eighty percent of the training is trust." Wendt explains that once the harness is on the dog, the trainer must learn to follow. If the dog loses the scent or seems confused, the trainer must be patient and trusting enough to let the dog work it out. The dog is the boss. Even though bloodhounds are wonderful for police work and search and rescue, they do not make good family pets. According to "Choosing a Dog" by Nancy Baer and Steve Duno: "… the bloodhound is … a dog with a relentless, determined mind-set… The bloodhound will follow a scent forever and ignore everything else, including you… Choosing a bloodhound for a family pet would be like using a bulldozer to drive to the corner store." Petty concurs, "There's just no sense of obedience there. This is the reason why Addie is rarely off her line. If she once caught the scent of a rabbit, deer or any other animal, she would follow the scent without regard to where she was going." Fortunately, for Addie, there's a brain bigger than hers at the other end of her line. And, thankfully, for Petty and Middle Tennessee, there's a nose bigger than a human's at Addie's end of the line.


Being the 1st Search and Rescue Dog for TN State Parks, Miss Addie was an icon for our state. She did much good for many.
She also meant a great deal to this family, personally. Addie, of course, used her God-given ability in her job of search & rescue.
Shane, as handler, had to learn to read and interpret her communications. Our entire family was an intricate part of this training.
We frequently "got lost" in the woods, in rock crevices, and/or buildings; then, with her reward of cheese in hand, waited for
her to find us. While on an actual(real) search, our two girls and I anxiously awaited her arrival home to congratulate
with her deserved "cheerleading". Consequently, the entire family was bonded with this creature. She is greatly missed.
Officer Petty told News 2 he has a new bloodhound he's training. Her name is Ellie Mae, and he hopes she can serve him
and the people of Tennessee half as well as his former partner. Jill Petty
---
In Loving Memory of
K-9 ASKO
August 17, 2002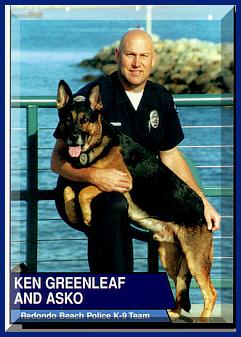 Handler: Officer Ken Greenleaf
Redondo Beach Police Department
401 Diamond Street Redondo - Beach, California 90277
310-379-2477



Wherever crime was festering,
There's one who stopped it fast.
He won most competitions
and he never came in last!
He's quick, he's sure, he's Asko
The police dog, canine champ.
And once he has his jaws shut
they hold tighter than a clamp!
He's has a sense of humor
But at work he wastes no time.
No messing 'round for Asko
When he has his mind on crime.
For every situation
There's an action he must do.
When tracking things or people
He can sniff out any clue.
The furry coat of Asko
Is brown and black and gold.
His eyes are bright and accurate,
His talents manifold.
He will always be remembered
For he was one of the Best!
It was a sad day in Redondo.
Asko was laid to Rest!


It is with great sadness that I announce the passing of K-9 Asko. During Asko's career he has had two spinal surgeries causing him, of course, to slow down. Asko was given six months to live after his last surgery which would have been May of 2000. Two years later,
Asko was still with us. During the past two weeks Asko has been losing all his motor skills and was dragging himself throughout the house and yard. He was getting to the point where he could not hold his bladder or bowel movements. The decision was made to put him down. My decision was supported by my trainer and veterinarian. At 7:30AM this morning,K-9 Asko was put to sleep. He passed away with his head in my lap and a kong ball in his mouth. He will be missed.



Asko was hired on October 11, 1993 and retired a full seven years later on October 11, 2000. He was the first Redondo Police K-9 to be cross trained for patrol and narcotics. He has won competition in both patrol and narcotics. He apprehended suspects from simple assault, burglary to murder. He was truly a remarkable dog. Asko was my second K-9 and a great dog.
I now have Basko as my K-9 partner. Ken Greenleaf

The Redondo Beach Police Department established their Canine Team in the late 1970's with the purchase of two German Shephards...."Kaiser" and "Oscar". These dogs were followed by "Bishop", "Donar", "Asko" ,"Alex", "Boris", "Mike", "Boomer", "Bear", "Andrej", and "Arko". Today the city is protected by Canine "Basko", "Bullet", and "Ijax. "
Meet K9 Boris (emailed request for Boris.jpg... it has been accidentally deleted.
In Loving Memory of
K-9 ASK0
May 19, 1981
(Memorialized Oct. 5, 2002)


Handler: Officer Ken Kramerman
Now Lt. K. Kramerman
Redding Police Department
1313 California Street - Redding, CA 96001
530 - 225-4289 - email PD

K-9 "ASKO" was a 3 1/2-year-old German Shepherd imported from Germany. He was a SCH I. He worked the street with his partner, Lt. Ken Kramerman, for a little over two years before his death. Asko was responsible for over 60 arrests and 25 justified street bites. He was the first and only dog killed in the line of duty for the Redding Police Department. On May 19, 1981 at approximately 0600 hrs Asko and his partner were called out from home to respond to the Shasta County Jail. There were five individuals that had escaped from the jail. The inmates were reported to be armed and were possibly on the roof of the jail. The roof of the jail has a three-foot wall surrounding the perimeter also on the roof were numerous air conditioning units and many other places the escapees could hide. Due to the fact the escapees were reported to be armed, and the fact the roof had a three-foot wall around the perimeter the officer elected to let Asko search the roof area off leash.As Asko began his search his ears and tail went up indicating he had picked up a scent. He made his way across the roof and followed the scent by jumping over the three-foot wall and falling three stories to his death. Apparently the escapees had made their way off the roof to the ground and the dog followed the scent.
End of Watch: May 19, 1981
**********
K-9 Redding police dog's name on memorial Memorial to honor fallen police dogs Alex Breitler - Record Searchlight 225-8344
ASKO - October 05, 2002 — 2:23 a.m.
Asko's ears perked and his tail shot up. He'd caught the scent of five escaped inmates on the roof of the old Shasta County Jail. Eager as always to do his job, the German shepherd police dog followed his nose and leaped over a wall, unaware there was nothing but empty space on the other side. He fell three stories to his death. Two decades later, Asko — the only Redding police dog killed in the line of duty — will be among 19 dogs honored at a state K-9 memorial to be unveiled at noon Sunday at the University of California at Davis School of Veterinary Medicine. "He was an exceptional dog," recalled Asko's handler, then-officer Ken Kramerman, now a lieutenant in the same department. "It was no different than losing a human partner for me." The memorial, named "Faithful Partner," includes a star-shaped pedestal with plaques listing the names of the dogs, and a statue of a German shepherd wearing collar and badge. Police dog teams from all over the state were expected to attend the ceremony. Each of the dogs' stories has a different ending, but all are tragic. One dog was stabbed by a rape suspect during a search. A second was shot while sniffing out a gunman in a park. A third was hit in the head with a pair of pliers by a car-theft suspect. Asko, 3 years old when he died, was imported from Germany and worked the streets with Kramerman for two years before his death. In that time he was credited with 60 arrests and 25 justified bites. He was both a cop dog and a family dog, living at Kramerman's home during the day and working with him at night. Most police dogs get a bit tired on the graveyard shift. Not Asko. He'd stay awake the whole time, his handler said. Even on Kramerman's days off the dog was raring to go. "He'd be at the door looking at me, wagging his tail, saying, 'Come on, let's go,' " Kramerman said. On May 19, 1981, Kramerman was called at home about 6 AM. He was asked to bring Asko and join in the search for the inmates, who were believed to be armed. The pair went to the roof, which was cluttered with air conditioning units and all sorts of hiding spots. A 3 foot high wall circled the perimeter. Kramerman gave Asko a search command and let him off his leash to follow the scent, figuring the wall would keep him safe. "He wasn't going to walk over and just fall off the edge," Kramerman said. But Asko in his enthusiasm jumped over the wall and fell to the ground. He died a short time later. Kramerman lost not only his work partner, but his family dog. "That was part of the job," he said. "It's something you don't think about. You know the risks." The Department of Justice earlier this year sent letters about the memorial to all law enforcement agencies to collect a list of dogs to be honored. Organizers of the memorial say there are 15,000 police dogs in the United States, including bomb- and drug-sniffing dogs. "They really enjoy what they do," Kramerman said. "People don't understand how valuable those dogs are. They do the work of basically hundreds of officers." Kramerman still thinks of Asko occasionally and has pictures of his canine friend.
"I lost a partner," he said. "That's what he was."
In Loving Memory of
K-9 ARGUS
Dog #596
June 29 2002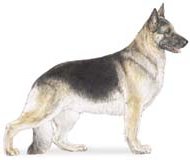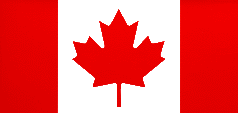 Handler: Constable Brian Moss
Burnaby Royal Canadian Mounted Police
Canada
Argus the police dog passes away By Patrisha de Leon-Manlagnit
Burnaby RCMP are mourning the loss of one of their own after a police dog died last Saturday. Argus, Police Service Dog #596, passed away after he was rushed to a veterinary hospital when his partner, Const. Brian Moss, found him lying on his kennel floor. Argus worked with Moss on the Burnaby dog unit for the last 18 months during which time the canine tracked down many criminals. Born in Quebec, Argus was introduced to Moss in April 2000 and was a big part of the officer's family. The dog was especially loved by Moss' two young sons. Moss describes Argus as a loving and very sociable dog whose greatest love outside of police work was swimming. "If Argus wasn't a dog, he would have been a fish," Moss said.
---
In Loving Memory of
K-9 ARGUS
October 7, 2002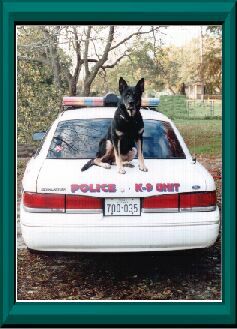 Handler: Sgt. Allen Lawson
Freeport Police Department
430 N. Brazosport Boulevard
Freeport, TX 77541
(979) 239-1211
Chief: Evelyn Gonzales

Residents, comrades honor K-9 officer By Michael Baker -The Facts (979) 265-7411
FREEPORT — About 60 residents and peace officers and seven dogs from around the county gathered Monday morning to pay tribute to a fallen officer — Argus, the Department's K-9.
The police dog died Oct. 7 of apparent heart problems while he was treated at a Lake Jackson veterinary office, Police Chief Henrietta Gonzalez said. Several officers wiped away tears during the memorial service for the 10-year-old Hungarian shepherd in the Freeport Municipal Park pavilion. The ceremony was complete with hymns, prayers and a flag ceremony. "He was loyal and dedicated to the profession of law enforcement," Gonzalez said. "He'll be greatly missed by all of us." Argus joined the police force in 1993 after coming to the United States from Hungary. Working closely with his handler, Sgt. Allen Lawson, Argus' primary duty was sniffing out narcotics and assisting with crowd control, Gonzalez said. He was very dedicated to his work, she said. "He would run all of us to death," Gonzalez said. "Quitting was not his idea until he finished the task." Argus was popular in the department and the community, Gonzalez said, particularly with children at the schools he visited. He also enjoyed an occasional game of fetch with the officers, she said. City Attorney Wallace Shaw, who led the prayers for the service, and Lake Jackson Police Department Dog Handler, David Cisneros, accompanied by his dog, Angel, reminded the crowd of the ancient bond between man and dog. "It's a sacred relationship, one that God looks favorably on," Shaw said. "It's one that he blesses and encourages." Cisneros said the bond is especially strong for dog handlers, who work closely with the dogs on a daily basis. Sometimes, they even forget they're working with a dog, he said. "We all go through times of embarrassment when we're caught talking to our partner who cannot talk back," Cisneros said.