In Loving Memory of
K-9 YENTL
October 1999 - November 6, 2001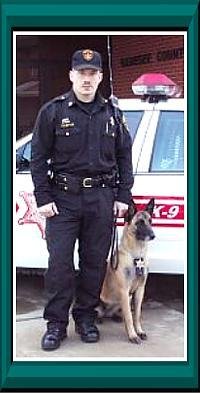 Handler: Deputy Brian Thompson
Genesee County Sheriff's Departnemt
14 W. Main St.
Batavia, NY 14021-0151
(716) 345-3000, ext. 237

Sheriff's department K-9 killed by car By Associated Press, 11/7/2001 16:19 BATAVIA, N.Y. (AP)
A K-9 was killed when she darted into the path of a tractor trailer. ''Yentl'' was a 2-year-old Belgian Malinois used for drug detection and tracking, by the Genesee County Sheriff's Department. The dog died just before midnight Tuesday after running from her handler outside the sheriff's office. Yentl was put in a patrol car and was en route to the Batavia Animal Hospital when she died, quoted Sheriff Gary Maha. ''She made a lot of hits for us, a lot of drug arrests,'' Maha said. Yentl was used throughout the county and also assisted surrounding county police agencies when needed. She is sadly missed.



My Sheriff let me know what you have said and done. Thank You from the bottom of my heart. It is great to be
appreciated by so many. Yentl was born in Holland. She was 2 years old around October of this year. Our Administrator are
the best. I have been so supported by them during all training and work with Yentl and I will always be grateful. Yentl has
accomplished more in 9 months that many do in their whole career. Again I thank You for your love of K-9's and your support.
Brian and Family
Sheriff Gary T. Maha
Genesee County Sheriff's Office